CyberPowerPC
Baldwin Park, CA
Consumer Complaints and Reviews

Purchased a brand new gaming computer and it didn't work. Kept crashing. Customer Service is not allowed to stay on the phone and walk you through anything step by step so we had to send the computer back for service. After receiving it back, it still did not work. They will not pay for shipping for their broken computer, so that cost us $112. Then they still charge a 15% restocking fee. This is the most horrible company we've ever done business with and it should be against the law to take money from people with charges when the company product does not work.

I ordered a new PC from CyberPower PC a little more than two weeks ago. After doing lots of research they seem to be the best priced. Well, my custom build PC is supposed to ship tomorrow except their website has had NO updates as to the progress of my system build. I sent two e-mails to the person who e-mailed me after I placed my order inquiring as to the status of my build and have gotten no response. Of course, they charged my credit card minutes after I placed the order. I'll follow up with additional information as things pan out but right now I am feeling like I just got scammed out of $3000!! Wish I'd Read These Reviews Sooner.

My teenage son saved up for a few years to "custom" build his gaming laptop. He used it for a couple years but not a lot. It had heating issues and most recently a battery/memory problem. We've called technical support and, of course, once the year deadline has passed, you're basically on your own. Cyberpower support told us that it would cost $200 just to ship/return it and said the labor would be expensive. We've had Best Buy Geek Squad say they didn't work on these systems, along with several other local computer companies. You personally have to have good technical experience to fix issues yourself or have a lot of money to maintain Cyberpowers computers. No help at all from the company.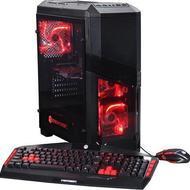 I received this PC for Christmas, & within two months started having issues with it. The rear exhaust/cooling fan has locked up & even while under warranty & used for a little over 2 months. It will take the replacement part (which I will have to install myself) up to 2 weeks to get here. I'm currently using my 6 year old HP tower which still works & I paid under $250 for until then. Their customer service representatives are rude & painful to deal with. Avoid this manufacturer like the plague!

CyberPowerPC is a scam. Ordered a pc from them mid-December of 2016, received it over a month later. Upon startup, it immediately went into recovery mode saying the pc needed to be repaired. Literally non-functional out of the box. I send it back for repairs, and I don't receive it back for over a month. Again upon startup, went into windows boot manager. Got it to work for a few hours but now it's back to the exact same issue I originally had. I'm convinced they hardly even worked on it or tested it to see if it was functional.
THE CUSTOMER SERVICE IS A HUGE JOKE! They are extremely rude and unhelpful. They refuse to pay for shipping. I'm getting a refund but it gets better- they deduct 15% from your original price as a 'restocking fee'. That's right. You have to pay $100-$200 dollars along with shipping to send them back a pc that doesn't work and was their job to make sure it was working to begin with... truly ridiculous. Now I'm just waiting on my refund which will take who knows how long. Bunch of thieves they are. STAY AWAY!!!
How do I know I can trust these reviews about CyberPowerPC?
720,415 reviews on ConsumerAffairs are verified.
We require contact information to ensure our reviewers are real.
We use intelligent software that helps us maintain the integrity of reviews.
Our moderators read all reviews to verify quality and helpfulness.
For more information about reviews on ConsumerAffairs.com please visit our FAQ.

I spent the past four years saving every dollar I could to buy myself a good custom laptop. After weeks of searching, I decided settled on buying a laptop with the CyberPowerPC company. On November 29, 2014 I bought a gaming laptop worth 2,340.00. I had to pay an additional 600$ for custom fees which was not explained during the purchase. The total came up to 2940$. As I opened the box, I noticed there was no (FREE) game code as promised in the laptop promotion (worth 89$). After emailing them they sent me a new code (Which was already redeemed. Probably by someone at their company stealing the codes). I put in another request with customer support for my game and never received a reply. The laptop was not very well built (some sides were hinging off).
After a few weeks the laptop showed signs of problems (would restart randomly). This problem stopped for a while, until a few weeks later. The laptop completely broke down and wouldn't start up. When purchased the keyboard had a red backlit lights and not multi colored like advertised. After getting a RMA I shipped the item to the company. This cost me 187$!!! I feel like this is completely unfair since there was an obvious defect in the product since day 1. I work minimum wage and this is a lot of money for me. I bought a very expensive laptop expecting it to last me a minimum of 3-4 years. I put my faith in the company and they let me down.

I purchased a PC from CyberPowerPC regardless of all the negative reviews hoping that everyone was wrong and I just might get lucky. After having the PC for 3 months, I returned for replacement warranty because the graphics was defective. I thought no big deal I'll get it back in no time, it arrives on the 6th of February of 2017 and they finally review it today (2/10/17). They don't even tell me about the status of PC I have to contact them. I finally get connected and they tell me the PC was damaged during shipment and that I HAVE TO PAY FOR IT. So not only is replacing the graphics card a concern, but now I have to pay for the broken case I didn't break. Hilarious right? Garbage company, avoid if possible.

Hello. I spent little bit under $2000 on my computer. I was overjoyed. I had the money and I wanted a good beefy computer to play all the new and exciting games. I ordered my computer and it was sent to me. First time I got it there was a issue with the computer. It would not stay on. It kept turning on and off and I forgot what the problem was. I think it was a bad cable or something. No idea. So I sent it back, they paid for shipping. All good. I got it back two weeks later, it ran fine and all was good. Few months later about 6 it started to overheat a lot. I have 5 fans in my computer, and it kept overheating. The computer itself was fine, but the Graphics card kept overheating. I told them of my issue and they said they will identify the problem. This time I had to pay the $200+ in shipping. After reading their warranty they don't provide shipping cost unless it was on the same day of their RMA. So I said "Fine", I sent my computer back to them again.
They emailed me saying it was the Motherboard that was the issue and they replaced it. I said "Oh I guess that could be the problem. Fine." I waited two weeks and TODAY I just got it back. Now in my mind I'm like "Yes I can finally go back to being a nerd and play my video games etc." But no. Today I had a new issue with my computer. The monitors would not detect a input for my computer which means either the VIDEO CARD (You know what I said was the problem before they told me no) is either fired or damaged or whatever or something else. Of course I made sure the RAM was in and the video card was correctly placed in, I even took it out and put it back in to ensure it was in correctly (Because these people clearly don't know how to do their job).
As I'm talking to the Agent on their website for live help he told me the things I already know. No refund because it's past the 31 days since purchase, and seeing it's the problem they sent me I won't have to pay for shipping. But when talking to the agent I learned something new. He asked for my computer password (Which means they are going to turn on the computer plug it in to a monitor and check if it's working). This means they didn't do it before. They just changed parts and then sent it back. These people do not actually check if the computer is working. They just make sure it turns on and then they send it to you. I don't even know if they replaced my motherboard. I think they just took it and sent it back. Who knows. But I'll be sure to update once I get my computer back in a few weeks to tell you if there is another problem or if it is working with no problems for once.

Cyberpower PC charged me for a non-functioning recovery disc. First off CyberPowerPC nickel and dimes you with everything. I ordered them to arrange my wires, but couldn't figure out why my side fans didn't work. They said "oh, it's because you didn't select the higher priced option of secured packaging" or whatever it's called. Well no that's absolutely not true. The wire was still behind the other side of the tower tucked away. It wasn't connected ever. They forgot to secure internal components and said it was because I didn't spend enough essentially.
Then when I needed to reformat, I needed a disc which they never provided. I said this. They said I had x amount of days to review the computer and all its parts. So I bit the bullet, bought another disc (I didn't think modern PCs needed to buy the disc in the first place. Guess I was wrong. The serial number on the side is useless by the way if you're trying to burn your own disc.) And they upcharge for Windows 7 instead of 8. So I go to reformat my PC and guess what. The disc didn't work! I tried telling them this. They stopped responding to my e-mails. So I did a charge back on my credit card and guess what. After a couple months my credit card filed in favor of them. DO NOT buy CyberPowerPC. They're useless and overpriced on many things.

Has anyone else been ripped off by CyberPower when submitting rebates? I purchase a PC on Black Friday, received it a few weeks later. I submitted all required paperwork and documentation for MSI Motherboard and 22" Sceptre Monitor. Doubled checked everything before it was mailed. CyberPower replied MSI rebate rejected because it was miss receipt (I included) and I bought it from CyberPower. Never received anything on the monitor that was suppose to be free after $109 rebate. This is bait and switch and I was wondering if anyone else has this poor experience.
The part that feels like a scam is they have all my order information, could look it up. But chose to reject the MSI motherboard because they said it was missing a copy of the receipt (I know it was included and I even highlighted the price and MSI Z170A on the receipt! Never received anything on the monitor. Happy with the PC, screwed on the rebates and in the end overpaid for the PC. The monitor is a not good and not worth $109. I would return and get a refund if allowed. I recommend purchase from another company who doesn't use the lure of fake rebates.

CyberpowerPC Desktop Computer Gamer Ultra 2239 AMD FX-Series FX-6300 (3.50 GHz) 8 GB DDR3 1 TB. Received the computer last year. I bought this for an employee to run Design programs on (i.e. Adobe platforms, Corel etc.) The computer booted up fine. Seemed to run great first day. As soon as I started to load programs on the computer we ran into a wall right away. 100% disk usage virtually all the time - running out of memory opening a 10mb file???
Customer support is nonexistent giving me useless advice trying to buy time? No follow ups. Endless holding time on the phone. I even purchased extended warranty and they say they can do nothing for me. This thing blue screened twice now. I had ended up taking it to a local computer guy who did scans and found viruses. Thought that would be the issue but to no avail. Researching the parts inside this computer -- worst reviews for hard drive, ram, power supply, video card (which is ** and always crashed). Just the worst company to deal with.

I had been wanting a new gaming PC for quite a while. I had bought a Dell XPS series in 2010. I found it to be a good computer but upgraded the graphics card twice to keep up with gaming. I also found its lack of space a bit cumbersome. I decided to shop for a new PC this past holiday season and stumbled across this company that has won awards and looked promising. The veterans day deals they had going combined with their Black Friday deals looked pretty outstanding. So for approximately $1800 I custom built a PC and purchased it on 11/11/16. It was supposed to be at my house on Black Friday. It didn't show up until 12/5. When it did show up, I unpacked it to find that the led lights were coming off the case (cheaply done) and the top mounted fan was just dangling in the PC, resting on other components. The screw to open the side panel of the PC was also stripped.
I called them to notify them of that and to also let them know that I was experiencing wifi trouble. After a while of troubleshooting, we figured out it was that they sent me a bum wifi card. However, there was still the problem of the PC crashing overnight. And the next day. And 3 times in 24 hours. The tech support couldn't determine whether I should run Prime 95 or not because I "only have a 120 mm liquid cooler". Their tech support was a total joke. The computer would also not detect my monitor when it came out of sleep. Their advice: turn off sleep mode. Wow, what a solution. That couldn't possibly be an indication of another problem. I reinstalled windows (which I was never given a code for) and after a week of being put on hold, cut off, transferred, and being treated as a hassle, I decided to request a full refund.
That's when more problems showed up. I had to wait "24 hours" for an RMA number so I could ship it back. After 48 hours, I called and they said, "It will show up tonight." It never did. I then angrily called twice the day after, and like magic as I'm yelling at the support person, it magically showed up in my email. I then went to UPS and shipped it back to them for $120 on 12/14/16. They got it 12/19 and sent a confirmation email stating that it was received. According to their warranty, it would take 5-7 business days to get my refund. I finally got my refund 1/18/17. That's right. A month later. Oh and it wasn't a full refund either.
In the multitude of phone calls I made, they informed me it would be forty dollars less than my purchase because they don't refund game codes (which I never activated) that were FREE with components that I purchased. They even show up as FREE holiday offers on the invoice. So I was charged $40 for the free game codes which I then told them to email me since I was paying for them anyway. They, however, didn't charge me for the $100 Microsoft FREE offer with any Intel PC. That shows you another incongruency. They claimed that it was taking so long because they were busy from the holidays.
Each time I called them to tell them the refund hadn't gone through yet, they told me to be patient and that it was coming. Thanks Carlo **, and other Carlo **. You both lie nonstop to get off of the phone. So in summary, they sent me a faulty PC, treated me like dirt, made me sit on hold for hours cumulatively, were the source of frustration for almost 2 months, and didn't issue a full refund. And it only cost $160 at the end. Build your own. Stay far away.

I've seen some bad reviews of their machines, so I thought I'd give my review just to give a different perspective. Mine cost me $1372.00, was bought as a gaming machine, and it was worth every penny. It took about two weeks for the computer to be delivered. It was packed well and no problems. They upgraded my hard drive from a 500 GB to a 1 TB without charging me more. I'm glad they did. I didn't realize I could fill it up that fast with the new games. Every other part was as ordered. It ran great right out of the box with no issues, and is still running with no issues as of this post.
This is my second Cyberpower computer. I had bought one in Feb 2010. The power supply failed within the first month, but I returned the machine, at no cost, and they replaced it. Got it back less than two weeks later. For $10 extra you get a one year parts and free shipping warranty. It's worth it. So, I have had nothing but good experiences with them, and I would recommend their computers to anyone. They give you many more choices of components and price ranges than any other company I checked out, and I checked out at least four other gaming computer manufactures.

I received a CyberPowerPC for Christmas. When I opened it, it seemed fine. The more I got to looking things weren't fine. It was supposed to have an 120 GB SSD and 1 TB HDD. All that was showing was the SSD. Opened the case and both drives were there but the HDD was installed in the bottom and during shipping it had gotten knocked cockeyed. Got that straightened out and then seen that the power connector was broken. There were only 4 power connectors that would fit this drive and 3 were being used. The 4th was all the way at the top where the DVD drive was.
I called tech support explaining to them the problem. They offered a new power supply but I would have to take the one out of my computer and send it to them, me paying for the shipping, and then they would send me a new one when they received the old one. I told them I would gladly pay to have the new one shipped out to me and then when they receive the old one they can refund my money. No way were they going to do that. Several times I offered to do this. That was take a minimum of 2 weeks. 2 weeks not being able to use my computer. I called a couple different times getting the same results when speaking with different people. I asked to speak with the supervisor. He ended up being the 1st person I spoke with.
I ended up having them send me a cable that would convert the 4 pin power to the needed power pin. That took 2 weeks. They didn't ship it until about a week and a half after the phone call. No reason to be holding orders like that. They have the worst customer service I have ever worked with. I ended up purchasing a cable locally so I could use my computer right away. I don't see how they are staying in business with such crappy customer service. Good luck on your purchase.

Building Computers since 8880 chips have been used; yes before Pentium, when IBM made computers I have worked, built, troubleshot, and designed systems since the 80s. When upgrading memory was a stack of volatile ICs (Integrated Circuit chips). CyberPowerPC does the same as a majority of off the market products to build expensive systems with non-marketed, bulk priced components. I worked CPPC from day one on my benches of my own company and can tell you from experience they are a lot like Packard Bell computers (look why they are no longer around).
If you want to spend a lot on sub-par, non-current components look no further. They're not an industry leading computer source. Breakdown of parts and components is common (almost invariable), customer support is a sales floor, no real knowledge of troubleshooting or experience; and yes I have had to work with the company on so-called warrantied parts. Bottom line, do your research, compare parts, prices, and up-to-date video, graphics and (RAM) memory standards, Processing power (an i5-6400 is good but an i7- 6700 is just $100+ dollars more for a huge performance mark) before you make a purchase, you will understand my point.
Further, I have a stockpile of "bad" parts in my garage that are CyberPowerPC systems. You may get a few working out of 50 systems that perform well under load and do not fail. Not ragging on a company but I know the systems and performance. You can build a systems for half the price and outperform CPPC. Yes you have to pay for someone else to do the work building PCs, additionally getting the power, current products, from the shelf for the same or a little more to be a competitor... You decide. Good Luck to all new PC owners.

I purchased a desktop from them and had very few issues. Had it for years now and it still works great. However, last year I purchased my laptop from them and it has been nothing but trouble. After having it for only a couple of months the motherboard just crapped out. I sent it back, having to pay for the shipping to them. They fixed it and it worked fine for a couple more months then the replacement motherboard crapped out. Sent it back again, having to pay for shipping, they fixed it and it worked fine for another couple of months and once again the motherboard crapped out.
Because it is no longer under warranty they said it would be over $400 to fix it. I should also add that since the last time they replaced it I had barely been using my laptop for anything other than school work, certainly nothing intensive that would cause a part to continuously be fried. My only thought is they are using low-grade refurbished parts when fixing it. I highly recommend staying away from CyberPowerPC even if you can save a little money by buying from them.

I've never had a non-name brand PC before this. I've also never had a computer fall apart on me. My Cyberpower computer's hardware failed in less than 2 years. I get constant stopcodes, and my graphics-intensive game will not run anymore. Without even examining the computer, the company basically told me I'm on my own because the parts warranty has run, although the labor warranty is still in effect. I guess they're afraid to actually see and diagnose the problem for fear that they might have to eat the labor cost of fixing it, even if they don't have to eat the parts costs. Oh, and like one of the other reviewers, the lettering wore off of my cheap keyboard within a few months of ownership. Also, the backlighting on the keyboard failed quickly. You have to wiggle the keyboard to make it light up. I will NEVER make the mistake of buying from a crappy company like this again.

Maybe my order was a fluke than others on here. I ordered a Fangbook 17 on Cyber Monday. I was told the PC will ship on 12/13/2016. On the 15th I called to check status as PC didn't ship and was told everything was in warehouse and that it will ship next week. They assured me I will have PC by Xmas. Made another call on 18th to make sure it was shipping and was told PC should be done by the 21st. When I explained again this was for Xmas they told me I may not have my item for Xmas. I was purchasing this right from Cyberpower. They were very hard to contact on hold and they never responded to emails. Needless to say I promptly cancelled my order and called Dell and had an Alienware shipped within 2 hours of ordering. If Their customer service is any indication of the type of tech support you will receive then I would say buy something else. Very disappointed!

CyberPowerPC Gamer Ultra GUA520 8GB Gaming Desktop. Absolutely love it! Went to Best Buy the week before and had bought a "gaming computer" for $700 that wasn't even equivalent to half of this beautiful machine. Runs all my games flawlessly and can open multiple tabs with no glitching or errors! It's great to find that some companies still know how to build a quality computer with the consumer in mind not just profit. Would definitely recommend to friends and family! Ignore the bad reviews. Anyone who is hard on a computer for a long time is going to have wear that is normal for a hardcore gamer.

I ordered a laptop from CyberPowerPC in the summer of 2015. It was over 1000 dollars but was nowhere near worth that much. As soon as I got it I noticed how much the parts inside the computer rattled. Within six months, the cheap screen the computer had come with broke. I called them and tried to get them to fix it but they wouldn't, so fixed it myself. Within another 6 months, the fan started rattling and making extremely loud noises. I still haven't been able to fix this. Soon afterwards, the graphics card would start not working at times and the computer would have random crashes. My recommendation? Buy a computer from a reliable company. While it may be more expensive, it's worth it because a computer from them will end up costing more in repairs. Don't buy from this awful scamming company.

I just got off the phone with your customer/sales support and found the service to completely unsatisfactory and utterly disappointing too. After waiting 20 min in a queue line, I had inquired why I haven't been receiving any updates as far as the status on my order. The order was placed 11/25/2016 9:31 pm with an expected ship date of today 12/12/2016. The only thing your representative had said was that company has been backed up. I asked when my product would be shipped several different times and the representative wouldn't give me a clear answer. All that was mentioned was that I would receive my product before Christmas.
With such an extensive delay I asked why I wasn't notified again. Your representative said that they were incapable due to the influx of orders. I am incredibly disappointed and astonished that your customer service team can't send a mass email to all customers notifying delays. I also inquired about an out of stock item during my order placement. I had wondered if I could have that swapped out with a comparable in-stock item, or at least be comped a different item that is in-stock. Again, I was met with dismay that your sales team couldn't/wouldn't provide any customer service. Considering the substantial delay, lack of communication, and the fact that I'm spending over $1000 I expected better feedback.
Now I would like to know if there are any stipulations for canceling an order. Much Appreciated. Carlo ** was my Customer Service Rep. -5 stars for him personally. Overall terrible customer service, I immediately bought a computer from Newegg after. I will never recommend Cyberpowerpc.com to anyone. My experience was so bad, in fact, I'll go out of my so others won't have to deal with them too.

I purchased a new higher end machine for $2600 and it worked well for 9 months, except the cheap keyboard provided had half of the lettering wear off under normal use. Then the motherboard and video card both failed at 9 months. The first service tech was nice enough and had me do some testing on the power supply. After they finally agreed to accept it for warranty repairs, I had to call several times to get the RMA number they required for returning the machine for repair.
It took about 6 weeks for them to repair the machine. I had to go buy another PC to use while they worked on it. The machine works now, but was returned with significant dust covering the power supply fans that wasn't there when I shipped it, and the PC box was returned damaged with really significant scratching/scrapes on one side and there was a hard clear resin substance that was smeared on the outside of the box. It looked like a different/older machine had been return to me. Not happy but at least it works.

So 5 years ago I purchased a desktop from this company, only paid $800 for it and it had lasted me for an extremely long time. Even upon upgrading the motherboard, processor and CPU about 3 years into owning it, everything about it worked amazing. Many of the negatives reviews are not what truly represent this company. Yes delivery takes time, but you can't rush perfection, because these computers are both cheap and high quality.
I just recently ordered a Vector 17 VR 800 (GTX 1060 6GB DDR5, I7 6820Hk, 16GB RAM), even though the month-long wait will take time, it's most definitely worth every time and dime spent. Free $60 mouse, 4 free games and $100 windows gift card? What's not to love about that? Especially since the end price was about $1400, (no tax, free shipping) then I see a ASUS brand laptop with 980m (almost identical to the 1060), for upwards of $2000! With no special deals to entice me to spend the extra $600+. I would not recommend this company if you are impatient and customer service means everything to you. The deals you get are most likely only possible because they focus on PC building more than the customer's feedback.

If you ever want to experience what it would be like if DMV sold computers, look no further. CyberpowerPC is here to help you. Their sales manager Willis don't give a ** about if your order is 2 days late or 2 weeks late. He won't give you any sort of helpful information whatsoever and clearly hates his job. So do yourself a favor, go and buy from somewhere else. Or do like I did, give an order, wait for 3 weeks with zero updates, call them a few times to get some information but receive very rude answers that will make you feel like they are doing a favor to you and finally cancel your order.

My current computer died quickly - ended up being the power supply - so I went online to order a new replacement. In order to resolve my dead computer I searched the internet and found the CyberPowerPC website. Once I figured out how to build "my" computer I thought the opportunity to design my own computer was novel. It reminded me of the old Gateway days. I ordered the computer on 11/17 and expedited it (which was noted on the site as Friday 11/18). However, that ONLY meant it would be sent on Friday to be built - over $100 later. I did receive my computer on 11/22 and promptly returned in on 11/22 as well.
I found the customer service in this organization to be lacking, actually non-existent. They would rather a returned $2000 computer than work out a compromise with some of the issues I noted to them. During the build of my computer, I noticed several "pre Black-Friday" deals which I was going to take advantage of. As well, I found a 15% coupon for first time buyers which helped with some of the upgrades I selected. I wanted to get a durable unit for processing data and not gaming so I configured it to accommodate my needs. I started with a base unit costing $1947. TODAY the price is $1905. When calling to ask about adjustments - not an option. I had to return the unit and rebuild it.
Additionally, I had ordered a Blu-Ray/DVD. Somehow it was not on the final invoice. Please note I received a message on my order when I tried to change to a case that did not allow an add on like a Blu-Ray/DVD I would get an error message saying it was not allowed. To that end, I tried to talk to the Technical and Sales support to ask if there was a way to rectify the pricing as well as the missing part and was told if it is not on the invoice there is nothing they could do. I could order the part from them - full price - and pay shipping - full price. Additionally, they offered a $3 rebate when a mouse was not selected. I did not select the mouse. I did not receive a mouse. I did not get a $3 credit. I was then told it was NOT on the invoice. I also did not want a keyboard but I got one anyway. I was not charged so I should accept it.
Their invoicing was not complete in that there was no reference to any of the Manufacturer's rebates so I had to reconstruct my order to find those rebates - leading me to the price change. In their mind it was better customer service to have me return the merchandise rather than correct the situation over the phone. Most retail stores recognize the price variations within a certain number of days and will adjust the price without returning the item. Additionally, they only have 1 level of sales support. When I asked to speak to the sales person's manager they told me they were the manager. Clearly this company does not have enough help.
They are totally focused on the invoice. They are totally focused and proving the customer wrong. They are totally unwilling to adjust, alter or acknowledge any issues identified. They would prefer to lose a sale rather than negotiate a compromise. They use the invoice for their benefit regardless of the end result. CUSTOMER SERVICE costs NOTHING but the cost of it is EVERYTHING. I will never purchase a computer from this company based on my experience, I suspect any further support or issues would be handled in the same manner. Unfortunately the business model is good but the service and support is NOT. Don't waste your money - you can get better service locally.

Bought new pc, HD failed, was a repaired item sold as new. My hard drive crashed after 4 years. When I went to replace it, I noticed the label said "Certified Repaired HDD". I contacted them and found they only use new parts on install. Support was unhelpful. I've lost my data which will never be recovered. Company declined to do anything other than research why I was sold a repaired drive as new. This is unfortunate as this is the 2nd tower I've bought from them.

I ordered my computer a month ago, it came a few weeks ago. I spent over $1000 plus tax. It came around $1085. First thing I found out, the graphics card isn't working. I connected it to my monitor, it boots up, I install counter strike. Outdated drivers - I update the drivers. Outdated drivers - I find out the graphics card is broken. A week later they charge me $250 for another GTX 1060. They're gonna give me the money back once I send the broken one back, thank god. But a week later, it still hasn't came. I call them and they respond saying: "We didn't get your order." LOL. I need this computer for school, and yet it's been a pain in the ass after spending over a thousand dollars on them. Amazing service, CyberPower PC.

It's not often I am able to afford something nice. I ended up using a bit of will money to get something that I thought would last me a few years. I had a computer customized from a Coolermaster on the CyberPower PC website. Within months, it just shut off. I was simply scrolling through Facebook, and bloop gone. I called the company and they said it sounded like the power supply went out and wanted me to pay them to replace it. So much for that so called warranty.
So let me get this straight. I spend A LOT of money for a nice computer from you guys to last me a long time, and it died after only months of using it. Not even pushing it very hard... and you want me to pay you for something that should have kept working? You got me ** up. I wish I could leave no stars because I gave this company over $2280.00 FROM WILL MONEY and due to their lack of compliance to replace what was under warranty, I lost that money forever. And I won't be able to afford anything like it for a very long time. The PC has been with a friend and he said it's done. The motherboard is out. HOW DOES THIS HAPPEN FROM FACEBOOK!? CyberPower PC unplug everything.

I bought the Tracer-15 200 laptop and not even three months the LCD back cover breaks after use. I just opened my laptop like any other day and the LCD back cover breaks from the inside screws without forcing it. I guess that's what happens when they are cheap on getting LCD back covers that are screwed with only the back cover. The nut screws attached to the back LCD cover broke off and now I can even open or close my screen without trying to break the screen.
I called them said I have to ship it and I have to pay to ship, the part, and labor asking for more than what its worth. The folding arm that makes the LCD close and open is good it's just the case that wasn't well built but they say it's physical damage and is not covered by the warranty. I ask if I could get the cover itself and buy it they just said to either go to Best Buy or else where to fix it. If anyone know where to get the back cover replacement for it or the whole body case please help and message me. **

I had built my previous PC, which with recent games had began to show its age after 4 years. Not the same man I was 4 years ago, and with working 60+ hours a week, as well as many more responsibilities, I really could not find the time to build another PC. I started looking at pre-built PC's and most were laughably expensive with low budget components. Dismayed, I decided to settle and just look at Best Buy's website. It took several weeks of research and looking through products, but I finally found a PC that was perfect. The only problem? It was made by CyberPower PC. A company forums, blogs, and this website included, was complained about and recommended against. I read these complaints, and said to myself, "Maybe I can just copy the parts on PC part picker and build it myself for a lot cheaper." Well I did. And no matter how I played with the components it was only $75 cheaper... 75 bucks?
That is well worth the PC being built and shipped to me, (as my time is valuable) AND it comes with a mouse and keyboard. While I understand building your own PC is a hobby, and I would recommend you try it as it gives you a sense of accomplishment, there is NOTHING wrong with buying a pre-built from this company. Once ordered, the ship date read 16 days. Cool. Two days later I got an e-mail stating it would arrive on Saturday. I ordered it on Monday. 5 days for it to be built, shipped, and picked up. Once I received it, it was packaged with a sturdy box, and industrial styrofoam that can't be cheap to use. The inside of the tower itself was even padded with some sort of expanding packaging that tightly secured the components (and was a little difficult to remove, some care is required... but that can't be a complaint for parts being delivered intact). I plugged it in, hit the power button... and boom. System up.
Operating system and primary drivers installed. Ready to go. System runs flawlessly and at constantly cool temperatures. The case is designed by them, and is modern and stylish. While also being simple enough it's not a "I PLAY GAMES" eyesore. I won't lie. The keyboard it came with feels cheap, but if you don't have one it's fine. The mouse I figured I wouldn't use... but my Razer is currently collecting dust in a drawer because this mouse is simply better. I'm honestly not sure how they can ship that thing free with every purchase, as they could probably sell it for at least $50 to increase the price... but they don't. It's free. My ONLY real issue with the PC is the power supply. Its wattage is plenty, even leaves room for crossfire with an equal GPU... but it's just called a "Standard" power supply. No name brand. I plan on replacing it soon, to avoid any issues, but that is literally all I would touch and is maybe a $60-70 replacement in around a year.
Could NOT be happier with this company, and it upsets me so many people complain about them. This is the only reason I'm writing this review – being in customer service myself I know how important customer comments are – I almost didn't go with this company because of all the negativity. I want YOU out there to know, this company isn't a cheap company. For the 1,000's of PCs they build and send a year, it seems like the one guy with the issue is the most vocal. Maybe I got lucky? But I doubt it. This appears to be a very solid company, and I would recommend it to anyone I know personally who doesn't have the time to build their PC. Specs: $1,089.99 + the governments cut, i5 6600 @ 3.30Ghz, 8 Gigs dual-channel DDR4, MSI 7170A Motherboard, NVIDIA GeForce GTX 1070 (MSI), 1TB HDD

ConsumerAffairs Research Team
The ConsumerAffairs Research Team believes everyone deserves to make smart decisions. We aim to provide readers with the most up-to-date information available about today's consumer products and services.
CyberPowerPC is a nation-wide leading computer system manufacturer focused on providing powerful gaming PCs for consumers. The CyberPower company was founded in 1996, opening their gaming PC specialty business in 1998, and is headquartered in City of Industry, Calif.
VR-ready systems: CyberPowerPC has an entire line of PCs dedicated to working with emerging VR platforms. These systems are VR-capable right out of the box.
Exclusive gaming series: CyberPowerPC offers a number of exclusive gaming PC series. The Fang series is the company's most recognizable gaming PC. The Zeus Mini Evo provides a powerful gaming rig in a space-saving compact design. The Syber series of computers are built to look like gaming consoles, and the ProStreamser series has PCs build for game streaming and broadcasting. Each series has models at different prices.
Fangbook: The Fangbook line is CyberPowerPC's series of gaming laptops. High definition screens range from 15.6-18.4 inches with video card options varying across models.
Venom upgrades: CyberPowerPC offers powerful upgrade kits with its Venom service. Consumers can upgrade ASUS, MSI or other gaming PCs with this service, which prioritizes customer's specifications, overclocking and cable management to ensure airflow.
Power Mega Pro: CyberPowerPC's Power Mega Pro PC is built for consumers who want to create their own video, music or gaming content. They are optimized for creative software programs.
Best for CyberPowerPC is best for gamers, VR enthusiasts and creative suite users.
CyberPowerPC Company Profile
Company Name:

CyberPowerPC

Website:

http://www.cyberpowerpc.com/