CyberPowerPC
Baldwin Park, CA
Consumer Reviews and Complaints

I work in the tech industry and I order a new PC every 2-3 years because everyone in my house likes having a an up-to-date PC/laptop. I had previously ordered two PCs and a laptop with no issue, but all of that changed with Big Yellow, so named because of its yellow case. BY was a pretty maxed out desktop; 32 gig RAM, 512 DDR drive for the primary and 2 gig for secondary storage. 460$ GPU rounded out the system. Almost immediately we had problems. After 4 months the system would not POST, that is, it wouldn't even get to the boot sequence. From my salad days repairing PCs in the mid 90's, that usually means a dead component.
After exhausting my own knowledge as well as CyberPower's phone tech people, I paid 170$ to ship it back (70$ for packaging since I tossed the box). Sure enough, it was the video card. After two weeks it was fixed and shipped back. Five months later, same issue: no POST. After another 100$ in shipping, once again it was the video card. And after another two weeks I got it back.
Now by this time I had shifted all of my work to my laptop and when I got the PC back I left it in the box for seven months. After I got married in June 2017, I unpacked it and set it up for my wife, which brings us to now. Once again, after four months it won't post again. And what do you think it was? You guessed it, the video card! But the catch this time is it is no longer under warranty! Apparently when they fix something, it still goes by the original warranty date!
So I was given the option to ship it back to California on my dime and pay for replacement parts to have it fixed by the same clowns who couldn't get it fixed THE FIRST TWO TIMES! Wow... that sounds like a great idea! Not. I'm going to take this to a local guy, have him strip out the good parts and have him build a whole new machine. As for CyberpowerPC, that's the last time they ever get a nickel of my money. Repeat customers are the backbone of any business, a concept that CP doesn't seem to take seriously.

The gaming PC I purchased was severely bottlenecked at the video card, no offer to replace or upgrade. Just said they were sad that I wasn't happy, I will never purchase from this company again. HORRIBLE HORRIBLE customer service.

I bought a computer from CyberPowerPC recently and I love it. I had no issues with ordering and it arrived when I was told it would. The parts I ordered for my pc seemed to be fairly straightforward but when everything arrived it was all MSI which was a nice surprise as nothing was specified as MSI parts and I have always had MSI products in the past. Also shipped with keyboard and mouse for free (due to sale) which both seem good quality. The mouse is cheap but very responsive and has a button that slows DPI to lowest setting to use while aiming and really helps with shooters. It has replaced my $30 mouse. :) Keyboard is average and as a mechanical keyboard very responsive but not better than what I already own, but will keep it in case anything happens to mine. All in all the computer is solid and I am very happy with the products.
I wanted to respond coming on here to see how other people liked their computer and was surprised by all the negative reviews. I haven't had to deal with customer support yet and that seems to be the recurring issue in these reviews so for now they get 5 stars. People, always get a warranty with your computer. The parts used in these machines do break and things can go wrong, such is the life of technology. It is your own fault as they offer warranty on the product when you buy. I got the 2 year to be safe but if you want to risk it don't complain when something goes wrong and you have to pay for it. I would recommend one of CyberPowerPC's products especially when they have sales occurring, some of deals are pretty good. Although due to the many review I would also say beware of the customer support, makes me a little nervous if I ever have to deal with them. :)

Just before the warranty ran out, the computer began crashing. I spoke to a tech and he recommended replacing the video card, which I did. The warranty ran out and the issue continued. I worked with the computer for some time and then we bought a much better and cheaper Dell. I recently spoke to a friend who said the CyberPower Computers have power supply issues. I had already changed the hard-drive, but that did not fix the issue. When I can find one that is compatible, I will switch the power supply. If that does not work, I am not sure what I will do next. I do not want to sink any more money into this expensive mistake, but I need the computer to work.

Do not buy from this company, they have terrible policies. We bought 2 computers from them, one of which didn't work upon arrival. Instead of just returning it, we tried to let them fix it. It was having graphics issues, so I informed them that I think it needed a new GPU. They said they stress-tested it, determined it was the hard drive (what?) which they replaced and sent back. It now had the same graphics issues, AND it would now occasionally get the blue screen of death. I called them and they wanted to try to fix it again, we said no and requested a refund.
They initially tried to tell us that we couldn't have one, because we were outside of our refund window. That is obviously absurd, and I told them as much. After arguing, they then said they would be generous and extend us the 15% restocking fee plus we-pay-for-shipping refund. I told them this is also absurd. They sold us a product, which NEVER WORKED AT ANY TIME THAT WE OWNED IT.
They told me the only thing I could do from there was talk to their disputes department. I told them, "Fine, transfer me." But lo and behold, they apparently cannot transfer you in, nor can they give you a number, you have to email them and if they deem you worthy they'll call you. So I requested the email, and explained what was happening. I didn't hear back for a few days, and so I sent them a follow up.
They responded the day after but it was not in any way addressing my concerns, it was just a boilerplate RMA (what you need for returns) for the aforementioned you-pay-us refund. Still no number to call and talk to them. So to sum it up, they sold us a computer that didn't work properly. After trying to fix it, they made it worse. They then tried to dick us out of the entire purchase price, but now in their benevolence just want us to pay them 15% for A COMPUTER THAT HAS NOT FUNCTIONED CORRECTLY IN THE ENTIRE TIME WE'VE HAD IT. Plus they won't let me speak to the department that can apparently remedy my situation. I have all the email chains to back this up as well. Do yourself a favor and just build your own computer. It's cheaper, easy, and you won't have to deal with this **.
We're deeply sorry to hear of the inconvenience. The refund was requested 2 months after its invoice date, unfortunately the system at that time was already a full month over the refund period. We're sorry for the confusion the email sent out was apart of the RMA detailing all information regarding the refund. It's unfortunate we couldn't continue to work with you, if you ever have any questions please do not hesitate to contact us directly via email.
Cyber_tech2@cyberpowerpc.com
How do I know I can trust these reviews about CyberPowerPC?
882,235 reviews on ConsumerAffairs are verified.
We require contact information to ensure our reviewers are real.
We use intelligent software that helps us maintain the integrity of reviews.
Our moderators read all reviews to verify quality and helpfulness.
For more information about reviews on ConsumerAffairs.com please visit our FAQ.

We bought our daughter a Cyber Power PC customized Lap Top 2 years ago. It's been one issue after another. When we first got it it worked ok for 3 weeks then the trouble started. First it was the camera. We called tech support multiple times and finally got some help... Then the computer wouldn't start up. Called and again waited to hear back. We spent hours troubleshooting... Then the fan which is still to this day louder than an airplane. These are some examples... About 6 months ago it completely took a dive. Half the keys on the laptop don't work. You can press them but the computer doesn't read them, also the camera is completely not working. The computer states there is no camera when you troubleshoot.
I'm so mad since I spent the extra money hoping to get more use than I did from the cheap $400 computer. At this point it's $1000 a year for this laptop's lifespan. Recently I contacted them and they said it was out of warranty so they couldn't help us!!! Are you kidding!?! It's been an issue with something the whole time! The least they can do is let us know if there's a way to fix the CURRENT problems! For 2 grand save your money and get a reputable brand with tech support that is readily available and a computer that doesn't require constant fixing! Especially at $2,000. I could vomit when I think that I threw that money away!
We are deeply sorry to hear the laptop has continued to experience issues. While the laptop is out of warranty we still offer life-time technical assistance. Laptop fans generally run fairly loud as the enclosed area within the laptop dispels heat slower than a desktop. Cause of this the fans usually work hard which also increases the sound they make. For further assistance with the laptop please do not hesitate to get in touch with us via email.
cyber_Tech2@cyberpowerpc.com
- Cyber_Tech2

So after building a computer for my future gaming and audio/video/design work, I decided to choose between 2 companies CyberPowerPC and IBuyPower. I have had several friends say the CyberPowerPC is great and only one had issues and they decided to double their ram from 16 to 32 and give them free one day shipping for when the computer was complete. But for me, that was not the case.
One of my parts (GPU), was out of stock. I did not know that prior to purchase and the 2 week ETA wouldn't make me think otherwise. So just before 2 weeks, I call and ask why no updates had occurred and they told me it was due to a back order and they will have it the following week AT THE LATEST! I accept but ask if they could boost my shipping to 1 or 2 days and they agreed and gave me 2 day shipping. Cool, gotta wait an extra couple days for it to be completed and having faster shipping will make up for that.
Well 1 week goes by and I ask when it will be shipped. Once again I'm told that it is on back order and we will have it next week at the latest. I ask if they could do anything to make up for these back orders and they say, "We can downgrade your part to a different model". I ask if they have it in stock and they respond no, BUT it should be there at least a day before my part came. So I declined.
Another week goes by, no signs of completion any time soon. Now I'm told in 2 weeks the part will be there. I'm told that it is a country-wide back order and no-one can get this part. I decide to ask if they could upgrade me to something they have, they respond, "No. If you cannot wait cancel your order". I was surprised. Already waiting a month for a computer and they expect me to wait another 2 weeks without any compensation.
Me being furious, I decided to call up IBuyPower and ask if they could make the exact same computer with the exact same GPU. They said yes. I made sure to ask if they had the part or how long it would take them to get it. Immediately, I'm told, "We do have your part and have another shipment coming in tomorrow so if you would like to order there would be no delays". Hooray! But, I have to cancel with CyberPowerPC.
CyberPowerPC ignored my cancellation for 3 days then began to process it. I had to call 3 days straight cancelling until they finally confirmed my cancellation. But in the end they helped me, by delaying that cancellation they saved me another $250 and when an error occurred with my order through IBuyPower they apologized and boosted my shipping and even gave me rushed service. IBuyPower: treated me like they wanted my purchase and they wanted me as a customer. I am strongly against CyberPowerPC: they are liars and do not respect the people that ultimately pay their bills and feed their families.
We are deeply sorry to hear of the delays you have experienced with your order. Orders are cancelled the day they are requested however refunds do take some time to processes and appear back on your account. Again we do apologize for the delays and wish you the best with your new computer.
- Cyber_Tech2

Spent 2,000$ on a PC. I have sent it back for repairs 3 times, and every time it comes back worse. The last 2 times, the graphics card was literally not attached and loose in the case banging into other parts. Save your money! Go anywhere but CyberPowerPC.
Dear Valued Customer,
We deeply sorry to hear the PC arrived in such a state. This is very concerning to us as our computers are shipped with internal foam to help hold the video card in place during shipping. We would like to address any possible damages the computer may have endured by possibly exploring other options. Please do not hesitate to get in touch with our support agents. We're always happy to help.
Tech support:
(888)937-5582
- Cyber_Tech2

PC freeze after one week. Several attempts to reboot and to no avail. PC not reliable. Purchased super gaming PC for son's bday July 2015 and spent past 2 years numerous long waits and no fix for this PC. A lot of money wasted!!! I want my money back. They are selling defective merchandise to kids nonetheless!!! Who are gravely disappointed.
Dear Valued Customer,
We are deeply sorry to hear the computer is freezing. While we are still providing troubleshooting assistance unfortunately the computer is out of warranty so we are unable to bring it in for normal warranty repair. Nonetheless we have offered out of warranty repair. If you wish to continue with that process please feel free to get in touch with our support agents via phone.
Tech Support:
(888) 900-5180
- Cyber_Tech2

My son came to me to discuss the fact that he wanted to purchase a gaming PC and when he expressed to me that he wanted to purchase it through a company such as this, my gut told me it wasn't a good idea. But I decided to let him go through it anyhow, and it's been a nightmare from the very beginning. As soon as he got it, it was broken. The customer service tech department closes at 7 pm every day, so without schedules, it was hard to get home in time to work with them. By the time we did, come to find out, they sent a defective piece of equipment so they informed us that we had to send it back so they could replace it. It cost us close to 50 dollars to ship and when I called them to make sure they would reimburse us for shipping, they informed me that they don't pay for any type of shipping, even though it was because of their negligence and not ours that it was having to be sent back.
My son paid 1300 dollars for this PC, we've had it for three weeks now, and we still haven't received the part and every time I call customer service to find out what's going on all I get is rude, unhelpful people on the line. I'm completely fed up. You have 30 days from the date of purchase to return the product, so that's exactly what we are doing. So, people, do yourself a favor and buy elsewhere. Find out their warranty info, how or if they stand behind their product and especially the shipping details. I could see us having to pay if it was due to our own negligence or out of warranty but it was either. This company has VERY poor customer service, and as far as I can see, they don't have a lot of faith in their own product. If I could give it negative stars I would... Two thumbs down!!!
Dear Valued Customer,
We are deeply sorry to hear the computer has experienced some issues. We have sent an email on 6/1/2017 which explains the next step in the replacement process. We do require to receive the part first before a replacement can be issued. I noticed you have chosen to refund the computer so at this moment we are currently processing that for you. Free to contact our RMA status department if you have any questions.
rma.status@cyberpowerpc.com
- Cyber_Tech2

I recommend no one purchase from CyberPowerPC. My $1700.00 desktop arrived unusable. The keyboard was not operating properly causing start up issues. Once I repaired it so it was working. A few weeks went by and then the cooling unit went out and it was again not operable. Now they are refusing to credit my account because I had to cut the wire on the defective cooling unit in order to replaced it with a new part they sent. The wire had to be cut because it was installed improperly. It costs them less to pay for that part than it would for shipping back and forth. CyberPowerPC is never getting business from me, my family or anyone I can get to listen to me again.
We are deeply sorry to hear of this mishap. As expressed in our warranty agreement any physical damage done to any components is not covered under our warranty. This damage only affects the part in question, we are more than happy to assist address any concerns you may have with the remaining components.
- Cyber_Tech2

I will never ever order from this company again. Had my PC for 3 weeks and it broke. Sent it in to be repaired. Took 14 days then they didn't even send the power cord to the tower back. Wrote numerous emails with no response. If you're looking to buy a PC definitely look elsewhere. Horrible customer service.
Dear Valued Customer,
We deeply apologize for the further inconvenience. We have ensured to ship you out a new power cord so you can continue to use the PC again. We do what we can to ensure each email is addressed within 24 hours of receiving it, you are are always welcome to give us a call to immediately begin addressing any issues or concerns you may have,
Tech support:
(888)937-5582
- Cyber_Tech2

Avoid This Company. I bought a new Tracer laptop as part of Cyberpower's New Years deals this past year (2016). 10 months later one of the hinges comes off the case and now the entire casing around the screen is coming apart. The laptop also fails to acknowledge the charging plug and so it's really quite an expensive paperweight. The company refuses to honor their warranty, there was no accidental damage to the machine, the damage is a result of normal use of a very cheaply manufactured machine. This company is nothing short of a customer nightmare, spend your hard earned money elsewhere! Very Dissatisfied Ex-Customer.
Dear Valued Customer,
We're deeply sorry to hear you feel that way. Unfortunately any damage a computer or laptop endures through normal use is not covered under our the company's warranty. You are more than welcome to get in touch with us to further work on this matter. Any details involving our warranty policy can be found within our website.
Tech Support:
(888) 900-5180
-Cyber_Tech2

I was so excited about getting my new computer. It had everything I wanted!! Within a week or two of setting it up the front fans sounded like a diesel truck constantly!!! They have sent me replacements for these fans twice and each time the new ones have started making the same loud noises. It gives me a headache. Plus, each time I have had to unplug everything, take the computer apart, etc. This time they have not responded when I said I wanted DIFFERENT QUIET fans. Thankfully I bought the computer from Costco and I am still within the 3 month return window. I will be returning it and finding another hopefully QUIET computer. What a royal pain in the rear end!!! I am an extremely unhappy customer. Do NOT buy from this company!!
Dear Valued Customer,
Its unfortunate to hear the computer may have caused any inconvenience. The case fans provided and equipped in the computer are simply normal case fans which are as load as any normal fan. They are not designed to be silent running fans. It's possible they may be running at full power causing them emit a lot of noise. We are more than happy to assist you in re configuring the fans to run slower and still help cool the system.
Tech Support:
(888)937-5582
- Cyber_Tech2

I have some model of computer purchased for me that I can no longer identify because nowhere on the computer does it specify, and they no longer produce it, likely for reasons I'll entail. First of all, when I first got it, it would crash constantly. The audio output didn't work, and any audio that would play would play from the computer speakers in addition to anything connected. Yes, I tried everything I could do to fix it, and apparently the crashing issue was due to a manufacturing mistake.
I send the computer back, and it takes months for it to get back to me for something I was under the impression wouldn't take nearly as long. Customer service was confused but said they could handle it. I get it back, the output works for about a week, and then it stops working at all. This is unacceptable as I use my computer for games and making music, so the output port is kind of important to me.
In addition, I have found that my HDMI port does not function. I could send my device back again, but I have already had to and it was a huge pain. I shouldn't have to have done so the first time, but a second time is absurd. This company is a joke, and all I am left with is some unnamed computer I can hardly even sell because no one even knows what it is, let alone the fact the thing is half broken. I now have a 1000+ dollar internet machine that I can occasionally play games on. I would never let a friend make a purchase from this company.
Dear Valued Customer,
We are sorry to hear of the inconveniences. Regarding the model of the computer, you are welcome to give us a call and we are happy to provide any information you need regarding the computer. Our computers may come with two sets of HDMI ports, one for the motherboard and one for the video card. The MB video ports will be disabled due to the installment of the VC video ports. We are more than happy to assist you anyway we can.
Tech Support:
(888) 900-5180
-Cyber_Tech2

Purchase a Gamer Ultra that was manufactured this year 2017, unboxed it and got everything hooked up. All went well until this month when the machine started shutting off on its own. Also the mouse acted erratically as well. I bought this to play Sims 3 on and even then the graphics card wasn't recognized by the game. I also tried to upgrade the HDD to a 3TB to store more games. It would not let me boot into the bios options to change the boot order from MBR to EUFI. I pressed escape rapidly only for it to continue straight to Windows 10. Very upset and disappointed. About to send this crap back to Amazon for my refund and also cancelling the service plan as well.
Dear Valued Customer,
I am deeply sorry to hear the computer began to experience issues. If you still happen to have this computer we would like to assist you in rectifying these issues. Most motherboard manufacturers now require the "Delete" key to be pressed in order to boot to bios. This is common with MSI, Gigabyte, and Asus boards, simply to name a few. Our contact information is below if you require any further assistance.
Tech Support:
(888) 900-5180
- Cyber_Tech2

After two months of me purchasing this computer for my son for his birthday. He attempted to add an updated graphics card. When he went to add it the black covering to the PCI express slot 2.0 broke off. It is on the motherboard. So we went as far as buying another board exactly the same assuming we could just add it and the computer would work fine. However that was not the case. The computer never worked again. So we attempted to contact CyberPowerPC. I did purchase the 4-year Warrentech Warranty but they directed me to CyberPowerPC since they have a one year warranty on the computer saying they would be the ones covering it since it was defective.
To make a long story short CyberPowerPC customer service said it is my son's fault the piece broke off because he added a graphics card to the computer. I said, "Hold on. We are supposed to be able to add or upgrade the PC without things breaking off." Basically he said, "There is no prove your son did not break this when adding this card."
Furthermore he added if it was loose or broken he should have eye balled it and known and should have reported it before attempting to add a graphics card. I said, "How would he know by eyeballing something is was about to break off. Would you not be more likely to discover that upon opening the computer or upgrading." Basically the guy said he will do nothing. It's not covered, he was extremely rude, all I wanted to do was to send it in and them fix it so my son has his computer. Now I am out over 600 dollars including computer warranty and spare motherboard. I should have looked into the reviews for this company and its computers before purchasing.
Dear Valued Customer,
We deeply apologize for the inconvenience. Our warrant does cover any issue the PC might be experiencing with its original components. During the removal of the video card the PCIe slot was damaged. We have offered to bring in the computer for out-of-warranty service as any physical damage done to the computer is not covered by our warranty. You are more than welcome to get in touch with our support agents if you wish to proceed.
- Cyber_Tech2

(Fair warning, this a long review just to give potential customers understanding what they're getting into. And perhaps to explain my "Thousand dollars in the hole" frustration.) Background, I had about a month before I attended college for my first semester. I was required to live in the dorms for the first year and I decided I need a laptop, more so, a gaming laptop. My family decided as a graduation gift, they would buy me a nice gaming laptop. (To be fair, I was the one that chose the laptop/company). At the time I couldn't deny the price of this computer with all the specs it came with. I ended up choosing this company over an Asus laptop (first mistake).
Laptop: **. When I ordered it, August 2015, the reviews were fairly decent, everyone seemed happy about it. When I received the laptop and gave it a go, it was like being a child on Christmas all over again. I never owned a "Gaming" rig before, always had generic HP/Toshiba laptops. The graphics were crazy smooth and beautiful, as well as the gameplay. League of Legends was running somewhere around 300 FPS (Not saying much but at the time, that was outstanding for me). Ark: Survival Evolved was running on Medium graphics and not phasing too much. Overall, I honestly couldn't have been more satisfied at the time.
Here's where ** storm starts to build up. Around January 2016, the laptop has this strange reaction where the battery won't fully charge. I'd be playing Ark and all of a sudden, I'd be getting 2 FPS... T-Rex fly at these frames. I tab out and notice the battery is on 14% (Low). I check the plugs and make sure everything is properly connected and sure enough, the battery just isn't charging. I look up online to find this to be a common defect in my model of laptop. Whatever, I do my own brainstorming and come to realize if I give it a couple minutes here and there to charge, the gameplay isn't affected too much. I mean, come on, it can't be perfect right?
Next stop - Laptop graveyard. About end of March 2016 (So middle of my second semester, 7 months into lifetime), I'm playing Trundle Jungle on Sunday (Yes I remember this day very clearly), and my laptop powers down with the Hollywood sound of "This is not turning back on" (It was a sunny day, no, I didn't get struck by lightning). With the sound that pierced an arrow into my geek heart, I tried to turn on the laptop through unplugging the charger and plugging back in... No cigar. Panic overwhelms me due to the school work in my laptop, and the fact I left my league team hanging. So come the Monday, I call CyperPowerPc and explain my situation to 2 or 3 different people (This doesn't bother me, I expected this). I also mentioned how the battery may be faulty due to the battery not charging fully.
I tried to ask if there was a technician that can possibly run me through some methods on how to fix this from home... That was a good laugh. Instead, they didn't explain any reasoning why the laptop might be broken; they just wanted me to send in. I got frustrated and told them to explain to me what might be wrong to the final person, to where they finally said the battery could've failed or the motherboard is broken. I don't mean to be rude, but I'd like a technical idea as to what happened to my product as well as an explanation to why this happened 7 MONTHS after the purchase. Call it unlucky they said.
They mentioned there might be a possibility that the data on the hard drive might be lost due to the uncertainty of my laptop's condition. I had to agree to let them potentially wipe it if necessary (I still got good grades, but at the time, I thought I was screwed for the semester). Whatever, wipe it if need be. They recognized I was still in the warranty, and gave me everything necessary to send my laptop in and have it repaired, free of charge. Fine... Take my laptop.
It was nice to see I had a method to communicate with the RMA department and see the status of my laptop, despite how useless it was. However, these people responding to my request for information were complete idiots and knew nothing about computers. I still to this day, don't know how a faulty motherboard equals an empty hard drive. After nearly 4 weeks, my laptop was returned to me and it thankfully powered on. Low and behold, the battery STILL didn't charge fully! Honestly, I was pissed but I couldn't afford to send it in again and lost hope for this defect every being fully repaired. I called and asked about a new laptop but they wouldn't allow this.
Final Stop - Laptop Soul drained. Now it's May 7, 2017 and I'm sitting at my desk job listening to music on Youtube and once again Hollywood sound strikes again. Overall, the laptop lasted 20 months with one "Repair". At this point in my life, I have built my own computer at home and was using this computer for music, homework and Hearthstone (Nothing too taxing). The warranty is nothing but a legend and after reading other reviews on the company/laptop, I find myself to be one of the many pissed off customers. I don't have it in me to send any more money to this company and squeeze out a few more months with this laptop. I've lost a lot of data/time with this laptop but learned a lot. Hope you enjoyed my experience!
Dear Valued Customer,
We deeply apologize for the inconvenience this system may have caused. We understand you have requested methods to try to troubleshoot the system, however, unlike a PC laptops are much more difficulty to test as many of their components are integrated into the board, this includes the battery as well. As for the hard drive, the OS and drivers have to be reinstalled to ensure compatibility with the new hardware.
- Cyber_Tech2

I got a laptop from them and then 7 months later it broke, it was at their shop for over 3 months getting fixed, they could not fix it so they sent me a new one. The new one broke after a month, it went back to get fixed, 1 month later they send it to me, I boot it up and it locks up and is broke. They did not test this and sent me a broken system. They had my laptop for over 3 months at their shop. They gave me new laptop. It broke after 1 month. Send it back in for repair. Get system back and it is broken right out of the box. They are telling me they will not repair it now.
Dear Valued Customer,
We're deeply sorry to hear there has been a misunderstanding. CyberpowerPC is providing the necessary items to have the notebook brought in for repair service. It does appear we have recently received your notebook and currently undergoing repairs & various tests. Please feel free to get in touch with us if you wish to inquire a status regarding your RMA.
Tech Support:
(888) 900-5180
- Cyber_Tech2

I bought this CyberPower PC in March 2016. I was told that it was built in Brantford, Ontario. By October, the motherboard failed. To my horror, the warranty stipulates that it has to be sent to California to be repaired. (Nobody tells you this at the time of purchase.) So I made it clear that NOTHING was to be removed from the computer. I was assured that by replacing the motherboard, the data and software would not be touched. I was told my computer would be fixed in ten business days. Well, it took nearly TWO MONTHS to repair my computer and return it to me. This was devastating to my business and course work.
When the computer was finally returned, CyberPower had wiped every single program and every single piece of data from the machine, despite being explicitly told they did not have permission to do this. I lost tons of data. It cost me hundreds of dollars to replace all the software. So now, the computer is 13 months old and it suddenly starts banging and rattling. It turns out that ALL THREE fans are broken. What kind of shoddy materials or workmanship causes ALL THREE fans to fail? And I am told that my computer needs to be sent to Toronto for repairs. Ten business days. DON'T USE THIS COMPANY.
Dear Valued Customer,
We deeply apologize for the inconvenience. Our repair technicians will reload the hard drive if its crucial to ensure the computer will function normally. When components are replaced they may require to have windows reconfigured to function properly. If the fans are rattling it is possible their mounting screws have gotten loose, feel free to give our support team a call for assistance with your computer.
Tech Support:
(888) 900-5180
- Cyber_Tech2

Purchased a Fangbook for my son a little over a year ago. The motherboard fried and have spent the past month trying to get help from Cyberpower to get it repaired. Finally Cyberpower gave us the make and model of the motherboard and has told me I am on my own. Upon further research on the motherboard of the Fangbook the frying of the motherboard after a year has become a common issue. I personally would NOT recommend this product or company due to their lack of concern or support of their customers.

Worse desktop ever purchase in 2016. Less than a month old hard drive failure, find out it was the power supply wires when they put it together in tight side of PC causing the connections damage. Spark against hard drive and failure of Hard Drive, bad decision on their development causing me to lost lot of Data and headache.

CyberPowerPC had excellent experience ordering computer on Web. This where it stops with your best experience. It took one month to get my ordered computer. When I got the computer I had dead GPU. I called service went through typical trouble shooting and finally decided that the GPU card need to be replaced. I ordered it and called every day for when the card will ship. Service Tech kept telling me every day in process and go out today. It took 7 days for them to process my replacement order. They took action only after I expressed my frustrations.

I am loving my new computer from CyberPowerPC, ordering the computer was a breeze and excited for the computer to arrive. Once it arrived the computer wouldn't display. So I called support and they pointed out I was connected in the wrong port. They were very helpful and informative. The computer runs great and I will most likely purchase from these guys again!

Shopped around for the right gaming computer for my son. He chose this company CyberPower Inc. There was a rebate that was offered and it was clear this would be easy to get once the computer was purchased. I followed all the rules Necessary to make sure this would knock some off the purchase price. Pretty much the only reason I purchased this computer.
So I called to make sure I sent in the rebate information and made damn sure that I asked 3 to 5 times to make sure I would be getting this rebate, bear in mind it supposed to be 10 weeks out to get this rebate. So I called on it around the 10 week mark and lo and behold my rebate had been declined and I got the runaround from 3 different people saying I did not fill the form out properly... Such bull crap... Never will use this company and I will be spreading the word that the rebates they offer are FALSE!

Just bought a brand new CyberPowerPC from Best Buy. RX 480 graphics card, 8350 processor. First game I tried playing, WOW, would crash and restart the entire PC after 10-15 mins, sometimes I could play up to 2-3 hrs before a crash and restart. Piece of junk. Scared to exchange it so just going to get my money back.

Purchased a brand new gaming computer and it didn't work. Kept crashing. Customer Service is not allowed to stay on the phone and walk you through anything step by step so we had to send the computer back for service. After receiving it back, it still did not work. They will not pay for shipping for their broken computer, so that cost us $112. Then they still charge a 15% restocking fee. This is the most horrible company we've ever done business with and it should be against the law to take money from people with charges when the company product does not work.

I ordered a new PC from CyberPower PC a little more than two weeks ago. After doing lots of research they seem to be the best priced. Well, my custom build PC is supposed to ship tomorrow except their website has had NO updates as to the progress of my system build. I sent two e-mails to the person who e-mailed me after I placed my order inquiring as to the status of my build and have gotten no response. Of course, they charged my credit card minutes after I placed the order. I'll follow up with additional information as things pan out but right now I am feeling like I just got scammed out of $3000!! Wish I'd Read These Reviews Sooner.

My teenage son saved up for a few years to "custom" build his gaming laptop. He used it for a couple years but not a lot. It had heating issues and most recently a battery/memory problem. We've called technical support and, of course, once the year deadline has passed, you're basically on your own. Cyberpower support told us that it would cost $200 just to ship/return it and said the labor would be expensive. We've had Best Buy Geek Squad say they didn't work on these systems, along with several other local computer companies. You personally have to have good technical experience to fix issues yourself or have a lot of money to maintain Cyberpowers computers. No help at all from the company.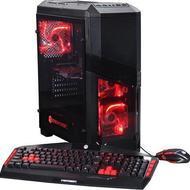 I received this PC for Christmas, & within two months started having issues with it. The rear exhaust/cooling fan has locked up & even while under warranty & used for a little over 2 months. It will take the replacement part (which I will have to install myself) up to 2 weeks to get here. I'm currently using my 6 year old HP tower which still works & I paid under $250 for until then. Their customer service representatives are rude & painful to deal with. Avoid this manufacturer like the plague!

ConsumerAffairs Research Team
The ConsumerAffairs Research Team believes everyone deserves to make smart decisions. We aim to provide readers with the most up-to-date information available about today's consumer products and services.
CyberPowerPC is a nation-wide leading computer system manufacturer focused on providing powerful gaming PCs for consumers. The CyberPower company was founded in 1996, opening their gaming PC specialty business in 1998, and is headquartered in City of Industry, Calif.
VR-ready systems: CyberPowerPC has an entire line of PCs dedicated to working with emerging VR platforms. These systems are VR-capable right out of the box.
Exclusive gaming series: CyberPowerPC offers a number of exclusive gaming PC series. The Fang series is the company's most recognizable gaming PC. The Zeus Mini Evo provides a powerful gaming rig in a space-saving compact design. The Syber series of computers are built to look like gaming consoles, and the ProStreamser series has PCs build for game streaming and broadcasting. Each series has models at different prices.
Fangbook: The Fangbook line is CyberPowerPC's series of gaming laptops. High definition screens range from 15.6-18.4 inches with video card options varying across models.
Venom upgrades: CyberPowerPC offers powerful upgrade kits with its Venom service. Consumers can upgrade ASUS, MSI or other gaming PCs with this service, which prioritizes customer's specifications, overclocking and cable management to ensure airflow.
Power Mega Pro: CyberPowerPC's Power Mega Pro PC is built for consumers who want to create their own video, music or gaming content. They are optimized for creative software programs.
Best for CyberPowerPC is best for gamers, VR enthusiasts and creative suite users.
CyberPowerPC Company Profile
Company Name:

CyberPowerPC

Website:

http://www.cyberpowerpc.com/