Consumer Complaints and Reviews

I have had Apple charge my credit card and bank account 2 different times for iTunes, once $850 and the other $1200, and I don't even own an Apple product! Do they not monitor their sales and online purchases??? Very frustrating. I will never purchase an Apple product! I do not feel safe with this company at all.

I signed up for a free Soundcloud trial on my Android phone 3 months ago and can't cancel due to their policies! They are charging me $9.99 a month for this service which I do not use! The only way to cancel is from an actual computer and the one I have has an outdated browser so I can't log in from it! There is no number to call and I can't successfully contact their "help" from my phone so I'm stuck paying this!
I'm furious that you can set up an account from your phone to start payments to them but can't cancel those same payments from your phone. I feel scammed and I want my money back. I shouldn't have to cancel my debit card to stop these payments but if I have to I will because this system is crooked and appears to be designed to keep Android users from being able to cancel easily. Do not use this app if you have an Android or an "outdated" browser on your PC. Ridiculous.

First issue 1) Now when you call Apple Support you are required to hear sales pitches on various products including DirecTV, Safety Alert, medical devices, etc. After finally getting through all the sales pitches, I was directed to another number and had to begin my wait. I was waiting 2 hours to talk to support. I basically had to take a half day from work and still had no resolution on issues. Issue 2) My son's password no longer is recognized for iTUNES access and days later has still been unable to log in. When he tries to follow protocol for "forgot" or change his password, a verification code is sent to my phone. He cannot choose security options, does not have the 2 step security process set up an any of his devices making the verification code useful. He essentially cannot access his purchases (music) accumulated over many years. Banks have an easier login process than Apple does.

I have yet to figure out why Apple wants to store a credit card online when they haven't proved they can do it securely. Either way, I've been charged over 27.00 in fraudulent charges by the App Store and iBooks and I refuse to provide my credit card anymore. Therefore I am not now Apple to use my bank apps (which are free by the way) to do banking. Has put me in a real bind. They just keep telling me to review the purchases. I have reviewed and found they charge 4 times for the same book and 2x for something I have no clue what it is. Amazing, because they refuse to believe they made a mistake.

For the amount of money Apple products cost customers should not have to wait more than 1 hour on hold just to speak with a representative! iTunes is overcharging me for the last 5 months and I just noticed when I was looking at my bank statements. I'm holding to find out why the overcharge and that has taken me more than an hr on hold. Very close to going to team android. This is crazy when you pay 600+++ dollars for a phone!
How do I know I can trust these reviews about Apple?
672,188 reviews on ConsumerAffairs are verified.
We require contact information to ensure our reviewers are real.
We use intelligent software that helps us maintain the integrity of reviews.
Our moderators read all reviews to verify quality and helpfulness.
For more information about reviews on ConsumerAffairs.com please visit our FAQ.

On Saturday 6/6/2016 I was surfing the internet looking for a truck to buy when I came across a 2007 Chevrolet Silverado selling at an I'll agree now at a very amazing low price of $3000.00. I texted the number, and received a return text from Ashley ** telling me that the reason the truck was so cheap was the fact that her son who owned the vehicle had been killed by a drunk driver and that she and her husband stayed out working over the road and she just wanted to sell the truck quickly because it brought back precious memories.
I was then told that in order to purchase the vehicle I would have to pay through eBay. I was then contacted through the internet by a company that was convincing enough for me to believe them to actually legibly be the actually eBay, the instructions were for me to obtain $3000.00 through Apple/iTunes in non-denominational gift cards. It took me three days to collect the gift cards because of the amount of money being spent, the email also stated that I need to scratch off the back of the cards, and send eBay a picture of the code on the back of each card, and send then by reply to the return to the sender which looked like a real eBay return email.
I followed the instructions and waited for a reply. I also asked in the email for eBay to reply if they received the pictures, there was no reply. After a hour and a half I got in touch with eBay who then told me that eBay does not work in that manner and this wasn't a real eBay transaction. Next I immediately telephoned Apple & had the cards pulled or stopped, the Apple employee did as I asked. I then went to the CVS store told them what happened then I tried to redeem the cards. I was then told by someone in the CVS office that it was not their responsibility so I then made another call to Apple who told me it was not their responsibility, it was the store that I bought the cards from.
I am being sent on a back & forth loop with no one wanting to take the cards back. So I then called the FTC (Federal Trade Commission) who told me it was indeed Apple's responsibility. Right now I don't know who to call next to have any action taken. I don't necessarily want my money back I will spend or rather use the cards at an Apple store. The manager of the Apple Store on Knox St. in Dallas, TX told me to call Apple corporate office. I don't want any monetary benefits I just want to spend the money I paid for the cards. Maybe I jumped the gun trying to stop the redemption of the cards I bought but I was trying to keep the scammers from taking my money. I shouldn't have to pay $3,023.70 for jumping into action and having my own cards taken offline. Thank you in advance.

I downloaded a song (by the hardest) and it did not play correctly. I reported the issue and, of course, it was my fault. I was given instructions to redownload the song, which instructions were impossible to follow since what I needed to click on did not show up on their diabolical website. I plan to take it up with my credit card company, never use iTunes again, never buy an Apple product and stick with Amazon for all digital music purchases.

I quit using Apple products 6 years ago when I lost hundreds $$ of music I had just purchased after a computer crash, could never get restored and finally cut my losses. Fast forward to a random iTunes charge on my credit card. I called the phone number which is a recording that says to check online. I can't check on-line because I don't have an account to sign into. There is no other option offered to get this resolved with Apple so I had to put in a fraud claim with my card company and close the card account. Now I have to wait for a new card and set up all my automatic payments with companies I actually do business with. Apple needs to have a way that consumers can find out what was charged on their credit card and why. You should be able to contact the company without an account. What lousy service. I would never use them. They must think they are "too big to fail". Not really Apple!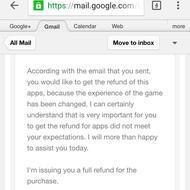 There is a game of developer kabam called 'Marvel: Contest of champions'. I have been playing this game for over an year now. I don't hesitate to spend money on games, I have done it on some games before also and similarly on this game too. But kabam came out to be a totally different story altogether. They introduced some features like alliance wars and alliance quests some time ago in which whole alliance (i.e. 30 players from around the world) comes together and help each other for getting reward.
To perform better we had to use synergies provided by the game and to use those synergies we had to had some specific champions in game and then we had to level up those champions to use them in game. This all process of acquiring and updating champions costs us money (real money). Then kabam used to come up with rebates on their in-app purchases to facilitate this process so we spent more and more in order to get those champions and use their specific features provided by the game.
Suddenly, one day kabam mails us saying we are taking those features out (i.e. synergy and mastery), so basically all the money that we had spent on the specific champions and their abilities are now totally wasted. They said they are going to compensate us with some in game resources which is totally unacceptable as we have spent real money to get those champs where they are now so the compensation should be in real money too. But nope, I tried talking to kabam but they were adamant that these new changes will improve gaming experience (which I doubt, as it's just another way to take more of our money). And they bluntly said nothing other than those in game resources will be provided as compensation. I was fed-up and finally went to iTunes store when one of my friend recommended me to.
My friend who is also player of same game and has been victim of similar fraud from kabam went to iTunes support and got his money refunded instantly for the fraud. So he recommended me to go to iTunes store support and I went there but to my surprise they didn't refund me my money. I have spent more than my friend and tried to convince them for an hour in their chat but still no refund. Does this refund which my friend got is region based? He is from USA and I am not so can it be the problem? I asked them all these questions but their reply was, "We can't comment on how other case was handled". I even sent them screenshots of my friends refund confirmation but still no help from iTunes store. I am not asking for all the money that I have spent on the game since I started playing but only the money that I have spent in past 3-4 months for that specific feature which is going to be nullified now. I need help.

I think it's ridiculous when you switch between accounts on iTunes that you have to wait 90 days to switch back. It shouldn't have a waiting period at all, nothing else does. Now I have had problems with other things as well, but they aren't terrible and I've never had anything happen like what has happened to some costumers. That I am happy about. I think that iTunes needs to step up their game because you can't rely on consumer loyalty if you treat them poorly.

Contacting Apple is ridiculous. It should not be legal for a company to keep you on hold for over 45 minutes to speak to a representative -- especially if you've just paid $400 for a phone!!! I've been on hold 46 minutes now to Apple about an iTunes question. Absurd!

I was overcharged for my Slacker Radio and iTunes told me they would reimburse me and they never did. They tried telling me it takes up to 10 days for my reimbursement to go back on my debit card. It only takes 2-3 days. I waited 2 hours on the phone for someone and then the iTunes rep tried telling me I never called in to speak to someone prior about this problem. I called the week before. I just love how they manipulate people, to try to cover their asses!!

Last year I purchased the At Bat app thru Apple. This year Apple tried to renew with the credit card I used last year, but I no longer had that card. I tried using other cards but had no luck. I ended up paying for the app through MLB.com. Now I cannot download any other apps and I cannot update any of my apps. The person at Apple that I have been communicating with tells me I have to pay for the app again even though the services of the app and not being provided by Apple but by MLB.com. There is no way I should have to pay Apple when they're not providing the service. No one will help me with this.

First, I'm trying to update my iTunes for several times now but it still would not update it. I'm still using the old version. Also in the past, I'd have to google how to do things because their options are hard to figure out. I'm not sure why they don't just put, 'import song, export song, backup phone, undo back up.' These are the basic things that anyone would like to do on their device. Try to open iTunes, for any beginner, it would be a search of a needle in a farm field to add a song to your iPhone.
The 7 main options up the top are not relevant to users at all. Options like "for you," "new," "radio," "connect" - what the heck??? Shouldn't be the options really be intuitive, meaning easy to decipher and addresses what a user mainly does??? Where's "add music to iPhone," "export songs from iPhone" etc.? Right of the bat, any user should see these tasks because these are the basics. I love my iPhone, pretty straightforward. But iTunes, it's an equation to solve.

It's really annoying with sync up. Just to import one single thing sometimes you may delete the photos. What this is, smartphone, overcomplicated, unnesssary.

How can Apple hold music you purchased from them hostage after payment has gone through? I purchased over 50 songs on iTunes months ago and now that my card has expired they won't let me listen to any of those songs until I have a new credit card on file. Is this legal? It has also happened to me in the past on songs I have purchase. They will not let me listen to them or load them from my account any longer. Can we start a class action suit against them? I'm certain I am not the only one this is happening too! Where is Steve J when you need him.

There is no customer service at iTunes these days. Make a purchase and wait and wait. Shows are available to buy by the episode but not available to those who bought the season in advance and they claim there is nothing they can do about it. I'm done with iTunes. No music, no movies, no podcasts and no TV is worth buying and then waiting until they can get their act together and make it available. The customer service attitude is "oh, too bad, but we can't do anything". If they don't have control over the iTunes purchases, then what do they control?

I admit when playing a game on iTunes I will opt for .99 cents to go on. Frequently will confirm purchase and then blocked access to game. Keep trying with charges racking up. No progress. I am so close to blocking all iTunes charges on my credit card. Are other people as dumb as I am.

After 5 years I have given up trying to keep my account online. After constant refusals to accept my ID and loss of music, it is very hard to remedy any problems. I have spent 3 months trying to get iTunes on my new laptop but I keep getting blocked by different obstacles. I would advise anyone to find another way to buy music.

I bought an iTunes Gift Card because I wanted to purchase music online, instead of downloading as most people seem to do these days. Well, to my surprise, being honest and paying doesn't work because when I tried to redeem the credit on my card, it didn't work. Since then I tried to contact Apple several times, I emailed them, but have received nothing but a general email back with a case number. This is really unacceptable. I've bought Gift Cards before and they always worked, it's really inexcusable that Apple can't get theirs to work and then doesn't even help their customers. This is theft! I will never buy an iTunes Card again. There are enough other websites that offer music, movies and books.

I called Apple's iTunes to help fix my iTunes sync issues... I had wait half hour to get through, the man had no knowledge on what to do and only tried to help me for about 5 minutes then right after said to call back tomorrow morning because they are closing. He didn't even reschedule a callback or apologize for wasting my time. HORRIBLE SERVICE!

My son received a gift card from his Aunt for xmas. He peeled off the security code and tried to redeem it. It had already been redeemed. Contacted Apple iTunes, they said it was redeemed in September 2015. The Aunty purchased it on Dec 23, 2015. iTunes said that another acct holder redeemed it. They can't do anything. Go back to the store it was purchased. The card was inside packaging, untampered with, not the store's fault. Obviously hackers. iTunes need to alter their gift card security.

Apple iTunes has extracted $14.98 and .99 out of my bank account again. They leave a number 1866-712-7753 that refers customers to a website that does not help and asks for account numbers and passwords. I never opened an account with them, therefore I don't have a password. All numbers on all of their websites say the same thing, meanwhile they have stolen money out of my bank account without my permission. I do not use iTunes and I have no account with them. They have stolen from many people and cannot be reached for retrieval of money. My bank will get this information of course. I'm just reporting this because they should not have the right to steal and have no contact numbers. Everyone does not have a computer or have time to go through this to get their money back.

My special needs son inadvertently set up 3 different iTunes accounts over the years, with thousands of songs in each account. He never wrote down the passwords or security questions, and now can't remember them. He is autistic, intellectually delayed and has always had memory issues. I have pleaded with them to please allow him access to his purchased songs, but no matter how much I beg and plead, they refuse to allow him access due to their security policy. This is not Fort Knox, for God's sake. These are HIS songs that HE paid for!!! I am so disgusted with them! They are heartless, money-hungry thieves that trick you into trusting that they are merely storing YOUR purchases.

I'm over iTunes running my songs and library. Your music go up with the clouds/smoke. You pay big money per song of them but sometimes you have bought the cd and need not buy it at say a ridiculous $2.+ a song again...??? I've spent thousands of dollars on CDs and music etc and iTunes really make it hard to let you download your own collection onto their devices and pcs, Mac, etc. You get the feeling you are been run by a dictatorship! Even cellphone shop salemans tell me "Nah they not worth it." And I can assure you I will go out it of my way to not support this flawed dictatorship of an iTunes setup and bring them down as far as humanly possible!! Very ** off. Ex customer...

Apple double charged me for an item I purchased on iTunes. It was that they just simply double charged me for no reason but it was my fault. I purchased a gift and while doing so the app crashed on me for the first time ever so I opened the app and purchased the gift for my friend again and it went through. Later my friend retrieved her gift through email and the gift was on there twice. She clicked on the email to download the album but the album only downloaded partial so I told her to open the other email with the gift since maybe the first one wouldn't work because it crashed on me during the purchasing process and so she tried the second one and it downloaded fine.
Days later I received and email that I was double charged and so I contacted Apple support. They called me right away after I filled out the request and I explained to Apple support what I have written here and he said "no problem we have refunded you." First time experience with Apple support and it was great. VERY IMPRESSED!!!

Apple iTunes, could not set credit card to NONE, option was missing. Son who has autism manages to spend 900 dollars on my account by repeatedly tapping buttons in Clash of Clans. Apple refuse to refund but I complained immediately. Will post my recommendation on whether to buy Apple products in 30 days.

I signed up as we are an Apple family and still using apps, music purchased in 2006. Added Hubby and Daughter... was going well for about 6 weeks. Then Daughter purchased Mac software, for her Uni degree. She was given money by church who had raised it, as she is recovering from critical brain surgery for 6cm Aneurysm. Largest in UK history, it has 60% chance of rupture vs. 100% last Dec.
Apple iTunes charged my card 229.99... I only use this low limit card for my iTunes subscriptions etc. So, regular charges of about 20-30 per month. It was pushed into the RED, something that has credit damaging actions attached. I approached Apple to find out what charge was for, they wouldn't tell me as the purchaser was over 18. FamilyShare have asktobuy option for anyone under 18, but NOT over? This was first purchase on FamilyShare, and I did not receive an invoice or notifications. Yet, was told I could add Ask to Buy by Apple... They continue to discount, my daughter is 25, not under 18. There is no way to control spending on FamilyShare, no limits.
My bank says I compromised my card, despite not providing any details... They say digital permission arranged by Apple is as good as giving the card to a stranger, with pin... as anyone can use it. Therefore, I am being held liable for losses, overdrawn fees... even though Apple have refunded? FamilyShare is not secure or without its pitfalls... if card accepts amount authorised Apple take it.
Contact with CEO office, they still do not understand. The Banks will hold Apple users liable for any losses as card is usually in single name account! That person is solely in charge of protecting the information, pin, cvc, etc. Misuse, and it's account holder's fault... adding your payment details to Apple FamilyShare is considered misuse. Charges made from iTunes are seen as genuine, and cannot be distinguished from FamilyShare purchases. Be warned. I have stipulated to Apple we will not use FamilyShare until limits, and correct authorities are in place for purchasers over 18. Suggestion for Apple: Call it a PocketMoney switch, and make it so it applies to all ages and spending limits for week, months or year. Simple.

Hi, I've had an iPhone for a couple of years now, and the only problem I've got with it is that I'm being charged for no reason. I don't buy anything on iTunes and haven't bought anything for a good few years now, but once maybe twice every month I get money taken out my account from iTunes and it goes from 8 to 11. I won't spend that much on a phone app or game so what is it? Why are iTunes randomly taking my money? But don't get me wrong, I love the iPhone but I just don't understand why you put a phone for sale for 200 upwards and don't tell anyone about the iTunes charges. Could anyone help.

Filed a complaint with my credit card because iTunes triple charged me for a purchase. iTunes deactivated my account and banned my credit card on December 19th I purchased several songs from iTunes. The total amount for all the songs was $11.18. However, I was charged 3 separate times for $11.18 to my credit card. I couldn't find a number to contact iTunes so I called my credit card company on December 26th and disputed the 2 additional charges of $11.18. It was credited in my favor for their error. I hear nothing from iTunes about the matter afterwards. Move ahead 1 year later December 4th and I try to use my iTunes account. The first time since that incident 1 year previous.
I try to buy a song and it's only then they say my Apple ID has been deactivated and it also says it will not accept my specific credit card. I go to Apple.com and email support regarding this as I have not received any contact about my iTunes account. A guy named Brad responds later that early morning and says I should contact the "account security team" and gives me a phone number. Later that day on the 4th of December I call the # provided. I first speak with a guy named Michael who after much time on hold transfers me to the "account security team". It's then I speak to Kendra, who advises me since I filed a dispute with my credit card and didn't contact them first they deactivated my account for "my security" as well as banned that credit card from ever being used with them ever again.
I explain why I called my credit card company and told her it wasn't even fraud, it was their error in triple billing me. She says she can reactivate my account and that is it. She then gets her supervisor Sarah on the phone who tries to tell me the same thing. If they were so concerned for my account's "security", why didn't I receive any notification 1 year ago such as a phone call or email (they have that info on my account) letting me know their "concern" and telling me they are deactivating my account? Also when the dispute was filed Discover verified with me today the 4th of December that it was filed as a duplicate charge and NOT fraud. That information is available to Apple.
Sarah tells me my card can never be reactivated and used even though I'm telling her it wasn't fraud, it was their error. She refuses and says she can't do it. I ask to speak with her manager and she at first says there is no one above her. I asked if she had a manager in charge of her and she says yes, but proceeds to tell me her manager doesn't take calls. I ask for an email and she tells me the manager doesn't take emails. I ask for corporate information and she says she is corporate and no one can help me. So Apple gets upset I filed a dispute on the triple charge THEY made and didn't go to them first. So how about making the customer service number more easy to obtain or have on iTunes? I would have called them first if I could find it.
They don't notify me at all my account was deactivated or my credit card was banned forever, but they are concerned for my security? They aren't even willing to help me at all in their "account security team" knowing it was their error and not fraud. That is horrible business practice as well as horrible customer service. Sarah did advise me I can go buy iTunes gift cards to use. That isn't accommodating, helpful or convenient to a customer who has done NOTHING wrong. They made a simple matter that would have been resolved, no problem with any other company a big drawn out issue. I have NEVER had a company ban my credit card for any reason, much less because it was in their error. Add to it the extremely poor customer service I received and I am just disgusted with Apple. It makes me to never want to have or deal with anything Apple ever again.
Apple iTunes Company Profile
Company Name:

Apple

Website:

http://www.apple.com/