Consumer Reviews and Complaints

I bought an iMac in 2011. Within 2 years it went slow and would not work properly. I did the usual things, all the steps suggested by Mac support, etc. The fact is that I bought a MacBook Pro in 2008, the best thing I ever bought, and I NEVER had any problems with it. Mac computers used to be workhorses for people in the creative industries. Now they are donkeys for the masses and the people using them are like fat nuns sitting on the donkey. I am prepared to buy a new one but it is 2017 and the current iMac is a 2015 model. The company are so arrogant they do not even tell people when the new one is coming out, so you do not know where you stand in relation to purchasing a new one.

Purchased this iMac 27 5k i5 1TB Fusion in January 2016. It began crashing in October, and escalated till it was unusable. It is January 2017, I have spent 10 hours on the phone, had the machine in the repair shop for two weeks, and it is still not repaired. Still crashes for no reason. In November when updating to Sierra, it also started kicking me off the wifi connection. It will not stay connected, after two months, still no fix.
eBay is overloaded with refurbished machines just like this one being dumped on the market as low as 1299, about 800 dollars less than what I paid. This machine is flawed in its design, and I submit to you my experience, and the flood of these on the used market, by Apple on eBay. The customer service is horrible, they do not know how to diagnose or repair this machine, and expect me to live with it. Apple is supposed to be superior? It's a scam, never have I had these issues in 25 years of PC ownership. Don't be deceived, these machines are no superior to PC's. Well, I have to go, have a call with AppleCare yet again...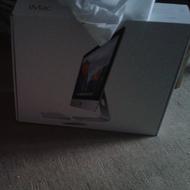 I bought Apple desktop computer in June. Although short period of purchasing it, the computer had got some technical problems. I tried solve it Apple tech telephone help, but it wasn't help, therefore taking back it to shop. I wish that I got the laptop. I trusted the brand but I couldn't get any efficient technician.

I love my Apple Macbook Pro. The only issue I've had with it is sometimes the charging port that is connected to my laptop from my Thunderbolt monitor doesn't always work. However, it does work when I put it in "just right" so I can't say it's broken by any means. The charging port works perfectly fine when I use the charging cable that came with the laptop. I got my Apple MacBook Pro for work and have had little to no issues with it. It does end up getting a little "slow" after a couple years, but that's pretty standard with most Apple products. I can say it definitely has way outlasted any PC computers and laptops I've had in the past. I'll be an Apple user for life.

Problem free computers, After 25 years and many models I can say that I have had only 2 hardware issues which were repaired immediately at no cost. Apple continues to be the innovator in all areas and their simple operating systems are very easy to learn for beginners. My 27" IMAC has not had a glitch in 5 years of heavy use with print and web design work. That says it all.
How do I know I can trust these reviews about Apple?
694,519 reviews on ConsumerAffairs are verified.
We require contact information to ensure our reviewers are real.
We use intelligent software that helps us maintain the integrity of reviews.
Our moderators read all reviews to verify quality and helpfulness.
For more information about reviews on ConsumerAffairs.com please visit our FAQ.

My Mac is very easy to use, to understand and is quite intuitive. Long ago I was introduced to the computer age by a company which used only apple 2e computers. After several non-starts trying to learn about the then-current pcs I was very happy to have a machine I could understand from the start.

Has been reliable and trouble free for many years. Customer support when needed was always there. Although my mac is almost 10 years old, it has never needed hardware repair. I may be one of the lucky ones but so far... never have had to contend with malware. It has been the most dependable computer I have ever owned.

Apple is a reliable computer. The customer service is outstanding. My Apple computer is easy to navigate. I can customize the desktop. I can have multiple users. The computer is extremely reliable. It updates itself. It never fails!

The computer is extremely expensive for what it does, but it is user-friendly and a great size for the power. This is my first time using an Apple laptop, and I expected the learning curve to be more difficult going from a PC. However, I've found it to be quite intuitive, and simple to use. There a few features that don't make a lot of sense to me, but overall it works and functions great. It's a bit heavy and was quite expensive for what it is.

Not only do I rarely have issues, the best reason I'll never buy another brand device is their Genius Customer Service both live, on the phone or even with chat. Unmatched!!! I'll never own another brand's desktop computer!!!

The iMac is a great computer. I love my iMac. It is easy to learn and use. One of the very best things about the iMac is the support from Apple. They are awesome and work with you to resolve any issues that come up. Whenever they upgrade their operating system, if there are issues, the support is free for awhile, which I find very helpful.

Not much experience with product selection. This was a gift. Customer service was patient and did not condescend. (Had HP in past and they were horrible). My iMac is 9-10 years old and I love it. I am not tech savvy but had no trouble figuring out how to do things. Very logical and user-friendly. I can navigate with ease. I will be sad when I have to replace since some of the features on this one are no longer available. The old iPhoto program was better than the present one.

My iMac has less problems than a PC, less virus and malware issues, all of which make the computer more enjoyable and last longer. I like the security of a Mac, the speed of a fusion drive, and Apples' customer support is pretty good. I like that the iMac is all in one piece and not split between tower, monitor and speakers. I think the price tag on the device is a fair value for the peace of mind and ease of access I get from the machine.

Nothing is perfect. Apple might go the way of Sony if it isn't careful with its pricing. I remember when everything electronic I had was Sony. Now, nothing. I love my apple iMac desktop all-in-one. When it needs replacing, I might have to look elsewhere if the price is too high relative to high-end PC's.

I love my Apple desktop computer! Apple has great accessories. They make it easy to streamline documents and files with my other macs. The screen is vibrant and brings joy to my work. It's the little things that count.

I can understand how to use the features even though I am a senior citizen with no computer training. I have used both PCs and Macs. The Macs take far more abuse and are far more durable than my high-end PC. It is not temperamental like the PC. It is user-friendly whereas the PC is complicated and annoying especially when it locks up.

I love Apple and have been a loyal customer of all products since 1984. I have had ONLY the best service and they go above and beyond to make me happy and help me with assorted issues. I know Apple is more expensive. You get what you pay for in a computer. I keep my computers for more than 5-6 years and I hear from friends that they are always needing to bring their back and get upgrades every year. I do not.

I have been a loyal Apple user and like the fact that you can take classes from them at a cost and bring your computer in the store and show them "your" issues. Apple products have less viruses although their software and hardware are usually higher in price. Their product reliability is much higher. I am a little concerned though now that Steve Jobs is no longer around to innovate. We shall see how innovative his chosen successor will be.

I've had my computer since 2008 so I think it's proved its durability. I depend on it for so much, I'm constantly going to it for information. My laptop has always worked. I did need to take it in to get a new battery, but mostly, it's been there day in and day out, sometimes taking on a lot of usage in one sitting. Apple Care has been very helpful when I needed help or advice. I almost bought a new one once, but Apple Care suggested I just buy some speakers and that solved the problem for $24. I think my Apple Mac laptop is a very good product and worth the expense.

My Mac pro has been the best computer I've ever had. In the past I've had Dell, HP, Compaq and Toshiba and this one has been trouble free. Once you get past the learning curve of moving from Microsoft stuff you'll find how intuitive apple has made their products. My information goes seamlessly from my mac pro to my iPad to the iPod.

I've had Macs and PC's over the years since 1985 and have always gone back to the Mac because it is so stable and friendly. I wouldn't go out on the net for financial transactions with a PC due to the variety of viruses, bugs and other evil attendant to PCs. I do wish Mac covered its units longer but their call centers are manned by exceedingly competent help. I've never thought I'd been cheated when I'd called them. Macs simply last longer. When I stand in line at Microcenter I'm surrounded by people buying parts because components like fans and drives turn to toast. All I buy is printer stuff.

Overall solid computer but not perfect. This is my first Apple computer and overall I am extremely pleased. The performance and functionality when compared to previous laptops that I've had is definitely superior. I have not had any major issues as of yet with this unit and I use it a lot.

Compact and easy to use, but missing some features - like a disc drive! This is my first experience with an Apple computer. I also use an iPhone, so I love how I can easily sync my information from one device to another. I especially like being able to receive and respond to text messages from my computer. What I don't like is that my laptop does not have a disc drive! I've considered buying one separately, but it will cost almost $100 dollars.

My Mac is understandable to use and easy to find tech support for it. I've been told that my Mac is far inferior to other laptops but I'm not a techy type of person and I find that the Mac is user-friendly for someone like me. It's expensive but I got it free at work (I'm a teacher). When I look at other systems, like Microsoft laptops, they look completely foreign to me.

I personally have used an MAC (Apple) for years. Very user-friendly, great for graphics, and dependable. In my years of working I used both a PC and a MAC. I found I like the MAC much better because when learning. It was easy to work with. Later as I did more graphics the MAC worked well for this. I'm retired now and I have a desktop MAC at home and it sufficiently serves me well.

Years of experience; failure rate very low and easily fixed; no malware or other virus problems; courteous technicians who can speak English. The designers of the Apple product have put customer satisfaction and confidence very high on their list. The product is extremely reliable and rarely needs any kind of technical help. When help is needed, it's available instantly.

Apple is easy to use, intuitive, has auto fill (critical for me) in Safari, incredible color calibrated (I have a thunderbolt) monitors and fantastic tech support. I have been using Macs since the SE. I have used PCs and there is absolutely no comparison in LOGIC, support, ease of use, virus proof for the most part. They are innovative albeit very expensive. I don't like that part at all, but they are the best thing going in computers. It saddens me that visionary, Steve Jobs is gone. There are none like him to take his place. There is no reason to ever use a PC when there is Mac. The difference is vast and critical.

I am not a computer geek but I feel like one with both my Apple computer. It's fast, it's safer and the monitor is vibrantly clear. Once you go Apple you'll never be able to tolerate the slow, vulnerable PCs, again. Microsoft packages can be applied to apple. Both, the apple desktop and the apple laptop was my best investment in technology!

Not user-friendly, lack of support unless you pay them, lack of functions, ex: cannot create a folder and transfer off a USB - have to take each individual item off and store individually. Wasted time. Go for something better than an Apple. Overrated and costs more and less functions.

Apple MacBook: premium price, poor quality. Acquired MacBook June 2015. Within three months from purchase some keys from keyboard stopped working. Within one year two more keys stopped working, now Apple says, too bad, no more warranty. Third time over same problem! There used to be a time where Apple stood for premium products that you would typically replace because a newer version has more/better features. Those days are clearly over. If anything a keyboard should be able to do one thing right: accept keystrokes. Latest case is the control key, which I rarely use just stopped working and. So, barely used, broken within 3months, continued same issue. The product has to be of VERY POOR quality.

ConsumerAffairs Research Team
The ConsumerAffairs Research Team believes everyone deserves to make smart decisions. We aim to provide readers with the most up-to-date information available about today's consumer products and services.
The Apple iMac is Apple's desktop computer. These computers combine display and CPU into one unit and focus on interconnectivity, high definition display and an easy-to-use interface and operating system.
All-in-one computers: The iMac is an all-in-one computer that combines display, processor, storage and more in one device. This keeps a tangle of cords and cumbersome pieces to a minimum.
Retina display: The iMac's display screen is called the Retina. Some iMac Retina display models are capable of producing 4K or 5K resolution, the sharpest images on the market.
Device integration: Consumers who also own an iPhone, Apple Watch or iPad tablet can integrate these devices to share apps and data. It can centralize user's data and sync with the iCloud to keep data accessible from any device.
Fusion Drive: Apple's Fusion Drive combines the storage space of a standard hard drive with the speed of a flash drive. It keeps boot times and app operations fast and responsive.
Energy efficiency: The iMac is built with energy efficiency and environmental friendliness in mind. Its low power requirements and construction from about 30 percent of recycled materials make it a good computer option for environmentally-conscious consumers.
Best for Apple iMac is best for users who own other Apple devices, families and businesses.
Apple iMac Company Profile
Company Name:

Apple

Website:

http://www.apple.com/