Verizon Home Phone Service
Consumer Complaints and Reviews

From the days I sign up the one talk business Verizon call it. Everything has goes wrong: Reused cellphones, price was not credit as the says, no rep or store managers will answer your calls. Every call goes to the call centers. Most of the call center Reps are helpful. Over all the worst cell and land line phones experience I ever had. SUCK!!!

My Verizon service was for internet. The data was not unlimited, Verizon did not offer an unlimited plan in my area. This year Frontier offered an unlimited plan and I signed up with them. I called Verizon to close out my account. I asked what I needed to do. It was the first day of a new cycle. I was told to unplug the device and since no data was used there would not be a charge for the month of March. Mid March I received an email bill for my March. I contacted Verizon and had the same conversation and was told I didn't owe anything again. In April I received a bill in the mail, acknowledging the account was closed and there was a balance due. If I didn't pay, it would be turned over to the credit reporting agencies. My issue where the Verizon's responsibility in providing honest information to customers about their accounts. I don't plan on EVER being a Verizon customer again.

I have been with Verizon for 20+ yrs. Been overall satisfied till my phone, notepad and son's phone, mine won't take a charge. I upgraded notepad died and son's phone water. I still pay for these items. "They are not paid for yet," Rep said but they are useless. Ins wouldn't replace.

Have been receiving a bill (sent to my old address- moved 3 years ago) claiming VLD-Verizon Five Cents Plan. When I call customer service, the automated recording states that my area has been sold to Frontier Communications and to direct any questions to them. Frontier doesn't show me in their system (they didn't purchase our area I'm told). Have had a local long distance provider for over 7 years. Don't want to ruin my credit with these automated bogus charges. Have tried talking to Verizon wireless, no help. The only real help has come from Frontier as they have been getting calls like mine from hundreds of customers that they can't help. Want to get away from Verizon as soon as possible!

Verizon was charging me 45 per month for data on my land line, plus 20 per month, total with taxes 75.99. My landline can't use data. When I contacted them they were rude, and said it's policy, also charges for Facebook I never put on, I'm a senior and live alone. No one has access to my cell phone, I have shut them both off and will never use Verizon again, I feel they need to repay me for 2 years of service, I need to take someone with me. They took advantage of my failing eyesight and lied about what I would be paying. They are the worst, a little advice for the elderly don't use Verizon, thank you.
How do I know I can trust these reviews about Verizon Home Phone Service?
761,264 reviews on ConsumerAffairs are verified.
We require contact information to ensure our reviewers are real.
We use intelligent software that helps us maintain the integrity of reviews.
Our moderators read all reviews to verify quality and helpfulness.
For more information about reviews on ConsumerAffairs.com please visit our FAQ.

During the course of relationship I have shared with Verizon, I have experienced major issues pertaining phone service. Most importantly, on three occasions Verizon has terminated my service or a product like "anti-viral security suit" without my consent. All of these things were purposely done in an attempt to force me to pay the higher, going rate. In other words, rather than grandfathering me into a plan indefinitely or for the lifetime of my service with them, I have been forced to accept the higher rate.
These services have no expiration and are continuous. At least, that is in accordance to the terms and conditions of additional product or basic service. Truly, I am shocked that I have stayed loyal to a business that has not valued my business without struggle and strife. Consider alternative companies with better customer service. Shockingly, when they promise you a service at a rate different than what appears on your monthly bill, it is, I believe illegal, dishonest and misrepresentative of the truth. Seriously, I worry most about the elderly and how they be mistreated. Certainly, I know I am not the only one young or mature being battered by the greed of a company that no longer is concerned with the consumer.
Keep in mind, I was by a supervisor "Tina" neither does the president's office handle or accepts incoming calls of escalated complaints, nor do they call out to the consumer with a resolution. However, I know per fact that they once did so, as it was also confirmed by "Tina" that the policy has since changed. Thus proving how little the consumer is now considered in the company's twenty-billion dollar worth this current year.
Lastly, It is worth repeating. If you can consider business with a competitor, please do so. It will be pertinent to your sanity, well being. My respect and opinion for them, the Company, their customer service and various unprofessional business practices is now tarnished. By the way, when a company argues with the customer, especially one who backs facts with evidential truths, is by far without words I can describe. Thank you, good luck America in making better choices.

My mother is in a nursing facility and they only use Verizon. She moved from bed A to bed B and was charged $212.42. The nursing facility said this was unheard of and paid $99.42 to help out. My mother is 99 years old and just wanted to be by a window. Both sides of the room had working phones so why this charge? I have been going back and forth with Verizon for months now and just finally paid off her bill since they were charging late fees. Shame on Verizon for gouging their prices in this situation. I hope the facility will change their phone policy and let us go with another company or I wish I could find a cell phone for someone with a hearing disability - but I won't be using Verizon.

I have not had a dial tone on my phone for about 20 hours or so every day for a couple of weeks. I thought it was because of work being done in the neighborhood, since I would always see the Verizon truck around the block. But last week I decided to ask the technician in the truck. He said that my non working phone didn't have to do with the Verizon truck and told me to call Verizon for a technician to repair my phone. He said my wires were probably crossed. I called the week of January 31 (I believe) when I got a dial tone. I told the Verizon person who answered the phone that I would be away and that the earliest Verizon appointment I could take was February 6. So the person put me down for a technician appointment for February 6 Monday between 8am and noon.
On February 6 in the am I kept checking my phone for a dial tone and finally got one about 10am. I wanted to confirm my appointment with Verizon to make certain a technician would show up. The woman who answered the phone in the Inline Repair Department was very courteous and explained to me that no technician would be at my house February 6 because an appointment had been set up for the previous week. I told her the appointment had been set up for February 6 between 8am and noon, since I had explained to the Verizon clerk that I would be away the previous week. Cheri kindly put me down for a technician appointment for Wednesday February 8 between 8am and noon. Meantime, a friend was very worried about me that she hadn't been able to reach me for weeks, and was just getting a busy signal when she called. Truly a terrible company!

Never, never, never will I attempt to access new, lower cost services at Verizon again. My phone has been non-working for over a month. I have been transferred from department to department, from representative to representative, all of whom profusely apologize and then tell me that they can't help. I must have spent at least 12 hours on the phone attempting to get this issue corrected. They finally scheduled an appointment with a tech to come to my apartment. However, they were unable to confirm the appointment and never showed up. Given the fact that they were calling the computer line, rather than my cell phone (although they'd repeatedly texted me prior to this), this was unsurprising. Verizon has the worst customer service in the known (and possibly unknown) world. I will be switching to any other phone company as soon as Verizon manages to get the line working again possibly – by the time I am dead.

December 23, 2016, a Verizon technician came out to place all of my services on one line; I had two before my sister moved. The technician came out and completed that order. I called Verizon on the same day to have the 2nd line turned off. Everything was turned off? I scheduled service again and on December 30, 2016 another technician came out and fixed the problem (he had to go to a box in the community, down the street from where I live to flip a switch). I called Verizon back and asked that they turn off the 2nd line. The customer service representative told me that my next payment would reflect the changes. When I signed on today to pay my bill, it still showed I had 2 lines and the payment was the same.
I called customer service; the representative told me that I had to pay the bill because the 2nd line was not cut off until 3 days after my bill due date and a credit would be reflected next month! She also told me that if I only paid what was due after she gave me the correct amount, I would be charged a late fee! She was also very rude in relaying this information. This company screwed up and now I have to pay for their screw up! This is ridiculous and frustrating! Verizon charges you in advance of your service for the month. A multi-billion dollar company cannot make adjustments in advance when they charge you in advance? Once I see that they have correctly applied my credits, I am going to switch out all my services (phone, tv, and internet). I feel for those who do not have an option. If you are considering Verizon, don't!

Verizon users who have an unlimited plan for data beware! In early January 2017 I received a letter from Verizon stating that "your current unlimited data plan will no longer be offered". I had until February 16, 2017 to respond to this letter and change my plan or face the possibility of "interruption" of service. Approximately a week after receiving this letter I decide to call Verizon and see what my options were. I decided to go with the 24 GB data plan per month and the representative I talked to quoted me a price. Before I hung-up with this representative I received 3 text messages and e-mails stating (1) Out of data; (2) In Safety Mode; (3) Ran out of data and being charged overages. With 195 GB being used on the old unlimited plan minus 24 GB on the new plan, I owed for 171 GB at $15.00 per GB or $2565.00.
I immediately called Verizon back and talked to a different representative who stated that she switched to the new plan in the middle of a billing cycle and that's why I incurred a high data usage bill. This representative switched me to the 100 GB data plan which still left me owing for 95 GB at $15.00 per GB or $1425.00! If the first representative had told me to wait until the beginning of my next billing cycle to change plans I would not be in this situation today. To date I have received text messages stating that phone service will be disconnected and I have been locked out of my internet account with Verizon. So much for being a valued customer (8 years) and Verizon making this a smooth transition to a new plan.

My remote transfer business line has been without reason disconnected for over 2 months with zero balance owed. I have lost tens of thousands of dollars in sales and not only has Verizon failed to repair after many calls to Verizon and speaking to many service assistance all very rude, insulting and always wasting time asking your needs to say they can't help must transfer. The transfer process bounces back to 5-7 different people all without passion to help or any apologies for the issue. If you ask for supervisor, that's a joke! They all portray that supervisor position rather than actually transferring to a supervisor. I was told there is no explanation why my business line when called says "the number you called is temporary disconnected".
It's not only a huge loss of income (Approx. $50,000 +/- ). But how embarrassing to have many new and steady dedicated clients be informed that your number is turned off for lack of payment (meaning of temporary disconnect). I was promised to have immediately repaired and even received text stating the repair is completed. Well my business line is still disconnected and I am at the point to file a lawsuit for substantial loss of business and revenue. I refuse to make another phone call for assistance as it is totally useless and insulting. Any suggestions? Greatly appreciated.

I have been reading the other reviews and I have the same problem --whenever the weather is cloudy or rainy, my landline phone is impossible to use. There is horrible noise and static. Service is so hard to get --I am fed up paying for phone service that I cannot use! If you get to speak to a Verizon rep they just want to talk me into getting FiOS. Why would I want to try a different service from them when I am so unhappy with my current service?!

Verizon's home phone service costs $59.99/month before taxes and fees. They offer "Unlimited local, regional toll and long distance calling across the U.S. and to Canada and Puerto Rico, Home Voice Mail, Caller ID, Call Waiting, Call Forwarding, [and] 3-Way Calling" with their home phone service. They have no options to remove any of these features to make the service cost less (like TimeWarner's reasonably priced $19.99/month), and I'm pretty sure they have a monopoly in my area. I know they are trying to get me to buy a bundle to "save" on the home phone service.
For example, I can get DirecTV + Home Phone for $54.99/month, effectively making the home phone service cost -$5, but since I can't get satellite at my home because of the treeline this bundle is WORTHLESS to me. I live in the country and I have ZERO other options for internet than dial up. Believe me, I have tried. Verizon's DSL service in my neighborhood is FULL, as I said before I can't do satellite because of the trees, and we don't get cable in our neck of the woods.
I have had Verizon Wireless 30GB plan for over a year that costs $300/month (NOT even joking), but it recently stopped allowing us to connect to the 4G service (I think the coverage changed, YIPPEE). I am a SAHM and I do online school, so my only option, LITERALLY, is to drive 30 miles into the next town EVERY. SINGLE. DAY. To stay at my parents' house for the day and do my school work. I can't go to my local library because I have two small children to watch over as well. Dial up would serve my purposes just fine but it is OVER TWICE THE MONTHLY COST OF DIAL UP just to get a landline at my house. Verizon is EVIL.

This is the most frustrating thing ever!!! Gets harder every time to sign in. Either it won't accept my security question answer or my security code. I hate it!! All I wanted to do is add time!!! What the f? Are we criminals just because we want to add time without using the phone? If using the phone it talk many long min of babble just to get it done so I try to go to my account to add it and that is even worse!!! What do I have to do get a new phone provider to make it more simple???

I am writing this complaint because as of right now I have been on hold for customer service 2 hrs & 15 min. And still no one has answered. That is ridiculous. This is the longest I have ever been on hold with any customer service company that I had to call. What is the problem? How can you do this to your customers? I am seriously thinking of going back to optimum based on their good customer service alone. I hope Consumer Affairs will do something about this. Ok make that now 2 & 1/2 hrs. If you notice also I am giving C.S. "0" rating.

Verizon Has been over billing me for the past months. Since I got out the contract with them all my bills have been tripling with them. If there is anyone or more than one person who has been getting the same thing let all come together. They just took out money off my bank account more than once in one week. On 12/22/16 I paid them. Then again money was taking out on 12/14/16.

I was a long-time customer with Verizon until I could no longer afford their ever-increasing fees for service. After my service was terminated with Verizon, I entered into service with a different provider. Verizon later reactivated my service without my knowledge nor my consent. Then they had the audacity to charge me for service I did not need nor request. The disputed amount is less than $100 but I refuse to pay for services I did not receive. Verizon insists these charges are legitimate despite documentation I have outlining the timeline for events. So Verizon has listed my account as "delinquent" on the major credit reporting agencies in order to bully me into paying that which I am not responsible. As a $131.6 billion dollar corporation they feel the need to take advantage of a former (good) customer. If you have a choice, please do not do business with Verizon. Thanks for reading.

On 11/20/2016 I called Verizon, in order to drop the landline off of my account. I have an account with landline, internet and TV. The first representative, Gary took my information, told me there was no problem. He said the new service would be $128.95, but I may get a better deal if I signed a new contract, and put me on hold about five times from 5:37 until 6:23. We were then disconnected?? I called back at 6:26 and spoke with Jeff for 22 minutes. He said he could drop the T.V. and my rate would go to $112.25. I told him that was fine and we said ok.
Jeff sent an email confirmation. When I checked the confirmation, I noticed a difference in the T.V. package from a Prime HD to Local. I called back again at 7:03 and spent another 46 minutes on the cell phone with Chester. Chester said he could restore my T.V. to Prime HD for another $30.00 on top of the $112.25. I asked for a supervisor and never got one. I truly believe that they are incapable, and unwilling to do any kind of conflict mediation. Tired of being jerked around by utility companies.

After spending 2 hours with 8 different Fios reps, I learned that I cannot suspend my TV and Internet and keep my phone service going for 5 weeks. This is a major hardship because I need to leave the area several times a year for weeks to take care of my 95-96 year old parents. Fios has done this kind of suspension for the last 4 years but just changed their policy so that if you have a bundle, you must suspend all parts of the bundle or unbundle and pay $75-100 more per month. I have been a loyal Fios customer for 9 years. But I will be looking for either a new service for everything or separate phone service. Too bad Verizon changes policies so that long-time customers have no choice but to leave. On top of that, Verizon suspended my tv and internet 6 days earlier than the date I gave them and I have had to spend 1 hour with 3 reps to get these services back.

I have automatic withdrawal to pay for my phone service. For the month of November 2016 they deducted the phone payment twice from my bank. I contacted my bank and was told they received two automated deductions - so the bank is paying Verizon twice. I tried to contact Verizon by phone but was unable because there is no customer support number on their website. So I went to the store and was told I had to speak to Verizon on the phone. They dialed through and I waited almost 20 minutes on the phone to resolve this issue. Verizon then told me they only received one payment - my bank was wrong. There was nothing Verizon would do to satisfy my concerns so now I am left with paying over $100 for one month's phone service because Verizon blames the bank and the bank blames Verizon. There is no win.
Verizon purposely does allow customers to contact a person on the phone by not publishing a number where you can talk to a contact person. All their phone lines take you to automated recordings. Then their store will not do anything because they are not allowed to do so. So basically Verizon can charge whatever they want and there is no resolution. Because of the way the United States has divided up the country with telephone towers, the only reliable phone service in Rockford Illinois is Verizon. So I pay double whenever Verizon chooses to charge because there is no choice and no one at Verizon who will search for a resolution. "Contact your bank" even though I have and was told "Contact Verizon". Not great service - what a shame Americans have no choice but to accept less than adequate service and pay enormous fees.

I originally complained in the spring of 2016 about static and noise on my landline, and most recently Sept. 2nd. This occurs every time it rains and days after until the ground totally dries out. This also affects my internet. You would think it would be an easy fix. I have contacted so many agents for Verizon over the year. Lately I will only talk to supervisors, but that has got me nowhere. I get so many apologies, but nothing gets resolved. Verizon is not the company that they used to be. One department does not know what the other is doing and they can't get it together. Too bad. I plan to not pay any more of my bills until it is fixed. Also, looking for another phone/internet option in my area.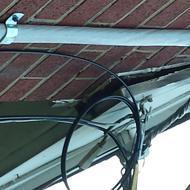 I have contacted Verizon 7 times concerning the damage to my roof because Verizon placed too many cables on the hook attached to the roof fascia board. A technician did show up to move the cable hook and remove the extra lines that were dragging in my neighbor's yard. However, Verizon has not sent someone out to repair the roof. I have submitted several tickets and never get a call from the local field office. Instead the tickets get closed and I have to reopen them. There is no excuse for such poor service and incompetence in installing the cable lines.

Every time it rains, luckily not that often this year, we have no line. I call, they take info, do all the test.... etc etc and 20 min later I have an appointment 7 to 10 days from now!!!! If it stays warm and sunny there is no more problem when they come out say "It's fixed," NO it isn't and never was. This is the 4th time this year alone. Should I not at the least get a month taken off my invoice? Should it not finally be fixed for good? Should I dump the landline, my AT&T cell service works perfect.

Seven months of static of home phone. They just don't want to repair right because it's a landline. They come fix it for about two weeks then it goes bad again. Each time it takes about a week to get them here. I'm stuck with them because all my business cards have that number on them and I can't change phone companies without losing my #.

On April 4 2016, I switched my family wireless phone service from AT&T to Verizon at the time they had Promotion # 54-456 were they would pay up to $600.00 per line to switch service to Verizon. I brought over my family service consisting of 3 lines (3 phones). Is been now six months (Sept 14, 2014), I have spoken multiple times with their customer service representatives and managers, been bounced around from department to department, have resubmitted my paperwork multiple times as they requested, and still have not received any money from Verizon. To add insult to injury, the cellular phone service is worse than AT&T, we keep getting drop calls, no service and no messaging. We are waiting for our contract to expire to go back to AT&T. Stay away from Verizon!!!

My two-year contract is up today. I called Verizon to find out what they would offer for the next few years. They wanted charge me more for internet and phone. I ask the person on the phone if they could do better with the cost that was being ask for, no go, so I ask to talk to a supervisor and was told "I am the supervisor." So I ask what my bill would be for just the phone line before taxes, it was one dollar more than if it was bundle with Fios. My phone went up by fifty percent over the last two years. I've canceled both phone and internet after several decades with Verizon. I've purchased a cell phone for the house to keep my phone # and bought a sim card from an inexpensive phone service which seems a pretty good service on the east coast (same as my cell phone).

My parents live in Northern New York and spent the winter in Clemson, SC. The address on their Verizon land line bill for Northern New York was being sent to their Clemson address. The parents no longer will be spending the winter in Clemson. Naturally all bills will now be going to their NY address. We called Verizon to try to change the monthly bill from going to Clemson. Just a simple address change. No big deal one would think. Well not with Verizon. We called the Verizon CS number and were put on hold for over 35 minutes without ever talking to a customer service representative just to change an address. Verizon has the worst customer service unless you are spending money with them. Thumbs down to Verizon.

Since May 2016, I've been battling with the service department at Verizon to restore my home telephone line. We lost dial tone after a storm. After 3 maintenance tickets between May and July, it was FINALLY determined that the cable from the telephone pole to the box on outside of our house was bad. It took 3 tickets to determine this. Another 2 weeks pass, no phone service, a line was dug but they left the cable UNCONNECTED and ROLLED UP at the pole AND at my house. Since that cable was left, it's been another 2 weeks. No sight of Verizon coming to fix. I call AGAIN today. No one can come to fix for yet ANOTHER WEEK! How do you drop cable and don't come back out to completely fix and correct the problem?
Of course, I have been paying my bill. All yet without service. Today, I was hung up on after trying to explain this to a billing customer service rep who told me that they would not credit my account until the problem was fixed. THIS IS COMPLETELY UNACCEPTABLE. The worst customer care and service departments I have ever dealt with. If there was another phone company that serviced my road for both home and internet, I would cancel all my Verizon accounts and switch, including a business account. Completely unacceptable in today's world.

Mom's phone had static, which has occurred numerous times this year. Came a day later then we were told, and after we were told the phone was fixed, we discovered that the repairman left her without a dial tone. I have had to call back twice and each time have been on hold for about 30 minutes. It is now 9:50 pm so I anticipate no phone service for the night even though my mom is disabled. Still on hold so it's now over half hour. The diagnosis was bad outside wiring, which should have been fixed on one of the prior service calls. Static is gone I think, but no dial tone.

ConsumerAffairs Research Team
The ConsumerAffairs Research Team believes everyone deserves to make smart decisions. We aim to provide readers with the most up-to-date information available about today's consumer products and services.
Verizon, a publically-traded company, was founded in 2000 when Bell Atlantic and GTE merged. The new company provided both local phone service and mobile phone service. Today, Verizon Residential offers home phone, Internet and television service. Customers can receive discounts when they bundle multiple services. Plans will vary depending on whether customers have Verizon's FiOS or LTE services.
Fiber optic service: In some markets, customers have access to FiOS, Verizon's fiber optic phone, television and Internet service. Fiber optic services uses glass wires that transmit data with light, offering higher speeds and more reliability than traditional cables.
4G LTE service: Individuals living in areas where Verizon FiOS isn't available can still subscribe to Verizon's LTE Internet and home phone service. This service uses an Internet route to place voice calls on the company's LTE mobile network.
Extra features: Those with FiOS receive a variety of extra features, including call waiting, call forwarding, caller ID, readable voicemail and more.
Carryover data: Customers with LTE home phone service will automatically be enrolled in Carryover data, so any unused data at the end of the month is rolled over to the following month. This service is included for free.
International plans: FiOS customers can choose an international plan that lets customers call over 100 countries for one monthly fee. LTE customers can choose to include service to make calls when they travel to Mexico or Canada.
Best for Verizon home phone service is best for residential customers and small business owners who want the option to bundle multiple services and/or are interested in fiber optic service.
Compare Home Phone Service
Verizon Home Phone Service Company Profile
Company Name:

Verizon Home Phone Service

Year Founded:

2000

Address:

1 Verizon Way

City:

Basking Ridge

State/Province:

NJ

Postal Code:

07920

Country:

United States

Website:

http://www.verizon.com/home/phone/