Verizon Home Phone Service
Consumer Complaints and Reviews

Verizon's home phone service costs $59.99/month before taxes and fees. They offer "Unlimited local, regional toll and long distance calling across the U.S. and to Canada and Puerto Rico, Home Voice Mail, Caller ID, Call Waiting, Call Forwarding, [and] 3-Way Calling" with their home phone service. They have no options to remove any of these features to make the service cost less (like TimeWarner's reasonably priced $19.99/month), and I'm pretty sure they have a monopoly in my area. I know they are trying to get me to buy a bundle to "save" on the home phone service.
For example, I can get DirecTV + Home Phone for $54.99/month, effectively making the home phone service cost -$5, but since I can't get satellite at my home because of the treeline this bundle is WORTHLESS to me. I live in the country and I have ZERO other options for internet than dial up. Believe me, I have tried. Verizon's DSL service in my neighborhood is FULL, as I said before I can't do satellite because of the trees, and we don't get cable in our neck of the woods.
I have had Verizon Wireless 30GB plan for over a year that costs $300/month (NOT even joking), but it recently stopped allowing us to connect to the 4G service (I think the coverage changed, YIPPEE). I am a SAHM and I do online school, so my only option, LITERALLY, is to drive 30 miles into the next town EVERY. SINGLE. DAY. To stay at my parents' house for the day and do my school work. I can't go to my local library because I have two small children to watch over as well. Dial up would serve my purposes just fine but it is OVER TWICE THE MONTHLY COST OF DIAL UP just to get a landline at my house. Verizon is EVIL.

This is the most frustrating thing ever!!! Gets harder every time to sign in. Either it won't accept my security question answer or my security code. I hate it!! All I wanted to do is add time!!! What the f? Are we criminals just because we want to add time without using the phone? If using the phone it talk many long min of babble just to get it done so I try to go to my account to add it and that is even worse!!! What do I have to do get a new phone provider to make it more simple???

I am writing this complaint because as of right now I have been on hold for customer service 2 hrs & 15 min. And still no one has answered. That is ridiculous. This is the longest I have ever been on hold with any customer service company that I had to call. What is the problem? How can you do this to your customers? I am seriously thinking of going back to optimum based on their good customer service alone. I hope Consumer Affairs will do something about this. Ok make that now 2 & 1/2 hrs. If you notice also I am giving C.S. "0" rating.

Verizon Has been over billing me for the past months. Since I got out the contract with them all my bills have been tripling with them. If there is anyone or more than one person who has been getting the same thing let all come together. They just took out money off my bank account more than once in one week. On 12/22/16 I paid them. Then again money was taking out on 12/14/16.

I was a long-time customer with Verizon until I could no longer afford their ever-increasing fees for service. After my service was terminated with Verizon, I entered into service with a different provider. Verizon later reactivated my service without my knowledge nor my consent. Then they had the audacity to charge me for service I did not need nor request. The disputed amount is less than $100 but I refuse to pay for services I did not receive. Verizon insists these charges are legitimate despite documentation I have outlining the timeline for events. So Verizon has listed my account as "delinquent" on the major credit reporting agencies in order to bully me into paying that which I am not responsible. As a $131.6 billion dollar corporation they feel the need to take advantage of a former (good) customer. If you have a choice, please do not do business with Verizon. Thanks for reading.
How do I know I can trust these reviews about Verizon Home Phone Service?
671,225 reviews on ConsumerAffairs are verified.
We require contact information to ensure our reviewers are real.
We use intelligent software that helps us maintain the integrity of reviews.
Our moderators read all reviews to verify quality and helpfulness.
For more information about reviews on ConsumerAffairs.com please visit our FAQ.

On 11/20/2016 I called Verizon, in order to drop the landline off of my account. I have an account with landline, internet and TV. The first representative, Gary took my information, told me there was no problem. He said the new service would be $128.95, but I may get a better deal if I signed a new contract, and put me on hold about five times from 5:37 until 6:23. We were then disconnected?? I called back at 6:26 and spoke with Jeff for 22 minutes. He said he could drop the T.V. and my rate would go to $112.25. I told him that was fine and we said ok.
Jeff sent an email confirmation. When I checked the confirmation, I noticed a difference in the T.V. package from a Prime HD to Local. I called back again at 7:03 and spent another 46 minutes on the cell phone with Chester. Chester said he could restore my T.V. to Prime HD for another $30.00 on top of the $112.25. I asked for a supervisor and never got one. I truly believe that they are incapable, and unwilling to do any kind of conflict mediation. Tired of being jerked around by utility companies.

After spending 2 hours with 8 different Fios reps, I learned that I cannot suspend my TV and Internet and keep my phone service going for 5 weeks. This is a major hardship because I need to leave the area several times a year for weeks to take care of my 95-96 year old parents. Fios has done this kind of suspension for the last 4 years but just changed their policy so that if you have a bundle, you must suspend all parts of the bundle or unbundle and pay $75-100 more per month. I have been a loyal Fios customer for 9 years. But I will be looking for either a new service for everything or separate phone service. Too bad Verizon changes policies so that long-time customers have no choice but to leave. On top of that, Verizon suspended my tv and internet 6 days earlier than the date I gave them and I have had to spend 1 hour with 3 reps to get these services back.

I have automatic withdrawal to pay for my phone service. For the month of November 2016 they deducted the phone payment twice from my bank. I contacted my bank and was told they received two automated deductions - so the bank is paying Verizon twice. I tried to contact Verizon by phone but was unable because there is no customer support number on their website. So I went to the store and was told I had to speak to Verizon on the phone. They dialed through and I waited almost 20 minutes on the phone to resolve this issue. Verizon then told me they only received one payment - my bank was wrong. There was nothing Verizon would do to satisfy my concerns so now I am left with paying over $100 for one month's phone service because Verizon blames the bank and the bank blames Verizon. There is no win.
Verizon purposely does allow customers to contact a person on the phone by not publishing a number where you can talk to a contact person. All their phone lines take you to automated recordings. Then their store will not do anything because they are not allowed to do so. So basically Verizon can charge whatever they want and there is no resolution. Because of the way the United States has divided up the country with telephone towers, the only reliable phone service in Rockford Illinois is Verizon. So I pay double whenever Verizon chooses to charge because there is no choice and no one at Verizon who will search for a resolution. "Contact your bank" even though I have and was told "Contact Verizon". Not great service - what a shame Americans have no choice but to accept less than adequate service and pay enormous fees.

I originally complained in the spring of 2016 about static and noise on my landline, and most recently Sept. 2nd. This occurs every time it rains and days after until the ground totally dries out. This also affects my internet. You would think it would be an easy fix. I have contacted so many agents for Verizon over the year. Lately I will only talk to supervisors, but that has got me nowhere. I get so many apologies, but nothing gets resolved. Verizon is not the company that they used to be. One department does not know what the other is doing and they can't get it together. Too bad. I plan to not pay any more of my bills until it is fixed. Also, looking for another phone/internet option in my area.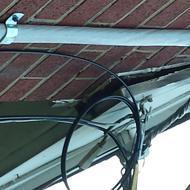 I have contacted Verizon 7 times concerning the damage to my roof because Verizon placed too many cables on the hook attached to the roof fascia board. A technician did show up to move the cable hook and remove the extra lines that were dragging in my neighbor's yard. However, Verizon has not sent someone out to repair the roof. I have submitted several tickets and never get a call from the local field office. Instead the tickets get closed and I have to reopen them. There is no excuse for such poor service and incompetence in installing the cable lines.

Every time it rains, luckily not that often this year, we have no line. I call, they take info, do all the test.... etc etc and 20 min later I have an appointment 7 to 10 days from now!!!! If it stays warm and sunny there is no more problem when they come out say "It's fixed," NO it isn't and never was. This is the 4th time this year alone. Should I not at the least get a month taken off my invoice? Should it not finally be fixed for good? Should I dump the landline, my AT&T cell service works perfect.

Seven months of static of home phone. They just don't want to repair right because it's a landline. They come fix it for about two weeks then it goes bad again. Each time it takes about a week to get them here. I'm stuck with them because all my business cards have that number on them and I can't change phone companies without losing my #.

On April 4 2016, I switched my family wireless phone service from AT&T to Verizon at the time they had Promotion # 54-456 were they would pay up to $600.00 per line to switch service to Verizon. I brought over my family service consisting of 3 lines (3 phones). Is been now six months (Sept 14, 2014), I have spoken multiple times with their customer service representatives and managers, been bounced around from department to department, have resubmitted my paperwork multiple times as they requested, and still have not received any money from Verizon. To add insult to injury, the cellular phone service is worse than AT&T, we keep getting drop calls, no service and no messaging. We are waiting for our contract to expire to go back to AT&T. Stay away from Verizon!!!

My two-year contract is up today. I called Verizon to find out what they would offer for the next few years. They wanted charge me more for internet and phone. I ask the person on the phone if they could do better with the cost that was being ask for, no go, so I ask to talk to a supervisor and was told "I am the supervisor." So I ask what my bill would be for just the phone line before taxes, it was one dollar more than if it was bundle with Fios. My phone went up by fifty percent over the last two years. I've canceled both phone and internet after several decades with Verizon. I've purchased a cell phone for the house to keep my phone # and bought a sim card from an inexpensive phone service which seems a pretty good service on the east coast (same as my cell phone).

My parents live in Northern New York and spent the winter in Clemson, SC. The address on their Verizon land line bill for Northern New York was being sent to their Clemson address. The parents no longer will be spending the winter in Clemson. Naturally all bills will now be going to their NY address. We called Verizon to try to change the monthly bill from going to Clemson. Just a simple address change. No big deal one would think. Well not with Verizon. We called the Verizon CS number and were put on hold for over 35 minutes without ever talking to a customer service representative just to change an address. Verizon has the worst customer service unless you are spending money with them. Thumbs down to Verizon.

Since May 2016, I've been battling with the service department at Verizon to restore my home telephone line. We lost dial tone after a storm. After 3 maintenance tickets between May and July, it was FINALLY determined that the cable from the telephone pole to the box on outside of our house was bad. It took 3 tickets to determine this. Another 2 weeks pass, no phone service, a line was dug but they left the cable UNCONNECTED and ROLLED UP at the pole AND at my house. Since that cable was left, it's been another 2 weeks. No sight of Verizon coming to fix. I call AGAIN today. No one can come to fix for yet ANOTHER WEEK! How do you drop cable and don't come back out to completely fix and correct the problem?
Of course, I have been paying my bill. All yet without service. Today, I was hung up on after trying to explain this to a billing customer service rep who told me that they would not credit my account until the problem was fixed. THIS IS COMPLETELY UNACCEPTABLE. The worst customer care and service departments I have ever dealt with. If there was another phone company that serviced my road for both home and internet, I would cancel all my Verizon accounts and switch, including a business account. Completely unacceptable in today's world.

Mom's phone had static, which has occurred numerous times this year. Came a day later then we were told, and after we were told the phone was fixed, we discovered that the repairman left her without a dial tone. I have had to call back twice and each time have been on hold for about 30 minutes. It is now 9:50 pm so I anticipate no phone service for the night even though my mom is disabled. Still on hold so it's now over half hour. The diagnosis was bad outside wiring, which should have been fixed on one of the prior service calls. Static is gone I think, but no dial tone.

Trying to report no dial tone on my line was very frustrating experience. Using number provided for calling Verizon the automated service first asked for a PIN number which they said I had. Later I learned there was no My Verizon account established for me and certainly no PIN number. Was not able to speak with any representative; the earliest appointment offered was for 5 days later. Having had this no dial tone problem often in the past I knew it was a Verizon issue. Tried to call and sort out the account and PIN number problem. Despite multiple efforts was not able to get that resolved. Apparently they kept sending temp PIN to my no working phone number instead of my mobile phone (T-Mobile) even though that number was getting the messages about the repair ticket.
Later found that neighbor also had no service as well. So called the Verizon number again and eventually was able to get a service representative who told me there were 11 other customers reporting problems in my area. Problem was fixed a day later and the mobile reply message was "Verizon tested your line. The trouble shows to be with your phone or wiring. Please check, if working reply CLOSE to cancel ticket." Avoiding any accountability for the problem issue. Of course my phones now worked fine.
I can understand that phone lines can have problems occasionally, but customer interface provided by Verizon is extremely frustrating. If my bank was this difficult to deal with, I would change banks. Verizon has a monopoly on my landline, and they are close to having me just go mobile. And it will not be with Verizon. PS. I never have such problems getting help with my internet provider (Comcast).

I paid off my current phone 6 months early to be eligible to upgrade to a new phone. Verizon reps were rude, uncaring and unhelpful. For 3 days I fought with Verizon. They were even rude to a Verizon store manager. How's that for service or lack of!! All because I used a Verizon online purchase on a Verizon website instead of driving 1/2 hour to the closest Verizon store. NEVER AGAIN! I suggest never purchasing anything through Verizon online. They hold your purchase hostage and refuse to help you.

My Verizon email account stopped working this morning. My Verizon account would not accept my password and insisted on sending a new password to an email address that does not exist. The human technician was courteous and helpful once I reached him. However, I found that reaching the human through their automated phone system to be extremely frustrating, confusing and virtually impossible.

I have Sprint phone and I decided to get Verizon for my business cell as well as a personal hotspot. I asked the service rep who sold me the phone and hot spot if the speed would be just as fast as my Sprint phone (which has a tether internet). He said it would be faster because Verizon has better service, and that is NOT the case. The service was acceptable but very very slow compared to my Sprint hotspot and of course regular internet.
Cancelling my hotspot and phone was is a whole different story. It's impossible to find the phone number, then you have to do a phone scavenger hunt to actually get a person to talk with. All the other phone providers have no contract anymore... Except Verizon (which they recently ceased with). I happened to have signed one. Luckily I only had a couple months left. So I paid the cancellation fee and the lady told me it would be cancelled. She lied because I got charged one more billing cycle because of a 30-day cancellation policy they have that she didn't tell me about when I paid the cancellation fee to cancel the service.

I discovered at the end of March of this year (2016) that my home landline was basically dead. There was no dial tone and instead, I would hear a loud hiss on the line, on both of my home phones. Originally, I thought the problem was with the phone, or phones, themselves since I still had internet access which I also receive from Verizon. I went online on 3/31/16 and arranged for a repair appointment for 4/5/16. The repair tech arrived within the given time frame, first checking out the line in my apartment, then checking at the box where the external line connects with the building. He discovered that there was no signal coming into the building for my apartment. I must assume that the other two apartments in the building had signals coming in since, as far as I know, they haven't had any problems with their phones. The tech then told me that he needed to access the line on the telephone pole, that was actually in a neighbor's yard.
The problem was that this pole had been, in the tech's words, "condemned"! Some time in the past, Verizon had installed a second pole abutting the condemned one, strapping them together to provide support. The secondary problem was that these poles were right up against the fence separating that backyard from another neighbor. The tech tried to access the wiring on the pole by securing a ladder to both poles. The next problem came about by the fact that the tech could not reach the wiring, which remains on the "condemned" pole, because of the orientation of the poles and the fence. He said that he would have to go in the second backyard to be able to reach the wiring, but he was hesitant to do so because it would mean that he would need to have the ladder reaching over the fence to get to the poles, which would make it difficult to secure it safely.
He then went to check it out in the second yard, which he found locked by a chain and padlock. He rang to doorbells to the apartments at that address, but no one answered. In other words, he could do nothing. The tech said that he would have to send the repair ticket "back" since he couldn't fix the issue that day. He further said that someone would have to come out at another date, bringing the proper equipment so that they could safely access the line on the condemned pole. I asked what the proper equipment would be and he indicated that a lift would probably be needed, to avoid the need to run a ladder over the fence. He said that he would give the info to his supervisor and let him figure out what exactly needed to be done. I waited approximately a week and heard nothing at all from Verizon.
So I went online and chatted with an agent, during which another repair appointment was scheduled for the following Monday, between 8 a.m and 12 noon. This was in April, but I don't remember the date. Well, I got up at 7:30 which is early for me since I work the second shift. I waited all morning but no one showed up! No call or email. A morning wasted. I waited close to a week before once again going online to schedule a third repair appointment. I explained all of the idiosyncrasies of my situation to the online agent, i.e. condemned pole, fence, the chained-shut neighbor's backyard fence being the access issues. I was told that all of this info would be passed along to the repair tech. Again, the time frame given was 8 a.m to 12 noon, on what I think was Thursday, either 4/14 or 4/21. I know it was after the Verizon strike, oh I'm sorry, work stoppage. A pair of repairmen arrived on the scheduled day, and within the given time frame.
I don't think that they were typical techs, because of the strike. They struck me more as office workers or supervisors who were sent because of the strike. Regardless, they were clueless to my particular situation. They came in a regular repair truck, without a lift. They went into the adjacent yard to look at the condemned pole. One said that the old pole had climbing spikes, at which time the second one reminded him what they had been taught in "pole climbing school", that they were to specifically to abstain from climbing the spikes since they were only on old poles and therefore couldn't be trusted. They then went over to the yard with the chain and padlock which were still there. They managed to find someone home on the first floor who gave them the phone number to the landlord.
The Verizon guys left after getting that landlord's number, saying that someone from Verizon would be contacting the landlord to schedule a day that the poles in question could be accessed to complete the repair. On the following Sunday, at approximately 9:01 a.m., I was awoken by my cell phone ringing. I wasn't able to answer it in time so I went back to sleep. Later, I checked it and found a message from a Verizon representative asking if I could get the telephone number to the landlord of the second backyard that was chained shut! She said that, normally Verizon would get that phone number themselves, but they were shorthanded due to the "work stoppage". I wish that I had been able to speak with her when she originally called, since the techs that been here the previous week had actually gotten that phone number. And, as she said in her message, getting the number to complete the repair was Verizon's job, not mine.
Well, to make a long story short, I still have no telephone service. But,. Verizon keeps billing me for it! I did go through another online chat with Verizon to contest the bill. First, they denied that I had ever made a repair request. Secondly, then said that they did find a request that had been opened and closed on the same day, 4/1/16. I called them out on that since a visit had been made on 4/5 during which nothing was accomplished. Oh, right, then they were able to find that visit but denied that a second one had ever been made. I made them check again and, voila, there had been a second repair ticket created! I don't know if they had a record of the visit itself. The rep then said that the repair ticket was opened on 4/16 and closed on 4/21. I asked why the repair ticket had been closed since no repair had been accomplished, or even attempted.
I was told there was no record of why the ticket was closed, but they could give me a billing adjustment for the period that it had been open, you know, those SIX DAYS, despite the fact that I had been without service for over 2 months by that time! I told them that was unacceptable, and was informed that the Verizon policy was that they would only make an adjustment for the time a repair ticket was open! I told them that my policy was not to pay for services that I don't get, and it wasn't my fault that the ticket was closed without any repairs being done. The 'chat' ended quickly after that. Since then, Verizon continues to threaten to shut my service off for non-payment. I'm an honest man so, since I get my home phone and internet in a bundle, (the bills explain the allocation of the charges between the two services), I have continued to make partial payments of 58% of the bill, because that's what the percentage of the DSL is out of the total.
This has satisfied Verizon to a degree since they don't recognize what my payment is for; they only care that they receive money. Sooner or later the remainder of the bill will get large enough that it will carry over a full month's charge. I did schedule a FOURTH repair appointment for tomorrow, that I'm trying to cancel since something came up. But the Verizon website is horrendous and I've been unable to access the repair ticket, or Verizon support, to cancel or reschedule the appointment. If the tech arrives in the early part of the given time frame, then it should be okay, not that he's likely to be able to fix the problem due to the access problems which seem even worse now due to brush and bushes that have grown up around the poles. BTW, I explained the entire situation to the online agent who said that I had to get the number for the neighbor's landlord. Which I have not been able to do.

I live in Boston. We tried to ask Verizon to open internet service for us in April and we call the representatives many times and they finally open a phone service for us! Then I call their representatives to cancel the service so that I did not need to pay the phone bill which I have never used for even a time! They responded that my account had been close and everything was fine. However, after a month, they just send the bill to the collection company! I call the collection company and explain for everything and the collection promise they will reach the right department but after a few days, Verizon send me the same bill again! What an idiot company with such low efficient work. I do not have the order number and even the representatives cannot find it. I only have the account number.

I live in the Hampton Roads area of VA. I called Verizon and had scheduled a appointment for the 17th of May, to install a wall jack. They did not show up due to a strike. I made another appointment for approx two weeks later. The technician shows up 2 days later when I am at work and the install date I requested is canceled because I was not at home, and I get blamed for not being at home when the technician showed up on a date I did not request. Wow blame the customer? REALLY.
I called back, re-schedule once again, this time for the 20th of June. Told no problem and wow a technician shows up once again when I am not expecting them and the order gets canceled once again. I finally spoke to Nagou - that was how he told me he name was spelled - to reschedule for today, with my neighbor listening to the conversation and was laughing hysterically on how much crap I was going through to ensure that the technician would be out here the next day, and was promised "yeah no problems he will be there." Well lo and behold what when I called today to find out what time the technician would be here, there WAS NO service ticket put in. I was so upset l just hung up.
I called back, spoke to a customer service rep and asked to speak to a manager and was connected to Madeleine whom was an escalation rep, who said the earliest they could get someone out here was the 12 of July. WOW two months it will be to get a technician out here to have this done when it took less than a day to have an entire A/C unit and heat pump removed and installed in less than 5 hours, with all work completed and cleaned up without any problems. The only thing I got from Verizon was apology after apology with no real assurance on anything other than empty promises to come out on the 12th of July.
I have my doubts this will even happen at this point. I am curious how Verizon or any other company would react if customers kept telling them "I am so sorry I sent the wrong check to you, however the earliest l can get that to you will be two weeks from today", and then BLOW them off once again. Verizon Wireless, yeah I had them as well but after nearly 5 years of crappy service, I dropped them. I guess Verizon just does not give a rat's bit about their customers or the level of incompetence of service.
So now it will have been almost three months since my initial phone call back in May when I first spoke to Verizon to schedule this to be done. Final note, when I spoke to the rep back in May, I asked her even with the strike this will not be an issue to have someone come out and do this and was told "NO sir someone will be out there, there should be no problems." Wow once again, GREAT service Verizon. I want to thank Verizon for all the rescheduling, frustration and the general lack of real service you provided.

I called Verizon on the 13th of June 2016 to order new landline service at my DC condo. Spoke with Shelly who took the order along with my personal info for verification. Held on the line for over an hour while she struggled with processing the order until finally she said she would call me back to avoid holding any longer. She called back around 9pm, said that everything was all set and scheduled for Thursday June 16th 2016 between 8am and 12noon, however Verizon never showed up. I called to find out what happened and was advised that they had no record of the order. Disappointing experience, I will be using another service because if they can't even get the initial order and install done, their service must be worst.

I dread having to call verizon. The voice mail always says they have a high call volume and then you wait on the line forever. I have called from cell phone at times and by the time they answered my battery was low, then when you call the automated system they ask too many questions and it doesn't understand your response and you have to repeat your answers again and again. Its horrible. And then when you enter numbers in the system repeats it wrong and doesn't give you enough time to punch in the numbers and you have to start over again, etc.
I'm sick of their phone system as much as consumers pay they need to get their act together and come up with a better system. The only reason I'm with verizon is Dish doesn't have internet in my area yet, and I don't like Cox or DirecTVs service. Verizon you have very poor customer service. I'M TIRED OF WAITING ON THE PHONE FOR HOURS AND THEN HAVING TO CALL BACK AGAIN AND REPEATING THE SAME PROCESS.

My parents, who live in NJ and are 91 years old, have Verizon landline phone service and internet. Fios is not available in their area so they have DirecTV. Their phone and internet went out on April 30, 2016 and it is still not fixed 18 days later. Customer service is absolutely horrible, they will lie to you and tell you anything if they think it will shut you up and get you off of the phone.
I have called repeatedly to complain on my parent's behalf and I have gotten a completely different story and empty promises from every representative I have talked to. First they said it was a line problem and would be fixed in 5 days. 5 days came and went... still no phone... I called back was told the problem was in the house and they made an appointment to come and do the repairs.
A week later and after my parents waited all day... no one showed up... I called again - was told the repairman was pulled away to work on the line problem since it was not a problem in the house. This rep told me that the entire area is out and has been out since April 30. I find that hard to believe that all those people could do without internet and phone for 3 weeks. Then he told me it would be fixed by May 22... I'm sure when May 22 comes around the date will be pushed back further like it already has been 5 previous times.
This is totally unreasonable and unacceptable. How do they expect customers to put up with this total lack of service and apathy on the part of Verizon Customer Service? The bottom line is my parents will be dumping Verizon and going back to Comcast. Comcast is not the greatest but it is certainly better than Verizon. Verizon is the WORST... if you are thinking of switching to Verizon... DON'T. You will be sorry. Do not walk but RUN AWAY!!!

I have multiple bad experiences with the customer service department but let's just review today's. About 9 months ago I tried getting Verizon residential services and the phone was included in the package. They did the installation but the internet was sooo slow. I tried getting the issue solved, they came to my house and we're not able to fix the problem. After several attempts to fix it, I canceled the services and returned the equipment (for which I never received the refund). Now 5/15/16, I start receiving calls to the phone (which I use only as intercom to open my buildings door).
I noticed that the line was reconnected. After calling Verizon, customer service told me that the number is associated with another address not mine's. I told them that I know because I have not connected the line but that I am receiving calls that are meant for another person. After 3 hours going back and forth I am writing this review. I was hang up several times and transferred 3 times.
I ask one of the agents to stay with me on the line so that Verizon could fix the problem and maybe between the two departments could figure out how to solve the issue. But no! He transferred me and when I explained the issue the rep. hang up the phone... Again... Unbelievable! I don't understands how Verizon could lent its name to such a horrible service. People over the phone clearly do not have the ability to solve any issues and their communication is poor. They don't even have a way of tracking previous complaint and the above had to be explained so MANY TIMES.

While I could go on and on about their terrible customer service and incredible fees, I want to tell my tale of Verizon rewards. You get points for money you spend on your bill. I have like 200,000 points because my bill is such a huge rip off. So there is a "Daily Deal" at 2 PM every day and they offer you a product at savings (some points, some money). I have been going on there usually before 4 and it is always "sold out." Today I went at 2:10 and thought I bought headphones. AS THEY WERE IN MY CART, they sold out at 2:32! So that was that. Their daily deals are a great deal if you get one of the approximately ten they have in stock.

I was a residential phone customer of Verizon for a long period of time until I moved out of New York state in 2005. Prior to my move I canceled all of my Verizon services and paid my final bill in full. Starting in 2006, shortly after my move, I began receiving collection letters from various different collection agencies, which continued through 2007. Each and every time, with each different collection agency I was able to prove with bank statements, confirmation numbers, copies of bills, and reference numbers for notations on my account, that my account with Verizon had intact been closed and paid in full.
Well here we are, ELEVEN years later and I answer the phone today from a consulting firm for Verizon informing me of a pending civil suit against me for delinquent charges on this same 2005 account! Luckily for me, I am a retentive, organized and detailed file keeper, and once AGAIN was able to prove I owe Verizon NOTHING! I am angry and livid at the fact that I am still being harassed by this company for no reason other than their incompetence. How much (or how little) time will pass before I am harassed again???

ConsumerAffairs Research Team
The ConsumerAffairs Research Team believes everyone deserves to make smart decisions. We aim to provide readers with the most up-to-date information available about today's consumer products and services.
Verizon, a publically-traded company, was founded in 2000 when Bell Atlantic and GTE merged. The new company provided both local phone service and mobile phone service. Today, Verizon Residential offers home phone, Internet and television service. Customers can receive discounts when they bundle multiple services. Plans will vary depending on whether customers have Verizon's FiOS or LTE services.
Fiber optic service: In some markets, customers have access to FiOS, Verizon's fiber optic phone, television and Internet service. Fiber optic services uses glass wires that transmit data with light, offering higher speeds and more reliability than traditional cables.
4G LTE service: Individuals living in areas where Verizon FiOS isn't available can still subscribe to Verizon's LTE Internet and home phone service. This service uses an Internet route to place voice calls on the company's LTE mobile network.
Extra features: Those with FiOS receive a variety of extra features, including call waiting, call forwarding, caller ID, readable voicemail and more.
Carryover data: Customers with LTE home phone service will automatically be enrolled in Carryover data, so any unused data at the end of the month is rolled over to the following month. This service is included for free.
International plans: FiOS customers can choose an international plan that lets customers call over 100 countries for one monthly fee. LTE customers can choose to include service to make calls when they travel to Mexico or Canada.
Best for Verizon home phone service is best for residential customers and small business owners who want the option to bundle multiple services and/or are interested in fiber optic service.
Compare Home Phone Service
Verizon Home Phone Service Company Profile
Company Name:

Verizon Home Phone Service

Year Founded:

2000

Address:

1 Verizon Way

City:

Basking Ridge

State/Province:

NJ

Postal Code:

07920

Country:

United States

Website:

http://www.verizon.com/home/phone/