Consumer Complaints and Reviews

How can a company like Microsoft screw Skype up so comprehensively as to render it unusable each time it is needed. The cryptic "Skype cannot connect" is a stupid irrational comment that should say "We need to update" and "please turn off your antivirus software whilst we do the update". Any attempt at updating fails because the antivirus is active. Not that Microsoft gives any indication of why Skype can't connect - is it my machine, my ISP or the internet in general? And you expect my wife to sort this out? She missed so many important calls because of Microsoft's insanity and I waste another 20 mins of MY TIME dealing with this. FAIL Microsoft big time. You've screwed something up that was a godsend in connectivity until you got hold of it.

Worst company I have ever dealt with. I created an account. Managed it, and then the next time I try to log on. It said my information was incorrect. DUH. So I go through the whole FAQ thing, and then they recover your account crap. Once I did that, and answered all the questions they ask, they still would not help me. Just kept sending me blocked access. I ask them if I could speak to someone. No way. I paid a year's service in advance, of over $80, and when I told them I wanted my money back, they said since I can't log into the service, they can't refund my money. I hope someone launches an investigation into this crap company. They just stole my money, and refuses to help me. I will never do business with this company again, and will make sure all my clients are informed of this companies, terrible customer service. Worst I have ever had to deal with.

The quality of customer service is UNBELIEVABLE! How can a company this big fail so miserably at customer service? While simply trying to close a duplicate account I am sent through maze of FAQ posts, none of which I want! I just want to close my account! You can't even email them or open a support ticket, just... wow... Their site just sends you through loops of FAQ answers, the only way to actually contact them directly is through live chat, which would be great except that the expected wait time is 15 minutes!

Can Skype be the least intuitive, worst service on the planet? Why on earth would it allow me to use the same email address? I couldn't find a message on the portal to save my life. When asked what's my Skype username, I am flummoxed by the inability to find this information, only to be able to ask the question when I sign out of the program because it is what I have to use to sign on. Apparently I have two accounts with the same email address. Who knew? WTF??? My business account that is administered by my boss, we can't figure out the password for the life of us! We can't change it either without having to change the account's master password. This is TERRIBLE way of preventing a user to manage their account. I am so livid. It gives me chills.

Twice I tried to make phone calls after providing my credit card to create credits. I've used Skype in the past and it was no problem but now both myself and my husband had problems with Skype. I am so frustrated I'm not quite sure I'll ever try using Skype again. Their online support is terrible and why would I want to look at community support for an answer???
How do I know I can trust these reviews about Skype?
634,774 reviews on ConsumerAffairs are verified.
We require contact information to ensure our reviewers are real.
We use intelligent software that helps us maintain the integrity of reviews.
Our moderators read all reviews to verify quality and helpfulness.
For more information about reviews on ConsumerAffairs.com please visit our FAQ.

I have been using Skype for 15+ years for chatting and making international calls, less much lately as I used to, so I have some small funds remaining in my account for a while. Suddenly one day I was trying to call my brother whom I have called many times in the past but Skype keeps saying my account is blocked for paid service. I am still able to log in and see account balances but I cannot make calls to other countries.
I asked customer service several times of several different people and they would not tell me why they blocked my paid service, referring me to the terms and conditions junk. I asked to close my account and get my money back but they refused citing it is partially blocked - how convenient, even though they have verified that I am the owner of the account.
Basically I cannot make calls using the remaining funds, and I cannot get the money back. They will take the remaining funds and put them into their pocket - which could be a significant amount if 500,000 are cheated by them. I have never seen a business stealing customers' money like this! Is there anything we can do other than complaining here?

At least six months ago I started trying to cancel my account with Skype. Their contact numbers have been discontinued. Their message contacts only lead back to help pages. The website design does not correspond to their directions for subscription cancellation. Yet they continue to charge my credit card and refuse to let me remove that charge account without cancelling the subscription.

I had not used Skype for months when all of a sudden there were 10 deductions from my checking account to refresh my account for calls I supposedly made. Checking my account, on 7/18 a bunch of calls to Monaco were made using my account, and Skype took my money to pay for them. I have filled out their bogus "verification form" 8 times now and keep getting emails that there is something wrong with the form. I spent an hour on chat with them and was treated terribly. I lost over $200 and there isn't even a phone to call. I am dumping them, never again. If you use them, absolutely do not select auto payment. I am trying to find other ways to complain, hoping I can find a way to file a small claims action.

I tried to make a local call with Skype and for the first time, was asked to pay $25. I really needed to make the call so I paid. I could not connect with my party, nor could they connect with me. Skype charged me for the time on the phone trying to connect. I can't speak to Skype and the chat service is ridiculous - they said they would email me a form and several times, I received no email. Then they told me to fill out an online form which I can't fill out completely since I don't remember when I first signed up for Skype - WHO WOULD REMEMBER THIS? Do you keep a record when you signed up for Skype?
They said when Skype received the form, they would email me with some confirmation number and only THEN could the chat person help me. 3-4 emailed forms later, I never receive a response from Skype, perhaps because that information is missing. The closest I've come to any kind of communication was a review that Microsoft (who now seems to own Skype) sent me which I marked every service as 'poor' and explained the situation. Skype to me is now one of the most fraudulent and ridiculous customer service companies I've come across.

Like many other complaints, I too have lost my account due to me forgetting the setup information done many years ago. I used that service mainly for business, and had an automatic credit set on my account. 7 months after losing that account (and all my business contacts, as well as the credit on the account) Skype set me a notification advising me that they had 'delivered my order': i.e. taken money off my business bank account for a dormant account, with credit in it. Obviously, I sent instructions to my bank to return any debit from Skype. Skype, can you answer to this security breach? No. You can not phone Skype, you have to go through their stupid email contact process. What happened to the credit in my account? Skype, using the privileged information of my card details that I trusted you with, and taking money out of my account is fraud.
After losing access to my Skype account, I set up a new account, and after Skype had fraudulently taken money out of my account, decided to buy my credit using another card. I did not save the card details on the account and did not allow for an automatic top up, and guess what? The next day a further amount was taken off my account from the card. OK, this was returned a few days later, but how is it possible that they managed to access my bank account without my permission and when I did not save the card details?
I am sitting with the credit in this account now, when lo and behold, I see that my account is 'blocked'??? Can you phone Skype to speak to someone? NO. Can you send them an email? NO. You have to either put up with this, or go through their stupid contact process, which, like other people on this forum have complained about, the topics of choice are irrelevant to the problem. Skype used to be good, but since Microsoft have taken over it is useless. What has happened to me is fraud. Skype, I want a refund of the money that was sitting in my account that I lost, as well as the money that is now sitting in my second account that is blocked. I have now uninstalled Skype - and installed VIBER - sent messages to all my contacts to do the same.
Be warned: 1) Skype activity on my bank account is fraudulent - it can happen to you. 2) You can not contact them to sort anything out. 3) You can lose all your contacts built up over the years if you can't remember what month/day and year you set up your account - and there will be nothing you, or skype will be willing to do to help. 3) Big corporate bully business who think they are above the law. THERE ARE OTHER BETTER AND MORE FRIENDLY APPS OUT THERE - TRY VIBER.

My account was hacked and I was blocked out of Skype. Rather than find out what went wrong, they insisted I fill out a form with >10 questions, the majority of which I could not answer. For example, what month did you open your account? I opened my account over 10 years ago. There is no way I remember when I set it up. This is a typical question. As a result, I 'failed' their verification 4 times, wasted a substantial amount of my time in the process, and still they refused to help. Despite repeated requests asking them to call me so I could speak to a human, they just said "sorry, you need a new account." So I would lose my credit on the account, and all my contacts. THE LEAST HELPFUL company I have ever come across. They don't deserve to be in business.

Skype is so ** software. Drops call frequently. It is a bizarre software!!! Please DO NOT USE IT.

I signed up for Skype due to a job asking me to interview this way. I got another job first and had already paid for Skype. It was a 3 month payment. I contacted them right away and told them to close my account. They then billed me again in 3 months. My password to get in now doesn't work and I can only contact them externally. There is no phone number contact on their site so I just risk contacting them online, which obviously wasn't successful before. Now I'm going to have to go to my bank and block them. Also, the short time I did have it, it used an enormous amount of memory on my computer and had a very annoying take-over during the time my computer opened, slowing everything down.

Skype was good until Microsoft has bought it. Then much more bugs has started occurring, and also usage of Skype is often blocked because it needs to be updated. And these updates are really painful, since you have to reboot your computer each time and remember to deselect these annoying "use Bing as default" checkboxes. It is better to do your job well once instead of sending a lot of mandatory updates.

I forgot everything about my account which was open to prevent my ex to spy on that. All the information were made up. I lost the paper where I wrote everything and fill the form millions of times but Skype customer service won't help, nor won't listen. With all the new technologies and communication tools out there Skype seriously needs a grip to catch up with the modern time and get the customer service on the phone - they never reply to any emails you send and if they do is months after with no solution to the problem. The information they require on the form is STUPID!!! They should get real.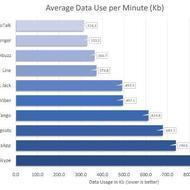 I like the Echo/Sound Test Service contact on Skype. It gives me the knowledge on the conditions of my microphone and the speaker on my headset, which helps me to decide whether I use video call or not. It also has very good quality of audio. However I don't like the data usage of video call in Skype. I would consume 875 kilobits of internet data for the video call in Skype, which is the largest among the 10 common messengers that offers video calls. Nevertheless, I'm satisfied with Skype.

I received an email saying my Skype password was changed. My account was created in 2008 but never used. I don't care about Skype but they allowed someone else to change my password and can't verify me to resolve the issue. This demonstrates serious security flaws that make the service not only unusable but very dangerous. Will also be reporting to other agencies.

For seven years, Skype has served me well, and I am grateful for that. It's free and it is very user-friendly. I use it mainly for audio and video calls, and so far, it has been the most reliable local and international call app for me. A good internet connection ensures a good quality audio and video call, however, at times when the only internet connection I have is intermittent, I can still use it for a good audio call. Its messenger is good enough. It is also good for sending files. I like that I can access it on multiple devices. The only thing I don't like about it is the updates. I keep on receiving notifications even though I have unticked that little box for updates.
Also, a few weeks ago, I received multiple links as messages from my Skype contacts, and fortunately, even before I opened these messages, these Skype contacts of mine sent follow-up messages saying these links are viruses. I don't know how that happens, but once again, it reminded me that I should be vigilant when it comes to things like this. To make the most out of Skype is more of my own responsibility. Thanks, Skype... :)

I've been a Skype messenger user since 2006 and it has been the most stable messenger application I've ever used. I use it mainly for audio and video calls and with most of its new updates, it can retain a call longer despite intermittent or low network connectivity. It also has a good way of tracking messages across different devices. I just feel that it should not allow an account being online on different devices. I think that in order to improve its security protection, it should automatically disable or log off an account when it logins in a different device. i.e. an account should only be online in one device.

I recently purchased a Skype to go number so I could advertise this for my business as I tend to be travelling regularly and felt this better than a fixed landline. I wanted to add voice message and was wondering why I hadn't had any calls so checked the number it was diverted to another company. Skype are adamant the number is mine. The person with the number is adamant he purchased the number from Vodafone who evidently own the numbers and Skype sell them for them. I've been told by the company using the number they have been assured it is theirs.
Skype have offered me a refund on the number but not to compensate to pay for the business cards that are now useless. They have so far just insisted on asking for the number I have called from to the number for their technical team to investigate and say there is only a problem with the voicemail. They will not admit the problem is they sold me a number bought and owned elsewhere... I've spoken at length and am in touch with the other person owning and using the number. Is there anywhere I can go to make an official complaint against Skype as they are so incompetent??

The settings on this program is horrible, I recently got new headphones and I changed the headphones in the audio settings to the new one. The next day I come on and for some reason the settings have been changed back to my old headphones. I did not realize this until after I finished programming the game I was making, and found out that a business partner of mine was sending me messages and calling me. I missed out on a big chance simply because of how Skype keeps changing up all the settings and ruining everything.

After buying a new iPad and trying to install Skype, I realised that I had forgotten my password. I asked for a new one and this led me to a Microsoft windows where I could reset my password. However, despite an email confirming my password was changed, I still couldn't log in to Skype. Many attempts later (and many Microsoft passwords later), I tried to contact their customer service, where I got the same moronic web form as everyone also on the customer affairs website. I couldn't remember when I created the account so I was denied support for a question which has nothing to do with privacy. I had a technical question and essentially no support.
I finally managed to recall my password and then realised that I was also using the wrong email address. After adding this address to my sole Skype session still opened on my computer, I could get back to using Skype on my iPad. Morality: their customer service is incompetent and they definitely alienate people with the false excuse of "account security". A simple email with "you are using the wrong email address" would have solved this issue. I do need Skype but I am going to move away from it as much as I can as a result of their policy. Well done Skype and Microsoft for losing customers!

I started using Skype years ago. Everything was good until last year, skype keep restricting all my accounts with no reason. They blocked my old skype suddenly which I have been using for more than 5 years. I tried to contact their support but the only way to reach them is to use email support, which you have to wait 24 hours for reply. And what's worse about it is that you need to fill the verification form that ask very stupid questions. Such as when exactly did you create your skype, what name you put when registering, your birthday, etc. Who would remember those information when you registered it years ago. I've already verified my account with the registered email I put since I created it. What more do they want.
So I finally verified my account and guess what, they said their system detected activities that's contrary to their TOS. And they couldn't even explain what activities, and kept telling me it's for my account security, and they can't disclose any information about it. I've explained everything to them that I didn't do anything that violated their TOS, after I read it many many times. They just don't believe me. And their judgment is based on their automatic system, and all they can do is reply with pre-set messages. So I have no choice but to create new skypes, and then what. They blocked them all one by one. I have like 10 skypes blocked now since last year. I lost all my contacts and business partners. I am so confused and upset, and helpless about their service! They just don't care about anything you say and do. Skype is the poorest product I've ever used and has the most horrible service ever. Please KEEP AWAY FROM SKYPE.

I tried Skype, did not like it, went through many hoops to try to cancel it. The only way I could was to block payment! Now I get messages that payment was decline, worried this will effect my credit scores. Nightmare, wish I never tried this app!

Why Skype will take money on Skype credits and then block my account? I made two different accounts for my wife to use to call to her country. I make a account, put Skype credits on it, use it to make a few calls, and then they block my account. When I contact them to try and figure out why they say I violated the terms of agreements, a long list. No specific reason, just a long list. I think they should tell me exactly why and maybe I could figure out what I or my wife is doing wrong. I can't even log onto a Skype account I have had for years. I realize it may be me or my wife doing something wrong but help me figure out. Why not just keep my Skype credits? I would use another but her friends and my already use Skype but I will be looking into that.

In some new update, Skype started trying to translate my messages for me. I did not ask for any sort of translation, nor have I installed anything that would translate. Now messages from my international friends come to me as complete gibberish. I cannot turn off this rubbish attempt at translation, even going through Tools > Options > Skype Translator. That box is unticked, yet it is still trying to translate a language it obviously does not know. I know this language, otherwise I would not be conversing with people in it. I DO NOT NEED IT, I DO NOT WANT IT translated, thank you very much. Skype community boards have several complaints about this, but it appears nothing is being done about it. Please, Skype. I have depended on you for many many years and I've appreciated having this service available to keep in touch with people. But now you are putting this relationship to an end by your unwanted "help".

Skype suspended my account because they say it was hacked. They put me through a moronic verification process while I changed my password. I've been a customer for well over a decade. The verification asks impossible questions, such as when you first opened your account and what credit card was used. Three times they told me that my verification failed, but wouldn't tell me how, and that I would have to open a new account. Blam. There goes my Skype telephone number and all my contacts who have it. I have numerous bank accounts, credit cards, and am on Social Security and Medicare. I've never had a problem confirming my identity. It's as if Skype wants to alienate customers by putting them on the defensive about their own identity. I have to say that I've always found Skype's customer service to be awful. But this was worse than anything I ever encountered before. Steer clear of these idiots.

I received an alert email from Skype saying that my password has been changed, only I did not authorize it. I clicked on the link to dispute the password change and was asked a series of questions, including what date I started (I have no idea) and asking for 5 contacts (which I did not trust to give out). What I did give them was my username, birth date, email, and every other answer they required. I was then emailed back that they could not verify my account and therefore could offer me no help.
I have asked for a number to call, and was stonewalled, but I have gotten 3 emails from them apologizing that they take their security seriously. So why then can someone hack my account with no repercussion?? My personal information is now in the hands of a hacker and Skype stands by and does nothing because they can't verify I have an account... then why did I respond to the password change email!? Not sure where else to turn since I can't get a number to call. My only recourse now is to seek legal counsel.

I used Skype for years, and purchased credit when needed. I purchased credit 4 days ago and normally I would receive it within minutes, but after a few hours no credit. I contacted Skype and they said it could take 24-48 hours for the credit to be received. I was really annoyed as I use this for business, and there is no mention that I saw of such a delay. PLUS they already took the money from my bank account. They offered to escalate this, and I agreed. I was told I would get an email. No email. Went back to Skype again (the chat) and said I received no email. Finally they sent it with a request of a screenshot of my bank account which I did and emailed back. 2 days go by, no response from Skype and still no Credit. So I went to the chat again.
So now it's 14 days and no way to really refund. So I called my bank and they indicated this Global Collect company has many complaints about them and are seen as a fraudulent company. I am not sure why Skype would use such a company, but it seems they have changed to this one and now you wait 14 days. I asked the bank to investigate this but the problem is they will charge me for this, which is about the same as the credit I bought. So no refund for me. I now switched to Google Hangouts. Credit was received instantly, and it's actually half the price of Skype, so in the long run this worked out. But beware, it seems Skype will take your money, but getting credit or even a refund seems to be an impossible task.

Took almost 2.5 hours in two sessions of chat to change company name and address and credit card details. Unable to produce VAT invoice for previous purchases. Evidently the system no longer works. Told to try again tomorrow and see what happens. Nothing more needs to be said. I just wanted to scream.
Company Name:

Skype

Website:

https://www.skype.com/en/