Consumer Complaints and Reviews

Downloaded Outlook to my HTC Bolt and all my pics were promptly deleted. Thanks a lot for a product I thought would work with today's technology, but no, it is JUNK! Don't buy anything with these letters: "HTC".

I have an HTC 626 and sense home crashes every day 4 or 5 times a day and I have to restart my phone and I keep sending error reports but nothing gets done. I wish I can remove it from my phone forever. I don't need it. It's useless and causes nothing but issues. I will never again get an HTC product. They don't care about their customers.

This company is filled with a bunch scam people. I had bought my phone in Aug 2016, brand new, it stopped working that same month. I think I had dropped some water on it. Now, I called them, they said they were going to replace the phone within 2 days. I called them as soon as the phone did not work. This was Oct 1, 2016 I called them. Two days went by nothing came. I called them, they said, "It's on the way." 5 days later, nothing. I called again, they said, "In two days." I called to get my phone replaced Oct 1, I did not receive my phone until October 28, 2016. I sent my broken phone back 5 days later. They charged me $305.00, I sent them a message and they said they didn't charge me and to call the bank. The bank said they will take care of it and never did.
I called them back after a month and said, "Why are you charging me this money?" HTC said, "Because of water damage." I said, "Look at your protection plan. It says covered." HTC said, "We will refund the money." 3 weeks later still no money. I called them back and they said, "Oh the device was returned too late," then they said, "Your water damage was too deep." At this point I told them I need to speak with a manager, The manager told me, "The reason they took the money was because of the water damage being too deep." I asked, "Well, your protection plan says water damage is covered. It does not say anything about bad or easy water damage."
They told me, "It's a limited warranty and there are conditions." I said, "Okay, but it's a water damage, therefore all water damages is covered. If your terms and conditions says it covered water damage, it needs to cover all water damage. There is no such thing as bad and good water damage. If you want to pull the terms, then we have a legal problem." They Manager said he was going to return half of the money in the end. They called me back later that day saying the money was charged too long ago and they will have to escalate the refund to corporate. So now, I am stuck without $305.00 because they have horrible service and support. Please don't buy from them. Save your money and buy from someone that will actual care.

Not helpful at all. Half of the people you can't understand. They sure don't back up their product or treat their customers with respect. They say to try something and we do it then call them back when it didn't work. The next person tells us to do the same thing as it will help to do it 30 times. I give this company and their product (HTC One M9 cell phone) a 0 rating. Good luck if you have an HTC phone.

HTC makes a substandard product. This phone catches on fire. Beware of this phone causing fires. The company would not replace, reimburse me for the replacement phone I bought. My HTC phone was only four months old. It began overheating and turning off and began burning a hole in the back plastic cover. Don't take a risk with this phone! It could harm you or your home with a possible fire. It's not worth taking lives!
How do I know I can trust these reviews about HTC?
790,852 reviews on ConsumerAffairs are verified.
We require contact information to ensure our reviewers are real.
We use intelligent software that helps us maintain the integrity of reviews.
Our moderators read all reviews to verify quality and helpfulness.
For more information about reviews on ConsumerAffairs.com please visit our FAQ.

Trying to get a phone replaced under their uh-oh protection is nothing less than a lot of pain. Who wants to wait a month for a replace phone? Not to mention hours waiting on the phone for someone to answer your questions to where your phone is and when will it be here. I like the the HTC 10 but customer service is by far the worst and will be the cause of this company going down. As of 4-10-2017 I'm still waiting for my replacement phone and even sitting here on hold waiting for a supervisors which has been 15 minutes now. NOT HAPPY.

I wish I could be here feeling Better. I fell in love with HTC and their Quality a little over 2 years ago. I had the HTC One Max through Sprint. Phone was stolen. I liked it so much that I purchased phone unlocked. The HTC 10 is the only 1 that I like as much as mine so I decided to buy it. Happy of course because I was getting it Unlocked from the Manufacturer. To my surprise it pays better to shop at Amazon or even Ebay. They selected FedEx to deliver my package. Fedex for 2 consecutive days had on their website delivery next day end of day. When they finally appeared at the delivery address was 1:22 PM. Unwillingness of Fedex driver to come back, options given to hope that they make due and follow what I was being disclosed by their website Deliver by End of Day however now the time frame was 11:40 AM until 4:45 PM. Also I had the option of driving over an hour to pick up my phone.
Contacted Supervisors or so I thought @ HTC whom ended up being as useless and not well trained as individuals I was speaking with on the FedEx side. How does a Customer spend over $600.00 and the ball is dropped on your court and you don't attempt to mitigate that in any way, shape or form. Needless to say that I will not be purchasing any more phones unlocked from HTC as a warranty that goes through a 1000 loops to cover a damaged item is rarely awarded paying Amazon from a reputable seller almost $400.00 less for same phone and use USPS that could deliver my item inside my locker box. Think wisely before spending so much on a product you might have gotten from elsewhere same New Conditions better CSR Service. Example Amazon I purchased something Sat. 03/04. Delivered 3/8 I handed it to UPS guy for Return 3/9 by 11:30 AM or so by 1:32 PM. Amazon advised they were processing my refund.

I order HTC 10 on 12/20/2016, on HTC website had promotion free pair Jabra Move wireless headphones but I never get it. After 2 months I call them. They said I never order headphones when I order phone but that wasn't have options to order headphones at same times. I spoke to them few times. The answer was nothing they can do. That is very bad customer service to me. That was fake advertisement fake promotion. Next time will go for Apple. I think HTC doesn't care just lost one customer.

HTC provides terrible service. Not an hour goes by without a interruption in internet service. My repeated phone calls have sometimes improved service for a short period of time but eventually service reverts back to frequent disconnections. The technicians are polite but never in agreement with each other. I have heard it all. If other providers were available at my address, I would have switched long ago. I have written two other reviews in my life but I intend to start writing reviews about HTC whenever I have an opportunity. I regret I should have to give them even one star, but this will not post without any star at all. Oh I just hit the post button but I am getting the message I have no connection.

I have had HTC One S HTC One M7 M8 M9 and now I have HTC 10. I've loved every one of them. Never had a minute's problem with them. They were great and I love the superior sound quality that's why I kept going back to them but now I decided to try to take advantage of the protection as I have a small crack in my screen. I was given the number directly to HTC by T-Mobile my service provider. I called them up and talk to them and they basically told me, "If you don't buy the phone directly from HTC your warranty is null and void." They will fix the phone but she will have to pay for it and they're not even nice about it.
Took me 47 minutes of being talked over the top of by their customer service rep which was not friendly, not nice to say the least and ask before I could finally get a supervisor on the line which I have been asking for repeatedly since the first minute I was on the phone with him because that's when he let me know that I would not be getting any protection. Because I don't get how I don't have protection since I didn't buy it directly from them so all I can say about protection you don't have any protection. I will never buy anything with the letters HTC on it ever again and I can tell you they are shady crooked underhanded just from my experience not to mention not even nice about it. Don't even try to be nice with you on the telephone repeatedly over the top of you that says I'm finally doing it back to them.
Quit talking over the top of me very never have anything HTC ever again and as far as your protection is right you don't have any protection. They crooked underhanded Shady people. This trying to take advantage of us here in the states. When I said ask him if he was here in the states and he told me no and giggled well that right there was a sign that I wasn't going to get any help whatsoever and that was within the first minute. Do not I repeat do not buy anything HTC and if you do have something HTC by all means please call them and please see what you can get done which I can guarantee will be nothing.

I purchased an HTC One A9 direct from the HTC website. The phone's camera broke twice and after sending it in the second time for repair there were no updates for the repair for at least a week. I believe they lost my phone and substituted another refurbished unit. After multiple web chats and calls they eventually created another ticket with a completely different IMEI number from the one I recorded for the phone sent in. They continued to lie to me by saying that was the phone they received. The agreed repair time was 7-10 days and after thirty days the phone finally shipped.
Ultimately FedEx lost the phone and instead of sending me a replacement the customer service persons continue to tell me that it is FedEx's responsibility. It has now been over 50 days and they no longer return calls or offer any solution. It is my position that HTC is responsible as they are the party who chose FedEx and obviously did not insure the package. They continuously claim to understand my frustration but never do anything to resolve the matter. Needless to say, I will never purchase another HTC device.

Fantastic hardware, but UI has serious problems. I've had this phone from launch day, I've owned the HTC sensation XE, HTC one x, HTC one x+, one m7, one m8, one m9 & now the HTC 10. I've contacted support on several occasions without resolve. The problems! Big problems too. Everyone advises that you turn off NFC when it's not in use for security android pay, paypal" etc. Well the only way to do so on the "HTC10" is to unlock the phone & pull down the top draw & select settings, then scroll to more then switch on NFC or switch it off "ridiculous". The two finger pull down is non-customisable. Makes wireless payments pointless quicker using my cards.
The other big issue is you can't turn on normal battery saver from the two finger pull down either. Yes you can use extreme saver this way! But I didn't pay over £600 to turn my phone into a Nokia 3310 with even less features. I want to be able to use all my phone's features. It may be a bit slower but still gives me better battery life! I've spent more than enough time communicating with HTC on these matters, only to be ignored. I'll not be buying the next HTC flagship...

Where to begin? Hmm. Well, I guess I can start with the update that broke my phone, which apparently wasn't from HTC, so it's not covered under warranty, but it looked exactly the way all the other updates looked like, so I'm pretty sure it was their stupid update that broke it. Let's move on to the "24-48" hour to get in touch with you/mail out your label thing, like how it didn't happen, until I called 5 days later and then they sent it out. Or we could move on to the fact that now the "damage" that was done to my phone apparently costs $270 to repair, which I could just buy a new phone for that amount and do away with HTC altogether. But regardless, how come I have all this damage to my phone, when there was nothing wrong with it other than the original problem? And the "24-48" callback that again didn't happen until I called them back 4 days later, only to be told that they couldn't track down the person who was working on my case.
That person finally called me back 4 hours later, and let me know that they couldn't speak to me, but they needed to speak to my husband?! Why the HELL did it take 4 phone calls for them to tell me that?! I hate HTC CS and will never be dealing with them again. I want my phone back and I will be trading it in for something that doesn't suck or doesn't have crap service with a bunch of idiots running it. Never again will I have one of their shoddy, inferior products (seeing as this was my second on and the second one to cause me issues). Thanks for nothing HTC!

Had an HTC phone. The screen went out, called the warranty department. Was told the phone was still under warranty, had to pay to send the phone in to them, was told they would send it back, free. It's mighty strange. I was told it would cost about $100 to fix the phone before they even received or looked at my phone. Send the phone through UPS, received an email that the phone was delivered, received by someone name John.
Went to check the status of the phone, was informed it wasn't received. Called "we have it now." Two days had pass was giving photo that the phone had water damage, phone had never been in any water except what they did. Cost of repair was exactly the cost I was told before they received the phone. There was a little object wedge in the phone as if water had been added, everybody knows water VOIDS any warranty. These people are SHADY as HELL.

HTC is the absolute worst company I have ever dealt with in my entire life. I've been waiting for my phone to get fixed under warranty for about 2 1/2 months. It all started with me downloading the htc on update which broke my phone - it couldn't restart and for the last 2 months I've called them about 10 times having everyone tell me something different saying either it's handled or something else and I signed up for them to send me a new refurbished phone not to fix my phone. But if I call them right now they still tell me they have a order for me to get my phone fixed and that's it's gonna cost $110 and that I'm no longer under warranty. Only person who can talk to me and handle my case is the case manager who is never there or always on lunch when I call. Biggest thing of ** I've ever dealt with. I will never get a htc phone or support them in any way ever again!!!

I bought a HTC phone on their website. The day it arrived, I dropped it, cracking the screen. A couple phone calls and a week later I received a faulty refurbished replacement phone. Not only was I promised to not receive a refurbished phone, but a FAULTY one arrived. It has now been another two weeks (3 weeks in total) and they still haven't sent the return label for me to send the faulty phone back.
I've called them 8 times and every time I'm promised that the issue has been escalated, a supervisor will call me, and the shipping label will show up in my email this time. They always say I can trust whoever I am now talking to. They're all liars. NOTHING ever happens. No phone call, No email. NOTHING. The worst part is that they refuse to give me a refund. Apparently all they can do is replace the phone with another refurbished one. I don't trust that it will work either. And in the meantime, I bought a brand new phone and am stuck with a faulty refurbished one. Don't ever buy a phone from their website. It's not worth the trouble.

I have purchased HTC phones for 6 years now. I also purchase HTC phones for work, hundreds each year. I was up until this experience a huge HTC supporter. I purchased a HTC 10 through Sprint with one of those leasing plans in July. My phone just stopped working for no reason, so I thought the Uhh Ohh protection would be a great idea. So I sent my barely used, in perfect condition phone to HTC. Last Saturday I received back a Frankenstein phone, spent 5 hrs on the phone with Sprint trying to activate the phone. The meid and imei were completely different numbers instead of being one number off.
I finally talked to a 3rd level engineer and he said no way this phone can be added to Sprint's database because even though it boots up and says Sprint it is a gsm phone not cdma. He told me to call HTC and tell them to send another phone. So I did and they told me their RMA dept was not open until Monday instead of shipping me a new phone. So I called first thing Monday and they submitted a ticket to their escalation dept and told me I would hear back in 3-5 days!!! No I am not joking. Any other company would have next day-ed a phone because they screwed up. Not HTC!!!
Oh and the lady asked me if I bought my phone at Walmart and if it was prepaid. "No it was a Sprint phone. That's what I sent you. What you sent back is not my phone at all." It is now a week later and I still have not heard from them. I still don't have a phone that works and I am still paying for a phone. Anyone have any advice??? This is ridiculous, how does a company treat its customers like this?

I'm not gonna sit here and type out the entire story, but my god what a ride this has been. Why my brain hurts. I don't know the exact dates, times or what I was wearing during this whole process, but months ago, I dropped my phone in the middle of the road while riding my bike. The phone then got run over by a car. So that's great. I then called in for a replacement through my uh oh insurance. They sent me a new phone, life was good. Though I waited about 2 weeks before getting the phone, things seemed okay. After 1 day of using the replacement phone I soon found out that it would decide to die quite literally whenever it felt like it. 99% battery, 58% battery, 1% battery. It was a gamble. So I then call back in to warn them of the issue and request another replacement phone. No big deal.
Well it was a big deal because they had every excuse as to why they would not replace it. I finally talked them into it and waited another month to receive the new one. I was a little more upset but I had my phone again and forgot about it. Not so fast. The ** power button doesn't work so God forbid I let it die. I call probably a total of 15-20 different times, and 15-20 different reps before I finally talk to Farida who promptly assured me that I would be receiving my new phone as soon as I send mine in (since I wasn't about to let them take $599 out of my account for over nighting my new phone, even as a temporary hold).
So, I wait 24 hours to receive an email so I can then send in the phone. I go to FedEx the very next day and ship my phone. Farida calls me from an unknown number causing my work phone to block the call. She leaves me a voicemail explaining that they have received my phone and will be in repair for only a couple of days. Well today is 10/26/16 and it had been well over a month now that I have been attempting to contact them in regards the - what in the ** is going on.
In the amount of time I have been waiting for a response, I went out and bought a Samsung S7 Edge. Lovely phone by the way. Let's just hope their customer service isn't complete Garbage too. So anyways, I just called in again today at about 2 pm and not a single supervisor was available. Not even Farida, who again, assured me things would be taken care of in a timely fashion.
So the rep tells me she guarantees that Farida will contact me by the end of the day. I wait and wait with no response (omg no way right?? She GUARANTEED it!!). Nothing... it is 8:15 pm and after being on hold with a dude named "Ice" for what seemed like 20 minutes. (It was probably only like 5 min.) He comes back on the line and begins to tell me that they have not received the phone I sent in. So that's cool. So I say, "Let me speak to a supervisor immediately or I'm gonna lose my mind." So he puts me on hold again which by the way, he kept the phone on instead of playing that obnoxious hold tone that's stuck in my head at this point. I begin to hear reps laughing, playing, having a grand old time, and then suddenly an annoying Dial Up Tone and of course I hang up. So needless to say people, I do not have any form of closure to this situation and at this point, I truly don't expect to ever receive the phone.
Okay so I still basically told the whole story. There were some moments of getting hung up on, irritability, and employee ignorance here and there but this is about the sum of it. VERY, very, very annoyed with this whole situation. I've been very respectful and calm throughout the entire process (yeah I'm sure all unhappy customers say this but I'm a pretty even tempered guy) and yet still got nowhere with any of these people. So if you're thinking about getting an HTC Phone, just know that the brand new ones are always fantastic, just don't break it. And especially don't try to get a problem resolved through customer service. If there's no way around it, just hang yourself. Buh bye!

Cracked my phone screen on 8/30 and initiated Uh Oh Protection. As the website and terms and conditions state, I was expecting a replacement phone to be on my doorstep in two days. It took 5. Remember, all I did was crack the screen, the first time I dropped the device without a case on it, mind you. Anyways, The whole process took from 8/30 all the way to 9/13 when I finally received my "new" device.
When I opened the repackaging, I was disappointed to notice that the entire left-hand corner of the device was completely unattached to the body of the phone along with some severe bleeding along the bottom portion of the device. The LEDs for the touch capacitive buttons were much dimmer than they were previously, and I could see the light even coming around the sides of the finger scanner.
Currently I am waiting for an email, which their customer support is not very good at sending emails promptly, and have been waiting for an email since Monday (9/26) and as I write this review it is Friday (9/30). All of this waiting just for the email with the address to send the phone to, the return shipping of which I have to pay for.
I love HTC devices. I love the software integration and I love the design of my HTC 10. But they shouldn't advertise Uh Oh Protection if it's this much of a headache to deal with. I have had no luck in getting any customer service rep to help me out in any sort of prompt way. At this point I am receiving one email a day if I'm lucky, and of course, they don't work weekends, so I won't get my email until next week. Again, the email is what I'm waiting for.
Overall, I'm so severely disappointed with the after sale support of HTC, and it makes it very difficult to consider the purchase of anymore HTC devices, at least with the current state of their customer service. You'd think when you shell out 600 dollars to a company for the promise of a warranty and customer service representation they'd treat you a little better, but I guess they already have my money.

On the 22/7/16 I sent my HTC M8 for repair it is still in warranty until February 2017. On 29/7/16 I received an email stating it was at the repairs centre. On 1/8/16 I was sent an email stating "Our initial assessment of your device indicates that the repair work required is caused by damage that isn't covered by warranty. Unfortunately, this means we must charge you for the repair." (The bill was 372.47 itemising the need to replace 20 components that were considered to be damaged, but not giving any reason what the damage was). I contested this with an advisor who said the reason was it was out of warranty, she contacted THREE mobile whilst I was on hold to confirmed it was in warranty and told me it would take another 72 for a decision regarding the repair. To keep a paper trail I sent a return email stating "I do not believe the reason my phone was not working was my fault and require further supporting evidence".
12/8/16 I contacted customer service via email, the reply was "Thank you for your reply and thank you for your patience regarding the matter. Rest assured that your complaint will be raised to the escalations manager handling your case. Any feedback I receive will be forwarded to you". I have no idea who my escalation manager is! 19/8/16 I went into a THREE store and asked if I could contact HTC, I was told by an HTC advisor that he did not have the up to date information on his computer and would get someone to ring me back. (No one did). 20/8/16 I was asked to fill in a survey about my experience, it allowed me the option for someone to contact me (No one did).
30/8/16 I finally got onto Web Chat after several attempts, a helpful person checked all my details and asked an advisor to contact me. I received a call within half an hour and was told my phone was out of warranty as it was water damaged and therefore it was up to me to pay for the repairs. I explained it has not been near water, steam or an excessively damp environment and contested this decision requesting photographic evidence. I was forwarded a picture of the inside of a phone which was visibly water damaged and my phones IMEI number printed at the top of the page.
I was told there are a number of reasons as to how I could have got my phone water damaged I.e. if I answered it if it was raining I suggested that if I could not use it in everyday situations then perhaps it was not "fit for purpose". During this phone call I was asked if I minded the advisor dealing with another customer concern. I suggested that I speak to the advisor who sent me the last email, who was on holiday and would be back tomorrow. I asked for confirmation via email that I would be contacted back. At this stage I am awaiting a call back, but feel extremely frustrated with the inconsistent customer service I have received.

I purchased an HTC One M9 last July as an early birthday present for myself. It seemed great; not only did it look and feel great and come with good speakers, but it came with the extra warranty that came from the company that claimed that you could replace it within one year free, or get money off of your next HTC. Anyway, it's a bit less than a year later and I'm working full time. The volume buttons on my phone stop working for the most part (I have to hold my finger across both of them and keep pushing until one of them decides to work). I'm 99% sure that the buttons stopped working because the case they sold me at Verizon bent them in, though that's a story for a different time.
I go online to customer support, and after chatting with the representative and waiting for her for about 10 minutes, she comes back and says she cannot verify my mailing address because some department is closed. Really? Well, fine. They tell me to call the next day, so I do, only to have my phone ring and ring and never even get put on hold. When I do finally get a hold of them a few days later since I've been so busy, they say that the time on my warranty expired and that there's nothing they can do for me, even though it was THEIR fault that I was not able to send my phone in in the first place. I think they do this intentionally to avoid having to replace their crappy phones, but even if not their horrible customer service is enough for me to know that I definitely won't be buying another HTC, no matter how much they take off the price.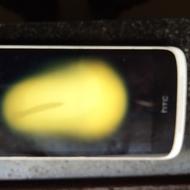 I bought a HTC Desire 526gt in August 2015 for business purposes. The phone worked ok for the last 10 months. Before 2 weeks the phone display stopped working. After a day, I saw a air bubble form below the screen and now the display showed a bright light (see image). The phone was still in the 1 year warranty period. I took the phone to the Malad, Mumbai service center and asked them to repair the phone. After looking at the phone, their customer representative alleged that I had put pressure on the screen and hence the display is not working. I argued with them that I used the phone normally but the customer representative was not ready to listen. I met the supervisor but he was not helpful as well.
In my opinion, HTC designs and manufactures poor quality products and when the phone stops working during warranty, they blame the customer to void the warranty so that they can get money for repairing their poor quality product. In my opinion, there is no point buying cheap HTC phones. Rather buy a good quality phone. I am still using an iPhone 4 as my personal phone that I bought in 2011 (5 years and still going strong).

I purchased HTC ONE E8 from India. I opted for HTC as it offers international warranty and I purchased from EZONE who is authorized dealer for HTC. June 2015: Purchase date: 15 June 2015 (India) for Rs.23912. July 2015: I reached USA on first week of July 2015. Mobile worked for a week. After that sim slot one stopped working. Initially I thought it might be sim card issue and tried several sim card. None of them worked. Now I am left with only slot 2 which supports just 2G data and I hardly received any data in San Diego. Without data I couldn't take my mobile anywhere. August till September 2015 (USA, raised first ticket but did not send it due to refurbished replacement).
As I was in US, I contacted HTC India through chat. It was a nightmare to even get hold of one customer service representative. The moment I tell them sim slot one is not working they would either disconnect the chat or provide me with some steps to troubleshoot. It went on for few weeks with no real support from HTC India. Then I contact HTC USA. Chat support was excellent and I was offered to get it repaired. HTC USA told me I might get a refurbished device if I opted for this service. I told them I don't want to get a refurbished device within 3 months of purchase and waited till I reached India in February 2016. (After 8 months of purchase, phone worked officially for 3 weeks.)
Feb 2016 (India, repairing for first time): In Feb 2016, when I reached India I visited HTC service centre and gave my device for repair. After 2-3 weeks I received my phone back. I had provided a brand new looking mobile for repair and while receiving sim slot area had scratches, even back had few of them (I received a refurbished replacement with a old casing) and even camera did not work properly. As my stay in India was limited for a month and sim slot started working, I took mobile back to USA in April 2016.
April 2016 to June 2016 (USA, repairing for second time): Once I landed USA and switched my sim card to US network, it stopped detecting sim card again. I contacted HTC USA. They offered me to repair camera and sim slot issue. I shipped it to HTC USA and I received after 1.5 months as HTC had to source parts from other countries. The received phone still had sim detection issue but now camera was much better. This time I received a beautiful gift along with my phone. Phone had a SD card in it full of pictures of HTC test centre and most embarrassing part is lots of personal pics of some employee which even has some really weird pics (very dirty). So now I knew where my mobile was used for nearly 1.5 months.
I complained to HTC USA about this and very coolly told me to format it and use it. My concern was that I trusted HTC to keep my phone within factory and not to be taken out for personal errands. Finally HTC asked me to email those pics which I did not do as some of the pics are really embarrassing. I still have the SD card with me.
June 2016 (USA, repairing for third time): I contacted HTC USA again and shipped mobile for repair. After a week I received it and again it has same issue. I think HTC never tested it and just send it back. My official warranty got over this week and still HTC could not provide me with a working mobile phone. I have used for just 3 weeks in this whole year. NEVER EVER PURCHASE HTC PRODUCTS. THEY KEEP FOOLING US WITH LOW-QUALITY PRODUCTS.

HTC Desire 626 - This phone has NOTHING of value. The phone won't even make phone calls correctly. The programming is so messed up, it makes the phone useless. Go back to the OLDER phones, they work so much better.

I've got HTC 820 G+. I gave it twice for repair within the warranty period. On first time submission I was told some sound software was changed and on second submission, the motherboard in the phone was changed. Even after that, the problem that I reported of voice issue still persists. God damn it. I don't understand what more is in the phone to repair!
I called up the helpline no. but the person there was unable to address the issue. I talked to Shampa from Mumbai and some other male voice for more than half an hour. Shampa said she couldn't fetch any details about my complaints or mails that I wrote. All in all, I've visited the service centre 3 times, wrote them mails about my complaint, talked on the service centre no. twice. I fail to understand who's there to provide services to the customer if the customer is facing issues with the device. And they bloody call themselves a service centre! I'm bloody frustrated with the defective piece HTC provided. The problem has been there since the time of purchase. HTC surely fails to deliver quality products. I strictly recommend to stop buying HTC phones.

I am having a so much trouble with HTC Service Center in EDM Mall, 1st floor, plot no 1, Kaushambi, Ghaziabad. I am having a so much trouble. I am working person. I am getting a one weekly off and that week off is also I spent in your service center. I am having a phone of H.T.C. Desire 526G+ Dual Sim. I am having a problem in my receiver so I deposit my phone to service center. I told to them that I want a phone today because I am not having a another set. "Please make me fast." They told me "Ok sir." They me a time of 4pm. When I reach the center she told me that it's not possible to give today. It's not completed. When I talked then again they give me 6pm time. I already spent my 4 hour EDM mall. This is not good. I am going to complain to the consumer court regarding this problem. It's a completely mentally harassment. I am not tolerate this.

After having the HTC One M8 for 6 months it no longer charges. It literally has taken them a month and a half to finally accept the paperwork that I have for them to fulfill their part of the warranty which is to fix my phone. I have not gotten it back yet but supposedly it's been fixed and is on its way to me. I will believe that when I see it. My daughter's phone which is the exact same model as mine is doing the same thing so I sent over the exact same paperwork they used for mine with her info of her phone on there and they are "reviewing" it. At first one of the supervisors said that they could not accept the paperwork. And I'm like WTF, it's the exact same thing I sent for my phone to get fixed and they accepted that. So now it has to go through some other department for approval. These people will do everything in their power to not fulfill their warranty. This is by far the worst company I have ever dealt with.
Mind you they gave me 3 wrong email addresses to send my proof of purchase to and when I kept asking for the correct one the idiot on the phone said he could not give it to me. He said he emailed it to me which was not true because I never got the email. It's when I was able to talk to the supervisor that it was given to me. I was promised a callback this morning and of course that has not happened either. Please be wary of this horrible company. Do not purchase products from these people. They are literally out to get you and do not have your best interest at heart. Their tag line should be "HTC here to ** our customers, by selling them ** products and doing everything in our power to not fulfill our end of the bargain."

This was my 1 and only time I will buy a phone directly from HTC.com. I pre-ordered a phone and paid next business day delivery. The order was processed 2 days later, shipped Friday and was delivered Monday. After I received the phone and installed all of my applications the phone started to restart on its own. I did a factory restart and downloaded everything again. On Tuesday, after the phone continued to restart for no reason, I contacted HTC and advised of the issue and what I did to fix it. I was told to download their Sync Manager and wipe the phone again using that. The Sync manager isn't compatible with the phone because it is so new. I called HTC Again and they advised they'd send me a new phone but that I was have to give my credit card information again for a $599 hold which would be released until the defective device was returned. The phone was supposed to be rushed to me.
On Thursday I contacted HTC again to ask why the phone still hadn't been sent yet. They escalated the issue and advised I'd get a call back once the phone is shipped. On Friday, HTC called to advise that they would not be sending me a new phone - they were planning on sending me a used phone, but since the model is new, there were no used phones avail. In order for me to get a replacement phone, I'd have to send them the defective unit, they'd refund me, then I'd have to purchase a new phone on their website. I ended up going to a Verizon store and purchasing a new phone since I'm leaving the country and don't have time to wait for a new order. When I asked if they'd pay for the return shipping they declined.

My 3 months phone crash always - despite of resetting it still crashes.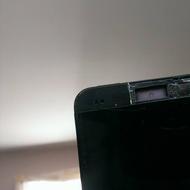 I sent in my HTC to be repaired because there was a purple haze on the screen whenever I used the camera. This would show up on all the pictures. HTC tried to tell me that I had to pay $180 for labor. I refused as this should be covered since it was clearly a manufacturer's issue. After I refused to pay, then they tell me I have a "touch panel" issue and that it would be $180 and the camera issue would be covered. I never had a touch panel issue before that. How does that even happen? I told them to send my phone back since I was not paying.
Before I sent my phone in, when trying to remove the battery, which they said to do before sending in my phone, the top corner lifted up on my phone. Note: they should never tell customers to try and open the phone. This is near impossible without the proper tools. I eventually left the battery in and sent it with the case and all. I received my phone today. For one, the case was missing. Two, apparently they took it upon themselves to just tear the top strip that was lifted, right off of my phone. Most likely damaging the touch panel. So now I have a phone that doesn't work. The camera was never fixed either. Thanks HTC. From your once loyal customer. Hello Apple.
Company Name:

HTC

Website:

http://www.htc.com/us/