Consumer Complaints and Reviews

I have called Internet support multiple times. I have had a technician at the house to fix the Internet and still no service. Customer service rep says "you are at the end of the line for internet service. So you aren't going to have any speed so you can always cancel your service." This was in response to me explaining I didn't like paying for a service I wasn't getting. The Internet won't stay on. I have always paid my bill and on time. I don't like to pay for a service and I don't have access so to it. I live in a rural and I do not have a choice of Internet providers it's Fairpoint or nothing but even having Fairpoint it's been nothing but I have the pleasure of paying for lack of service and customer service representatives who obviously are trained to give no service. If I could give them a minus 1... I would.

I signed up for Fairpoint fast because Comcast was awful and the monthly bill keeps skyrocketing. So we got landline and Internet with Fairpoint. I wanted to hard wire the 2 TVs so that the mobile devices wouldn't compete for bandwidth. So I called Fairpoint to have a tech come out and take a look at what the setup guys said was "no problem." The tech came over reeking of weed. Took a quick look at the TVs and then in the basement and said rudely, "can't be done." He left abruptly after less than 10 minutes. I got my bill and it had $190 in services charges ($110 & $79.99). I called customer service. They said I owe the money. I asked for a supervisor. They said I owe the money. I asked for her boss. She said I owe the money. I wrote a letter to the CEO and sent it posted with a stamp "Confidential" on it so I knew it would get elevated to the office of the CEO. I got a call back from a person saying that the bill had been corrected.
We got the next bill and the $110 had been removed but not the $79.99. I called and asked for a supervisor. She said we used some sort of laptop service and that was what the $79.99 was for. I said we did no such thing. She said she would research it. Another person called back and said we owed the money. I explained that we hadn't used the service. We got an adjusted bill that netted out the $110 but left the $79.99 on the bill. I called again. The customer service rep said a supervisor would research it and call me back. I got voice mails from supervisors both saying the $110 had been adjusted out and we should pay the balance. I called again and got a supervisor who said we were a month past due and that a correct bill would be sent reflecting two months of correct monthly payments without the $79.99. We got the bill and the $79.99 was still in the total amount due.
My wife called to put a "softer touch" on the call. She (eventually) got a supervisor who said that we had to pay the bill and we would get a credit on the next bill. We paid it and the next bill showed no credit. I called and got a customer service rep who said we weren't due a credit. I asked for a supervisor. They said one would call, back. I got two restricted calls (which I rarely answer) saying we owe the amount on the bill.
I finally answered a restricted call hoping it was Fairpoint. It was. He acknowledged that the amount should have been credited and gave me online instructions to login and pay an online bill that would reflect the now two months due of our correct amount. I logged in. The online version did not reflect the credit. This is the worst company I have ever dealt with. We are going to go back to Comcast for Internet and just use cell phones. Since all this happened we are live streaming all the content we want for free. Screw these ISPs.

Ahhh... There's nothing like a good old-fashioned rural monopoly screwing its customers out of even the most bottom-of-the-barrel service possible even given the exorbitant prices they pay. There aren't enough swear words existing in my head to put up with them anymore. SURPRISE! There aren't any other providers in Townshend, VT! I've dealt with no cell signal just fine around here (yup, Fairpoint landline, it's been nice and crackly all summer long), but I'll be damned if I pay this sort of price for mid-grade internet service operating on a constantly shut-down level! I AM SICK OF THIS! How is this rural mining for the monopolies internet company still operating? It's nationwide! Nebraska! I'm sorry I'm calling you out, but I know you feel my anger! Any one of 19 different states. This is insanity!
They tried screwing their employees (many of whom BUILT their business) out of what was rightfully owed them. It must be really neat to freeze the pensions of the people that literally MADE your business! Maybe I'm just outta touch. Are there federal laws and guidelines? What does this website do?? Based on literally every other review in the last 100 pages on this company, I hope at the very least this is a consumer advocacy group. Please, HELP TO SHUT THIS COMPANY DOWN.

I was thrilled that we'd be able to get a little faster internet at the same $24.99 a month. I made sure to ask 3 times, "There is no extra charge. Right?" The person on other end said, "That's right for the exact same $24.99 a month." "Great, we'll take it." The next's bill came in and there was a large amount added to bill. I called and she said it was pro-rated. I didn't like but we said, "Ok." Just got this month's bill and it's not $24.99 it's $34.25. Once again on the phone. She explained to me that is what it's going to cost. "We even gave you a $10.00 off coupon last month." First I ever heard of coupon seeing there was no up charge for the same service I had been receiving.
I told her to go back through the tapes you know the ones that say "These calls maybe monitored for quality assurance". I told her I wanted to speak to supervisor. Of course there wasn't one around. She asked for my phone number which I know she had already right in front of her and said someone would be calling me back. That was almost 2 hours ago. Make sure you all check your bills always a hidden surprise!

I just spent a summer in rural New Hampshire and the cell service was non-existent, so I signed up with Fairpoint so I could access the outside world via Wi-Fi internet. For some reason (possibly due to an out of state area code on my phone), they could never find my account on their absolutely atrocious automated phone menu. Navigating the menu was a sisyphean nightmare of dead ends and dropped calls, and when I finally did get a service rep, they either had no clue how to assist me or simply transferred me to another department that had no idea how to assist me.
Long story short, merely paying my bill was a huge hassle (the cabin I was at had no mailing address) so I had to do it via phone. Then, at the end of my 3 months with their "service" when I disconnected, the phone rep said to ignore my final bill due to how the billing cycle worked. Wrong. My final bill ended up being double my normal monthly payment and of course, the next rep I spoke to said the previous rep was wrong. Gee, thanks. Combine all this with download speeds equivalent to 90's dial-up and you've got a genuinely horrible company with truly awful service.
How do I know I can trust these reviews about Fairpoint?
611,030 reviews on ConsumerAffairs are verified.
We require contact information to ensure our reviewers are real.
We use intelligent software that helps us maintain the integrity of reviews.
Our moderators read all reviews to verify quality and helpfulness.
For more information about reviews on ConsumerAffairs.com please visit our FAQ.

Where to begin? A year ago I came home one day and my internet was disconnected. We have been a customer for 13 years. I called (the bill was late) to pay the bill and was told I was "disconnected as a customer." I asked exactly what that means. They informed me that I had to reapply as a new customer and provide another $100.00 deposit depending on credit. With a credit score in the high 700s I was informed I still needed to pay the deposit. When I questioned the fact that they said with a good credit rating I would not need to, I was told because my credit rating with them was bad. A 13 year customer with no previous suspensions has a bad credit rating with them?
Being they are the only internet provider in my area I needed to comply with their unreasonable demands. They could not send anyone out here for a period of 3 weeks to "reconnect" me, although nobody came here to disconnect. When they arrived 21 days later the technician unhooked all of the wires on the outside of the house and then could not connect them back correctly. I still had no internet and was told maybe my husband could figure it out. My husband was able to connect enough to get my internet in the garage but no internet in my house. I have called repeatedly for someone to come fix this and they tell me that it is my problem to fix not theirs.
At this time they began charging me for 7 megs. My bill went up drastically. I could not stay on the internet more than 5 minutes at a time without being dropped. I called and questioned and was told they would send someone out to check things thursday of the next week between 8am and 7 pm. I took the whole day off work. Nobody showed. I called the next day. They informed me that the tech did not have time and they would be back tuesday between 8 am and 7 pm. I took tuesday off work. By 5 pm nobody had shown up and I called. I was told they had until 7 pm to get here and if they haven't shown up by then call back tomorrow. Not shocking, but they did not show.
The next day I called again and asked for a supervisor. I explained I had taken 2 days off from work waiting and nobody showed. He informed me that the techs did not have the authority to make appointments and that nobody had even been scheduled to come out here! As an apology for missing 2 full days of work they gave me a $25.00 credit! The supervisor scheduled me an appointment for the next friday and again I took a day off from work. The tech did show up and told me that the wires outside needed to be upgraded for me to get 7 megs and they never should have put me on that plan (especially without asking me). He informed me that they would be out within the next 2 weeks to upgrade the lines on the poles. This was well over 6 months ago and still nothing.
Today my speed is .02! I called and complained and they informed me that they would send me another modem by UPS. He could tell by checking the modem that the incoming signal was fine but it must be having a problem sending it out inside the garage. One hour later I have no internet at all. I called back. The tech said, "Well you already have one open ticket". I said yes I do but it is not a problem with the incoming internet and right now I have no internet coming in. He informed me that I already had one open ticket and hopefully the new modem will be here by friday (today is wednesday) and the problem will resolve itself. If I could give Fairpoint a negative rating I would! I would pay ANY amount to have any other provider in my area! I do not understand with all of the negative ratings how this company is allowed to monopolize its customers and get away with it.

I was paying over $80 per month for my landline phone through Fairpoint. My daughter talked me into changing my landline to local only because I am 80 years old and retired so I have to be careful with my spending. I was told on the phone by their representative that my bill will be $20 for local only plus $6 for fees and taxes which sounded reasonable so I agreed. The actual amount Fairpoint is trying to charge me is over $40 per month, $20 for local only landline, $8 for caller id, $13 for fees and taxes. I don't know how they get away with their deception. I canceled my service with them.

We happen to be fortunate enough to have two cable providers competing in my neighborhood, FairPoint and Time Warner. We went with Time Warner when we first moved in, the internet was fine but their customer service was really bad and at one point angered me enough that we took our business to FairPoint. We have 15Mbs cable internet that worked well until last winter when it would routinely go down. I thought it might be ice or something like that causing issues as it seemed to happen only on the coldest days. But, as spring came around we still had routine slowdowns. I would reset the modem and sometimes it would get better but mostly it wouldn't.
It's gotten progressively worse over the summer and now the internet is almost always abysmally slow. I run network tests (TRACERT) to see if it's my modem, or my neighborhood, and the issues almost always end up showing deep in FairPoint's network with lots of dropped packets and ping times >300ms (should be around 15ms at most). Technical support can't help me since my connection is "good" which just means it's not dead. But, I cannot even browse the web without pages failing to load completely, much less watch video or work from home. So, I finally bit the bullet and am switching back to Time Warner, they might be a bad company but they at least are able to maintain their own network.

Fairpoint is a bunch of liars who have no problem taking your money but do not want to give it back. I've had internet service with them for a year and was informed at day of service that a 100$ deposit was required and I'd get it back in a year. Well that didn't happen. I was just informed after waiting on hold for a hour that since my account was suspended twice they say, which was actually once and only for a hour that I am not getting my deposit back and they specify that at start of service which they never did. I don't know how they can rip people off like that and lie. All I know is I am definitely never recommending them to anyone and I will be taking this to the better business bureau if I don't get my $ back soon. We have been great customers and don't appreciate being taken advantage of...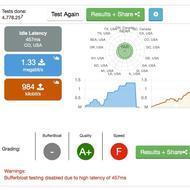 It would be great if whoever is responsible for the administration of Fairpoint's DNSSEC environment could see this thread. Like many of the reviewers, I too live in rural Maine where Fairpoint Communications is the only game in town and cell signal is non existent. Almost everyone of the previous reviews I've read all have one thing in common. The duration, constant recurrence, and continuity of the issue. NEWSFLASH! This is largely due to a single Fairpoint employee's lack of skill required to properly configure and administer their DNSSEC environment which results in constant DDoS attacks which slows the network to a crawl. I've recently requested via email that they look into this at a higher more local level than the TX call center reps you get when you call Fairpoint's Internet support Call center. I suppose if that email goes to the same group that fields phoned in support requests, it's falling on deaf ears.
My continued employment hinges on relatively reliable access to relatively high speed Internet. I use the term "relatively" because I have for the past 5 years had relatively reliable access to relatively high speed Internet. When it's running closer to the speed (+/- 20%) I pay for it's been sufficient. But all the times it's not and I reset my modem to no avail and eventually manage to contact them, it last long enough I have to leave my home office to perform my work over McDonald's public Wi-fi for hours or days. I've been managing the Help Desk for a Manhattan based company from my home in Freedom. Both my home phone and work phones are VoIP. VoIP doesn't work on a connection that barely exceeds a 56k dial up modem. I just doesn't.

I received a large bill from Fairpoint. I ordered a basic landline which I was told on the phone would be $20 per month plus fees and taxes which would total approximately $27 per month. That sounded fair enough until the bill arrived and they are actually charging me $14.90 in fees and taxes so the real price is $35.51 per month. Customer service gave me one price and they are charging me another. A couple of weeks after I got the phone to work I called and ordered their $16.99 per month internet. I received my first bill with phone plus internet on it today for over $162. I was told on the phone that I can rent the router for $5 a month. They decided to charge me $74.99 for it plus $19.99 shipping and activation fee.
I called to dispute the charges and this time customer service was rude. She agreed to remove the charge for the router but because of her attitude I decided to cancel the phone and internet. She said that one month is up so I will have to pay a $70 cancellation fee so now I have this bill to pay plus a cancellation fee plus another bill is going to arrive in September which is due in October. I told her that when the bill arrives I'm going to report them to the government and she said something like, "For what human error?" I don't believe any of this is human error. It appears to me that Fairpoint purposely overcharges customers and hopes we will pay the bill without questioning it. Before I decided to try Fairpoint I read the 1-star reviews on this website and I decided to try them anyway. Trying Fairpoint was an expensive mistake.

My husband lost his job and we have been having to cycle through our bills so not more than two of them are being sent late in a month. On top of everything else our heating system (water and heat) keeps breaking down. My son uses the internet for his high school program, without it he cannot access his classes. We sent a partial payment two weeks ago. As a result we had a balance of just over $100.00 which I requested be split into three payments over the next few months giving us a chance to catch up. They refused to allow this and made us choose between having groceries or pay our bill. There have been times when our service has been out because of their system and they still expect us to pay them, but when we are struggling over groceries or educating our son, they care more about their bottom line than my son's education.

I don't even have service and I am registering a complaint! I have never done this before so that tells ya! After a three week waiting period Fairpoint Install was for 4:15 today. No show. I called at 4:30. The Fairpoint tech stopped by--unbeknownst to me. This person did not even have the COURTESY to come to the door. Raised by chimps. Evidently the install involves laying cable through "4 sections of woods." "Quite an extensive job" was in the notes. When I first contacted Fairpoint I told the, in retrospect, knucklehead I spoke with that there was no land line to this house. Website says that FP lays appropriate cable before house install. The employees should read their own propaganda. So... I am supposed to get a call from engineering tomorrow. Wanna bet??

I was a FairPoint customer for 10 years. The phone service was fine. The internet service was terrible. Not only was it abysmally slow, it dropped regularly, and when I paid for an upgrade they summarily terminated my existing internet service and told me it would take 6 weeks to connect the new, higher speed service. It then took them 2 weeks to reconnect the old service. I sold the house this Spring. Cancelled the account as of May 9th. They have since sent me three bills showing the credit balance they owe me.
Finally I called today. After the normal 10 minute phone tree I got a live person who confirmed the account was closed and that I was owed money. I asked for a check and she said she needed to transfer me to Billing. Billing answered, and after going through the same security questions a second time they confirmed that they owe me money. I asked why they had not sent me a check and they said "We do not do that. You have to ask us for a check. I can put in the request and you should have it between 6-8 weeks from today." Seriously?!!
They owe a customer money on a closed account and they won't pay it unless you ask. Why wouldn't their system automatically cut a check for closed accounts with credit balances? Every other service I had associated with the property promptly cleared any credit balances I had. This is simply a shady, underhanded attempt to defraud consumers by withholding their money until (if) they request it. Totally unethical. It is a real shame that the State of NH not only will not revoke their public utility license, but actually had the audacity to renew it a year or so ago, despite the hundreds (1000s?) of complaints.

I dread having to call them whenever there is a problem with their service, which unfortunately is a somewhat common occurrence. I'm not sure which is worse, their outdated technology, the arrogance of the person who I speak with or their ignorance of basic customer service skills. As we live outside of the city they are our only choice for phone service and they seem to know this well. Just about every call with them ends in me just wanting to cancel the service and be done with them. Someday the technology will make its way out into the country and we will have a choice and choose to not have to deal with Fairpoint and their rude employees. Until then it like a case of the herpes and another outbreak is just around the corner.

I have no choice for internet providers in the area I live in. We are forced into Fairpoint. We pay the same as people who get 5 or 10 Mbps, but we get 3 at most. Aside from that, the service is inconsistent, frequently dropping or not connecting, disconnecting from online services and failing basic checks such as ping and tracert attempts. When contacting tech support and telling them exactly what's going on (including where the tracerts time out, which is post modem) they have no idea what you're talking about and are quite rude when you insist on creating a ticket and having it moved up since the front line techs have no idea how to fix anything aside from unplug and replug the modem. This has been an issue for years and I call every time it happens. They are horrific and if you have an option, chose someone else. I cancelled my phone service, even though my cell is somewhat spotty it's better than being gouged every which way to Sunday.

I've lived at this house for 5+ years. We started service with (I want to say) Verizon, at the time (for dry loop internet service). Fairpoint took over service for our area (the northeast) at one point. I'll start with "I've opened over 20 tickets in the month of May, this year." I'll follow that with, "This isn't abnormal for most months." We have no other viable option for fast internet service. See if the following sounds familiar. Our DSL service loses sync and goes through a power cycle (frequency, every 1 to 5 minutes). We call in and open a ticket. Yes, we've manually power cycled the modem/router before calling. Yes, every different way that is recommended by the techs (ie. power off for 30 seconds and then back on OR power off, and you MUST unplug the power and wait 1 minute OR unplug the modem and wait a minimum of 6 minutes OR you have to unplug the power to the modem and the phone wire as well).
No, no other devices are currently on. Yes, we are having the issue with a hard wired (to the modem) computer. Yes, I've restarted my computer. Yes, I've checked the connected wires to make sure they are well connected. Wait, don't forget, the modem is power cycling over and over again. The DSL light is blinking. Even though all techs agree that when the DSL light is blinking that implies the box is the issue or it's external to our house. But STILL, the wiring could be bad. YES, we've just had the already updated box replaced with the same model, different look. So we get a ticket in the system. Half of the time (this is a fair statement) we get no response and find out the ticket was closed. Why? Because the technician checked the line and it was 'clean'. But why would they take that troubleshooting path when the issue is intermittently power cycling?
Check the line now and it's clean. Check again when it power cycles and it's not going to be good. So I am stuck in a loop of opening tickets that get closed until we luck out and a tech checks the line when it's down. I ask the DSL issues technician over the phone why there isn't communication with the customer before closing the ticket. "I'm sorry sir, but we can't communicate with them either aside from what we put in the ticket. I can put in the customer requests a phone call before the ticket is closed." Well that's what I've asked to be put in numerous tickets before this. It doesn't work. And the customer cannot contact the technicians who work on the line.
So let's call customer service. "I'm sorry. This is the weekend. Call us during working hours. You know, while you're at work." Five years Fairpoint. You have happily taken your monthly fee for this service. But for what kind of service? 50/50 chance it's working. Don't expect to use the service for streaming content because it will constantly disconnect. You have a system that supports your bankroll and gives the customer no tools to successfully close an open issue.
And let me be fair, John is a pretty thorough tech and good guy to talk to who has gotten to know me via the many tickets we open. He's as much a victim of this system as the customer. It seems like the line can't handle the load, but I can't say. It also may look as though once our line is addressed, someone else's goes down and they open a ticket. Then theirs gets fixed and ours goes back down. Chasing our tails? I can't tell. There is no way for me to know. I wish we had another option besides going back to the days prior to the internet. This page looks like my last resort to share the issues we've been experiencing.

Unprofessional people. They lie to you to get you to sign up and equipment don't work but they still force you to pay for service. Supervisor very rude on the phone very arrogant. Very disappointed. :(

I paid my bill online. Fairpoint decided to withdraw the money from my account six days prior to the day I chose. When I contacted Fairpoint, the customer service person argued with me about it. She told me I was wrong about the date I chose. In the future I plan to be more specific about the day I choose to pay my bill.

Trying FairPoint over another has proved as bad, or worse. I've spent hours, days straightening out keeping my 28 year old number. This included paying for 2 months, during which I HAD NOT BEEN CONNECTED YET (I had another line). I was told it was my responsibility. I was told my line was "fine". A serviceman later confirmed service wasn't even possible! But no refund! Their billing is tantamount to criminal. The fees, taxes & surcharges are a smokescreen that no one has time to understand. If you call, you'll spend hours talking to one incompetent person after another with no result. They are trained to make you give up and just pay. It's really, really wrong. On a 1-line home phone for $55, there is added $22 in "fees", including tax on LD with no amount charged. How do they assess tax on $0? The Univ. Service Fund is listed 3 times!! Where is our government? We pay for the rich, we pay for the poor...

Yesterday we found out that our telephone service wasn't working. We called FairPoint and they suggested some troubleshooting. Nothing changed after we did this so we returned the call and informed them the troubleshooting didn't help. They said a repair service would be here sometime today. Well, we stayed home all day. As we know how this goes - you're held hostage at their convenience. At 5:30 pm we called FairPoint to inquire where our service repair person was and we were told if he didn't get to our home by 6:00 pm then he would be here first thing in the morning. Oh, is that so. We stayed home all day waiting for the repair service and no one had the foresight or courtesy to call us at a reasonable time to let us know he couldn't make it today.
I understand that each call the repair service goes to is a grab-bag; they really don't know what they'll get into. BUT, wouldn't it be wise to be in contact with the dispatch person so she/he could run interference for them. It certainly would make for more satisfied customers. We pay high prices for phone service and we should be treated with a bit of courtesy. I'm not impressed at all; if he isn't here first thing tomorrow morning I will certainly cause a stir with FairPoint.

My family is currently paying for the 15 Mbps and download speeds are incredibly inconsistent. I am a heavy gamer and teenager and am constantly dealing with internet faults by FairPoint Communications. Also, when called they either blame it on the current router variant installed at the time of the call and opt to send us a new one or they say that "it will be better soon." It does not get better and the new router does not give me the sufficient correct download speed which my family is paying for. As an example of the inconsistency here's a test I ran on my PS4 minutes before writing this review. In the last 3-4 hours my internet has been down with download speeds going BELOW my upload speeds! Absolutely outrageous. This occurs regularly and is tedious and annoying. 6.0 Kbps is ABSOLUTELY OUTRAGEOUS!!

Our internet is out two and three times a week, never know when it's on or off. You call and try to find some out, they don't have clue. This has been going on for over three years. Can wait till town charter runs out. They will have fix it then.

Consistently experience downtime, customer service would refund me a DAY for several outages a day. This cost me an A in one of my classes. I lost my job because of the downtime as well. They claim I have a locked in price which I never agreed to.

They call frequent and long lasting random high PING, packet loss, at jitter rates SERVICE??? What this link show is not even when it's at its highest. Usually around 3k ping.

Ever since we moved to our new home our service has been horrible. First of all we were told in order to receive internet service we had to have a phone line. It was an extra $43. The more I asked around people told me I didn't need it. So we called the company to dispute the bill and ask about the horrible service. First, we didn't need the phone line. And second we didn't know we could Upgrade for faster internet. Lies, and deceit. Where we live we have no other internet option. Just sucks all around.

Wifi never works. Excuses excuses excuses. Frustrating, disappointing, irritating. I'm about to cancel with Fairpoint and increase data with cell phone company. If you can't fix the problems at least be honest and stop taking my money. I think that's fraud.

I have had issues with Fairpoint since day 1. First trying to import my phone number seemed impossible for customer service. It took what should have been 5 minutes into 5 days of no internet! Then blamed my cellular company! Then had the nerve to tell us we called too much. Imagine a customer wanting the Internet they pay for!!! Now 3 months later I'm lucky if I have internet for longer than an hour at a time, so I had to go back and bother customer service AGAIN. A technician didn't show up on Friday as scheduled, but Monday afternoon to replace the modem. Blamed the lack of wifi on my apple devices! News to me as these are not new devices, we have had them all along! I guess it's back to Time Warner for us! If you are thinking of going to Fairpoint, think long and hard first. I wish I have read these reviews before switching!! Time Warner may cost more, but it's a lot less headache!

Current internet is 3MB/s plan and we're getting less than 1! We called to increase the plan to 30 MB/s and were given an appointment for more than a week later. The window for the service to be done was from 8 a.m. to 6 p.m. Come the appointment (a Friday), nothing was done! To make matters worse, we called at 4 inquiring as to why nothing was done, they said "just wait longer". At 6 p.m., nothing changed and they're closed! We had to have nothing all weekend and no call to explain why the appointment was missed. Monday we called again and we were told that the entire operation is done remotely, literally a man throws a switch, and he couldn't make his very complex appointment.
The customer service rep. said that we could wait the day to see if anything changed. I said "Are you serious? Just wait to see, you can't check to see if your employees actually do their job?" Literally the rep replied that she had no way to see other than it was showing incomplete. I asked for a supervisor and she replied that there were none. I told her that we were getting less than 1 MB/s and could do nothing on our internet. Without hesitating she replied "That happens when you have wireless." I exclaimed, "We don't have wireless, we're wired! You may want to check first before making up an excuse." By law, they have to provide 80% of what the plan is...that's 2.4 MB/s. She said she had no idea. She then said, after a 10-minute hold, that she would escalate this to some crisis department and that I should call back the next day to check and see if anything was done.
I got irritated at this point and asked "You're asking me to call you again and check to see if your company did its job?" Amazingly, she said yes. I then asked calmly "Is this seriously how your company does business?" She said "unfortunately yes". This is their employee! To date, they said we would have it done "tomorrow" since the order went through too late for use to get it done today. And as you may have guessed, it could be done anytime between 8 and 6 p.m.! If nothing happens tomorrow, just call again and see why! Fairpoint is the worst internet service I've ever encountered and they have customer service that is worse than Comcast, and believe me, that's hard to say! Oh, and they couldn't give me an order number because the order was put in their system wrong by the original customer service rep and it never logged one.

For four years we've been calling repair service begging that they fix our telephone. Every time it's wet out, which is often in NH, we get no service. On an average we have no service a month, out of every year for the past four years. All we want is our phone to work. In our area, Fairpoint is the only provider so we're stuck with them.
They've sent out many repair men many times over the past four years all claiming to have fixed the problem and never works. The last service guy that came out claiming to have fixed it made it worse, now when it rains we have no internet too boot. One service man at least leveled with us explaining Fairpoint can't fix it because we live on a busy road and our town requires police to be flaggers and that Fairpoint can't afford it so our phone will likely never be properly repaired. When we inquired if we could be refunded the money paid to them for service that we didn't receive we get the runaround. We just want our phone fixed :(

ConsumerAffairs Research Team
The ConsumerAffairs Research Team believes everyone deserves to make smart decisions. We aim to provide readers with the most up-to-date information available about today's consumer products and services.
FairPoint Communications is a publically traded company headquartered in Charlotte, N.C. The company offers television, Internet and home phone service in 17 states, with the most saturated areas in Maine, New Hampshire and Vermont. Consumers can receive discounts by subscribing to multiple services.
Infrastructure: FairPoint has invested over $900 billon in their infrastructure in the last decade and installed thousands of miles of fiber optic cable. The newer technology will be especially beneficial to customers who bundle home phone service with Internet or television services.
Extra features: Depending on their location and the plan they select, customers may be able to get a variety of extra features on their home phone lines. Options include caller ID, three-way calling, call waiting, call forwarding and voicemail.
Plan options: Consumers can select from three plans. The basic local plan provides coverage during power outages and a secure connection to 911. FairPoint's long distance plan allows customers to call anywhere in the United States, U.S. territories and Canada for one monthly price. International plans can be added to consumers' existing FairPoint long distance plans.
Social media help: Customer service representatives respond to customers' questions and problems on FairPoint's Facebook and Twitter pages. Consumers can visit those social media site to see how the company handles criticism.
Best for FairPoint's home phone service is good for anyone who wants the reliability of a landline.
Compare Home Phone Service
Fairpoint Company Profile
Company Name:

Fairpoint

Website:

http://www.fairpoint.com/residential/