Consumer Complaints & Reviews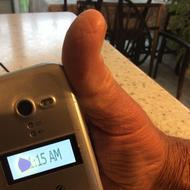 We have used Consumer Cellular and their phones for over three years. Recently, my husband's phone was not holding a charge, so we ordered a new one on 7/26/16. We paid extra for two day shipping, and received it on 7/28. From the get go, it would only charge to 25%, so I called Customer service. After being on hold for quite a while, I was told how to troubleshoot the problem, but the phone still had to be charged every two days, despite the fact that my husband does not use his phone very much, and this is a flip phone, not a smartphone. On top of this, the readout window on the front of the phone developed a blemish, where it was just a dark blob, and you could only partially see the time when the window was lit.
I called today, expecting to be able to exchange the phone since we have had it for less than 30 days, and was a problem from day one. However, I was told that it was a stress crack, and it was something that we must have done. This is identity the phones that both of us have had for over three years, and never had this happen. Since it occurred so soon after receiving the phone, I contended that it was possible it was shipped that way, and that the damage became gradually visible. I was told that I was wrong, and because we did not have a service contract, I was out of luck. We have cancelled my husband's phone service, and I am now looking for another service provider. This company is acceptable as long as you don't have a problem, but they are terrible if you need to get something resolved.

My husband and I decided to give them a try in June 2016. We were told that we could use our old phones, which I had a smart phone and they could not get it to work with their system, so I was talked into getting a new phone for $150.00. I had problems from the beginning slow dropping calls, etc. I thought I needed to give it some more time. I finally decided that there was a problem called them 4 days ago they first said they couldn't do anything cause my warranty period was expired 2 weeks earlier. So I called the next day when my phone was freezing up, would not shut off could not change pages. They talked me into doing a factory reset at this time is when I learned it wasn't new it was a refurbished phone.
We did it and the phone now wants a different Google account. It's wanting the one that was used by someone else. I don't have this information. So the customer service guy said he was going to send it to the return specialist. They called me the next day they told me I was misinformed on the return policy. I said all I want is a good phone! Long story short they finally tell me I have to send it to Portland Oregon and it could take up to 2/4 weeks to see if they can unlock. I talked to a cell phone specialist and was told that they more and likely cannot unlock the phone. They should know this so instead of giving a new phone they are giving me the runaround!!!I AM SO MAD!!! DO NOT GET CONSUMER CELLULAR!!! They are HORRIBLE!! I am out $150.00.

I felt the need to chime in after reading some of the reviews here. I always take these things with a grain of salt, but when I saw the exact same comments (verbatim) repeated on other sites, I just had to write and put in my two cents worth. I hope you will publish it. I am a senior citizen, not very tech-savvy, and am the first to admit that if I'm having a problem with my phone, the odds are it is of my own making. However, when I call customer service for help and I cannot understand the person with whom I'm speaking because of a language barrier I find it to be extremely frustrating. Calling a help desk and getting someone whose native tongue is not English, especially when they seem to be reading from a scripted list can be aggravating, to say the least. It's a waste of energy to get angry. It's not the reps fault. It's the company's fault.
I switched to Consumer Cellular in 2009 after what had added up to years of abuse from the service departments of AT&T, Verizon, and T-Mobile. At that time, you really almost had to commit to a contract and buy your phone from them in order to get a halfway decent rate, and if you were a consistent cellphone user your choices were really the lesser of the available evils. I must admit that I was a bit skeptical about making the change, but I did find the idea of a no contract situation quite appealing. When I initially switched to CC I was so relieved and impressed to discover that the customer service reps all not only spoke English, but they also at least sounded like they grew up here in the States! I later learned that the reps were also located in either Oregon or Arizona, and I have always liked the idea of dealing with a company that employs locally, that in some small way my patronage was contributing to that, as well.
When I first switched to CC, I'd been using a flip phone with one of those QWERTY keyboards I'd gotten with my last contract. After speaking with multiple service reps at the company I was leaving, I finally got someone who begrudgingly gave me the code to unlock my phone. (Remember, this was 2009 before unlocking phones was a common option.) The transition to CC went so easily that it almost made me nervous. I had never had that type of customer service from a cellphone company before, and I admit that I spent some time waiting for the other shoe to drop. Despite the fact that CC did not handle this particular phone accommodating me for the switch was not a difficulty. They even went out of their way to help me when I had a problem with that phone a couple of times down the road.
When it was time to replace that phone, my husband was looking to save a buck and bought a new Android phone through Amazon that had originally been set up for AT&T. Once again, the setup took very little effort on my part, and the CC rep was quite helpful beyond what was probably required for a phone not purchased from them. When I got divorced and it was time to split my ex off the account, he was able to get his own account set up without any phone service interruption for either of us. A couple of months ago I was ready to replace my phone, and this time I bought one through CC. It arrived at my PO Box three days before I expected it (I'd opted for the free delivery), and because I did not have access to another phone to call in on, I had to communicate with CC via email. Not a problem.
Despite the qualifier on their site re: response time for emails to customer service, they got right back to me and I was back on the phone within an hour or so of my first message. Today I added my oldest sister who lives in another state to my account and when I called to set it up, the service rep told me exactly what info she'd need to have when she called in. That call took a total of 11min. 13sec., including the time I waited on hold. A little while later sis sent me a text to let me know it was a done deal. She's now looking forward to delivery of her new CC phone after years of using a Tracfone.
Nobody likes to wait on hold when they call for help, but in my experience there is almost always a wait these days no matter what company you call. It's a fact. Yes, there have been times that there has been a wait on hold to get through to a service rep, but it has been my experience that CCs system offers to call you back in the same spot that you'd be waiting on the hook if the wait is going to be too long. I have never felt treated rudely or condescended to. In fact I have never had anything other than polite, helpful, and friendly treatment. Over the years, I have called many times for one thing or another, and I have always ended the call with a smile and feeling like my problem was resolved by someone who was actually interested in getting it right.

I ordered a battery for my cell phone. Consumer Cellular sent the wrong battery and charged me $45. When I tried to get them to let me return the item, they refused. This is a treacherous, immoral, unethical, company. They will not do the right thing by their customers at all.

At 23, I'm a little out of their targeted demographic. I've used the service for over two years, almost 3, and it meets all of my needs. I watch my data and minutes & change to the next plan if I need to. As long as you know what you're using, you should have no problem. I pay from 22-27 dollars a month, depending on whether or not I up my plan. I usually use around 200 minutes and stick to the 30mb data plan because of easily accessible WiFi. I've bought two phones from them with no problem and even added on another line for my mother, for a time. Super easy. Customer service has been fine. When I had difficulties with a new job & my check being direct deposited later than expected, they treated me with respect & understanding. I was easily able to move my payment date. Never thought that I'd stay with them as long as I have but they are perfect for me!
How do I know I can trust these reviews about Consumer Cellular?
574,312 reviews on ConsumerAffairs are verified.
We require contact information to ensure our reviewers are real.
We use intelligent software that helps us maintain the integrity of reviews.
Our moderators read all reviews to verify quality and helpfulness.
For more information about reviews on ConsumerAffairs.com please visit our FAQ.

Had to wait 1 1/2 hours to get another phone activated. In part the hold music goes like this, "We know your time is valuable bla bla." You know the rest. Well yes my time is valuable, I figure about $20 per hour. I notified them by email that I will be deducting that from my current bill. If everyone did this, do you think they would improve their system??

My first encounter calling Consumer Cellular regarding their service and plans the employee wasn't that clear in explaining my questions and how their service plans worked. I started off with a low plan that he suggested. The customer rep requested the cell phone I should've purchased and the price. I paid ninety-eight dollars for the phone via credit card. First phone was mailed to my current address. I charged the phone and the phone had a few defects. I returned the phone and spoke with a different customer rep. and he suggested I purchase the iPhone 5s and it was priced at 160.00. The rep stated he would reimbursed my full payment on my card and used 46.00 dollars of my reimbursement as a down payment on the iPhone 5s. I agreed.
So on the first billing cycle I paid the payment of the phone with a separate money order and a separate money order of 100.00 for the phone. Which meant I paid 146.00 for the phone. Which left 14.00 on the phone. I received a statement in the mail about two weeks later stated "Your account has been credited 14.00." The original iPhone plan for the phone was five payments of twenty-five dollars which I agreed with the credit of 46.00 credited to the phone. I decided to pay the phone off by sending a separate money order for 100.00 to pay the phone off.
Consumer Cellular sends me a bill for 138.08 stating that I still owed fifty dollars on the phone and the balance of my phone bill for 71.41 when my last two months of payment were fifty dollars. This company believes because you're over fifty they can ripped you off. I'm appalled that this company believe they can take advantage of older adults. I'm not computer savvy at the moment. I don't know how to forward a receipt or what my order number is. Please forgive me.

Was told by Nokia phone that had been working just fine was out of date. Was forced to buy new phone. What a piece of **. Called customer service, was put on wait for over 15 min then was hung up on 3, yes 3 times. When I did get to talk to Alecia ** she was very unprofessional, smug and had a attitude. Did not fix the problems with my crappy phone. She would be looking for a new job if working for me. I am very disappointed with Consumer Cellular. Would not recommend to others. They claim to have such good customer service. Wrong!!!

Have to go to full site to see coverage map and have to put in zip code. Once I did that it WOULD NOT do anything! Also, doesn't he have combo plans. Unlimited Text 40.00/Unlimited Talk 50.00... How is 90.00 saving me money? Crappy website and too expensive! A lot of bad reviews. :(

I called to see what CC would do to help with my phone problem. I explained that the battery started to overheat and separate my phone. I am still paying for it and I have a one year warranty which was to expire on August 16, 2016. I was told that they no longer carry iPhone 5c and because I was close to the end of my warranty they would not do anything and they denied my claim. They are a deceiving company and fraudulent.

I was very wrong to switch to you. You promised plans from $10 with tricky advertisement. We started with a plan of $15 and ended up paying over $30. It's so expensive, you are a terrible lie. What you promise you should complete. I want to cancel this plan and I don't want to hear from you ever and I'm sure I'm not the only one that feels this way. And I also find it wrong that you use senior citizens in your commercials because they can be tricked. Shame on you. It's a malicious company.

The phone arrived with an incorrect phone number. I have talked to customer service at least 3 times. The first time I was told it would take a couple hours to activate. I called back the next morning. I was told I needed a new sim card and I could get it at Target. I went to Target & they don't have it. I called and asked them to mail it to me. She wanted 10 dollars for express mail. I have to wait till next week for it to arrive. This is my 4th time ordering a phone. My first 3 times had to cancel for their mistakes with the orders (wrong phone numbers, incorrect charge cable, could not find my aarp account). Yeah, they are cheap, but what good is that if I can't get the phone I already bought from them activated. It's sitting here, paid for, and cannot be used. I am completely frustrated with them.

Called because of a lost phone. What was good about this experience? I was able to take my garbage to the compactor and pick zucchini while I held. Bad part - waste of my time - I had to hear advertising for their products over and over and over and over - Never did get anyone to talk to me in the 20 minutes I had my phone on hold... in my pants pocket!!

I have nothing but glowing reviews for all the years my mother has been with CC. However, that all changed this week. I knew Mother was going to go over 4 gigs of data usage this month due to circumstances beyond her control. I called CC 3 weeks ago. I explained the situation. I emphasized the conventions were coming up, and I was aware they did not offer any plans with greater than 4GB usage.
As always, the nicest, most polite customer service ever. Sometimes when I am in a rotten mood, I think about just calling them because they are that uplifting. I explained Mother was going to go over 4GB maybe by 4GB. I was told "no problem". She would be charged 10$ for every GB over 4. I specifically stressed to them that I needed to make certain her service would not be negatively impacted in any way. Money, although always important, this time, I would do anything to ensure Mother had data access throughout the conventions. I was assured nothing would change.
At this date I still had time to make other arrangements if necessary. Well, at 75% warning text, Mother started calling saying her video was stuttering. I called CC. The wonderfully polite better than ** customer service person assured me it was temporary; refresh browser and carry on. Two days later, after breaking 4GB, Mother's data service became worthless. To download Puffin Browser took more than 24 hours because it kept timing out. My mother missed the entire Democratic Convention. Party affiliation aside, my mother is a political analyst and it just so happened her physical location provided no option but CC for these two events. I am still in shock. I am also devastated that my number one customer service company is now on my top 50 badly managed companies.

I am 72 years old and never had a cell phone so I shopped around and bought a Consumer Cellular at Sears because I broke down at 5 am with no way to call for help. Sign in large letters in Sears was printed RISK-FREE with no conditions on sign for being Risk-free. After going thru setup with Consumer Cellular I told them why I was getting their service and was not going to use phone except for emergency and I never even gave out my number to anyone. Upon receiving my first bill it was over 50 percent more than the plan I enrolled in and I never made a call but did receive 3 calls for the person who had the number before Consumer Cellular gave the number to me.
I was not able to answer my phone when the people called for the previous number's owner. Had to use the voice mail message in order to call back the folks looking for a Susan **. I called these folks from my home phone never using my new cell. When I called their customer service after receiving my first bill to dispute it to no avail so I cancelled the plan however now they said it was not Risk-Free but I have a photo of the sign in sears so stating! They keep adding late charges but will NEVER see a cent from me and Sears is just as bad because they would not take back the phone!!! What CRAP!!! Phone companies are the worst!!!

Consumer Cellular is absolute bottom on customer service. Waits go on for 30 minutes. Extreme out of date servicing on checks. Unlike 99% of the business world you cannot do an electronic checking transfer other than by talking to someone in customer service. So every bill paid by phone is a waste of 1/2 hour listening to 'messages' and being told - ALWAYS - that they are having a particularly 'high volume' of calls that day. The service itself has some advantages but it's hard to remember that each month as you waste valuable time because they won't set up an online electronic transfer system for check users.
There's a very short amount of time between the bill generation and due date and trying to mail them, at least from PA, usually results in a check not being 'processed' for at least a week. They certainly are not the bastion of great customer service they pretend to be. Just cheap and allow you to transfer between plans to match actual usage. If a competitor would jump in with those features I'd jump on board 'in a heartbeat' to get rid of the monthly aggravation.

While I get good service for the most part, there are times when it cuts in and out. Consumer Cellular is supposed to be convenient for seniors but I am currently one day late paying due to a medical issue and I am already receiving emails and phone calls pressing me for payment. The company assumes that 4G is sufficient data for older people I guess because they don't offer more. I received overage charges for exceeding data and talking to a friend outside the US. I am waiting for a return call from them because the wait time is too long yet, they are the ones who called me to discuss the issue. If they can't change my billing date by a few days to avoid any further issues with my autopay then I will have to look for another carrier. Walmart offers more minutes and data for about the same price but am unsure about the service area and if I can get reception.

I purchased a phone. Shortly after the 45-day warranty the phone would no longer hold a charge. I called them. The woman was very short with me and somewhat rude. And I did hit dead zones. Save your money and time.

Have been with Consumer Cellular for the past 3-4 years and very satisfied with their service until recently. My wife recently purchased a new tablet from them, upgraded her old phone and added her son to our account. At the same time she upgraded to unlimited talk and text and the largest amount of data usage available. Prior to that we had 2 gigs a month and no problems. Remember that, 2 gigs and no problems. With the new upgrades new billing started in less than 48 hours. We were over our allowed data usage and were basically shut down. They said it was her new phone syncing with Google+, possible? Maybe if using 4g, but all of our devices are set for Wi-Fi only updating and 99% of our usage is on our home WiFi. Me being a handyman may use 4g when on a job site, but most of the time have use of my customers WiFi. We ended up paying almost 2.5 times the plan cost.
The next month we turned off all phone data usage through their website except for the tablet and was fine. The next month (this month July, 2016) turned her's and mine data back on and by the 10th we were over again. She contacted Consumer Cellular and this time they said it was my phone that caused the overage. Have a Samsung Galaxy III, and they said it was the battery doctor application I use (the same one I've been using for the past 6-7 years). She asked the rep why now and not before, no reply. She got so upset she shut down (cancelled) all services except my phone so I would not lose the phone number I've had and used for pleasure and work since 1998.
Now in search of new affordable cellular service. Both of us on Social security and she is disabled. Haven't figured out how Consumer Cellular calculates their data usage, but their numbers and my phones numbers don't even come close to matching. When they say you can change your service at any time, but when it comes to data usage, reach their maximum and kiss your wallet good bye and forget the internet, your emails, and any apps depending on the internet including your GPS during a 911 call. I thought this company was great, but after reading other complaints I WOULD NOT AND NEVER NEVER NEVER RECOMMEND THIS SO CALL PROVIDER TO ANYONE EVER!!!!

I was waiting for the refund for the phones I returned, and received it on 7/25/16. In rating the customer service, excluding the knowledge for the coverage area, very timely. I still have to emphasize it is up to the consumer to investigate the coverage area and not take for granted the map a company post. The customer service representative can only quote what the company provides. Consumers need to ask whose towers they are using for transmission of signals. Look up the specific company's map and then make your decision.
Original Review
Contacted Consumer Cellular to order two cell phones and associated plans. I reviewed the coverage map and my location was well covered for text, voice, and data. I contacted Consumer Cellular and was placed on hold for 10 to 15 minutes for a representative. Within that time period I was in contact with a representative. I selected, and purchased two 5s Apple phones, service plan, and data plan and was told 3 to 5 business days for delivery, received in 3 days. I activated my phone upon receipt and noticed no service available on the phone and then one circle for reception. The phone went in and out of service but for the most part had no service.
Contacted Consumer Cellular (10-15) minute wait time again. A representative answered in 12 minutes and spent the next 45 minutes troubleshooting my phone issue. Let state there isn't an issue with the professionalism of the customer service, there is in how Consumer Cellular portrays their coverage map. Come to find out Consumer Cellular uses AT&T, and T-Mobile sims in their phones. If one does their homework you already know if AT&T or T-Mobile coverage works in your area. In mine, not so much and I had to cancel my contract. The representative was polite and sent by E-Mail return postage for the phones along with a cancellation notice. The reason for the one star is for their website coverage map, would have saved me from waiting for credit on my card.

I broke my phone and send to squaretrade which is a bad repair plan. I have been call then for the last 4 month try to get my bill fix. I broke my phone and they send me a new phone with a return label. I send the phone back to them in the return package they send the phone back and decline claim. When I call them back they said I need to send it to squaretrade.
I call squaretrade and ask them to send a return to me by mail. I call consumer cellular to tell them that. Then they took me to keep my phone to them. Until I get a new. After that they told me to send then the phone. They had me going around in circle after they figure it out they had no phone so I had to wait back order. So then they told me to send keep send the. All the time they are so. I tired of mess with 4 month and out of almost 250.00 - paid the $25.00 each for two phone a month, they are a big rip off. So I decide to another cell phone company. I am not pay them another dime. Everybody will hear about this.

I am waiting to speak to customer service and it's now 30 minutes and counting. This is ridiculous... it's 9:52 pm and I certainly don't think this is a busy time for customer service. Any other mobile service has a system where I can request for a call back when a customer service rep is available but Consumer Cellular has nothing like that. Only option is to hold... I am a new customer and this is my second call to customer service (the first one was no better) and I am pissed off and utterly disgusted. At this day and age, who waits to speak to customer service for 30 or more minutes... I am still holding while I type this. I will never recommend this mobile service to anyone!!!

I have been a customer for over three years and have not had problems until now. For the first time, I missed a payment. I had set up with Consumer Cellular to get the invoice via email. I never received the June bill and did not pay it as I did not get the reminder. On Friday July 8, I got an email that my phone service would be suspended unless I paid the June and July bills immediately. I had an electronic payment sent from my checking account as soon as I read the email from Consumer Cellular. It was to be transmitted the next business day, Monday, July 11. Today (July 11) I received another email from Consumer Cellular that stated there is "impending suspension" of service unless payment was made immediately. I phoned Consumer Cellular and talked to someone after being on hold for 30 minutes.
My questions were why I never got a June invoice and why was I emailed another suspension notice the very next business day? I was told by the employee that she could see the suspension notices but she had no record of any billing notices that went out over email. She would not comment about the swiftness of suspension notices going out. The second more threatening than the first. I told her that a payment for both months was electronically sent out today. She told me she would note that in my record. I told her that since receiving their email billing notices was not reliable that I want a written bill mailed via the US Postal Service from now on. She agreed to do this. I would not want to quit Consumer Cellular but will do so if this problem continues.

Consumer Cellular does not answer its customer car phone calls! Big problem! My husband and I changed from Verizon wireless to AARP Consumer Cellular back in May 2016. I purchased an upgraded smartphone for my husband and separate hot spot for our upcoming travel scheduled for the 2nd week of June 2016. We were told that Consumer Cellular did not require contracts and that we could cancel for any reason. However, they failed to disclose that should you make the mistake of purchasing a smartphone or any other equipment (hotspot) from them, they have a penalty requirement that requires you remain a Consumer Cellular customer for a minimum of 6 months or you will not be given the imei codes for the phone or hotspot you purchased from them that allows you to sure your property on another chosen wireless provider. So you may as well throw the Consumer Cellular equipment away.
This made me very mad since they did not tell me that until after the 30 day time limit they impose for new accounts... Even though I asked them to disclose all requirements prior to changing carriers. Needless to say, my smartphone did not work on the Consumer Cellular system and I had to go back to Verizon wireless in order to have a phone. I called Consumer Cellular numerous times to try to resolve this issue... no luck. So upon our return in July from our trip I canceled the hotspot completely and continue to allow only my husband's phone on this system for the remainder of the 6 month period so he can then change over to Verizon wireless again. Many of my calls related to this issue went unanswered or I received conflicting answers from their customer service. I finally resorted to sending multiple emails with the title: "no one answers your phones...have someone call me." I would not recommend the AARP service unless you do very little calling.

New consumer here trying to port number to Consumer Cellular. Currently on hold for 31 minutes and counting. Automated message stated a hold time of 10 minutes. Don't remember the last time I encountered such poor service. Glad I had this experience, made me change my mind on switching to Consumer Cellular.

I just recently left Consumer Cellular after about 5 years with them. They always had great customer service and the best prices around, and you could cancel the 'contract' at any time. It's become more common now but it was something that really set them apart when I was shopping around. Unfortunately, I need better coverage with a new job I took and decided to try out one of the larger carriers. So far so good but if I run into any issues, I wouldn't mind going right back. Probably not a good buy if you use a lot of data or talk non-stop on your phone but, for me, it's more of a tool than a way of life and Consumer Cellular caters to that market segment.

I engaged this company because of its association with AARP and its low cost. I was sent a new sim card and told to put it in my phone before calling them. That was misinformation #1. When I called to begin service, they called my previous carrier, Verizon, and cancelled my service even before checking to make sure I actually had service with CC. Well, I didn't so I had to find a Sears to take the phone to. They called the customer service number and I was told my phone had to be unlocked. Misinformation #2. I then went to Verizon to have them 'unlock' my phone. That process took another 2 hours because I didn't have the Verizon sim and had to go home to get it. Then Verizon tech support told me my phone was not locked so I went back to Sears and had them ring up CC customer service.
After another hour, I was told my phone is not compatible with Consumer Cellular, misinformation #3. This was information that could have been provided to CC at the very beginning and saved me all this headache but they never asked. Then when I went back to Verizon to re-establish my service, I was told that because CC is so small it could take up to 2 days to get my number back from them. I was also told that the information needed to cut off my service with Verizon to begin with, my acct number and PIN, were not provided since I couldn't remember the PIN. I was told they would have had to guess the PIN. That was either CC or Verizon but after spending the entire day trying to get my phone working, I could have cared less.
Now I have my phone working but I have to pay more with Verizon since my plan I had been on is no longer available. Bottom line, I tried to save money and I ended up paying more and with one whopper of a headache. AARP needs to distance themselves from this horrible company. I spoke to three different people at CC, waited more than an hour on hold, and was given misinformation at every turn. The moral to this story, not everything that is inexpensive is worth it and generally you get what you pay for.

Was not receiving calls from my son who lives in Ireland. I tried to speak to a representative of Consumer Cellular and was informed by the automated system that this was a busy time and the wait might be 15 minutes. I was given this information all three times I tried throughout the day, I finally waited, about 30 minutes until my battery went dead with no response. Today when I checked my usage, I was informed that the wait time was charged against my usage. How can I speak to anyone to complain without using all my time and I am already at my limit? Very unhappy with their service and will look for a better carrier.

I find that when dealing with people, you have to educate yourself as much as possible. We transferred two Apple Phones 2 years ago, transferred our service, received the new cards, inserted them, changed the settings as was clearly stated on the material that came with the cards and have had two years of "cell phone bliss"!! That is compared to Verizon (whom we had used for 30 years until they decided we were not important enough and started jacking up our rate each month!) and T-Mobile (unfortunately they tie the hands of their store staff and fire the ones that do give good service!) I have my Mom-in-law on Consumers and am transferring my Sister and her Hubby this month! No issues at all!!

I have had Consumer Cellular for over TWO years. Service was ok. Never great. The cost savings made it bearable. For the last month service has turned very POOR. Can't make or receive calls. Customer service said it was my fault because of my location (my location had never changed). No service is the most common on my flip phone screen. Customer service is very poor and has no concern. I changed carriers!!!