Consumer Complaints & Reviews

I found better service with AT&T for a lesser cost and 4x the capability. When I went to change, they held one of my phones hostage. Paid the final bill and got codes which did not work. More codes still did not work. They finally throw up their hands and say that is all they can do. Now I have a phone that will not transfer over. Beware, DO NOT BUY THEIR PHONES! They do not provide the patch upgrades that the manufacturer does. They refuse to release the phones. Oh, and after I paid the "Final Invoice", I received ANOTHER "Final Invoice". They try to extort money from you even after you leave and they still hold phones hostage. Run, do not walk, to another carrier. These guys are VERY BAD NEWS!

I just switched from Verizon to Consumer Cellular. It took from Monday 9/12 until Wednesday 9/14 to get my line activated with Consumer Cellular. I was bringing my own phone, which is a droid turbo 2, and porting the number. Verizon would not release the number to Consumer Cellular until we told them it was used as a business number. Then after number was released Consumer Cellular tried to activate the phone and couldn't because the port line was down. That is when the service representative went to his supervisor.
His supervisor was busy so the rep went one step higher and was able to have his supervisor's supervisor use his authorization code to manually port and hook me up with Consumer Cellular. I am so pleased with the reps service and that the bill is only $38.00 a month! I even get reception at my home where I did not with Verizon. Way to go Consumer Cellular! The waiting time to speak with a live person was only about 5 minutes versus I usually had to wait over half hour or longer, 2 hours at one time with Verizon! Thank you Consumer Cellular!

I purchased a smart phone through Consumer Cellular and had it insured with them. They insured the phone through SquareTrade. When my phone was damaged I reported to Consumer Cellular which advised me they could do nothing and advised me to make a claim with SquareTrade. I made a claim which SquareTrade honored but since I updated my phone with Consumer Cellular, they still had the old cheap phone on record, I received nothing. I advise to either accept the free Consumer Cellular and then purchase a good smart phone from another source and then obtain a free SIM card from them to place online. Frankly, I have been a customer with Consumer Cellular for many years and found them cheap and reliable but somewhat cold and indifferent to problems.

Purchased android phone and service in May. Reception was terrible. Went days without connecting. Spent hours on the phone with many reps. Was told a myriad of solutions that never fixed anything. Was even told I needed to drive to the tower to set up voicemail. Canceled plan and now I have a phone that is useless to me. Of course I paid my bill and will pay the next one but I paid for bad service and promises from this company that were never met. Pathetic. As a company you should be ashamed for lying to unsuspecting customers. My new phone and plan from U.S.Cellular has met my expectations. Was also told any refunds on phone or unmet services could not be done. Buyer beware. Oh and yes thanks for nothing.

I don't have a long review since I am new to Consumer Cellular. ATT is the worst and then all of the others follow. I will say that the price is right. A customer is able to buy the phone, a customer is not committed to contract, and the customer service is good so far. I guess I am elated after dealing for years with the bad dealings and practices of ATT.
How do I know I can trust these reviews about Consumer Cellular?
596,017 reviews on ConsumerAffairs are verified.
We require contact information to ensure our reviewers are real.
We use intelligent software that helps us maintain the integrity of reviews.
Our moderators read all reviews to verify quality and helpfulness.
For more information about reviews on ConsumerAffairs.com please visit our FAQ.

My father in law has a cell phone with this company. He is on a fixed income. He very rarely uses his phone. He pays his bill every month. He has never had any complaints or problems. However, this month he was charged $30.00 for an international call that he did not make. $30.00 may not seem like much to some, but when you are on a fixed income, it is. He had received a phone call from a scammer and accidentally called the phone number back. Because his phone is a piece of junk, he can't even figure out how to turn it off. The phone call lasted for 98 minutes. This 98 minutes, his phone was in his pocket. The number that he called back was a MA number.
Apparently, this particular scam is to have you dial the number back that is a MA number, but it redirects it to a number in Jamaica. It clearly showed on his call log on his phone that the number dialed back was a MA number, not the number listed on his call log on his bill (Jamaica). After being put on hold for a total of 45 minutes, I finally spoke with a "supervisor". She informed me that the call made was his responsibility. He made the mistake and he had to pay for it. I told her that he would disconnect his service if this charge was not removed. She did not care. She told me to write a letter to corporate. (Really?? It's 2016). I realize that he made the call, but it was from a illegitimate scammer phone number and it was an accident.
It's not like he's trying to get away with calling Jamaica for free. Their business practices are mind boggling. This company DOES NOT care about their customers, only the bottom line - money. They purposefully manipulate the elderly. It is sickening. Guarantee you that any company doing the right thing for their customer would have taken this charge off. After all, this money charged is going to a third party biller, AKA, scammers - criminals. We are disconnecting his service Monday. He will now be with AT&T. DO NOT LET YOUR ELDERLY FAMILY MEMBERS SIGN UP WITH THIS COMPANY. They are pathetic. They are preying on our elderly citizens and it is flat out unethical.

Had a problem with my cell phone locked on August 8 2016, and could not use many of the features. Talked to four different people and received poor advice. Two tried to reset the phone from the office they were in, one had no idea about anything, and the other thought the only way to fix the problem was to erase everything and reset to default. Most mentioned this as the ultimate solution. The solution that I did was to go to settings, look up date and time and reset; very simple but not something consumer clerks knew. The problem is CC does not have a technical service and the clerks might be well meaning but it is a waste of time talking to them. Very poor service and I am ready to change services.

We cancelled service after about a week due to intermittent coverage. When we called to give notice and send phones back, we were told they would mail return labels within a week or we could print them off the internet. After waiting 2 weeks and not receiving any label we printed one off internet and returned phones. We have been billed 3 times since saying they never received the phones. The label finally received had a different address, when we called they told us not to worry that there were several sites to return to. This last weekend we received a collection letter from them. Don't worry, "BEWARE OF THIS COMPANY."

My experience with Consumer Cellular's customer service has been excellent. Prompt, helpful replies from people who actually seemed to care about resolving my problem(s). The major issue was with poor connectivity and very slow (or aborted) internet connections and data downloads. A major reason I switched to Consumer Cellular was that they used AT&T's network (my previous carrier) and that I had an as-new iPhone 5S (purchased from AT&T under contract) that I wanted to keep. After switching I was so disappointed at the poor connectivity and download speeds that I was considering switching back to the dreaded AT&T.
When I called Consumer Cellular and told them of the problem, I was told that the Sim card they had sent me was for the T-Mobile network and that a new, replacement Sim card putting me on the AT&T network would be sent, again at no charge. It arrived two days later, was placed in the phone, and immediately connectivity went from one bar to three -- with instant improvement to internet access and data downloads.
In short (though it's probably too late to say that), the one major and couple of minor issues that I have experienced in switching to Consumer Cellular have been dealt with swiftly and entirely to my satisfaction. The customer representatives could not have been more helpful. Had it not been for sending me the T-Mobile Sim card in the first place I would have given Consumer Cellular five stars.

My mother is a 75 year old senior whose only lifeline in case of emergency is her cellphone. I have watched Consumer Cellular ads. They pry on seniors. I contact them and explain how the equipment they sold my mother was less than a year old and they should replace it due to my mom's near death experience and the failure of phone. The quality of the phone is very poor. I could understand if the phone was in bad shape. By its appearance it still looked new but the contacts in the flip phone portion are very poor quality. When my mom was laying on the floor and the speaker portion no one could hear my mom speak.
If it were not for a neighbor checking I believe my mom would have lost her life. When I contacted them they did nothing. All they were interested in was my mom purchasing a new phone and they did not warranty their defective phone or have the insurance protection plan send my mom a new phone. This is negligence and I urge everyone to band together to put a end to this company or that they receive fines. I further believe this is a form of elder abuse.

Our family went over our 4GB data limit this month by .04 GB with 2 days to go until our new billing cycle. CC sent an email saying they charged another $10 for an extra GB AND reduced the data speed! Why would you reduce the data speed when we're paying $10 for 2 days of data allocation? Some kind of stupid slap on the wrist? If it took us 29 days to use 4GB, we probably won't go through 1GB in 2 days. It gets better. The data connection no longer works - no internet, no email, etc. Presumably, this is because they dumped us on some obsolete alternative system that requires different/unknown APN settings or whatnot.
I tried turning the data off for each line in our online account and then texting stopped working, so that was not an option. When I called in, the guy took a few minutes to look over things, spoke to tech support supposedly, and came back with total garbage. He basically said that "yeah, you have an exclamation point by your signal bars because the slower speed data connection doesn't really work, but you'll be in good shape in 2 days when your new billing cycle starts. In the meantime, your best option is probably wifi." WHAT? At that point, I asked him to turn the data off and refund my $10. No, we can't do that. Do not charge me for something that doesn't work and then offer no reasonable, fair alternatives to make things right!!! Majorly PO'd...

I ordered a phone this past March with Consumer Cellular and never actually used any of their services and after two or three months I called to let them know that they were still charging me and to give me my money back. They never actually gave me my money back but continued to charge me going forward for services never received or used. This is an extremely untrustworthy company, and I would advise anyone who is thinking of using consumer cellular not to be penny-wise and dollar-foolish, it is not worth it, this company is dishonest and primarily cares about separating you from your money. Do not give this company your credit card information as you are just asking for trouble.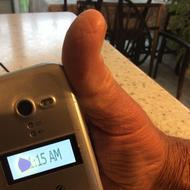 We have used Consumer Cellular and their phones for over three years. Recently, my husband's phone was not holding a charge, so we ordered a new one on 7/26/16. We paid extra for two day shipping, and received it on 7/28. From the get go, it would only charge to 25%, so I called Customer service. After being on hold for quite a while, I was told how to troubleshoot the problem, but the phone still had to be charged every two days, despite the fact that my husband does not use his phone very much, and this is a flip phone, not a smartphone. On top of this, the readout window on the front of the phone developed a blemish, where it was just a dark blob, and you could only partially see the time when the window was lit.
I called today, expecting to be able to exchange the phone since we have had it for less than 30 days, and was a problem from day one. However, I was told that it was a stress crack, and it was something that we must have done. This is identity the phones that both of us have had for over three years, and never had this happen. Since it occurred so soon after receiving the phone, I contended that it was possible it was shipped that way, and that the damage became gradually visible. I was told that I was wrong, and because we did not have a service contract, I was out of luck. We have cancelled my husband's phone service, and I am now looking for another service provider. This company is acceptable as long as you don't have a problem, but they are terrible if you need to get something resolved.

My husband and I decided to give them a try in June 2016. We were told that we could use our old phones, which I had a smart phone and they could not get it to work with their system, so I was talked into getting a new phone for $150.00. I had problems from the beginning slow dropping calls, etc. I thought I needed to give it some more time. I finally decided that there was a problem called them 4 days ago they first said they couldn't do anything cause my warranty period was expired 2 weeks earlier. So I called the next day when my phone was freezing up, would not shut off could not change pages. They talked me into doing a factory reset at this time is when I learned it wasn't new it was a refurbished phone.
We did it and the phone now wants a different Google account. It's wanting the one that was used by someone else. I don't have this information. So the customer service guy said he was going to send it to the return specialist. They called me the next day they told me I was misinformed on the return policy. I said all I want is a good phone! Long story short they finally tell me I have to send it to Portland Oregon and it could take up to 2/4 weeks to see if they can unlock. I talked to a cell phone specialist and was told that they more and likely cannot unlock the phone. They should know this so instead of giving a new phone they are giving me the runaround!!!I AM SO MAD!!! DO NOT GET CONSUMER CELLULAR!!! They are HORRIBLE!! I am out $150.00.

I felt the need to chime in after reading some of the reviews here. I always take these things with a grain of salt, but when I saw the exact same comments (verbatim) repeated on other sites, I just had to write and put in my two cents worth. I hope you will publish it. I am a senior citizen, not very tech-savvy, and am the first to admit that if I'm having a problem with my phone, the odds are it is of my own making. However, when I call customer service for help and I cannot understand the person with whom I'm speaking because of a language barrier I find it to be extremely frustrating. Calling a help desk and getting someone whose native tongue is not English, especially when they seem to be reading from a scripted list can be aggravating, to say the least. It's a waste of energy to get angry. It's not the reps fault. It's the company's fault.
I switched to Consumer Cellular in 2009 after what had added up to years of abuse from the service departments of AT&T, Verizon, and T-Mobile. At that time, you really almost had to commit to a contract and buy your phone from them in order to get a halfway decent rate, and if you were a consistent cellphone user your choices were really the lesser of the available evils. I must admit that I was a bit skeptical about making the change, but I did find the idea of a no contract situation quite appealing. When I initially switched to CC I was so relieved and impressed to discover that the customer service reps all not only spoke English, but they also at least sounded like they grew up here in the States! I later learned that the reps were also located in either Oregon or Arizona, and I have always liked the idea of dealing with a company that employs locally, that in some small way my patronage was contributing to that, as well.
When I first switched to CC, I'd been using a flip phone with one of those QWERTY keyboards I'd gotten with my last contract. After speaking with multiple service reps at the company I was leaving, I finally got someone who begrudgingly gave me the code to unlock my phone. (Remember, this was 2009 before unlocking phones was a common option.) The transition to CC went so easily that it almost made me nervous. I had never had that type of customer service from a cellphone company before, and I admit that I spent some time waiting for the other shoe to drop. Despite the fact that CC did not handle this particular phone accommodating me for the switch was not a difficulty. They even went out of their way to help me when I had a problem with that phone a couple of times down the road.
When it was time to replace that phone, my husband was looking to save a buck and bought a new Android phone through Amazon that had originally been set up for AT&T. Once again, the setup took very little effort on my part, and the CC rep was quite helpful beyond what was probably required for a phone not purchased from them. When I got divorced and it was time to split my ex off the account, he was able to get his own account set up without any phone service interruption for either of us. A couple of months ago I was ready to replace my phone, and this time I bought one through CC. It arrived at my PO Box three days before I expected it (I'd opted for the free delivery), and because I did not have access to another phone to call in on, I had to communicate with CC via email. Not a problem.
Despite the qualifier on their site re: response time for emails to customer service, they got right back to me and I was back on the phone within an hour or so of my first message. Today I added my oldest sister who lives in another state to my account and when I called to set it up, the service rep told me exactly what info she'd need to have when she called in. That call took a total of 11min. 13sec., including the time I waited on hold. A little while later sis sent me a text to let me know it was a done deal. She's now looking forward to delivery of her new CC phone after years of using a Tracfone.
Nobody likes to wait on hold when they call for help, but in my experience there is almost always a wait these days no matter what company you call. It's a fact. Yes, there have been times that there has been a wait on hold to get through to a service rep, but it has been my experience that CCs system offers to call you back in the same spot that you'd be waiting on the hook if the wait is going to be too long. I have never felt treated rudely or condescended to. In fact I have never had anything other than polite, helpful, and friendly treatment. Over the years, I have called many times for one thing or another, and I have always ended the call with a smile and feeling like my problem was resolved by someone who was actually interested in getting it right.

I ordered a battery for my cell phone. Consumer Cellular sent the wrong battery and charged me $45. When I tried to get them to let me return the item, they refused. This is a treacherous, immoral, unethical, company. They will not do the right thing by their customers at all.

At 23, I'm a little out of their targeted demographic. I've used the service for over two years, almost 3, and it meets all of my needs. I watch my data and minutes & change to the next plan if I need to. As long as you know what you're using, you should have no problem. I pay from 22-27 dollars a month, depending on whether or not I up my plan. I usually use around 200 minutes and stick to the 30mb data plan because of easily accessible WiFi. I've bought two phones from them with no problem and even added on another line for my mother, for a time. Super easy. Customer service has been fine. When I had difficulties with a new job & my check being direct deposited later than expected, they treated me with respect & understanding. I was easily able to move my payment date. Never thought that I'd stay with them as long as I have but they are perfect for me!

Had to wait 1 1/2 hours to get another phone activated. In part the hold music goes like this, "We know your time is valuable bla bla." You know the rest. Well yes my time is valuable, I figure about $20 per hour. I notified them by email that I will be deducting that from my current bill. If everyone did this, do you think they would improve their system??

My first encounter calling Consumer Cellular regarding their service and plans the employee wasn't that clear in explaining my questions and how their service plans worked. I started off with a low plan that he suggested. The customer rep requested the cell phone I should've purchased and the price. I paid ninety-eight dollars for the phone via credit card. First phone was mailed to my current address. I charged the phone and the phone had a few defects. I returned the phone and spoke with a different customer rep. and he suggested I purchase the iPhone 5s and it was priced at 160.00. The rep stated he would reimbursed my full payment on my card and used 46.00 dollars of my reimbursement as a down payment on the iPhone 5s. I agreed.
So on the first billing cycle I paid the payment of the phone with a separate money order and a separate money order of 100.00 for the phone. Which meant I paid 146.00 for the phone. Which left 14.00 on the phone. I received a statement in the mail about two weeks later stated "Your account has been credited 14.00." The original iPhone plan for the phone was five payments of twenty-five dollars which I agreed with the credit of 46.00 credited to the phone. I decided to pay the phone off by sending a separate money order for 100.00 to pay the phone off.
Consumer Cellular sends me a bill for 138.08 stating that I still owed fifty dollars on the phone and the balance of my phone bill for 71.41 when my last two months of payment were fifty dollars. This company believes because you're over fifty they can ripped you off. I'm appalled that this company believe they can take advantage of older adults. I'm not computer savvy at the moment. I don't know how to forward a receipt or what my order number is. Please forgive me.

Was told by Nokia phone that had been working just fine was out of date. Was forced to buy new phone. What a piece of **. Called customer service, was put on wait for over 15 min then was hung up on 3, yes 3 times. When I did get to talk to Alecia ** she was very unprofessional, smug and had a attitude. Did not fix the problems with my crappy phone. She would be looking for a new job if working for me. I am very disappointed with Consumer Cellular. Would not recommend to others. They claim to have such good customer service. Wrong!!!

Have to go to full site to see coverage map and have to put in zip code. Once I did that it WOULD NOT do anything! Also, doesn't he have combo plans. Unlimited Text 40.00/Unlimited Talk 50.00... How is 90.00 saving me money? Crappy website and too expensive! A lot of bad reviews. :(

I called to see what CC would do to help with my phone problem. I explained that the battery started to overheat and separate my phone. I am still paying for it and I have a one year warranty which was to expire on August 16, 2016. I was told that they no longer carry iPhone 5c and because I was close to the end of my warranty they would not do anything and they denied my claim. They are a deceiving company and fraudulent.

I was very wrong to switch to you. You promised plans from $10 with tricky advertisement. We started with a plan of $15 and ended up paying over $30. It's so expensive, you are a terrible lie. What you promise you should complete. I want to cancel this plan and I don't want to hear from you ever and I'm sure I'm not the only one that feels this way. And I also find it wrong that you use senior citizens in your commercials because they can be tricked. Shame on you. It's a malicious company.

The phone arrived with an incorrect phone number. I have talked to customer service at least 3 times. The first time I was told it would take a couple hours to activate. I called back the next morning. I was told I needed a new sim card and I could get it at Target. I went to Target & they don't have it. I called and asked them to mail it to me. She wanted 10 dollars for express mail. I have to wait till next week for it to arrive. This is my 4th time ordering a phone. My first 3 times had to cancel for their mistakes with the orders (wrong phone numbers, incorrect charge cable, could not find my aarp account). Yeah, they are cheap, but what good is that if I can't get the phone I already bought from them activated. It's sitting here, paid for, and cannot be used. I am completely frustrated with them.

Called because of a lost phone. What was good about this experience? I was able to take my garbage to the compactor and pick zucchini while I held. Bad part - waste of my time - I had to hear advertising for their products over and over and over and over - Never did get anyone to talk to me in the 20 minutes I had my phone on hold... in my pants pocket!!

I have nothing but glowing reviews for all the years my mother has been with CC. However, that all changed this week. I knew Mother was going to go over 4 gigs of data usage this month due to circumstances beyond her control. I called CC 3 weeks ago. I explained the situation. I emphasized the conventions were coming up, and I was aware they did not offer any plans with greater than 4GB usage.
As always, the nicest, most polite customer service ever. Sometimes when I am in a rotten mood, I think about just calling them because they are that uplifting. I explained Mother was going to go over 4GB maybe by 4GB. I was told "no problem". She would be charged 10$ for every GB over 4. I specifically stressed to them that I needed to make certain her service would not be negatively impacted in any way. Money, although always important, this time, I would do anything to ensure Mother had data access throughout the conventions. I was assured nothing would change.
At this date I still had time to make other arrangements if necessary. Well, at 75% warning text, Mother started calling saying her video was stuttering. I called CC. The wonderfully polite better than ** customer service person assured me it was temporary; refresh browser and carry on. Two days later, after breaking 4GB, Mother's data service became worthless. To download Puffin Browser took more than 24 hours because it kept timing out. My mother missed the entire Democratic Convention. Party affiliation aside, my mother is a political analyst and it just so happened her physical location provided no option but CC for these two events. I am still in shock. I am also devastated that my number one customer service company is now on my top 50 badly managed companies.

I am 72 years old and never had a cell phone so I shopped around and bought a Consumer Cellular at Sears because I broke down at 5 am with no way to call for help. Sign in large letters in Sears was printed RISK-FREE with no conditions on sign for being Risk-free. After going thru setup with Consumer Cellular I told them why I was getting their service and was not going to use phone except for emergency and I never even gave out my number to anyone. Upon receiving my first bill it was over 50 percent more than the plan I enrolled in and I never made a call but did receive 3 calls for the person who had the number before Consumer Cellular gave the number to me.
I was not able to answer my phone when the people called for the previous number's owner. Had to use the voice mail message in order to call back the folks looking for a Susan **. I called these folks from my home phone never using my new cell. When I called their customer service after receiving my first bill to dispute it to no avail so I cancelled the plan however now they said it was not Risk-Free but I have a photo of the sign in sears so stating! They keep adding late charges but will NEVER see a cent from me and Sears is just as bad because they would not take back the phone!!! What CRAP!!! Phone companies are the worst!!!

Consumer Cellular is absolute bottom on customer service. Waits go on for 30 minutes. Extreme out of date servicing on checks. Unlike 99% of the business world you cannot do an electronic checking transfer other than by talking to someone in customer service. So every bill paid by phone is a waste of 1/2 hour listening to 'messages' and being told - ALWAYS - that they are having a particularly 'high volume' of calls that day. The service itself has some advantages but it's hard to remember that each month as you waste valuable time because they won't set up an online electronic transfer system for check users.
There's a very short amount of time between the bill generation and due date and trying to mail them, at least from PA, usually results in a check not being 'processed' for at least a week. They certainly are not the bastion of great customer service they pretend to be. Just cheap and allow you to transfer between plans to match actual usage. If a competitor would jump in with those features I'd jump on board 'in a heartbeat' to get rid of the monthly aggravation.

While I get good service for the most part, there are times when it cuts in and out. Consumer Cellular is supposed to be convenient for seniors but I am currently one day late paying due to a medical issue and I am already receiving emails and phone calls pressing me for payment. The company assumes that 4G is sufficient data for older people I guess because they don't offer more. I received overage charges for exceeding data and talking to a friend outside the US. I am waiting for a return call from them because the wait time is too long yet, they are the ones who called me to discuss the issue. If they can't change my billing date by a few days to avoid any further issues with my autopay then I will have to look for another carrier. Walmart offers more minutes and data for about the same price but am unsure about the service area and if I can get reception.

I purchased a phone. Shortly after the 45-day warranty the phone would no longer hold a charge. I called them. The woman was very short with me and somewhat rude. And I did hit dead zones. Save your money and time.