Consumer Complaints and Reviews

Consumer Cellular sent two new flip phone to replace those we had with CU wireless before sold to CC. One of our previous phones did not need upgrading as it was already 3G. In their attempt to active either of the two phone they sent, neither work. In the activation they turned off the service to my old phone. While I wait for another of their phone my phone is deactivated and it takes them a min of 24 hr to two or three days to reactivate my old phone. Odd they can deactivate in seconds but days to reactivate. In the mean time I have no phone and I hope no emergencies. This company puts people's lives at risk.

While I am generally satisfied with Consumer Cellular as a provider, in spite of spotty reception in parts of Oregon where I visited recently, there is a little bit of trickery involving data usage that I think people should be aware of. This is of concern to customers who are on a low usage data plan, as I am since I am almost always in the presence of wifi and have no need for anything beyond minimal data. A little data usage surprise occurs if a phone has to be reset to factory settings. Apparently, even though the phone prior to reset was set to update on wifi only, the reset procedure itself uses a substantial amount of data (50+ MB) that occurs over the network rather than over available wifi. Once the reset procedure is finished, the former setting to update over wifi only appears to be restored, apparently as a default since I did not change that setting after I did the reset.
When I originally got the phone new out of the box and initiated it, it does not appear that data usage was required, but I don't know for sure. In any case, Consumer Cellular does not mention its billing policy to charge for data used in initializing a phone, either when the phone is new or when a factory reset is required. This might be an oversight by Consumer Cellular, but that seems unlikely. I think it is far more likely that customers who choose low data usage options are low-profit margin customers whom the company is only interested in as an avenue for encouraging people to use higher usage data plans. It is really a sort of low-level business scam, one of many that we as customers are subjected to by national cellular phone providers, including Consumer Cellular.

After switching from AT&T to T-Mobile to Verizon, my husband and I were still not happy with our service, and paying over 200/month. Switching to CC couldn't have been easier - far easier than switching to T-mobile or Verizon. I called, gave our numbers to a helpful woman, and within a week received 2 sim cards for the iPhones my husband and I already owned. The only other thing I had to do was call Verizon to unlock our phones. Since then we have been paying less than half and our service has improved. I really don't understand all the complaints on this site.

I have been with Consumer Cellular for 5 years now and have had excellent service. I am surprised and confused by the negative reviews here. You can get an agent in a few minutes when needed, as opposed to the 30+ minute wait with AT&T. The prices are very low compared to others. If you exceed your data limits they up your plan $10 instead of charging a fortune ($200) as AT&T has done to me. I have recommended this company to all of my friends and family. The month to month service means you can try it without risk as you have in a contract. I highly recommend giving this company a try. They consistently receive the highest rating with Consumer Reports and are endorsed by AARP.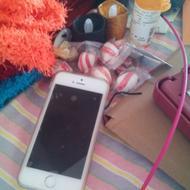 The nightmare started on October 23, 2016! First: Consumer Cellular wanted $72 to unlock my iPhone! Got the payment! Did not unlock the phone! Second: Another payment of $63.15 before maybe unlocking the phone! Third: Now, want $120.00 to unlock the IPhone! The IPhone could be unlocked maybe February 4th, 2017! I contacted the FCC: Federal Communications Commission in Washington DC! They started an investigation on Consumer Cellular! Next, I contacted Apple! Apple has started an investigation on how Consumer Cellular locked the iPhone 5s! Time will tell! My iPhone 5s was a gift from my sister! Consumer Cellular said that I was not the owner and I stole the phone! Consumer BEWARE of Consumer Cellular! Targets Senior Citizens!
How do I know I can trust these reviews about Consumer Cellular?
636,825 reviews on ConsumerAffairs are verified.
We require contact information to ensure our reviewers are real.
We use intelligent software that helps us maintain the integrity of reviews.
Our moderators read all reviews to verify quality and helpfulness.
For more information about reviews on ConsumerAffairs.com please visit our FAQ.

Consumer Cellular is a fraud!! They use false advertising to lure people into activating phone service with them. This is a scam. The data plan I chose $5 but I never use it but it is still increased and they auto upgrade to $10. I told them twice about this matter but they did not do anything so I call to terminate their service. Then they don't want to release the code to unlock their network. They violate the law because the phone already paid off. They are supposed to give me that code but they don't. I filed a claim to FCC and we are in dispute with them and they tried to explain their voice plan which I did not dispute! They did not talk about data plan!! You can checks review of their customers. You see not only me complain about their data plan but many people got same problem!! In order to protect the consumers you should have any action towards Consumer Cellular to stop their cheating!

I wanted to try Consumer Cellular based on some good reviews. I had a very tough time trying to set up a "bring it with you" phone. The only solution: buy another phone. Nearly the same phone, just compatible. More money. Five and a half hours into owning the new phone a text from Consumer Cellular saying "you're over your data limit." Huh? One text, no pictures, no internet usage.
The new Consumer Cellular phone used data to update, and burned through my data limit. No problem, I'll just call them. That was a complete waste of time. The attitude was "you used it, so you're paying." I didn't use the data. My new Consumer Cellular phone used data updating, without my involvement. I certainly hope there are never any issues because I'm underwhelmed at the response. What happened to "treat customers well?" When I think of the tens of thousands me, and my company has spent over the years on cell service, it seems crazy to aggravate clients less than a day into the business relationship. Not surprising the Federal Trade Commission number four complaint is "Telephone and Mobile Services." Well Consumer Cellular is sure doing their part!

Terrible customer service & being told lies after I disconnected service. They billed me another month, after we already ended service. I gave them the choice to do the right thing, and they refused. So we paid the $30 & I'm writing this review. Terrible company & they also raised our monthly rate & wouldn't lower it if we didn't call... Avoid this company at all costs!!!

I bought two phones, unhappy with service, returned phones immediately upon receiving prepaid address label. Had phones less than a month but never used them except to call the company. They said I went over on my minutes. When they received both iPhones they said I was 1 day late returning them. Everything returned was pristine, (plastic still on screens). Customer service terrible. No money was returned. I was out for those phones plus service and then was billed for 30 something dollars. Never heard another word. Terrible Service. I am 64 years old and will not join AARP because they endorse the company.

We bought service thru CC in January 2016. They were less than cooperative and never told us that if we go over our data of 3GB that they would just raise it behind our backs for convenience. When we tried to go on a payment plan, as we cancelled our service and went with someone else, they said to me ONLY AFTER I said I wanted to cancel that I had to be with them for 6 months. Luckily, I was with them for 7. Then they sent a final bill BUT it states that it is overdue! How can a 1st final bill be overdue??? We called and asked for payment arrangements as we cannot just throw $$ their way. They refused to help us but demanded $25.32 or so each month and we have other bills besides them. They don't know why they service seniors but act in this fashion. I agree with some people that they just want $$$ that is in their eyes and on their mind and to hell with the consumer. Well, my advice is get rid of CC! You can do better than them!!!

I have been with Consumer Cellular for about 5 years. I had Verizon and the cost was eating us alive with all their hidden costs! I now pay 1/4 of what I paid with Verizon and I've never had a bit of trouble with them. The only problem I've ever had is that I live in the country and I don't get good reception but I had the same problem with Verizon! I have found their reps to be knowledgeable and helpful.

My mother has used Consumer Cellular for over a year, and has had a great experience with Consumer Cellular for a very reasonable rate. She goes to Target for "tech support" and gets excellent help from them, but has also called the 800 number for CC and has gotten good advice from them (and they all speak English by the way!). Her bill is always the same, no overcharges. We just moved to a new state, and they moved the account smoothly. My suggestion to the people who are complaining about using too many minutes, is, you maybe need a plan with more minutes! My mother has never gone over her minutes, and has not had a problem with CC. For the price, we would highly recommend Consumer Cellular!

Monthly rate kept being increased and would require an unpleasant phone call to get it corrected. When I finally canceled their service, they kept on billing additional months. When I disputed paying for service I did not have, they charged me a "late fee" in addition. When I disputed the late fee, they claimed that it was not a late fee. (The e-mail I was sent clearly said "late fee $25.")

I have never had a problem from Consumer Cellular. I live rural and they are actually the only company that I can get who works at my home and I don't have to go outside and walk around to get signal. Customer service has always been helpful. I have had to call them 2 times. I used the Bring Your Own Phone program, no problems connecting phones to their service. I am perfectly happy with my service and am glad I choose to go with them.

Consumer Cellular is a fraud. They use false advertising to lure you into activating phone service with them. You will not be able to make or receive phone calls... and then they will bill your credit card even though they advertise a 100% money back guarantee. This is a SCAM!!! Consumer Cellular has a two page fold out ad in AARP publications. I thought AARP was reputable but I will not have anything to do with AARP due to their promotion of Consumer Cellular. Shame on you AARP.

After several problems with our landline, I decided to try the 30 day trial of Consumer Cellular home phone. I did not like it so returned it within the 30 days and went back to our landline. When I got my latest bill, it had a $10 charge for the home phone. Upon inquiry customer service said that it was for the extra line needed for the home phone and I would not be getting credit for it because I had used the new line. It did not matter that I had to use the line to see it I liked and wanted to keep their home phone. After talking with people that were supposed to be her supervisor and then her manager I was not able to get credit for the bill. I have been a customer for both our cell phones for several years and never had a late payment but now I must decide if I want to stay with a company that uses misleading advertising like Consumer Cellular does.

My experience with Consumer Cellular has revealed to me a personal perception of being taken advantage of (being duped) through the misuse of familiarity and trust. My expectation was that a native English speaking, American based company would be familiar with the American basis of truthfulness and thus would have fewer errors arising from perceptions, misleading statements, or overstating capabilities. In short, I expected CC to be good experience due to a higher probability of good communication.
But, my experience has been the opposite! The problems I've experienced arising from this company range from their inability to substantiate enormous data usage amounts (no videos, no music downloads, or movie downloads done), communicate effectively without omissions (I BOUGHT the phone--but CC failed to tell me that I had to have service with them for 6 months before they would unlock it!), lack of timeliness in sending notice if data usage is becoming maximized (Received multiple notices the day data usage was severed but NOT before!), referencing obfuscated "restrictions", and policies that allowed CC to effectively "do as they saw fit" and me, the consumer, having few options to protect my wallet, or trust CC to have accurate "follow through".
As a believer in truthfulness... whole truth and nothing but the truth without omissions, and in protecting my wallet, I will view the $$ spent on a CC Hotspot, CC phone, and 2 months of communication fees as a lesson from the School of Hard Knocks! I should have NOT trusted CC after CC's failure to accurately follow through with the initial order. My mistake was to give them a second and third chance to get it correct. I should have cancelled their service after CC kept using a wrong inception date for my service but I gave them an allowance for some goofy internal misstatement. My good American patience, and trust was tested and trodden upon by CC. My CC experience compels me to let others know my reasons for not recommending CC in any aspect.

This Consumer Cellular targets mostly seniors on Social Security because they have paycheck every month! Low income does not matter. Consumer Cellular just see dollar signs in their eyes. I was given an iPhone 5 my sister as a gift; only to have Consumer Cellular lock the phone! Offer great deals, but consumer be aware! Horrible Customer Service! Locking your phone! No Human Contact that knows what they are doing! High prices for seniors! Fraud, misinformation and locking. Very bad for consumers! Stay with a local company!

Nothing but lies, idiocy, excuses and just basic dishonesty from this company. Three months ago I decided to get a cell phone. I decided to go with Consumer Cellular because their customer service is US based. The initial call to establish service was handled in a very efficient manner. When deciding what level of service I wanted, I told the rep that the greatest number of calls I make are to and from Jamaica because my friends and family live there, and they call me on my landline most of the time. When I previously had a cell phone my usage was generally under 250 minutes almost all international calls. The few times I did use the cell phone for domestic calls was to call for a taxi home from Target or the grocery store.
I specifically asked if they provided service to Jamaica and how much it would cost. The cost was reasonable and when I made my first call home I was overjoyed at the clarity and convenience. For the first week. Then, suddenly, my calls would not connect. I called customer service and talked to a sweet girl who sounded like she was in third grade and had about the same amount of knowledge. She asked me if I as dialing the country code. Jamaica has no country code. You dial the number the same way as you dial, for instance, New York, from New Jersey. This call was probably a forty-five minute chunk out of my day. I was told not to call them unless I had tried to call the number three consecutive times. Huh? They assured me they would find a solution to the problem. They didn't. It's always something I'm doing wrong.
After a month, they convinced me I would probably do better with their home phone service. They didn't bother to tell me that they bill by the minute for domestic service. I thought that went out twenty years ago. So I allowed them to switch me. OMG. Now I cannot make or receive phone calls to or from Jamaica. My husband reached me last night after fifteen attempts over three days. My best friend has given up trying, saying she is getting charged for calls that don't go through. Today I was told to call another number and that they could patch me through. Great. Third party calls that you can't hear anything on. And then they said it was probably Jamaica's phone company. Jamaica has excellent service -- it had 4G service before the US did. Now I get a bill for five times what I was paying. Yeah it is USA based, and as full of insulting ignorant reps as any high school has. SCAM!!

I asked for the data to be removed from the phone and "put the bill down to $9.99 a month" is what the young man told me. He suggested I do that instead of turning phone off (cancel account). Told me the text messages were lowered to like 200? And the talk minutes were as well. No one uses this phone. I got it for my grandson who is only 10 but he got in trouble for talking in class so mom said he could not use phone. Dad said he was looking at youtube and he does not want him looking at so no phone for him. Make a long story short. The phone was never changed around like the young man said was done. After I had a conversation with him for at least 30 minutes.
Not happy with this company and will not recommend it to anyone else neither. It is a trap, a ripoff and a bunch of con artists work there. On top of that you get no refund that is for sure and they want automatic withdrawal of your payment. I did not set that up. They did. I had no idea. I don't appreciate that at all. According to Pamela it is all cancelled. I will call to verify and also go to my bank and cancel my card, get a different one. I just Do not trust this cell phone company at all.

Beware! Consumers purchasing a hotspot from Consumer Cellular for data to check emails and complete other quick web tasks - you will be overcharged!!! Example we currently have a 1.5 GB plan and we get upgraded to the next plan pricing due to overages. I called Consumer Cellular only to be told I am receiving texts alerting me about the overages. I explained the phone number associated solely to the hotspot; therefore, I am unable to open any texts sent. Then I was told to check our usage via their website, so the next month overages was incurred again. I called Consumer Cellular to be told the web usage is not real time and that I should check our usage via a smartphone for real time. What??? I asked to speak to a supervisor to request a credit as the data plan was 1.5 and we were billed for 1.7.
The supervisor refused, even though I explained how I continuously check the web for usage, only to be told this month that I should call their 1-800 number for real time usage. At this point, we give up! In the months we have used Consumer Cellular's hotspot/data plan it has been a joke and pain. Half the time there was no service with the hotspot, there is no true pricing, no true method for reviewing usage, and looking back we should have gone with another vendor for our data needs. Consumer Cellular advertises great plans, great customer service, great pricing etc. Don't, don't be fooled this company is all about the money and they tack on fees and costs anyway possible at your expense. Would never, ever recommend this company to anyone, especially senior citizens. Consumer Cellular takes advantage of its consumers! We are done... again beware!

I had the service for several years and used only a flip phone as I didn't want a smart phone. After several times of speaking to their CSA about upgrading to another phone nothing was ever said about my having anything but talk on my phone. It is a flip phone after all. Two weeks ago I called about upgrading to a smart phone as I no longer need a house phone and the CSA said "Well all you need to add is data as you already have talk and text." I told him I didn't have text as I don't have a smart phone and I have no idea how to use text on a flip phone.
He said "Well you have had it for two years." I informed him I neither requested text at any time nor was I ever informed by any other CSA that I had it. I said to remove it from my bill and credit my account. Well my bill came and it has not been credited or removed and when I called and asked them I was informed they would graciously give me a credit of $10.00 toward the 120.00 they had overcharged me for something I never ordered or wanted.
They admitted it was never used but policy doesn't allow them to go back more than 60 days on a bill. I should have checked my bill was the response. Why would you check a bill for something you didn't ask for and yes I know stupid me trust a company to be honest about in their billing. As I told them I am very disappointed in the company and it just proves yet again that success ruins many a good company and they are again just another $10.00 cell company.

I have been with Consumer Cellular for several months now and have been fairly satisfied until now. I was double billed for my September payment. I called them about this and at first they claimed they didn't see a double charge. After some further research they saw the overcharge and blamed their card service company. I was told that they would look into it and see that a refund would be made. I later received an email saying that it would take 3-5 days.
After 5 days no refund so I called to see if my bank would refund the overcharge. They suggested contacting Consumer Cellular again to see why no refund. Consumer Cellular customer service still could give me a good answer. They told me if I had bank refund the overcharge that I could lose my phone service. This doesn't seem right when I didn't even get a credit on my bill for over charge. They told me to give it another 48 hours and see if was refunded. I think the company could have done more to get this corrected. It has been 9 days and no refund yet.

I discovered the only method of paying my bill was by prepaid card (Greendot). These cards charge fees and consumers should be able to pay their bill by methods other than a prepaid card. I canceled the phone and the service.

I totally disagree with all the negative comments on this site. My family has had Consumer Cellular going on 3 years now. They use ONLY AMERICAN based support which means you can UNDERSTAND them. They are FRIENDLY and knowledgeable. Now with the addition of Apple phones they can't be beat. THREE lines in our home for under $100. They are not for people who think a phone should be a TV. We have 4 gigs and on rare occasions we run out of data. They slow it down if you do. The price for going over is negligible. I am retired and travel a lot. The AT&T towers used by Consumer are a little spotty so be aware of that. You have your choice of AT&T or T-MOBILE towers. It's not Verizon but it's HALF the price.

I have been a customer for eight years, up to 4 phones. Have always had a wonderful experience and service until I upgraded to J# Samsung phones, three months ago. Purchased through CC. All our phones over the years have been purchased through CC. We have a lemon. It happens. CC agrees but demands to go through troubleshooting which we have done so on 2 of the 6 days without service. A total of 5 1/2 hours on phone trying to get resolution.
The first note is there are customer support call centers for CC. You do not have the option to speak with the same supporter. Making it very difficult. They are to take notes and if you were to pull my file up now it will show we have called daily on non service of my phone. We paid insurance on these new phones since we shelled out quite a bit of $. All of the troubleshooting has all that I have spoken with in the last 6 days stumped. SO HOW ABOUT SENDING ME A NEW PHONE, keep your customer and let's get on with it. Call for 3 days asking for a supervisor. Monday, Tuesday, and Wednesday requesting a callback. Never received. Today I managed to get a hold of a supervisor, went through all the notes for now, the 10th time. I live 35 miles outside of Austin, Texas. Closest neighbor six miles. These are only phones. We as many in the country do not have a land line.
I was asked could I go to a neighbors house so she could simultaneously do over the phone testing with both Samsung phones. Yes, of course. Could she call me back in 20 minutes. NO SHE COULD NOT. What? You just asked me to leave property to secure another phone and that will take eta 20 minutes. She advised I could call back into customer service. No, I have exhausted and wasted as much time as I am going to. Please put me through to her manager. "Can't do that, Management trains us and they don't have a phone". BS. I bet if you didn't get your paycheck you could find someone in management.
So I am sad to say that we will be leaving CC. The limited power these folks who do troubleshooting is unsatisfactory. Might be if I had nothing better to do with my time. To date, 6 days in, no phone service with my brand new phone. We are huge fans of Clark Howard so we are going under his advice to change to Republic wireless. No contracts. Better pricing and coverage area is remarkable in Texas.
Shameful that after eight years CC would not jump on this issue, get me a phone operating asap and let's work out the details then. I have done all your over the phone troubleshoot with no resolution. They don't stand behind products they sell. They don't stand behind 3rd party insurance policy that we pay on our monthly CC bills. Management is unavailable. There has been a change of some sorts pertaining to customer service and not for the better. I will not recommend and will advise all to read unresolved issues that are a simple fix but are drawn out to waste consumers time.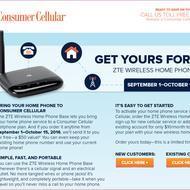 Consumer Cellular sent an email offering a free wi-fi home phone base (usually $50). The offer was from Sept 1 through Oct 15, 2016. After much deliberation, we finally decided last Saturday, 10/15, to give it a try. The link on the website did not work, and repeatedly took me to our account page, but not to a page that allowed us to sign up for the offer. I called the 800 # on the website, but - gee - it was Saturday, so no one was available to answer the phone.
I sent a message via their website and on Sunday was told - sorry - "the offer was only good through Saturday; can't help you." My response was: "It was still Saturday when I was trying to sign up and when I sent the message." Today, I just received a call from their "Customer Service" department. The exact quote is: "The offer has been out there for 45 days. You should have signed up sooner." So clearly, they had no intent of honoring the offer through the advertised date. Not sure how legal that is...

Consumer Cellular is not military friendly when it comes to accommodating service members who are deploying. I am not able to suspend my service, which I cannot use in Afghanistan, but have to pay monthly to keep my phone number. I also had to call, after deploying, to set up a lesser charging plan so I could keep my phone number. I tried setting this up prior to deploying, but Consumer Cellular was not able to do this until after I deployed. Fortunately I was able to do that on the date I needed to once I got here. I have had my phone number for years, and can't believe that I am paying so much to just to keep it for when I get back and am able to use it.

I am really surprised to see such low ratings for an incredible company. I have recently left Verizon and joined Consumer Cellular. I have saved over $200 a month in the plan I carried over my own phone and received a Sim card from Consumer Cellular that has been functioning with my own phone. I have had nothing but the utmost kindness and respect from their customer service department. When I call sometimes it can be a long hold however every business I call is. That's just the way it is. Today I'm so sorry you all have experienced a negative result from this company. I however have had complete satisfaction and will continue to share it with others. When people I refer join, both the person and I receive a $10 credit so that's a nice little bonus. Give them a shot. They have a 30 day risk-free guarantee you can't beat. More kudos to Consumer Cellular. Keep up the great work.

I have had my account for one month and three days. The first month I used 30% of my account data which is the lowest amount offered. I turn on my phone this morning and see that I have, in three days, used 74% of my monthly data. I called Customer service immediately. The two men I ended up speaking with were too busy trying to tell me what I had done rather than listen to what I was trying to tell them I did not do. Both apologized for "your frustration" and did nothing about the issue. And, by the sound of their voices, I don't believe they much gave a hoot.
I did learn that as long as I'm connected to WiFi and I turn off the data on my phone, I will not incur ANY data charges. Why don't cellular companies tell us this when we are purchasing their phones and selecting the talk/text/data usage amounts? It's all about the money. As a person on a strict, fixed income, I need that kind of information. But as an aside, these guys could not begin to tell me how I would have used 74% of my data limit in three days as opposed to only 30% for an entire month. And, I'm not stupid or ignorant to the fact that apps that update use data. I don't use my cell phone for any social media, games, music, etc. Also a huge headache, I can't even get cellular service with this company at my grandchildren's home where I am now 75% of the time. Should I leave? Should I stay? Tick, tock...
Consumer Cellular Company Profile
Company Name:

Consumer Cellular

Website:

https://www.consumercellular.com/