Consumer Complaints & Reviews

I called into customer care to change my plan because my data was going over the limit. The customer representative asked did I have DirecTV. I said no. She said that if I signed up for DirecTV at $29.99 I would be able to get unlimited data for my lines. After confirming several times that I would only be charged $29.99 she and another representative stated yes and it was confirm by another representative and I was able to disconnect at any time. I work at a Cable company where I receive free services so it was not necessary to sign up for services so I just added it only to one Television in the kitchen. All my other TVs are connected with my JOB at no cost and the representative stated that the $29.99 was going to be billed with my regular services.
Guess what? I received a bill in the mail for $55 from DirecTV. I called into AT&T. They stated I had to call DirecTV... Of course DirecTV can't do anything because its equipment charges and it is needed to show the programming but that is all understandable but that is not what was told to me by AT&T representative. I only want what's right, either the $29.99 per month or discontinue the service without any early termination fee. I have been in telecommunication and sales for a long time to know that this was either someone trying to get commission or just didn't understand the promotion. I just want what's right or I will take legal matters because I know you have it all on tape and my Attorney Eric ** will act accordingly for any and all damages. No threat just being honest.

I have been with AT&T for many years. Last year I upgraded to iPhone 6 only to receive bills with $200 in overages in which I had to contact the FCC just to get this fixed because AT&T refused to help and blamed me. Turns out iPhone consumed data constantly and that's why the overages. Then the cell phone was stolen and again no help. Even though I found out where the phone was and found that art gave these people info they shouldn't have. When I tried to blacklist the phone I couldn't because then I couldn't remember my passcode. Never mind - they could've used my social but the ** of an operated refused to do so. Then my email was changed on my account and again no help. Really?? That's pretty sorry and AT&T is horrible.

I placed an order for DirecTV and was asked to call AT&T customer service to bundle the price together in June. The representative told me I could get four 7" tablets for free because I ordered four TV boxes. I asked if any service charge. She said no and I could use wifi home. She guided me to a link and asked me to submit the form. After received the tablets I never opened the boxes and never used any of them. In my June bill I was charged $80 each tablet for total overcharge $320. Since my AT&T account is automatic payment I thought the larger amount is due to DirecTV charges. Until I still received a separate bill from DirecTV I found I was overcharged for tablets.
I then call AT&T customer service in August for dispute of the tablet charges. I was told the tablets are free but services have charges. I told that I never used the service and the tablets, and I can return these four brand new tablets. Actually I was misled by AT&T customer representative. Finally AT&T customer service only waived me the current month charge and the early termination fee by cancelling the tablet services but it didn't refund me the initial month tablet service charge $320.
I have several questions regarding this dispute: Why AT&T customer representative had misled customers and made these very confusing cross sells? Ironically my original request was not resolved - I still received a separate bill for DirecTV. At that time my AT&T wireless plan already costs me $180 per month. I only used three of four mobile phone numbers my package has. All plans are unlimited usage. Does AT&T really understand what customer needs are? Why customer needs extra four service line charges when current plan still have capacities? Please stop this malpractice. AT&T agreed cancellation of the services without penalty but why didn't refund my first month service charges of $320? It is fine if I already used any service but I didn't use any without opening the boxes. I want AT&T customer service to correct this wrongdoing and refund me this $320 overcharge.

It all started back in the "home phone" days. Bill was too high. Called customer service. They said, "Sure, we can put you on plan B and your bill will go down". Next month bill is even higher. Call customer service again. They said, "Sorry about that. First person should have put you on plan C. I'll take care of that for you." Next month the bill is even higher. Called customer service for 3rd time and begged to be put back on original overpriced plan. "No problem" they said. After about 6 months of highly inflated bills and MANY more calls it is for finally restored to original plan. By that time I foolishly signed up for their cell service and cancelled the home phone. Guess what?? The same BS and the same frustrations. I'm just a slow learner, I guess. I'm happy to report I am not (nor will I ever be again) a customer of AT&T. Thank you Lord.

I just hang up with AT&T. What a rip-off. They change packages, plans under different name but doesn't honor the service they promised. Jacking up the rates unbelievable amount. $ .35/minute rate goes up to $2.43. Their excuse was "I have not change the plan, still on old plan". They charge for monthly fee for old plan but THEY DO NOT HONOR what was promised as part of their service. I am taking this matter to BBB.
How do I know I can trust these reviews about AT&T?
595,131 reviews on ConsumerAffairs are verified.
We require contact information to ensure our reviewers are real.
We use intelligent software that helps us maintain the integrity of reviews.
Our moderators read all reviews to verify quality and helpfulness.
For more information about reviews on ConsumerAffairs.com please visit our FAQ.

I recently switched to T-mobile to save money which I am. T-mobile is paying off my early termination fees and remaining next installment payments, this takes up to 8 weeks. After these are paid I still will owe AT&T over $400 because of ridiculous random fees that were tacked on. I can't afford to pay this balance all at once, so I called AT&T customer service to hopefully set up a payment plan before it gets sent to collections. They said if I paid a minimum of $181, which was the balance of my last bill that I would be able to set up a payment plan. So I paid the $181 and after I paid they said since it was due yesterday that I could not set up a payment plan. So basically I was told a lie.
I had been an AT&T customer for well over a decade and have paid thousands upon thousands of dollars and for them to not be willing to work with me on this is very disappointing and terrible customer service on their part. I feel I have been misled and given the run around a lot with this company. I'm glad to say I am through with them and I highly discourage anyone from signing up with them to avoid the same terrible experiences I have had with them over the long time period I was with them. Undoubtedly one of the worst companies I've ever dealt with.

I am finally glad to be thru with AT&T!!! First of all their customer service is very unprofessional! When I moved I had AT&T and switched to Uverse I had services cut off at my old location which never got cut off and still is on. I called several times because I had 3 charges that came up on my statement. They said they pulled all records including with my social security and didn't find anything that came out of my account. I was on direct pay which if you decide to ever purchase service thru AT&T never be placed on auto pay because they will find a way to screw you in the long run!!!
I went to the bank, cancelled the card, and tried to dispute the charges but since I was already on auto pay they said it was inevitable evidence figures - they said go thru AT&T to dispute. Okay no problem. Contacted AT&T dispute center and spoke with over 20 different reps on several different calls and same result. It's like they had their head in their butts and never put notes in and ever got my money that they taken unauthorized.
Finally I got one person on a Saturday who finally stayed on the phone with me and got me at least half of my money back. She put the manager over the dispute department on the phone and I asked this guy, "Okay so you are finally closing out my account?" He assured me yes! A month later I found out I still have multiple accounts still open! So he never shut off my account! I'm so fed up with this that I decided to go thru Cox. Not only I'm I getting faster internet speeds getting more channels and an alarm service for the house for almost 30 dollars cheaper per month. Final call to AT&T to cancel services I get transferred over 4 times and have to hold almost 45 minutes plain crappy service overall. If you decide you do want to go with AT&T or Uverse I really hope this changes your mind and take this as a beware!

After being with AT&T for U-verse, TV and Internet for about a year, and having always paid my bill on time but consistently had problems with my TV service and a slow internet, AT&T mailed an updated modem which I installed myself. The problem with TV cutting out still existed. So, AT&T mailed me an updated TV U-verse box (as should have been done at start, IMO), and at last the problem seems to be corrected. This was only about three weeks now that the problem has been corrected, although I've been paying approx. $145 monthly for service. And I decided to use AutoPay a few months ago.
TODAY I find that AT&T has double billed my bank account and overdrafted me. I chatted with AT&T online, they said it's because they want their old broken modem UPS'd back to them. So they overbilled me and will return the $150 to my account when they receive the old modem. A week ago, when I first learned that they want the old equipment UPS'd back to them, I talked to an AT&T rep on the phone and told her I would return the old modem as soon as I could and do not overbill my account. Well they did anyway and now, as I am on disability, I have no money to live on for the rest of the month. I am completely finished with AT&T and will probably just stream whatever I need from now on. I definitely do not recommend AT&T internet or any of their services after this. VERY DISAPPOINTED.

I got a bill last month for a total of $176.00 which is almost double my bill with promotions. AT&T are so known for constantly putting crap up on the screen about watching the super bowl and etc, and different fights but can't notify you of your promo's ending! I called to see if I could add promos back to the account and was told rudely by an operator that I need to pay the $175.00 first! I am livid because this is extreme high and I am hardly ever at home to utilize all my channels and the same with my internet!
If I didn't reside in an area that has to only use AT&T I wouldn't use them. This is the most nickeling and diming company that I've done business with! The Uverse service is great when it works but my services goes out probably once a day in which I have to reboot one of the boxes (satellite service doesn't do this). This could be the reason that my boxes just stopped recording because I am constantly rebooting them for this ridiculous service! If these promotions aren't added back to my account I will be canceling my service bright and early tomorrow morning after holiday!

In Jan 2016 I ordered U-verse and carefully comparing prices I decided to stick with Time Warner. I called AT&T the same day and canceled the order. A couple weeks later a guy shows up at my door to install U-verse. I explained to him how I had canceled the order, he was very nice about it but asked if I could at least give him a good review. OK No Problem right. Well, next thing I know I'm getting calls from AT&T saying they are going to disconnect my U-verse for nonpayment. I spoke with someone in management and they were suppose to take care of it. Yesterday I get a call from a collection agency because they sent me to collections for something I never had.

I forgot to pay my bill and they shut off my service without notice!! Called in to pay past due amount and was told I had to pay past due AND current bill in order to have my service reactivated. Spoke to customer service and was transferred to billing (waited 6 minutes) who then transferred me to a supervisor because she couldn't do anything, waited again this time for 12 minutes, to then deal with someone who is extremely rude and not at all willing to help me. I explained that I have always paid my bills on time and that I was a loyal customer of over ten years and this was not right and that they should not request more money from me when I wasn't past due on my current bill and had time to pay it and she began to sarcastically apologize for the "inconvenience and if there was anything else she could do" for every time I explained that I couldn't pay my current month with my past due to no avail.
They have lost me as a customer. I am switching to another carrier and will never recommend them to anyone and will tell everyone I know of my horrible experience. I pay them just about 250.00 every month for three lines which is crazy high and then they have the audacity to demand more!! Time to be smart and run!!! AT&T has lost my business!! Do not do business with this company!!! Steer clear!!

Signed up for 1 year service contract for U-verse. Gave bank information. Representative called to inform that amount would be increasing after 1 year completed. AT&T was informed that no longer wanted service after year up. I moved out of town 1 month prior to service ending. Lived in Edinburg for 1 year when I received a call from a technician that lines had been stolen and pulled out. At that time he informed me that I still had service. I replied I had cancelled and to please do so if not showing on records. After having someone investigate my bank account since I was not a mobile banking person. we came to find out that AT&T had debit up to $500.00 for the past year that I was unaware off. Even the amounts debited were not consistent each month ranging from $19.99 up to $44.00 a month. Unsure why No One has Explained that.
Well after calling in for the last year while paying on my new account for internet in Edinburg TX, having to speak to 5 to 7 representatives and Manager who said they would investigate and return call, no one ever returned call and each time I called in I had to repeat my story to 4 or 5 reps who assured to help me then after hearing my complaint passed the buck to different departments with NO Luck, No Help. They have yet to Refund any of that money except for reverse some charges charge to new account and a 19.99 check that was original issued at time of cancellation. We have not closed our account with NO Hope of Collecting a Refund for Money stolen as far as I'm concerned from my Bank Account. AT&T is sure good at charging!!
After termination Cancellation of my account including returning equipment. I received a new bill with a $50.00 Restoral Fee for account we no longer have... Please be careful when giving your account information... ESPECIALLY TO AT&T!!! Oh!! I even sent a letter to the dispute department. That's when we received a check for the $19.00. No explanation just a check.

I decided to cancel my AT&T account in mid-June 2016 after years of being overcharged and lied to. The new company requested a bill and they would cover the final balance. I never missed a payment and was never late with AT&T. When I called to cancel I gave my new address and was informed I'd have 30 days to view it online. The week after I canceled I logged on and didn't have access. I called and was told they would get a bill to me by the 30th of June. I called a week after that date because I had not received it. They didn't update my address so they said they'll do that and resend it. I know the person at my old address so I called her, no mail from AT&T. I called again after 10 business days and again was told my address had not been updated, so did it again, updated, was told they would resend it, called person at old address, still no bill.
Then I received a letter. This time the correct address, so again I called requesting a bill. They said they would overnight it (this was in July still). I asked if they were going to send me to collections. They said no. I made a $256.99 of the $356.99 balance while I waited for the bill. I got the bill mid August, and called and said payment will be made in 8 weeks (the time it took the new company to process). Now 8/24 I get a call from an attorney's office Jessie ** with PPA who was very rude and said she was marking my account as refused to pay. So again call AT&T. Was told by employee ID ** that I should have received a bill via email when I canceled and there was nothing they could do. All my bills are set to paperless, I double checked my spam folder. No bill was sent to my email after I canceled. So now I'm in collections with a negative hit to my credit score because AT&T is a terrible company.

The $650 per line switcher credit is false and don't fall for it like I did. I changed my plan from sprint to AT&T back in June, was told about the plan, up to $650 per line to port the numbers over and trade in phones. Agreed, submitted the final sprint bill and nothing happened. Spoke with someone through chat on their webpage about it and they also assured me of the $650 per line. Started getting collection calls from Sprint on the balanced owed. Contacted AT&T, was told they paid a little over $100 bucks to the bill (which they didn't) and was told to go into the store, even if they had paid the $100 that still isn't nearly enough to cover the bill and a whole heck of a lot lower than what I was assured of in the store.
Went back to the store and talked to them, they told me I had to call AT&T. Called again to no avail. Very very unhappy and honestly pissed off. Why the heck would I trade in my phones to a new carrier and switch if they weren't going to cover the cancellation as advertised? They said the "trade in value" of the two iPhone 6s's (one 128 g and one 16 g which they gave me $610 for) is taken off of the $650 per line "deal". So, if that's true $690 is what should have been paid to my old carrier, not $100 stinking dollars (that never got paid anyway). What sense does that even make? The customer service lady I spoke with (who at this point is the only pleasant experience I've had with your company so far) even said herself that this doesn't sound right and makes no sense.
So basically, to trade in my two phones they gave me $610. I paid another $88 the day we started service with them, so I paid $698 bucks to open 3 line account with AT&T, and didn't get a DIME to help with the cancellation of my old account. The best part? I'm on the hook for the canceling fees of my old carrier, plus the rest of what I owed on the old phones, plus the over $1000 dollars for the new phones that I got from AT&T, got a super awesome first bill of over $300 from AT&T and apparently I am paying the installment for the price of the iPad that they said would be mine for $99 because of another special they were running which surprise surprise turned out to be not true as well.
Thank you so very much AT&T. I really enjoyed taking a collections hit on my credit for a bill that I was assured would be taken care of BY YOU on two separate occasions. Can I make a suggestion? In the future, consider throwing in a bottle of lube to help ease the pain that follows switching to you, because after talking with some people it seems like I'm not the only one getting rammed. At this point I'm going to be contacting my lawyer, because this is absolutely ridiculous.

When I signed up I was told I would have a $40 sign up fee and my monthly bill would be $59 a month. I paid the $40 right then, so I was expecting to just get a bill $59. So I was more than surprised when I got my 1st bill for $140! I went back and spoke to the manager at the store I signed up and he told me the associate made a mistake and that my service is actually $79 a month once all the taxes and monthly fees are added, and that there are more start up fees than I was told. So, I asked him that if I pay this $140 that moving forward my bill will be $79 a month, including all fees and taxes. He said yes and that there will be no more surprises.
Well, that was a lie because my very next bill came and it was $110. So, I went to the same manager and he looked at my bill and said that he doesn't remember me from the month prior but that my bill is correct for the $110. I told him that I would have never signed up for such an expensive plan and he told me that I'm already locked into the contract so I can either pay the $110 a month or break the contract pay hundreds to do that. I called corporate and they said they won't do anything... They are complete scam artist and liars.

I have attempted to work with AT&T - Digital Life customer service and field staff to get this resolved but end up paying early termination fees. Because customer service/technician keep asking to give them a chance to fix the issue, but unable to resolve it. I requested to cancel the service and very disappointed to be charged: early termination fees (for the service that has not been installed) and working and bill for month (for the service that has not been installed) and working. I humbly request to refund early termination fees ($630.18). And the monthly service charges (78.30 before taxes).
Below are the details of my experience. I am available if you need any further feedback. Field Services: Technician Name - Micheal **. Service Date: 06/25/2016. Outcome: Garage Door not working. Cameras not online. Contact Sensor not working. Front door lock jams. Customer Service: Contacted customer service and after 1:45 mins on hold talked to: Leticia - She offered me a promise to resolve the issue. And put in in contact with Julian and Charles **. Promised to resolve all the issues.
Technician Name - Joe **. Service Date: 07/04/2016. Outcome:Garage Door still not working. Cameras still not online. Front door lock jams. Customer Service:
Contacted customer service again about the issues. They offered me a credit and promised again. Charles ** - Visited the property and promised that all can be fixed on the next visit and will send a new tech with a lead supervisor. However, same tech showed up and his first comment was, "What seems to be the problem this time." Technician Name - Joe **. Service Date: 07/30/2016. Outcome: Garage Door still not working. Cameras still not online. Front door lock jams.

I have been having issues for at least 3 years. Prior to that they have never gotten the billing correct but it took more time & effort to call & complain something than it did to pay it. The real issues started when I signed up for their cell service, I had to cancel due to lack of cell reception. Because I canceled within the first 2 weeks I didn't have to pay an early termination fee. I did however have to pay an early termination fee to Verizon even after AT&T told me I won't get charged. I was told when I send my husband's cell phone back I would be reimbursed for it once they received it, that never happened. I also have internet through them, they continued to screw up the bill, I would call & they would say they will reimburse me but that wouldn't happen. It went on for years.
Recently I signed up for internet & DirecTV, I was told internet was 30.00, DirecTV was 50.00 for 4 TV's. Because I didn't need 4 TV's she said they deduct 7.00 for every TV so I went with 2 TV's. Bill should 66.00 according to my math but not according to theirs. Again, first month I paid because the 90+ dollars, second month it was less but still more than it should be. I called, she reduced it for the upcoming month. Told me she was also going to give me a 25.00 discount because every time you call in you get passed from one person to the next & then your call is dropped so you have to start all over again. Anyway, as it ended up, the bill was back up to 90+ dollars, but with the 25.00 discount it was 67.00. I didn't realize that was the scam, I didn't look over the bill, I was just happy it was finally the price they originally quoted me. The happiness soon ended, the next month the bill was up to 90+ again.
I hate AT&T- they train their people to be very kind & helpful & to tell the customer what they want to hear just to get them off the phone so they can screw the next customer that is on hold. In the end I called & told them I was severing all ties, cancel my internet & DirecTV. They forwarded me to Doloris in AZ and she was very kind & understanding. Made me feel all warm & fuzzy! She spoke with someone and they said they would waive the cancellation fee from DirecTV. Sure, she just wanted me off the phone. I got an email within 12 hours saying I will be receiving a fee for early cancellation. I can't believe there isn't a lawsuit against them. What a bunch of scam artists!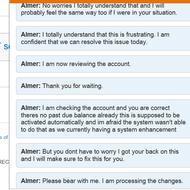 I was promised a credit on my account of $340.20. I paid the bill up to but not including that amount. I did not want my credit affected by lack of payment. I was getting multiple calls about the past due balance of $340.20. I trusted it would get resolved. I contacted AT&T's chat line and then called them. I was assured the account had been zeroed out (Aug 4th). Today (Aug 9th) my service was cut off. I have been on the phone with them for 3 hours and it is still not back on and the credit hasn't been applied yet. This company is incompetent and lacks good customer service. I had the regional manager of the local AT&T store asking for the account to be credited and they wouldn't go it for him. It was amazing to witness. How can they run like this? We are powerless against this inept giant.

You really have to watch every little detail on your bill. I put my DirecTV and cell phone on one bill with internet and house phone to save. Thought I was set for the year. Sure enough went through the yearly nonsense of them raising the bill and shame on me I didn't look at my detail on the July bill. They raised my internet and house phone so much that when they screwed up the DirecTV bill, it was missing from that bill. I didn't notice it. Plus they charged me a $5 late fee when they didn't process that bill through auto pay for DirecTV. This is really unethical behavior. After a lot of yelling I got my bill straightened out. I know AT&T was fined for these types of activities but their actions continue. Not a trustworthy company.

I cancelled the service for my alarm system and AT&T continued to billing me for services that were cancelled. I was for 2 hours holding with the billing department - they never answer my call. I don't know what to do or where to call to get this problem resolve.

I moved to a different city back in December 2013. I set up bundled service with AT&T and DTV. I fell for the deal hook line and sinker, because it was the easiest way to go. From that time it has been nothing but errors and loads of wasted time. It would take me months and too many calls to count to get something corrected. There was always lots of promises and sickeningly deceptive language that would make you think that they cared and that "this time it WILL get corrected". A correction would happen once or twice, but the rest was a bunch of excruciatingly, frustrating games being played at my expense. The internet service was atrocious and was intermittent on a regular basis... strange since we are less than a mile from a hub. Even their technicians told us that their modems are awful and that they have to be replaced often. That was about the only true thing I ever hear from AT&T.
So, skip to the present. I could not take their billing errors, promises and weak service anymore. They raised my monthly service bill by 33%. They kept promising to lower it back to where it should be through an extended 2 year agreement, but they knew they could mess with me or I would leave and they would be able to extort the $120 fee that was based on their way of doing business... I couldn't take it anymore, so I cancelled my service. I thought that I would be done with them at this point, but that would be too easy, right? After everything was calculated they owed me. The problem was that they did not want to unbundle the service. This meant I got a bill from DTV directly that would be less than what AT&T owed me on their side. BUT because it is still bundled they claim I owe money that I do not owe on the DTV side, which is stated on DTV's own bill.
AT&T wants me to pay them money I do not owe and then they will pay me back... wink, wink! That will be the last conversation I ever have with them. I kept the chat transcripts with the two bills to show the fraud and I can only hope that a class action lawsuit comes along. I see so many other people here with the same or similar problems. Do not get me wrong... I hate class action lawsuits, but if they did not exist then big companies would continue to pound on their customers until there was nothing left. Now I have to get another mobile service while AT&T tries to collect money I do not owe them by their own admission... joy! Stick a fork in me, because I am done!

I recently called AT&T to purchase a new cell phone. During the call, the agent stated that since I have been a long time loyal customer, AT&T wanted to give me a free tablet. Since my grandsons's iPad stopped working, I thought why not. So I said I would take it. The next thing I knew I was being charged $10/month to own the tablet and a $45 activation charge. The $10 is due even if I turn off the cell service and use only my WiFi. I contacted AT&T about the charges, 2X. I stated I was never advised that I would be required to pay these fees for what was supposed be a free tablet!
AT&T acknowledged my issue and removed the $45 activation fee and the first month $10 charge. I said that was great, however, I said I should not have to pay the $10 fee any further because this was not described to me at the time I agreed to accept the free tablet. I was told I could return the tablet or continue to pay the $10 fee. I said I could not return the tablet, because my 6 yr. old grandson would not understand why Poppop was taking away the tablet I just gave him. AT&T then said that I would have to continue to pay the fee for 24 months.
I tried unsuccessfully to convince AT&T that they are making me pay fees I was not aware of for a free tablet that they offered me that I did not ask for. I was further told that the Terms and Conditions I accepted via email, included the charges. I said that they created a situation where I accepted terms that are not traditionally part of the acquisition of a tablet. I fully intended to use the tablet on WiFi so I never thought other charges would be incurred. Beware my friends, that this is a deceptive practice and is designed to sucker customers into accepting charges that were never discussed as part of a free gift. So beware of companies offering free gifts!!! Lesson learned. I hope to leave AT&T as soon as my current is up.

I have been an AT&T customer for a few years now. I just opened up a new business and decided to use their phone service. They over charged me for a bill over a month ago. And I had to fight tooth and nail to receive my refund which I still haven't received. I woke up this morning to my wireless phone being disconnected due to non payment. I knew they were wrong because those payments were debited out of my account. So I paid $500 to restore services that should have not been disconnected to begin with.
On top of that they put me on hold for 2 hrs only to continue to give me the run around. Seeing all of these poor reviews shows that this company really needs to get their act together. Their service is poor, their staffing is poor, and their customer service is horrible also. I think a huge company like AT&T should not put their customers through this. I believe AT&T should be shut down. Once I get this situation cleared up I am no longer doing business with them period. You should do the same!!!

I was with AT&T for 2 years under contract. I paid my bill on time every month. In May like a month or two before my contract was over my phone began to give me problems. I was satisfied with them so I called to see how much a replacement would cost and if I could afford it. I was told that they were very customer centric and I was sure they could help me out. Seeing as my contract would soon end I thought they would want me to extend. However that was unfortunately not what happened. I was given options which would cost me more than my current monthly plan which was already about $100 with only one phone. So I asked when my contract ended and decided to start looking for other companies.
I found one and decided I would keep my number so I waited and canceled on July 2 which I believed to be the day of my contract ending with them. After I even called since I received my last bill to ask if that would be all I would have to pay. I was told that was correct and that there would be no other charges. I then received a month later a bill for $112 in cancellation fees. I was more than surprised and called to see why I was being charged that. When I did call I was told that I was lucky because they didn't charge me something about 22 days of usage and that yes that charge was because the contract ended on July 3. So apparently I was being charged for canceling a day early. Now other than that being ridiculous because I mean seriously it's a day only, I'm upset because I called before making the last payment to confirm there would be no other charges and I was told that no that would be all I had to pay.
I am very disappointed on the lack of importance a customer has to them as they did nothing to keep me as a customer and even then they charge me more for leaving. Either way all they wanted was more money. I feel lied to since I made sure to cover my bases and confirm that no other charges would be made. I can only hope this is the last bill and they won't charge me even more for the so called 22 days the customer rep mentioned.

I can't stand this company. We signed up for bundled service in April, and it's been nothing but a headache. We got a call from the DirecTV side this Wednesday telling us that we owed for three months of service and that they were shutting off service on Friday. Come to find out, our services had been unbundled without our knowledge or permission. Add to that, our first bill showed a payment for DirecTV, but AT&T never allocated that money to that account. Now here we are, either three months or five days, depending on how you look at it, and STILL can't access our bill to pay.
In addition to all that, we've been told four different amounts due on three different days through two different emails and two separate phone reps. There is NO way I'm paying some arbitrary amount that is given to me over the phone, since that gives me yet ANOTHER amount, and be charged $5 for the "convenience" to boot. I have the right to see my bill before I pay it, and I AM keeping track of every interaction and attempt to resolve this issue so that when I leave for a company that will actually do what they say they will, AT&T can't hit me with even more fees, due to the fact that the Breach of Contract will be on their end, thus rendering any contractual agreement void by federal standards.

This company has very disturbing practices: Since neither you nor your staff are available on Saturday per your voicemail messages, I will utilize email to relate this saga as it has become one. Most recently, your specialist left four voicemail messages explaining to me that the issue has been resolved per her review of your existing billing information. Once again, I was having a parallel interaction with your representative who professed to know the facts without even talking to me. And since you have expressed your interest in providing a "premium experience" let me relate my experience with AT&T to you.
I have been an AT&T customer for over 3 years. I pay my bill in full and on time as your records will confirm. Three years ago, I was convinced by one of your in-store salespersons to "bundle" my landline, internet, and television services. I have had the same landline phone number for 30 years and it is the only solid reliable connection I have to remain in daily contact with needy elderly relatives for whom I am responsible.
After my services were bundled, it took 4 months to connect my landline. I talked to as many as 10 AT&T representatives who promised to remedy the problem by upcoming dates that came and went to no avail. Someone from your company actually took it upon himself to change my number as if that was the solution. No one knew what the problem was. Ultimately, I went to the previous service provider who told me they controlled the phone number and I had to request to have it released to AT&T. No one in your company knew this? The experience was exhausting.
Over the duration of 3 years we have had a few issues. The most notable was that services were interrupted over a long holiday weekend and AT&T could not come out to remedy the problem until Monday. My husband is 70, on disability, with knee replacements and relies heavily on the television for entertainment as he cannot do much else. Otherwise all was well for 3 years. My bundled services cost approximately $169.00 a month for the duration of the 3 years. When I negotiated that contract, I was told that I could renegotiate a new contract when it expired.
In June 2016, and to my surprise, I received a bill for AT&T services in the amount of $256.00. I was not informed that my contract had expired, that my services could be interrupted if I did not negotiate a new contract, nor agree to the increase which would be the ethical business practice. I used the AT&T chat line and negotiated a package for approximately $169.00 for 3 months. I was told that the difference from the $256.00 which I was advised to pay would be reflected on my July bill. I took you at your word. That would mean that my July bill would have been $87.00. However, my July bill was $213.00. I used the chat line again and was told the bill could not be adjusted. I was referred to a supervisor who phoned me and stated that the bill would be adjusted on my next month's bill (really) and advised me to pay what I agreed upon originally, the $169.00. I have impeccable credit and want to keep it that way.
Further, the supervisor went so far as to tell me that the person on the chat line had documented my agreement to a bundled package for $169.00, but applied a different bundle costing $213.00. Not trusting that my bill would be appropriately adjusted, and wanting to resolve the issue of a 3 month contract for which I was being overcharged, I went to the AT&T Store, in Davis, CA and spoke to a representative. He suggested a bundle including "DirecTV" a product I had and was familiar with prior to my original contract with AT&T. When we began to write up the contract, he ask my social security number to check my credit (really?). I have a solid 3 year payment history with AT&T. Do I need to explain why I don't freely give out my SS#? He stated I would otherwise have to provide a non-refundable deposit to secure services. (Really, you want more money?)
Exhausted, I relented and gave my SS#. However, due to security measures I previously placed on my bank accounts due to an attempted identity theft, the credit inquiry was blocked. While I did not have the information to unblock it with me and am leaving for an out of State trip in August, and did not want to unblock it, I was unable to negotiate a new contract with the sales staff. He then referred me to the "retention team". This was an interesting experience as I was not allowed to talk directly to the retention staff but had to talk through the sales staff and interpret what the service package would look like which was difficult and caused further problems. The internet connection I was given did not accommodate my computer needs causing me further stress and frustration as I lost a very important VPN feed that took several hours to re-establish. Once home I had to call a representative again to increase my internet services.
Currently, as negotiated, I have a one year contract to continue my services at a rate of approximately $169.00 a month. Of course, I have yet to receive an August bill and that could reflect any amount given your history. Please refund my $87.00 and explain to me your definition of "premium". My experience cannot be unique as it went wrong at every turn. You are a consumer nightmare. My calculation are $256.00-$169.00=$87.00 overpaid.

Back in December of last year I got a black tablet with my phone and they gave us a monthly charge on the bill with a number. My dad took that tablet away so I later bought a new Amazon Fire. In June 2016 I went to Japan and I used my Fire. When the bill came by I noticed a big charge from the black tablet number. How was this possible? My fire usage in Japan made the phone bill so high. Anyone got any reason why this is? I am just baffled and confused.

Well this is just a nightmare. I finally got the installation fee(s) corrected. When I first took the service I was told 49.50 was the total install fee and had to pay up front. I did, then I got my 1st billing. YIKES... 3 payments of 33.00 were being billed for install. And the worst part my 49.50 did not show? Kept calling and calling and being told it's not showing so no credit. Finally I talked with a Supervisor... and got the credit. Now I look again at my billing and I am being billed from the 13/14th of the month to the following month. That is the date on my first bill... 4/13/16 to 5/14/16. I find that amazing as I was not installed until 4/22/16!
I have spent the better part of my day on the phone waiting, waiting, then went to the internet... yeah good luck with that. Just the worst. Plus I took a "bundled deal" $99 per month. Not even close... I'm at 134 per month for basic, no movies, no sports, and nothing special. I am not to the point of returning the recent bill with notes, and questions, and asking for a revised bill. It's just got to be quicker than sitting on the AT&T phone with that ding dong noise.

I have never been treated as poorly as I have been with customer service here. I have been hung up on, lied to and put back into the automated cycle multiple times while trying to fix an issue I had with my bill. The issue was in regards to being quoted $132 and getting a bill of $190. The first call seemed to fix the issue until I realized that my TV services had been downgraded in order to fix the bill... This was never told to me. Now 3 hours in on day 2 and I have been hung up on at least 5 times.

I have been with AT&T for over 2 years. I was super excited that my contract was up and I was about to get out of it then my company decided to get a discount through theirs by extending out to try and promote their business. I decided to stay with them and then decided to take on a two additional tablets to just my single line. I automatically have rollover with 3 gigabytes when they activated my new phone with my iPads. I was charged for the iPad activation which I wasn't supposed to be after 3 weeks and being on the phone with these people we shall see saying that they would go ahead and take off the $90 activation fee when I ask to be compensated for what I had to go through for this.
They basically laughed at me so then I asked to cancel and they've told me about the penalties - at this point I told him that discriminated against me. They did misconduct by having to the representatives act as if they were supervisors to try to get me off the phone and they were definitely not supervisors and they were still wrong about my bill. I am waiting to hear about their correspondence who is possibly more powerful than their supervisor about waiving my $900 cancellation fee - yes $900. I will never ever come in this company to anyone not even my worst enemy and I can't imagine how this company has not gone Thunder. I will find a way to Sue this company.