Consumers have lots of good choices
09/16/2016
|
ConsumerAffairs

By Mark Huffman
Mark Huffman has been a consumer news reporter for ConsumerAffairs ... Read Full Bio→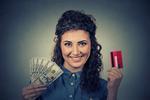 Consumers are learning that it pays to be choosy about which credit card they use. Many now offer some type of reward or incentive, so instead of using a card that pays nothing, it's clear consumers should choose a card that offers some type of reward.
But what kind of reward? While there are many choices, a survey by Ally Bank shows most consumers prefer cold, hard cash.
Fifty-eight percent of the consumers in the survey chose cash back instead of miles, store promotions...
More
Sort By