Consumer complaints about Panasonic Cameras
Consumer Reviews and Complaints

I was pleased with the IQ of my new ZS50 but after about two weeks there developed about a dozen very visible dust spots on the sensor or rear of the lens. The store I bought it from would not take it back and said it had to go to Panasonic for warranty service. So, I sent it to Panasonic and after 6 weeks they finally contacted me to tell me it was "customer abuse," which was not. About two weeks later they called and told me it was not repairable so they would send me a new ZS50. What I got was a refurbished ZS50 that had worse dust spots right out of the box than the one I had sent in the first time.
I called Panasonic service and they basically told me the camera had been thoroughly tested but they would repair it for $60 since, as a refurbished unit, it was no longer under warranty! My argument was that the camera I had originally purchased had a 1 year warranty so the replacement they sent me therefore also had the remainder of the original one year warranty. Panasonic stuck to their guns - no fix under warranty and a $60 charge to clean a problem they sent me. I threw the camera in the garbage. I will never again purchase a fixed lens Panasonic Lumix camera due to their unsatisfactory camera design and totally unacceptable customer service. Boo.

At $699, the Panasonic G7 is a bargain compared to the much more expensive GH4. The G7 even has a few enhancements not found on the GH4. It is easy to use for newbies and easy access to full manual controls for more experienced users. Put it in Auto and go or switch to an assisted mode... or full manual if you like to have fun. It's 16MP and 4K with an articulated touchscreen in a comfortable body. It is durable and semi-weatherproof but still in a plastic shell. The G7 is on par with my much more expensive Nikon D610 while costing 1/3rd the price. It blows the D610 out of the water when it comes to video. Due to the smaller sensor, it is more prone to noise at higher ISO and it is harder to get super shallow depth of field.
The G7 strikes a good balance between being full featured while still being small enough to actually be able to carry it everywhere. I took it with me on my honeymoon and it performed remarkably. Easy to take pictures when in a hurry and the OIS helped me get clear pictures. The screen can be moved around in a number of ways which was helpful to take selfies with my wife and take a 'selfie video'.

I did my research to decide which brand to go for as I have always been a Canon customer. But I was not comfortable with the Canon compact cameras, so went with the Panasonic Lumix Z545. It's my go-to camera when I don't have my regular one. It's compact, has lots of functions, solid feeling and good optics. But it can be annoying at times trying to get the correct setting, especially with "fat fingers". Of course, I knew what I was getting into with a small portable camera (I am not a point and shoot person). It has too many functions packed into one area, and the details and instruction sheet are not clear. It is pretty great for what it is, but I prefer my big Canon SLR with all the lenses for specialty shots.

Panasonic Factory Service on Lumix LX100. My experience is similar in many respects to JM or Marblehead, MA posted Dec 10. Panasonic's Factory Service in McAllen, TX had repaired the dust on sensor problem when the camera was still under warranty. Roughly one year later - now out of warranty - I was willing to pay them to fix the same issue which had recurred. I didn't realize it was from dust sneaking thru the zoom lens mechanism. Yes, I, too, use the camera nearly daily though not in professional capacity and not even rough or dirty treatment.
My first communication from them stated it couldn't be repaired and used the term "customer abuse." How stupid can they be!?!? Even if it were customer abuse, any company as large as Panasonic surely should be enlightened enough to realize customer loyalty is a crucial asset. A large company once here in Rochester would sooner replace the product and take a loss, but preserve customer loyalty, rather than alienate customers by telling them they're wrong - "customer abuse," indeed - Panasonic is abusing US.
From there it just gets worse. I was offered a replacement camera for $360. I said I needed to think about that. 2 days later I called back and asked if the replacement camera included new warranty; and if I would get my dead camera back. Was told, it's now a new month, and their prices get updated, and now the cost of replacement camera was $650 - nearly the cost of the same camera new on Amazon. I told them here in New York we call that "bait and switch" and it's against the law. They promised to send my dead camera back, but weeks went by and no return.
Finally, I involved the NY State Attorney General's Office and also contacted B&H where I had bought the camera. Both were supportive, and I'm unsure which - if not both - were finally responsible for the eventual return - months later - or the reassembled camera - functions better than I was led to believe (cannot be repaired?? ), but still with the dust on sensor which they could fix once, but not a second time.
In reassembly, they clearly did no recalibration or whatever happens to get back in spec. I liked the camera. Now it's on a par with my cell phone's camera. Previous Lumix cameras had all been fine. I liked the new features on the LX100. Now, I'm shopping for anything but Panasonic with similar features and price point. How to alienate good a customer in one easy lesson. I now won't buy Panasonic anything - no audio, no household appliances. We're done.

My take home message on this product and seller is buyer beware. I bought it late October 2016 from Cameta Camera through Amazon. I wanted to test it as small lightweight camera for field use. The first day I used it, shutter jammed. I tried to return it but seller (Cameta Camera) refused; first claiming I broke the camera and then noting a 30-day refund policy had expired by two days. I tried to return this item through Amazon and was encouraged by friendly representatives to file claims/appeals but over 6 weeks, each time I ended up with same Cameta message about the 30-day policy. Cameta told me to send camera to Panasonic for repair, then I can sell it on eBay, but I resent having to become a retailer to get any money back on defective product.
Ironically I bought this product through Amazon as I was uncertain which camera was best for my field use and thought I could test a product and return it if unsatisfactory, based on previous good experiences with Amazon. But I doubt I will buy any third party item through Amazon again. Since Amazon is trying to corner so many markets with multiple sellers, it no longer is trustworthy as it seems to have no influence/control over its sellers nor willingness to stand behind the purchase for customer satisfaction. I am posting this review on Consumer Affairs because Amazon won't post it. I have posted many reviews as a buyer of Amazon products but Amazon refused to post this one. Perhaps that's why most Amazon products seem to have such positive reviews. At this point I am going to repair camera with Panasonic and sell it for about 1/3 purchase price through reputable camera resales outlet.
How do I know I can trust these reviews about Panasonic?
883,201 reviews on ConsumerAffairs are verified.
We require contact information to ensure our reviewers are real.
We use intelligent software that helps us maintain the integrity of reviews.
Our moderators read all reviews to verify quality and helpfulness.
For more information about reviews on ConsumerAffairs.com please visit our FAQ.

I love the camera because it does a great job and takes good pictures. I would not trade it for another one.

The Lumix 60x zoom DMC F270 is a low cost, excellent camera, one I use for "birding" and everyday use. Excellent memory and video capabilities. But not as sharp of focus, especially using the zoom lens, as I would like.

Dial selections kept changing by themselves. Used 1 trip and shutter froze 1/2 open. Within warranty Panasonic said (I) abused; did NOT, I have 2 VERY expensive cameras 1969 (large format Reflex Duplex) & 1972 (Sears 35mm) perfect condition.

I bought a Panasonic LUMIX DMC-ZS50S to use on my month long vacation in Africa. I only used the camera a couple of times at my house just to familiarize with its workings. Within a week after arriving in Africa the camera stopped working. I was forced to buy a cheap pocket camera to use the rest of the trip. Upon my returning home I sent the camera back to Panasonic for repair. After not hearing anything more from them, I called them. I was told the camera had a small mark on the case that showed abuse. The repair would cost me almost $300 to fix. Now, not only am I out the $320.00 dollars that I paid for the camera, I came back from a $5000.00 dollar vacation with nothing but crappy pictures. Needless to say I will never buy any Panasonic product again.

This is the Second LUMIX DMC LX100 that I've owned, first repaired due to battery issues. So I bought extended THREE YEAR WARRANTY going forward. Problem is the zoom-- on its retraction pulls in dust, which lands on the sensors causing spots. (Dozens of references on youtube etc.) Cannot remove lens like an SLR so has to go into repair. Called Panasonic and sent into repair in Texas, after charging me 10$ for the phone support--in spite of the three-year warranty--I sent in camera. Told it would take two-three months to evaluate. I complained on the corporate site and a gentleman by name of Warren called me from corporate NJ customer service and said he would look into this. He was able to get them to evaluate camera in a month.
Today I received an email from Texas Repair that claimed the camera will not be warrantied and cost $300 to fix due to wear on outside of body. WHAT THIS HAS TO DO WITH THE DUST ON CHIP IS IRRELEVANT!!! The camera has been used daily on location around the world. I am a professional photographer... Scratches and marks on the camera... This is an embarrassment to what used to be a reputable company. I called and the 'consumer line' refuses to put me through to corporate customer service. On the corporate website are over 50 executives including the US Regional Head and CEO Mr. Joseph Taylor. What is it exactly that these people do??? I am expecting the camera back and this could very well be the LAST PANASONIC PRODUCT that we use.
THE RESPONSE "We have reviewed your post, and apologize that you have not received a resolution on repairs to your camera. Thank you for giving us the opportunity to research your situation on your behalf. Can you PM us if you have additional questions and concerns." I was called by Warren from customer service and offered a compromise of splitting the cost. I would be out $150.00 plus $40 for insurance and shipping. $200 repair for a $600 camera. No way. And $9.50 to the person that answers the phone to even check on the status.
I declined and asked for a department supervisor. A Mr. ** came on the line. RUDE and COMBATIVE. They are contending that there's grass on the camera and a dent in the corner and that it looks like I abuse my equipment. Thus the warranty is invalid. I don't think so. I earn my living from photography and have nikon's 35 years old that work like a charm. IT'S A DESIGN PROBLEM COUPLED WITH POOR POOR CUSTOMER SERVICE. See the other review with similar Panasonic Response.

The customer service at Panasonic is abysmal and that is being generous. My camera was declined warranty service, because a small scuff on it. They said my camera was "Abused" therefore it wasn't covered. It's sad because they do actually make very good cameras. My family and friends own many Panasonic cameras, but I plan on that changing. One of the agents, literally hung up on me because they didn't want to transfer me to a supervisor.
Although after an message through Facebook I did get a call returned. The agent was friendly although the only thing offered to me was $100 off my camera repair or a new camera, which would cost around $500, so really it's not offering much. It's really too bad that a company that makes something I honestly liked and fully supported, have such horrible customer service. Hopefully in the future this will change, but for now I advise going with a brand that offers customer service that they can be proud of.

35 minutes to get through to a live person and make arrangements for a repair. I despise automated phone systems and this particular one will keep you in a loop that gets you nowhere: 1 800 211 7262. It will give you a place to mail your camera based on your zip code, but no further information on what to expect as far as what is needed to prove purchase date, repair time, tracking, charges and other decisions in general.
I needed to know what the procedure is to return a camera under warranty. I read another review on this site and the person who wrote it listed three numbers to try. A huge thank you to that reviewer. I finally got through to a person at 800-405-0652. If I need to call back she said to call the 1 800 211 7262 number, hit the prompt for, "tech support" and then hit, "camera" and you should get a live person. If you hit the prompt for, "repairs", expect to NEVER get a live voice.
I am so utterly disgusted with businesses that want to sell you their products, take your money and then never have to communicate with the consumer again. I have bought 5 (2 for gifts and 3 for myself) of these Lumix's because I do lots of nature macro photography at which they excel and love the portability of these units. I have also recommended this series to numerous other nature lovers. I won't be doing that again and will research how well Canon takes care of their customers before I buy another Panasonic camera. It is simply not OK to think you can run me around in circles and waste my very precious time!

I bought a Panasonic Lumix DMC-LX5 in 2011. It was a replacement for my Sony digital camera which was broken after I dropped it in the water. The LX5 was recommended by a friend who also owns one. It takes really good pictures. My favorite is the "sunset" mode of the camera because I love sunsets! I am a newbie when it comes to photography so I rely heavily on the preset modes of the LX5. I understand it has manual options too but I haven't explored those features yet.
It's been 5 years since I got the camera and it is still working perfectly. I don't use it as much but every time I do, it works just fine. I also love that it has a lens cap and it's attached to the body of the camera (with a small string). I didn't have to worry about losing the cap unless the string breaks. The rubber hand grip has started to fall off. I used a sticker to cover it up. Overall, it still looks okay works perfectly fine. Battery life is great too! A full charge lasts up to 2 days. Some of my blogger friends have it and it makes as a good substitute for their bulky DSLR cameras.

Purchased camera and studied its operating manual for several weeks without succeeding at normal operation. Called store where purchased and was refused warranty after two months. Camera stored in closed and retrieved after a few weeks and found the LCD window cracked. No explanation why LCD screen cracked laying on the closet shelf. Wish Panasonic luck selling this camera to the average person.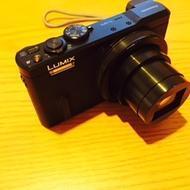 I purchased a Lumix ZS35 in July 2014 at Costco. In March 2015 the lens failed in the out position. I sent it to the Panasonic repair facility. They could not fix it and sent me a repaired ZS40 in April 2005. In December 2015, the ZS-40 failed the same way, lens stuck out. The repair people told me that the warranty had run out and the average repair cost was $193 after paying a $45 diagnostic fee that would be applied to the repair cost. I asked them to ship the camera back without the diagnostic as I felt I would be throwing good money after bad.
I wrote to the Panasonic Customer Service Center and asked for a refund of my purchase price because of having two failed repairs in a row. I only got 16 months use out of two cameras. They declined to do so, saying that the warranty had expired. This appears to be a defective design camera when I see all the complaints for lens stuck out problems. I do not plan to ever buy a Panasonic product again. I hope that potential buyers get to see these comments BEFORE they consider buying a Panasonic camera.

I'm a seasoned amateur who has long since given up lugging a bag of expensive interchangeable lenses, flashes, filters, etc. I've been looking for a bridge camera, to replace my twelve year old Fuji, for about a year now. The Panasonic FZ1000 bridge camera was at the top of my list. I say was because even though it has an awful lot going for it, I believe it was released prematurely with several major flaws. After combing through the specifications, reading the online owners manuals, professional reviews, and screening hundreds of owner/user reviews - I find the same serious flaws cropping up repeatedly.
At the top of that list is the audio pick up of zoom motor noise. Several of the professional reviewers have cited this. In a $900.00 camera, especially from a company whose line of camcorders clearly demonstrates expertise in dealing with this issue, zoom motor noise reaching the microphones is inexcusable. The second most annoying feature of the FZ1000 is the multiplicity of zoom related problems. Zoom speeds are nebulous or nonexistent, the zoom jerkiness or pulsing (most prevalent when the zoom is adjusted with the ring) is cited as very irritating, and the zoom induced defocus/refocus cycling until the zoom bucks and jolts to a stop becomes painful to the photographer's eyes. Obviously these problems are beyond a firmware update. Which suggests some serious thought needs to be given to re-engineering this cameras entire mechanical architecture.
Another irritating drawback is that the FZ1000's firmware will not allow the process filters [creative effects] to be applied to an already captured image and the result saved as a new file as the less expensive FZ200 and the far less expensive FZ70 both will do. One of the things I like most about the FZ1000 is that it includes long awaited 4K video. One of the things I like least about this camera is that by the time you've done the menu-chasing required to set this camera up to film in 4K video - your subject is in the next county. I find nothing in the manuals that suggest a way of making 4K the default video format, or assigning it to a function button, so that 4K is ready when you want it. And, how much longer will we have to put up with image quality at near max zoom that is far less impressive than images made with my old Fuji S5100 (4 mp on a 1 / 2.7 image sensor) at max zoom?
As I said at the top, I don't buy a new camera every year. Neither do I plan to spend $1,600 or better on a new camera rig (camera plus data cards, spare battery, off camera flash, camera bag, CPF, remote release, etc.) until I've satisfied myself that the core component (the camera) will do everything I want. Combined, the shortcomings noted above are definite deal breakers. So, despite all the glitter & clatter surrounding the FZ1000, I will not be buying one.
Frankly, and contrary to all the design advice your marketing department will provide, I am NOT the least little bit interested in having WiFi, or a cell phone compatibility built into my camera. I use a camera to take pictures. That's what cameras (I assume that's what you're still designing here) are supposed to be designed to do. Improve the quality, flexibility, features, and functions of the camera as a quality image capturing device. That's it - period.
To capitalize on an already killer combination of bridge camera features in the FZ1000, here are a few things Panasonic's digital camera designers might want to consider. Similar to the FZ200 to FZ300 upgrade, keep the FZ1000 sensor, engine, and firmware platform and blend in the following:
1) A new weather resistant enclosure, to minimally provide the same level of protection as the soon to be released FZ300.
2) Quiet (sound insulate) the zoom motors, redesign and relocate the stereo microphones, or both.
3) Make the zoom control's speeds distinct and make the zoom action respond to the ring more like a mechanical zoom to eliminate the pulsing and minimize the zoom induced defocus/refocus cycling.
4) Make the video recording formats directly selectable by adding them to the Drive Mode dial (top deck left side).
5) Remove the British 29 minute 59 second video recording limit for cameras to be sold in the US. [The Panasonic GH series sold in the US will run until the data card is full or the battery dies.].
6) Restore the ability to apply crop, resize, and creative effects to existing exposures and save them as new files like your FZ200 and FZ70 already do.
7) Ditch the WiFi/cell phone gimmickry and use software capacity to provide a way to splice two video segments back together and improve RAW quality.
8) Center the tripod threads on the lens barrel and redesign the battery/data card door so either can be replaced without having to take the whole rig apart and put it back together again.
9) Regarding the poor image quality from those fancy named (Leica Vario-Elmarit) lenses, if the lenses truly are top quality then the packaging should guarantee the camera remains undamaged in transit. If the problem isn't the feeble packaging then it must be either the lens quality or the poor chassis and/or lens mount design. Take your pick or be smart and fix them all. Last but not least, if Panasonic absolutely must cut costs by omitting the hard copy of the full advanced manual from every $900 camera it sells, at least make it available as an optional item.
No one wants to have to carry an iPad or laptop into the field or on vacation in order to access pertinent information regarding how access a seldom used feature. Get most of that cleaned up and you've got a killer bridge camera no competitor will challenge any time soon. Well, at least you'll have a camera I'd be willing to pay good money for - provided I don't have to wait another 12 years.
So, what to look at next? Panasonic's new FZ300 (the redesigned FZ200), of course! And when I compare the specifications of those two cameras and notice the features/functions added and then the things minimized or completely removed to create the new $600 FZ300, the corners of my mouth sharply curl down. I was even willing to accept the 12mp format on a tiny 1 / 2.3 image sensor in exchange for the constant f2.8 throughout the zoom range.
Disappointingly, in exchange for having added 4K video and a bit of weather protection, the flash range has been cut by 33%, the ability to modify and save previously captured photos has been eliminated, and the image sizes available for each of the four aspect ratios have been cut from 5 choices to 3 (40% of those choices gone). And to think that, at the start of my research, you had so much going for you. Sadly, I've decided to look somewhere outside Panasonic's lineup for my next camera.

The Good: Through contact with my credit card company, I learned that my Panasonic Lumix FZ 200 camera was shipped today, 15 days after it was received at the McAllen, Texas repair center. That's a little outside of their promised seven to 10 day turn-around time, but still acceptable. The Bad: Their communication with me, the customer, was nonexistent. Even though I included my phone number and email address in the box with the camera, I was not notified when the camera was received.
Luckily I phoned them (no easy task) the day after the camera arrived. If I had not called, I believe the camera would still be sitting there waiting to be processed. Three phone numbers that worked were 956-618-0925 (once out of numerous tries), 800-405-0652, and 866-907-9111. To Panasonic's credit, the individuals I finally spoke with were polite and efficient.
Advice to other frustrated customers: Call Panasonic the day after your package is scheduled to arrive. Nothing happens until they get a credit card number. You will have to be both persistent and lucky to talk to a real person. Call again after 7 to 10 days to determine a projected completion date. Call your credit card company. Panasonic did not phone or email me to let me know that the repair was completed. Panasonic will charge your card after the package has been mailed. Talking with a real person at your credit card company is much easier than contacting Panasonic. Since Panasonic does not contact the customer directly, there will be no shipment tracking number. Bottom line: Love the product. Hate their customer service. The jury is still out regarding the quality of the repair.

This camera is way too complicated for its own good. Trying to get the photos off the camera via the recommended apps is an absolute utter nightmare. There are seemingly a thousand permutations to get your photos onto your PC, iPad or iPhone. If you have a spare 6 months to work out all the options and then remember to get them into the correct sequence buy this camera. If you have a life don't bother. I thought I'd downloaded all my family Venetian holiday photos that I had taken over 3 days. They appeared - eventually after 3 hours of messing around with all the permutations ONLY to disappear after they had been deleted from my camera... Marvelous. Panasonic… just give us a lead to download the photos and ditch the wifi rubbish until you can make it work. I've never been so frustrated with a camera. Now I have to buy another one that works - of a different make whilst abroad.

Panasonic Lumix ZS40 purchased Nov 2014 - The other complaints I've read are indeed accurate, at least for me. The experiences others have had is similar to mine. I sent it in January for a complaint about a flaw on the lens. I overnighted it and then all of a sudden I actually get it back but no note or anything. This was back when I had an email contact which no longer exists apparently. But I noticed the flaw SEEMED to still be there a month later. This white dot only shows up on videos and mostly when the sun hits the lens a certain way. So I gather all of the stuff up again and send it off to TX. This time, they didn't bother to call me until Monday (they rec'd it Thur) to tell me they got the camera.... no case number. Two weeks later I call to see what's up and after tracking down a technician, he says the warranty is voided as there are two nicks on the camera body (for all I know those could have been there the first time I sent it in).
What does that have to do with the lens anyway; especially if this is a re-do? Can you see the flaw in the lens I ask? The tech can't tell me anything other than send me two pics of the nicked camera body which negated the warranty therefore over $200 to fix. Fix what I say. The lens he says. So I say, "you can see the flaw then". No he says but that's what we have to do to fix it. I had a longer discussion regarding his logic and said to send it back. I had to call twice to get them to finally ship it back. My 15 year loyalty to Panasonic is now over.

I write to you to express my disappointment as a client because I feel betrayed by Panasonic. In November 2013, I bought a digital camera, Lumix ZS 30, intended for my vacation in Patagonia during the months of January and February. The camera came defective, leaving black spots in all my pictures and also ruining the record of beautiful and unforgettable moments. When I returned to the US, I consulted the warranty and sent the item to Texas, explaining the problem and hoping it would be fixed. They promised a replacement unit. It was not so, as I received back the same camera. I tried it and it apparently worked well, so I had nothing to complain and remain, let us say, "satisfied".
I spent a few months in January and February 2015 abroad again, and the same thing happened after a few days: dark spots in the pictures. Two ruined vacations, and this time I became upset and knew I had not bought a good camera. But worst of all was to come. When I contacted technical support a second time, the "technician" who spoke with me explained that the period of 1 year warranty had expired, and that I "had not been responsible enough to communicate with Panasonic" after the serviced camera was returned to me months earlier, and while Panasonic had been "generous" to repair my camera during the first year, the problems of the camera were no longer Panasonic's problems.
I want you to know that you not only lost a client, but if Panasonic generally treats its customers so rudely, this will have larger implications for your company in the long term. To offer a warranty is not a favor, it is a commitment. This commitment was not fulfilled, and I am left feeling betrayed.

The software for my camera stopped working so I tried to re-install but it would not load. I contacted Panasonic but was told my Windows 7 was not compatible and they could not fix the problem. My operating system has not changed and it was compatible back in 2011. There was no support for this portion of the software they supplied even though it is Panasonic-based software.

When I bought my Panasonic digital camera model no. hc-v10, I looked in the box and saw there wasn't a user's manual so I asked where was the manual and was informed there wasn't any. My wife and I went on a cruise, my wife started taking movies and in about 1.5 minutes the camera stopped and we couldn't get it working. So we put the camera away. We got home and took it to best buy and they said it was broken. We put it away for two years. I thought well I can't break it it's already broke. I went on the internet about complaints and found there was another button on the camera which hard to find. I charged the battery, put on, and pushed the button and it started working. If I had known it had that button was on there I wouldn't have bought another camera and wouldn't been put through all that grief. And it's because of not having a user's manual.

Panasonic = Worst customer service ever? Maybe. Just spectacularly bad customer service. You would not BELIEVE what scumbags this company is! I called three weeks ago to find out what it would cost to get the sensor of my Lumix DMC-LX5 cleaned.
And the camera is only two years old! It started with one splotch and then, BAM! All of a sudden, one day I turned it on and it looked like that. I've owned cameras twice as long and never had a problem like that. So I called their support line at 800-211-7262 and suffered through the stupid automated help system until I finally talked to a live human who told me it would cost $50 to get the sensor cleaned. He gives me this address in McAllen, Texas where they do the work and tells me to mail it there. But he won't give me a reference or case number, instead telling me to just put a letter in the box with the camera. I thought that was weird but just in case I paid extra for tracking and insurance. So I mailed it that day to Texas.
Yesterday I got a Service Authorization Form letter from Panasonic stating it's now $156.50 (!) with absolutely NO EXPLANATION as to why the additional costs are required. So today I called Panasonic customer support at the same number (and suffer through the automated help system-- God, WHY do companies use these stupid things?) and they basically tell me to ** off. Then I get "Larry"-- if that's his real name, who knows-- who interrupts constantly and isn't much help and tells me, basically, "tough, that's the price." And since I don't have a CASE NUMBER (See how they scam you now?), they can't prove I was quoted that price.
So I ask to speak to a supervisor and he puts me on hold for half an hour. That's "Andrew"--if that's his real name-- gets on and is unfriendly from the start. Here's a tip, 'Andy,' when somebody greets you with, "Hi, how are you doing?" you don't respond with SILENCE. It's rude. Didn't the ** you call a mother teach you that? Anyway, I tell him what my problem is with the quote and the unexplained up charge in the estimate and he responds, "So what I'm hearing is you are saying you don't want us to repair it and to box it up and ship it back to you." "Uh, no, that's not what I said AT ALL." And it pretty much went downhill from there.
He didn't make one single attempt to resolve the issue in ANY WAY shape or form. Basically, "Andrew" isn't really somebody who's hired to RESOLVE an issue. He's hired to anger you until you either start screaming or use profanity and he's justified in hanging up on you, or he waits you out until you just hang up. Either way, they win. Because what Panasonic is doing can be described in three words: BAIT AND SWITCH. It's literally a used car lot tactic that's be adopted by a multinational electronics company. Their phone line gives you one price and then, when you mail it in, they quote you another.
Panasonic customer service is the WORST I think I've ever dealt with. It's unbelievable. I'll ask you the same thing I asked "Andrew": Does Panasonic really think that by institutionalizing service THIS BAD that I will EVER buy another Panasonic product again? Because I won't. I am DONE with Panasonic. Never again. That company can DIE. I'll buy another camera but NEVER a Panasonic camera again. Or a DVD. Or ANYTHING.
Wow. Spectacularly bad customer support. In the end he put me on perma-mute (You know, where they don't actually hang up, they just leave the line open until you hang up) for over TWO HOURS AND FIFTEEN MINUTES. That's when I wrote this review and POSTED IT. Die Panasonic. Just die. PS: As of this posting I'm STILL on perma-mute!

Panasonic Lumix DMC-ZR1 - I bought this camera at Costco a few years ago. From the beginning, I was having zoom errors whenever I tried to upload the photos to my computer. Then I started having the zoom error tell me to turn the camera off and on again when taking photos. Now the battery door fell off...it was only connected by a little plastic tab, which broke off the hinge. Worse yet, the camera simply won't operate! The lens won't go in or out without manual help, and gives the zoom error so it can't photograph even when I get it to extend!!! Very frustrating! This camera shouldn't be junk so soon. I paid at least a couple hundred dollars for it. My old Agfa, which was one of the first digital cameras, served me well for ten years, and was still working when I gave it away. I would not buy another Panasonic product.

Some months ago, I posted a request here (Panasonic Philippines service comments) for Panasonic Philippines to contact me about having my near new Lumix FT10 repaired. I became utterly frustrated trying to find some way to contact a service facility here and when finally, after many hours of navigating totally useless website systems, I spoke with someone in Bacolod (I live on Negros) and I still got the runaround with them saying it was not an international warranty matter! I've just tried once again (120816) to access a service center via the Panasonic Philippines website hoping they may have fixed their abysmal website Contacts pages but no luck! It's still complete and utter crap and you're wasting your time trying to get anywhere on it. How is it that the Philippines part of a huge electronics company (Panasonic Japan) can be so incredibly, unbelievably freaking useless?
I've been using various companies' internet service systems for years and never before have I found such an abysmal company website like the one of Panasonic Philippines. Panasonic Japan either doesn't know their Philippines subsidiary is such a miserable failure when it comes to service or perhaps they too just don't care! The simple fact is that one really cannot complain about Panasonic Philippines service because there is none! Trust this, Panasonic, I will never buy Panasonic products again, ever! And I feel I now have an obligation and duty to warn everyone I know and the people they know about your company products and service!

I bought a new camcorder on eBay from an international company based in UK, Germany and France. The advantage was from Panasonic a 3 years full warranty for free. I did receive the camcorder and did register on the Panasonic site as requested. After 15 days, I received a phone call from Panasonic telling me that camcorder was not in their warranty scheme because not bought in UK. Europe must be crap for the Japanese people. Then I am not happy; I cannot get a refund because I did throw away the cartons, etc. and use the camcorder. Now, I have to go to the Citizen Advice Bureau to sue the company which sold me the camcorder and Panasonic for false advertisement. I am not rich enough as a retired priest to have a camcorder of this price without all the promised warranties.
I know eBay is a lot dangerous and that no one cares, because money is their only motivation. I will then ask for compensation from Panasonic for their lies and from the reseller for selling me something Panasonic told me they should not have sold. But Panasonic will never tell their reseller of all the trouble, because they took the money and are too happy. They feel no obligation to the user.

I have two Panasonic Lumix digital cameras, neither one work. I bought the second camera at Staples 2 1/2 months ago to take to Africa for 6 weeks. Upon my return, I uploaded the 1000+ pics to my computer and to my disappointment, 80-90% were blurry or of bad quality. I called Staples and they would not refund my money. I called Panasonic several times, twice they had me reset the camera. Most pics are still blurry. They want me to pay to return it and they will give me a re-manufactured camera. I've only had it 2 1/2 months. I tried to upgrade and they wouldn't let me even do that. I would never buy another Panasonic.
Then the other much more expensive Panasonic, the lens would not retract or move unless you hold it facing down. The pictures had a black 1" halo around them or were entirely black. Panasonic would do nothing at all. I would never buy another Panasonic product as long as I live.

Warranty scam: On December 30, I purchased a Panasonic HD TM-80 video camcorder and used it about 5 times. On April 2, I tried to turn it on; but now, power came through. The battery had been charged the night before. Fry's Electronics stated that it was past their 15-day return policy and informed me I must notify Panasonic. After about 345 minutes of navigating through their different call centers, I was informed I must ship it to their repair plant in McAllen, Texas at my own cost.
The following Monday (April 9), I received a call from the McAllen facility. They informed me the part was defective and was under the one-year warranty, but the labor warranty was expired, because it was only 90 days and they wanted $188 to fix it. The camera was $229 brand-new. Not only that, it severely compromised a video shoot I had scheduled for that weekend.

I purchased a Panasonic TS2 waterproof camera. It fogged immediately when used in water according to directions. It completely failed in eight months. I contacted Panasonic for warranty repair and they voided my warranty. I have repeatedly contacted Panasonic suggesting the product was defective. As of this writing, they have not addressed this claim.

I have bought many Panasonic products after my dad was always so pleased with their products. I bought a Panasonic home theatre system model sc-pt470 in Jan 2010 for $250+. After a few months, it starting cutting out occasionally but could be switched straight back on. Over the months, this got slowly worse and more frequent but was so intermittent, I did not take it back.
Then in the summer of 2011, it started cutting out and would not come on for an hour or more. I contacted Panasonic who said that although the product was out of guarantee, they would look at trying to help me and I should take it to a Panasonic dealer. This was in October 2011. The dealer reported to Panasonic that the problem was very complex, hard to find and could not guarantee to a permanent fix. Panasonic offered me 23, the fix was going to cost me $90+.
I have contacted Panasonic ever week since December to express my disgust at their products serious failure and to ask for more than 23. To this date, they have totally ignored all my e-mails. Poor customer service, appalling disregard for their customers, or poor quality products? All of these! I won't buy Panasonic again and I will try to get some money back via the small claims court from the shop that sold it to me.

ConsumerAffairs Research Team
The ConsumerAffairs Research Team believes everyone deserves to make smart decisions. We aim to provide readers with the most up-to-date information available about today's consumer products and services.
Making everything from industrial business solutions to consumer electronics, Panasonic is a company designed to meet consumer needs worldwide.
Lumix cameras: Lumix cameras are the basic line of Panasonic cameras. Specific models vary from standard digital cameras to more complex DSLR systems.
Instant help: When perusing the Panasonic website, consumers are contacted by Panasonic to help answer questions or make purchase decisions.
Lumix Tough cameras: The Lumix Tough camera is designed for users with active lifestyles. This camera is waterproof, shockproof, freezeproof and dustproof for use in extreme conditions.
4K video and photo function: Some Lumix cameras, like the Panasonic Lumix G7, are capable of 4K resolution. This allows for picture and video with extremely high definition image quality. The camera uses three 4K photo modes: 4K Burst, which captures photos continuously; 4K Burst Start/Stop, which records 4K video and allows the user to pause at any point and save an image; and 4K Pre-Burst, which initiates a video sequence before the 4K Burst photo sequence and gives the user even more images to view.
Image app: The Panasonic Image app allows users to control various functions of the Lumix G7 with their smartphones or tablets. This app also lets users immediately upload their photos and videos to social media directly from their mobile device.
Best for Panasonic cameras are best for users who want either a complex professional-grade camera or a compact rugged camera.
Panasonic Cameras Company Profile
Company Name:

Panasonic

Year Founded:

1918

Address:

2 Riverfront Plaza

City:

Newark

State/Province:

NJ

Postal Code:

07102

Country:

United States

Website:

http://www.panasonic.com/