Consumer Complaints and Reviews

My Canon EOS Rebel SL1 is a compact SLR camera that takes Canon's EF-S Lenses. When matched with the STM series of lenses, you have a near pro quality camera with an entry level price. While the mirrorless systems are a bit smaller and lighter, they cannot compare to the SLRs in responsiveness and picture quality.01?

We have a Canon Rebel Digital SLR. Camera is very well and allows both "point-&-shoot" mode as well as a veritable plethora of manually controlled settings. It's pretty hard to mess up a photograph with this machine and the clarity of the photos is easily equal to or better than almost any film type Single Lens Reflex camera.

My husband gave me a new Canon camera last year for Christmas and he spent a lot on it and I don't like it. It's very hard to use and the pictures don't come out that great for the price of the camera. I'm disappointed in this camera because it is a good brand. My last camera was a Kodak and it was great. But I dropped it and the screen won't work after that.

Good all round camera. Easy to use if you're only taking snaps. It's top of the range. For pro stuff it is entry level Canon EOS 1200d but still you can get excellent photos better than other higher spec cameras.

Easy to use with the exception of night time photography, fireworks, or the moon, stars, etc. You really need photography classes to get good results if you don't know how to take pictures in these instances.
How do I know I can trust these reviews about Canon?
667,311 reviews on ConsumerAffairs are verified.
We require contact information to ensure our reviewers are real.
We use intelligent software that helps us maintain the integrity of reviews.
Our moderators read all reviews to verify quality and helpfulness.
For more information about reviews on ConsumerAffairs.com please visit our FAQ.

I have 41 years of photographic experience, including development processing of my films. Smart phones take better pictures than my Canon Rebel T5. I have used Canon's telephoto, zoom, and prime lenses. The camera is not consistent in focusing and exposure. The shutter may contribute to shake.

I ordered a T6s Digital camera from Canon on June 10 2016, it came with a bad battery. They promised a replacement and till this day they have not. Each time I call them, they keep saying the battery is on backorder, since June. We are now in August.

I am a semi-professional commercial photographer and have always used Canon cameras. In August 2011, I upgraded to a 60D but soon was in an accident that left me unable to use the product for over a year. When I was able to get back to photography, I noticed that the camera wasn't focusing sharply and since the warranty had expired, I had to pay $200 to send it in to have the focus sighted in properly. This "repair" was done in June 2013. This camera has never focused properly and I was having so many of my images rejected that I finally began using my old T2i. I thought it might be camera shake from hand holding, but using a tripod and cable release didn't solve the problem. I thought it might be the lenses, so I calibrated them and still soft images. I paid $1300 for this camera, have hardly used it, and now it is worth a mere $230 if I was to sell it back.
I have spent thousands of dollars on Canon equipment over the years buying expensive L-Series lenses (some costing more than the camera), so I'm sure anyone can imagine my frustration. I kept the camera in hopes that I could figure out the issue and have it rectified rather than having to return it, but no such luck. I finally did some Internet searching and found that I am not the only one having this problem with this model of camera. So, I ate $1500, have no camera to show for it and a whole bunch of expensive lenses that are now useless. I don't have the money to drop on another camera so I guess I'm tough out of luck. How utterly disappointing.

I purchased on eBay a Canon T6S (six month ago) from a company called "Alvarietys". Camera is on warranty. After 1000 shots I got err09 on camera. I have to say I take care very well my camera. I emailed "Alvarietys" to ask a receipt of my purchase to send to Canon BUT someone in the company insisted on sending directly to them instead of Canon. I sent to them. Today I got a call from "Alvarietys" they sent my camera for repair and Canon is asking $190 for repair because of corrosion.

Love the Rebel SL1. I purchased this camera for an upcoming vacation. I love the touchscreen display. Unfortunately the camera did not come with a travel bag or an SD card (even if it were a small card to get you started at least). The software included with the camera is kind of overload, and to be honest, I just use the iPhoto app on my Mac to take care of the photo editing needs. A great camera for the beginning photographer. Photos are wonderful.

I'm an active volunteer in our church's media team, and one of the things I do is take photos or short video clips during events. Our team happens to have the Canon 6D. Frankly, although I enjoy taking photos and videos, I know not much about the technicalities of those yet and so I haven't gotten much understanding about the awesome features of really expensive cameras like the Canon 6D. However, in my experience of using it so far, I would say that it has been rather easy to operate. It takes beautiful photos too, especially with a prime lens. I noticed that compared to photos I take with my entry level Nikon, the general color of Canon photos is more on the "rosy" side. It's more pinkish. At least that's how I see it. I'm sure professional photographers love their Canon because they undeniably take beautiful photos, but I still prefer my Nikon's output. :-)

Canon really do have good quality cameras. The price is really worth it. It takes amazing photos and videos. The quality of the picture is really good. It's very clear and the colors are great. I love using my Canon Camera. I always bring it with me wherever I go... office, mall, beach, park and even inside the bathroom! haha! But it's a bit big... maybe they could make something about the size and the weight. It's kind of heavy. Nevertheless, it is really a great product! Love it!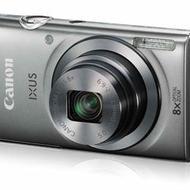 I got a Canon IXUS 160 as a gift and it's great. The pictures I take are crisp and clear and the audio/video recording is pretty good. The only problem is that for some reason, the auto-focus goes out of focus after a few seconds. Not sure why this is happening, if this is a malfunction in my unit or I just don't know how to use it right. This makes the camera really hard to use, and I have to turn it off and on again just to regain the focus. Has anyone else experienced something like this? I've never been a fan of Canon (always been a Nikon fan) but this digicam was supposed to change my mind, and it hasn't. I'm really hoping to have this fixed so I can give it another go.

This Canon VIXIA HF R600 video camera has no viewfinder - only a video screen. When lighting is at your back, you can't see what is on the screen. The video it takes is fantastic, but may not be what you had your sights(less) set on.

Have been a loyal Canon customer for 10 years. My first camera years ago was a Canon 40D and it lasted a long time. Around this time last year, I purchased a Canon T5i from Amazon. Within the first month, the shutter broke. Okay. Sent camera back to Amazon and they sent a replacement. Within three months the replacement had many issues. (BTW, Amazon will only give you one replacement. After that, you're screwed) So I took it to my "camera guy" with 40 years experience and he looked at it, shook his head and said, "Contact Canon, it has to have some kind of warranty". I did contact canon and they sent a replacement T6i. I was very pleased!
8 months later, I could no longer shoot in manual and when I shot in AV or P or even Auto. When I first turn the camera on, the first couple hundred shots, I would have to wait for it to record the images. Yes, I would have to sit and wait 10 mins. for images to record. I tried different lens, media cards (just in case) kept doing it over and over and I missed shooting in manual. Then the last thing to go, I was finishing up a shoot and every frame had what looked like a black ribbon over the whole image.
I contacted Canon since replacement was still under warranty and they sent a refurbished T6i. Much to my disappointment, the replacement had the same issue with recording the images and it wouldn't allow me to use the flash on camera. Would stop to a dead crawl and is impossible to shoot with. I contacted Canon again. I said "Please I'll try a refurbished... Whatever you have available just not a Rebel Ti series. (BTW, I also had purchased a while back a T3i which did last about 16 months before I had to take to my "camera guy" to have some parts replaced.)
At any rate, Canon said they can't do anything for me now. They offered a refurbished 70d at a discounted price but when I add up the $ I spent on the Rebel Ti and then what they want to charge me for refurbished 70D. It would be the same $ as a new 70D only. I'm getting a refurbished 70D and I have to deal with Canon. Just want the camera to work! They should work for at least a year. It's a shame. I will say that I have owned Fuji cameras and a Panasonic camera and they have been outstanding. Especially the Fuji, they have outperformed all of the Canons! As it stands now, I'm still paying off $ that I spent on my initial purchased Canon and I don't have a camera that I can use. I would say, if you are considering a Canon camera, I would strongly advise a different brand, Fuji or Nikon perhaps.

Purchased a Canon Powershot SH520 HS online. It was delivered Friday, February 26, 2016. I charged the battery overnight and installed it on Saturday morning. I got a 'lens error' message which said the camera would shut down and then to restart. It did this several times. I even removed and reinstalled the battery, again with no change. It's a poor reflection on a company that does not check their products before selling them.

This camera was a good camera for three years. However, for the price paid, it fell well below expectations. A total disaster! After three years the power lens quit working. Plain speaking, the camera doesn't work at all. So, I went back to my Pentax camera. I've had it for over twenty years. It still works and produces excellent 35mm pictures. Canon, you had your chance and blew it on this rip-off camera. I saw a video on YouTube on how to fix this camera. All you need is an axe!!!

I purchased a camera in September with a mail in rebate of $350. I sent the rebate in before October 2015. I went back and forth with them for months waiting for my $350 to be mailed. They keep telling me different stories, why they are busy and have not sent it out yet. It has been 4 months and they have no intention on paying me. I am very stressed over this and it's created so much anxiety. I feel like I am a victim of the Canon mail in rebate scam. I would never deal with this company again and do not trust them. The company is a billion dollar company and I'm just a customer that helped them get rich. I want to sue for the stress and anxiety this has caused me.

I ordered Canon PowerShot SX400 IS Black Refurbished on 12/15 and received email saying "Once your order has been confirmed and ships from our warehouse, you will receive another e-mail with shipment and tracking information". And now it has been a week and they are saying order is out of stock, but still pending. Not sure when they will have it in stock. No one is able to give a proper response. I called customer service about whereabouts of the camera, but all they say is "pending". I am not sure what do they mean by pending and for how long? At least give ETA about order so that I can plan accordingly. I need this camera for my trip and now that I don't know about this order, I suddenly feel like I have been betrayed. One of the worst planning and management I have ever seen.

I paid 200 to get my camera repaired and was told I would hear from them in updates online and the repair would be done in 5-7 business days. I was never contacted in over 3 weeks and I called twice and was told I would get an email. I contacted the CEO (email) and was given a regular repair number to call. I called and was told my camera had water damage and could not be repaired. I do not remember getting my Camera wet, but should that 3 weeks to find out? I asked to speak to a manager and after holding for 5 minutes (I actually timed this) I hung up. Exactly what they wanted.
I emailed the CEO to let him know what transpired and how I felt about being treated this way. No response. Listen, many cameras are as good as a Canon - if customer service isn't a pleasure and doesn't leave you happy, why get a Canon? I have been a loyal Canon user my whole adult life - and when people see my pictures they immediately ask what camera I use. For now on I will not have a Canon. We all know it's the photographer, not the Camera. Let's not be free advertising for a company that cares nothing about us.

I have a Canon 6d and was shooting w/ a 24-105 mm f/4.0 L. My lens was making loud noises and about every 1000 shots I would get an error 01 message, however this was simply rectified by dismounting the lens and putting it back on. I figured I would send it into Canon to have an image sensor cleaning because that is typically the best way to solve an error 01. Huge mistake on my part.
Initially I sent in my product asking Canon to do a rough estimate of the repair costs and then contact me with that price before doing anything. Canon never contacted me, I had to reach out to them. Once I found out the price to just see what was wrong was $400 (just to see what was wrong!) I told them I couldn't afford it and I'd just pay for an image sensor cleaning. I paid for that over the phone but the Canon representative failed to tell me that I would have to pay for both the lens and the body. Because I was unaware of this, my camera and lens were held for an extra week without anyone contacting me.
The best part, once I got the lens back, it didn't work at all! When I first sent it in, the lens was just making a loud noise and about every 1000 shots, I would get an error message that was simply fixed by removing the lens and then putting it back on. Now, the lens does not work at all. I'm sure Canon will ignore this, but I would have thought for an industry leading camera providing, the customer service would have been on par. Extremely disappointed in the fact that I invested pretty much all of my savings in buying this body and lens and Canon could care less.

On April 21, 2015 I ordered a Canon Vixia HF G20 by phone. I specified, and verified with the salesperson - after she got it wrong, that the camera was to be shipped to Tennessee, where I was going to be conducting the first interview of a new documentary. She was confused because my billing address was in San Francisco. When I arrived in Tennessee, I found that Canon had shipped the memory card to Tennessee, and the camera to San Francisco. Because of the timing (I discovered the mistake on a weekend) and the location (off the grid in the Tennessee woods), I was unable to either rent a replacement or have the camera shipped to me in time to do the interview, and as a result have had to fly my subjects from Tennessee and Louisiana to California in order to get their interview here while I'm still in the US (I am based in Berlin).
In addition, I had to submit the second round of Creative Capital funding application - for a $50,000 award - without the work sample I had every reason to expect I would gather in Tennessee. Not counting damage to the Creative Capital application, which is unknowable, Canon's mistake is costing me more than $1000 in airfare and another $500 in other travel and accommodations. The company is not disputing its error, but will not take responsibility for it beyond compensating me with a spare battery. So: one-star for Canon and the $1500 battery on my micro-budget documentary. I can't say I'll never buy the company's products again, but I will go out of my way to avoid it, and will never buy directly from Canon again.

We are a retired couple who purchased a Canon camera, Powershot SX600 HS, late October 2014 just prior to our month long vacation to Hawaii. The camera performed well until we took our Florida vacation from late January to Early April. Halfway through our Florida vacation in March the camera malfunctioned and became of no use to us. Luckily we had our cell phones which provided a reasonable alternative for photo taking. On returning home, we took the camera to Future Shop to check the battery and charger. Both worked fine. We then sent the camera to Canon's repair depot. Their initial response in a letter received from Canon was that the camera was unrepairable and that it would be replaced by a replacement camera at no additional charge. The camera was to be replaced by a PS SX610HS.
We were happy with this decision and thought it fair on the part of Canon. Much to our dismay another letter was received from Canon saying that the camera again was not repairable and that a new camera was suggested (same as before) and that it would be shipped upon receipt of $272.20, which includes shipping and taxes. Needless to say we were much disappointed and confused by the whole situation. We were further informed by telephone that the camera was damaged by water and no consideration would be given to replacing the camera. We were very disappointed in Canon's response and certainly not happy in having to spend another sum of money to replace the camera. We took great care of the camera at all times and did not subject it to conditions to cause such damage. Unfortunately Canon has been very unfair in this whole matter, leading us to suspect that their warranty is not worth the paper it's printed on.

I purchased the Cannon 1200D in India and it stopped working after 8 months. I took it to get repaired under warranty and they examined the camera and said it was water damaged and therefore outside of warranty. The cost quoted was the same as buying a new camera. I explained that the camera had never been used in wet weather or at the beach or near water, therefore it could not be water damage. They refused to honor the warranty and my guess is the camera is not suitable to be used in humid countries, however there is no warning of this provided by Cannon. There are better alternatives.

I am writing this claim as a result of an unsatisfactory experience I've faced last week with my last purchase from Canon. I ordered a Canon Powershot G7 x with a WP-DC54 underwater housing set from amazon.com for our annual Red Sea Diving Safari Week with my diving team but unfortunately it let me down.
In addition, I invested in strobes and underwater lighting for the best possible shot and video. Unfortunately, despite all empty underwater housing tests and O-ring lubrication and well maintenance it started leaking on the first day of safari in 30 cm water while snorkeling with Dolphins. Obviously, the Camera was contacted with salt water and ruined, safari could not be shot or recorded and a great opportunity is wasted along with the camera itself. As you will guess, a well-planned and promising expedition for me and my team turned into disappointment and morale breakdown. In other words, it was a morale as well as material waste for me.
However, let me underline that this was my first disappointment with a Canon product ever. That is why before paying a visit to the local technical service, which will certainly not help me by bringing forward international warranty limitations and personal failure discussion, I am writing directly to you. Because I did my part by being a careful and professional user by following the manuals and respecting the limitations of the product. But it failed without any hair or dust interference on the O-ring.
As your records also will testify, I have been a loyal Canon customer over many years. Starting with analog EOS cameras back in 90s, I have a long and candid past with Canon product family. And I acted as a voluntary Brand Ambassador for every newbie or curious starter who was starting professional photography. They are still Canon users because they started with a Canon I recommended to them. Now, some of them leveled up to 5D Mark series like me and some went even further.
My recent verifiable orders for Canon Products in last 3 years only from amazon.com are listed below (These were posted to my cousins Addresses and they brought them to me to Turkey): 1) Canon SX230HS. 2) Canon EOS 60D. 3) Canon 18-135mm IS UD. 4) Canon EF 50mm 1.8. 5) Canon EF 70-300 f/4-5.6 IS USM. 6) Canon EOS Rebel T3i. 7) Canon EF-S 18-55mm IS. 8) Canon EF-S 55-250mm IS. 9) Canon EOS Rebel T3i. 10) Canon EF-S 18-55mm IS. 11) Canon Powershot G7 x. 12) Canon WP-DC54 Underwater Housing.
In addition to this verifiable list I've purchased many other products like Canon 5D Mark III and Canon 24-70mm L from local dealers, friends and oversea orders. In short, I am expecting Canon to compensate this disappointment and unfortunate experience with my recent purchase, as a loyal customer. I do believe that your customer protection and satisfaction policy will consider my case seriously and respond my expectations as soon as possible.

I bought Canon R506 Camcorder on 16/07/2014 from PC Word in Birmingham. My camcorder stop working, and physically it was in mint condition, I took my camcorder to selly oak, Pc World, and I passed my camcorder to Mr. ** in Pc World, and he examined my camcorder and he put on my receipt this detail and said to me he will repair under Guarantee. And did write in my receipt the following details: Type of fault: No power/power fault. Details: Not powering on at all. Intermittent: No. On 11/05/2015 I had call from Selly Oak Pc World, that saying if I want my camcorder be repaired I have to pay for it, 106.46. On 11/05/2015 I did go to PC World Selly Oak Store no: 2874 and I talked to customer service and they give me the 3 pages from Canon and asking me because this is a Dysfunction, and caused by a malfunction is not covered under guarantee and I had to pay 106.46 for the repair.
I used normally and I did not had any accident at all and at the time of handing my camera to PC WORLD It was verified by PC World officer. But in canon letter to PC world saying "Estimate: Warranty void due to damage found to the camera caused by a malfunction, we will need to replace the main pcb assembly, reset all, check, clean and test. I have to pay 106.46 towards the repair." What is it my right? I did contact the Pc world and they saying I have to contact canon directly, today I called The canon office and they said I am not their customer and I don't have right to talk about my case. I am confused how can dysfunction or malfunction be my fault as I used the original charger of canon and I don't know what is it my right. Any help and advice will be appreciated. Regard.

Canon Camera G9 - Bought several years ago and by now out of date technically, however treated with care and used infrequently. It took very good digital photos. Now it is useless, basically a piece of junk. How this occurs for those unfortunate enough to have the same problem either with G9's, 7', 8's, 12's or whatever the latest number Canon assigns to similar cameras. Within the camera body and inaccessible, there are two very small jewelers screws that not having been secured with lock tight when the camera was under construction over time one or both work loose and fall out. The result to the unfortunate owner is a camera that will not operate for no apparent reason. The reason is your cameras' internal electronic circuit board has been shorted out (fried). The tiny loose screws fall across the sensitive electronics within the camera body and turn it into expensive techno junk.
If you put the camera body to your ear where it's quiet and turn the camera back and forth, you may hear faintly the screw or screws rolling around within the camera body. Repair - I do not recommend (one) too expensive, (two) no guarantee it won't happen again. My solution out of disgust is send the Camera to Canon's head office in Japan with a letter. It's cheaper than the return postage sending your camera for an expensive repair and perhaps annoy them enough to do something about it rather than pretend the problem has never existed. Warning: There are internet Canon G series internet repair scams offering repairs at bargain prices. Before you send your camera to other than a bonafide Canon repair facility, if you so choose, do your internet homework or you may never see your G camera again.

I bought a new camera from an authorized seller. After a couple of uses the mode-dialog ring started switching modes easily without having anything to stop it and make it stay by each mode. I sent it in for repair, and they're asking for $174.2 in order to fix it, for a camera I paid (after rebate) about $250... That is ridiculous. They're saying it's physical damage to the camera, and not covered under warranty. This is BS, this camera doesn't even have a scratch, and they're saying it's not manufacturing defect. It's probably the last CANON item I bought...

This is the 3rd PowerShot SX camera. I purchase the same camera with upgrades due to the reliability and beautiful photographs the camera takes. I replaced the other cameras due to leaving a camera in a restaurant and the second one was dropped too many times. This newest camera is only a little more than 1 1/2 years - the camera is the model SX280 HS. I try to turn the camera on to take a picture of family or a special event and the camera stops, on the screen reads memory card error. I have to take the memory card physically out of the camera and put it back in, and then it will works. Of course the image I was going to photograph is gone. I am very unhappy that is why I am writing to you for help. I purchased this camera at my local Best Buy Store in Gilroy, California.

I bought a Canon camera from Valuebasket as a present for my wife. When it developed a fault, I sent it to Canon for repair with proof of purchase. Canon informed me that it had been sourced from outside the EU and had no warranty in the UK. Despite their promises of warranty, all attempts at getting Valuebasket to fix it proved useless. All my e-mails were met with requests for further information. I call this stonewalling. I'm now resigned to paying for the repair myself.
Canon Cameras Company Profile
Company Name:

Canon

Year Founded:

1955

Address:

One Canon Park

City:

Melville

State/Province:

NY

Postal Code:

11747

Country:

United States

Website:

http://www.canon.com/