Walk-In Coolers and Commercial Freezers
Compare Reviews for Walk-In Coolers & Commercial Freezers
Walk-in coolers are large coolers with much more storage space than standard coolers and freezers. They are most commonly seen in supermarkets, meat processor plants and other commercial locations, though some smaller ones may make good residential coolers.
Commercial freezers and coolers fill different needs depending on the place of business. Display and storage models are available for businesses that want to sell or stock perishable foods, respectively.
Top 10 Best Rated Walk-In Coolers and Commercial Freezers

Read 13 Reviews

Haier designs and makes contemporary home appliances such as ovens, cooktops, refrigerators and freezers. Their chest freezers range in size from 3.5 to 14.5 cubic feet.

Read 83 Reviews

Frigidaire makes specialty home appliances for the kitchen and laundry room and for home comfort. Its chest and upright freezers come in multiple sizes and colors and range in price from $269 to over $2,000.

Read Expert Review
Be the first one to rate this company

Founded in a three-car garage in St. Louis, Missouri, Master-Bilt first began producing refrigerated coolers in 1938. Master-Bilt manufactures freezers, walk-in coolers, refrigerator systems and more for the foodservice industry.

Read Expert Review
Be the first one to rate this company

Founded in 1986 and Headquartered in Quincy, Illinois, U.S. Cooler manufactures standard and custom walk-in coolers and freezers. Made of interlocking panels, U.S. Cooler's products are designed to be expandable and movable.

Read Expert Review
Be the first one to rate this company

Founded in 1947 in Hudson, Wisconsin, Nor-Lake began as a refrigeration company designing products for bars and restaurants. The company has expanded to offer various refrigeration solutions for the foodservice industry.

Read Expert Review
Be the first one to rate this company

For over 36 years, American Walk in Coolers has provided restaurants, breweries, florists and others with walk-in coolers and freezers. American Walk in Coolers also offers support services like installation and financing.

Read Expert Review
Be the first one to rate this company

Founded in 1952, Leer Inc. is a pioneer in the ice merchandising industry. Leer is employee-owned and sells ice merchandisers as well as custom walk-in coolers under the Leer and Carroll Cooler brand names.

Read Expert Review
Be the first one to rate this company

For over 30 years, Polar King has been a manufacturer of fiberglass, single-unit walk-in freezers and coolers. Each custom fiberglass refrigerated trailer, cooler or building is built to withstand all weather conditions.

Read Expert Review
Be the first one to rate this company

True has been in the refrigeration manufacturing business since 1945. True manufactures various commercial and residential coolers and promotes environmentally-friendly practices. It is headquartered in O'Fallon, Missouri.

Read Expert Review
Be the first one to rate this company

Traulsen was established in 1938 in Queens, New York, as a producer of bakery fixtures with a small part of its business devoted to refrigeration. Now, Traulsen builds premier refrigeration equipment for the foodservice industry.
Thank you, you have successfully subscribed to our newsletter!
Enjoy reading our tips and recommendations.
Unsubscribe easily whenever you want

ConsumerAffairs
Research Team
View Profile
The ConsumerAffairs Research Team believes everyone deserves to make smart decisions. We aim to provide readers with the most up-to-date information available about today's consumer products and services.
Important features of walk-in coolers and commercial freezers
What sizes of walk-in coolers are available?
Coolers take up a good bit of room, so it's important to find one that fits your space. Most cooler distributors have selections of pre-built coolers for sale, and if none of these fit your needs, you can always consider custom models.
Pre-made builds: Some walk-in cooler distributors have pre-made models for sale in their most requested sizes. Coolers that are 7 feet by 8 feet by 7 feet, for instance, are popular choices for residential walk-ins. Because they often have these sizes in stock, these coolers generally ship more quickly than custom orders.
Custom builds: If no pre-made cooler fits your size needs, you can order a custom-built cooler. Custom builds may be more expensive than pre-made models, and they usually take longer to ship.
Modular coolers: If you need a large walk-in cooler, you may want to consider a modular cooler. These walk-ins are built from panels that fit together to form coolers of various sizes, making them ideal for customers who need large coolers or refrigerated warehouses.
What kind of doors do I need?
Both walk-in coolers and commercial freezers need doors that seal in cool air to keep the refrigeration process running efficiently. If you plan on using your cooler to sell merchandise, you also need doors that display those products clearly without losing cool air.
Door seals: The most important part of any freezer door is its seal. Most coolers feature a layer of rubber between the door and the cooler body to create an airtight seal. Walk-in coolers (and some commercial freezers) are outfitted with locks and levers to put more pressure on the seal and minimize air leaks.
Display door options: Walk-ins and commercial freezers usually have stainless steel doors, but commercial display coolers designed to sell merchandise are outfitted with clear glass. This glass is built to trap cool air; however, they are not quite as insulated as steel doors. Some merchandise coolers also use plastic strip curtains that allow customers to reach into the cooler without opening a door.
What type of insulation do I need for my walk-in cooler?
A cooler can't trap cold air unless it is properly insulated. Insulation's effectiveness is evaluated by its R-value, a unit that measures its resistance to heat flow. The higher the R-value, the better insulated the cooler is. Currently, cooler insulation requires an industry standard minimum R-value of 25.
Polyurethane: Polyurethane is a standard insulation for freezers that, on average, has an R-value of 30-32. This type of insulation is best for freezers.
Extruded polystyrene: Though it does not have as high an R-value as polyurethane, extruded polystyrene is an insulation material designed to work in relatively high-moisture environments. Extruded polystyrene is best for coolers.
Thickness: On average, insulation is about 4 inches thick, though some manufacturers may be able to produce thicker insulation for custom orders. The insulation is surrounded by plates, usually made of steel or fiberglass, to keep it in place.
Should I buy a steel or fiberglass cooler?
Most coolers are made of either steel or fiberglass. Each material has different benefits, though options may be limited depending on the type of cooler you want.
Steel: Most coolers, both commercial coolers/freezers and walk-ins, are made of steel. Steel is durable and weather resistant, though it is susceptible to rust and corrosion. Steel coolers are often built in segments and must be put together and sealed.
Fiberglass: Fiberglass coolers are more weather-resistant than steel coolers, but they are harder to repair. Some fiberglass walk-in coolers can be made of single units, minimizing gaps in construction and air leaks.
What accessories are available for walk-in coolers?
Walk-in coolers can be customized with added accessories. Depending on the cooler's use, some accessories may be more integral than others.
Shelves: Most walk-in coolers will need some shelves for food or item storage.
Strip curtains: Strip curtains can provide a cheap way to partition the cooler. This setup is helpful if you are storing different types of food or materials that need to be kept separate.
Hooks: If you plan on using your cooler as a game locker or for meat storage, hanging meat hooks are a great solution to keep meat from spoiling before it is processed.
What type of flooring do I need in my cooler?
If you're purchasing a cooler, you do not want to overlook the importance of flooring. Making sure the flooring fits your needs is a fundamental consideration when buying a cooler.
Wear and weight: If your cooler gets a lot of foot traffic, you will want a floor that is fairly durable and won't wear out. You also want to make sure the floor will support the weight of the material you're storing. Cheaper tile tends to wear more quickly than heavier plating, but heavier plating is more expensive.
Traction: Installing non-skid surfaces like tread plates can give you better traction in the cooler. These surfaces are most useful in coolers that store meat or materials that can drip and make floors slippery.
Ramps: If you're storing heavy goods like kegs, you may want to invest in an exterior ramp that makes transporting goods on dollies or hand trucks easier.
Types of walk-in coolers and commercial freezers
Exterior walk-ins
Exterior walk-in coolers are built or installed outside an existing building. Exterior walk-in coolers are ideal for meat lockers and residential coolers.
Interior walk-ins
These are coolers built or installed inside other buildings. Interior coolers are often fixtures in supermarkets, restaurants and butcher shops.
Refrigerated buildings
Refrigerated buildings are entire warehouses cooled by refrigeration units. These buildings are used for meat processing and other large-scale operations that require refrigerated storage.
Combination walk-ins
Combination walk-in coolers/freezers have separate spaces for refrigeration and freezing. The cooler and freezer are separated by a partition and a door that may be internal or external.
Traditional reach-ins
Traditional reach-in coolers are shelved refrigeration units built to different specifications. They are regular features in restaurants and the foodservice industry.
Dipping cabinets
Dipping cabinets are horizontal freezers with sliding glass tops. They are most often used to store and serve ice cream.
Merchandisers
Merchandiser coolers are used to display items for purchase. They often have either glass display doors or plastic strip curtains to make the interior contents visible to customers.
Worktop and undercounter coolers
Worktop and undercounter coolers are storage coolers with workspaces or counters on top. They are most commonly seen in restaurant kitchens.
Blast chillers
Blast chillers are freezers designed to cool and preserve food as quickly as possible. They can usually freeze foods that are 100 degrees or more down to storage temperatures in about an hour.
People who use walk-in coolers or commercial freezers
Foodservice industry
Every restaurant needs a cooler and freezer to make sure the food they serve is kept at safe temperatures. Caterers can also make use of portable coolers and freezers to keep food fresh. Walk-in coolers and freezers can help provide enough storage space for every profession in the foodservice industry.
Supermarkets and convenience stores
Supermarkets need coolers and freezers for their food, especially meat and produce. They also need coolers to display goods for purchase, so merchandisers are usually the best fit for supermarkets and convenience stores.
Hunters
Hunters can use walk-in coolers as game lockers to keep meat fresh. Residential walk-in coolers can be helpful to store game.
Butchers and meat processors
Both small-scale butchers and large meat processors need walk-in coolers to keep meat fresh.
Florists
Florists need walk-in coolers to keep their plants fresh and healthy.
Company reviews for walk-in coolers and commercial freezers

Since 1938, Master-Bilt has been a supplier of refrigerator solutions to the food service industry.  From smaller 36 square-foot cabinets to fully-refrigerated warehouses of over 10,000 square feet, Master-Bilt has a walk-in cooler to fit most any need. Master-Bilt manufactures a selection of freezers, walk-in coolers, refrigeration systems, ice cream cabinets and more.
Quick Ship walk-ins: For consumers who need their new coolers fast, Master-Bilt offers a Quick Ship Program. These walk-ins have all the features of standard Master-Bilt coolers. Once an order is received, qualifying Quick Ship models ship within five working days.
10-Bilt walk-ins: 10-Bilt walk-ins contain all the features of the Quick Ship models with the addition of more size options. These coolers ship within 10 days of placing an order.
Ready-Bilt walk-ins: Ready-Bilt walk-in coolers are pre-assembled at the factory before shipping to their destinations. Because they are so large, these walk-ins are delivered via gooseneck trucks or cranes, and they are ready to use as soon as they are set in place.
Bilt2Spec Custom walk-ins: Master-Bilt can customize walk-in coolers to fit virtually any available space. Numerous exterior or interior options are available, as well as accessories and door options.
Walk-in options: Master-Bilt walk-in coolers can be further customized with extra options. Heavy duty floors, LED lighting, strip curtains and multiple interior and exterior finish options are just some of the features available to add to Master-Bilt's walk-ins.
Best for: restaurants, food storage and processing warehouses, supermarkets, game lockers and butchers.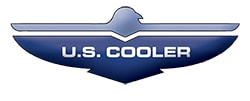 U.S. Cooler was founded in 1986 as a division of Craig Industries. Headquartered in Quincy, Illinois, U.S. Cooler manufactures walk-in coolers and freezers for both commercial and residential markets. U.S. Cooler prides itself on providing customized services to fit the needs of each individual customer.
Walk-in coolers: U.S. Cooler's walk-in coolers are built to meet specific customer needs. They consist of panels made of a 4-inch insulated core surrounded by metal interior and exterior skins. They are equipped with cam-action locking devices to create an airtight seal.
Walk-in freezers: U.S. Cooler's walk-in freezers have a panel construction and locking system similar to their walk-in coolers. Standard size freezers are eligible for their QUICKSHIP program, which ships freezers within 3-5 days of receiving the order.
Cooler/freezer combinations: Customers who need a walk-in cooler and freezer can purchase a combination cooler/freezer. These units are usually custom-sized per the customer's specifications, and freezer access can be external or located in the cooler unit.
Buying guide: U.S. Cooler's online guide is an excellent resource for anyone purchasing a cooler for the first time. With detailed information about their products, U.S. Cooler makes it easy to find the right cooler or freezer to fit your needs.
Expandable and relocatable: Because U.S. Cooler walk-ins are made from panels that can be easily removed and disassembled, they can be relocated or expanded with relative ease.
Best for: florists, supermarkets, game lockers, breweries and food warehouses.

From humble beginnings in Hudson, Wisconsin, Nor-Lake has expanded from a small refrigeration company to a large-scale manufacturer in the refrigeration industry. In 2003, Nor-Lake became part of the Standex Foodservice Group, a broad-line manufacturer of foodservice equipment, including walk-in coolers and commercial freezers. The company was founded in 1947.
Kold Locker walk-ins: Nor-Lake's Kold Lockers are the company's standard models. Their sizes range from 3 feet 6 inches by 6 feet to 10 feet by 14 feet. Kold Lockers are available in three heights: 6 feet 7 inches, 7 feet 4 inches and 7 feet 7 inches. Because Nor-Lake makes many of these models, they can often ship within one day of receiving the order.
Fast-Trak walk-ins: Fast-Trak walk-ins are freezers, coolers and combination freezer/coolers available in unlimited lengths, allowing them to be customized to your specifications. Widths of 6 to12 feet are available, and heights range from 6 feet 7 inches to 8 feet.
Fineline walk-ins: Fineline walk-ins are coolers, freezers and combination coolers built to customer specifications. Length, width and height are all chosen by the customer to make sure it fits any space.
Refrigerator systems: Nor-Lake offers many different refrigeration systems designed for efficiency and easy installation. Wall-mount, ceiling-mount, remote and rack refrigeration systems are available.
Cabinets: Nor-Lake's Nova and AdvantEDGE are two different lines of commercial cooling cabinets. The Nova lines are custom-built per the customer's specifications, and AdvantEDGE products are pre-made and offer high-end performance.
Best for: supermarkets, restaurants and the foodservice industry.

Located in Tucson, Arizona, American Walk in Coolers is a manufacturer and distributor of walk-in coolers and freezers. With over 36 years of experience in the industry, American Walk in Coolers offers customer support for designing, financing and installing coolers and freezers.
Walk-in coolers and freezers: American Walk in Coolers' freezers and coolers have a standard height of 8 feet. Taller units are available with custom orders. All the standard refrigeration components and configurations are available for viewing on the American Walk-in website. The company also offers installation and consultation services.
Quick Ship: Standard-sized freezers and coolers are eligible for American Walk in Coolers' Quick Ship program, which means they will ship within 48 hours of receiving the order. Freezers and coolers must be 8 feet by 8 feet by 8 feet or 8 feet by 12 feet by 8 feet. Coolers measuring 8 feet by 10 feet by 8 feet are also eligible.
Craft brewery coolers: American Walk in Coolers provides personal assistance to craft breweries that order walk-in coolers. The experienced professionals at American Walk-in Coolers can help build keg storage, fermentation and display walk-in coolers.
Floral coolers: The Designer Series IV coolers are built for indoor or outdoor bulk storage of flowers and plants. The Surround Air system extends freshness by circulating cooled, humid air in the cooler.
Financing available: American Walk in Coolers offers full financing for their products. Call or contact the company for a free quote for a cooler with your set specifications.
Best for: restaurants, breweries, supermarkets, convenience stores and florists.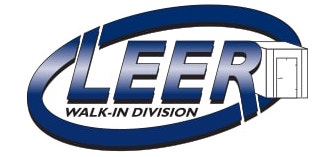 Leer, Inc. is a manufacturer of retail ice merchandising equipment and walk-in coolers. Headquartered in Lisbon, Wisconsin, Leer has a 60-year heritage of engineering and manufacturing experience, which includes building the first ice merchandiser in 1953. Leer's walk-in coolers are distributed under the Leer and Carroll Cooler brand names.
Custom options: Most Leer and Carroll coolers can be built to your specifications. Whether you want a small cooler or a refrigerated warehouse, Leer can help build a cooler to fit your needs.
Pre-engineered "Quick Ships": Both Leer and Carroll pre-built coolers are eligible for the company's "Quick Ship" program. Because they are ready to go, these coolers ship soon after orders are placed. Each comes with a 10-year warranty for doors and panels.
Easy installation: Leer coolers are known for being easy to install. Each cooler ships with clear setup instructions, and if you have any trouble, the Leer website has numerous instructional videos and guides to help with setup.
Clean & Clear cabinets: Clean & Clear cabinet refrigerators offer storage and merchandising space for products that need cooling. The Glass Front Merchandiser cabinet allows you to showcase your products while keeping them cool.
Leer ice merchandisers: Leer's ice merchandiser is the product that solidified the company's place in the industry. With various indoor and outdoor merchandisers, Leer's ice cabinets come in various sizes to fit most any store space.
Best for: convenience stores, supermarkets, florists, residences and the foodservice industry.

Polar King International, Inc. is a manufacturer of outdoor fiberglass walk-in freezers and coolers. Founded in 1982, Polar King International operates out of Fort Wayne, Indiana. Polar King sells single-unit freezers and coolers, including walk-ins, refrigerated trailers and refrigerated buildings.
Outdoor walk-ins: Polar King's outdoor freezers ship as one unit and are ready to operate as soon as they are delivered. They do not require on-site assembly because all systems and seals are set by Polar King's professionals.
Refrigerated trailers: Polar King's refrigerated trailers are designed to take any business on the road. They are built to customer specifications from the bottom up, giving you control over the cooler's size, generator fuel, frame and other specifications.
Refrigerated buildings: Polar King's modular fiberglass buildings are designed to build as refrigerated warehouses quickly and efficiently. Their modular design also allows these buildings to be portable in the event of relocation.
Fiberglass construction: All of Polar King's products are built from fiberglass. Polar King fiberglass is an all-weather material that is able to withstand any outdoor condition. The seamless exterior maximizes cooling efficiency, and the fiberglass resists rust, dents and corrosion.
Leasing and rentals: Polar King also supplies modular rental refrigeration units. Polar Leasing's extensive rental fleet is available in North America.
Best for: caterers, foodservice professionals, food processing warehouses and places that need temporary cooling solutions.

Headquartered in O'Fallon, Missouri, True Manufacturing has been providing commercial refrigeration products since 1945. Built on a philosophy of innovation and customer satisfaction, True is also a strong proponent of environmentally-friendly manufacturing and refrigeration practices.
Commercial products: True's commercial foodservice product line includes several types of coolers. Traditional reach-in coolers, undercounter units, dipping cabinets and more are available for purchase.
Display coolers: True's commercial display coolers include glass door merchandisers and air curtain coolers. True also sells horizontal display cases.
Availability: True manufactures its refrigeration products to stock inventory, meaning it has a near 100 percent fill rate on standard items. This stock allows most orders to ship within three days of ordering.
Sustainability: True Manufacturing has put together several green initiatives to improve energy efficiency. Incorporating recycled materials, reducing hazardous waste and using solar power are just some of True's environmentally-friendly initiatives.
American-made: True is committed to supporting American manufacturing. True manufactures each of its products in the United States, and the company sources most of its parts from other American businesses.
Best for: foodservice industries, supermarkets and convenience stores.

Traulsen is a manufacturer of premium refrigeration units for the foodservice industry. Traulsen was founded in Queens, New York in 1938 as Traulsen & Company, a producer of bakery fixtures and display cases. Traulsen has since expanded its production line to include refrigeration products for the global market.
G-series: Traulsen's G-series are standard reach-in coolers built for storing food in restaurant kitchens. The airflow system distributes cool air evenly and each model comes with a five-year compressor warranty.
R & A series: The R & A series is Traulsen's premier line of refrigerators and freezers. These dual-temperature freezers and coolers allow users to maintain separate temperatures in each compartment.
Blast chillers: Traulsen's blast chillers are capable of freezing and storing food safely as quickly as possible. These blast chillers are capable of cooling food at a temperature of 135 degrees down to below 41 degrees in about 90 minutes.
Cyclonic airflow: Traulsen's blast chillers work by using a cyclonic airflow pattern. Traulsen's processors create a curtain of cold air that circulates throughout the cooler, wrapping its contents in centrifugal cold air for rapid heat transfer.
INTELA-TRAUL: Some of Traulsen's models, like the R & A series, are equipped with the INTELA-TRAUL microprocessor. This microprocessor allows for increased temperature control by regulating airflow.
Best for: restaurants, bars, caterers and other foodservice industry professions.

Coldtech Commercial is a manufacturer and seller of refrigerators and freezers and serves Canada and the United States. Coldtech Commercial aims to provide a personal touch to commercial refrigeration sales through direct customer service.
Commercial freezers and refrigerators: Coldtech Commercial's freezers and refrigerators are available in one-, two- or three-door models. Each model has stainless steel doors that offer strong protection against damage.
Prep tables and undercounter fridges: In addition to reach-in fridges and freezers, Coldtech Commercial sells prep tables and undercounter fridges built for restaurant kitchens.
Warranties: Each product comes with a three-year bumper-to-bumper parts and labor warranty. The compressor has an additional two-year warranty.
Resources: Coldtech Commercial has several educational resources to help you find the right equipment for you. With guides for choosing equipment for restaurants, bakeries, bars and more, Coldtech Commercial can help you find the product you need.
Customer care: Coldtech has a team of expert advisors ready for consultation if you have any questions or need help choosing a product. Coldtech takes pride in its friendly staff who are available to answer direct calls.
Best for: restaurants and other businesses in the foodservice industry.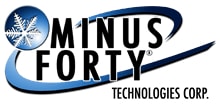 Minus Forty is a North American manufacturer and designer of refrigeration solutions. Minus Forty specializes in display coolers and freezers, developing innovative ways for the frozen food industry to market their products. Minus Forty is headquartered in Georgetown, Ontario.
Upright marketing freezers and coolers: Minus Forty's upright freezers and coolers are available in one- or two-door models and various sizes. Each cooler can be outfitted with customizable graphics.
Low profile options: Minus Forty's low profile coolers are built for placement in high traffic retail areas. These coolers are designed with space economy and product visibility in mind.
LED High Intensity lighting: Each cooler and freezer sold is equipped with long-life LED High Intensity lighting. This lighting system rarely requires bulb replacement.
Customer support: Minus Forty's customer service representatives are available to help 24/7. Company representatives are accessible via phone or email and the Minus Forty network of technicians can help with any necessary repairs.
Blog: Minus Forty hosts a blog with maintenance tips, refrigeration news and more. The blog is updated regularly, keeping information current.
Best for: supermarkets and convenience stores.
Disclaimer
Information in this guide is general in nature and is intended for informational purposes only; it is not legal, health, investment or tax advice. ConsumerAffairs.com makes no representation as to the accuracy of the information provided and assumes no liability for any damages or loss arising from its use.
11 – 12 Best Rated Walk-In Coolers and Commercial Freezers

Read Expert Review
Be the first one to rate this company

Coldtech Commercial was founded to provide customer service with a personal touch to commercial refrigeration sales, marketing to the foodservice industry. Coldtech Commercial operates in the United States and Canada.

Read Expert Review
Be the first one to rate this company

Headquartered in Georgetown, Ontario, Minus Forty is a supplier of marketing coolers and freezers to customers in North America. Minus Forty has built a reputation for product innovation and customer support.