Compare Reviews for ERP Software
Enterprise resource planning (ERP) software can streamline product purchasing, production planning, service delivery, marketing, sales, shipping, payment and more. It's a suite of computer applications that help you plan and manage business processes that affect each other.
ERP software was first designed for use in manufacturing and is now used in several industries including finance, education, retail and any others that follow a similar business model. It's usually web-based with real-time access to business processes and data.
Top 10 Best Rated ERP Software

Read Expert Review
Be the first one to rate this company

Founded in 1981, Sage operates in 24 countries. Over three million clients have used Sage's business software. Its three versions of ERP software are used primarily in distribution, manufacturing and construction.

Read Expert Review
Be the first one to rate this company

Founded in 1987, Visibility specializes in ERP software for manufacturers of complex products. Its VISIBILITY.net software is used by more than 20,000 clients in more than 10 countries.

Read Expert Review
Be the first one to rate this company

Intacct is ERP software designed for finance professionals. It offers finance modules such as accounts payable and receivable, order management, time management and sales and use tax.

Read Expert Review
Be the first one to rate this company

SYSPRO is a software-as-a-service company with over 15,000 clients in manufacturing, construction, aerospace and similar industries. Its ERP software has accounting, distribution, manufacturing and reporting modules.

Read Expert Review
Be the first one to rate this company

NetSuite ERP, founded in 1998 as NetLedger, is a California-based cloud software company. It specializes in ERP cloud software for all industries and businesses of all sizes. NetSuite is a subsidiary of Oracle.

Read Expert Review
Be the first one to rate this company

Headquartered in Michigan, Realtrac Performance ERP is a software-as-a-service company. Its ERP software streamlines front and back office processes for made-to-order manufacturers, job shops and machine shops.

Read Expert Review
Be the first one to rate this company

Plex is a software-as-a-service company that specializes in cloud ERP software for manufacturing companies. Headquartered in Michigan, Plex was founded in 1995 and today has hundreds of clients and major expansion plans.

Read Expert Review
Be the first one to rate this company

Epicor is a global software company that has been in business for over 40 years. It offers cloud, hosted and on-premise business software solutions including ERP software modules. Epicor has over 20,000 clients.

Read Expert Review
Be the first one to rate this company

Oracle is a large, multinational computer software company founded in 1977. Its ERP software includes over a dozen proprietary modules including PeopleSoft Enterprise, E-Business Suite and JD Edwards EnterpriseOne.

Read Expert Review
Be the first one to rate this company

JobBOSS is an ERP software solution that specializes in shop management for custom, mixed-mode and service manufacturing businesses. It was founded over 30 years ago and currently services over 6,000 clients.
Thank you, you have successfully subscribed to our newsletter!
Enjoy reading our tips and recommendations.
Unsubscribe easily whenever you want

Rosemary Avance, Ph.D.
ConsumerAffairs Research Team
Rosemary Avance, Ph.D., uses her social science research background as a member of the ConsumerAffairs research team to help people make smart choices. She researches products, businesses and industries thoroughly, then passes on the most relevant and essential information for consumers looking to make important purchasing decisions.
What do you need to know before choosing ERP software?
What modules do you need?
Whatever ERP system you choose should cover all the functional areas used in your business. Some ERP software systems focus on manufacturing processes. Others include modules, like financials and human resource management, that are more useful in other businesses.
Manufacturing or production planning and tracking: ERP modules should help your organization create schedules for optimal workflow and productivity.
Supply chain management: Supply chain modules manage ordering, inventory and deliverables. This is helpful if your employees need to communicate about their supply status in real time.
Customer relationship management (CRM): Some ERP software modules allow workers to manage customer-related processes like deliveries, installations, repairs, billing and more.
Human resources data: Some ERP system modules can help you manage your company's human resource information on hiring, training, employee data and more.
What features would be helpful to your business?
The software you choose for your company needs to be flexible to meet your particular business needs.
Scalability: Scalable software can expand to meet the needs of a growing business. Choose software that easily adapts to add more data storage, employees, different product lines, subsidiaries or locations.
Change management: ERP software should manage and implement big and small organizational changes like new processes, data, systems and employees. Quality software can also analyze and forecast which changes are likely to be profitable.
Embedded analytics: The ERP software will store all your company's data in one convenient place. Software that creates custom analytic reports can reduce your workload.
Collaboration: If your business has more than one location, look for ERP software that allows colleagues to collaborate from multiple sites. Some software also allows suppliers or customers to input or edit data, which can streamline your work even more.
How is the software deployed?
When you buy ERP software, the vendor may install it on your server, deploy it from remote servers or store all your data in the cloud. Each option is ideal for various business needs; if you're not sure which is best for you, an IT expert can help you figure out which to choose.
On-premise hosting: This type of hosting is sometimes called "legacy" or "traditional." It requires you to download the entire software program to your own computer hardware and store all data on your company's internal servers. You're typically responsible for upgrades and service to the software.
Off-site hosting: Many software companies host the software on their own servers or other remote servers. With hosted ERP software, you typically access the program through a remote desktop or workstation installed on your company's computers.
Cloud: Cloud software is hosted online and doesn't need to be installed on your computers. This software is often referred to as "software-as-a-service" or SaaS. It can be accessed anywhere you have internet, but you'll lose access if the internet goes out. And although most cloud software programs have several layers of security, they may not be the best choice if your company works with very sensitive or classified information.
What is the pricing structure?
Every business implements ERP software differently. You can save money if the pricing structure reflects how you actually use the software. That way you don't pay for features you don't need.
Perpetual licensing: Some software companies allow you to license their products indefinitely. This means you buy a license to own the product forever but pay yearly for upgrades and new versions. This usually comes with a large upfront expense but lower payments over time.
Subscription: You can pay for subscription software monthly or annually. You buy usage rights to all versions or upgrades that are available during your use period. If you have a small business or new business, you might start out by subscribing. Then you can buy a perpetual license if you decide the software is worth the cost.
Financing: Some ERP software companies allow customers with good credit to finance the product. Check if you have options like long-term leasing, deferred payments or customized pricing.
What support is available?
Software companies should handle installation, training and support to help your business get the most benefit out of your software investment.
Training: Software companies usually have a few training options like online modules, virtual classes, in-person instruction or self-directed learning.
Client support: If there's a problem with your software, you'll need someone to call for solutions right away. Be sure the company has account reps or customer support available when you need them. Think about what time zone the company is in and whether you'll be able to reach them when you need to.
What is the company's history?
The company's history and position in the software industry can tell you a lot about their ability to help your company succeed.
Time in the industry: New software companies may not have the experience and reputation of older companies. But they may be more open to trying new, creative solutions.
Industry experts: Many ERP software companies are run by people with backgrounds in the machine or manufacturing industries. It helps for the people behind the software to understand the work environment you'll use it to manage.
National or global: If your business is in the United States, look for a software company that's familiar with American work laws, codes and cultures. It helps if the company is headquartered in the U.S., but at the very least it should have an American branch.
What type of ERP software should you choose?
Industry-specific ERP
Some ERP software is designed for specific industries, such as manufacturing or finance. These are more in-depth and comprehensive for specific businesses than general ERP software. Talk to an account rep about how the software might work for your company, and ask to see a demo to find out if it's a good fit.
General ERP
More generalized ERP software is helpful in nearly any industry or organization. This software can streamline business processes but may not be as comprehensive as industry-specific ERP software. If there is no highly-rated software for your industry, general ERP software may be all you need. It helps to see a demo of the software to find out if it would work for your business.
ERP for particular business sizes
Some ERP software targets small, mid-sized or enterprise businesses. Software specifically for small businesses can be less confusing and more user-friendly, but larger businesses will need more functionality. Ask an account rep about whether the software is right for your business size.
Free or open-source software
Some companies have designed ERP software that anyone can access for free. These are usually limited in scope. You might want to try free or open-source ERP software to get an idea if it would help your business or if you have a very simple business and just need a few modules.
Proprietary software
Software vendors develop this software and license it to clients for a fee. Most industry-specific and size-specific ERP software is proprietary.
Would ERP software benefit your type of business?
Manufacturers
If you're a manufacturer, you're in luck. ERP software was first created for the manufacturing industry. This software is great for merging front and back office processes like accounting, inventory, production and delivery.
Other industries
Even if your business is not in the manufacturing industry, you might benefit from ERP software. Many companies make ERP software for other industries, or software that is not specific to any industry. These can streamline processes in many types of businesses including retail, finance, education and more.
Multi-branch businesses
If your business has more than one location, ERP software can help streamline planning, inventory, delivery and more. Employees at each location can use the software to stay updated on business statuses.
Global businesses
If your company has branches or subsidiaries in other countries, ERP software can provide real-time updates to keep everyone on the same page.
ERP software company reviews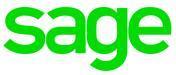 Most of Sage's ERP software clients are in distribution, manufacturing and construction, but it adapts for many different industries. Sage was founded in 1981 in the United Kingdom, and its ERP software offerings are flexible and customizable.
Three options: Sage offers three software systems for various business types. Sage 100 is ideal for growing small and medium businesses. Sage 300 is for small and medium businesses with multiple locations or subsidiaries. Sage X3 is ideal for enterprise management.
Modules: Each of Sage's ERP software options manage inventory, purchasing, vendors, sales, marketing and advanced accounting.
Optional functions: Depending on the version you choose, Sage ERP software can perform payroll in Canada and the United States, operate in multiple languages with multiple currencies, project job costing and manage production for manufacturers.
Deployment methods: You can choose to host Sage software in the cloud or on premises, depending on your business's needs. Sage 300 and Sage X3 can also be accessed using mobile devices.
Flexibility: You can customize Sage's ERP software to your unique company processes. It also adapts to user roles and preferences. As your business grows, you can expand the functions that you use to manage it.
Best for: small, medium and enterprise companies in distribution, manufacturing and construction.

Visibility's VISIBILITY.net ERP software is the only internet-based ERP software specifically for manufacturers of complex products. Over 20,000 users in more than 10 countries use VISIBILITY.net ERP software.
Types of manufacturers: VISIBILITY.net is ideal for manufacturers of project-based, discrete, hybrid, engineered-to-order (ETO), configured-to-order (CTO) and made-to-order (MTO) products.
Industries: Visibility's clients include aerospace and defense, construction management, contract manufacturing, electronics, fabricated metal, industrial machinery, capital equipment manufacturing and others.
Modules: VISIBILITY.net offers modules for customer relationship, financial, business performance, operations, engineering and product lifecycle management. It also has modules for mobility, technology, collaboration and material and production planning.
Choice of deployment: You can access this ERP software over the cloud or have it installed on premises to suit your business's needs.
Support services: Visibility offers several services to clients to help with software installation and adoption. They provide ongoing consulting and technical service to troubleshoot issues and support your business.
Best for: small to mid-size manufacturers of complex products, such as made-to-order or mixed-mode products.

Intacct is a software-as-a-service (SaaS) company whose ERP software products focus on business financials. Intacct is the preferred financial applications provider of the American Institute of Certified Public Accountants (AICPA). Intacct has clients in retail, health, education and other industries.
Many industries: Intacct has customers in many industries, including retail, health and education. It is scalable and can grow with your business.
Financial modules: Intacct specializes in financial modules. These include accounts payable and receivable, cash management, order management, general ledger, purchasing and more.
Other modules: In addition to financial modules, Intacct offers modules for contract and subscription billing, contract revenue management, fixed assets, inventory management, sales and use tax, time and expense management and more.
Training options: You can choose from four types of courses to learn how to use Intacct's ERP software. These include classes at various locations throughout the United States, virtual classrooms, topical tutorial videos and self-paced learning.
Service and support: Intacct's service team offers consulting and support anytime. Many of their employees are former accountants who can offer unique, relevant advice.
Best for: finance professionals in various industries including health, retail and education.

Founded 39 years ago, SYSPRO ERP is an independent software-as-a-service (SaaS) company serving industries like manufacturing, aerospace and construction. It has over 15,000 licensed clients in over 60 countries.
Wide range of industries: Businesses in many industries use SYSPRO. These include aerospace, automotive, chemicals, construction, consumer durables, electronics, financials, manufacturing and more. Visit the company's website for information on how the software works in various industries.
Modules: SYSPRO offers many modules in four main categories: accounting, distribution, manufacturing and reporting/analysis. These include accounts payable and receivable, purchase orders, lot traceability, forecasting, work in progress, factory documentation and sales analysis.
Support: SYSPRO offers software training for about a month after installation. They continue to offer ongoing support, software modification and training as needed. The company was a finalist for the 2014 American Business Award in outstanding customer service.
Deployment options: SYSPRO software is available on-premise or in the cloud. You can also access it on mobile devices.
Customization: SYSPRO software can be configured with a different look and feel for each user. You can also customize it with data or processing methods particular to your industry or company.
Best for: manufacturing and other industries, including manufacturing, construction, aerospace and similar industries.

NetSuite ERP by Oracle has more users than any other cloud ERP software in the world, with over 40,000 client organizations in more than 160 countries. It was founded in 1998 as NetLedger. Its current clientele includes those in retail, distribution, manufacturing, finance and other industries.
Industries: You can scale and adapt NetSuite for businesses of all sizes and in nearly any industry. NetSuite's current clients include software and internet companies, retail, distribution, manufacturing, financial services, consulting, education and more.
Modules: NetSuite offers modules in financial, order, production, supply chain and human capital management as well as warehouse fulfillment and procurement.
Transfer from other systems: NetSuite streamlines the process of transferring your business from other programs such as QuickBooks, Microsoft Dynamics GP, Sage, SAP or Deltec. They can also help you migrate from any legacy on-premise ERP.
Globalize your business: NetSuite OneWorld can be helpful to businesses that are globalizing or already global. It supports global compliance, maintains consistency between headquarters in more than one country and provides real-time insight across divisions and subsidiaries.
Scalability: NetSuite can add more functionality as your business grows. Because it is cloud hosted, it has unlimited storage space for business process data.
Best for: industries of all types and businesses of all sizes, including finance, retail, manufacturing and more.

Realtrac Performance ERP is a software-as-a-service (SaaS) company headquartered in Livonia, Michigan. Realtrac was founded in a machine shop and has stayed true to its manufacturing roots. It specializes in ERP software for made-to-order manufacturers, job shops and machine shops. The modules keep track of both back and front office processes.
Shop management modules: Realtrac's modules can help your business with quoting, job orders, routing, job costing, shop floor control, data collection, shipping and invoicing.
Purchasing, inventories and accounting: Realtrac keeps track of purchasing, inventory, requests for quotations (RFQs), billing, accounting integration reports, tax reporting and more.
Rightboard®: Realtrac's electronic whiteboard, Rightboard, is a scheduling and machine loading tool that updates in real time. Employees can use the board to be sure they're working on the right jobs and meeting deadlines.
Low cost: Realtrac advertises its software as the lowest total cost ERP software available.
Referral program: Realtrac rewards clients for referring other businesses. If your referral purchases Realtrac's services, you'll receive a free Windows 10 tablet. Fill out the referral form on the company's website.
Best for: made-to-order manufacturers, job shops and machine shops.

Plex is an ERP software company headquartered in Troy, Michigan. Founded in 1995, Plex is the only exclusively manufacturing, exclusively cloud ERP software. Plex software manages and streamlines all processes related to manufacturing including production, inventory, supply chain management, inventory, human resources and more.
Manufacturing specific: ERP software was first designed for manufacturers but has since expanded to other fields. Plex keeps the original focus on manufacturing and provides specific solutions for this field.
Industries: Plex is especially designed to help manufacturers in particular industries. These include aerospace and defense, high tech and electronics, automotive, industrial manufacturing, food and beverage and precision metalforming.
Cloud software: Plex's ERP software is cloud-based, which means you'll pay lower installation, maintenance and support fees. It also means you can spend more time on your business and less time on software upkeep.
Security: Plex's cloud offers security for your company's data. Plex handles security monitoring so you don't have to.
Scalability: Plex's ERP software is flexible to the size of your business and how much data you'll need to store. Because the software is in the cloud, Plex handles the capacity needs so you don't have to store the information.
Best for: manufacturing industries such as aerospace, defense, automotive, electronics, food and beverage or precision metalforming.

Epicor is a global business software company. It has been in business for over 40 years and has more than 20,000 clients in over 150 countries. It offers ERP and other software to help businesses in the distribution, manufacturing, service and retail industries improve their operations.
Industries: Epicor's software works for many industries but is designed for the distribution, manufacturing, service and retail industries. Some Epicor ERP software clients include auto manufacturers, pharmacies, lawn and garden retailers, HVAC wholesalers and financial service providers.
Deployment choices: Epicor's ERP software is available hosted, on-premises or in the cloud. The different options work the same, so you can choose the one that fits your working situation best.
Customization for global businesses: If you do business internationally, you can customize Epicor's ERP software to help you stay compliant with local regulations. This software is currently used in over 150 countries and is available in 30 languages.
Epicor University: You can choose self-paced, classroom or virtual instruction for yourself and your employees. Training materials are also available on the company's website, and the company offers ongoing training as long as you use the software.
Virtual demo: You can take a tour of Epicor's ERP software on its website to see how it might support your company. You can also download the company's free ERP selection guide for more information.
Best for: businesses of all sizes in the distribution, manufacturing, service and retail industries.

Oracle is a computer technology company. Founded in 1977 and headquartered in California, Oracle offers over 300 software modules including ERP cloud software. Oracle is second to Microsoft as one of the largest software companies.
Specific solutions: Oracle has over a dozen ERP software lines, including PeopleSoft Enterprise, Oracle Fusion Applications, Oracle E-Business Suite, JD Edwards EnterpriseOne, Hyperion Financial Performance Management and more.
ERP focus areas: Each of Oracle's ERP software lines has a specific focus. These include financials, procurement, project portfolio management, risk management, enterprise performance management, order management and manufacturing.
ERP for goals: You can choose one of Oracle's ERP software modules to help your business meet specific goals. These include scheduling, cost control, resource optimization, budgeting and analytics.
Training options: Oracle offers many training methods to help your employees learn how to use the software. These include on-site classes, virtual classes, self-study, private classes and more. Its website features demo and training videos. They also offer 24/7 live-chat support.
Lifetime Support Policy: As a licensed software user, you can update to new versions at your own pace. Oracle will support your business through the process.
Best for: businesses in nearly any industry and of all sizes that need to streamline and manage business processes.

Headquartered in Bloomington, Minnesota, JobBOSS is shop management ERP software. It is designed for custom, mixed-mode and service manufacturers. JobBOSS has provided machine shop management solutions for over 30 years and currently has over 6,000 clients.
Extensive software basics: JobBOSS's basic software package has modules for most machine shop needs. Modules include quote and order processing, scheduling and shop floor control, inventory, dashboards, shipping, cost analysis and IT control.
Flexible software: This software is customizable to your business's needs. You can add modules for client relationship management, workflow, business activity monitoring, accounting and more.
Choice of hosting location: JobBOSS is available as legacy or on-premise software that you host yourself. You only have to buy it once but are responsible for upgrades and security. Or you can opt for a privately-hosted cloud version with a one-year contract.
Training options: You can choose from on-demand lessons, online classes, regional classes or consulting. Industry experts who understand how ERP software works on the ground in machine shop settings conduct the training.
Satisfied clients: JobBOSS's clients use the program for an average of more than 7 years. Its very first client is still using the software more than 30 years later.
Best for: machine shops, including custom, mixed-mode and service manufacturers.
Disclaimer
Information in this guide is general in nature and is intended for informational purposes only; it is not legal, health, investment or tax advice. ConsumerAffairs.com makes no representation as to the accuracy of the information provided and assumes no liability for any damages or loss arising from its use.