Tracker Marine
2500 East Kearney, Springfield MO
Consumer Complaints and Reviews

Tracker Grizzly 2072 CC, 115hp Mercury Optimax, upgraded Tracker Tandem Axel Trailer. First Issues -- The motor water outlet port (where the motor pees) has a bend just below the exit hole. This port gets clogged anytime I run the outboard in water with sediment (i.e. rivers and shallow lakes). This boat was purchased specifically for hunting/fishing on the Mississippi River and bowfishing East Arkansas. I have had to take the motor in 4 times when I could not unclog it myself ($75 each time). They will not replace the curved pipe, and I cannot do it myself as it will void the remaining warranty on the rest of the motor.
Second Issue -- Aluminum Decking and Supports Were too weak and bent. Decking first bowed around the frame supports, the then frame supports bent. The boat was taken to the dealership where it was purchased, and returned to the factory for repairs. Repairs took 2 months, when I received the boat, the original aluminum decking had been put back on the boat with new supports underneath (see attached pictures). You can literally see where the aluminum has warped around the support frame. When I asked why this had not been replaced as well, they told me that the aluminum had bent to the maximum amount that it would, and that even though it looks terrible and depreciates my boat below normal value, it was structurally sound and that is all they would repair was the structural integrity. I had to then spend $1000 in Hydroturf to cover the decking to hide the warped decking.
Third Issue -- Because the Boat is heavy with the upgraded motor, batteries, trolling motor, and lights, I purchased the upgraded Tracker Tandem Axel Trailer. Due to the design of the trailer, the boat rides very heavy on the bow. Due to the thin aluminum the bow roller has worn the boat down, and started cracking the hull. The crack is currently cosmetic and not letting water into the hull, but will be an issue in the near future as the crack continues to grow. I took the boat in on 7/5/17 to be repaired, since the only had to take a picture and send it to the factory it only took them until 7/18/17 to tell me that they would not do anything about the crack forming, as it was not all the way into the hull and leaking yet. The only reason I have this last information is because I have called them repeatedly.
I have asked Tony, the Bass Pro Pyramid Tracker Manager 4 different times in the last 2 weeks to call me as soon as he had any information about my boat. When I talked to him today, he said that they had looked at my boat 3 days ago and decided they were not going to repair it. When I asked him why he had not called me so that I could pick up my boat, he did not have an answer... If this were a motor vehicle, it would subject to lemon law. I purchased this boat in May of 2015. It has been in the shop for 3 months during the time that I have owned the boat.

I purchased a Tracker 1754 aluminum boat and Trailstar trailer used about two years ago. I noticed unusual tire wear on one side that inflation was checked constantly. To no avail. I finally measured the trailer and found the rear springs were welded unevenly, 1" off. Problem solved, except tracker won't stand behind their faulty manufacturing work. They say it's "out of warranty" to an obvious nonwear problem. I hope they're ready for the big lawsuit when the next tire blows after 10k miles.

I purchased a new Tracker PT185 Jet in 2004. It was beautiful with a V6 Mercury inboard easily cruising at 40mph. Within 2 years I noticed I was taking on water on a regular basis. After further investigation I noticed I had stress cracks all over the undercarriage of the boat. 21 stress cracks to be exact. Tracker's only solution was retail trade in on a new boat or drive it to Missouri for them to repair it which would take several months. That offer only came after numerous letters and phone calls to the corporate office.
I had it professionally repaired locally and the welder had nothing good to say about the poor craftsmanship of the interior ribbing. It was spot welded all over the place and our conclusion was the motor was too big for the construction causing the cracks. No wonder that model was discontinued! Never again will I purchase a Tracker product or anything affiliated with that company. The price is cheap because the construction is cheap. Trust me, look elsewhere.

In the beginning this boat (Tracker Targa V18 Combo) was a total nightmare... However, Tracker kept its word and addressed all issues with the paint and the conditions of the boat. Our biggest complaint is that we were sold the boat with a single axle trailer and based on the weight and the additions that we spent a lot of money on adding to the boat itself, it really does require the tandem axle trailer...which it comes with now. Great for anyone who buys one now but not so great for someone who bought one just prior and I mean just prior to them changing over. We have had to replace the axle and many tires due to the weight being placed on this trailer. It is a great trailer don't get me wrong, but not for the Targa.
We also have the Tracker Superguide Deep V Model and that trailer has lasted forever...so it's just a matter of Tracker selling you the right equipment for the job so to speak. Overall I don't think anyone would be unhappy with the boat. We are currently looking to buy a new trailer, an expense that isn't exactly great but clearly needed for the continued life of the boat and our experience.

I have been in consultation with the White River Marine Group and have had this issue resolved at this time by them.
The dealer I originally bought the boat from has ordered the replacement consoles as of this time and I will update the review once more once they have been replaced. It saddens me that I have had to do the research and calling to the marine group when I had a bow to stern warranty card in my possession which I showed the dealer and that tracker would not uphold at the time. I hope that they will extend the warranty to the consoles for 3 years once they are installed to ensure that this was not a defect in the consoles that is only showing up due to our cold Canadian winters.
Original Review
I bought the Tracker 2014 pro v 16' brand new from a dealer in my hometown. My problems started after the 2nd winter when my wife noted cracking of the plastic console on the driver's side. I took the boat back in and to my surprise the five year "stem to stern" warranty does not apply to products not made by tracker. Note!!! Pretty much everything but the structure is not warrantied. The initial damage looked to be from a possible overtightened screw so I let it go figuring oh well a little crack in the console.
I am now in the third year of my warranty and have just removed the cover off the boat and it looks as if someone has hit the console with a hammer. There are cracks in both sides of the console now and Tracker will not look after me as a customer. The damage to me looks to be manufacturing defects or Tracker tightened the screws too much and stressed the plastic. Nevertheless I am not pleased with Tracker's customer service on this matter and will not purchase another Tracker Boat. I will however note as a final say that they have on the site now stem to stern warranty from 2015 and up which from the looks of it does cover the consoles.
How do I know I can trust these reviews about Tracker?
851,761 reviews on ConsumerAffairs are verified.
We require contact information to ensure our reviewers are real.
We use intelligent software that helps us maintain the integrity of reviews.
Our moderators read all reviews to verify quality and helpfulness.
For more information about reviews on ConsumerAffairs.com please visit our FAQ.

Last Friday (4/21/2017) I purchased a 2001 Pro Team 165 and it has been amazing in just the one week that I have owned it. Owner took very good care of it. It is equipped with the Tracker 25hp and runs like a top. The carpet is separating in some spots and some of the electronics need to be rewired but the boat is 16 years old!!! Absolutely no leaks. Both times I have taken the boat out it has been pulled up the ramp with a removed plug and not the slightest bit of water has came out. Checked the back compartment where the batteries are and no water as well. I have only ever owned one other boat (Mako fiberglass hull) and this Tracker blows it out of the water!

1st day out with my sons with my brand new $29000.00 2017 Tracker Pro V 175 Combo. Boat took on water from unknown source? Filled side compartment on starboard side and left port side wet. Bilge continually pumped water. I can not believe this is happening Tracker. I sure hope the dealer I bought from takes care of this, I should not have to even be going through this Tracker! What kind of product do you make?

1 week old boat... 2017 Tracker Pro 16 walkthrough won't start. Key got stuck in the ignition, engine won't turn over. Had to call locksmith, then thought might be the battery, drove to closest Walmart to buy another battery and tools. Wasn't the battery. Boat 1st time on the water. This is going to be a financially wasted 4 day weekend and can not enjoy the new toy. Called the location where purchased. Advised to take it back to them or go to the nearest authorized mechanic. I drove 3 hours out, rented a house at the lake to do what?!?!? So family and I are stuck fishing off dock or take it to the closest authorized mechanic on a Friday at 4 pm?!?

I had finally found the boat I had been searching for many months, a 2013 Pro Guide V 175 WT at Tracker Marine inside the Bass Pro Shops in Las Vegas, Nevada. This one was 3 years used and priced within my tight budget. I immediately went to the internet to find reviews. I was met with numerous negative reviews by not only Tracker boats, but Tracker Marine dealerships. My Dad did the same thing and mentioned I may want to avoid Tracker and look at older Lunds and other makes.
I decided the price was too good not to take a look over at Bass Pro. Upon inspection of the boat, the original owner had made some funky modifications, including what looked like a modified trolling motor mounting plate. The salesman at Tracker told me they sell all used boats "As Is" but would make sure this mod plate was inspected by their mechanic for safety. When I picked up the boat, they had completely replace the trolling motor mount and it looked better than new with a sturdy and flush mount. Everything seemed in order, but the horn didn't work. The service manager mentioned I could bring it back for a free fix.
I took the boat to Lake Mead for an initial voyage. The 115hp Merc ran perfectly, the boat handled as advertised; however, additional mods made by the first owner were starting to show up. The capt chair had been replaced and was held together by a singe small screw and the trolling motor only went in reverse. I brought the boat to Tracker Marine to have the horn fixed and mentioned these other issues to see what they could do for me.
After reading the reviews on this page, I was not confident. One week later, they called me in to pick it up. Not only did they fix the horn, they fully reassembled the capt chair, fixed the trolling motor; then to my complete surprise, they replaced the two (3 year old) deep cycle trolling motor batteries. I had noticed the batteries were in need of replacement on my first drive and reluctantly planned on the $400.00 expenditure. My Mechanic mentioned it was not safe to rely on the old batteries while out on Lake Mead and they wanted to be certain my family was to be safe while on the water. I was sold forever on these guys. The crew at Las Vegas Tracker Marine are doing their best to make the customer happy and more importantly, safe. I will confidently bring my boat to these guys for maintenance and when buying my next upgrade. I know I can trust them to take great care of my boat and my well-being.

I have owned three Tracker boats over the last 25 years. I will never own another. My 2003 Tracker Tundra 18 WT sprang a leak. After 13 years of use and incredibly well taken care of the boat in 2016 rewarded me with an area of hull failure about 12 x 24. What apparently happens is water gets trapped inside the hull beneath the sprayed in foam flotation. The area that appears extremely prone to oxidation is right around the gas take filler hose that over time out gases and mixes with the trapped water. This eventually causes the primer paint to fail and accelerates the aluminum oxidation. ANY owner that has a tracker boat of the same vintage is likely to experience this issue. The oxidation shows up on the port side of the boat about a foot up from the transom. Again right around the area where the gas tank filler hose is connected to the tank.
I did report the problem to the marina I purchased the boat from. Tracker's response to the marina was to offer me $1000.00 in trade. I sent Tracker a detailed letter and photos of the damage. They never bothered to respond back. I am now attempting to repair the boat so I can sell it with full disclosure of the repairs. Although I did not expect Tracker to replace my boat I did expect them to at least offer to help with the repairs.

Bought 2016 bass tracker off show room floor had a hole in the all weld hull. They sent it to be fixed and it still leaked. Sent to factory to fix and replace vinyl floor. They sent boat back to us. Now boat is in way worse shape than it was when it left. The dealership doesn't want to release it to us 'cause they believe it is unacceptable. Bass tracker don't want to give me a refund and just wants to replace the hull. I've been without the boat for most of the time I have had it. They don't want to refund ANY amount of $. Very poor customer service.

Tracker Pro-Team 175 Special Edition (2006) purchased from my uncle and ten years old now. The boat had been under cover and covered for about three years. My mechanic replaced the fuel pump and gave the fuel system a thorough cleaning and sea foam additive. Replaced injectors and spark plugs, etc. Took the boat out to the lake; the Mercury 50, 4 cycle, fired right up at the first turn of the ignition and pushed the boat right at 38 mph. Smooth ride. Hull and paint are in excellent condition as well as upholstery and carpet. Had to replace the starting battery, of course, since it had been sitting for three years; but the deep cycle battery was still in good working order after a charge. I don't see why people are giving this boat such horrible reviews? I think it's great! I have seen some who are dragging the boat on shore, leaving it out in the rain, and various other things. Perhaps it's not the boat but the owner who has the problem?

I complained before about this company with my brand new boat. I had problems with the stern drive pump that was fixed after 3 attempts. Back here again because the boat got worse. After 2 months pulled out of the water and the whole hull was blistered, I called Tracker and they said it is not covered. I had to file a complaint with the BBB. I can't believe a boat 2 months old in fresh water is not covered under warranty. After calling the BBB they decided to bring the boat back to the factory to repair it, in the process losing the rest of my boating season. Anyone looking to buy a boat from Tracker, stay away. Trust me you will be a lot happier in the long run!

Bought brand new 2017 Tracker PT 175 TXW boat and already the diamond coat finish that is supposed to be harder than paint and not chip and scratch as easily is showing signs of wear. Specifically underneath. I pulled the boat up on the beach ONCE while I went to go get the truck and trailer. When I pulled the boat out of the water and got home to clean her up, I notice a half dollar size chip out of the powder coat in the hull. Now mind you, I didn't drive the boat up on the beach. I pulled up to the beach, jumped out of the boat, and pulled it to shore by hand. The sand and small rocks from the beach not only put a major scratch but took a good size chip out of the powdercoat.
Very disappointed in the "durability" of this diamond coat paint that they advertise. There is no way this should have chipped the way it did and has removed any faith I have in the durability of the diamond coat. It scratches super easy and chips super easy. And now that I have a chip in it, it is only going to get worse as water works its way between the powdercoat and the aluminum on the hull which will cause it to chip further if not repaired. Do not believe Tracker when they push how "durable" their diamond coat is. Even a gelcoat wouldn't have chipped this easy. Would have been better off with straight paint than their diamond coat finish. It's a shame.

Recently went to Bass Pro Shops after I sold my old boat to look for a new one. I did a lot of research on what I wanted to buy. I'm a fireman and don't make a ton of money, but I had money from my other boat. I wound up purchasing a Tracker Grizzly 2072 MVX Sportsman. This is the first new boat I have ever purchased. I felt like I got a deal on the boat since it was brand new but a 2016 model purchased as last year's model. I was thrilled. When I went to pick the boat up after the mechanics had gone over it one of them said that he had previously demo'd the boat with another customer. This was not disclosed before purchase. They told me they are not allowed to demo boats. I also noticed some fading on the deck since the boat had Sat outside for 1 year after they used it since it still had gas in it (old gas).
The boat was dirty and had not been washed after sitting outside for a year. I shrugged it off even though it made me feel terrible I was actually buying a used boat. A really good feeling when you just spent almost $30000 on a boat (a year's salary for me and I paid cash). Got the boat home and took my wife and parents out fishing on it. The boat Sat outside in the rain before we left. The fuel gauge was full of water, the battery had been on the charger and was dead (load tested it, bad battery). While we were on the water we noticed that the hydro turf foam deck padding had been damaged by UV Rays. It rubbed off and crumbled everywhere. Made a huge mess.
Called Hydro Turf, the manufacturers of the foam decking. They have recently pulled that product off the shelves because they are aware of the problem. They also only offer a 1 year warranty on their product. I brought my "brand new" boat back to Bass Pro's service center to have the issues addressed and fixed. The service manager was very understanding and very nice. I spoke with the manager and asked him if there is anyway tracker could cover ripping out the foam decking and paying to have the boat line-x coated or Rhino lined. He said that he would check. As of today, they have been working for 8 hours just to get the foam off of the front deck. This means they had to drill out all the rivets in my compartments, unbolt the front deck rails and disassemble several other parts to get the foam out and put new in. He informed me that tracker will not cover line x or rhino line since it is not a tracker brand service.
As soon as they put my "new" boat back together with new foam it is going to deteriorate again in a year or two. I really don't feel like going through this again. Tracker, please help me! My boat has been in the service center just as long as it has been at my house. They are still not done working on the boat, and will not be for some time. You are going to put a product on my boat that even the manufacturer will not stand behind, and they know it is a serious problem. We have not had a boat to enjoy this summer.
My boat and my experience is not acceptable. I would expect things like this if the boat was preowned and used for several years. I don't want the foam decking because I do not want to go through this again. I need the boat back soon or I should receive a genuinely new boat with these issues fixed. Meaning you have fixed the problem not put a bandaid on it. This boat has only been in my possession for 2 weeks. "Best selling boat on the market" they say (a title like this probably won't last any longer than your boats will). Please do something that will prevent these things from ever happening again. Take pride in your craftsmanship and products. This is an American made product.

While driving the boat at any speed the steering would turn very fast to the right. This could be a danger to anyone in the boat. Received all kinds of advise on how to correct the problem including driver error. After reading the complaints on the internet, I found one owner that still had coverage on his boat and bass tracker fixed his boat with a no feedback steering helm. My complaint is why hasn't this been a recall like they do on any other product. Cars, furniture, glasses, food. If your car made this kind of turn when you turned loose of the steering wheel someone would get killed then they would recall. Guess we're waiting for someone to get killed.

2016 Tahoe 400ts - Took it out for my first run and boat shut off and did not start back up. Gauges didn't work, but all accessory switches worked. Engine was not getting power to start. Friendly guy towed me back to the launch ramp. Took boat back to Bass Pro service center. Guy was stumped until he decided to plug his own ignition switch key directly into motor. He noticed the plug was loose that went into back driver side of engine. He tightened plug and problem was fixed. I seen another guy with similar problem and same boat... May want to check that out.

The whole problem has been resolved.
Original Review
I purchased a 2016 Tahoe 400tf in March. The problems started before the boat even touched the water. The power trim on the stern drive would not work so the dealer looked at it and said it's just a loose hose filled with fluid and I assumed it was fixed. Fast forward to May keep noticing well that holds power trim fluid is always low. The mechanic at the Marina says that always happens, so next I see fluid one day all in my ski compartment and destroyed everything in there. I told Marina a now they decided the whole pump assembly has to be changed.
The parts have come in a week ago and now I am dealing with a useless Marina. The owner said, "What's your rush to fix it". He said it still runs. I nearly laughed in his face because when I drove it bilge pump kicked on and trim fluid and water shot out leaving a slick in my wake. Maybe It will be fixed in August if the Marina owner and or mechanic can get to it between their vacations. What a joke. Do yourself a favor and stay away from tracker boats of any kind and the dealer who sells them in Lake Hopatcong NJ!!!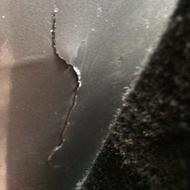 In May 2016, I bought a second hand Tracker Pro Guide V-15T with a 25 hp Mercury motor and Minn Kota trolling motor from an ex-military young family man about to move overseas. This was to be my retirement fishing boat for small lakes. The original owner bought the boat in June of 2010 in London, Ontario. The boat looked very clean, engine looked new and the owner took great care to winterize and store his boat.
The first time (June 4, 2016) I put the boat into the water I noticed that I had to use the bilge pump to pump out significant levels of water. I initially thought that I may have a faulty transom plug and thought not much more about it, as I had a second plug. In addition, the live well would not fill, even after keeping the aerator pump on for several minutes and trying to reverse the boat to see if an air blockage could be dislodged. On Father's Day (June 19, 2016), I again went Fishing on a local lake, made sure the plug was well tightened and noticed that again I had to use the bilge pump to pump out significant levels of water and the live well was not filling.
I decided to contact Tracker Marine on June 20, 2016, who thought it may be a disconnected live well hose and recommended that I bring my boat to our local Tracker dealer in Ottawa, which I did on June 21, to have the leak explored and the live well repaired. The Dealer reconnected a loose live well hose and did a leak check (of sorts), while the boat was on the trailer sitting in their pond. They called me on June 25 and reported that the live well was repaired and the leak was no longer a problem. I picked up my boat on June 27 and on July 4, I put the boat into the water, to find out that not only was the boat still leaking, but the live well was not working.
I returned the boat to the dealer on July 6, to be told on Monday July 11 that there was a 4 inch crack in the hull, which they found after doing a proper Hull leak test (filling the hull with water). They also reported that they had contacted Tracker Marine, who were refusing to cover the repairs, as it was outside the limited 5 year warranty and I was not the original owner. The Dealer sent the photo to a local welder, who was unable to provide a quote, without taking the flooring off in his shop (not a local welder). However, from previous Consumer Affairs reviews (Todd of Toronto, May 19, 2014) of Tracker Marine boat cracks, I was expecting a Bill of around $5K. When I contacted the Dealer about the live well repairs, they denied knowing about the issue, even after I had reported it to them on July 6.
Today, I contacted Tracker Marine Customer Service and sent them the photo of the hull crack. Very quickly (within an hour) I was sent a form letter from Tracker Marine Warranty declining any assistance in repairing a six year old boat, hiding behind a 2009 limited Warranty. I will have to repair the boat on my own, as Tracker Marine does not stand behind their product. I have owned aluminum boat for over 40 years and this is the first boat that has had so many problem that the company refuses to take ownership for and repair. I will likely never own nor recommend that anyone buy a Tracker Marine boat in the future.

Let's face it Tracker boats are good for a few years. I ordered and purchased a 2000 tracker with a lifetime warranty on the boat's hull, it cracked around 6 yrs ago and it was not guaranteed or warranted. I bought this knowing that it would be my last one until my son could drive a boat. I bought him a better boat as the Tracker I bought was not covered for the lifetime. I was looking at Lunds but they were more than I could afford at the time. Well the Tracker is a steaming pile. I replaced the carpet and when I lifted the bow floor I was mind blown, I had already carpeted the helm area. The welds were poor.
I did this work last fall in a cold barn knowing I would finish it this spring. Keep in mind, my boat is always stored. Well, I went to put the seat bases on and all the T nuts are rusted and failed. I would never recommend a Tracker to anyone. They last a few years and if you watch the pros that endorse them, they get rid of them in 3 yrs, get money in their pocket, and get a new boat. Put a few extra bucks into a Lund or a Ranger and get a far superior boat. My son, daughter, and their friends know this as we all fish, and my best friend who owns a Ranger lets a lot of folks know. They throw together a boat, charge less money, but make more on screwing people.

I purchased a 2013 Bass Tracker WT 175 with a 115 Optimax. This was my first boat purchase, I have learned my lesson. The boat is of extremely poor finish. Had to replace tires, align trailer, literally the boat is junk and falling apart faster than I can pay for it. The Mercury Optimax 115 has had problems from the start. It will not adjust to elevation changes which results in not getting on the water. My local Mercury service keeps going nowhere with service, Mercury outboard has given me the runaround. This boat has literally sat in the shop for most of its useful life, totally destroyed family vacations and my confidence in boats in general. No one will take this in trade and I have been told by my local service center this is the cheapest boat out there and that Optimax 115 is never going to work. I guess I'll continue to pay for it and park in the weeds next to my field and let it rot.

Purchased 2016 Tahoe 400TS from Tracker Marine Center in Savannah, GA. Since purchase April 2015 the boat has shut off without restarting approx. 5-7 times. Resulting in loss of money out of pocket and being in the Service Center more than my possession. Service Department has replaced multiple components on the boat in efforts to repair boat but come up dry each and every time. They have got to the point where there telling me there at a loss with what's wrong with my boat. The boat randomly shuts off while in operations and doesn't restart at all. Resulting in towing charges. So far a Lower Unit, Ignition Switch, PCM (Propulsion Control Module). Each being a different trip out and stranded on the water for an average of 3-5 hours at a time. The boat is yet again back at the Service Center, without restarting yet again.

I brought my boat in for a simple powerhead replacement at the Tracker Marine in Bass Pro Shops at the Manteca, CA location. I will not go into detail because I am in the process of suing them and do not know how that may or may not affect my case. What I will say is that they are absolutely the most incompetent and uncaring company I have ever had to deal with. The staff is completely idle and somehow manage to collect a pay check without doing any work. They will never call you back, and don't even try to get someone to answer the telephone. Their mechanics (at least Jason at the Manteca Bass Pro) are completely ignorant when it comes to working on mercury outboards. I would advise anyone that intends to use them, PLEASE read their reviews first. They have a 1.5 star review for a reason.
I would also urge everyone that has been wronged by this company to sue them in your local small claims court. I have never done it but am currently in the process and it is very simple to do. If you're like I was, you think it would be more trouble than it is worth, but it is in fact very cheap and painless. Go down to your local courthouse and file your claim. We cannot let this corporation continue to wrong the consumer simply because they believe they are too big of a company to be affected. If you are currently dealing with them I would recommend keeping a log of every time you speak with them and if possible communicate only through email with them. Let's show this overly inflated corporation that the consumer can take down even the largest companies if they do not treat us fairly.

Don't why I have to accept a new boat with all this damage, should of offered a new boat. Now I just paid 28k for a refurbished boat! Worst purchase ever! And they act like no big deal!

I bought a 2015 Pro 190TX used and attempted to transfer the warranty. I received a letter stating that the following was required: Proof of purchase (bill of sale or equal), $100 transfer fee, Inspection report from qualified dealer. The first and second item was noted in the warranty documentation. However, I question the need for the inspection. When I asked the local dealer, he had no idea this was required and had to call corporate to find out. Apparently the factory sent the dealer a warranty transfer checklist. The only way that I could see the said checklist was to drive 20 miles to the dealer or call corporate. The phone number at corporate that I was given was answered by a fax machine.
This boat check is charged by the boat dealer to the boat owner at normal labor rates. In my case, 1/2 to 1 hour ($40- $80). This brings my total transfer fee to $140 - $180. Now, if I buy a one-year-old car, in most cases I don't have to do anything to transfer the remaining warranty. So, what is this inspection really for? Are they looking for factory defects that they want to exclude? I suspect they are. Given Tracker Marine's warranty complaint record, I believe anyone buying a used boat should consider this issue before purchase.

Bought a used 2010 Tracker Grizzly in 2014. Boat leaked a little, but continually got worse over the next few years. In 2016 raise the boat off the trailer, checked for leaks, saw cracks forming on the bottom. Contacted Tracker. They said the hull warranty was 5 years and welds were lifetime. Carried it to a Tracker dealer and was informed since I was not the original owner there was no warranty. So I took it home, removed the floor, 40% of the welds on the floor were cracked and 2 cross member weld were cracked also.

My 2016 Pro 195 is 30 days old. 7 fishing trips on small lake and river already has 2 broken welds on transom support. The service dept. is going to weld it back but the powder coat finish will be ruined. This will leave me a new boat that will look bad and ruin any resale value. The boat also needs hydraulic steering, very hard to turn, if you trim high enough to turn easy it just skips across water. The 55 lb. tm is way too small--only 4 & 5 move the boat. Save yourself and buy something else.

'04 Tracker Super Guide V-16 Dlx side console. No leaks, weld separation, flooring problems etc. not too far from the SF bay I fish salt to inland brackish on the California Delta. Traveling glass smooth going out to 20+ knot, white caps coming back. 3 ft. Swells and white caps make for a stressful ride back to the dock but I've never feared a mishap even though the conditions have slammed and tossed the little 16 footer. Must have been a good day at the plant.
The trailer is another story. Custom made for the gist, pretty gloss black paint, Galvashield is a joke. It's treated on the outside only. You will be buying a REAL galvanized trailer. The local dealer offered a 'deal' on a new Galvashield trailer for $2200, the old trailer my responsibility. Pass. I bought a new, galvanized EZ Loader, had my 40 hp four stroke Merc's plugs, impeller, water pump replaced as well as the valves adjusted, compression test and new zinc anodes for the same price. They took care of the old trailer free as well as the paperwork. Just lucky I guess.

Tracker Boats Proteam 185. I bought this boat new in may 2003 from Holiday Camper off Fernandina back when they sold Trackers. Day one, breaking in the motor and going back to the ramp, I had an excess of water when I pulled the drain plug. I figured it was a leaky plug. Next time out, I thought it might be leaky fittings at the transom. I got a new plug and resealed all fittings at the transom. Next time out, still excessive water from the transom drain, figured it was from the live well system and didn't worry about it since it was a new boat. I put up with it for the rest of 2003 and didn't use the boat much.
The next year, holiday campers quit selling Trackers. Mountain top started and without my selling dealer just put up with excessive water and kept looking for a leak in the livewell system. None found. In 2005 I was talking with S&S Welding having something from home welded when I brought up my leaky boat. He suggested several things but what found it was filling the boats hull with water enough to cover the bottom. Turns out there was a crack down the longitude of the front left near the seam of the next rib outboard of the bottom V. I had to weld it and it worked for about 2 fishing trips to the lake. I took it back to S&S Welding and they welded their weld again.
One fishing trip later it cracked the weld again. Only minor and the leak is excessive by my standard, but not nearly what it once was. It is my belief, there is a stringer there in that areas that the factory missed and never welded and it allows flex when hitting waves. Looking at the picture, the crack was longitudinal about 6 inches long about where the star is on the trail star trailer and about where the 1st outboard rib would be from the center of the v on the left side. I have put up with this situation ever since and it has not got any worse. Last time I took it out, more water, New crack by the LH keel beam. Tracker dealer Berkeley Outdoors Marine took some pictures and submitted to Tracker. Denied, interior welds not covered so it may be scrap metal at this point. I have learned my lesson and there will never be a new Tracker in my future.

The upholstery seem to be sewed too tight and rip the upholstery just above the sew seem where it was put together. The dealer even said that's what it look like happen too. Said he's seen this before, this happen second two years of owning the boat. One year warranty on upholstery. Use the boat about four months the first year and the same the next. Seem to me four months out of a year is not a very good warranty. A car upholstery gets a lot more use and last a lot longer than that. Poor workmanship and a bad manufactured is the problem here. They said out of warranty and I ask if they could send me the matching upholstery, they only keep the same upholstery about three years so I could get it done here. Not willing to help.
Tracker Marine Company Profile
Company Name:

Tracker

Website:

http://www.trackerboats.com/