Ed's Marine Superstore
Ashland VA
Consumer Complaints and Reviews

This is the most crooked place I have ever been. They get you in the door with low prices online. And nickel and dime you to death. Charged me 100.00 to put my old motor on a pallet. Never told me there would be a charge for that. Took from 9:00 am till 4:45 pm to hang a motor on a boat that was already pre-rigged for the replacement motor. While I waited in their unconditioned showroom. 85 degrees in there. While there was a office with air conditioning just through the glass doors where they were all at. With what looked like a break room. The customer service was awful. And I felt like I was getting lied to the whole day. About process. Don't go there. The place isn't worth the drive. When it all came down to it I would have paid less at my local dealer right here at home. Without the hassle of driving all the way to VA. save your time and money folks. It's not what it's cracked up to be.

Owner, Roger - as unprofessional as could be. Name calling, degrading, just a **! Never go there!

Last month we bought a Skiff off Consignment and was assured everything was in working order and the motor ran great... (After we were treated like 2nd class consumers because we were buying used. The entire time we were doing the paperwork they were apologizing to a customer who was looking a new boats for taking so long, as they rushed us along and got a little miffed when we had more questions.) After a month of Bad weather and work constraints we were finally able to take it out. After 30 minutes the engine had catastrophic failure. Black smoke, all Cylinders shot. We contacted Ed's who pretty much said "sorry about your luck." Really? We haven't made the first boat payment and we get "a sorry about your luck?" Yes, it's a used boat however it had 73 hours on it.. and we were assured it was in great running condition.
I have never dealt with more unprofessional, unhelpful people. It's a shame we are trying to figure out how to fix a boat we JUST purchased. The dude running the place is chilling in the back playing World of Warcraft (we sat and watched thru the glass)... I will never spend another penny there, and can only hope that other people do the same. Stand behind what you sell. There is no way possible they didn't know something was wrong.. as told by the mechanic currently working on it.

I purchased a 2014 Alumacraft boat with a new 2014 Yamaha 20 horsepower engine. Got hurt one week after purchasing it. And never got to use it in the year of 2014. Went to use it spring of 2015. Boat would not run. It had less than one hour run time on it. Took it back to Ed's boat marinas. They put a new carburetor on it. Took the boat out, still would not run. Return with it. They charged for rework on it, never got it fixed. Yamaha referred me to a new shop. They worked on the engine putting a new water pump and another new carburetor that was only a couple weeks apart from last carburetor from Ed's boat marina. After Spending $1,364 on my boat I do not know if it will run. It is September 2015. Yamaha refused covered under warranty Ed's boat Marines refuse to cover it. This is going to court. Worst company I have ever fooled with. Buyer beware, Do not buy anything from Ed's boat marina. Buyer beware of Ed's boat marine and Yamaha.

First when you go into Ed's ask for Lisa. This lady was kind, funny and knowledgeable. And what's more if she didn't have an answer on the spot she went and got one. Believe me I asked A LOT of questions! Lisa satisfied my curiosity in the general boat department then proceeded to step us through the buying process. Lisa did this all with a smile. Very courteous and professional and all before we had even made a commitment. She was great! Then all that week, while waiting for boat prep because I added an upgrade, I bombarded her with questions. Lisa was fantastic. On the day of pickup I also enjoyed talking with Travis, the mechanic. He was very helpful and patient. And since purchasing have called back on numerous occasions and have got nothing but what I have come to expect from Ed's - professional, courteous service!
How do I know I can trust these reviews about Eds Marine Superstore?
693,837 reviews on ConsumerAffairs are verified.
We require contact information to ensure our reviewers are real.
We use intelligent software that helps us maintain the integrity of reviews.
Our moderators read all reviews to verify quality and helpfulness.
For more information about reviews on ConsumerAffairs.com please visit our FAQ.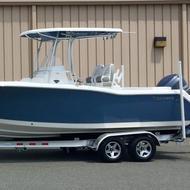 Had a great experience with Lisa at Ed's Marine Superstore. I actually purchased the boat site unseen. After a few months of looking for boats, we determined we wanted a Tidewater 230 and liked the LXF because of the seating arrangement. They had the best price that we could find online, so I contacted them, filled out a credit app, and wired a deposit. They were able to get us a low rate of 4.99% through one of the banks they use. When I went to go google Ed's marine to get the address to program it into my GPS I noticed all of the bad reviews, so I decided I would write something positive because I had a great experience.
I drove up from Norfolk, VA, finished the paperwork, did an orientation with the mechanic to go over the features of the boat, and trailered it back home. It couldn't have gone any smoother. I can't comment on their service/mechanic department because the boat won't be serviced there. The staff was very helpful and I love the boat. I've only had it 2 days and received several compliments on it. I had a couple questions about the boat and a promotion that came out on the Yamaha motor the day before I bought it. They signed me up for the extended warranty promotion and answered all of the questions I had. I love my new boat and I had a great experience! Thank you!

I have seen the inner workings of Ed's marine and can tell you run away. First off, they don't put the recommended manufacturer battery in your boat. They put a 525 cranking amp battery in all boats. Mercury calls for a minimum of 800 cca. Why do they do this? Because they get a better deal on those batteries. Sales come first. If you have your boat in for service expect to not see it for a while. I saw boats that were there for 6 months because new boats that were sold and washing the owners car are top priority. Trust me, you are better off paying a little more elsewhere.

Thanks everyone for taking the time to write these reviews. My son just graduated as a Marine Mechanic from UTI in Orlando. The first thing he wanted to buy with his paychecks was a Carolina Skiff. We went there today and he fell in love with the 218. The only problem was he wanted a Yamaha motor with his instead of a Mercury. I can't believe how close we came to giving Ed's Marine $23,600.00 of his hard-earned money and then not have good customer service. Thanks again for warning hardworking people about businesses like this that take advantage of people trying to buy something nice.

Purchased new $35K + boat, dealer registered with State of VA. After closing, could not locate decal numbers to affix to boat. After 3-4 calls and 3 emails requesting replacement decals, was told in writing by I believe the owner/mgr. Marc it would cost me $6 to obtain. Their position was "no error" was made and I lost the decals from a zipper enclosed pouch (that was not open prior to trying to locate the numbers!). Never have made such a large purchase and been challenge and rebutted over a $6 ITEM! Can't even imagine if the boat or motor has issues, what will be my reception! FIND ANOTHER DEALER!!!

Terrible customer service and the maintenance dept!!!! Do not buy your boat here even if you think you are getting a better deal. Pay the extra money and buy elsewhere!! I was told the warranty for my 150 4-stroke/trailer/boat was going to be taken care of right after the sale. Two months after the purchase, nothing was done. I was told before the sale my boat (that was on their lot) was going to take 2-3 weeks to prep, fair enough. It took two months to receive my boat from the original purchase date!! Ordered a Mercury stainless steel prop for the motor, received a generic junk one for the Mercury price!! Received a junky trailer and was told it was top of the line before the purchase. Numerous places just looked and laughed when they heard that and then saw the trailer.
Customer service is awful!! The sales associate was very smug and rude! My thought process was "Well I am getting a good deal on a boat". Those words came back to bite me. I had to order a new $600 SS propeller and modifications to the trailer. Buyer beware!!! You have been warned!! Please pay the extra money to get better customer service and better maintenance service. Please take review seriously!

I purchased a Jon Boat and trailer from them in the summer of 2000. Upon getting the boat home, I found out that the "matching trailer" that came equipped with the boat was not rated to haul more weight than just the bare hull itself. Upon calling back up there and talking with the salesman, I was told that "No one forced you to buy it." Now 13 years later, I was stupid and decided to give them another chance... I picked out a Jon Boat package, 16' Jon Boat with 9.9 Honda and a trailer of adequate rating. Upon getting all of this together, I was told I could not finance through Honda Financing because the only person that dealt with financing was not there because "her stupid kid is sick"... Okay, no reason for me to be offended, it's none of my business although it was unprofessional so I just told him I would go back home and get my checkbook and come back to purchase the boat and asked if it would be possible to get it all together so it would be ready when I got back as it would take a couple hours round trip and I was told that they would not begin to get the package together until payment was made.
Okay, a little aggravated with a sarcastic salesman, I went home and came back with my checkbook and started the process all over again. Upon getting paperwork started, the price went up when I asked why the increase, I was told rigging fees, okay so be it. As I started writing the check, I asked how long I could expect to wait for the boat to be ready and I was told 2 weeks for my check to clear... WHAT, WHY DIDN'T YOU TELL ME THIS BEFORE I DROVE 90 MILES ROUND TRIP FOR MY DAMN CHECKBOOK? I left and went down the street to Cooper Marine where I purchased a comparable boat for a cheaper price with a check and pulled it home after only 45 minutes that they took to wash the boat and check the trailer over.

I bought a brand new boat factory pre-rig boat, motor and trailer from Ed's Marine in 02/13. I also purchased a brand new deluxe aluminum T-Top from them and had it installed there, before I received delivery. I took delivery of my rig 2 weeks later. Everything appeared satisfactory. I took the boat out for the first time to break in the engine and get familiar with all of the controls. Upon returning from my FIRST trip out, I noticed 2 small fractures in the welds on my brand new T-Top. I contacted Ed's Marine about the problem and I was told to bring the boat in and have it "looked at" by the manufacturing vendor.
I delivered my boat to them the first week of June,'13. At the end of the second week in June, they removed the T-Top from my boat and shipped it to the manufacturer in North Carolina. I waited until July 4th week without ANY word from the dealership! I went to the dealership on July the 2nd to find out about my boat. I was informed by ED'S that it would be about 2 or 3 WEEKS. I then asked them to bring what was left of my boat to the parking lot.
I have since taken my TOPLESS boat home! I have holes in the floor, and console where the top was mounted. My stereo, speakers and GPS brackets and wiring are STILL with the T-Top! The date of me writing this review is July 12, 2013 and I have STILL not had ANY communications from ED'S! To me, this is COMPLETELY UNACCEPTABLE! The T-Top was originally fabricated, delivered and installed in 2 weeks! I would NOT recommend this dealership to my worst enemy! Looking back, I should have paid a little more elsewhere! What I have lost in usage and the physical cost of the undue stress makes the savings of the boat package pale in comparison!!!

I purchased the boat brand new 2 years ago. Since the purchase, I had a few trouble with the engine stalling. I head back to Ed for the complaint once and a 20-hour service. Then a few other people were unable to find the problem as well - See a review on Ned' Marine. Finally, I took the motor over to a dealer in Carrolton VA - Troy Marine - he told me that the Link and sync that is supposed to be performed on all new engines had never been done. Yamaha is unwilling to help and Ed's has told me in the past he doesn't care and that it's been too long. Unfortunately, Yamaha does not include a manual on how to be a Yamaha technician or the computer software on how to check everything out yourself. Buying anything from Ed's is a buyer beware situation - actually it is a buyer getting ready to be screwed situation. I have spent some $1500-$2000 extra to try and fix something that should have never been broken. Please save yourself the trouble and don't buy from Ed's.

After my boat sat in their yard for 3 weeks, I called the Ed's service department and they said that the boat was in the service bay. The following day, the service department called me and said we have 12 hours into the diagnostics and we cannot figure out the problem. They asked me what I wanted to do. I told them I did not understand why they were asking me what I wanted to do. They transferred me to the GM Marc. After a long discussion with Marc, I was finally able to figure out Marc was asking me to authorize a blank check for them to continue diagnostics work.
I called the extended warranty company, Corner Stone. They said they would not pay for large amounts of diagnostics time to Ed's Marine. I told Marc I could not give him a blank check. Marc said that is fine, come get the boat and bring $400 cash. I told Marc that the sign at the service counter said that customers were liable for up to 2 hours diagnostics time. Marc said, "Bring the $400 cash for 4 hours of work if you want the boat back." I figured I had no choice but to pick up the boat and pay them before they start charging storage. They returned the boat in pieces. They said when they stop work, they leave it as is. I immediately took the boat to another Suzuki dealer. I handed them the Ed's invoice and they noticed that Ed's in fact had a diagnostics recommendation from Suzuki.
Ed's never told me Suzuki made a repair recommendation. This tells me they were clearly trying to rack up service hours. The Suzuki dealer I took it to after Ed's recognized that the part was under factory safety service recall, something Ed's and their contact at Suzuki never noticed. Ed's runs their service yard like an impound lot. You had better pay them what they want after your boat goes behind their gate or you will not see it again. Cash Only. The general public needs to be aware of this business practice. I have read similar complaints like this online. I think that they believe if they keep their rip off to a few hundred bucks, people will just pay up and not report the rip off. The sad part is I bought the motor from them and paid over $17K. They lost a customer today. Beware of them. Learn by my mistake.

Ed's Marine provides some of the best prices in the area and has provided decent general maintenance service over the past 3 years that I have been taking my Sea Hunt Ultra 196 to them. However, over the past 6 months, I have had a reoccurring problem with the electrical system on my 115 hp Yamaha outboard. Ed's had installed a double battery system but the batteries were still losing their charge way too quickly. In fact, I got stranded out in open water of the Chesapeake Bay several times with my kids, not good!
Every time I took it to Ed's, they could not figure out what was wrong and they finally simply gave up and abandoned me right before the summer fishing and boating season. I took the boat to Cooper's and they quickly figured out that two major things were wrong. First, there was a large 1 amp electrical leak from a breaker box that was shorted because it was placed in the bottom of the bilge instead of being properly mounted above the likely water line. Second, the rectifier regulator (which charges the battery system from the engine) was shot probably due to the short in the bilge or by reversing the polarity on the battery (i.e., connecting the battery wrong).
During all of this, I found out that Ed's sold me a 2006 engine for my 2009 boat. They had verbally told me that the engine was a 2009 but on the bill of sale they simply stated that it was a "new" engine. Overall, I am very dissatisfied with the poor quality of service and probable unethical business practices.

On 1-10-03 we looked at a 19-foot Caroline skiff boat. Our sales person was Lisa. This was the only boat we looked at. We told her we wanted to purchase this boat with a few extras. She took us to another lady to write the contract.
Nowhere on the contract does it say the footage for the boat. When we went to pick up the boat it was a 17-foot boat and not a 19-foot boat. The two boats were the same price that is why it was not noticed when the contract was signed. We had no way to know what the ID for the boat meant.
They have admitted that it was their error for writing down the wrong boat. They want me to take the boat they have prepared or pay $1,000 more for the boat I was originally supposed to get. They said I have to pay for the extras again because they can not take them off one boat and put them on the other. I should not have to pay for their mistake when they can turn around and sell the mistaken boat with the extras and get their money back. All we want is the boat that we originally told them we wanted with our extras.
I understand we signed a contract but it doesn't say the footage. If it did I could understand it being our fault for not looking. They told me both boats were the same price that, that is why no one caught the error at the time the contract was written up. I have no way to know this was not the boat we looked at. I should not have to take a smaller boat just because someone there wrote down the wrong boat number. I understand they have added extras to another boat but that was not my fault. They need to take a little responsibility for their error and not expect me to pay for their mistake.
The company responds:
This matter was settled legally in our favor.
Ed's Marine Superstore Company Profile
Company Name:

Eds Marine Superstore

Website:

http://www.edsmarinesuperstore.com/