Card comparison site picks the Citi Diamond Preferred and Chase Slate
03/09/2017
|
ConsumerAffairs

By Mark Huffman
Mark Huffman has been a consumer news reporter for ConsumerAffairs ... Read Full Bio→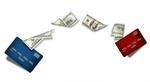 Credit cards come and go and sometimes the terms change, so it's a good idea to keep up to date on the latest offerings.
This year, card comparison site CreditCards.com has declared two cards -- the Citi Diamond Preferred and the Chase Slate -- as the best balance transfer cards.
Cards that allow you to transfer a balance are useful when you are trying to pay down a large credit card debt. In nearly every case, a balance transfer credit card will give you a few months in ...
More
Don't overlook the balance transfer fee
08/10/2016
|
ConsumerAffairs

By Mark Huffman
Mark Huffman has been a consumer news reporter for ConsumerAffairs ... Read Full Bio→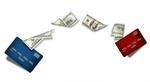 If you have a lot of credit card debt, you might save a good bit of money if you moved it to a credit card that doesn't charge any interest for several months. That way, all of every monthly payment would go toward paying down the balance.
Every so often CreditCards.com, a card comparison site, analyzes balance transfer cards and ranks the ones it thinks are best. This year, the Citi Simplicity Card comes out on top.
In fact, CreditCards.com says it really wasn't close. T...
More
Sort By