Don McGill Toyota
Houston/Katy, TX
Consumer Complaints and Reviews

I am writing this because I really don't want anyone else to go through the horrible experience that I went through. I found a 2012 Used Toyota Camry XLE Hybrid on Don McGill's website and decided to go in to check it out. It had all the features I wanted. I should have raised some red flags when I asked for the Carfax report and the sales person told me that it is included with all the paperwork. He then said it's a certified Toyota used vehicle, all Certified Toyota Used Vehicles must go through an 168 point inspect and have a clean Carfax report. I decided to buy the car and we settled on a price that was just north of dealer bluebook value. The next part is partially my fault. Things went so fast in finance that I forgot to check to make sure the Carfax report was with the paperwork. (Just a side note. Don't ever fall for the Blue Steel Protection. It's a total scam).
When I got home I went through the paperwork and discovered that the Carfax was indeed left out. I called the next morning to ask the sale person (who seemed like I was more of a bother to him) about where the Carfax was. He insisted that the Camry I bought was Certified and that I didn't need it. Hmmmmm. I kept pressing him for it and finally he said he would email me the report. 5-days pass by and still nothing. So I call him back. "Where is the Carfax at???" He replies "I thought I emailed it to you. I will email it again." Finally I get the Carfax report and start reading through it. Imagine my surprise when I see a HIT on the CarFax report for an accident that occurred about a year before I bought it. Now I'm mad. I call Toyota corporate and the only thing they can do is refer me back to the customer relations manager at Don McGill.
After trying to contact Don McGill customer relations and only getting a voicemail, I start doing research into the car. Apparently the car I just bought at full dealer re-sell price was involved in a front end collision that cost almost $7000 to fix. Guess who fix the car. If you are thinking Don McGill Toyota, then you are correct. They actually took this car as trade in a damaged state. Low-balled the previous owner and then sent it to their body shop to get fixed. They then put the car on their used lot and called it as a Certified Toyota Used Vehicle.
They made a tremendous profit off both the previous owner and me. The sales person knew fully well that the car had been in an accident. It was NOT worth full re-sell price and yet they lied and cheated to get me to buy it. Please, DO NOT fall for Don McGill. They are con-artists and thieves. They will lie to you and pick your pocket. This corruption goes all the way to the top. Don McGill himself is a con-artist and obviously doesn't mind his staff cheating people either. Don't believe me? Just look at all the negative reviews about his dealership. It speaks for itself.

First of all the salesperson was nice. But they were trying to pull a fast one on. Telling me my credit was in the 400 when it was not. I even showed them on my phone what my credit score showed and trying to tell me you can't always trust those sites. Credit is pulled from the same companies no matter what. If you know your credit is good don't let them tell you differently. They were playing a game to get more money from me and pay high interest. I found another dealership and was not lied to this time.

I bought a vehicle from this dealership in January 2017. I was told it was "mandatory" that I purchase their "Blue Steel Protection" plan for $199. I traded the vehicle in at another dealership after a month due to the fact that it was a smaller vehicle than I was comfortable driving. It was explained to me when I traded the car in that I could get a refund on the "extended vehicle service agreement" that I had purchased from Don McGill of Katy.
I spoke with their finance department at Don McGill about what I needed to do to get my refund and at the same time asked about getting a refund for the Blue Steel Protection plan. I explained to her that $349 was a lot of money for the Blue Steel plan and it was something I never wanted. She said it should have been only $199 and that it showed that I was "upsold" on the key replacement and that since it has been over 10 days and it was non-refundable. I didn't agree to be upsold on anything. I was blatantly lied to. I have tried speaking to several people at Don McGill about this to no avail. I think this is bad business practice to say the least when they reach a level so low so that start lying and deceiving customers. This "mandatory" purchase for this Blue Steel Protection plan is the reason I did not return to their dealership when I decided to purchase another vehicle.

First of all, I register online to schedule for maintenance. I'm glad I did printed out the confirmed time and date. When I got there all the so-called service advisor do not have me listed for service. My service advisor is Mike **. Second, he ask what wrong with my car when I listed it in the schedule online (which he never gets it). I told him the engine is on, the traction light is on plus the cruise control not working. The light on the dashboard for 2013 Limited Edition not working... 10yrs Anniversary light on the dashboard. Third, he ask have I modified my car. I was insulted by his question. I told him this is limited edition FR-S for 2013. The reason he ask because the dashboard is carbon fiber. I told him, the 10yrs Anniversary Edition came with it. I told him go check the car listed as purchased.
He called me back about why the engine is on. He told me is the sensor which going to cost me $500+ part and labor. I ask him three times, "Are you sure it's the sensor?" He absolutely sure it is the sensor is bad. Before I bring the car in for service, I went online to check why the engine light turns on when nothing wrong with the car. Every FR-S owner comments it's the motherboard is bad not the sensor. Since he my service advisor, I have to take his words. I told him go ahead get the replacement sensor replace the sensor.
When I arrive and pick up my car, I drove off the dealership lot heading toward North Eldridge. The engine light and traction light came on. I have to make the U-turn to go back to the dealership. I have to 2 mores hours to find out it's the motherboard that is bad. Then Mike ask if I want to drive the car home and drop it off the next day. I told him, "NO." I got a rental car for FREE of charge. I asked him why they replace the sensor, he told because according to diagnostic the sensor is bad. I ask him if the motherboard is bad, the sensor will be bad according to the diagnostic because the sensor cannot read the motherboard. He stick to that the sensor is bad then the motherboard is bad due to the sensor... I don't by that all.
My point is they should check the motherboard first since it's under warranty. Before they just jump in conclusion it's the sensor that is bad. Motherboard is under warranty, so it's free replacement. The sensor is not, so I have to pay $500+ for it even the sensor could be good. I hope Toyota see how the dealership operate because they not helping customer to save money instead charging customer more money on unnecessary service. I got NO apologize from Mike ** at all. The funny part is, I never get a survey about how was the services. The service department know I will the tell truth what had happen. Sad part is I bought 3 cars with Don McGill. I will never by car from them anymore. I will tell my friends and family not to buy from Don McGill.

I would like to express my appreciation for the very professional experience while buying a vehicle from Don McGill Toyota. When I call to inquire about a pre approval I will welcome with open arms by Mr Joseph **. He took care of business in a very honest, prompt manner with no problems. I was very happy with my choice and the overall quality of the service given to. I have found my dealership and salesman when needing to buy again because of the honesty and fair deal that I received. Again when looking for a great deal go to Don McGill Toyota!
How do I know I can trust these reviews about Don McGill Toyota?
855,731 reviews on ConsumerAffairs are verified.
We require contact information to ensure our reviewers are real.
We use intelligent software that helps us maintain the integrity of reviews.
Our moderators read all reviews to verify quality and helpfulness.
For more information about reviews on ConsumerAffairs.com please visit our FAQ.

On Feb 13 2016 I purchased auto body parts for my 2007 FJ Cruiser online from TRD Parts. When 3 weeks went by and still no parts I emailed them and they responded by writing, the delay was due to parts on back order. On March 11, 2016. UPS Freight arrived 2 hours past their deadline causing me to miss work and worse the 70lb box had been torn apart in transit and parts damaged. I took pictures and refused delivery. I immediately emailed TRD Parts along with pictures. Not hearing back I contacted UPS Freight and learned TRD Parts had already filed a claim. When I did hear back from TRD Parts they said once they received my damaged order they would inspect it and send the parts as they came in as some would be back ordered.
Friday March 18, 2016 they email me stating the parts arrived, then again with the list of 5 damaged parts. Apron, fender, fender liner, right seal and upper cover. And then emailed me again saying they have reordered my parts and could have my whole order ready to ship the following Monday. I did receive my order a week later and even though they shipped my parts in separate boxes (if they had done the first time I wouldn't be here), the parts I got were the same damaged ones. How they thought they could pull this off or that I wouldn't notice... I wrote them on April 24, 2016 about the parts and how unfair that they should benefit from the claim they filed off my loss. They wrote back on April 25, 2016 saying they understood my frustration and as for the claim they said UPS denied them. Reason given: they didn't insure that particular. That in fact they lost money.
If it weren't for the fact UPS sent me a shipping Bill in error I would have never discovered my parts had come from Don McGill Toyota nor find out they were never denied the claim. To make matters worse my order contained structural parts, the Apron they did mention was damaged but didn't reorder new as promised and Radiator Support which was also damaged, they apparently forgot to put on their list. Because of these two parts once assembled, along with fender and liner now the vehicle will not align to assemble the remaining parts correctly and what had been assembled up to this point all has to come off including Apron and Radiator Support which has to be replaced with new.
TRD Parts/Don McGill Toyota received $1750 from UPS, my Order totaled $1788.33 plus $461.66 shipping. The list of damaged parts they emailed me Totaled $785. I also would discover the claim they wrote had been denied on April 25, had already been paid to them and claim closed March 31st, 3 weeks earlier! They lied to UPS, they lied and cheated me. Basically they have committed a fraudulent crime. I have attempted to directly resolve the problem with them and they continue to refuse responding. I have contacted the Attorney General's office in Texas and filled out the complaint forms they mailed. I have written another email to TRD Parts/ Don McGill Toyota one last time with documentation giving proof of their malicious and intentional fraud.

The general manager stepped in and got me the car I originally wanted.
Original Review
I came in here looking to purchase a car within a few months. Just a simple test drive. A couple hours of looking, and I decided MAYBE to buy sooner. I signed the paperwork to drive the car off the lot, which I did not know I signed a "promise to purchase", but apparently I did. The next day, I went up to Johnny ** to return the keys to the new car, and retrieve my other one. He immediately caught attitude and claimed I signed a legally binding document and HAD to bring the money for the vehicle. I understand I should have read over everything, but I was under the impression that I had NOT yet purchased the vehicle, therefore, I was not obligated to take it. I went to the waiting area to figure out how I'm going to get my car back and Johnny started yelling/venting to his coworkers while I was right there about how rude it was not to purchase the vehicle after spending all that time with the salesman.
He yelled for about 3-5 minutes and had the attention of the entire sales floor including the customers. He then claimed that it was a federal offense to back out. I called multiple dealerships which they all confirmed he is lying to me. Mind you, this was a cash deal of 12k plus my trade in. First of all, NEVER yell at a customer. 2nd, wait until the customer leaves to vent to where they can hear you. I had no problem with the guy that conducted the sale for me. My whole issue is with Johnny **. A different approach, and I would be happier with what I accidentally purchased. He should have sat down with me and CALMLY explain what was going on. I will not be returning and I will make sure none of my large group of friends and family never step foot in there. I may have lost my car and my money, but they have lost a lot more.

Don McGill Toyota practices deceptive advertising. In 2013, I purchased a certified pre-owned "Toyota Prius III". I printed out the original advert and still have it. I'm trying to sell the car now and turns out they sold me the lesser model II. Also there are two big pieces of yellow tape behind the front bumper that you can see only if you look under the hood and through a two inch wide hole with a flashlight. CarMax pointed this out to me. Crooks!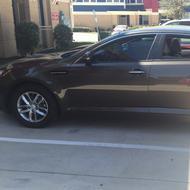 Kia Optima vin # ** - it's a LEMON!!! Wow!!! My first car experience was a lesson learned of what not to all! Found a car @Don Mcgill Toyota of Katy (225555 Katy Freeway, Katy, Tx 77450) off of I-10, February 29. Exactly two weeks later my used Kia Optima 2013; 47,703 miles. My first problem was that my oil was not even top off! I took it back immediately. They said my car only had 1/2 quart oil in it which was extremely low, drained my oil and refilled it, FREE OF CHARGE OF COURSE!!! They SOLD ME A LEMON!!!
I began to have problems with acceleration pedal began to hesitate which catch my RPM weren't catch!!! March 14 I took my car to Kia dealership to see if they could diagnosed but they could find anything! I immediately take it back to @Don McGill Toyota of Katy (21555 Katy Freeway, Katy, Tx 77450) talk to sales manager ** who first lied to my face, told me they would which me into a different car. Then after speaking with his General manager **, he said that my loan was finalized and that I would have to trade her car back in and have negative equity. Then he left me and my fiance at the desk for another twenty minutes. I actually called my lender which miss ** said I actually 24 hour window to REWIND his loan like it never happen leaving me not responding for anything!!! Which I thanked God! All I can say is lesson well learned!!!

Early December 2015, I dropped my car at Don Mcgill Toyota as they are a certified body shop and I had used them two times before. This till as of now 1/12/2016 (more than a month), I have not received my car back which had minor scratches and dents at the back. In the previous experiences, they used to send notifications and do work relatively quicker but this time no notifications and very painfully slow work. When I called, the guy said that the alignment was bad and he submitted the supplement to the insurance without notifying me.
Why didn't he notify me of that? Should the insurance of the person who is taking this responsibility think that I am hiding something or getting extra work done? How did the alignment go bad? When alignment was not involved in this very slow and minor accident. I drove a month after the accident and never felt anything about the alignment and had gotten the alignment done just a few days ago. These guys are not reliable and very slow in their work. I am disappointed to keep my faith in them and return back. This is the last time I am getting body shop work done through them.

Everything said is a lie, if in writing they won't honor. DON MCGILL TOYOTA KATY, contacted us 1/2 way through our lease (we are 4 time customers of theirs) and told us they want my truck to trade for a 2016 same model, the same cosmetic features, etc. This can be done easily/no money down and monthly payments remain the same/down. Was told they found a truck and it will be delivered. Sent me the specs of truck and wrote, no DP and monthly payments to remain the same. The truck was very similar. A few differences/ additional upgrades and will be the truck to finalize trade in. 7th day of dealing with this I'm asked to come in. Long story short, I'm shown break downs of what new payments would be if certain amounts were put down. NOT AT ALL what we've been told and written to about. Ends up they won't honor deal, even if it's in writing from them.
DON'T care if you're a repeat customer, they will screw literally anyone over, lie and waste time. Asked to talk to Manager who assured us of the deal and chose the truck that would be used to swap with. She hid in her office to avoid me. What is wrong with people, is their no honor, no care for customers/ even repeat. NO HONOR AMONG THIEVES.

2 years ago I had to buy a new Camry, did my research and went to this dealership. There were many salespersons there but no one wanted to talk to us at first.. Looked like we were invisible there. Lady at the front desk wasn't help at all. When finally a sales rep decided to talk to us he was condescending and rude. No manners whatsoever. We walked out and bought a brand new Camry at another dealership with more than $3000 saved. Fast forward to 2015 I wanted another Camry and decided to give them another chance but the new representative was even worse so I went to the same dealership that I bought this Camry from and came home happy. Story doesn't end here....
Now about service center. The first Camry I bought in 2013 it came with a 2 year complementary care from Toyota, so I thought why not take it there for service, maybe the staff is not as bad but once my car was giving a sound with less than 5k miles on it. It had a bad strut and they failed to acknowledge it. And give me service under warranty and I had to go to another dealership to get it fixed. Fast forward again to the day I am writing this review. My car had a flat. To my misery I had to go to this place to get the tire fixed. The worst customer service you can imagine. Only if I was not late from my class. I would have gone to another place. First they ignore me then they just refuse to do their job properly. Long story short. I am never going there again. It's not worth it to get insulted every time you go to a place. I have been really tolerant with them giving them benefit of the doubt but they are something else.... People beware. Save your money and time...

Be aware of any internet ads you receive from Don McGill - I was misled twice. The second time involved an offer of $18,776.00 for 2015 Camry LE on Saturday, which was sent to my email (I still have the email). So I emailed the Don McGill salesman I have been dealing with - this offer - his manager then calls to tell me that this offer is for only one Camry LE. So I asked him where in the offer does it say it is for one car? Then the internet salesperson tells me they have Camrys priced at $18,776.00.
So I go into the showroom and the salesman tells me the same thing. That the offer is for one car only. So the internet salesperson at Don McGill misled me too. Since I am still in the market for a Camry - I decided to dump Don McGill and went the Joe Myers where I was treated in a much more professional manner. So next time you get anything from Don McGill please be aware. As for myself I will never go to Don McGill Toyota for anything. Never again will I want anyone else to suffer through the mental anguish that I went through.

2 months following my cash purchase this dealer refused to provide me with a certificate of origin (that would allow me to pay taxes and register the car in my home state) unless I entered into an entirely new purchase agreement. They effectively and unapologetically extorted me into a new agreement after I had been in the car for two months.

My wife and I are in our twenties and college educated. I just finished school and got a good job, so I decided it was time for a new truck. I mention this because I believe the sales person tried to take advantage of us because of the fact we are so young. Very long story short after test driving a truck we began to discuss price and financing. I had done my research and knew all the possible combinations of interest, trade in, and cost it would take to get my payments where I wanted them. First he came to me with a "great deal". 1000 trade in, 8.9% interest, and full price on the truck! To which I replied, "Are you kidding me? There's no way I'm paying that interest rate. I have an 827 credit score."
I told him I wanted 3-4% and 3000 for the trade in to even get close to making a deal. After an hour of going back and forth we finally walked and got a cheaper deal on a better truck and they even threw in an extended warranty. The thing that drove me out the door was his condescending attitude trying to educate me on financing when I'm a finance major. He told me 5 times, "The price is the price." He flat out did not want to lose any commission to get the deal done. If that is how they train their sales personnel, they have no integrity.

The sales manager made it right. Customer happy.
Original Review
BUYER BEWARE!!! SERVICE DEPT MGR IS A JOKE!!! RUINED 3 TIRES AND REPLACED ONLY 1. The purchasing and financing went smoothly and then I got to deal with the service department... The Dis-service department performed a tire rotation during my last oil change. Soon after, I noticed a major vibration in the steering wheel. Since this was the SECOND time I had issues after getting the tires balanced and rotated at Don McGill Toyota so I stopped into my local discount tire to let the pros diagnose and fix the problem. Well, it turns out that when I got the tires rotated during the last oil change, someone in the service department over-inflated all 4 tires to almost DOUBLE the max psi. Discount asked me why my tires were at 65 psi? They then showed me how it ruined 3 of the 4 tires. So I go back to Toyota and the SVC DEPT boss ** decided that all they would do was replace 1 tire and he thought he was being the nice guy for doing that.
Bottom line, I am having to cough up $400 to replace the other 2 bad tires, not to mention all the time that I have into the troubles of all this mess. I work in the service industry and this is not how you treat customers. They obviously don't really care about INTEGRITY and making things right. To top it off, the "WARRANTY" that was sold to me by the dealership conveniently isn't covered. I will say the service rep named ** is great and could possibly be the best service rep I have ever dealt with at any dealership. However the so called boss of the service department ** is an unethical man with no INTEGRITY and was ultimately the one who makes the calls.
Their department caused the damage that ruined the 3 tires, they should replace ALL 3 tires. I will be taking this to small claims court, BBB, ripoff report, consumer affairs and post this review on EVERY site that I can dig up to warn potential customer what type of business they will be dealing with. Consider yourself warned...

My car was parked when a drunk driver hit it. It is an 06 FourRunner. The driver never braked and pushed the car into a light pole. McGill received the car and began repairs. They insisted it could be repaired. As soon as I drive off the lot after four weeks and $10K in repairs, I heard noises. I also found orange peel on all pieces they repainted. I returned the car and they owned the paint issue. They told me the back end noise was brakes and the front end was the guards when the wheel is turned. I argued the car was inspected two weeks prior to the accident and neither would have passed if their answer was correct.
After months of arguing with both the dealer and Progressive (my insurance), I took my car to Helfman River Oaks. The brake noise? The exhaust falling off from the back end hit in the accident. The front end noise? A broken control arm on the right side of the car. I spoke to the dealership about these three major issues, ** said they fixed the paint so what's the problem. He offered to help me with a trade (I declined) and to help me out in my next accident. I said they would never receive insurance money from me and he said no, this would be free of charge, a bumper, door, whatever I needed. After speaking to Gulf States Toyota, I learned there no notes on my account after the car was picked up the first time. No notes on noises, repainting, nothing. Not sure how I'll get my free bumper with no notes. Stay away from this dealership.

I just bought a beautiful used car from this place and it keeps breaking down on me. I tried to contact the salesmen about 15 times in one week and he hasn't replied to me. Thankfully I got a extended warranty but I didn't expect to need a new battery, alternator, and new brakes for my vehicle 2 weeks after buying it. I highly don't recommend. The day I walked out with keys was the last day they cared. Took my car to service and they stole my Acura symbol of my motor as well. Damn losers.

There have been several instances where hub caps were missing after a tire rotation. When I confronted the technician, he told me that hub caps aren't really meant to last and that I should have purchased rims. Odd, because I purchased my vehicle from a Toyota dealership and I was never offered or educated on rims. I explained to the technician that I also own another Toyota and have never had an issue with the hub caps. Although, I have never had the oil on the 2nd Toyota changed at Don McGill in Katy.
During a recent visit, I had my truck in for a routine oil change/tire rotation and informed the technician that my tire pressure light was on. He stated that he would check the pressure. After service work was completed, I jump into my car and find stains on the driver door panel (mechanic grease) and red stains on the front passenger seat as well as a soda can. I began to drive anyway because I didn't want to complain but decide to return to the dealership and speak with the technician regarding the soda can and the mechanic stains.
Technician apologizes and asks if I left the soda can in the truck. My response was, "No, I do not drink soda". He drives my truck to the back and has the stains/soda can removed. Begin to drive off and I notice the tire pressure light is still on. I assume that the pressure was checked and someone forgot to reset the tire pressure light. The next morning, I phone the dealership and ask to be transferred to the service department. I am disconnected and call back. Operator transfers me again and once again am disconnected.
Phone back again and am transferred to the service department. Speak with a technician, explain to the technician that I just want to confirm that the pressure was checked. Technician states he is writing down a message for the technician that assisted me and will personally tape the message to his computer. I waited all day for the technician to return my call. He did not, so the next day I phone the dealership again and leave a message on the technicians voice mail explaining that I just want to confirm that the pressure was checked. Technician never returned my call. THIS IS THE WORST SERVICE DEPARTMENT!!!!!!!

I was taken advantage of by the salesperson at Don McGill Toyota. He convinced me to trade in my 2011 Venza that was almost paid off for a 2015 Venza that I did not even want. My child support will end in 1 1/2 years and I don't know how I will be able to continue to make the payments after that.

Last Saturday around 4:00 PM, I went to buy a car and found one - it's 2008 Honda CR-V blue color, I liked it and it was nice. It does have 91000 miles on it, but listed online 56000, after we asked about and drove it, we find it does have 91000. We talk to someone there and I really not going to say his name 'cause he was nice salesmen, not his flute, he said someone posted wrong and they not going to sell it to anyone so I left not happy and the car still posted wrong online. So you guys do not care about your customer, beside you should, because it's a reputation for big dealer. Have a good day.

Bought a car there in June, just today, November 16 to be exact, I got the title. Called, sent emails, wrote, went by, nobody ever returned a call, email, whatever. Been buying cars for 50 years, about the worst experience I ever had. These folks couldn't care less about anything after you give them your money.

I drive 5 hours to buy a car. After we signed papers we left to go back home 5 hrs. 45 miles out the car starts shaking so I pull over and I have a flat. I call my salesman and all they can do is to look for somebody that can help me. I go to get the spare out and tools, I realize there are no tools or a jack. Luckily there is a man at the gas station that had tools and a floor jack.
In the morning when I go to stop my kids off at school, another tire goes flat. The guy at Firestone tells me that the wheel had a pin. It had a big Crack that had been welded. So now I have a wheel with a Crack and another with a hole in it. The dealership offered to give me $100. What a joke. Wouldn't even offer to pay for the wheels or the ruined tires. All they could say was that the car was drivable when I left and that it could pass inspection so that's all they could do.
I traded in a 2005 Escalade in very good shape with no problems, brand new set of tires and very nice wheels and I got a car with 2 bad wheels, a messed up tire, low on antifreeze, a molding that was coming off, fog lights that stopped working and brakes that started squeaking already. Worst experience of my car buying life. DO NOT BUY FROM THEM. Make sure if you do to buy a new car.

When my car was damaged, I decided to take it to Don McGill Toyota with the belief that I will receive quality care. This was not the case. As I was at the service desk waiting, nobody asked if I had been helped, or needed help after five minutes. After being directed to Candy **, I was informed that she would need a breakdown of the estimate. I decided to call the insurance company and have the breakdown faxed to Candy. After three days of my car being in the shop, I was informed by Ms. ** that Candy was out sick for the day. Ms. ** pulled my file and stated that there was no estimate breakdown. I offered to call the insurance company and have the insurance company e-mail me and if I can e-mail her the breakdown. Ms. ** agreed and responded back right away that she had received the estimate and will place it in the file for Candy.
Candy ** looked at the estimate and stated that my vehicle will be ready in about a week. As a week progressed, Toyota Rental called and left a message, asking about the status of my vehicle and extending the rental. I do not work for Toyota Body Shop and had no idea when my vehicle would be ready. I decided to call Ms. ** and she was unavailable and I was asked to leave my contact information. After nearly three hours, I decided to contact Ms. ** and I was able to speak with her. Ms. ** asked for my e-mail address and stated that I will receive updates via e-mail through the repair tracker system.
After the new targeted delivery date of 8/20/2104, I received another call form Toyota Rental asking if I need to extend the rental again. I asked the agent, if she had spoken with Ms. ** because Ms. ** informed me that she will correspond with the rental company about any extensions. The agent stated that Candy ** did not correspond with them and that I should contact a supervisor of the body shop. I was then placed in contact with Michael. Michael stated that he will speak with Ms. ** about the update of my car. Michael also stated that the Toyota Rental agent should know who Candy is because she's been working at Toyota for about a month. Michael continued to state that the agent should have walked to body shop to speak with Candy **. Michael stated that my vehicle should be ready by Thursday, 8/28/2014 and if not then by that Friday.
Friday, August 29, 2014, around 1:30pm, I called to speak with Ms. **, after receiving another call from Toyota Rental inquiring about an extension on the rental. The lady that answered stated that Candy was unavailable to speak, but she spoke with Candy and Candy stated that my vehicle would be ready today and that I would receive a telephone from Candy. As 4:50pm approached, I had not received a phone call from Candy **, so I decided to call the body shop. Maria from the body shop answered and asked for my insurance, last name and first name. I informed her that Candy is the service advisor that was providing updates about my vehicle.
Maria placed me on hold for nearly ten minutes and stated that Candy is unavailable and to leave my number and she will call back. I informed Maria that Candy has failed to return phone calls in the past and is there a supervisor or an individual that can assist me. Maria stated that the supervisor was busy with a customer and that she can have Candy to return the phone call. As 5:30pm approached, I had yet to receive a call from Candy **, so I called the body shop and there was no answer. I had the operator call and she stated that nobody answered the phone. I asked the operator who do I need to speak with, in order to make a complaint and I was informed customer relations.
Karen from customer relations has been the most helpful individual from Don McGill Toyota. Ms. Karen stated that she tried calling the body shop and that she will walk over to the body shop personally to find out what is the status of my car. Ms. Karen called back and stated that she spoke with Abby, because Candy was gone for the day and Abby stated that the vehicle was ready. It was 5:50pm at the time, which was not enough time to fight Houston traffic to return the rental and pick up my vehicle. I explained to Ms. Karen that because of the breakdown of communication between Candy ** and myself, as well as Candy ** and the Toyota Rental agents, that I am now responsible for another day of car rental, that could have been completely avoided. I further explained to Ms. Karen that I am paying for the car rental out of pocket. Ms. Karen stated that she is going to place me on hold to find out how she can further assist me. Karen informed me that her supervisor was out and that she will leave a note with Sahara about the issue.

Don McGill is falsely telling potential customers that they will receive a $25 gift card simply by visiting their dealer and test driving a vehicle. I contacted Don McGill to inquire about a new car purchase about two weeks ago. I spoke at length with a salesperson and discussed details regarding my potential purchase by telephone and via email. We are not able to agree on a price and decided to wait.
I subsequently received at least 8 emails and 5 telephone calls from Don McGill requesting that I visit their dealer and test drive the vehicle, including an email from the general manager asking for my feedback. In return for my visit to their dealer and test driving a vehicle, I would receive a $25 gift card with no commitment to purchase any vehicle. The gift card was an incentive but I was more concerned about the price of the vehicle.
I made the decision to visit the dealer and discuss my interest in a new vehicle in person. Upon arrival, I was greeted by a salesperson. I informed him of my intention to purchase a new vehicle and also provided him a copy of a personalized voucher that I received from Don McGill regarding the $25 gift card. The salesperson quickly indicated that he knew nothing about the $25 gift card voucher but would check with the Internet Manager. The salesperson returned after a few minutes and informed me, " We are out of gift cards, sorry, we have too many people coming in today... We gave them all away... But it's not that we don't believe you...or that you don't want to buy a car...but you know how it is. Come back next week...we may get some more." I was in disbelief and concerned about salesperson's supposition regarding my intent. His tone and demeanor was less than professional and condescending. More importantly, he totally disregarded the intent of my visit, which was to test drive a new vehicle that I intended to purchase. Shame on you and your deceptive practices, Don McGill. The gift card was actually going to be donated to local charity and not going be used for personal use.

I got into an accident and Farmers direct me to Don McGill Toyota at Katy. I gave them a call and the lady told me to bring my car in anytime before 6 pm. Brought my car in the next day, and told the front desk guy (Jose) that I brought my car for repair. He then told me that if I'm with Farmers, they won't take in any more appointment until next week, which is a week from now. I called Farmers to see if they have another place I can bring my car in. She then asked to speak to the front desk guy. After a brief talk, he gave me the form to fill out. After I filled out, he made us wait almost an hour until we asked another guy how much longer we have to wait. The other guy then said that he didn't see our name or form. He asked another guy and he had the form right in front of him. Avoid this place if possible. Will never go here for anything else in the future.

On Feb 19th, I went into the service department at Don McGill Toyota at 7:15 pm to have my oil change and a gentlemen by the name of ** stated that between 7pm and 8pm the service department is for pick ups only. When I explain that I check the website and also look at the door it states the hours of operation is 7am to 8pm and ** stated again that from 7pm to 8pm is for pick up and for the mechanics to clean the service area so they can leave at 8pm. I also explain to him again that when I came in August after 7pm to my oil was change with no problems. Needless to say I was turned away without my oil being changed. Horrible Customer Service.

Don't take your car here for vehicle repairs. They will do 80% of the work, damage your vehicle, and then claim it's supposed to be that way. I'm now looking at the reviews trying to figure out how I can get my vehicle away from them and to another more reputable body shop. And before anyone thinks my review too harsh, they repaired my vehicle. Replaced the front bumper. I can remove the bumper with my pinky. Its a Ford Truck. I don't think it would have passed a safety inspection if you could remove exterior paneling with just your pinky. Stay away!

All I'm going to say is I'm not happy with the work that the body shop had done to my car. The manager is rude and he was yelling. Sorry, I will not be back.

My car got hit and I was asked to pick where I wanted it fixed at. I picked the above because it was closer to my home and job, and I use a Corolla 2010. I had been instructed by Farmers Insurance to rent a car at Enterprise, but I was convinced by the above company to "conveniently" rent theirs. I picked the rental on Tuesday. The rented Toyota Camry had tire pressure lights on by Monday morning, so I dropped by there after work in the afternoon to get it fixed. That was when I was told my car had been ready since Friday... no phone call/calls, no text message/s, no voicemail/s.
And I am expected to pay for the rental car from Friday till that Monday afternoon! My insurance company, Progressive, called me about it, and I was told I owe Don McGill nothing! Since that March 2013, I have been getting harassing calls from some girl/s there, and today they put a debit of about $300 to my account claiming I authorized it!
Don McGill Toyota Company Profile
Company Name:

Don McGill Toyota

Address:

11800 Katy Freeway

City:

Houston

State/Province:

Texas

Postal Code:

77079

Website:

http://donmcgilltoyota.com