Consumer Complaints and Reviews

I had an accident in my 2011 Toyota Camry approaching 2 weeks ago. A person in a Chevy Malibu decided he needed to get into a restaurant parking lot in a hurry from 3 lanes over. I, unfortunately, had to be the victim of his lack of preparation as he pulled out at a 90 degree angle from a stopped or near stopped position in the middle of a 4 lane street crossing over 3 lanes - causing me to hit him - it was like hitting a brick wall! He was smashed on the driver's side door while I sustained right front end damage. His airbags immediately deployed. My airbags remained intact.
I sustained minor head and neck injuries. I'm very grateful that neither of us was seriously injured and that no one else was in the vehicle with me at the time. My car initially didn't appear to be "that bad" but it was not able to be driven as something was rubbing against the right tire and although the impact was to the right side, the entire grill and hood were crumpled/damaged. Several days later, I receive a call from his insurance company, stating that my car was totaled! Under the hood, the frame was a complete mess. Over $12,000 in damages! No one could understand why my airbags didn't deploy. I've driven Toyotas for about 20 years and have always said that I would never drive another vehicle. Well, this is no longer true with all of the airbag reviews I've seen and the lack of safety Toyota provides. I'm extremely disappointed!

I took my 2003 Toyota Sequoia to interstate Toyota Airmont New York for the recall airbag and ECU update. After they were done with the car my airbag light comes on. So I go back to them and they said I have to pay to get it LOOKED at. Now I have no airbags. I did before I took it in for 1 airbag. Bad customer service there. They destroyed my truck!!!

I was in a car accident October 2016. My Corolla is/was about 7 months new. I was turning right after stopping at a stop sign going less than 10mph. A small pick up truck was coming from my right turning left onto the street I was on. He made the turn too short and hit me head on. The speed limit on his street was 25 MPH but I don't know how fast he was going. Anyhow ALL my airbags deployed and because of this my insurance company totaled my car. I know everyone else has a problem with the airbags not deploying but with my situation a little hard to accept especially with speed not being a factor. Has anyone else come across this? Thanks!

On Aug 24, 2016 my 11 year old son and I were sitting patiently at a red light in Warner Robins, GA. Out of nowhere seemingly a Dodge car of newer model rear ended us going approximately 45+ mph. We were violently pushed into a Ford Ranger in front with a ball hitch on back that went deep into the front of the car destroying the engine block as oil and every other liquid emptied on to the road. The back of the car was pushed in as well. We were both injured in the wreck, but wearing seat belts certainly saved us more damage. My question to Toyota is why did no airbags deploy? We were hit very hard back AND front with no deployment. Is it because we were stopped? If so, Toyota should redesign their system. Any hard impact in front or back should deploy the airbags in my opinion and safety along with gas mileage is the only reason we chose this car. I can't remember off hand but it's either a '05 or '06 model with the hatchback.

My husband suffered a medical event which caused him to lose control of our 2016 Prius. The car crossed one lane of an interstate, went in the median and came out airborne, struck the pavement, continued across the opposing lanes of traffic and up an embankment striking a pile of rocks and a fence before coming to a stop. The side curtains deployed although there was no impact whatsoever on the sides of the vehicle. My husband struck something with his head and received a subarachnoid hemorrhage.
I contacted Toyota and was told that the type of collision was such that the air bags would not have deployed. My response was obviously the force of impact was enough to cause a serious injury to my husband. They did send me copies of the government air bag specs. They have since called me twice to ask what Toyota can do for me. I have already told them I would like my husbands medical bills and loss of work to be covered and that perhaps some redesign on the Prius is necessary to keep this from happening. We bought the Prius because of the safety rating (which they were happy to inform me about by letter). They need to back it up and fix the problem!
How do I know I can trust these reviews about Toyota?
693,837 reviews on ConsumerAffairs are verified.
We require contact information to ensure our reviewers are real.
We use intelligent software that helps us maintain the integrity of reviews.
Our moderators read all reviews to verify quality and helpfulness.
For more information about reviews on ConsumerAffairs.com please visit our FAQ.

I was involved in an accident on 5/6/16. I was driving a 2016 Toyota Corolla with around 4000 miles on it. Someone rear-ended us and she was driving at least 40 miles per hr and the airbags never deployed. I would have thought with the impact she hit us, they should have deployed. I was going 5 miles per hr due to someone turning into a business.

I'm writing because I was in a severe car accident two weeks ago where I was rear-ended while I was stopped. A woman hit me at 35-40 mph without stopping and pushed my car into the car ahead of me, smashing both front and back of my car, totaling my 2007 Prius. No airbags deployed. The fire department and hospital people were surprised they didn't as were most people who interviewed me after the accident. If the airbags had deployed and I can't imagine why they didn't with this high impact, my neck would be doing much better. Pretty serious injuries to my neck now and I feel upset the safety feature I hoped would work in this kind of situation, didn't. I'm grateful, so grateful to be alive but felt if the impact was any stronger, I'd either be in a wheelchair or dead. This is definitely a problem with the airbags not deploying. This is a problem for sure.

I was involved in a head-on collision with another vehicle which had ran a red light and ended up hitting me head-on. My vehicle was a 2002 Rav4 SUV. My Rav4 Suv had only 33,000 miles on it and it was well taken care of. The lady driving the other vehicle and hit me head-on, her airbags deployed which kept her from any injuries. However, my airbags failed to deploy which caused me several injuries to my head, neck, left arm, chest and left knee. The impact was so hard it was like hitting a stone wall head-on. We could not get out of my Rav4 Suv because the head-on collision had pushed everything from the front bumper back to the passenger area and the doors were blocked.
A fire had started and we could not get out of the vehicle until the police, firemen and ambulance drivers arrived. They got us out of my SUV and I was taken to the hospital where I remained for several days. All of the people at the scene of the accident, the police, wrecker driver, ambulance personnel and the firemen all wanted to know why my airbags did not work like they are supposed to. I told them, they are probably defective. My Toyota RAV4 was totaled and everyone feels like the Takata airbags were defective because they should have opened. Has anyone checked Toyota Motor Corporation RAV4 2002 for defects? Please advise. Thank you.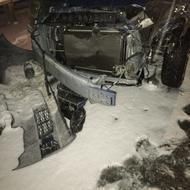 My first Yaris, a 2008, was T-boned by another sedan driver. The impact caused my car to do a 180 and ended up hitting a building. This caused irreparable damage to the frame (around $10k damage overall). The airbag did not deploy. Despite the lack of airbag deployment in my first accident, it wasn't a head on collision so I decided to give it the benefit of the doubt and purchase another Yaris. I do a lot of commuting, so the fuel efficiency was great for me.
My second Yaris was a 2007. About a week ago I was driving on the interstate in snowy conditions and attempted to brake as a tractor trailer slid into my lane. Subsequently, my car spun and smashed into the guardrail on the back end, driver's side, and front end. The front of the car was destroyed and the driver's side door was jammed in. After impact, the horn was no longer functional and the airbag light was on, but no airbag was deployed. The Toyota Yaris will save you a lot at the gas pump, but I'm not sure it would save your life in a serious accident. I will not be purchasing a Yaris again.

On Nov. 24th of 2015 I was involved in an automobile accident in my 2007 Toyota Corolla where my car was totaled in a front end damage. My airbags never deployed. This makes the second car I've had by Toyota that the airbags did not deploy.

Airbags 2012 Toyota yaris - I hit a deer on route 17m in the town of Goshen at the end of last winter. The deer had to be put down by the police. I had damage to the driver's side front. The airbags did not deploy. My daughter this past summer collided with a pickup truck in the town of Chester Ny. While driving my Yaris again the airbags did not deploy and the car sustained front end damage.

This past February I was involved in an automobile accident. I driving through an intersection - the light was green - when all of a sudden a car hit my 2006 4-Runner. The car failed to yield and my vehicle had damages to the driver side doors, the driver side fender, etc. The total damages were about $6000.00. My concern is that my airbag did not deploy -- I suffered a concussion/brain, neck, back and nerve injuries. I have not pursued a lawsuit against Toyota but now I am reconsidering -- has anyone ever pursued a law suit against Toyota? Any feedback would be appreciated.

On Monday, August 10, 2015 I was driving home from work in my 2008 Toyota Sienna. I made it to about 1 mile from my home. Suddenly the trac assist or trac control light (whichever it is), the VSC light, the check engine light, and the transmission light all come on. At the same moment they come on, the rear end completely shuts down/locks up. Honestly, I am not sure if it was the rear end or the transmission but something stopped. Something keeping locked everything up. The steering wheel was jerking from right to left. I still had control of the steering wheel but since the rear end was locked up and the engine still going, I didn't have the power to turn it or hold it steady. I was jerked off the road and hit a tree head on at 60 mph. Thank God I was nearing home and had slowed down some especially since I was on a 4 lane major highway.
By the time I hit the tree, the van had gone dead. Then, NO airbags deployed. My radiator was pouring fluid, everything crumpled in, and NO airbag. I have called Toyota and filed a case. I am concerned if they decide to fix my van that it will happen again. What if my kids are with me? What if I hit someone else? It scares me to death. Why did it happen? I actually loved the van. My husband and I have 5 kids so this accommodated us very well. It was easy to travel in. There was always little things. The AC stunk so bad. The back rubber like button to open the lift was so deteriorated that it left black rubber smudges on your fingers when you opened it. There were just little things but we ignored them as design flaws until this vehicle could have killed me.

I was driving down 278 in Hiram going at 50/55 miles when a young girl turn right in front of me and I T-bone her. Me and my family got hurt. My airbag did not deploy. Now Toyota is telling me that the air doesn't go off in every accident and they want to see the picture of my car so that they can determine if they should have deployed. What if we had lost our life? They would say the same thing. We need to stop buying from Toyota.

Toyota Prado 2014 - I had an accident several days ago. I had some cold medication and I dozed while driving. I hit a car. My car front was damaged. The driving scan was broken but my air bags never left its place. I was driving 80km/h. Thank god I was not badly injured. It was showed to be a safe car.

2002 toyota corolla air bag failure - On Feb. 19, 2015 I was driving home on a blacktop road from working 12 hour night shift at 7:30 am. 1 mile from home I dozed off and my car went off the RH side of the road at 50mph and the embankment was so steep I could not steer the car far enough to the left to get back on the blacktop and then the car collided with a large tree. The right front bumper, grill, hood, fender, windshield were all crushed. My dash lights indicated the Airbag system had been deployed. However the air bag in my steering wheel and on my RH side of the dash were still in their packages never deployed. I suffered intense strain to my neck and right shoulder area and arm area. My DC wouldn't touch my upper back or shoulders till after the inflammation went down. Thank God for aleve and flexeril... It helped get me along.

On March 2, 2015 I was struck by a vehicle running a red light. The other car was a 2004 Prius traveling about 35 mph. My car was very seriously damaged, destroying the left front wheel, drive line and both the driver door and the rear passenger door. As I climbed out of the car, dazed from being tossed around the driver's area and striking my head on the framework and window of the driver's side, I realized that none of my airbags had deployed. Ironically the other Prius with serious damage to the front also failed to deploy any airbags. Today I am thankful that I was not seriously injured, but have very serious aches and pains throughout my upper body. I am going to contact Toyota today. However I am planning on the car being totaled, or if repaired to sell it soon. No more Toyotas for me!

I hit a deer on the way to work this am at 65*67 mph and not one airbag deployed!!!! The entire front of the car was crumbled toward the wind shield and the right front side, the radiator was on top of the engine and several braces and other parts torn lose or broken. Everyone at the wreck was shocked. I was terrified. What are they for if not to protect you in a accident? Now I am not sure I can drive the car if it is fixed due to the fear of not being protected when it is needed and the worst part I drive daily long distances for my job! It is new and I have to pay the note and can even feel safe. I just got it back from the dealer because they had to replace the head liner that fell out. Whats next??????

Rollover accident busted out windows. Partial roof detachment from vehicle. No airbag deployment!!!

Take all of this seriously folks. My Tundra had massive damage to the crumple zone from a collision. The other vehicle pulled out in front of me on a highway at the last second - we hit and the bags did NOT deploy. My passenger seat was occupied and was injured by the excessive force on her seat/lap belt. I am certain at the point of impact we were going 45 MPH!!! BAD BAD BAD!!!!! Will not be buying another "toy".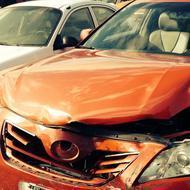 We had bad accident last weekend when a pickup hit my Camry 2007 V6 XLE front center. This camry had 80000 miles on it and its in a great condition. Just got it checked at Toyota dealer few weeks before this accident. I had my wife and mother with 2 kids at the time and we still don't understand why Air Bags never deployed. The repair cost estimated over 12k!!! So the question here is what else could have happened to deploy the airbag? Fortunately no one killed but minor injuries. I just realized this car isn't safe to drive. My friend who saw the accident immediately decided to sell his camry. He said he is not going to wait until someone die. Stay away from it. Don't wait until its too late.

My son was driving my husband's 2012 Toyota sienna on 11th November 2014, he lost consciousness and went over the double lines onto oncoming traffic. He collided with 2 cars and then went into a ditch. Insurance hasn't checked car yet but tow truck driver says car is most likely totaled, damage is everywhere but air bags did deploy. Fortunately my son only had concussion from banging his head against steering wheel. But why did airbags not deploy in a car we have had less than two years? My daughter worked for Lexus until a month ago and remembers getting an email about problems with the company that makes airbags for Toyota and other Japanese car makers months ago. These cars fitted with these airbags should have been recalled.

We were hit on the driver's front side between the driver's door and front fender by a drunk driver on 8/7/14 in our 2013 Toyota Avalon. My husband was driving and I was in the passenger seat. We went airborne and went down a 6 foot embankment and struck the front end hard and then the car rolled over twice. Not 1 airbag went off. We both had our seat belts on. My husband had some injuries, but I received a head laceration from 2 inches down my forehead across my entire head. The laceration was 3 layers deep. I was life flighted and have injuries that may never heal. If the airbags had gone off I would not have received this injury. Toyota claims the airbags shouldn't have gone off - why have airbags? The car was totaled. There wasn't a spot on the car not affected.

My 2012 Scion Xb was hit broadside directly in the driver side door and my car was traveling 36 miles an hour. My car was taken across two lanes, pushed up a 5 inch curb sideways. Then it continued sideways to break a fence in front of a roadside restaurant. Finally it came to a stop. The two front and back passenger side tires were flat and the hub caps nowhere in sight. The drivers side and our passenger side were caved in from the front of the other car. The car was undrivable. My son has a concussion and back injuries and lost his job due to the injuries. NONE OF THE AIRBAGS DEPLOYED and we were going fast enough and hit hard enough. I see others have had this issue as well. This could have been my son's life if we had been going any faster and Toyota needs to be accountable.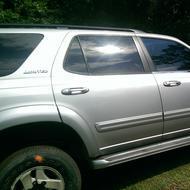 Was in a bad wreck, my Toyota was hit x2. Once by another car then a tree. First of all I had my seatbelt on. I went thru etapa, have a burn Mark on My leg. No airbags deployed so I went thru driver's window, head broke glass and was thrown across hwy 49 after my leg was burnt by seatbelt strap. So where are these safety sensors? I am lucky to be alive. Toyota should have to Pay for this trauma and repairs. My car wouldn't have had Second accident if I wasn't thrown out. I'll let you see pics.

I own a 2005 Toyota Tundra 4x4. I had just moved the truck out of my driveway to turn it around when the side airbags deployed. It was on flat ground. I contacted Toyota and after a week, they sent an inspecter to read the vehicles computer. After a month, they sent me a letter that my claim was denied. The reason was because the truck "thought" it was going to roll over, so that is why the side bags deployed. This is a 4 wheel drive truck on flat ground! My neighbor witnessed this event. This is my only vehicle, I am a general contractor.
I found Toyota's customer service lacking in all respects. Their lack of basic courtesy is totally unacceptable. I am experiencing headaches and neck/shoulder pain since this event and the inside of the truck is a total mess. I actually spoke to their legal representative and when I questioned what happened and aren't they concerned about safety factors she just said "no", and they were not going to do anything about my truck. I am stunned that they have little concern over an event that could have been devastating had it occurred on a freeway at 70 miles per hour.

I had 2010 Toyota Yaris which I purchased new from a Toyota dealer in the Auto Mall in North Vancouver, British Columbia, Canada. In April 2013, my daughter was involved in a car accident with this vehicle. Our Yaris was hit on both passenger and driver sides and ICBC wrote it off. My daughter had cuts, bruises and a deep puncture wound on her left upper arm and had to be taken to emergency for treatment for cuts and observation for concussion. She still has scars from the puncture wounds not to mention the emotional trauma. I have pictures from the accident that show that there was no airbags deployed. I thought it was weird at the time that airbags didn't deploy when the car received that much damage. But now that Toyota has recalled on this issue, it makes sense. Is there any class action on injuries received from this malfunctioning piece of equipment? If not, how does one get started? Thanks.

On January 29th, 2014, Martin Luther King Day, I was in a car accident with my 2013 Toyota Corolla. I hadn't been in an accident in over 20 years. My car was totaled. The police and Rescue showed up at the intersection. I stayed seated in my vehicle for quite some time after the accident... about 20 to 40 minutes. While sitting in the car, I began to call my mom and then my insurance company. All of a sudden the police officer came over, tapped on the window and said "Excuse me miss, we think you should vacate the vehicle immediately because we noticed that your airbags have not deployed and we are afraid that they could at any moment." It took a few days for me to hear from Progressive about what the outcome of my new car would be. I was sure that it would be repaired... after all, the airbags never deployed... They contacted me and told me that it was totaled!!!!
I am thankful to the Good Lord Upstairs for seeing me through the crash without any major injuries except for whiplash. I was wearing my seatbelt... thank God that worked or else who knows where I might be. Toyota surely didn't do its job to protect me safely!!! This is a very serious issue that Toyota needs to address... IMMEDIATELY!!!!!!!!! This is not ACCEPTABLE!! My car is totaled and not one stinking airbag deployed. How does this happen???? And how many others are there out there that were not as fortunate as me.... who may have lost their life over an safety issue such as this????? This is my 2nd Toyota Corolla.. The 1st one I owned may have been before airbags existed. I am very angry that no one has contacted me or that Toyota never mentioned this when I bought the vehicle. I want to be compensated for this. If there are any ongoing law suits regarding this very important safety issue, then please contact me or post it on this website so that everyone can be sure to hold Toyota responsible. Thank you and be sure to have your Toyota checked... It's a matter of life or death!!!!!!!!!!

2003 Toyota Corolla Air Bags never deployed - My daughter was on her way to work driving my 2003 Corolla when a deer appeared and she tried to avoid hitting the deer. She swerved onto the side of the road and the car turned over four times. The car was totaled. The front, the back, the sides, the roof and the windshield demolished. However she survived without anything broken. I've taken that car to the dealer twice for air bag repair. It has to be something wrong with the air bags and something needs to be done about it. My daughter could have been killed or hurt seriously.

I purchased a 2012 Toyota corolla in July 2012. The first time I brought it to the dealership was November 2012 because the airbag light on the dashboard came on. I have had it back at the dealer 5 times since (for all the routine maintenance as well), and the airbag light keeps coming on on the dashboard! Problem is every time it gets to the dealership, the lights no longer on. They have had it for two days now and still can't find an issue. I have heard everything from my purse, must be on the seat to someone's not wearing their seat belt in the car. So basically, I am just supposed to pray that the airbag doesn't deploy while I'm driving?? Will my airbag deploy if I'm in an accident?? No one seems to know! I don't know who else to contact about this issue, but I can't believe that there are no solutions.
Toyota Airbags Company Profile
Company Name:

Toyota

Website:

www.toyota.com