Toyota of McDonough
Mcdonough, GA
Toyota's are all about reliability, efficiency and being fun to drive. At Toyota of McDonough, we love those three things as well as delivering exceptional and timely customer service, and great value. See you soon!
Consumer Complaints and Reviews

I purchase a 2015 Kia Sorento on March 10, 2017, I just pull a Carfax report on July 27, 2017. Well to my dismayed this vehicle was rear ended on June 19, 2016. The dealership never showed me the Carfax. So I get the phone that day (July 27, 2017), ask to speak to the salesman, he wasn't in. Ask for a manager. He gets on the phone I explain the problem, he told me that he would call me back the next day (July 28) at 10:30am. Well he did not so I call again and receive the same answer will call back. I'm still waiting. This dealership is very deceptive. Will I shop for a car from place again no way!!!

Salesperson Erin and I agreed on one price. Then behind my back increased that price and extended the length of the loan so that my monthly payment would be the same. Adding insult to injury, finance guy, Jeff, added a warranty to my contract to the tune of $2000.00, which I stated clearly more than once that I didn't want. When I realized what happened I complained to the business manager. Not only did I not get an apology, he actually defended these guys. Asking me if that was my signature, etc. This is my 4th car purchased from them. I expect that if we came to an agreement, that's what is in the contract. DO NOT TRUST THESE PEOPLE!!!

I would NOT recommend purchasing a vehicle from Toyota of McDonough. My sales rep Aaron made many promises to get the car sold to me but did not follow through on any of them. He had a sour attitude as did the rest of the staff and by the end of my experience, they made myself and my family very uncomfortable. They were rude, dishonest, and pushy.
I put $1000 down on the vehicle and instead of applying that $1000 towards the cost of the vehicle they added on gap insurance which I stated SEVERAL times that I DID NOT WANT OR NEED and used my down payment to pay for it instead of applying it to the cost of my vehicle. And they did not tell me this. They just did it without asking. I bought a brand new 2017 Toyota Corolla which didn't even have car mats in it when I drove it off the lot. Which are almost $200! When I called Aaron back to tell him this, he said he would call me back and never did. I will NEVER buy another vehicle from this dealership and anyone who chooses to visit this location, be prepared to pay very close attention to what they say to you and how they say it to make sure you're not being deceived. The customer service was the worst part of this experience. I would highly recommend that you go somewhere else to purchase your vehicle.

Purchased a vehicle from them and they were deceitful from the start. Poor customer follow up and not knowledgeable about parts and services that they offer in order to make the sale. Will promise you anything to get you to purchase a vehicle. Get everything in writing because they will claim that is not what they told you. Do not trust anyone employed there. Unfortunately, I discovered after the sale. Definitely tarnished my opinion of Toyota.

I have a blessing and nice experience with the salesman. He was very nice and care about our concern, he took all his time to offer us the best deal and his manager and work with us. He was very patient, kind and ready to serve us, very professional and open to answer all our questions concerning our concerns. Finally we went home happy and I will recommend this salesman to anybody who want to be happy and very satisfy. I will thank him again for his service, appreciation, kindness toward us. I will recommend a lot of nice people like him to work at Toyota South of McDonough. Thanks again Mr. Fazal ** for your service at Toyota south of Mcdonough and may God bless you.
How do I know I can trust these reviews about Toyota of McDonough?
855,731 reviews on ConsumerAffairs are verified.
We require contact information to ensure our reviewers are real.
We use intelligent software that helps us maintain the integrity of reviews.
Our moderators read all reviews to verify quality and helpfulness.
For more information about reviews on ConsumerAffairs.com please visit our FAQ.

Saturday was a big day for me. I purchased a Rav4 and a Camry SE due to Chris being a wonderful and convincing salesman. I came to Toyota of McDonough to trade in one car that I had purchased from them in 2015. Most of all Catanya ** made my experience at Toyota of McDonough a very pleasant one. She is a great person with a pleasant personality and done everything to ease the stress of having a two year old, 5 year old and a 16 year old great-great niece and nephews with you while you are trying to purchase a car. She also had to make several trips to each car that I was trading in to get additional paperwork. After all that, Ms ** had to get my garage opener out of the car after the car was moved to the service area. She explained all the features on the Rav4 to my great niece that I purchased the car for and that isn't an easy task if you know my niece.
Today 4/23/2017, I returned to Toyota of McDonough to give them the additional spare key I had for one of the cars that I traded in and to get a CD that has sentimental value to me that I had left in the car. Ms ** had no problem retrieving the CD for me with that same wonderful smile she had on her face Saturday. She also took more time today with me to answer additional questions that I had about the Camry features on the car and went out of her way to explain to a Sirius XM salesperson about the concerns I had about two accounts I had already had with them. They were totally confusing me and trying to get me to purchase additional service that I knew I didn't need. Thanks Ms. ** and hopefully all the other customer service consultants are like you!!!

My experience was wonderful. The salesman (Chris **) was very professional and helpful. He has a pleasant attitude. Although I was just browsing on that day and not really committed to buying something, he explained everything to me and allowed me the opportunity to ask questions. I really enjoyed doing business with him and looking forward to working with him when I am ready to make that commitment. Thank you Mr. **!!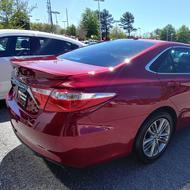 My experience at the McDonough Toyota dealership this past weekend was simply amazing! Chris ** is an amazing salesman and he made my experience wonderful. I asked for specifics in a new vehicle and he delivered! I love my 2017 Camry. It's my first new vehicle purchase in 10 years and I'm so thankful for a wonderful experience.

I bought a new 2016 Camry from Rose **. She is the most knowledgeable car sales person I have known in my 50 plus years of buying cars. She knows the Toyota products and features through and through and made the process enjoyable. I will buy from her again. Service at McDonough Toyota is also excellent.

I wrote a review previously for my experience with buying a new car while we were at the dealership and things were going well. I went with my mother to buy a new Prius - her 5th Prius. I repeatedly asked if there was an option between highest priced Prius, $30,000 vehicle, and the lowest priced $22,000 vehicle and was told no. Come to find out by searching online that there is a mid-range $26,000 vehicle available. Should have googled it while I was there, my mistake.
The car didn't come home with a Cargo cover, even though it was listed on the window sticker. When my mom called, the salesperson told her to go online and find one. They are not sold on toyota.com, there some used/salvage on eBay. When she told him it was on the window sticker, he told her to take a picture. When she took a picture, he didn't believe her copy and said she had to take a picture of the whole legal-sized window sticker (like she was lying..?). She drove out to pick it up - they still argued with her. Then made her go out to the lot and find one to give to the Service Department. WTH? The whole "service after the sale" thing is non-existent. It's not a big deal that the cargo cover was missing. We could have easily made the 45 mile drive there to pick one up. It's how they acted and argued about it that was not cool.

The salesman, Gerald **, was very helpful, very friendly and was able to offer several options for purchase. You are excited to drive the new car he helped us find and we will refer him to other people! Billy **, the sales manager, was also very helpful in finding me the best finance options.

We worked with Gerald ** to find the perfect car today! He greeted us at the door and was really great at identifying what we were looking for. He showed what we were looking for in a few different options and then we narrowed it down. He helped with the discounts and finding the right payment plan. Great guy, very friendly and funny. Would definitely recommend again!

I bought a 2015 Camry SE from Mr **. I was a first time buyer and never bought a car before. I told him what I liked and he listened. He took care of everything over the phone and all I had to do was come in sign and drive. He is great. I will tell everyone I know to go see him if they are looking to buy a vehicle.

My husband was getting his car serviced at Toyota of McDonough. Allen **, in the parts department, was very helpful and knowledgeable. He decided to browse the sales floor and met Rose **, a sales professional, who showed him the new 2017 Toyota Corollas. He fell in love with the Metallic grey one as his older car was on its last legs. We discussed the purchase and decided to go back and talk to Rose. We called ahead and were told to come in about 3:00 pm on Saturday. We test drove the car and decided to purchase it. Rose worked with us and we left with a good deal and a beautiful car! Would recommend Allen ** in the Parts Department if you need to purchase parts, or Rose ** for great customer service when looking for a new car!

Purchase made November 2016. I purchased a 2017 Toyota Camry. It is January 23, 2017. I have been lied to since day one. I still have an expired tag on my vehicle. I have missed days from my job because they refused to respond to phone calls. I arrived December 27 to find my title and paperwork to get a tag had been sent to another person with the same name who did not have a vehicle with this dealership.
I was told numerous times I needed to obtain a signature from my father, the cosigner. Toyota physically sent someone to his home 4 hours away who only submitted the one copy of his documentation to the bank when the one copy could have been sent to both. My father is 75 and hesitant about giving this information. I was told if I wanted a tag and avoid my vehicle being repossessed I needed to go get this info AGAIN from my father. I took no action because those was the dealership's responsibility. They managed to convince him to provide this information once again. When I called to talk to the GM he never got on the phone but sent a message stating they didn't contact me about the status because my father should have informed me that he resent the information. He is an idiot.
I was promised I'd receive this via FedEx by December 8, 2016 by which time I had to get another temp tag. This is when I took a day off only to find it was sent to the wrong person. The dealership refused to process the tag for me stating it would take longer. Finally I received the information with a check, went to the tag office for the 3rd time, only to be told original signatures were required. I stood there 15 to 20 minutes going back and forth with the tag agent and the dealership that copies are acceptable. The dealership, Brittany, found every excuse in the book to make this my responsibility.
Two weeks ago I was contacted to get my father's address, he's a cosigner so all of his info should be on file. He is the same person they physically sent someone to obtain the info initially. Miraculously Brittany remembered she had power of attorney and could sign my father's name FOR HIM. To top everything off, I would have to come out of pocket to pay for the tag.
Today I received the document signed by Brittany for my father. This is the worst experience of my life with purchasing a vehicle. I would never recommend anyone go here do to the lies and shady practices. I'd like to to mention I requested my tag from the vehicle I traded be transferred but it is nowhere to be found. Thank goodness I will have $5 remaining AFTER paying for the tag which is mostly dealership late fees. Everyone I spoke with didn't care about the impact of taking time off from my job that I need to make the payments. Simply being honest and returning calls to the customers who provide them with jobs and doing things properly would have eliminated so much heartache and ill feelings. If I ever needed a vehicle, this would be the very last option behind getting a bicycle.

Ahmad ** was an excellent salesperson. He was kind, patient, and very helpful. If I had any questions he always had an answer. He really took his time to make sure I was getting the customer service I deserved. I would definitely recommend anyone looking for a car, new or used, to go to Toyota of McDonough.

I was in the market to purchase a 2016 Toyota Prius. Toyota of Mcdonough responded to me with a quote for a 2016 Toyota Prius 3. They also confirmed to me in multiple emails that they would accept credit card for payment, and would hold the car for me if I gave them a deposit. Since the dealership was 65 miles away from my house, I wanted to clarify everything before I made the long drive. They never mentioned that the quoted price had an expiration date. After several email exchanges and phone conversations and confirmations of price and mode of payment, I went there. After I test drove the car and started discussing payment, I asked whether they would accept credit card payment.
One extremely rude manager - Joe, came by and said that they did not accept payments by credit cards. When I showed him the emails from his store confirming that they would, he refused to discuss them. He even said that they would doing us a favor by selling a car at the quoted price. So, we proceeded to walk out. When we were getting ready to leave, the salesman called Erin came by and started to offer that we could make a deposit today to hold the car, pay partly with credit and the rest with cash when we came back. So, we went back inside the shop. This time, again after a lot of back and forth among the sales rep and multiple managers, they told us that the quote was valid only if we were ready to make a purchase that very same day. That threw us off completely. We were not buying a pair of shoes, but a big ticket item and we were not ready that day to make the purchase.
They tried to sell us financing the car, in spite of us telling them that we would be paying in cash. Once they are accepting credit cards for payment, then they are not. Once we can pay a deposit to hold the car, and then we cannot. This kind of unreliable, unfair and deceptive selling tactics through false dissemination of information, and their rude attitude made us most uncomfortable and we left the store. The sales rep Erin gave us his card. We said that we were ready to buy the car the following weekend, but not that day. We spoke to the sales rep the following weekend, and the price of the car had gone up by $1,200+. If they had no intention of selling us the car, rather than jamming it down our throat, why did they advertise it in the first place? The business needs to engage in correct and truthful communication and advertising. They need to stop providing false and enticing quotes to lure customers into the store, and then not honor them.

We first visited Toyota on Dec 2nd and had all the price worked out. Since they did not have the color we were not willing to compromise. Later they kept emailing. When I called Judy she told me we now have another $1000 off from the manufacturer with 0% financing together with the $6000 off. The final numbers were $27000 even the manager asked me if I will walk away with it if it is $27000 on Dec 2nd 2016. Today when we returned the manager comes up with the worksheet which says $32,000. When I asked him for the previous copy he said, "I do not have." Since I am very aware of all their tricks I had taken pics of the price and gave him the exact time and date we were there and asked him to get a copy. He said that the system deletes everything...
What kind of dealership will have the software that does not save any quote and will delete everything in a car dealership when they kept harassing us by calling, texting and emailing about the last visit and purchase??? Everything gets deleted as soon as you ask for proof unbelievable. Since I am aware of the car dealership software and how it works. I also quoted the exact words we had during our conversation. He completely agreed and was aware of the statement about the price but today came up with another $5200 extra. Get ready. See it to believe. The price on their website says $31,196 inclusive of all fees. I have screenshot the webpage and wanted to post here so everyone can read and see it to believe it.
Unbelievable cheats. Please stay away. Do not be taken away by large discounts and later be deceived because they do not disclose all the consumer protection and rights clearly. I thank God that we were not tricked and we knew every detail very clearly. If anyone needs any info check on Facebook and other social media I will post the same information with all images.

I purchased my tundra from McDonough Toyota. Their thieving acts showed up immediately. I purchased an eight cylinder, but they switched on me to a six cylinder. When I brought the truck back they tried to say it was an honest mistake and that the two trucks were sitting next to each other and they grabbed the wrong keys. (Yea right, I don't think so.) Then as time went on, I found there was a problem within the wearing of the tires having excessive wear on the outer edge. I had rotated the tires every five thousand miles as required. I had the wheel alignment serviced four times and the tires replaced at thirteen thousand miles. Now at forty seven thousand miles my Michelin tires are worn down on the outer edge. The dealership is telling me I need a new set of tires but never addresses the real issue towards the cause of the damage creator.
Furthermore I am constantly having to deal with the service manager Rod **. This man is an habitual liar and a total thief. When I brought my truck in for service I found my battery and stabilizer bar for the battery stolen and switched out by the service mechanic. My battery went from being new to having a totally corroded battery and totally rusted stabilizer bar instantly after the service. Yet the manager Rod ** totally denies the truth of what had happened. These guys are a criminal act!
Also Toyota Mcdonough doesn't honor their warranty. The extended sixty thousand mile warranty is the biggest joke. I was told it came with one free brake replacement. When I had them check the brakes, I was told the pads weren't worn enough for the warranty to kick in. Then six thousand miles later I wasn't seeing any fluid in the master cylinder; so I had it checked by an outside source only to be told that my pads were worn and needing replacement. So I brought my truck back to McDonough Toyota and Rod Stinking liar ** for involved again. This time he tells me that the warranty doesn't cover the brakes. Are you kidding me! The service department lies so much that they can't remember what they said the time before. Then Rod ** went into the computer to enter bogus information to cover his tracks.
Oh and don't let me forget about this man gauging the tires and writing down improper specs. I also witnessed him taking his thumb and changing the reading on the gauge so he can intentionally cause me to lose any warranty with Michelin as I had Michelin on the phone working with me to discount a new set of tires. I am totally aggravated dealing with the criminals at McDonough Toyota. I tried going to the main headquarters with my complaint, but was shunned off by them telling me that Toyota McDonough was a separate entity and there's nothing they can do. So who is responsible for Toyota's actions then? Do not buy anything from McDonough Toyota. The entire flock of thieves should be investigated and locked up behind the bars of the law. (Shame on you Toyota for allowing this dealership to exist. PURE GREED!)

First off let me start by saying if I didn't have to rank a star that I would not do so. I bought a used 2014 Toyota Camry about 5 months ago and I was about 3 car notes in, when I discovered a bubble in my paint so we called and asked to schedule a day to bring the car in since it was under warranty. Hah was that a joke? It took us over 3 weeks for them to be able to get us in and provide us with a rental while the car was being painted. Well we finally got it down there and picked up the rental. I say down there because we live 2 hours away from this location. We bought from this location because we knew people who worked there, that we trusted. Anyhow, so we were told that the paint guy is only in on Mon & Thurs. Okay so that's fine. We dropped it on a Sat and we knew it wouldn't be touch until Mon.
Well Monday came and we were told they had got busy, but it would be taken care of on Thurs only to find out that the paint guy didn't show for work on Thurs. So that meant my car would be down there another week and that it wouldn't be touched until the following Thurs due to that Mon being a Labor day. Oh but get this Enterprise had already booked out the rental they had put us in and wanted us to bring the car we were in and pick up another one. Mind you they hadn't taken care of my car yet but wanted me to do them a favor by driving 2 hours to change out rentals. Haha uhm no, not happening.
So Thursday comes I never hear anything about my car being done. No one called so my husband finally found out it had been done and could come pick it up so he went to go pick up the vehicle and did a walk around to make sure the job was completed. So he calls me to tell me the one panel that was bubbling had been done, but that the front of my car looked like they had taken white nail polish to my car. By this time I am mad as all get out. They told him if he wanted to bring the car back in 2 weeks we could, that the paint guy wouldn't be on site until then. WHAT?? 2 more weeks are you serious? They wouldn't even fill the car up for us for our trouble or inconvenience. Oh and they couldn't locate our keys for about 20 mins. WHY WEREN'T MY KEYS IN A SAFE PLACE?
I swear these people are no good, untrustworthy, inexperienced, unprofessional. I wish I had never dealt with this particular dealership. Not to mention that after we signed our paperwork when we first bought the car our salesman called us a few days later saying he got us a better interest rate and we could get cheaper payments. So we were excited about that, only to find out he had forged our names on to a new agreement and had other stuff added to our agreement that we didn't agree to and we would had never knew if we hadn't got a new copy and looked it over. Luckily we looked it over and found out what he had done and the he had forged my husband's name and my name to the agreement. When we reported this in person it was handled, but the employee is still working there. So that should tell you what kind of operation Toyota of McDonough is running & employing low down dirty scam artist.
I am very disappointed in this company and BBB should do their own investigation on these con artist.

My 2006 Tacoma went to Toyota McDonough for a frame replacement. Everything worked well, including the air conditioning. After getting the truck back, the front end needed aligned again, I asked for a tire rotation and didn't get it, and my air conditioner doesn't work well. Mark ** sent me an estimate of about $1300.00 to FIX!!! Already spent over 800.00 for some needed repairs but can't see why I need to spend another 1300.00 to fix my truck that wasn't broke... I want the dealership to repair at their cost.

After their service department ripped us off and cost us a lot of money they constantly sent us emails, postal mail and even had the nerve to call us on the phone to purchase another new vehicle from them. Sick and tired of seeing anything with "Toyota of McDonough" on it I finally sat down and wrote the general manager a letter and told him to stop it all. I also told him what I thought of his crooked incompetent dealership he was running. Even after this we received a few emails, postal mail and a couple of phone calls. Then it all stopped.
We went months and months receiving nothing thinking we would never have to hear from them again. Now they have started emails and postal mail again. They have a new general manager now and say they want our business back and to come in for a cup of coffee and a handshake. Are they for real. Do they think that will make costing us $2603 alright. How about restitution. That's what most criminals are required to do. This dealer has no ethics whatsoever. Anyone who would read their negative reviews, check their Better Business Bureau rating and complaints, which are not good at all and has a good clear head on their shoulders would never ever use this dealership.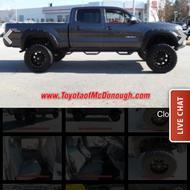 Spotted the truck online at cargurus.. So Before making an appointment, I spoke with a female (Heather) at **. 3 questions I asked of her. "How many owners, if any accident, and since the truck has 6" suspension lift, has the truck been mud bogging?" She reply "No accident, 2 owners, no mud bogging." So I drove 1.5 hrs. Tests drove the truck. It pulls hard right, mud in the engine bay; furthermore, checked the Carfax and found that all answers were untruthful except ownership. Waste of trip. IMAGINE THIS. If someone doesn't know anything about car, or what questions needed to be ask, what would happen? Hmmm... Do you think they would stop you from buying it? In the future, Toyota of McDonough, start being honest. Maybe then people would come back.

When I came to Toyota of McDonough it was a warm reception and everyone had a smile on their face. I brought my 2011 Tacoma in for service and did not have an appointment. Although they were busy they worked me in without any problems. To pass the wait time I wondered up to the showroom to check out some vehicles. I found several I liked. LOL. One of the salesman approached me and asked me if I would like to get a great deal on a new car. I let him know I was only in for service but would like to look around. He showed me the new Tacomas, and unfortunately, they didn't have very many on the lot so we had to look for vehicles at the other Toyota lots.
We found what I was looking for and the negotiating process was seamless. The salesperson explained that at Toyota of McDonough they give their best price upfront along with the financing options. I did go online and check their specials out to see before I came in for service just in case I found something I liked. I thought it was important to say that what I say online matched up to what the salesperson said and that made me feel good. Overall everyone at the dealership was very attentive to my needs. I would definitely recommend Toyota of McDonough!

I inquired about a vehicle that I had seen on their website for three (3) days. I received a call and we discussed and agreed to a price and an appointment time. I rushed from work was told the following: 1st - They were unable to locate the vehicle; 2nd - They found out that the vehicle would cost too much to repair in-house, so they were going to sell it at an auction; 3rd - The sales associate 'found' the keys and asked if I still wanted to see the vehicle; 4th - I requested a meeting with the sales manager and he was just as unprofessional and inept as everyone else that I encountered from the dealership. I checked the website the next day and the vehicle was still being advertised. I have never experienced a bigger disappointment in trying to purchase a vehicle. I would not recommend this dealership to anyone!!!

They have called and send trash mail to us repeatedly after we asked them to stop. It's gotten so bad that today I mailed the solicitation pamphlet back to Toyota of McDonough telling them that this is their final notice to stop all communication with us. If we get another call or pamphlet from them, I will talk to my lawyer about harassment and see what my lawyer can do to stop it.

DO NOT GO TO TOYOTA OF MCDONOUGH (McDonough)!! As the title says: Do not visit Toyota of McDonough for any reason. This started in 2011, when I bought a double cab Tacoma. I went to just look, was treated like ** once I told I was just looking. Once I decided to see what the numbers would look like, things changed. I have owned over 10 Toyotas in my life and know my way around an engine. But this dealer even showed me what a map light was! You know there was a console in these trucks? Either way, I bought it, had it serviced there, and sold it for a huge profit last year.
Fast forward to this year and it's time to look for a new Tacoma. So when online at their website they like to pop in and ask for some info, phone numbers were exchanged and then we gave them our credit score and they said definitely can get you in a 2015 Tacoma for what you want to pay. Go up there and talk and now all of a sudden the monthly payment is $144 more than agreed to. They say to get the special interest rate your credit has to be 700. We monitor our credit via multiple methods and knew for a fact it was at least 735. When "checked" it showed 696. Oh just perfect right?!
So after looking at the price breakout $399 for carpet floor mats. That say "Tacoma" Whoopty-Do! Weathertech floor liners that fit this floor perfect are $197. So I made them take it off. $149 for "nitro". I know the benefit of having nitrogen in a tire. Less pressure differential in temperature swings. But 149? I weld by trade and can get a full bottle of argon for less than 50 bucks. They tell me "well once you put nitro in you can't put regular 02 in there." Ha nice try. Take that off. I decided to bring to the table my 2005 Tacoma Access cab with 200k miles. Ran great. They said "we can give you 4500 for it." I decide to go ahead with it because it got the payment into the acceptable range. We signed the papers then got the truck and left.
Fast forward a few days and we realize we really need a 2nd vehicle and called the dealership. Tell them we want a used Corolla for $200 or less a month. They call us back and we go up there, talk, do the dance. Can't agree so we go to leave. THEY CHASE US ACROSS THE LOT trying to say they try to do something special and we leave. WTF. The finance manager ** calls us and says, "Come back, pick out a Corolla. I got you at 200 a month." We reluctantly go back. All of a sudden it's "what about a Nissan" or "what about a stick shift Cruze?" Na, we were told a Corolla for $200. So we test drive a 2012 with 25k on it, warranty left. We decide to move on it. There they come with that stupid ** paper again. $250 A MONTH. I said "you are stupid as hell because the only reason we are here is because ** said he had us for $200." We were told to "forget **, he's not here." I wonder how ** feels about that.
We even brought up buying our 2005 we traded in back that they gave us 4500 for it. But when we asked about it, "Oh it's been marked as wholesale already and to get it back it would have to run through service plus we gave you 6500 for it." No you didn't. Our contract which we brought in said 4500. "Well, it's gotta run through service and this that and they added you this to the MSRP and took this off the VCN and elbow grease" and some other lies. But they could get us back in it for 10,500. No. Back to the Corolla Escapade.
To begin with, the car we were looking at was on the internet for $15,770. They tried to get us for $17,500 plus tax tag and title BS. They honored the price but wouldn't move and we wouldn't either. The salesman ** continuously said he was a Christian and would treat us fairly but every other word was ** this or that. Ended up telling us he got a DUI and Fayetteville was making him temporarily work for Toyota of McDonough to "help them out." Christians who curse and get DUI's... only at Toyota of McDonough! He answers the phone when attempting to "negotiate" and his voice changed entirely, broke into more of a ghetto style voice. Then tried to tell me after a few months the dealer could refinance the loan and get it under $200 so pay the high payment for a few months then refi. WTF?! Dealers refi loans now too!!?
So eventually I remember that this same guy, ** approached us when we bought the Tacoma and portrayed himself as the salesman's "manager". But now, he is in front of us, selling us a car, his business cards say "sales associate." So I ask the man, "You're a Christian but you get DUI and you are working here on a community service order from Fayetteville." He gets defensive, brings his mother into the conversation and how he lives in a "7 bedroom house". I then ask, "so these are your cards?" to which he replies "yes." I then ask, "So you are just a sales associate?" He states "I don't want no part of management." Then to which I reply "but just last week you introduced yourself as these guy's manager." The he retorts, "well yeah I'm the closing manager." That's management to me. Does this guy even remember how he got to work today?
So he gets on the defensive, turns the computer screen to me and tries to open google and look up some car dealership he "owns" in Texas, he struggled to type, he is apparently nervous, and then finally opens up a random page where the listed dealership is in bankruptcy and there is no actual site. At this point, I have had enough. We don't feel good at all about it and leave. No handshake, no thanks for coming in. Just a horrible, horrible experience. In short, I am a fan of Toyota, always will be, but I WON'T STEP FOOT ON TOYOTA OF MCDONOUGH PROPERTY AGAIN AND HOPE YOU DON'T EITHER.

I was looking to trade in my vehicles (2) close to home, so I decided to go to Toyota of McDonough. I have never encountered such deceitful and unprofessional staff members. I was promised a new vehicle on a specific day (mind you I had already traded in my 2 vehicles and I had one new trade) and it wasn't delivered on that day. In fact it wasn't delivered until the following day, and was dirty. When we questioned the filthiness of the vehicle, staff members became hostile and unprofessional, and asked if we wanted our vehicles back (one of our vehicles had already been sold). The so called "Guaranteed Excellent Customer Service" was out the window. They became very rude, hostile, and unprofessional. The Meroe sticker was missing off the window so I was unable to see the total car package (the dealer had to reorder the sticker). Upon receiving the sticker I became aware that items were missing. These items were stolen from my vehicle.
I had to contact the Administrative Assistant/Corporate CSI/CRM Coordinator in order to recoup the missing items. She then referred us back to the unprofessional General Manager and staff members to handle any additional request. When we filled out the online Survey, in which we truthfully answered in reference to our experience. The General Manager had the nerve to called our cell phones and stated as to why "we did not give them an outstanding survey", we informed him not to call our cell phones again. Additionally, the staff refused to give us the name and number of the owner, to inform him of the behavior of his staff. Read the reviews and avoid this dealership. Very Unhappy.
Update on June 22, 2015: I recently wrote a post (June 5, 2015) in reference to the unprofessional treatment we experienced at this dealership (Toyota of McDonough). After writing the post and sending in a unsatisfactory experience to Toyota, the staff at this dealership decided to run our credit to various banks on multiple occasions (approximately 15 different banks) to lower our credit score, and to place multiple inquiries on our credit. This fraudulent activity was done after purchasing the vehicles through our credit union and writing the unsatisfactory review. Additionally, we stated in the beginning that we would be financing the vehicle through our credit union, and the paperwork was made out in the name of our credit union. There was no reason for these thugs to contact additional banks other than to harm our credit.
We have taken out a police report for fraudulent activity, identity theft, and are now looking to pursuing this situation in a criminal/civil court. My advice is to not deal with this dealership. There is something seriously wrong with the individuals working here (that we encountered), and their behaviors are extremely outrageous. Beware you have been warned.

This dealership consists of totally dishonest, incompetent and unethical people. After spending a total of $3749 we have our 4runner fixed properly now. If Toyota of McDonough was a honest, ethical and competent dealership, it would have cost us only a total of $1146 to be repaired. The total cost of the warranty insurance we purchased thru them to be used to fix our car and the deductible we paid when they claimed they fixed our car. They could not even diagnosis a noise in our vehicle with a procedure so simple a 10 year old could even do it. They, without any doubt, use the guesswork method at the customer's expense.
We took our 4runner to them to have it repaired for a loud roar coming from the rear while it was still under warranty. I diagnosis it myself and found the differential was bad. They diagnosis it and said the wheel bearings were bad instead. They replaced them and it made no difference in the noise whatsoever. They claimed it was repaired. I drove away from their place with it in the same exact condition I brought it in for. I went back and told them it wasn't a bit better at all. They diagnosis it again and made up a lousy excuse telling me the tires were causing the noise and refused to do anymore work on it. No mention of any tires causing noise before replacing the wheel bearings.
Our warranty expired three weeks later. 9532 miles later, we had the differential replaced at another Toyota dealership and our car is now super quiet along with the same exact tires on it that Toyota of McDonough said was causing the noise. All that's involved with diagnosing this noise was to lift the rear wheels off the ground, start the engine, let it idle in drive with the wheels turning and taking a mechanics stethoscope and touching it to THREE different places on the rear axle housing to instantly determine if the differential or wheel bearings were bad, That's what I done. How is it that me who only works on his own cars and has never had any mechanical training of any kind can diagnosis the noise correctly and them who are supposed to be highly trained Toyota mechanics cannot perform this simple procedure. This procedure is even recommended by Toyota.
After filing a complaint with the Better Business Bureau, their response was "They fixed what they diagnosis". They don't get it that they never fixed the roaring noise at all. They also claimed we didn't give them a chance to fix it. We did and that's when they made up the excuse about the tires and to not fix it. Their second response from a review was "If they did misdiagnosis the problem, it wasn't done on purpose". What do they mean by "If". Then they say "It wasn't our fault that your warranty ran out". It wouldn't have mattered that our warranty ran out if they had fixed it in the first place like they were paid to do.
We didn't ask for them to pay the $2603 it cost us to get our car repaired because of their wrong doing. We only asked them to return our money for the insurance and deductible we paid them that was supposed to fix our car and they misused. Of course they refused because they are a totally unethical dealership and accepts no responsibility at all for anything they do wrong. I urge everyone to read ALL the reviews on the internet they can before they use any dealership and check their BBB rating too. The one we use now has an A+ rating. Anything less than A- beware. There is absolutely no excuse whatsoever for Toyota of McDonough to not have repaired our 4runner properly when it was covered by our warranty. They have avoided all issues concerning this and act like nothing is their fault at all. This dealer could care less whether they fix your car properly or not. All they want is your money.

I was emailed a price on a Camry. I went in to look at the car. The price they tried to sell me the car for was $7,000 more than the price shown on the email. They wanted to run my credit prior to even showing me the car I came to see. I told them no. After driving the Camry and advising them of the price I was sent, I was advised that price had to be honored. I allowed them to rerun the numbers and they asked to run my credit again. I told them I did not want an inquiry on my credit report. They assured me it would be a soft credit check and would not affect my credit. The next day I got an alert from my credit that there had been three hard inquiries to my credit! I was lied to from the beginning, made to feel extremely uncomfortable and lied to in the end! Probably the worst experience I have ever had while shopping for a new vehicle. I can only say they got over on me a little but thank God I did not buy the car! My advice to all...STAY AWAY from this dealer!
Toyota of McDonough Company Profile
Company Name:

Toyota of McDonough

Company Type:

Private

Address:

144 Hwy 81 W

City:

McDonough

State/Province:

GA

Postal Code:

30253

Country:

United States

Website:

http://toyotaofmcdonough.com/