Consumer Complaints and Reviews

We explained upfront that we could afford about a $250 payment, which equates to around $23K or so with my trade-in and payments for six years. We ended up splurging for a 2017 Sienna and they told us a lease would get us the lowest payments. We agreed to $31,022 after our trade-in and TTL were added in, along with leather seats (said they would charge us $800) and a free cargo mat, and when we signed the lease contract, the $31,022 was pointed out to us.
So we went ahead and signed without reading anything--we had absolutely no idea that they would be adding other costs into the transaction and that the extra $5,000 we paid upfront to get the lower payment would not be credited toward the balance owed. (NOTE: I am a Realtor and I always look after my client's best interests and I take them through the entire contract so they understand completely what they are signing. I just trusted that this company would be honest also and would have pointed out what we needed to know if anything had changed after our agreeing to the $31,022.)
So, when I woke up the next morning (we had been there six hours and left at 9 pm and hadn't eaten since lunch time, so you can imagine how exhausted we were (my husband is 79, in a wheelchair and diabetic) and I am in my 60's) we also had an hour and a half drive to get home. As soon as I read over the contract, I realized that the $5K we paid did not get credited with the monthly payments, since the residual only accounts for about $9773. So where did our upfront payment of $5K go? I called immediately the next morning to see if I could get the transaction changed to a sale so our balance would be $26,000 instead of $31,000. I was willing to pay a higher payment in order not to lose $5K! They flatly refused. I was told they sold us the Sienna for $1200 under Dealer Invoice (but would never show us the invoice--which makes me think this was not a true statement). And they also told me they lost $2100 on the deal.
I believe this must not be true also since I asked to change it to a sale and if they lost so much money on the transaction, why didn't they jump at the chance to change it? So, here we are stuck with a van that we love, but can't afford to keep. It will effectively cost us well over $41K, if we want to buy it at the end of the lease. And if we finance the residual and taxes and title for three years, the payment will be over $650, which we obviously can't afford on Social Security! They forced us to take the van home that night. (I was so exhausted that the thought of driving a brand new Sienna the 1 hours home in the dark scared me). Now I know why they insisted we take it that night.
I truly feel that we were misled because had the Finance Rep explained the numbers in the contract to us, we would have caught the changes (charged us the full $1599 for leather, not $800 as we were told, left the Cargo Mat off, said we agreed to $36,195 and added up charges we were never told about, to equal $39,895.88) before we signed the contract. I feel like we threw away the $8395 we put down. Yes, we CAN trade it toward a less expensive vehicle, but they will only give us $29,000 for it, an $11,000 loss.
Other dealerships will work with their customers in a situation like this, but not this one. Make sure you have recourse, if you find that the facts weren't relayed to you, as in our case. If I had only checked out the reviews before I went, we never would have gone to Toyota of Dallas, and wouldn't be in this predicament now. Many dealerships give you 7 days to decide, so why even go to this one that has no empathy for their clients. I personally can't see any value in leases and don't recommend them. I sure hope this review will help others avoid this type of situation and TOYOTA OF DALLAS in particular.

I had my 2005 MR2 towed to Toyota of Dallas dealership on 3/23/16 after the engine died in traffic and would not start. After the service technician diagnosed the issue that day, the service advisor "TJ" called to inform me that the ECU needed to be replaced. He gave me an estimate of $1600 and said the part is back-ordered and would take 3 or 4 weeks to be delivered. I informed him of some repairs / maintenance that had been done within the previous 6 weeks: Oil change, replaced air filter, spark plugs, all coil plugs, top 2 oxygen sensors and cleaned Mass Airflow Sensor. I had a previous issue with misfires on two cylinders which was resolved by replacing the coil plugs.
I asked him if there were any OBD codes and if they tried to reset the ECU. He said the technician did not see any new codes, only the misfires from the previous issue. He assured me the technician had checked out everything to determine it was the ECU. I bought my car in 2005 from this dealership and had service done there many times in the past. Until this visit, I always received good service and never had any issues. I brought my car to the dealership since they have the latest diagnostic equipment and certified technicians. Since I was having another issue, I felt I needed that level of expertise since it could be a more severe problem.
Unfortunately what I experienced was more of a disservice. I expected a highly qualified technician to diagnose and repair my car but what I got was a novice who misdiagnosed the issue which ended up costing me over $1500 in unnecessary repairs. The ECU part surprisingly arrived after only a week. The technician installed it but that did not fix the problem. My service advisor "TJ" called me and said they replaced the part but that it now had a bad coil plug and gave me the price for a new one. It seemed odd to me that it "suddenly" had a bad coil especially since I was assured that the technician had thoroughly diagnosed the problem.
Since I still had the original coils and 2 of them were still good, I brought them to the service department. The technician replaced the bad (new) coil plug and the car started running fine. I believe that this was the issue all along. TJ called me on Thursday 3/31 to tell me that my car was ready. I arrived to pick up my car on 4/1. TJ was not working so one of the other service advisors took me to the cashier and went to get my car. After waiting approximately 40 minutes, they finally brought my car up to the front and told me it was ready. There was no explanation why it took so long. On the way home I had to make a stop. When I got back in the car to leave, it barely started.
I drove straight home and tried again to start the car. The engine barely turned over before the battery was completely dead. It appeared to me that must have been what took so long to get my car, they had to jump the battery. There was no mention of any battery issues while service had my car or when I picked it up. There were also no issues noted on my final invoice within the summary of work done. I talked to TJ on Saturday about the issues and he offered to detail the car for free, which I declined. I never received any follow-up from the dealership after that. The car was running fine until 6/12/16 when I had the EXACT same issue with the car.
After attaching an OBDII reader, I found it had a code for P0354 Ignition Coil D. I replaced the coil with the last good original coil that I had and the car started fine again. It appears the new set of coil plugs that I had installed were faulty since two had now failed. This confirmed my suspicion that the ECU was not the real issue and it shouldn't have been replaced. On 6/17/16 I sent a certified letter to Darren ** at Toyota of Dallas. After no response, I sent a certified letter to Toyota Corporate Headquarters on 7/21/16. Toyota Motor connected me with Mr. ** (Service Mgr) for Toyota of Dallas on 8/25, he refused to address the issue. His opinion was that if the car left their service without a code then it was fixed. So if they would have replaced the engine when it was a coil wire issue, that would also be justifiable.

08/23/2015, WORST EXPERIENCE EVER!!! (Cuidado- Estafa a lo grande). Buyers beware... Relatives went in to buy a vehicle. Specifically advised the sales person (Ricardo **) and Finance person (Chris), that all the extra sales such as Extended Warranty, their so-called GAP insurance, Paint Protection, Maintenance plan, etc, etc, was NOT needed.
However, sales person, who claims to be a big Christian, Ricardo **, went ahead and took advantage of my relatives who don't write nor understand English well, that he was not adding those additional costs. Lo and behold when I reviewed my relatives contract, bamm, the dealer had added 4 additional sales which the customer clearly said: "He did not want." We went back to the dealer just 2 days after they gave him the vehicle, spoke with the sales person who forgot he was a Christian and received us as if we're criminals. Both sales person and the Chris, the finance agent, began to argue and argue and yell and threaten to kick us out of the dealership.
Next day spoke with Cody **, the Director of the dealership, and explain the fraudulent activity done by his salesperson and the finance department, including (including asking one relative to sign the name of the other relative (buyer) who was purchasing the vehicle). Cody responded just as his employees. "Well, your relative already signed the contract, so TOUGH LUCK. Have a nice day!
NEXT STOP: We will be writing a letter to the Attorney General's office, Toyota's Home Office in the U.S, the BBB, and seek legal assistance, and notify FOX News, NBC, and Univision of our experience so this can publicized as much as possible to warn customers, especially those who's native language is not English to avoid this dealership and these types of scams. We are determined to escalate and pursue this case in every legal way possible. We are determined to follow every process allowed by Texas Law to resolve this cynical and fraudulent activity by Toyota of Dallas, TX. WE ARE DETERMINED!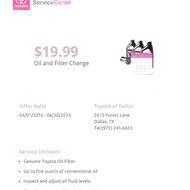 I stopped in today to get an oil change in a 2013 Tacoma. I looked before coming in and they offered a coupon for a conventional oil change $19.99. I showed this to the underwriter he said he would honor it (wow thanks). After 45 minutes he came to me and said it would be a while because they didn't have the conventional oil in stock. I finally asked the service manager to find out what was taking so long, he came back and said it was ready except being washed and that would take another 20 minutes. I waived the wash.
When I got the bill they overcharged me. They charged me for 2 extra quarts of oil, they gave me a $40.00 dollar discount for the $19.99 coupon that they put out on their web page. The oil change came to $75.14 without a coupon, I called later back and asked the price of an oil change for my vehicle and was told $44.95. The 2 extra quarts were $14, so if you take those off the oil change cost $58.31. So they up charged me because I used their coupon. I spoke with the service manager several times, he is definitely not a people person. An hour and 33-minute oil change that I have been dealing with for several more hours. I tried to call the GM he doesn't have voice mail. I also tried to call ** her voice mail is full so she doesn't listen to hers.

Sorry Toyota, you just lost a loyal customer. I was at the Toyota of Dallas with my family (my wife and 2 kids - 2 yr old and a 7 yr old) for an Oil Change for my Corolla at around 8:30 AM on Sep 5th 2015. While we were waiting we decided to check out Toyota Highlander and a 2014 Mazda CX-9 as we were in the market for a 7 seater SUV. Abul, the sales guy, showed us the both vehicles and we enjoyed the CX-9 test drive. Finally we ended up buying CX-9. But the way that we were swindled into the deal was a horrid experience. Here is how it goes. Abdul shows us a price tag after haggling around with him and comparing online prices was $24*** that includes dealer fees and TTL. We were already an hour and a half into this. So it was 10 AM. At this time Abdul says he will get the car washed.
We accepted to put in a $5k down and then rest goes into Financing with an APR of 8.9%. Monthly amount came at $358.xx. Looks great and straightforward, right? Not really, now we were introduced to Chris **, the Finance Manager. This guy attempts to shows up three different Maintenance plans - Gold, Silver and Platinum. As one might expect every plan had pyramid structure of maintenance. We explained clearly to Chris ** that we DO NOT need a maintenance plan simply because we had 4000+ miles left on Manufacturers Warranty. Besides that we had lesser miles on the miles on the vehicle and on top of the CX-9 had just one year of life (2014 model) on it. Carfax was excellent as well!
With us categorically rejecting the maintenance plans, now he starts to pitch for Zaktek protection (a protective coating). Again we say this dollar amount is $358.XX high enough along with our Mortgage payments. He gets into SWINDLING plan. He steps out of the office for a couple of minutes. Now the important thing is the time. When this was happening it was 12:30 PM. None of us including our kids had breakfast and no other snacks. He comes back and says he is able to get the Zaktek protection for a year for the same $358.** monthly payment. We believed he was able to do it without any addition to the original $24** amount. Again he didnt explain how he did that.
A week later I was able to contact the lender and learnt that he swindled us into the plan by reducing the interest to 4.9% and adding $2200+ in addition to $24***. Also he did put us in the maintenance plan too, which we EXPLICITLY said we DO NOT want it. With all the trust I had on Toyota's prior experiences (over the past 8 years I have had 3 corollas and still own a corolla) I signed the dotted lines without actually reading the price break up. Please folks, understand we are struggling hard with 2 hungry little kids. Got out of Chris ** office and pleaded to the salesperson that we come back later to get the keys as the kids were hungry. The salesperson tried to make us wait even longer but finally got off the dealership saying that I would come in that evening to collect. That evening when I went back to the dealership that SUV wasn't properly washed.
Clearly could see the mud traces at the bottom portion of the driver's side doors (front and back). When asked, Abdul says he could get it done any other time we wanted. Forget it; I'm not coming back to Toyota of Dallas. After two weeks of haggling Toyota agreed to cancel and apply the $1100+ maintenance plan to the loan. But they refused to cancel Zaktek. So I lost over, sorry tricked for $1100+ Zaktek plan. Sorry Toyota, you just lost a loyal customer.
How do I know I can trust these reviews about Toyota of Dallas?
699,348 reviews on ConsumerAffairs are verified.
We require contact information to ensure our reviewers are real.
We use intelligent software that helps us maintain the integrity of reviews.
Our moderators read all reviews to verify quality and helpfulness.
For more information about reviews on ConsumerAffairs.com please visit our FAQ.

My Experience with Toyota of Dallas continues to get worse; 8/31/15 Bought New 2015 4Runner. High pressure Extended Warranty Sell -- feel I was interrogated to purchase an extended warranty by the dealership using deceptive sales tactics. Finance Manager made me sign a "blank" loan application for unknown reasons. Although was in dealership for 4+ hours - which was plenty of time to prep car for delivery - 4Runner was delivered dirty with scratches and paint blemishes. Although I paid for and was told that dealer options were installed, edge guards and Zaktek protective coating not installed. Odometer statement on 4Runner stated 61 miles but in reality when I drove it off lot, it had 18 miles. Window tint on driver's door scratched.
9/1/15 made arrangement with dealership to bring 4Runner back in to correct deficiencies and dealership would arrange and pay for a loaner car for me. Arrived at dealership 9/3/15 at 8:20AM as agreed, and checked in with receptionist. At 9:00 I still was not recognized as a customer who needed assistance (after the sale customer experience). Nobody at the dealership had a clue I had an appointment and was coming in. Receptionist called me to the front desk and handed me the phone; it was Enterprise Car Rental who had no reservation from the dealership for me and they wanted me to pay for the rental. I took time off work and was late for a business meeting due to Toyota of Dallas' failure to coordinate service for after the sale customer.
Attempted to contact Managing Partner and Sales Manager and was ignored. Once you buy from Toyota of Dallas, you will be ignored and forget following up on their empty promises, even when you get them in writing. DO NOT let the finance manager(s) use their heavy sales tactics to sell you a warranty you do not need. It is a Toyota, you DO NOT need an EXTENDED WARRANTY.

Just purchased a new Tundra from these guys. Seriously, you can buy a New Toyota from 15 different lots in Dallas. I can't understand why anyone would put up with these guys. The sales experience was okay. Granted, it was a Saturday and it was busy but the transaction took a looonggggg time, over four hours. The finance guys are scumbags. Be prepared to take flat out abuse from them if you pass on the extended warranty. My F&I guy kept insulting me because I refused the coverage. Beware of these guys, my guy was one of the kind of sleazy car guys that you've been warned about... shady, persistent, and mean-spirited. He kept playing games with the terms of my loan including trying to change the interest rate and term to convince me to buy extended warranty. I wish that I had read more reviews about this company before doing business with them.

I am writing you regarding the discomfort I received on a service from a Toyota dealership. I have been a loyal Toyota consumer for 15 years, with various, multiple vehicles. Recently, for the past 4 years, I am getting my service at Toyota of Dallas located at 2610 Forest Lane, Dallas, Texas 75234. Every time I go there, they bring up a service recommendation which is usually very inaccurate. They recommend unnecessary services along with poor quality of work performance.
I had my 75K service performed at Toyota of Dallas which included oil change and tire rotation. They brought plenty of service recommendations which were not legitimate. Anyhow, here is my recent experience that brought me here to write you: On August 19, 2010, I was driving my wife along with a 20 month old baby to hospital in 110F temperature outside. I had a flat tire. We tried to change the tire. I discovered that one of the lug nuts that was put on that particular tire by the dealership serviceman was bad. It was a mismatch (bigger than others) so my tire tool did not fit on it. I called AAA who had the tire tool and tried to loosen it but in vain. I had to get my car towed to the nearest tire shop. Finally, after long struggle, they were able to get the lug nut out. I was stranded with my family for over 3 hours in heat. The laziness and carelessness of the technician caused this dilemma. When I contacted the dealership, all I got was "oh sorry". When I tried to get the tire replaced by warranty since I paid for road hazard, I was told that they have to charge me and then I get reimbursed from manufacturer. No one told me this when I purchased my tires.

This is the first time I write a complaint because Toyota of Dallas had tricked and lured me into their business. I think people have a right to know so that they could be aware of their scheme. This is what I wrote to the BBB.
Where is your integrity, Toyota of Dallas? One of the managers named Danny gave me a deal over the phone on a Toyota Highlander for 26K. I drove all the way from Arlington to their place and by the time I came in, I was told that it was sold. A few days later, I talked to one of the sales persons and he told me that he has two Highlander cars and he has one for 26k for me. So, within hours, I came in for a cheaper Highlander. Again, I was told it was sold. So, I was dealing with him on a different Highlander, which was 31K. This deal didn't work out for both sides so I went home.
About 3/4 days later the same manager, Danny, called me again and said that they have a special deal going on. He was willing to give me the same Highlander (31k) for 26K. I confirmed twice with him over the phone on the price and the car and he validated it. I called him back again before I take off but now he told me a different price. It was 26k plus options which is over six hundred dollars more. I sensed some kind of a fraud so I dropped the deal and didn't even bother to come in.
The next day, one of the sale persons whom I dealt with before called me and I told him that I didn't want to come in because I couldn't believe how his manager could change his mind so fast. Because of their dishonest practices, I didn't want to deal with them. Within 10 minutes later the sales manager, Daniel **, called me and so I presented my case. He told me that he could give it to me for 26k. When I came in, again, he told me the Highlander was gone and he tried to sell me a different cheaper Highlander for that price. I told him that I want a Highlander with the same options for that price. At the end, after three or four hours of working with the numbers, he told me that he has good news for me. He presented a cheaper model with a higher price. This deal was so good that I could not help but refuse it. What really bothers me is their deceitfulness. They did not fulfill what they had promised. They intentionally lied to me to get me in and tried to sell a cheaper model. They are professional friendly but also professional dishonesty.

We purchased a used car(Nissan Altima 2003)We went to this dealership because we were afraid to get scammed and we thought that since it was a reputable dealership this wouldn't happen. Needless to say that we purchased the car and it broke down 1/2 hour after driving off the lot. We contacted the dealership and we were told to bring the car back to have their mechanic examine the car. According to the mechanic they couldn't find anything wrong with the car. But we were told that if this happens again to make sure to let them know.
A few days later the car does not want to start, I contact the dealer and they basically tell me that the car was sold " AS IS". I was very upset and in disbelief that a big dealership like this would sell a car in this condition. I explained to them that this occurred 1/2 hour after the car was purchased not days later. After several calls they still would not agree to fix the car. I had no other choice than to take the car to a mechanic of my choice. This mechanic checked the car and immediately discovered that the alternator was not working and had drained out the battery.

I went to look at what kind of financing that I could get on a 2007 4Runner, I wanted to get a 4 wheel drive with basic power windows and locks. After over 5 days of negotiatinng and almost 3 hours in finance, they told me they pulled my credit and then asked me again for another credit app. I was confused, at that point they said the deal was going to go through. It never did and I did not feel comfortable driving the car they loaned me.
I wanted my Jeep back if the deal was not going to go through. I went back to dealership and they would not give me car back. They told me that my jeep had already been sold to a wholesaler and that it was gone. Being a car salesman in college and running a small dealership I knew that it was a lie when they told me my car was gone and had already been sold.
They then told me that they could not give me my car back and that I had to buy there 4runner. After I demanded my jeep needed to be returned to me they finally told my jeep was in the back. After all six salesmen and managers settled down they told me they would go and get it.
Toyota of Dallas Company Profile
Company Name:

Toyota of Dallas

Address:

2610 Forest Ln

City:

Dallas

State/Province:

Texas

Postal Code:

75234

Website:

http://www.toyota-dallas.com