Consumer Complaints and Reviews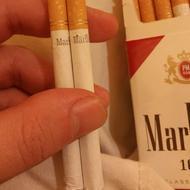 I bought cigarettes from the local gas station and was wondering why my cigarettes were so light. I noticed that there were holes where Marlboro was printed on the cigarette just below the filter. I bought a few packs and same thing on every pack. I stopped going to that gas station and today my girlfriend and I were running out and she needed cigarettes. She asked me if I needed any and against my better judgement I said, "yes. Grab me a pack." Weeks later and the same freaking problem. The gas station attendant didn't really care but it's ridiculous. Tired of being charged what I'm being charged for a ** product.

Since I have been using Shell gasoline exclusively, my car has been running stronger and being a top-tier product, I can use it with confidence. However, one of the most important factors in value is the station which sells your product. Shell dealer Pops #610 at 538 St. Andrews Rd, Columbia SC 29210 really delivers... in every way. The store is always clean and well-stocked. The best thing, though, is the amazing customer service that ** and ** practice. These associates are perfect ambassadors of the trusted Shell brand. Great job!

The Shell station in Browns Mills, NJ has many signs up advertising the benefits of their Shell Rewards program. They are registered to participate, yet when I provide my card, they regularly claim there are no rewards on it. This is not true, as I verify each time by phoning the Shell Rewards program. I am advised they will escalate the issue and that I should let the attendant know they must press the Fuel Rewards button prior to scanning the card. When I explained this to the attendant today, he yelled at me that he knows how it works, then pulled my card out, filled my tank at full price (even a card with no points is eligible for a 3 cents/gallon savings). I never authorized fueling at full price. I called the Fuel Rewards program again - this is at least the 4th time in as many months.
Gasoline is 7 cents/gallon more here than the stations nearby. It is not just happening to me, according to the folks at the Fuel Rewards program. So if you pull in there thinking you will save money because of your rewards, be warned. They simply don't allow you to actually use them! Not only that, but with the card not in during the fill, you get no new rewards for next time. You are better off filling elsewhere based on list price.

Ruined my car with repair bill $14,500 and the diagnosis was wrong fuel used: regular gasoline not Diesel. The green diesel nozzle at pump 15 is what I used yet I'm told that fuel sample showed regular gas not diesel.

Regular cash gasoline is advertised $2.499; diesel $2.799. While pumping premium gas I discovered Shell was charging me cash pay $3.499. Really a full dollar more. Shell 11229 Hall Rd, Utica, MI 48317.
How do I know I can trust these reviews about Shell Energy?
695,474 reviews on ConsumerAffairs are verified.
We require contact information to ensure our reviewers are real.
We use intelligent software that helps us maintain the integrity of reviews.
Our moderators read all reviews to verify quality and helpfulness.
For more information about reviews on ConsumerAffairs.com please visit our FAQ.

Price gouging @ 6.00 per gallon on regular gas. Taking advantage of our much needed tourists!

I went to Shell gas station on January 21st. I counted it out $12 to my 13-year-old son. Had him put it in his pocket to go in and pay for the gas while pump the gas. He goes and tells the young man at the counter to give him $12 dollars on pump 7. I started pumping gas in it stopped at $9.39 so I go in to ask, "Why did the pump stop? We gave you $12 dollars on pump 7." He states, "No you did not!" I explained, "I counted it and my son gave you $12 dollars to put on pump 7." He then states, "Well maybe he just dropped it and I don't care what you say do whatever"!
This young man was very nasty and rude and this is not the first time I've had an incident where they have kept my money and did not give me what I paid for. It was another incident where my mother paid for the gas while I pumped and they did the same thing. Said she did not give them what I know we gave them, and gave us less gas. This is all a scam. They prey on young people and the elderly. I will never ever go to this gas station. It's at 20800 Gratiot Avenue in EastPointe MI. 48021.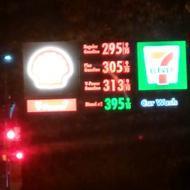 I went to this Gas Station because Chevron was advertising 2.99/Gallon across the Street and this Shell was advertising 2.95/Gallon. When I got to the pump it was $3.09/Gallon! 8 cents is not an issue, but I felt I was fooled. I have another picture that shows the store-front to prove that this was taken at this branch! They never disclosed if this price is when you buy a Car Wash or what... but it is MISLEADING. Foothills Shell: 9151 Foothills Blvd, Roseville, CA 95747

I had a 2001 Mitsubishi Gallant and took it to the Shell gas station for service several times. I asked the mechanic to check all the belts on the car. I picked up my car on December 1, 2012 as he changed the starter and told me all belts were ok and no further work needed to be done on the car. I had the car towed to the gas station that night and the next day (December 9) the mechanic told me that the timing belt broke and it would require about $2000.00 to fix the car. I was furious as the car is basically junk and the engine is all messed up. I basically had to donate the car and I only got $275.00 for the car. The car only had 114,000 miles on it. I had to go out and purchase a used automobile due to the negligence of the mechanic and now have a car payment.

At each pump there is a placard that says if you pay with your Shell Gasoline card (they have pics of the cards you can use) you can get the "cash" price. I used my Shell "Drive for Five" card and was still charged the credit card price. When I spoke to the attendant he said "yea that doesn't work!" When I called Shell customer Service I was told this station is independently owned so there wasn't much they could do. Don't use this station. "False Advertising" is against the law!

I was at the Shell gas station located in Council Bluffs, Iowa yesterday with my friend as my witness. I walked in to get a drink and pay for some gas, when I slipped on a puddle of water. I tried letting the employees know that they needed a sign up to allow customers to be more aware of the wet floors. I then let them know I had a sore foot. They did not bother to ask if I were okay nor if I needed any help. I then went to the ER and found out I had a hair line fracture and a sprained ankle. I informed the gas station and asked to speak to a manager. They pretty much ignored the whole situation. I proceeded to call the headquarters to complain and I am in the process of calling an attorney to resolve this issue. I can barely put my foot flat to the ground. I am out of money and out of a job because of this. I want this issue resolved.

I will never ever deal with this company. They are the most aggravating people worse than collection agency. I hope I can focus and get them paid off by the end of the year. They harass your family and everything they don't have anything to do with this.

After driving from South Carolina to Orlando, to volunteer with an organization that helps children with life threatening illnesses, I filled up at the Shell station at ** on March 11, 2012. We were staying at the Marriott property across from the Shell station and went there for the convenience. All the stations nearby were $3.60ish per gallon in cost. I made the assumption that since it was Shell, it would be priced competitively with the other neighboring stations. I was appalled that I had been charged $5.90/gallon. Thinking it was an error, I told the clerk - he smiled and said that was the price! When I complained to Shell, the response was that the franchise owner could charge what he wanted and they would do nothing. I will never put another Shell product in my vehicles. Shell did not seem to care at all that a company operating under their name was ripping customers off.
I stood by my car for a few minutes after my discussion with the clerk, and politely asked all the motorists that pulled up to the pumps if they had checked the price before they pumped - all were shocked and left without fueling. This abuse borders on being criminal, in my way of thinking. Do not buy Shell Products!

The gas price for regular is at $5.89 per gallon. I didn't notice this until I pumped 8 gallons. I told attendant about it and he said, "the company told me to do it".

I went in on 2-8-2012. I made a purchase for $10 of gas, and 1 condom, which amounted to $11.06. I used my PIN. On my statement, the PIN charge went through on 2-8-2012, and then on 2/9/2012, The Station decided they where going to use credit to take out the same amount $11.06 as credit, so somehow my information was kept, and I was charged 2 times. I bet this happens multiple times a day to small charges to everyone, so scam alert! Address for future victims, is 168 Bridge Street East Windsor, CT.

I stopped to get gas, and there was no sign on the pump. I pumped a little over one gallon, and saw the amount of $6.72. I asked the attendant how much is a gallon of regular gas, and said it was on the pump. The digital readout said $5.899 a gallon. Down the block, Hess was charging $3.399 a gallon of regular gas.

I put $60 of diesel fuel in my truck, and 10 minutes later, my truck stopped running that I had to have it towed to the shop. I was told there was gas and water contamination. So far, my bill is $1,375 for $60 dollars of fuel.

I bought gas a shell gas station today in Waco TX. I have been buying it there for months. Today, I find out it is not Shell gas they're using. Isn't that deception making the customer think they're buying a brand name good gas when it's a generic crappy gas? I told them I would never buy gas from them again. And there was also women there that thought she was getting Shell gas and walked out when she found out it was not Shell. They should let people know that they are not getting Shell brand gas!

I purchased a Verizon phone card for $15.00 and charged an additional $1.00 fee. Most places I have purchased the Verizon phone cards only charge whatever the amount of the card is. I want to know if it was legal to be charged the extra $1.00. I don't want an attorney if this is wrong. I would like for someone to address this issue. I live in a poor community and we support this business we're already paying two to three the normal prices for his goods. It's not right. Please help us if this is an illegal practice. Thank you.

On the 12 of September, I went to fuel up my pick up. It was around 7.30 in the morning. I had 30 dollars in quarters. The cashier didn't want accept the coins because she wasn't allowed to do that, so I told her that it was illegal. She said that it's not because the business has the right not to accepted.

I was charged $3.699 per gallon (premium). I did not realize this until tank was full, thinking price was within a few cents of others. I don't typically use this station, but needed gas. I was told reason was that this was a private owner & Shell was not giving him a good wholesale price. Other premium prices are currently just under $3 per gallon. Thanks.

Shell put a hold on my credit card because they said they tried to get a hold of me and did not have a correct phone number - phone number is on the check I mail in every month. I had called the previous week because there appeared to be a problem when I tried to use the card in Brawley, Ca about 215 miles from home and I did not want to have a problem. I was assured everything was OK (call took place on Monday). On Saturday I tried to gas up in El Centro, Ca and was told I could not that I had to call. No gas within 5 miles as station was on the outskirts of town. I had filled up at this station the previous week. Not being able to get Shell gas with a Shell card that even had check cashing privileges and was issued by Citibank 250 miles from home.

They have a banner announcing that only Thursday you can buy gas with $5 cent discount (per gallon). I fulfill the tank this morning and the price doesn't include any discount. Regular price is $2.699 and I expected to pay $2.64 per gallon, as the advertisement said. I talk to the cashier and he didn't give any explanation. I call later and talked to Mrs. ** who identified by herself as the owner. She said it is not her fault and she wasn't take the responsibility at all.

Below is the letter I sent to Shell Gas company regarding my recent complaint which occurred on 10 February 2010.
Why is it that on 10 February 2010, the Shell Gas Station located at the above address was the only gas station in the area that ran out of regular unleaded gasoline but conveniently had an abundance of Premium gasoline available? It seemed very peculiar that during one of the worst blizzards of all time that Shell Gas Station would try to scam their customers into purchasing the more expensive Premium gas. During a time where driving conditions were very dangerous and to reach your establishment and have this scam to happen was absolutely ridiculous and should be addressed to management for this not to happen again!
Your employees were rude and had no customer service skills whatsoever. Instead of helping they were nasty and only said "Can't you read the sign - we only have Premium." I don't know what type of customer service Shell Company teaches but what we received was uncalled for and unacceptable. I was a long time customer, used to get my car inspection, my oil changed and my gas fill up but with this scam and lack of customer service I will no longer be visiting your establishment - ever!

Filled my tank with 26.523 gal. Truck holds 26 gal, was not on empty 4pm. Informed cashier. Thanks....

I purchased $5.00 worth or 87 octane gas and my Visa card was charge $75.00. This resulted in completed depletion of my account.

i called to find out why my available cash amount which was 100.00 and the avaiilable amount remained at 6.oo for the last three months even though i have made my paymenta and the balanxe is 44.90 they told me it was lowered to fifty before new law take effect and never notified me of this and told me this was perfectly legaal and did not have to notify me. i have a good payment history and this is not fair . i also got increase by hsbc ard services even though my payments with them have been good . please help

I have been a Shell Credit Card customer for 25 years. I pay my bill in full each month but last month in an oversight of believing someone else had used my card, I thought I called this company to ask for clarification and was waiting on a reply and missed paying in full the total amount of $26.97 on my account. I called them paid the amount in full plus my next month's bill and was granted a credit of $20.00 for the late fee charges.
Today, I opened my statement to discover my annual percentage rate had increased to 73.14% APR on balances owed and financial charges of 29.99% APR effective January 2010 unless I opted out of by not using their card. This is outrageous and the federal government thought the January 2010 legislature would help! It is only making matter worse for the very people it claimed it was going to help. The financial industry owns America and the government dances to their tune. Wake up America we are never going to get this right until we all stop paying indentured servant pay to live in this country. We started this to help Americans buy a home but we wanted everything instantly and now we are all paying. And it is only going to get worse.

I purchased gas from a shell station that was contaminated with water and damaged my vehicle. I have supplied all of the required documentation to Shell Customer Care, but they are dragging their feet to provide a solution. The person responsible for helping me is always "unavailable" as well as their supervisors. The repair estimates are substantial and I am stranded without a vehicle for 5 days now. The station where the incident occurred is aware of the problem and has admitted responsibility, but can only refer me to Customer Care. Since Shell had to shut down the station for over 12 hours to fix the problem and many other customers are affected, I know that they are aware of the problem, yet customer care insists on taking me through a bureaucratic mess and red tape, and is asking me to wait 20 days for a resolution. I don't have money to authorize the repairs (currently estimated at $4000) and get reimbursed nor to rent a car for the duration of this mess. Please help me get a fair and speedy resolution to this dilemma.

On Sept 28, 2009, I had gotten half tank of gas to fill up for my drive to Queens, NY before entering Rte 80 East. About 10 miles after leaving the gas station on Rt. 80, my car started to act funny, the engine light started flashing. Every time I would accelerate it would sputter unusually. It was doing that all the way till I got to Harlem River Dr to get on Triborough Bridge, but the engine light remained to stay on. I had a friend who is a mechanic to check it out for me when I got to my destination. He determined I got bad gas and recommended for me to put in dry gas and to fill up tank with different gas, it worked. Perhaps, if you can send someone to this place of business to investigate. This gas station was fined in the past for price gouging, I had read it in the newspaper back then. Thanks
Shell Oil Company Company Profile
Company Name:

Shell Energy

Website:

http://www.shell.us/