Saturn Ion - Ignition Lock
Consumer Complaints and Reviews

We finally got our car in for the ignition switch recall and now my key is stuck in the ignition and car is dead. I have had more problems since it was replaced than I had before.

My 3 vehicles were on the recall list. I currently have the Chevrolet and the other two cars were sold. During the first year of purchasing these vehicles, I incurred problems with each of them. The vehicles would sporadically start/stall on me and my son. We both experienced being stranded at work, in parking lots or while running errands. My son worked late hours and in the City of Detroit. He had to sit and wait for my husband to come from Commerce Township to W. 8 Mile-Detroit. Needless to say, those occurrences were frightening and very unsafe. On a number of occasions, my husband had to jump start the both of us.
We replaced 3 batteries and that did not fix the problem. After towing the vehicles from repair shops to the dealership, the service dept. told me, the 2002 Oldsmobile Alero needed an ignition switch/cylinder and new key fob. The car worked fine after that. Then, I had to replace the ignition switch on the 2008 Saturn LS. The 2005 Chevrolet Impala was serviced upon the recall notice. My complaint is, I spent money for ignitions on both vehicles before the recall and General Motors denied my claim for reimbursement. There should be a class action suit for customers who experienced the same circumstance.

I had my car fixed when recalled. Yesterday my car would not start and the key is stuck in the ignition. I charged the battery got key out. Today car is dead again. I just bought new battery early this year. I am afraid to go out as even though repaired the key gets stuck and battery dies. It is like ignition never shuts car off completely! I want a new replacement car. This thing has been to shop way too many times.

My 2006 Saturn Ion began having starting problems locking up. I took my car in due to one of the recalls on this model in hopes this problem would be resolved once and for all. The service department said the locking up problem was not part of the recall and that I needed a new battery or a new starter. I told him that I had already had both of these replaced and the problem was still ongoing. Again he said this had nothing to do with the recall. They supposedly repaired my car and now it is totally locked up and will not start. WORST SERVICE EVER!! WORST VEHICLE EVER!!

The latest problem is the misfiring related to the engine light going on and no one finding the problems. The dealer I bought it from or an outside shop.. brought back 4 to six times to each and finally both did something with no charge. Going for second recall still have to keep horn disconnected due to it going off like an alarm. As per the electrical Issue they could not diagnose and still have to go for second recall for key getting stuck in ignition. There seems to be no end in sight and no one is able to help even the place I bought it from. It was owned by one guy before me who took excellent care and apparently they said traded it to upgrade. I feel I made a huge mistake and am in a money pit and they all know it and this car should be taken back.
How do I know I can trust these reviews about Saturn?
693,837 reviews on ConsumerAffairs are verified.
We require contact information to ensure our reviewers are real.
We use intelligent software that helps us maintain the integrity of reviews.
Our moderators read all reviews to verify quality and helpfulness.
For more information about reviews on ConsumerAffairs.com please visit our FAQ.

My mother, like most people who received a recall letter in the mail this past year and who also happens to be one of the fortunate ones that can live to tell this story took her 2005 Saturn Ion to Love Chevrolet to have it serviced due to the ignition switch recall. Mind you there had been no issues with the car prior to. Where some people might say Saturns were poorly made my mother's car was actually one of the good ones. I always felt safe in it and more than safe enough to have my 5 year old daughter in the car. What's the motto? If it isn't broke, don't fix it?
Well, to say the least the day after Love put a generic ignition switch into her Saturn Ion handed her a new set of keys and told her the car was more than safe to drive long distances it was being towed off the side of the road. Their claim? My mother needed a new starter, 2 coil replacements and a new module and that the timing of the repairs was "coincidental" with what took place. The dealership was quick to tell us how much it would cost to replace the parts and was even quicker to let us know they would not be paying for it. Coincidental? Really?? Strike one. Thanks, GM.
A few days later a family friend and mechanic does some research online, finds a starter from another Saturn and installs the part himself hoping to save my mother some money. However he is unable to run a diagnostic on the module because there is a code to get into it and only GM knows this code. Does that even sound legal to anyone else? GM has a code on your car making it near impossible for you to send it to any other place to have it fixed?? It's brilliant and slimy all at the same time..more slimy than brilliant.
Anyhow, once the starter has been replaced all is well for about 3 hours and then it's back to the side of the road we go. However, this time we've noticed some things. The car has no power, almost as if the battery has been drained and there is a smell coming from the ignition switch like something has burned up. So, with better judgment my mother decides to have it towed to a very trusted shop out in town instead of back to the GM dealership. I myself am military and stationed in Norfolk, VA and I often times wait to have maintenance done on my own car until I'm visiting my mother in SC at this very shop, that is how trusted they are to me and my family.
They explain to my mother that it is her ignition switch which is burning up her starter and draining her battery and they will personally give GM a call to find out what can be done since they should replace their faulty part. Sounds about right to me! GM's rebuttal? The mechanics my mother chose are not certified GM mechanics, a diagnostic was done previously while the car was at GM and since then my mother has had multiple hands in the car which could have caused those failures. They cannot be held responsible and will not be held responsible. Once again, GM was prepared with the labor and parts quote. Strike two and three. Thanks again, GM.
Now, tell me something. Even if we were willing to have GM "fix" this again the trust is now out the window and my mother would be afraid to drive her car anywhere much less with my 5 year old daughter in it. I believe they would quietly fix the ignition switch issue and tell her it was something completely different. Is GM secretly trying to make up all the money they lost in labor for these recalls by putting parts in to cars they know are not necessarily compatible in hopes that these "codes" will force people to come back and have to pay out of pocket expenses?
I know that my mother would hate to have another car payment right now but I have a feeling that regardless of if we spend the money to fix this or not that is exactly where we will end up, in a Honda dealership. People, please pay attention to what is going on out there with this recall. I would hate for this to happen to anyone else or worse. Thanks for absolutely nothing GM.

I have a 2007 Saturn ION 3. Bought it used since my last one was such a good car. Had the recall ignition changed a few months ago. It is cold here today, very cold but we had below zero for WEEKS last year and my other Saturn started every morning (no garage but between other cars). I just went out there to warm it up, the steering is turned, like it got turned and locked up (which will happen from time to time). The normal trick is to turn the steering the best you can the direction it does go then turn the key.. NO LUCK.. Tried it for over 30 min. I put heat on the steering and heat on the Transmission stick area in the car just in case cold was an issue. NO LUCK.
Ughhhhh I saw where trying to rock the car and try it.. and to try hooking up a jump just in case the battery is low due to electronic steering.. Do not think it is low but always worth a try. Now to even get this thing towed will be a task. The position and gears, steering, etc. is all locked.. Believe if someone wants to steal this car please do so. Quit putting all the anti crap on it LOL.. Not a fan of going to dealerships for repairs, but if it is the new recall ignition then it is covered but if not then $$$ at a dealership... Plus they can just tell me it was something else and lie.

I've had numerous problems with my 2005 Saturn Ion since I purchased it barely used in 2008. First, it was an ominous Check Engine light which after spending $400 in unneeded repairs, turned out to be something with the master computer. After I had the ignition replaced, now I can't get the car to start. The dealership can't find anything wrong with it and the mechanic says that it's the master computer needs to be replaced. On top of all that, all of the automatic windows died. Had to quit my job because of my health and I'm so fed up with all this, I could just scream.

Before the recall, I had the ignition problem. My key got stuck in the ignition and wouldn't shut off. I finally pulled the fuel fuse to get it to shut down. I went to a repair shop to get it fixed and they had to replace the steering column as well as the ignition and this left me with only one key because they could not remove it and it broke. The recall came out and the new part was ordered and after several hours of waiting, my vehicle was repaired. I was told by Saturn that I could be reimbursed for the money I put out for the original repair. They wouldn't reimburse me for the steering column.
After trying for several days to get reimbursement (with all invoices submitted as well as phone numbers and name of original mechanic) for an issue that was no fault of mine but certainly Saturn's bad parts, I finally accepted the minimal amount of money THEY said was due to me. I'm still very upset that after all they've paid out due to their own negligence and bad parts, they aren't fairly reimbursing. I will continue as often as I can to give bad reviews on this company. I'll also tell everyone I can by word of mouth that Saturn is a terrible company and is only out for themselves NOT the consumer. DO NOT MAKE THE MISTAKE OF PURCHASING A SATURN USED OR OTHERWISE!!

My 2007 Saturn Ion was taken to the dealership to get the repairs on the ignition done. We had been experiencing some problems with the key being hard to turn on a consistent basis. The repair was done on Tues and on Thurs the car wouldn't start. A jump start was done and the car started up. On Sat evening the car wouldn't start. We tried to start it by jumping it again but it didn't work. The lights worked, the horn sounded strong and the battery is less than 3 years old. I called the dealership and talked with a service manager and he said that they would tow it to their shop and repair what was wrong, but if it wasn't something that related to the recall I would be responsible for all the costs. It will costs be about $220 to have it towed and diagnosed. If it is related to the ignition recall then I would be out that money.

I have a 2004 Saturn Ion. I have had several of the common issues with the ignition. Not shutting off and ending up with a dead battery stranded. The key not turning and the key not releasing. I had the ignition switch replaced during the recall. As soon as I went to pick up the car I knew it wasn't corrected. The key did not shut off the engine. How did the mechanic not know that there was still a problem? So I went back into Fergusons GMC and informed the service desk. The guy was rude and nasty, treated me like I didn't know what I was talking about. I was so disgusted with it that I left. I am still battling this problem, and don't understand why this can not be addressed properly. All the peacocks on capital hill know that this is an issue, they know it has cost several folks their lives, and they know that not one consumer is being treated fairly. It all comes down to who's pocket is being lined the most and it's not the consumer!

My 2005 Saturn Ion 3 that is in the recall for the ignition had been scheduled to be repaired on 7/23 but on 7/22 I was called to say Sam Swope GMC was closing and they referred all to Coyle Chev. My ignition stuck ON and even though I disconnected the battery, it would not turn off, and I kept trying the key, but as all of us Saturn owners know the key goes in and out in any position, run, etc. I kept trying to get the key to turn it off, it felt like the key was going to break, I raised my hood and just sat on the ground and cried. I had called Coyle, "Sorry, service dept closed for the day."
Finally after quite a while the overflow antifreeze cap blew off and went flying, and the antifreeze went up like a geyser out of the car, the engine was smoking, it was horrible. Coyle came to pick it up on Monday and the idiot who put my car on the rollback put it on wrong and my sunroof visor shield flew off somewhere and all that is left is 2 screws sticking up. Per ** at Coyle, not a ignition problem, too bad. GM said they won't help, my car is too old and has too many miles on it, even they can't agree. The car can't be driven and now I have nothing to drive and Coyle Chevrolet and GM to thank. GM when was that when you knew the ignitions were faulty????? My car wasn't even produced yet!!!!!

I have a 2003 Saturn Ion. I have had several of the common issues with the ignition. The not starting because of the security lock thing and having to wait 10 minutes till it resets and you SHOULD be able to start if your lucky. The key not turning and the key not releasing. I love my car and I have gotten the recall repairs done. I haven't had any problems with the car not starting anymore but then again from dealing with the issue so long I can't get out of the habit of half turning till the security light turns off then starting so who knows. Repairs did not fix the key getting stuck, still have to use the manual over ride button in the steering column. And after doing more research I now know it's the micro shifter in the gear shifter. So many people have the very same problem that GM really can't ignore the fact that something needs to be done.

OK so I have a Saturn ion 2004. When I purchase the car, it had 58000 miles on it. Maybe two yrs and the key stop turning, it wouldn't turn sometimes. So what did once I had it acc. I kept it there and put tape around to cover the key. Now my car is flipping out my lights on my dash, comes on and off. Power steering is not working. I changed the powering steering, still nothing. I'm so tired of this vehicle. Frustrated!!!

I have a Saturn Ion 2 that keeps cutting off when slowing down, going down a hill or just drinking and having to slow down while in traffic. My car was on recall. Went and got that fixed. Now my car try to crank on its own while turning my key to crank the car...what am I to do?

I had my ignition switch repaired on my Saturn Ion 2, 3 times already and continue to have problems with key getting stuck in the ignition. Spoke to Cruz Chevrolet today and he is telling me he thinks it is the automatic shifter causing the problem. My warranty just ran out in July 2014 and I told the dealership about this problem a few years ago as well as in June 2014 and July 2014. I am so frustrated. Have to bring car to dealership in 2 days.

I bought a 2002 Saturn Ion sl2 and I've had nothing but problems. How is it that these crooks are allowed to get away with this? My ignition locked up while I was driving leaving me stranded for three hours on a busy road in 100 degree heat with no extra money for a tow truck or to get it fixed, and unable to after replacing the ignition to unlock the vehicle. I am glad that my son was not in the car with me and there was no accident as an outcome of this or GM would be hearing from my attorney. I will be getting rid of this car immediately.
And the thing that irritates me the most is that NO ONE from this company cares. They care about making their money and robbing people, people like me who had to save up months to be able to purchase a vehicle hoping it would be reliable and safe to transfer my son and I from daycare, work and school. I will never purchase another vehicle through them again. Now I have to worry about how I will be repairing a vehicle I don't have money to fix and still pay my bills and find a way to work and school. Thank you so much for your poor engineering.

I wanted to reply to Patricia of Signal Mountain, TN on June 25, 2014 specifically. Unfortunately the dealer and auto body shop you visited seem to be unaware of this particular issue that has affected many saturn customers. I bought a 2003 saturn ion brand new and 6 months later had my first issue with the car not starting. It wasn't a dead battery, or any other issue. It just would not start. I could go try again an hour later and the car would start.
My ignition switch was replaced twice under warranty and it needs to be fixed again. The problem is something in the faulty wiring that trips a security message in the computer of the car that will not allow it to start. I recommend that you look it up online (google, youtube, saturnfans.com). There are countless pages dedicated to the exact issue your daughter is having. When you get a grasp of what the issue is, speak to a trusted mechanic. Let him know what you found out and I am sure they will be able to help. The solution is often as easy as a $25 ignition switch replacement.

Weekly the battery has to be charged. While drinking with baby in car, the car cut off. Luckily no one got injured when getting out of traffic.

I have the same problem. I just had the recall from GM done on my '03 Saturn Ion today. They replaced the switch and ignition lock cylinder because of cars going dead because the ignition switch turned off easily with a little weight on the key ring. Accidents occurred and they were sued. This was not for and did not fix the problem of the key not turning all the way off without reaching underneath and pressing the solenoid plunger which feels like a switch (They said nothing when replacing the new switch if this ever happened then). I did not inform them of the problem either.
I just found a fairly new video on YouTube that concerns this very problem. Watch the video. Long story short, the shifter micro-switch is not engaging either because of a bad switch or a bad placement fit of the switch to where the plunger of the switch is not being depressed as to close the switch and therefore allow voltage to be applied to the ignition switch solenoid, freeing the cylinder to turn off. The YouTube video title is "Saturn Ion key ignition stuck won't come out (solved) manual override & troubleshoot ". Search for: video ** by Danroxye01. He made a later one to better explain with audio of what he found out.

My daughter has a Saturn ion redline that was part of the recall. Her car started to have problems starting, so she took it to a repair shop and they ran diagnostics and found nothing wrong with the car. It happened again, so she took it elsewhere and they suggested she change the battery - so she did. The very next day she had difficulty starting the car on two occasions and on the third attempt later that night it would not start at all. Since the recall had been for the car suddenly shutting down - not starting, we didn't think about the recall until after that. She had hit a hidden bump in the road before it stopped completely.
She called the former Saturn dealer and told them what happened and they said it was the recall (we had read up on the forums and knew it was by then) and to have it towed to them - which we did. They gave her a Buick to drive. Today they called and said they had replaced the part and it still wouldn't start so it had to be the car's engine. They want to run diagnostics (which we had already done). Understandably, we don't trust them. Has anyone else had this experience?

My 2005 Saturn Ion has been taken to locksmiths several times for ignition locking/freezing up so the key wouldn't go in or sometimes come out. Recall letter came; took car to GM dealer 4/2/14, picked up car 4/14/14 (switch replaced). Took it back again 4/23/14 & waited for replacement cylinder & key. Took it back same day; key would not work on any outside lock. Key re-ground. A month later ignition still randomly locks up - sometimes feels like it wobbles. With only 53,700 miles, I'd like GM to offer me at least half the original value. I believe that's fair.

My life and my 9-week-old son and 20-Month-old Daughter are in Danger. I have had problems with my 2007 Saturn Ion since I purchased the car brand new in September of 2006. I have had about 11 cases opened with Saturn/GM within the past 5-6 years for the same issue. My car's electrical power completely shuts down while driving. I am unable to turn the wheel, use the brake or gas pedals, roll down my window, unlock the car, turn on hazard lights, or take the keys out of the ignition. After years of this happening and taking my car for service to fix this issue, there still has been nothing found that could be causing this issue and I have been left feeling unsafe driving my car.
I felt after the below recalls my car would finally be fixed and the issues that have been happening for so many years had been resolved. Saturn/GM has been aware of the issues with the power shutting down to their line of vehicles. My car was repaired under the below recall, I picked it up from the dealership yesterday evening. This morning I was driving with my kids in the car, when the same exact issue happened. All power in the car stopped, I was almost sideswiped and rear ended. I am at the end of my rope. I fear for my life and for my Children's lives. I no longer feel safe and do not trust that this issue will ever be permanently fixed.
My car is back at the dealership that made the repairs and I only have a rental for one day. I have to provide for my kids and cannot keep missing work. I do not want my car anymore. I would like GM to buy back the car. Will I or my Children have to die in a car crash before GM will help resolve this issue?! I am the original owner of the car. The car only has 27,845 miles on it. These issues also happened when the car was under warranty as well. Please find below the info to the GM issued Recalls:
Recall 2014113: Recall Date - 04/16/2014; Recall Description - REPLACE IGNITION LOCK CYLINDER AND IGNITION KEY
Recall 2014063: Recall Date - 03/07/2014; Recall Description - IGNITION SWITCH REPLACEMENT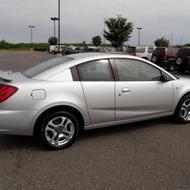 2003 Saturn ION - good car at first, but ignition issues plagued me. The key would sometimes stick, making it impossible to start the vehicle until I noticed jiggling the steering wheel and gear handle would release it. It felt very unsafe though. I had the vehicle shut off on the highway more than once and I was able to get to the side of the road. It also shut off during sharp turns where there was a slight incline. The scariest and most annoying issue was the key could be removed at any time during driving and after no luck with lasting repairs, I simply kept a note in the car during service appointments (or for valet) to "MAKE SURE KEY IS IN THE OFF POSITION BEFORE REMOVING," because I came out to a dead battery more than once. Such a waste of energy and a risk to my family. I no longer have this vehicle and I'm thankful for that because it felt unsafe!

I've had to replace my ignition 4 times in the past 4 years. The key gets stuck and I either can't turn the car off or I can't turn it on. The mechanic who replaced it the last time indicated that the ignition was "a really bad part" and that he was certain it would fail again. When I took it to the dealership after the recall, the foreman indicated that my problem was not the same problem indicated in the recall. He said, the recall problem is a safety issue and mine was not. I am NOT comfortable driving around in this car knowing what has happened to some.

I am furious to find out that GM knew all along about the ignition problems with some of their cars. We bought our daughter a 2003 Saturn Ion in 2004. In less than 2 years the problems with the ignition started. It was a nightmare! She lived 800 miles away and dealt with the car not starting constantly. Sometimes the car would start then shut off and not start again for 15 or 20 mins or longer. The car died on the interstate!!! She could have gotten hit by another car! She had to call the police and they pushed her off the road onto a side road and she waited for AAA to come and haul her car over 100 miles back to her house. This all happened at night.
She took the car to mechanic after mechanic to dealership after dealership trying to figure out what the fix was. Finally, a friend's boyfriend did some research on the web and saw all the complaints and figured out to take the fob off. That did help but she still had problems with battery needing charged, the battery was being run down even though the car was off. A lot of electric issues. When I read about all the horrible accidents it makes me sick to think these families should not have had to suffer these losses and what could have happened to my daughter. Shameful.

I noticed about a year ago that my ignition would stay on after I removed my key from the slot. I thought this was odd, but not a problem since if I turned to the off position the motor would cut as it should. In December of this year, and again in February as I drove my car along very busy streets it turned off. The wheel froze, nothing worked as I pulled the car to the right with all of my strength. I managed to coast to the side of the road and restart my car. Both times I assumed that I had somehow hit or pulled my key. I've since (about 10 days ago) received a recall notice in the mail. I urge anyone who knows someone with such a car to take it to a repair shop as soon as possible. My experience was quite scary and potentially dangerous.

Saturn ion 3 2005 - Key gets stuck, car shuts off when it wants, and steering goes out sometimes. This is a two hand on steering wheel car for sure!! Pretty scary. It awful that some people who have complaints about this car are no longer living human beings. That must have been changing the radio station while making a turn. Remember two hands and hold on tightly!! I no longer drive cars that have internal combustion engines with complex engine starting features, (push button once to engage low power circuit for radio and accessories, push button again to engage high power circuit for electrical traction motor). Simple, no service ever, no transmission, exhaust, sensors, hoses, belts, radiator, water, clutch, etc., no service required. Good luck with those old things.

Sure would love to know did Gm let their service Department's know about ignition problems. So when customers came in, they would what to do. That way they wouldn't be guessing and charging customers a lot of unnecessary money.

I had this problem several years ago - after 4 trips to the dealer and replaced starter, it turned out car wasn't recognizing that is was in PARK and therefore would not let me shut car off. Dealer finally fixed the problem. This was 100% fixed after they addressed the gear shift P vs D issue
Saturn Ion - Ignition Lock Company Profile
Company Name:

Saturn

Website:

http://www.gm.com/owner-assistance/saturn.html