Nemet Auto Group
153-12 Hillside Ave.Queens NY 11432
Consumer Reviews and Complaints

I went to this dealer to get a certified pre-owned car. I discovered within a couple of months that it was not certified even though I specifically asked for this, and the website info said it was certified. Within three weeks found out that they had not even gone so far as to put new batteries in the key less entry device as it gave out in a parking lot, they made five (5) credit checks even though I was told it was only one; I had to have the transmission changed after only 26,000 miles (I bought it with 11,000 on the odometer; was lied to about keeping the warranty in effect (had to go to Nemet or lose it); was informed by dealer that warranty not in effect in March of 2016 (2013 model) even though salesman said it had almost a year to run.
They only are remotely truthful as they never fully disclose even when you ask. Found out they made 6 hard credit checks even though I only authorized and/or knew about one. Stay away from these scam artists. They won't lie but they surely won't tell you anything about the cars unless you ask specifically and about problems as if you knew what they were ahead of time. Would give a minus rating if possible, and would not go back even if they were giving me a car free of any and all charges.

I went into Nemet Kia to look at a used Forte they were advertising on their website. I spoke to the salesman and he confirmed the price. He said I would have to put $2500 down in order to get that price. I confirmed with him the purchase price of the car less the $2500 and my trade in. He takes me to the used car manager, I sit and wait for 2 hours. They tell me they're waiting to hear from the bank and checking my credit. So finally I get called in, he tells me the best he can do was 4.99, that's the bank not him. So his computer goes down and he has the salesperson take me to a third building. I meet with Mario. Mario says he is going to take care of me, makes a small talk about my profession etc. Then he tells me the final numbers.
I ask him how he got to it as it was much higher than the asking price. So he shows me his monitor and says the numbers are the numbers. I see a $2500 dealer fee. I ask him what it's for. He says, that's to get the internet price. I said, "I was told it was $2500, not $2500 additional." So he says okay and changes it. Then I ask him about the APR, which he changes with the one keyboard click, so much for having to call the bank and wait. I ask him why so much on the DMV fees, he says that's standard, but I was very clear I was transferring plates, so when I called him out on it, he changed it.
Lastly, he tells me "I have to offer this to you but you are under no obligation to buy it, it's an extended warranty and covers the car completely bumper to bumper, it's $2500" I tell him I am not interested and he offers it to me at $2300. I tell him again, "No thank you" and he then lowers it to $1800. Once again, I decline. So he tells the salesperson to take me across the street to finalize the sale. Mario walks in after almost an hour and tells me they won't sell me the car. Says if I don't buy the warranty the deal is off. He even goes so far as saying, buy the warranty and then call tomorrow to cancel it. I ask him "What the hell is the point of doing that?" So I have to fight to get my $1800 back a day later. I couldn't believe he was serious so I walked out irate.
I call the loyalty team manager Christina that keeps e-mailing me to make a complaint. I get a call back from the dealer saying they will honor the deal. I tell Kiminie on the phone that I will not come back there if they are not prepared to do something for my aggravation. So she says, Sharon the GM wants to sit with you and is prepared to do something to make you happy. I walk in to meet Sharon, tell her the whole story and she says all they will do is honor the deal I worked out 2 days prior.
Mind you, the deal I worked out was for their internet advertised price, I didn't ask them to reduce the price of the car. So I say unless you will reduce the cost or throw something in I refuse to do business with you. She gets all nasty and says "We're not making money on the car, I can't do anything." So I ask her to see the invoice on what they paid for the car, and of course, she won't show it. 'Cause like the rest of her team she is a bald faced liar! I am completely disgusted with this dealership and I have read many reviews on this warranty scam they pull as well as their scam tactics! I have been to many dealers, and I cannot believe these people are still in business!!!

I took my Nissan Murano which only has 62,000 miles on it with a check engine light to the Nemet Nissan service department. It was a failed transmission so they replaced it under warranty in April 2016 - I thought it was great experience - little did I know that 6 months later I got the check engine light again and had a failed transmission again???? In 6 months the transmission failed - great workmanship - this is only the beginning of the problem. I took the Nissan Murano back to the Nemet Nissan dealership I was sure it was a bad transmission issue - but they refused to honor the warranty and instead tried to mislead me saying it needed a new engine wire harness and it will cost $4000.00??? I was dead sure they are trying to rip me off, so I took my car back and went to Star Nissan of Bayside. They fixed the transmission under warranty - no questions asked?
When I called back into Nemet they said even though the transmission was fixed the harness will still be bad - I spoke with the technician at Star Nissan. He said there was no such issue and they were indeed trying to rip me off so they can make $4000.00 out of me. I personally had to spend $500.00 for full diagnostics because the idiots at Nemet wanted to rip me off and take $4000.00 for their poor workmanship. Please as far as possible stay 100 miles away from the dealership. I hope this review helps people who are deciding what to do.

The Kia Sales Department has manipulative sales reps and management, undermining customers and making decisions that are not in the best interest for customer sales. They're not honoring TrueCar which researches vehicles with VIN numbers to provide the best deals for customers. They're luring customers into store claiming they're honoring TrueCar prices which is not true. Basically they're ripping off consumers, pretending your knowledge of knowing what is happening is not what it is but, getting away with scheming tactics.
Well their treating customers like they're in a game of chess seems to be a part their sales approach. How are you going to explain that a customer has no rights when you're accepting $1500 of their monetary which is suppose to help in lowing payments after hiking the price up on the vehicle? How are you providing customers with a blank lease agreement with none of the players who sold the car nor the finance person inputting information for you to see who was dealing with you at the car dealership? They're basically covering their ass for fraudulent practices. How are you switching addresses on customers to make it inconvenient for the customer to handle their lease agreement?
You deserve to be sued and also you deserve to provide the customer back any restitution to resolve your bigotry behavior towards woman consumers. Everyone is not stupid walking in a dealership. How do you tell a customer after purchasing a vehicle I did not tell you to go to the DMV office? You're going to wish you had put an R for Respect in this matter. I have no tolerance for anyone thinking that I am not thinking just because you are working in sales and think that I am not working too.
My job is to put in a complaint when you're slandering my name and reputation, when you forgot to put your name on front row so everyone knows what you're doing to sell a vehicle. Manipulating your job to intent to sell is just like selling goods, only thing you're hiding behind a license to commit the sale in a fraudulent way. Who tells a customer "do not say anything"? Oh well someone should have thought you never bite the hand that helps to feed you.
I will be requesting the following an adjustment in my contract and there are no names on my contract which is suspect anyway. So everyone behind the plan the master needs to start rolling out and making me very satisfied. The problem is that people think that Americans are stupid including the Americans. Why play on someone to receive a sale and now the mindset is to have you investigated for fraud after realizing you think that I am slow. Why? All this could have been avoided but, no. You need me to show my side that no one seems to believe exist when it is my turn to clap back on your wrongdoing towards me. Believe me organized is not organized where you're sitting back laughing. You're going to feel exactly how you made me feel and now it is my turn to make you think about why did I mess with this woman. Why didn't we just do the right thing without thinking we caught another one?
Baby bye! I told your salesman who management had to coach in Kia and Hyundai not to play with me. No you thought I was a donut and you tried to glaze me. Wrong move, everyone needs to get a reality check on wrong dealership practices being mislead and misrepresented, practicing bait to switch up by your company who had once a credible reputation.
You're hiring too many of other who need training on 'never underestimate the power of a woman you upset about their monetary'. Never! Giving a customer a blank lease agreement putting wrong addresses to justify your actions in wrongdoing. I am protected by right as an American citizen, how dare you plant a seed and thought it will grow. This will be your last time messing with a woman who knows your game is as weak as a wiener. You have me upset at your tactics then once I caught it your team had the nerve say for me not to say nothing. I do not benefit by not saying nothing, it is my money. The same way you felt comfortable talking about me in a negative way selling me a vehicle. We even. I have nothing else to do but protect myself from everyone involved in trying to play games. Game over!

Recently, I went to this dealership. By the way I wish I could give them a zero star. By the time they gave me my bill, there was almost $4000 in fees. Delivery fee (used vehicle is a no no), dealer fee... and the list goes on. Don't waste your time with these people (I mean crooks).
How do I know I can trust these reviews about Nemet Motors?
883,201 reviews on ConsumerAffairs are verified.
We require contact information to ensure our reviewers are real.
We use intelligent software that helps us maintain the integrity of reviews.
Our moderators read all reviews to verify quality and helpfulness.
For more information about reviews on ConsumerAffairs.com please visit our FAQ.

They are a bunch of crooks. Nemet had a 2012 Nissan Rogue advertised for $16,000 so I made an appointment to go have a look at it. They never let me test drive it. No one said "Hey. For the price of this old car we could get you into a newer car." I purchased the 2012 Nissan Rogue in July 2016 for $16,000 and put down $5,000 and apparently I to go through Nissan and pay an ARP of 4.99% with a credit score of over 740. By the time everything was done and I was so tired of waiting and left, I realized I had purchased a car for $21,000. How the hell did that happen?
2 days later I went back to find out why and said I could have just bought a 2016 Nissan Rogue which is being advertised by them for $23,000 and I qualified for 0% Apr. I then asked why no one would even tell me about or even mentioned the 2016 car. They apologized and said "We can work something out. As soon as I get the title we will switch you to the new car." I went to them on Monday 8/29/16 and they said the car that I only had for a month and barely drove depreciated $7100 so if I bought the new car I would still be paying off the balance of the used car. This is not what was told to me and I am furious. How can they be allowed to treat people like this? How can I either get my downpayment back and give them back this rusty behind car they sold me. I need to get out of the ridiculous deal.

I took my car to Nemet Hyundai on 8/25/16 at 7:45 am. I had an appointment that I had scheduled a week prior since my radio does not work (It has been a total of three weeks now without a radio). I explained to the service department that I needed my car back by 1 pm that day and they said it wouldn't be a problem. Well when I got there they had no idea when my car would be looked at. Instead of wasting my day sitting there and losing pay at work I took a cab to my job. I called back at 12:30 pm and they still had no response as to when my car would be done. At 2:30 pm a service rep. Marcia called and said they did not have time to look at my car and they would have to keep it overnight and look at it first in the morning. Obviously at this point I had no choice so I had to be car-less and take a cab to and from my college.
The next morning, Fri. 8/26 at 9:30 am I called the dealer and they told me they still did not know what was wrong with my car. I called back again at 11:30 am and proceeded to be told they still did not have an answer to when my car would be ready. I proceed to request to speak to a manager or supervisor to which I was told they were all in a meeting (very convenient). I finally took matters into my own hands and went to the dealer. When I arrived my car was still sitting in the bay NOT being worked on at 12:00 pm.
I finally spoke to Wayne ** the "so called supervisor" who I explained my situation to very calmly. He got the paperwork and told me the car wasn't going to be ready until 2:00 pm. I ask what the issue was with the radio to which I received a response that the axle was being repaired and the radio is not covered under warranty. Mr. ** told me without even looking at the car that the radio had to be replaced, which I do not believe since he was aggravated that I asked for a rental car since I had no means of transportation and he outright said he will not give me a rental car. I told them to take my car off the lift and give it to me immediately that I would go somewhere else. I am absolutely disgusted by the treatment I received.

I took my car to Nemet which I bought about 6 years ago, also my second car bought from them. Service was great up until I took my car in for repairs in August 8th 2016 @ 3:37 PM. Car was left for repairs for not starting, no dashboard lights, windows wouldn't come down, no radio was playing, seems if there a Electrical problem or car needs a battery I am far from a Mechanic but anyone should know that. Car stayed at Nemet for 1 week. Upon my return to pick up car, car wouldn't start:(, which I had just paid to have car fixed for pertaining problems. I told clerk upon leaving car have technician to check the battery as well. I told the worker if car not starting I am not taking car. Bring around back to service, apparently the technician worked on my car didn't do his job or just was negligent in doing his job.
Supervisor in term told technician to double check car which he did, then he also ran a System Test on car then he said "You need a battery," so apparently he didn't do what was asked of him or charged me for something he didn't do. Then they want me to purchase their battery after the fact with another charge of $99.00. I told them NO. I will purchase a battery from Sears. A week to get car fixed and still not properly fixed (I was pissed). :( I would take my car back to Nemet on Hillside Avenue again for repairs. Incompetent Sales people and Technicians. Please watch out Nemet services in the future.

I came to Nemet to inquire about my options with a new car and ended up financing my brand new 2015 Nissan Altima SV with the best customer service I'd expect as a first time buyer from a dealership. I am very impatient and tend to be indecisive and extremely picky. They have been very patient and made me feel right at home. They really wanted the best option for me and they had greatly achieve that. It's going to be 16 months I've had my car... I make sure I come in for Maintenance and Service regularly and the customer service never changed... Only improved since and still is currently upgrading their system and customer service and that's a big plus for me. Everything has been getting better and I will continue servicing my car here. They're here to answer questions and concerns. They are very professional and I appreciate all the help to make my experience great!

This dealership refuses to promptly return money given as down payment when you decide to go elsewhere. It's now a month and they return calls and give the runaround with your money. Very dishonest.

I have a 2014 Hyundai Tucson (full coverage and warranty) with only 17,000 miles and while driving on Crossbay Blvd. the muffler fell (putting me in complete danger)! I called roadside assistance who came with a flatbed and took me to the nearest Hyundai dealer/repair shop and directed me to speak to Marcia (the service consultant?) who filled out a form and said, "You will be charged $112 for the repair!" Huh? Then I asked, "Do you provide a loaner?"
She said, "Nope! You have to go rent a car if you need one." She then directed me to Bibi up in the front who said, "Well, there is a shuttle bus, we don't provide loaners and it's 5 minutes to 3 pm and we are closing, sorry." Are you kidding? How was I supposed to get home? I didn't expect for this to happen to me and so I asked to speak to a manager (who never showed), but when I mentioned calling the corporate office to complain, all of a sudden Bibi found a loaner and began to rush through the paperwork. COMPLETE LOUSY CUSTOMER SERVICE!

153-12 Hillside Ave Queens NY - Is the worse dealership I take my car for services. For the last 12 years I have been taking my car for services/Inspection. 9 out of 10 I always have to take the car back because of something wrong that was not before I took my car in. Reason why I kept taking the car at Nemet you might ask - convenient. Close to the train to get to work and back to get the car. I waste so much money by taking the car there.
Last week I took the car in for yearly inspection the car pass inspection. But the screw-up - the driver door can't open from inside. Talk to the manager **. He told me it's old car 2003. My car may be old but it has only 53,000 miles. This has been going on for years. Nemet they have so many bad reviews. So if anyone thinking to buy a car from Nemet. Be aware. They told me it will cost me $300.00 for parts. I got it fix no parts and almost cost me next to nothing. Please share on your page so other can stay away from this dealer.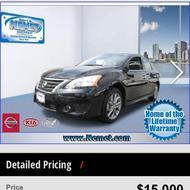 I want to make my complaint as brief as possible for any consumer looking to go to this Dealership. I went to Nemet Nissan to look at a 2014 Nissan Sentra Sr. This car was advertised at $15,000 on their website as well as other websites used to find cars. Despite the many complaints on the Better Business Bureau website and ConsumerAffairs site and Google reviews. I went against the grain and decided to see this car because I thought it was a good deal.
After test drive pulled into service center Sales Rep was cursed at by an employee of this dealership. They told me the car was worth 23,000 but was going to give it to me for $20,000. Car was valued at $15,000 on website and Fair Market Value was not even close to $20,000. Sales Rep settled at $14,800 and waived Prep fee and Destination Fee. I put a Deposit down of $100.00 I was told I had to in order to proceed. Made me call Geico to get Insurance on a Car we havent even signed papers for? On phone with Geico they offer Bumper to Bumper Insurance because car had never been owned, just went from Dealership to Dealership. Sales Rep overhearing conversations gets up, talks to someone else, comes back and said car had one owner. Car fax listed no owners and since VIN # was given to Geico they established that as well, and offered Bumper to Bumper.
I went to leave Sales Rep got up went to talk to someone, afterwards he collects his things to go home? We get another Rep who then comes in and tells us about previous Reps issues and then tries to appeal to our Hispanic culture by acting in an unprofessional manner. As if we were all raised the same. We then wait 4 hrs to meet with Finance. They only offer the option to Finance through Nissan with 4.99% interest rate. They Print Contract. I notice a $1,000 added labeled as additional add-on. It's Gap Insurance. I reply, "I dont need it." Finance Person gets up to talk to someone, comes back. "Oh my mistake, this car was valued wrong on website. That's why that fee is there." Car is supposed to be $15,800.
I immediately leave this circus of a dealership. They put the car at 20,000 on site after they stated it was $15,800. I wasted my entire day off! This by far has been the worst experience ever when buying a car. I wished I followed my gut and the many bad reviews, and the fact that it's not accredited by BBB. To any consumer dont waste your time or money. I feel bad for the ignorant they may play upon and the money I am sure they robbed the Consumers of over the years.

My husband took my car in for service on a Saturday and was told that the only they do on the weekend is oil changes. I then made an appointment and took off from my job. The car was making this sound in the front wheel and there always seems to be a problem with the breaks in bad weather. One of the key sensors was also not working. After sitting there all day I was told that everything was okay.
I drove the car for a few days and something did not seem right. I took the car back and found out they gave the car to the same tech that serviced my car the last time. When questioning this the service rep stated that if he gave the car to anyone else they wouldn't get paid. This didn't sit right with me. Why would anyone want to work on a car and not get paid? I know that he didn't fix my car. They claim the 2 front axles were loose and that the key sensor had to ordered. (Mind you 2 weeks before they said nothing was wrong with the sensor. After they claimed to fix the problem and order the part I left. The service rep said he would call me when the part came in. Within 2 weeks I was back there AGAIN asking about the part (which by the way had came back a week ago) and to complain about the noise in my wheel and the brakes. The service rep told me that I had to come back on another day. I was pissed and told him how I felt.
The young man in the parts department told me that I had to pay for the sensor that was under warranty and that I would have to pay $112 for them to sync the device. I can't believe how incompetent these guys are. The service rep on duty Mr. ** was so tired of listening to me complain that he gave me a fake invoice with the wrong information and told me to have a seat for more than 2 hours. At the end of the day he told me that I had to come back. They never synced the device or checked my brakes or the sound that was coming from the wheel. They are full of it big time. He even had the nerve to tell me that they didn't do any work on the car. What is their problem. Thank god I have 1 sensor that works. I pray to god I don't lose it. Who is the CEO of this bumbling circus?

I brought my car in for a safety recall last year; this was the first time I ever used this place but for convenience purposes, it was easier. When I made my appointment online, I choose the option of waiting since waiting gave other options of loaner car or rental car if the repair was long. I had to leave the car overnight and asked for a loaner car but was told there wasn't any. I then requested a rental car to get home. To my surprise, I was charged over $60 which the dealer refused to pay. Interestingly enough, I heard that safety recalls are usually covered for transportation.
Now it gets worse. When I picked up my car, I noticed many scratches that were not there before, and damage to my rear view mirror. Someone also rummaged through my car, stealing over $20 worth of quarters, along with their holder that I had kept pretty much hidden. Someone did a thorough job of searching through my car. In addition, my car ornaments were purposely turned backwards. I brought my car in for service and got robbed and vandalized in the process.
The Service Manager, Wayne promised me he would send me a check covering both the rental car fee and the damages done to the car, or he would arrange to have the damages repaired and just send a check for rental car fee. He seemed sympathetic while I explained to him what had transpired. At first I thought I would have him arrange for repair but after my horrible experience, I asked him to send me the check he promised for the damages instead, and I'll have my own repair shop fix the car. While I did get reimbursed for the rental car fee, I never received the check for the damages and stolen money that he promised to send and he has ignored all my phone calls and messages! Is this any way to treat customers? One year later and no resolution to my problem! Avoid this dealership at all costs!

In Feb. 2015 we responded to an ad to lease of car. We were told we could not lease it, but they would sell it to us and rebate us $600. So it would fit into our budget. Then after 6 months we could return the car and they would lease our car for the advertised price. After 6 months they did not contact us so we went to see them.They will not honor the original deal and now we are stuck with a vehicle over our budget. We would never have bought this car if it was't for the deal that they proposed. I understand this was done to many other customers. How can we resolve this problem? This is a very dishonest practice, and I am left with a car that I cannot afford.

They kept my 2007 Hyundai Santa Fe for 4 days. Charged me 243.00 for the most inflated estimates. I had to virtually beg for information whether or not they had even looked at my car. When I explained that I am handicapped and I need my car, a very snarky woman found that fact funny. Worst service I ever encountered in my life!

Once you sign the contract, they just leave you with your car not ready for delivery on the parking lot. They treat customers in an unethical way during the sales process. They manipulate information and justify prices randomly. Communication among themselves and with customers is very poor. They don't care about the reputation of their dealership or the customer experience. The wait time is very long (done on purpose?). No one will explain to you what's happening. The personnel act in an unprofessional way in front of customers. They are not there to make customers for life, but to make a one-time deal. Who will come back when treated this way?
The detailed version: After I went there with my wife to buy a Rogue and having a positive contact with one of the managers, I went back few weeks later believing that I found a dealer I can work with. I found an offer on a Rogue 2015 on their website. Before I go, I filled up the finance application on their website and got pre-approved (which proved to be totally useless by the way, I had to give all the information over again at the dealership). The sales person was nice and helpful in the beginning. When the he called a manager to check the price, they added to the online price (which was supposed to be the MSRP) the destination fees and 434$ vehicle preparation fees. They also imposed that I get financing through Nissan at a high interest rate (even though my credit score is above 700 and there was a 0% financing offer). I accepted this offer as it was still a fair price.
After almost 3 hours waiting while my application was (supposedly) being processed, they asked me to come back tomorrow because the finance needed more time to work on it. They said they will call me to confirm. The day after, I received a phone call from the sales person saying the car is ready and that I need to come over. I went again hoping that we just have to sign papers and take the vehicle which was supposed to be ready for delivery (they said the day before that the car will be ready and washed before delivery. Remember, they charged me vehicle preparation fees). I was assigned this time by the manager to another sales person (David), saying that Rohan (the first sales person) is coming later that day (he never showed up by the way although he called saying that he will be there to deliver the car).
After a long wait, I went to the finance manager. When I entered his office, he was laughing hysterically and joking with colleagues, without even sharing what is happening or explaining, totally ignoring my presence. Then came the moment of truth. The finance guy began talking about my monthly payments (a classic tactic again) and when I insisted on the total sales price, he gave me a much higher price and interest rate (reading the other reviews, this is a classic manipulation there it seems). When I tried to explain that it is not the deal we agreed upon, he was justifying the new price coming up with shady fees and so did the manager when he came over to clarify. We finally came to an agreement close to the original one after this unnecessary hassle and bustle, arguing and bargaining. What a waste of time.
After finishing the signing, I thought that my troubles were over. I went to get my car, but the sales person vanished, appearing intermittently, and when I finally got hold on him, he became rude. I found myself alone on the car lot with a dirty car, not ready for delivery as agreed upon. The stickers were still on, the license plates were not even installed and there was only one key in the car. When I called the other sales person over the phone (who was supposed to come), the two of them were arguing with each other in front of me. I had to complain to the manager about this to have the second key delivered and the plates installed. They said I need to bring the car back for a wash. Do they really think that after all this I will ever come back?

So, I go into the dealership with a Truecar certificate to lease a car. I was so happy with the price that was offered, I didn't even haggle to bring the price down more. When Brian, the salesman, comes back he shows me a monthly quote which I thought was from the purchase price that we spoke of, since it was the only one we spoke of. Seemed a bit high, but I agreed.
FIVE HOURS of waiting to see the finance guys!!! By the time I get to him, I'm hungry, exhausted and shaky (Which I have a feeling this was part of their plan, as well). The finance guy was also acting like he was in a rush, telling me he had to leave before the bank closed. So, I felt rushed. So I start signing away cause at this point I just wanted to get out of there. When I get home and I'm reviewing the lease agreement, I realize that the purchase price is $4000 over what we agreed upon. When I call to discuss, they tell me that they are interested in fixing the problem and will call to schedule a meet. This call never happened. I had to just stop by the dealership to discuss.
So now I'm talking to Mario, the sales manager, and he's telling me all these excuses of how the car I wanted was already sold so they gave me this one and this one had more options and gadgets and that's why it was more expensive. Meanwhile, I was never told this during the purchase time. Ultimately, a few weeks ago, we settled on an amount which I have yet to see. It's unfair that they can get away with this kind of robbery. These are horrible business people. I mean I'm leasing the car, and I'm going to continue leasing a car… just not with them. They lost out of more money scamming me.

I purchased a brand new 2013 Nissan rogue from Nemet Nissan... The day of purchase I was told by their credit dept that after 8 on time payments my monthly payment would go down. So after 8 on time payments I go down there to hold them to their promise but I learned it was a lie. When I made the purchase I was told I couldn't buy the mini van because there wasn't enough rebates to hide the car I was trading in therefore the salesman made it seem that a rogue would be the only choice. As time passed by I received letters to trade in my rogue towards a newer vehicle or to just trade in that they would pay off my balance and I didn't have to purchase a vehicle. That was a lie...
They advertised they would pay 1 month car payment for referring a cust. That was a lie. When I got there they said "no it's 200 we give..." Lo and behold. I gave them 2 clients and was given 0 dollars for the referral. I just recently went for my inspection where the salesman tells me "you had the car 2 years. We can get you into a bigger car for you and your family." So I filled the app out and it's been 2 1/2 weeks. Still no word. I got phone call from their cust service. The lady said "I'm gonna get management involve." But still a week pass by nothing happened, not even a return phone call... My advice is not to shop at this location. Everyone there lies and make empty promises. And at purchase of a vehicle they say you have bumper to bumper lifetime warranty. That is also a lie.

Was listen to the radio and heard about Truecar company to get you the lowest price on a new car. Well got and offer and a bond from Nemet Nissan in Queens. They had 3 cars in stock. Upon calling wasting my time I was assure that the cars are there. Asked about a deposit because got approved from a different dealer by Nissan. Said "no just come in." Was Monday super rainy day early morning 10 am. They open at 9. Came in with all the paperwork and bond and all. The sales person didn't know what am I talking about, asked me to forward him the email confirmation which I did and was told that the cars was sold from last night 9p till Monday 10 am. They have the more expensive model. Called Truecar and well...

I bought a new Kia Optima in 2013. I only have my car service @ Nemet. I just notice that my front wheel lock is missing so I called service and was advice since it happen over a month ago what can they do. I has to speak to the manager but was informed he wasn't there so I left a message with service but to no avail. No one called back. This is not the first time I left messages and no one called back. I even tried the chat and when I put in my comments the rep went offline. I didn't know over time I have my car service I must check all my tires for the lugs and wheel locks.

I heard a radio ad for a BOGO event. Prior to driving an hour only to be scammed, I called and spoke to a woman named ** who assured me the BOGO event was legit. I was told that if I bought a 2015 Pathfinder I would receive a 2015 Sentra with no strings attached. So my dumbass drove 2 hours due to traffic all the way to Queens. The salesman named ** was very nice but acted as if he had no clue about the BOGO event. He also asked me what monthly payment I was looking for. "Under $500 a month" I said. ** said "We can do that". 4 hrs later I gave a $500 down payment. In the 6th hour, I spoke to the finance guy Mr. **, who gave me an outlandish monthly payment of $1650 per month for 60 months. I said "are you out of your mind?" Also the BOGO was only a free lease for 12 months.
Long story short I asked for my $500 down payment back. Of course since I used a debit card, which is the same as cash, I had to way for it to be charged back. I've been waiting a week now for my money. I belong to one of the most respected brotherhoods in the world and will make damn sure everyone I know NEVER buys from Nemet. They don't need my money but once I pass the word on to everyone, they will feel it.

I just wanted to let you know that Nemet Hyundai in Queens, NY is a disgrace to the Hyundai family. I had the most unpleasant experience with their service department. It is run by a bunch of buffoons. I am extremely disappointed I purchased my car from them, and I will never step foot in that location again. The people are horrible, the attitudes are unbelievable, and the work is non-existent. I own a 2015 Sonata, and I had a service appointment on Friday May 29th at 8:00am.
I wanted to do the Android Auto audio update (which I called in the days prior and made sure they were able to do it), and I had some other issues. I wanted an oil change and I wanted to get some other issues checked out. My panoramic sunroof squeaks and rattles for several hours after closing it. It is a known issue in the online forums. Many people have this issue. Also, my fuel pump makes a high pitched noise for the first 30 minutes on a cold start. It sounds so bad that I am embarrassed to start the car when people are around. This is also a known issue. Many, many, many people have complained in the online forums about this issue. It is a Hyundai quality control failure.
Also, my fuel gauge is not accurate, the needle comes from "F" way too fast, and my fuel light comes on with about 40 miles to empty. When I get a full tank of gas, I can never put more than 14.5 gallons into the tank, the tank is a 18 gallon tank. Something is obviously wrong. Again, many people have this same issue.
So getting back to my dealership experience, I arrived at the location and told the service advisor my problems, her name is **, the most unfriendly person on the planet, she clearly hates her job and should not be working for Hyundai. She is a mean, cruel, heartless unfriendly lying **, excuse my language. She told me that "they don't do this kind of work on Friday. You need to come back on a Monday."
They did not want to work on my car. They were too lazy since it was a Friday. I asked for a loaner car. They told me that they don't have loaner cars when there is an advertisement clearly running on a TV screen in the service department that they have a loaner car program. They wanted me to pay for a rental car instead. I declined and decided to wait.
5 hours go by, and I went for a quick stroll around the block. I saw my car parked in a corner. I walked up to a yard attendant and asked if my car had been worked on, and he told me no. I went to the service advisor and asked why it's been 5 hours and my car hasn't even been touched yet. She told me that the technician was working on another car, and I'm next in line. I told her I had an appointment, and 5 hours later, nothing is done to my car. That seems unfair, especially when other cars came in after me and left before me.
They didn't even do an oil change during the 5 hours. I explained to the service advisor that "I cannot wait another 5 hours for you to work on my car, so please do the Android Auto update, and let me go on my way, I will come back another day for my other issues." She said ok. I waited for another 45 minutes, and my car was released.
I was glad to get the ** out of there after they did they Android Auto update. After I left, I tried to connect my android phone to the car, and it did not work. So I went back and insist that they take a look, it turns out they they lied to me and told me they performed the android auto update just to get me to leave. They did not do anything.
I was furious at this point. 6 hours wasted. I had taken a day off from work to get these issues checked out. So finally after requesting to speak to the service manager, they installed the android auto update for me, but the service manager did not want to speak to me, he did not even leave his office, instead he spoke to the service advisor and the technician, but refused to talk to me. What kind of place is this? They refused to give me the service manager's name. I hope you are able to find out who that buffoon was. He looks Morgan Freeman. I saw him when I was about to leave, but I did not want to approach him, because he clearly did not want to speak to me when I had requested.
Why would he not want to talk to a customer? Was he scared to tell me the truth? Was he lazy because it was Friday? The manager is there to solve problems, and I as a paying customer who bought my car from Nemet Hyundai, had a problem, the guy did not want to speak to me. He walked around the place like he was the black Jesus or something. Why was my car for 5 hours without any work being done, not even an oil change? Why was there only 1 technician that was assigned to my car. I saw about 25 technicians walking around doing nothing. What is going on? This is my second Hyundai purchase, and I will never buy another Hyundai after this horrible experience.
I hope you do something about this. ** needs to get a phone call from the corporate office and tell her to get her act together, as does the service manager. I am so mad that I took a day off from work and got nothing done by the lazy people who run this place. The place is disgusting, it's filthy, the bathrooms are unacceptable, and the coffee machine is broken in the "lounge". Is there not a district manager who visits these places and evaluates them?
There is a sign posted in the waiting room advising customers to contact president@nemetmotors.com before they fill out the dealership surveys, so the customers do not give negative reviews. Well I sent the president an email, and sure enough I did not get a reply. Extremely disappointed customer. I will never visit Nemet Hyundai, sales or service, and I will never buy another Hyundai after this horrible experience. I had a 2013 Sonata which I traded in for a 2015 Sonata, and I can guarantee you that this is my last Hyundai product.

They are rip off artist. I came in to trade my car, mind you 2013. They tried to give me 10000.00 for it. Gave the ass sales guy a true car price and had the nerve to argue with me about it. After him ** for 6 he b.s. over docs. I walked out and went somewhere else and got a brand new car trading in my 2013. Paying less than what they offered me 234. Ok STAY AWAY FROM THIS DEALER. RUN, DON'T OPEN AND LOOK.

Before I had Hyundai Sonata 2008. I bought it in Nemet on Hillside Avenue, NY. On 2015 I had an accident and my car was total loss. Because I liked my car, I decided to lease Hyundai Sonata 2015. I went to Nemet at Hillside Avenue, NY. Salesperson gave me a lot of attention when he showed different cars and options. Did tests driving of car which I liked based on features and price. So I decided to lease Hyundai Sonata 2015 Sport with additional packages. In the beginning they offered me price but it was not affordable to me. After some negotiations they gave me deal which I wanted to have. At financing department they also gave me additional package for tire replacement. So what I want to say that I had a positive experience and most likely my next car I will lease also there. There are were not any hidden charges. So I had a honest deal.

I took my car in this week to have my tire repaired on a "brand new" 2014 Nissan Rogue I leased in June 2014. This is my 4th visit in the 10 months I've owned this vehicle, for the same reason... Aside from the fact they never seem to fix the problem on the first, or even second try, and in this case third, this time around, after 4 HOURS fixing a flat, they didn't even return the spare tire to its proper storage compartment. They left it out taking up my trunk space. Who does that?!?! They do because they are lazy and incompetent. They also charged me, despite the fact I have total wheel coverage and their receipt does very little to explain this charge. I'm almost sure they put used parts on new cars or do something else shady because I am a cautious driver and I've had issues with my tires on the Rogue and previously on an Altima (hence me getting full coverage this time around).
In fact, one time I had gotten a flat on my Altima they told me my tire was unrepairable and gave me an outrageous price for a new tire... So I went elsewhere to purchase a tire and when I got the new tire and when I gave in the "unrepairable tire" I was informed by the other shop that it was actually totally repairable. But it was too late and my money had already gone down the drain on expensive tires. I'm embarrassed to admit I've leased with them more than once despite my awful experiences with my first lease and now my second lease. They know a young and naive customer when they see one and they won't hesitate to take full advantage of that. But believe me this will be the very last time I deal with them. They are in all honesty an awful dealership and Nissan should really not associate with them. STAY AWAY FROM HERE!!!

I went in to the dealership to purchase a brand new Kia Optima. Instead of receiving the car I wanted the dealership sent in offers to several banks for a Kia Forte, charged me the maximum price for the car and then I find out from detectives that $2000 was stolen from my down payment. In addition to this, I was never compensated and I ended up with a financed car with a high interest rate and high monthly payments. The owner never reached out to me after I explained that I was advised to be reimbursed.

First I like to say... I saw 2 rats in the showroom. RATS!!! 2!!! Also a couple of their salesman reeked of liquor and weed. Not professional at all. The salesman have no product knowledge and no sense of common sense, it's really sad. The salesman tried to charge me 2000 over sticker price. Not happening. When I asked to speak to a GM, the guy brings this bald headed idiot "**" to assist. This guy was rude, nasty and very unprofessional. Lucky I didn't break a chair over his white eye browed head. As a business owner I have no idea how a owner could let someone like that run their business. He needs to go. As a matter of fact NEMET NEEDS TO GO!!! Worst DEALERSHIP.

Went in to buy a new car, everything that I was told was 100% accurate. Nemet had a great staff and a clean open atmosphere. I would definitely recommend anyone to go shop at Nemet dealers, they really do make you feel like family.
Nemet Auto Group Company Profile
Company Name:

Nemet Motors

Website:

http://www.nemet.com/