Szott Chrysler Jeep
White Lake, MI
Consumer Complaints and Reviews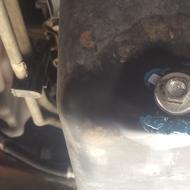 Absolute worse customer service. Very rude and unhelpful. Took my 2010 Jeep Wrangler to dealer to have an oil leak fixed under warranty on May 12th, 2014. Chrysler paid for this repair. Less than two years later and 17000 more miles oil leak returns. Call dealer. They say bring it in, pay the diagnosis fee to look at their mickey mouse repair and they would give me a quote to fix the leak again. Service representative blamed living in Michigan and the winters why the repair failed. What a joke. Go anywhere but here. They do not stand behind their work or faulty repairs.

Go ANYWHERE but here for service, or any of the Szott Dodge/Chrysler/Jeep dealerships for that matter. Got our 2012 Avenger from Szott Dodge in Highland... Alex in the sales staff was great. Right after we got the car, it developed a slip going into 5th gear, so we took it back to Szott Dodge. First tech spoke down to my wife like she was an idiot telling her, "Apparently you've never drive a 6-speed before as we can't find anything wrong with it"...
Peeved and trying to save face, the service manager goes for a ride with us in the car, hears/feels the slip, acknowledges our complaint but also states that at this time (September of 2013) they don't have a trans tech on staff and to bring the car back later on. March of 2014 not only does the slip into 5th get worse, but now it begins to slip in all gears, so off to the dealer we go again. HA.... Several months later and Szott Dodge STILL doesn't have a trans tech on staff so we're directed to take the dealer 5 miles up the road to their Szott Chrysler/Jeep dealer where they're supposed to have 3 techs on staff.
3 days later and after not hearing a thing have to contact them to which we're informed that one of their trans techs had driven the car the past few days and was unable to find anything wrong with it (and managed to put 20 full miles on the car... Come on.... Please). Get the car back and lo and behold..... Yep..... Still slipping! Anything but your average consumer, worked on everything from Indy, Trans Am, drag, 4X4's and even a few vintage F1 cars.... Even driven a few race cars over the years, so we're anything but naive to automobiles.
Another problem we had... Took the car to Szott Dodge for an oil change during that trip for the trans check in September and found several things wrong... Windshield sticker had the next change labeled for 10K miles out, air filter wasn't secured properly and they completely failed to re-set the oil change warning on the ECM. Worse yet... Our salesperson has been right there with us the whole time doing what he can to help, but when venting our frustrations begins telling us about all the problems he too has had with an ongoing grinding noise in the trans of his wife's Journey, and how the trans techs at Szott Chrysler Jeep also told him nothing is wrong even after 2 visits and as the grinding continues to worsen.
New sales... Great... Service... Well... Apparently not much has changed about Chrysler dealers even after the bankruptcy... And people wonder why most of us get peeved and give up on American made cars.... This was our 1st new Chrysler/Dodge, and have to say it will be our very last. As for the 20 miles their tech put on the car over those 3 days.... Thank goodness for prepaid legal as the demand for compensation on the mileage well as the suit that will follow if we don't won't cost us a dime!

We had been working with a lady by the name of Sandy in used cars. We wanted to come look at a van. We were told they just got it in and it was in service so we could not see it yet. She told us she would let us know when it would be available. We were called late Friday and we were unable to make it before they closed. We told the manager, Doug, that we would be coming in on Saturday to see it after we got off work. Sandy would not be there, but she previously gave us her number and we had stayed in contact through text with her. We also told her we were coming to see the van and she said she would let Doug know we were on our way. We were coming from over 30 miles away. When we got there, they showed us the van and did not tell us till after that they showed it to someone else right before we got there. They sold the van and did not give us the first offer. I am sorry, but we kept in contact and said we were on our way. Common courtesy is you tell the other people I have someone coming to look at it; if they don't want it, it's yours. Doug said he would take care of us. He took care of us all right by letting us walk out the door.

I have a 1999 Ford F-150 that has a recall for the gas tank straps rusting and falling off.
On Sunday, July 31, 2011, as I was driving, my gas tank fell and was dragging. I got the truck out of the middle of the road and called my nephew. He came over and jacked it up and put a tow strap around it so we could get it off the street and back to my house.
The following day, (Monday, August 1, 2011), channel 4 news announced that Ford was recalling all F-150s between 1997-2004, and that they would replace the rusted straps at no expense.
First, I called Suburban Ford of Waterford, LLC. They asked for my VIN and told me that mine wasn't recalled. I told them what happened and they said they couldn't help. I found Szots dealership, which is closer to my house and called them this morning. I believe I spoke with John in the service department. He took my VIN and said mine was being recalled. I asked him when I could bring it in and he argued with me, and said he didn't know if they even had the parts to fix it, and I would have to "bring it in" so they could "inspect it first".
I don't know what needs to be inspected, and I don't know why he would think it's alright for me to drive around a vehicle that has a gas tank being held on by a tow strap. He clearly did not want to help me. I asked for his name and he said "NO".

We try to go above and beyond to help all our customers and give them great service! In regards to Janice's complaints. The damage to the LT side that the customer knew about before buying, that happened at the original selling dealer. We actually corrected, repaired and repainted for the customer at no charge as a customer courtesy. The charges from the factory for the damage was done by the customer to the Jeep.
We offered the customer a very low discounted price and options to be able to prevent being charged back on lease turn in damage. The customer declined any and all repairs, requesting the car be sent back as is. The customer states in third paragraph that she is now willing to pay for damage. Unfortunately, it is between her and Chrysler. By declining to have the repairs done at lease turn in, it makes her subject to charges for any damages.
As far as any paper work, we have mailed copies to customer, submitted copies to Chrysler and have copies here at dealer. We can provide documentation on any of the above matters. If anyone has any questions, feel free to call the General Manager Doug ** at 248-343-9019. We have a very high customer satisfaction rating and we carry a 5-star ranking with Chrysler. We hope this customer's comments, who was upset because she tried to get away with not fixing her car to lease turn in standards, would not stop anyone from letting us help the with all their Auto needs.
How do I know I can trust these reviews about Szott Chrysler Jeep?
609,949 reviews on ConsumerAffairs are verified.
We require contact information to ensure our reviewers are real.
We use intelligent software that helps us maintain the integrity of reviews.
Our moderators read all reviews to verify quality and helpfulness.
For more information about reviews on ConsumerAffairs.com please visit our FAQ.

I leased a Jeep Wrangler. I was told it had sustained some "minor body damage" at the trading dealer. By the end of the 3 years, the paint below the driver door and the left rear panel at the seam was flaking off and there was rust beneath and the dealer told me I was responsible.
My suspicion is that the vehicle had been dumped off a car hauler at the trading dealer and sold to Szott in its fixed up condition. Not only was the paint bad, the hasp for the read door was bent and I had to have extensive mechanical work performed on the vehicle after only owning and driving it for about 7 months. I took it to the dealer in May near the end of the lease and had the paint fixed, all of it on the driver's side, so that when I turned it in on July 24, it was good.
There was still the small paint chip and the small dent on the passenger side. Tom ** sent Chrysler Financial the report on the condition (which had to have been filled out in May, because of the paint) and I was charged $295 to have the paint fixed, after the fact. Mr. Tom falsely dated the form 7/24 and sent it to Chrysler. I never received a copy or was never able to "make it right" and did not know I was even being assessed until January the following year!
I am still being harassed by collection agencies. I am now willing to cover the small paint chip below the passenger door and the small dent in the right rear panel, but I refuse to pay the $295 to have the paint fixed when it was already fixed when I turned in the vehicle. I have written Szott Chrysler Jeep numerous times with no reply. They are a despicable bunch of people. I can provide documentation upon request.
Szott Chrysler Jeep Company Profile
Company Name:

Szott Chrysler Jeep

Website:

http://www.szottm59chryslerjeep.com/