Hughes Motors
Methuen, MA
Out of Business
Consumer Complaints and Reviews

Let me begin by saying that Hughes Motors has now permanently closed, overnight it seems and they have made away with over $400 of my elderly father's money. I am truly disgusted by the level of service this company has and the fact that they have no moral compass. My father went to this motor company to obtain a car at a good value, the car he was given (after a week of mishaps) was sub par but it ran and my father seemed genuinely happy with it. This was until they scammed him out of $400 and then vanished overnight. I am filing in small claims court and will make it know of their scam. If you have had a same experience with them I recommend you take them to court. Preying on and elder is a crime and it will not be tolerated.

This dealership's sole purpose for existing is to sell lemons to people with poor credit, which I don't have. I just bought a vehicle here last Wednesday, from a "friend", and there's been nothing but horror stories since. I'm filing a complaint with the Better Business Bureau in Massachusetts. I overpaid, got robbed on my trade, but thankfully bought a warranty. I bought a 2007 Nissan Pathfinder, which are famous for having issues with the radiator/transmission.
This can be fixed easily with bypass hoses, and the replacement of the radiator, if any damage occurred. I have a receipt for the "new radiator" from Hughes, which will be part of my complaint, but the radiator is NOT new, and they didn't even put caps on the old valve stems, causing leakage of fluid all over the front end. So, I have a fraudulent receipt for a "new" radiator.
The valve stems in the tires were missing, the brake shield was rubbing against the rotor that their "mechanics" replaced, and that's just some of the issues that I've had. The car was not detailed upon pickup either, of course, but that's nothing compared to the failure of the mechanics to put this truck through the shop. The truck was loud, which I pointed out, hoping to have that issue fixed. My mechanic told me that it is indeed loud, because it needs either a pulley replaced, or it needs a timing chain! Wonder which it'll be.
Bottom of the barrel, low end dealership that doesn't know how to treat a customer who isn't a stiff. I would NOT buy here at all, even if you do have poor credit, because it's obvious their mechanics should be working at McDonald's, and couldn't fix anything in the lemon. They want to sell you if they wanted to, which they obviously don't anyway, judging by my vehicle. I don't blame the salesperson, I blame the dealership for being the low end business they are.

So I have been looking for cars for a while. I found Hughes works with people with low credit score and I found a white 2003 bmw x3 on their site. I spent 2 weeks talking to Jason back and forth about approval, and they wanted me to come down with a security deposit, but due to the snow storm, I couldn't make it since I live about 2 hours away. So I called Jason Monday and asked if he still had the white bmw x3, he said, "yes, when are you coming?" And I said I'll be down with 1300 as a down payment, and he said, "OK. Great. If it ends up getting sold, I'll let you know." So Friday, I call to confirm that I'm heading down Saturday morning to come get it and he said, "OK. We will have it ready for you."
So we are 20 minutes away and I called and said, "We are 20 minutes away. Is the car ready and paperwork?" And Jason said yes. We get no white bmw. So I figure, huh, maybe they are finishing detailing. So I go in the their financial salesman, tells me take a seat and wait while he's stuffing his face with McDonald's and say, "So, what can we do for you?" and I said, "Well I'm here to pick up the white now x3." And he's like, "Well unfortunately, we sold it this morning But we have another one." So I said nope and left and the one they were going to give me was beat up, had dents and it's not even posted on their site.
They tell you they have cars that they really don't have and once you get there, they try to sell you something else. They are liars and scam artist, they don't even have their information right on there site. They have a chevy avalanche listed as a LTZ trim and it's a LT trim 2, totally different types. This white bmw I sent pics of, I just took them off there site and the one they were going to sell me doesn't even exist. They are Hughes Motors in Methuen, Mass. on Riverside Drive.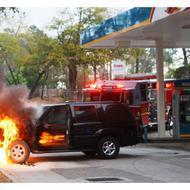 New team, New attitude. Very helpful, Awesome customer service. Completely different dealership from before. Definitely deserve 5 stars.
Original Review
Long story short. Bought a vehicle 17,000. Major issues since the first week of buying. Back and forth with them only to have them refuse any repairs and treat me like dirt. The fight still continues. I wouldn't be surprised if the good comments on here were their own employees trying to make the dealer look better. Their reputation is bad, and their word doesn't mean a thing. Don't trust them and stay away. YOU WILL GET SCAMMED!!!!!

My wife was at Market Basket and her car would not start. Turns out the Main Computer that runs the car was ruined when my brother-in-law jump started the car the wrong way.....We went to Hughes Motors on Saturday and they helped my wife get into a 2010 Toyota Sienna. We were both laid off in January and fell behind on our bills. Our credit was damaged due to our payments being late after that happened. Jackie at Hughes helped her get a loan and towed her old minivan to use as the down payment. They held her hand from the financing thru to the insurance. I would recommend them as a good place to go. I felt that I needed to write this as the messages on this site were not what we experienced.
How do I know I can trust these reviews about Hughes Motors?
672,188 reviews on ConsumerAffairs are verified.
We require contact information to ensure our reviewers are real.
We use intelligent software that helps us maintain the integrity of reviews.
Our moderators read all reviews to verify quality and helpfulness.
For more information about reviews on ConsumerAffairs.com please visit our FAQ.

Company will return down payment.
Original Review
I wanted to share my story with everyone. Unfortunately I went to this dealership. I went in the hopes of purchasing a new car. I gave a $6000 down payment for a car to their sales person named George **. This guy stole my money - never produced a car and he was fired for theft and stealing other customers money. The dealership refused to pay my money even though I have receipts from them! Please beware and be careful! In process of suing with my attorney. They were on channel 7 news a few days ago for almost ripping another lady off and selling her a lemon. She too has suffered a major loss.

Unfortunately I decided to purchase my first car from Hughes (Methuen, MA). I went to check out a 2005 Subaru Outback but I showed up and the car was a legacy. I ended up buying the car after getting scammed into buying a $1500 AUL insurance policy that is essentially worthless. After about 3 weeks of driving the car the back windshield wiper broke, the left passenger door handle broke, and about 2 months in the left muffler fell off due to a faulty welding job. Then about two days before the three month mark, I was told that the head gasket was leaking and I just had to pay $2,000 to have it replaced. I called the scumbags at the dealership and was told that they would put the muffler back on if I paid for half. Do yourself a favor and NEVER BUY ANYTHING FROM THIS PLACE.

I bought a car from these guys. The worst experience I ever had. The car has so many problems. The wires are all chewed up; whoever did the brake lines really had no clue what they were doing. The fuel lines rusted out, motor mount rusted out, plus a whole lot more. These guys know what they can get away with. I took the car back to them, and they said they would fix all the problem, but only fixed the ones that failed inspection. The brake lines, they painted over instead of fixing. REALLY! The wiring that's going to cost me how much? I really don't know how these people get away with things but they do. I strongly believe in karma and believe they will get what they deserve. If you want a bad car, just buy from Hughes Motors!

Where 2 start!? They kept the car for 2wks then failed inspection! I then took the car for a safety inspection with Nissan where I found out there were SO MANY other problems including leaking transmission! My car smells like gas and I have kids! I bought the additional warranty on the car so should have no problems. But they wont fix it, so I am now going to small claims and have filed with BBB!! STAY AWAY FROM THIS DEALERSHIP! THE LIST OF PROBLEMS MY CAR HAS GOES ON AND ON!!!!!

I have had a rough few years financially. They were able to get me a real loan with a real bank when the 3 previous car stores couldn't. Bill ** walked me thru the system step by step. After 3 days I was driving my 2009 Ford explorer at a payment I can afford. He treated me with respect and made me feel like I deserved to get a car loan. New tires, brakes and it was cleaned when I came to get it. I can't thank them enough. The other reviews on this site is not a true example of these nice people.

I just recently purchased a 2007 Infiniti G35 from Hughes Motor Group for a little over $14,000. I must say during this process there was no professionalism at all from the salesman to management. I was contacted by the salesman of Hughes Motor Group almost 2 weeks I purchased the car claiming I owed $925 to them and I must pay it if not they will cancel my contract and have my car repossessed. I was in total shock when I heard all these false accusations. I gave a total down payment of $1925 but no receipt was provided to me. The down payment was in two method payments, with my debit card and cash. I signed and provided all the documents that was requested from the bank to get the vehicle financed. The bank financed the car and a week later my car was ready for me to pick up.
I picked up the vehicle fully insured and registered. The question I'm asking myself is, how is it I owed $925 to the dealer but my keys were given to me and a congratulations was given to me from the management and sales person? I'm a first time car buyer and I should had known better not to do transactions using multiple payment methods but I gave the guys the benefit of the doubt to try to treat me fairly. I feel like I've been scammed by Hughes Motor Group. I'm currently stress out and distraught about this issue. This is not fair.

It's been almost 2 weeks and now they tell me that they change Finance Company. I know that my credit is not that good. They just gave me the worst dealer experiences of my life. I don't want the truck now. I want money back from them. Stay away from them.

I waited for almost two weeks to get a car. I had already paid and there were always some complications. They take too long to handle issues and are disrespectful.

These guys are crooks. They kept my car for over 3wks. When they did that, they took away my rights as a consumer to use the lemon law as well as the Commonwealth of Mass Refund Act. Call your local rep and senator to look at these laws. The wording is wrong, it should be possession not purchase date. I'm now going to court for them violating my rights. Spent 15mon the car, never gave me my finance papers and never discussed my lemon law rights and was never posted on car. When it came time to get my inspection, they ducked me around until I called Methuen police to help me. When the police came down, they finally produced the registration. Filed a complaint with Attorney General's Office. When I called them they interpreted them as purchased date not possession. Please help me and call your local rep. The more people call on the matter, the more likely they will listen.

These guys are the biggest scumbags. They treated my wife like crap until I went in & put them in their place. I'm 6'5" 280 lbs. They were terrified after I grabbed the salesman by the throat ha ha ha. I got the last laugh & all my money back, & needless to say took the piece or crap car back - no questions asked!!!!

Hughes Motors has given me the worst car buying experience I have ever had, and I've had many experiences with other car dealerships. First, they lie. Lie about problems with my 2006 Audi, try to charge me hidden fees. (CASH, non documented) Receive my car SEVEN days after promised, Dennis, a joke of a professional salesmen, threatens to have my car towed and taken back if I do not pay him these hidden fees.
I received NO COPIES of my loan documents, GAP documents, etc etc. LIED about repairs that would be made before I picked up the car. (Timing belt, cam follower, and an oil change) Check Engine Light comes on as I am driving the car to drop off their employee, who registered my car. They refuse to fix it as I am there and DENNIS (SCAMMER) tells me I owe him a random 300 dollar fee and another 25 dollar fee and will not fix my car until I pay him.
It threw a code for an O2 sensor which, anyone with any automotive knowledge, knows costs more than 25 dollars which is what DENNIS claimed this repair would cost. (There are no parts on a European car that can be fixed for 25 dollars). I reside over 2 hours from their location and they tried to make me pay for the gas after registering my car, and I refused to. They left me with an empty tank of gas, over 2 hours away from home, after using my car to drive their employee around. After 2 hours of sitting around for someone to put gas in my car they put 87 octane in my 93 octane 2.0t Audi.
Needless to say these guys are jokes, sell junk cars, and will scam people who don't know a damn about cars. Stay away. I never paid this DENNIS character any sort of monetary amount for these "fees" after he threatened to "tow my car away" because he was extremely rude, threatening, and unprofessional. To this day I still have my car, and haven't heard from him since I told him everything we discuss is being recorded.

My husband applied for a loan through this company after looking at a vehicle we test drove it loved the car. He filled out all paperwork out $2000.00 cash down. After sitting there with our two children for 7 hours we finally left. This was a Saturday. They told us we could pick up the truck Monday or Tuesday at the latest. He called Monday to see if it was ready. They told us the man "Scott" that worked there had been fired and we were never approved for a loan. Thru told us to come look at another truck and they could get us approved for that one. We did so.
He test drove it, liked it and filled out all necessary paperwork. We were told we were approved for the loan and this was on that Thursday. It needed a few rust spots fixed which we knew about. They told it would be ready by the following Monday. Monday came and nothing then they said Wednesday because they were waiting for the RMV 1 form to be stamped from our Insurance company. Wednesday came and NOT READY YET. We were furious at this point. We finally got the truck after 12 DAYS!!! It took my husband getting a ride down there and sitting in their office until they have him the truck!! They lied about several things. I WOULD NEVER EVER REFER THEM NOR WOULD I EVER THINK ABOUT PURCHASING A VEHICLE FROM THESE JERKS!!!

Should have read these before my husband and I dealt with these CLOWNS. Husband needs to trade his pick up for a sedan (more practical, gas prices). He saw the 07 Caddy CTS and spoke to a "salesman" and walked away because of the price and offer for trade. About a week later I went back with him just to take a look and it was ok but not clean, bad paint job, some broken handles. DAN Just wanted to thank you for wasting our time when we went to close the deal on the Cadillac CTS. My husband Darin had originally walked away from the first offer on the price and trade on his pick up.
We returned so I could take a look and DAN had told us he could give us a better offer which the 3 of us discussed numbers and all agreed. He told us to come back to do the financing which we did, WASTED about 3 hours. MANAGER approached us and asked if we were still interested. Husband told him he wasn't going to pay the asking price and take less for his trade, and DAN told us to hold on. He was going to come up with a better offer, and he DID. Told us he would sell the car for the price we offered and give him what he wanted for his trade... All great UNTIL we went BACK to finalize everything.
AFTER 3 HOURS of sitting around, waiting for them to clear financing, the CLOWN comes back says financing is all set but shows us "the numbers". They come back with about two thousand above the agreed amount, which was higher than the first price. My husband walked away from... COMPLETELY TRUE, THEY WILL TELL YOU WHAT YOU WANT TO HEAR TO GET YOU IN THE DOOR. We should have left during the first hour when the police showed up there because a woman from WISCONSIN put a deposit on a truck and saw it wasn't what was advertised on their website and decided not to take it and they were trying to keep her $6000.00 deposit until they sold it. Funny thing, when we told them NO WAY, the same thing was said, "IT IS WHAT IT IS." I'm upset because they straight out lied to us and now we missed out on a legit good deal from another reputable place and we are back to square one looking all over again... MY ADVICE, STEER CLEAR!

Never in my life dealing with a dealership have I dealt with a group of dealers who were so rude. I went through the financial process and got approved. All we had to do is sign the paperwork. We went home to feed our kids since we were there for hours during this process. We called back to get the process going. Every guy we talked to gave us different information and told us we will get a call back. After the fourth time calling in one day, I spoke to Jay and basically told us that it is what it is. Because we left to feed our kids, the deal was broken. If we want to still buy the car, we now have to put down $1,500. I would never recommend anyone to have to deal with rushed decisions, and rude and unfair treatment.

Worst dealer ever! I put down $3,000 for a Toyota Celica. They said I got the loan. This was on a Friday. They told me the car would be ready Monday. I went there Monday but the car was not ready. Tuesday, Wednesdays, Thursdays passed by and the car is still not ready. Come to find out, the bank never approved the loan. So I told them I wanted my money back. They only gave me back $1,500 out of the $3,000. They are scams. They should be out of business **. Never buy cars from them. It's a horrible place. Now, how do I get my other $1,500 back?

I was rushed in to a purchase of a Jeep Liberty and commented the check engine light was on. I was told it was a loose gas cap, not worry about it, and that they'll take care of it. I was also told they would register the jeep. Day 2, I asked again about fixing the check engine light. I was told there was a gas vapor leak and the jeep would need to be kept for a few days. No one looked at the jeep after I was told it has a loose gas cap. Thus, they knew they sold me a defective car. Hughes said they don't do the smoke test the jeep needed to detect the leak in which I was originally told was a loose gas cap. They hadn't registered the jeep, and I said I would do it. I work across from the registry.
Again, they said, "Don't worry about it. Will be done tomorrow." After 7 days, they still had not registered the car and I couldn't drive it as it was unregistered. The police had stopped me and said I had until 5 pm on the last business day to register the car, which was the 7th day. Hughes gave no reason why they didn't register it after having the money to register it for a week. I was told numerous times not to worry and that it will be taken care of it. They added that they wouldn't sell anyone a defective car, blah, blah, blah. They blatantly lie to your face. The 3 guys that were in my face during this nightmare all had the same spiel.
On the 7th night after listening to lies and BS, I told them I didn't want the car. I took my plates from my old car off the jeep and filed a complaint with the BBB and the Attorney Generals Office. I went today to pick up my refund, $300 less than what I gave them. But I did drive the car for a week and they did apply for a loan, did paper work, etc. I was told by Mike that I was crazy and that if I wasn't on meds, I should be on meds and if I was on meds, they weren't working. This was recorded as my cell phone has voice record. It will be submitted along with my voice mail message they left on my phone. The people that work at this place are rude, crude, classless and unprofessional. They lie, call customers names and insults them if they are questioned. And they knowingly sell cars that are defective. When I told my father where I bought the jeep, he said they're thieves and have been for over 40 years. He was right.

Hughes Motors knew the vehicle would not pass emissions. Therefore, they had an employee, Tim, sell the car through a private sale. Shame on them. They added a smoke eliminator to the car before the test drive so it would not smoke. It started happening on the ride home after the transaction was complete. Buyer beware!

I purchased a 2003 Honda Odyssey from Hughes Motors! When I first drove the van, it ran awesome. I drove it about 70 miles and the check engine light came on. I brought it to Autozone for them to check with the diagnostic machine. It was something with the transmission. I drove about another 80 miles and the transmission went out! I had the car about 23 hours! I called Hughes Motors and of course couldn't get a hold of anyone or leave a message! When I finally did, Tim kept acting like I was bothering him. I had to pay $300 to tow the van back down to Hughes Motors, when Tim agreed to pay half the tow. I still haven't received the $150 or heard from him since I picked up my van on Sept. 16th.
Since I've had the van back, it's been making noises. So, I brought it to my mechanic. It needs a front strut, rear rotors, and brakes, things that don't happen overnight! The check engine light keeps coming on and off and the codes are something with the emissions! I would never recommend anyone to purchase a car from Hughes Motors! They have very horrible customer service, and they'll rip you off! I paid $7400 cash and traded in my car, to have more problems within 1 month than I did with my car I traded in for 3 years! Do not purchase from Hughes Motors!

Yesterday, I filed an additional complaint against Hughes Motors, as my daughter's air bag sensor came on again.
I wanted to let you know that I called Tim, explained the problem, and he promptly offered to complete the repair. I was pleasantly surprised. The actual repair has not yet been completed, and I will keep you informed of the results.
I want to thank Tim in this instance for his response.

I am the same person who made the complaint about my daughter's VW Beetle and our problems with the check engine light. Tim finally did complete that repair, but stated it was the last thing he was fixing, and hung up the phone with no further discussion.
At the time of purchase, he also put on the purchase contract, "We will be responsible for...putting out air bag light." Now, the exact meaning of that statement might be questionable to some, but to us it meant that the problem causing the air bag light to be on would be repaired.
It was 1 and 1/2 months after the purchase date that the air bag light came on once again. My daughter assumed she would be responsible for repairing the problem, but I believe Hughes Motors should be responsible, as we were never given a copy of a work order stating what repairs had been done.

When we purchased a used VW for our daughter, everyone knew the check engine light was on. Tim agreed to repair the problem, and he believed it was merely a spark plug that needed replacing. We picked up the car and drove from Methuen to Albany, NY. During that time, the check engine light came on once more, and the engine started making strange noises. We had it briefly checked out at a VW dealer in Albany, who reported that the car had no oil in it. We filled it with oil. When we contacted Tim, he replied that his mechanic had put oil in it.
My daughter lives in Worcester, and took the car to a VW dealer there, who said there were a few problems with the engine, and that the emissions test failed, but the exact cause of that aspect would need to be rechecked after the engine was repaired. Tim refused to talk to the VW receptionist, who called him to give him a list of parts required; he said she was "only a secretary". He did take the car back and repair the defects the VW dealer had reported to us. However, Tim rudely asked me, "How do they know the filter was three years old? Did they read the date on it?"
I replied that the VW dealer stated that the filter was so old that all identifying information had worn off. I asked him why he hadn't changed the oil filter and his reply was, "Why should I?" He also refused to give my daughter a loaner car; thus she had to rent one for two days while he ordered the parts that he could have already ordered, had he been willing to talk to the VW dealer in Worcester.
The engine did sound much better, but on the way from Methuen to Worcester, once again, the check engine light came on. My daughter took it back to the VW dealer in Worcester (and they did a check for free). They reported emissions problems that would cost approximately $600-$700 in repairs. As I co-own the vehicle, I called Tim and he once more refused to accept the code that the VW dealer had found, and wouldn't order parts prior to my daughter returning. He also said that he would fix this one more thing, and that was all. This is in spite of the fact that we have a 30-day warranty.
My daughter will have to once more rent a car at her expense (she is a student, and it will come from her food and bills budget). This has been so frustrating, and 4 members of our family have made calls regarding these problems to Tim. Thus, he is also frustrated. But when I asked him why he would not accept the code and order the part ahead of time (given by the Worcester VW dealer), he said, "I would fix the problem like I said." I replied, "You still haven't answered my question." At that point, he hung up on me. I would say never ever do business with this dealership. I have never before in all my years of purchasing cars, had an experience as awful as this one. If the need arises, I will contact a lawyer, but hopefully this can all be finally resolved in the next few days.

I bought a 2004 Kia Sorento on 10/26/2009. I realized that the car was making a stormy noise. I took the car for an oil change on 10/26/09. While they were changing my oil, I was told that my front tires were very bad and that was maybe the reason for the noise. I took the car to Good Year Auto Service Center to change the tires. They told me that the car needed alignment also. I agreed to do the alignment and the tires. Good Year told me that the car needed front disk brakes ASAP and that it was a safety issue that needed to be corrected. I declined repair for the brakes at Good Year because it was too expensive. I asked Good Year to perform a diagnostic test about the noise. They did and told me that the car had transmission problems and that I needed to take it to AAMCO down the street from Good Year.
In the meantime, I took the car for inspection, which the car failed the first time. The auto inspection place asked me to drive the car for about 150 miles and returned for another inspection. After the 150 miles, we took the car back for inspection. The car passed the inspection, but I was told at the inspection place to bring the car back to the dealer because the car did not run well and the car exhibited engine and transmission problems.
I went back to Hughes Motors and explained to them that the car was not running well and that everywhere I went, I was told that the car had major engine and/or transmissions problems. Bill, from Motor Hughes, drove the car with me and told me that the car was fine and that the noise came probably from the fact that this kind of car was always on 4x4 mode and in order for him to help me, I needed to come up with some evidence/document or comments on paper from the Auto Centers.
On 10/29/09, I took the car to an Auto Center to replace the front brakes. The front brakes were replaced. The Auto Center put also a new right side caliber, for the old one was rotten. On 11/2/09 I went to AAMCO Transmissions and asked them to check the noise and gave me a diagnostic and how much they would fix whatever problem they may find. AAMCO told me that the transmission had internal problems and needed to be rebuilt and that the estimated cost of repair was $2,500-$3000. I called Hughes Motors and told them what AAMCO told me. Hughes Motors called AAMCO and discussed the finding. When I talked to Hughes Motors regarding the next step for me, they told me that AAMCO was not specific enough and that they needed to see it on paper.
On 11/5/09, I took the car to another auto center called Lee Myles Transmission. Lee Myles called me and told me that the car was indeed making a noise and that the noise was coming from the lower engine and that they wanted me to come for a road test to confirm the noise. They took me for a road test and explained to me that the noise was very bad and that the car needed major engine work.
On 11/7/09, I took the car back to Hughes Motors with all my expenses as well as reports from both AAMCO Transmissions and Lee Myles Transmissions. The car is now in Hughes Motors' possession. They said they would check the car and call me.
Hughes Motors Company Profile
Company Name:

Hughes Motors

Address:

1030 Riverside Drive

City:

Methuen

State/Province:

Massachusetts

Postal Code:

1844

Website:

http://www.hughesmotors.net