Consumer Complaints and Reviews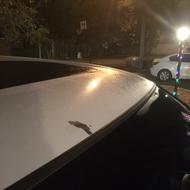 I have a 2014 Honda Pilot LX in like new condition. Car has never been crashed and no dents. Has had all its oil changes when needed. In December 2016, we noticed the paint peeling off the roof right above the windshield near where the rearview mirror is located. I immediately went to the nearest Honda dealership to file a claim. The claim results: total cost $1,105 and they only cover $200. This is Honda's responsibility to cover the full cost of the repair. It is obvious that the paint is defective. There is no reason for a 2014 car to have the paint peeling in this manner. If this is not fixed it will continue to peel. The consumer should not be liable. Honda is responsible!!! I will never buy Honda again.

Like so many others, our 2007 dark blue Honda Civic has cracking and peeling paint. In 2013, the hood and fenders had this issue and after much complaining, the dealership agreed to have these areas repainted under "extended warranty". Note, we did not ever receive any notification there was a problem with Honda paint and there was any warranty remedy. Now, the roof has dull and white spots and the clear coat is peeling off. I can only imagine this problem is going to continue to spread. Again we complained to the Honda dealership and after months of getting the runaround, they sent us back to the shop that did the original repainting in September 2016. Of course the body shop says this isn't their problem - it's a Honda paint problem. The Honda dealership says it isn't their problem and there is nothing they can do about it.
We contacted Honda Canada, and guess what? It's not their problem either! They take absolutely no ownership of the problem and basically said we were lucky to have had the hood & fenders covered. We've taken good care of this vehicle and have always serviced it at a Honda dealership - so much for loyalty. Now we're left with a car that looks like crap! Honda needs to come good and fix this issue. I will be sure to let everyone know what I think of Honda and how they deal with problems that are entirely their fault... they don't - they blame the customer. Extremely disappointed with this company.

I noticed on the rear quarter panel of my car a couple months ago that it was starting to look like a flat black (my 2007 Civic Si is the Nighthawk Black Pearl color) and I wanted to do more research on it. I found out about the paint recall that was extended to September 2014. This is exactly when I bought the car, no recall notice or anything. Now I'm starting to see paint fading on my trunk and along the roof. I've also read dozens of people having this same issue without reaching a resolution. This seems very frustrating because this not only hurts the way my car looks (my most prized possession), it also affects the value of the car which is very displeasing.

Honda DID not send a recall for the paint issues instead sent some other notice. The 2007 Civic was taken to the local Honda Center for the paint issue. The car was repaired, however not inspected outside. It was inspected inside where other fading spots on the car were not visible. A few months later new paint issue showed up on the opposite side of car. Honda said, "No, the extended warranty timeline is closed." Had to pay out of pocket $750.00. Filed a claim with the BBB and plan to take them to small claims court to get the money back. Shame on Honda, looks like they have had bad paint jobs for almost 30 years.

I purchased a used 2007 black Honda Civic back in early 2013. The vehicle was owned by one person prior and was low mileage (it still has less than 100k miles on it now). It was kept in a garage for over a year, yet I noticed that the paint on the roof was flaking or fading off. Fast forward to now and not only has the paint on the roof nearly come completely off, but the paint on the trunk of the car is starting to do the same. It looks EXACTLY like the pictures that many have posted here. I love that I'm now driving around what looks like a junker despite the fact that it's been cared for very well.
A friend told me she'd heard that there was some sort of recall because of the paint, so I checked into it and sure enough, there was an extended warranty. I purchased the vehicle before that would have expired, so why was I not informed? After reading some of the reviews, I see that many weren't informed, either for no apparent reason or because they weren't the original owner. I find it funny that I wasn't informed of that, but I DID receive a notice a few months ago about the passenger airbag being defective in some way. Selective informing there, Honda. I don't understand why the consumer should have to pay for the shoddy paint no matter if it's been 7 or 10 years. This is the first Honda I've owned and based off this, it will be the last. My little 2007 Kia Rio hasn't held value like the Honda, but it runs just fine and at least the paint job still looks nice!
How do I know I can trust these reviews about Honda?
693,837 reviews on ConsumerAffairs are verified.
We require contact information to ensure our reviewers are real.
We use intelligent software that helps us maintain the integrity of reviews.
Our moderators read all reviews to verify quality and helpfulness.
For more information about reviews on ConsumerAffairs.com please visit our FAQ.

American Honda never informed me that there was a paint recall although I had received offers for servicing cars etc. quite frequently. In end of September 2015, exactly 7 years and about 20 days since the purchase of my 2008 Honda Civic, I took it to a Honda dealer for a regular check-up and at that point I was notified that there was a paint recall (interesting that the 7 year extended warranty had just expired which I learnt later). After the usual running around with American Honda for more than a month, I was notified that Honda would "do me a favor" and paint for $2500. They said they cannot say how it is that I never received the paint recall notice. I guess, unless it is a real safety issue, Honda just does not care.

This complaint is against American Honda Motor Co., Inc. engaging in unfair and deceptive trading practices for refusing to pay for paint damage they are 100% responsible for. There was a paint recall a few years ago, which I was never notified of. I tried to explain the low mileage on my vehicle, and less wear and tear delayed the defective paint from degrading. Unfortunately, Honda refuses to pay for paint repairs to my car even as it admits fault and concedes it is not wear and tear damage.
In August 2016, I noticed white patches on the roof of my 2007 Honda Civic. Paint was coming off of my roof by the beginning of September 2016. This was all very surprising to me as my vehicle spent half its life in a garage, has under 65,000 miles on it, I take good care of my car, and I am the sole owner. I made a good faith effort to handle this issue with Honda. Unfortunately, after going through my local dealership and speaking to a representative named Tiffany at American Honda Motor Co., Inc. I need assistance, and have contacted appropriate government and private consumer groups.
Honda is engaging in unfair and deceptive trade practices due to its willingness to accept responsibility for all of the damages resulting from my car after it put defective paint on my vehicle. Instead, it offers only a partial payment of damages it is completely responsible for. I contacted the local Honda dealership on Friday, September 23rd about this issue. I heard back from its service manager the next day. I replied, as instructed, by e-mail to schedule a time to bring my vehicle the dealership to be looked at 9/28/2016.
The paint damage to my roof was photographed, and mileage and vin recorded. I was told the car was in good shape, otherwise. I noted I repair usual wear and tear normally with touch up paint, but the paint damage to the roof clearly was not wear and tear. On the morning of September 30, 2016, I received a call from the dealership. It informed me there was nearly $1,000.00 worth of paint work. However, Honda only offered to pay half of the cost. I rejected the offer, as Honda has what is now a very well-known problem with its paint and clear coating of vehicles (Please See: **).
There was even a warranty extension for the paint a few years ago, which I was never informed of via mail or any other method (had it been sent by mail, it would have gone to an address my parents still live at; they never received it). Later that Friday morning, I contacted the service manager and said I was not 50% liable for Honda putting defective paint on my vehicle. He said there was nothing else he could do, and stated he understood my dissatisfaction with the offer. He also said I should have received the recall notice on the defective paint and primer Honda used on my vehicle. He then informed me I would have to take my case directly to Honda American Motor Co., Inc.
That Friday afternoon, I called Honda Motor Co., Inc.(1-800-999-1009) and was given a case number. I did not hear back from the assigned case manager until the afternoon of Monday, October 3rd. The case manager, named Tiffany, refused to listen to my case or accept the low mileage on my vehicle, and low wear and tear delayed the defective paint from degrading. She also refused to let me speak to her manager. I ended the conversation and called Honda Motor Company Co, Inc. again to ask for another case manager, as I found Tiffany to be extremely rude and unreasonable.
I was instructed another case manager had been assigned, but I had to wait another day for a reply. On the morning of Tuesday, October 4th I called Honda Motor Company Co., Inc. and asked to speak to the new case manager. I was on hold for at least five minutes until I was transferred to Tiffany the same case manager once again. When I told her I was promised another case manager she dismissed my concern, and said it didn't matter. I explained my case to her, not allowing myself to be interrupted this time, and was told Honda would not be offering me a better offer, despite the extenuating circumstances in my case and their 100% liability. I have health issues, and cannot afford to pay for damage caused by Honda's negligence.

I purchased 2015 Honda Accord in August 2015 at Arrowhead Honda in Arizona. It had 62 miles on the car. The last monsoon season noticed every time it rained these brown/rust stains would come through the paint mainly on the hood of the car. The first time I did not know what it was so I just went to the car wash and it came off. By me living in AZ it doesn't rain often. However I starting noticing when we got rain that's when these ugly stains would appear. I took it to the Dealer 3 times. They took pics and told me it was an olive tree in which I don't know where olive trees are. Then I was told it looked like Bee POO, the last thing was told to me by Arrowhead (Matt **) was someone was rubbing Meat Blood on my car. All reasons were ridiculous and I left each time with no answers.
I purchased the warranty and was told that Honda would cover paint for 7 yrs. Rained today and guess what the stains are back, frustrated like heck I think the next best thing is to trade it in and get something else. Honda of Arrowhead seems like they don't want to help. I even sent my daughter to purchase her vehicle 7 months ago, that was an bad idea. Last chance for Honda to make this right then they leave me with no choice. I use to be proud of my car and happy to drive, after this I hate this car. Nothing like paying on time for a car you need now ashamed of it.

The paint on my 2008 Honda Civic started to peel. After doing research, I found out the paint was defective and Honda America has issued a warranty extension. They did not notify people in any way about this defective paint or the extended warranty. Because of this, I missed the warranty extension by a few months. I spoke with Honda America on July 13. They said they would honor the extended warranty if it was really a paint issue and to take it to my local Honda. I took it to my local Honda on July 16 and they took pictures, said it was approved to go to the paint center for a quote. I took my car to the paint center for a quote on July 22. The paint center gave the estimate to Honda without even looking at my car.
On August 15, I got a call from the paint center saying my case was approved. When I went to schedule my appointment, they said it was denied. I called Honda to get clarification if it was approved or denied and spent the month getting bounced around and told to keep checking in while they sorted out the issue. On September 19, I got a call from Honda America saying that it was denied by the regional case manager and there was nothing else they could do despite providing defective paint on the car.
I've been a loyal Honda customer my whole life because of their former reputation for customer service and longevity of the car. They have a responsibility to the consumer to provide a good product to the consumer and fix their errors when they are made. Instead, they have a known paint issue and do nothing to address the issue. Worse, they don't honor their own word. Despite being told they would honor the warranty extension by Honda America on July 13, they later backtracked and said that the woman I spoke with was new and did not know what she was doing. After 2 months of runaround, my car is in worse shape and I have never been so frustrated at a complete lack of customer service. I would not buy a Honda again.

Being a reader and writer on the Consumer Affairs site, I want to contribute comments regarding Honda paint quality. First, a good friend has a 2007 Honda Accord she purchased in 2009 with low mileage. She is going to medical school and performs all of the work on her Accord such as oil and fluid changes, even belt changes. We discussed Honda paint issues and she indicated her paint started deteriorating in 2011. She told me she is embarrassed to drive it because of the shoddy paint. Having contacted Honda they said it did not apply to her color. Since reading the comments on the Consumer Affairs site, I realized that one can spot a Honda very easily due to its dilapidated paint.
Why is Honda cutting corners with their paint process, especially given their reputation of dependability? I own a 2007 Suzuki Reno Luxury Edition bought new with only 35 miles on the odometer. Today it looks absolutely brand new! It is silver/grey metallic. All I have done is wash it once a month and then rub in furniture polish after drying the car. No fading, peeling, or fading. I was thinking about buying a Honda for my sixteen-year-old daughter; however with the Honda paint issues and their corporate stance against customer remedy, I will be shopping for a different brand.

I have been a big consumer and a large supporter of Honda. Traded in every 3 years, also recommend to my co-workers about how Honda was very attentive to their customers. This had changed when I had called the American Honda Motor Co., Inc a few days ago. It was confirmed that my 09 Civic was one of those cars that HAD an extended warranty. Honda Extended Paint Warranties on 2006 - 2013. Thank you for letting me know Honda it was ME calling you. No letter sent, email, phone call, NOTHING.
I'm sure if I missed one of your monthly car payments on your LEMON car you had sold me, in which that was mailed to me monthly, you would of been raising holy heck. I was told by AHMC your warranty that was extended is 40+ days over the sale of purchase to honor the repainting of my 09 Civic. Yes I had asked my local dealer a few times when I had my services done. No one knew nothing. How did I find out? Accidentally, surfing the internet. I'm PROUDLY sharing my PIC's & I hope you do the same. Do not let HONDA get away with selling lemons. They clearly know there is something wrong with many of these cars, SUVs!!!

I see that I'm not the only one with this issue.. I am so upset with Honda. I bought this car new in 2009 as well then comes 2012 and my paint is fading. I had to get my car serviced before the recall. Now in 2016 my car looks like serious **. I called Honda American and they gave me a month of the runaround going from one dealership to another just to tell me they will only cover $1500 of my paint job ($4500), the entire care needs to be painted. I would like to file a lawsuit against them along with anyone who is also going through this corporate scam.
As you know it takes a team to get things to be taken seriously. I am a fighter and I will not let Honda get away with this. They robbed me of my money the moment they sold it to me. Having to service it for paint in just 3 years after purchase brand spanking new is a fraud. Here is my email if you are interested in doing something about it or if you can help me.


I am very disappointed with the quality of paint on my 2007 Honda Civic. It's so frustrating that such a large company can take advantage of their customers by selling low quality product. I do not wish this experience on anyone. Do not buy Honda. I sincerely deserve an apology from Honda for this unwanted experience.

My 2007 honda civic has defected paint. I believe the paint on the roof is cracking and is related to the method by which the factory applied the paint. Honda gave a 7 years warranty extension for this reason. They will not repaint my 2007 honda because warranty extension expire. I feel the warranty should be 7 yrs after regular 3 yr warranty (total 10 yrs). My hood was repaint during the warranty extension, but roof did not show defect until now (2016). I feel this is a factory defect and should be painted.

I purchased my 2008 Honda Civic a couple years ago from a BMW dealership. Since that time it has been a pretty reliable car, until the past year I have noticed that the paint is peeling from the hood, trunk, and soon the hood. I have noticed MANY other Honda cars like mine and worse. In looking into the problem I have came across many forums, blogs and Facebook pages made just for people with the same issue. I called Honda America today for them to basically waste my time. I was on hold for the next representative for them to then ask me a bunch of questions and proceed to put me on hold to come back and tell me that it's not their problem.
The representative said that they mailed a letter out in Sept 2014 and when I told her that I never received a letter she told me it was not their problem and that I was not the original owner... (That being said after readings the post other people have wrote it seems Honda failed to send the letter out to hundreds of Honda car owners.) After this incident I will never purchase another Honda or recommend them to anyone I know. They maybe known for being reliable but who wants to drive around a car that looks like a clunker.
I have my own business and it's embarrassing to drive around especially when my clients follow me... I know that it's not my fault because had I known, I would have never purchased this car and at the end of the day it speaks volumes of the kind of product that Honda is willing to sell. It just is extremely disappointing because I should have done my research because now I am still making a monthly payment and every time I see my car I feel sick and helpless.

Purchased 2007 Honda Civic and 2008 SI 6 months apart. My 2007 paint is fine while my 2008 paint is chalking all over especially the roof. I contacted the Hardin Honda, auto dealer where my cars were purchased to report this problem. I was told that yes there was a recall on paint, but I need to contact American Honda because the warranty expired. Contacted corporate office in Torrance CA and spoke with Andrew which last name was not given. Apparently they are not allowed to. I was instructed to take my car at Hardin to get it inspected. Verbally was given an estimate of $2,700 for the paint job for the whole car and a $900 was offered to subsidize the cost.
Honda doesn't have to offer anything because the extended warranty was for 7 years and my car now just turned 8 year old. I was not happy about this decision because bottom line the paint is defective period. So I said, "you would have paid the total cost if I didn't pass the date right?" Okay then, I asked Andrew 800-999-1009 x** to just cut the $900 check so I can take my car somewhere cheaper to have my car painted. I said I don't have an extra $1,800 lying around to pay for the defective paint. He said that Honda do not issue checks and that the offer is only good if the paint is done at Hardin's Honda!
That's when I lost it, I said so now I have to fork out $1,800 to have my car's defective paint which I didn't cause in the first place! I said that I will never buy Honda again and I am going to tell my family and friends that Honda does not care about their clients and never to buy Honda again! I went on saying I will make sure that I use social media to expose American Honda unfair trade practice. For fellow consumers who went through the same issue, would you guys consider filing a class action against American Honda? Please shoot an email at **. Thanks.

I have a 2002 Honda Accord. For at least 5 years the paint has been bubbling and peeling. It started on the bumper and now covers the entire car. Honda will not stand by their paint job. I was told it was my problem to fix. Except they have put subpar paint on many cars b/c there are many, many complaints about the paint.

Finally decided to google paint issue w/ my 2009 civic. Never received notification of service bulletin that was apparently issued late 2014. Called today and was told they wouldn't honor the extended warranty on the paint b/c the clock starts on the "original" purchase date. In my case that happens to be 6-20-2009. 4 WEEKS AGO!!! Was transferred to "Anthony" in warranty "reconsideration" and well, surprisingly enough they told me the same thing! "Sorry stupid! You should have called 4 weeks ago". I guess they would prefer that I continue driving their product, which now looks like complete garbage. Lousy customer service. Shame on you, Honda!!!

2007 Honda Odyssey paint peeling. I contacted Honda on this issue and was told the warranty has expired and they cannot do anything about it. I should have called in about this issue when the car was still in warranty. I told them how can I call in about issue if it did not happen yet and was told they can't do anything because warranty expired. They are in such denial that they have a paint issue. I have purchase 4 Honda cars since 1995. I am looking for a new car and will not be looking into anymore Honda because it did not seem like they care about their customer. Going to look into Toyota or Nissan.

My paint started cracking on the roof on my 2009 Honda Civic. I'm outside of the warranty even though this was defective paint job as illustrated by the warranty extension itself, the class action lawsuit, several consumer review websites and a facebook group of people showing the same problem. I called Honda and they said that they won't cover the cost of the fix. I'm unsure of whether to repaint the roof or the whole car as I've heard other areas of the car may develop the same problem.

I've got a Blue Civic that I bought new in 2001. The paint is badly faded on the hood, roof, and trunk. I've noticed other Civic's with the same issue. Maybe it was because Honda used cheap paint or paint with no lead. Quotes to repaint it range from $1,000 to $18,000. That's more than I paid for the car when it was new. So, guess that's the way the cookie crumbles.

I own a 2010 Honda Civic with just over 20,000 miles that I purchased brand new in June of 2010. I am dealing with the paint flaking, oxidizing issue as so many other Honda owners are. My vehicle is NOT covered under the extended paint warranty for reasons unknown and I was told that painting it is my responsibility alone. What gives with Honda? I have had numerous vehicles over the years and have NEVER experience an issue anything like this and the fact that Honda will do nothing about this is beyond frustrating. Never again will I buy a Honda and if anyone asks me for a recommendation about the car, I will tell them to purchase a different brand.

I purchased a 2010 Honda civic from open road honda here in nj. I was reluctant on buying a honda for the 2nd time. My first was a 89 dx hatch in which I had a bad experience with since it got broken into a couple of times. For my EX, great car and all but not long ago, I noticed the paint on the roof in the rear had two small white blotches. I know other civic owners who had paint issues with theirs. I called honda themselves and explained and I was qualified for the warranty, I then took it to the dealer since I needed a part. The guy there took pics and sent it to honda and I was approved. So the dealership gave me 2 options on body shops offsite that they recommend one in new Brunswick and the other in woodbridge.
So the car was dropped off 2 weeks ago and it's not been done. I called there two days ago thinking it was ready, oh it's still being repaired so I have a rental car from enterprise which I say I'm almost in $600 in for three weeks renting while my civic is sitting in a yard. Hopefully something got done to it, anything. This wait to get this done better not cost me or I will really flip out. I regret buying a honda again but because their paint issues are horrid. The whole experience has been horrid. If the paint fades off again, I'm just leaving it as is.

I bought a new 2015 Honda Accord 5 months ago. I haven't even driven 5,000 miles and the paint is already chipped in several places on the hood. The car is black and the undercoat is white, so the chips stand out like a sore thumb. I took it into the dealership and was basically told, "Yup, those are from rocks hitting the car." I questioned why the paint is so thin and easily chipped and why on earth they would make the undercoat white on a black car, especially if they are going to paint it with nail polish. He told me that that's just the way it is and that if they were to make it better, they would have to charge a lot more for the cars. So apparently the moral of the story is that if you are only going to spend $30,000 on a car, don't expect it to have a decent paint job. I'm truly disgusted. I'm now looking online for touch up paint for my brand new car. What's wrong with this picture?

In late 2014 I noticed that the roof my 2010 Honda Fit Sport was shedding. At first I thought it was built up wax, but overtime the spots got bigger, spreading to my entire roof, the sides and the hood. Took it to Coral Springs Auto Mall where pictures were taken. After several attempts to find out if they were going to repaint, I finally heard from a manager who told me that he was going to look into the matter. Got a call from the body shop that Honda contract with and was told that Honda would pay 85% and I would need to come up with $500. I was floored that they would want me to pay $500.
I have tried to get them to bear the full cost, but the impression I got is that I am lucky that they are paying that much. My position is that it was a faulty paint job and Honda should pay the full cost. $500 is a lot of money plus I would have to pay for a rental car while my car is in the shop. I have tried to get them to pay the full cost, but they are steadfast on their 85%. In the meantime, since I am unable to come up with $500, my car is getting worse.

I bought my 2009 Urban Titanium painted Civic brand new at the end of 2009. Within 2 years, I noticed fading along the back window roof line. Took it in before the recall and had it repainted. Then the trunk began to fade. I received the recall letter and took it to Stevenson Collision Center in Wilmington. They had to go through the regular "approval" system even with the letter and agreed to what I thought was to repaint the entire car at no cost. I did pay for some minor dents. I got the car back a week later (no rental car offered) and only the trunk and fenders were done. This was 2013. Now my back passenger side door is fading. I was told 5 weeks ago that they would submit the pictures but it was likely because of what my car is exposed to. I work at a college university and they don't have garages to protect my paint.
I questioned why the entire car would not have been painted if there was a known problem. They said they would only paint the areas affected as they "come up." I have gone back this week since I've heard nothing back and it was like starting over. I was told that the woman who approves may or may not approve it. I was given the impression it depends on her moods. I was told she could care less if I've been a long term owner of Hondas since 1987 and I was ready to be done with Honda forever over this, etc. I again questioned why the car would not be totally repainted. He could not give me an answer and said my car was a ticking time bomb. So they know what is going on. I am furious. I will have to call and nag and this is poor business. One way or the other, this car will get repainted in its entirety and then I will sell it and divorce myself from Honda. It is ridiculous.

I recently purchased a 08 Honda Civic that I am told is out of the warranty period for paint recall. The local Lucas Honda dealer told us to go to a certain paint repair facility they utilize to get an estimate, that they would submit to Honda to see if they would honor the recall on my vehicle though the recall system indicated it was not under the warranty protection. I am the third owner and recently purchased the vehicle from a previous owner. I knew of the recall for defective paint application on Honda vehicles to avoid EPA fines where paint was knowingly applied improperly to avoid further fines. This meant a business decision to improperly paint cars to avoid continue fines.
I have no idea whether not the previous owners were notified of the recall though I assume they were not as the only reason the car was not repainted. All I know is that the car was eligible to be repainted under the recall and I guess Honda is counting on missed notices by customers to save them some of the recall expense and headaches. I was told by the dealer service rep that the district Honda Recall Manager was denying to cover my vehicle under the recall for the affected areas (a mil reading was taken which shows conclusively that the paint was improperly painted by the mil thickness readings). I have bought two vehicles, one new and one certified pre-owned, from Honda before but with their lack of good faith to remedy a paint problem they created, I will not be able to consider their products in the future.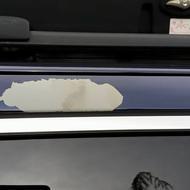 I have a 2005 Honda Odyssey, purchased new. The paint is either separating or chipping off altogether in multiple locations. Honda will not deal with it as they claim there was a recall that I somehow missed. The fact that I have had my van serviced regularly by Honda makes me question how I could have not known about the recall. Did not receive one in the mail, nor did the service dealership provide me with such information. I own two Honda's both purchased new, and have also convinced others to buy one. The fact that Honda will not deal with this paint issue now, I will never purchase another Honda again, nor will I refer anyone.

I bought my 2010 Civic brand new and thought I had a top product. However, earlier this year the silver paint began to get 'smudges' in the paint work, as if it was fading in patches or being rubbed off. Now, I am ashamed to admit the car is mine. I've had cars for twice as long, and have never had a bad paint job before. The dealers don't want to admit there is a problem with the paint, but want to say it is the fault of the owner somehow. Rubbish! This was my first Honda, and it will be my last. Terribly disappointed.
Honda - Paint Company Profile
Company Name:

Honda

Website:

http://www.honda.com/