Consumer Complaints and Reviews

We bought a 2016 Harley Davidson XG 750. My son was super excited as this is his first Harley. The bike worked fine until we took it in for its first service. Since then we have had multiple problems. Chief complaint is the bike has issues with starting up. This last stint in the Harley repair shop was 20 days and they replaced the gas cap, ignition switch and spark plugs. Got the bike back with the horn disconnected and the seat ripped. I am furious and do not want to take back the Harley to the Visalia Harley Davidson again. This is crazy to have this many issues with a bike less than a year old. Hopefully we will get all issues resolved at the Fresno Harley Davidson site or we will start looking into the lemon law process.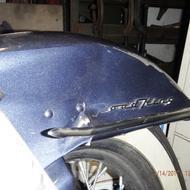 In April 2017, I hit a deer on my Silver Anniversary Edition Road King. Took it to the shop about 1.5 hrs from my home for repairs. Today I was informed that my emblems/badges were removed and RETURNED to Harley Davidson - EXCUSE ME!! As far as I know I OWN THAT BIKE AND EVERYTHING ON IT - paid a pretty penny for every part of it and now HD thinks they have the right to take parts from my bike before shipping the new parts I WILL BE PAYING THROUGH THE NOSE FOR!!!
I have owned numerous products throughout my 50 years on this earth and no one has ever retained ownership of a product I purchased but the crooked government. HD may own the copyrights but they sold me the product. I WILL NEVER AGAIN PURCHASE AN HD PRODUCT AS LONG AS I LIVE ON THIS EARTH and I will forever recommend another brand. I own 5 bikes, 3 different brands, not one of those companies has EVER taken parts from me. I have a Chevy Truck that I wrecked and amazingly Chevy never stole the logos and demanded I pay for them again. We buy these bikes, have to pay out of the butt for alterations so we can ride them. Repairs and maintenance is ridiculous and then we need part replacements and they steal from us. WOW!!! WHAT A U.S. Company they are!!!

I had a post on Jan 28, 2017 stating that I had three Harley's 2011, 2013 and 2015 Ultra classic and one limited. Well I don't think I should have said everything was great with all of them, I think it jinks my bike. On June 22nd the bike just quit. I found out today that the timing chain had broke and had caused engine damage. I also did some research online and found out that It was going to break on all 103's, the mileage that it broke on would be different, but it was going to break. Due to a defect in the tensioner. I also found out that HD knows about this problem since 1999. I did not give this a rate experience because I haven't found out what is going to be done about it and if I will have to pursue action. I had 47,780 miles when it broke, the article stated it would break between 35,000 and 50,000. 25 months old.

Bought a brand new 2017 CVO Pro Street Breakout in March this year. Had a very rainy winter/spring season so didn't start riding until late April early May. At roughly 650km the speedometer and gear indicator started randomly working. Then the bike started stalling at road speeds when I would pull the clutch into downshift. At roughly 870km the bike started making a clunking sound from the transmission and would not upshift without several attempts at times. At roughly 1150km the engine light started coming on. At each incident it was reported to my dealer and their response was "Don't worry about it. We will check it out at your first service at 1600km."
Well I brought it on June 6th 2017 at 1540km with the engine light on and the bike stalling during the trip there. A couple hours after I dropped it off they called me and said my bike was unsafe to ride and I would have to leave it with them because they found metal particles attached to the magnetic drain plug from in the transmission. They said it would be a minimum of 3 weeks just to get parts and this doesn't include getting it back together. I must also add that they never even bothered checking on the electrical issue yet. I will say this on a positive note that my dealer gave me a loaner bike. Nice gesture but I'm not making bike and insurance payments on this loaner! I called Harley complaints office June 26th and David there refused to act on it being a lemon and replace the bike.
He made a phone call to the dealer and nothing more. This is a CVO model here and regardless of that it is a poorly assembled bike and I judge that on these early issues. For anyone who reads these reviews please be aware what you are buying from this company. The moment I get my bike back it will be up for sale at a huge loss and Harley will NEVER get a dollar from me again in my lifetime.

I have a 2007 Nightrod Special. I am short, 5.5 and required the reduced reach foot controls. Mine just got damaged in an accident and I just found out they discontinued the production of the reduced reach controls. I can get parts for a Sportster from the 80's but not for a 2007 Vrod. They never disclosed that my bike would become un-a-tainium. Harley dealers are not revealing that if you buy a Vrod, HD is going to shun you like they did to Buel owners. They should have to make and sell replacement part up to 10 years past the final model comes across the assembly line. This makes me very unhappy and will never own another Harley Davidson. I would not recommend buying anything from Harley Davidson unless it is a Sportster or one of their root models.
How do I know I can trust these reviews about Harley Davidson?
816,178 reviews on ConsumerAffairs are verified.
We require contact information to ensure our reviewers are real.
We use intelligent software that helps us maintain the integrity of reviews.
Our moderators read all reviews to verify quality and helpfulness.
For more information about reviews on ConsumerAffairs.com please visit our FAQ.

Harley Davidson Finance has one of the best customer service departments I have ever encountered. I have never encountered anyone with a rude attitude, everyone has always been very friendly and willing to go above and beyond to help. I have two motorcycles both financed through them. I got a call about a late payment on one acct., but I knew it was paid. But, I had accidentally made a double payment on one account. They were able to help me by transferring the overpayment from one acct. to the other once we realized what I had done, and they noted the account and removed the late fee. Harley has a great product and a great group of people supporting it!

I still love my '91 soft tail and give the bike (and the company at the time) 5 stars. But the Harley Davidson of today I give one star. Harleys were rock solid in the 90s and I bought mine with the intention of never having to buy another. Problem is that the bike got old. The Harley boutiques of 2010 could not be burdened with working on an old bike and now as I understand it, they simply refuse to work on anything older than 10 years. All they want is to sell me a new bike. I feel abandoned by the company and will NEVER buy another. I continue the search for a good mechanic while learning on my own to keep my "old" hog on the road. So beware new hog buyers: enjoy your first 10 years of HD service because after that you will be expected to trade in. Beware also used hog buyers, you may be buying into a service headache.

2016 Road Glide transmission issues. Transmission sounds like it's falling apart or off the bike when you shift thru gears, go over a bump/pothole, maneuvering thru sluggish traffic (on and off throttle) klunks and klangs -- so loud others can hear it riding next to you. Have been told this. Shifts hard - not smooth. I have been to a couple different HD shops -- they tell me its normal. I have rode HD's for 40 plus years -- first gear always goes klunk but rest of my bike's shifts were smooth and quiet. I am afraid it's going to lock up while riding or come apart while riding and put me down. Again, been to 2 different dealers -- no help. It's normal is all they say. IT'S NOT NORMAL!!!
Someone needs to look into this with Harley before someone gets hurt. I have seen and talked to other having same issue with 2016 touring bikes from Harley. 1 other RIDER was in the dealership for the same issue I was -- THE TRANSMISSION. We both left with no help. I will continue to complain to dealers and keep all papers so when something does happen I will have proof and recourse.

Only game in town so they can tell you whatever the ** they wish! I just spent $68,585 cash on a bike and since March 15/17 it's spent more days in their shop than under my **... Then I experience problems which I feel were created since the motor upgrades and I go there 4x in 2 days and no one can find the problem! The problem is it's ** junk and they won't open up about it nor fix it, why! Because they only have one mechanic... Nice, nice, nice yup who gives a rat's ** about us the buyers anymore? Never ever should of wasted my moola again there! Everyone I know has nothing but ** to say about everything in Thunder ** Road. Another dumb move on my behalf... Careful folks. Look around outta town before risking your money as well as your life with these folks!

This is 15 years in the making, but I thought it was time to throw in my two cents. It is my experience with the bike and various dealers. I bought my Heritage in 2001 at a time when you couldn't buy a new, or used bike for that matter, off the floor. I bought it from a dealer about 60 miles away because I knew the owner and didn't want to deal with the jerk that owned the one that was only 2 miles from my house.
At the 1000 mile checkup I wanted to document the service because it would look good should I sell the bike. The next day there's a puddle of oil under the tranny. I call the dealer and they tell me to bring it in. Really. I'm 60 miles away with a bike that won't hold tranny fluid and don't have a truck. They should have offered to send a vehicle to pick it up. Called another dealer and explained the situation and took it there. Original dealer had cross threaded drain plug and actually cracked tranny case. They offered to order new case and replace with the guts from the old one.
I insisted I wanted a new tranny off the assembly line, but that wasn't going to fly. The spokesman at Harley didn't want to know anything about it saying it was a dealer issue. Which I can understand, but I did suggest they might want to review the quality of the mechanics that they have at their dealers. I wasn't happy. Basically I had a new bike with a rebuilt transmission. It all worked out in the end and they didn't charge me even though it wasn't their problem. As far as the bike itself I have had no problems at all in the 16 years I have owned it. My advice is to do as much of the work on your bike yourself as you can. There are some good dealers and some that aren't worth a crap.

Although I very pleased with my New 107 Milwaukee 8 engine (built in Milw. area) I certainly cannot say the same for the Chassis (built in the York Pa. area). So far (with less than 300 miles I have had 2 issues. A leaky front brake-line at the M/C (with DOT 4 fluid no less) and an L.H. saddlebag lid misaligned and would not close properly. Now I understand. I have a safety recall with the oil cooler hose clamps which could cause the line to come off and shoot oil over the rear tire. (Another perplexing safety issue). Time to look at the Management and motorcycle experience of the assembly operators before the reputation is flushed.

I have been riding motorcycles since the 1970's. I have purchased at least 16 brand new motorcycles in my lifetime. Mostly sportbikes... I lived in Georgia and other states with mountains and I could enjoy riding the curves. I now live in South Florida and the roads are straight. I bought. A Harley XR 1200. It is a bike that is Roadracer... plus comfortable. Worst mistake in my life. I found the bike on eBay and bought Harley's extended warranty. I have had nothing but trouble... the bike didn't come with a stock exhaust. I ride the bike almost everyday and I have done every service. After a problem with a Harley-certified shop that I was recommended to go to. I took it back to the dealer. I found the other shop was charging parts to my warranty and not replacing them.
Now I really needed the part and the dealer asked me what I want to do about it. I said, "Fix the bike". It was going to be about a $75 difference. I called them back. They never started work on the bike and they bought the gaskets and parts for the new stator but never ordered the stator. I had to wait another week. And they never adjusted clutch and I had to wait another week for a clutch cable. I was told I would have to wait a couple of days because they had to clear out the bikes because of Daytona. A 2 1/2 ride. Now they won't fix a common flaw with the plastic gas tank. It expands over time... they said the aftermarket pipe heated the tank. Then they said the tech said the tank is good, then they say it was denied because of the pipe. But I was written a 2-year warranty with the pipe.
"No," the tech said, "the tank was fine". I wouldn't be calling you or the tank was fine. "No. We denied you because the aftermarket pipe heated up the plastic tank". I said I bought the warranty with the aftermarket pipe. I never had the stock exhaust. "Nope," the tech said, "your tank is fine". "Why would I be calling you if the tank is fine". "Call the dealership". "I just did... they said you guys won't replace the tank because of the aftermarket tank". "Yes that is true". "Ok but I have a warranty... I had no choice". The tech said, "Your tank is fine". This went on for over 35 minutes. I tried to get his boss on the phone. He wouldn't let me talk to her or leave a voicemail. I wrote a letter requesting them to listen to that recording. I am selling my bike.

I have a 2013 limited edition Harley Trike. The lower touring box the paint is peeling off in 4 inch strips. When I contacted Harley they said that the bike was out of warranty and they would not cover. I took the bike to a paint specialist who told me that the paint was not adhering to the base and was painted incorrectly. I also got a letter from him and sent it to Harley showing that there were 12 coats of paint on my motorcycle which is entirely too much. I have made repeated reports and sent photos and all back up to Harley Davidson showing exactly what was going on with the motorcycle with no success to be able to take care of this problem. I have talked to other motorcyclist and it found four other people with a trike in the lower touring Box is doing the same thing and they were told exactly what I was told that because the bike was 2 years old that the paint was not covered.
The paint on a Harley-Davidson should last the lifetime of the bike except for chips and dings and normal wear. It should not come off in huge flakes after a year and 8 months or two years. Obviously Harley Davidson has a problem and they are not willing to admit it. As of now I have personally paid out of my pocket almost $1,600 to have the bottom touring pack repainted. So far all I'm getting is a runaround from Harley-Davidson.

When I see Harley Davidson with two stars I have to speak out, I have been riding Harleys for a few years. Well let's say longer than most of you been alive. Logged 100000 of miles and it's only left me stranded once and that was due to a nail in my front tire. Damn you Harley. Folks if you keep your Harley maintenance up and let the heads warm up prior to taking off like a bat out of hell your Harley Davidson will take care of you. Best damn motorcycle ever built and yes I bought a new 2017 the first month out.

Within the first 2,000 miles of new motorcycle, voltage regulator went out (covered under warranty), speedo & tach fogged inside leaving stains/streaks, now all gauges do not work (will be covered under warranty). A really smooth/comfortable nice bike to ride... if it were not in the shop. C'mon Harley, this shouldn't happen with a new $30K bike.

Bought the 2016 street glide special in 2015 and it has been the worse bike that I have ever bought. I have been having hesitation problems and the dealer has done all they could do to comfort me but I would like a product that I can rely on. I have spent so much money trying to get this bike to where I feel comfortable that it won't shut off on me during my ride. My spark plugs I change too often because of the black deposit left and the blow back that I experience too often. my Harley experience has been a nightmare and I wouldn't recommend this company to any more of my friends.

2026 Street Glide making a loud knocking noise after bike warms up. Dealers call it a neutral rattle but say nothing can be done. After $20,000 spent and extremely unhappy because of a knocking noise that's unbearable, Harley Davidson should fix this issue. I was offered a trade in at a higher interest rate and higher monthly payment. Harley Davidson knows of this issue and DOESN'T CARE. Is this a safety issue? No one knows because Harley Davidson doesn't care. My next step is hitting friends up in the media that are going crazy to do this story. I'm trying to get the dealership in MD to handle this the right way but it's becoming clear that Harley Davidson has their money so they don't care about consumer issues.

I have owned the 2003 Super Glide Anniversary and the 2013 Softail Heritage Classic. Both were great bikes!! No problems or issues. Made me proud to be Harley owner/rider!! Great experiences at Scottsdale, Az, Cowboy-Beaumont, Tx, Barnett-El Paso, Tx and Stubbs, Houston. Stubbs has been the best for service and customer care!!! Just picked up a new 2016 Freewheeler Trike. Hope it will be as good as my other Harleys! Went to the steel-toe factory tour in York, PA. Got see how the Softail Heritage and trikes were built. An amazing amount of detail goes into building these bikes and numerous quality control before they are shipped out! Recommend the tour to anyone that can make it. Well worth it. Steel toe over basic tour!! Just wanted to put in good words for an American made product. I know there will be issues with a few bikes unfortunately when 1,000's are made. Mine have been great.

From 1995 to date I have owned 17 Harley Davidson motorcycles. Basically all the models except the Blackline or Springer Softail. I have always been pleased with the product especially since the design upgrades that were implemented from 2000 to today. Yes, I have had minor battery issues and some new bike recall corrections over the years, but overall the fit and finish of the product over the years has been stellar. Harley Corporate and Engineering R&D truly listens to the common rider and makes changes to the performance and safety of the motorcycles.
My last 4 Harleys have been purchased from High Country Harley in Frederick, Colorado. As to the dealer's professionalism and attention to service, my overall experiences have always been top notch. I highly recommend the Harley Davidson brand, both motorcycles and motor clothes. There will never be any other bike in my garage... ever! Thank you, HD for always striving to be the best!

I bought the 2016 Road Glide Special in December of 2015. In January of 2017 the motorcycle has more rust on the front frame and all chrome than my S.O.B Motorcycle had after 10 years of the same care and use. I took it back in to the Harley dealer that I purchased it from to sell it back and was told they would only give me $8000 due to the rust. The manager of the store actually told me "You should have bought the chrome package." Really I should have bought a package because a Harley will rust out from under me in less than a year.
Now I am stuck with a $27000 rusted out motorcycle. The bike still runs though. I was smart enough to buy the 7 year warranty that doesn't cover rust. So every month when a turn/stop light burns out I can take it in and get a free bulb. Or when the clutch stops working they have to pay for the repair. Harley Davidson does not make a good product and I would recommend to anyone thinking about buying a Harley to buy from a different manufacturer for a third of the cost.

I have owned an ultra classic 2011 and 2013, and I now own an ultra classic limited low. I purchased all three bikes from Chunky River Harley in Meridian, MS. I have put over 100,000 miles on the 3 bikes (they were purchased new). And I did have one or two things go bad on each bike, but they replaced the parts and fixed the bikes each time at no cost to me. I think the 2015 may be my last bike, but I would recommend this Harley dealer if you are interested in purchasing a new bike. I can't tell you about a used one, but they have fixed anything that needed fixing. 99.5 percent of the miles with smooth riding. I am now at over 250,000 miles on Harleys. By the way the 2015 Low is an excellent bike for shorter riders. I love it. And would recommend it to anyone. A big improvement for the 2013 or the 2011.

Harley Davidson is not what it used to be. I bought a brand new Harley 883 Iron Horse in 2016. After 4 months my battery died and I was not close to a Harley Dealership. Bought a new battery to get home and Harley would not compensate me because I changed the original battery. Then I was rear ended in November of 2016 by a driver texting. Waiting for a tank replacement; Harley has indicated they hope to have one for the bike by February 2017. Love Harley but my next bike will NOT be a Harley likely a Triumph or BMW. Harley does not understand customer service.

I own a Harley Iron 883 in Goa, India and have been maintaining it with good care. I use a trickle charger bought from the Harley dealer to keep the battery charged. Having changed the battery after 3 years, and bought the new one from the Goa Dealer (Tusker), within just over 2 yrs, the bike would not start. I sent the battery to the dealer who checked it and said it has to be changed. I was startled that a 9000 battery would need changing in two years.
I argued with the dealer who simply took shelter that the warranty on the battery was one year, and there is nothing they can do. I mentioned that many Harley blogs mentioned a typical battery life of 4+ yrs. Exasperated, I wrote to Harley HO in India on rideindia@harley-davidson.com and over the last 4 weeks after a few reminders, they washed their hands off the matter saying, "We would also like to confirm that we have empowered our dealership to take decisions in this regards." Have once again protested. Hope someone at Harley takes cognizance of the fact that there is something wrong if a Rs.9000 lasts 2 years - I.e. 4,500 cost only for a battery! INR 9000 = approx US$ 140.

I had my 02 Dyna FXDX serviced 6.2016 to prepare for a 2k miles trip from Olympia WA to Winnipeg Manitoba Canada. I had both mechanical and safety checks with all 3 holes service. I got as far as Missoula MT and developed top end noise. Spent the night in town and left bike at Missoula HD dealer. The next day I was informed that the crankcase oil was low and tech added 2.5 quarts of oil and remedied the top end noise. They also performed a compression test and the result was it was normal however tech had mentioned that engine longevity was compromised because of inadequate amount of oil in the engine. I got as far as Helena MT and the bike started smoking white smoke thru the exhaust.
I towed the bike to Butte MT HD dealer and I was told that a retainer clip was missing that hold the wrist pin to the piston. I had the bike shipped back to Northwest HD Lacey WA and considered performing a 95 Upgrade or Long Block engine replacement. The service writer tells me that with the Long Block engine replacement that it will be 25 hrs for them to do the work. I contacted several Harley dealers and for the same job the range was from 11 to 15 hrs. I called HD customer care and asked them if there is a set amount of hours a dealer to perform this work and to no avail. Pretty much got blown off. Thanks Harley Davidson. This variance of tech time to do the same work is ridiculous.

I have a 2015 Streetglide Special. At 2000 miles, the compensator started to make noise just like the one in my 09. They fixed that one twice! But they fixed it. I bought a new bike in 2012. NO problems! But my 15 is a turd! The dealer in Manitowoc, WI put a shim in it and it was a lot better. But it still makes noise! They told me there was nothing else they could do. I told them to put a new compensator in and they said "no"! That was last year in Aug. Have not returned since, and never will! I called customer service in Milwaukee. They didn't even TRY to make things better. I guess after buying 8 brand new ones and 4 used ones, they don't need you as a customer anymore! I went and tried out an Indian! I love it! WAY BETTER than H-D! I just need to convince the wife!

I purchased a 2016 Street Glide. That has turned into a lemon. Clutch issues that they did repair finally after the second failure. Still have a stalling out issue they cannot fix. Service department says it's normal with the newer bikes. The older models did not have the issue. Funny a $25,000 motorcycle can do that and if it's a Harley it's normal. Sales dept are great and very nice and generally do care until it gets to the service department lack of communication. Technicians are not very good. Buy the bike there, get your service elsewhere.

When you spend 25,000 for a Harley Davidson you expect to get more than 30,000 miles on your bike before you have to change out the cam tensioners. Harley Davidson should have came out with a recall on all their 2000 to 2007 twin cams engines. They say it only happens to 1 percent of the twin cams but I know of 6 people that I ride with that needed this repair. I am 56 yrs old, always owned a Harley but they suck and I hope they go under. That repair cost 3000 dollars should had been a recall. Shame on you Harley Davidson and if GEICO insurance knew about this they would not use that bike in their commercial. Next time I will buy a crotch rocket.

50,000 miles of great riding and excellent reliability. I have the stock twin cam 96ci engine with stage one. The only thing needed outside of regular maintenance was the replacement of the front wheel bearings at 26,000 miles. No leaks, still looks like new.

I now have 36,000 miles on a 2006 Harley Davidson Softail Deluxe. I love this bike and have been all over the United States (California to North Carolina, South Dakota down to Texas) Always dependable, no major repairs, I do regular oil changes, tires and brakes. Chrome is holding up great after a year left outside near the Ocean and Sun in California. For a 10 year old motorcycle it looks almost like the day I got it from the dealer.

About 7 years ago I bought a 2002 Road King from Hot Rod Harley in Muskegon MI. I also bought the extended warranty and had my bike in Hot Rod Harley for the intermittent miss for the whole life of my warranty contract at $50.00 a pop. I also was on several road trips and had it into Dimondale Harley Davidson shop for this same miss. After that warranty ended I was able to purchase another extended warranty and my deductible was at $50.00 and the Bike was never fixed. They talked me into putting a Tuner on it, it never helped. So here I am out several hundred dollars and that bike was never fixed.
I traded a bike in for a 2003 Ultra Classic with 26,000 miles on it and having the same intermittent miss. Nobody seems to know what is wrong with it and I do not have the money to take it in again and again, with probably no answers. I am very disappointed in Harley Davidson. Not only that I am out several hundred dollars paying for repairs and parts unneeded that never worked.
Harley Davidson Company Profile
Company Name:

Harley Davidson

Website:

http://www.harley-davidson.com/content/h-d/en_US/home.html