Consumer Complaints and Reviews

While traveling on a dirt road at 17 mph, my son's side airbags deployed in his brand new 2015 Chevy Silverado. He did not hit anything and there was no damage done to the vehicle. We thought surely this would be covered under warranty. GM has refused to honor our claim under warranty. We cannot submit to our insurance because there was no collision. To fix the truck will be $4500 out of our pocket. We live in a rural area of Colorado. Dirt roads are the norm around here. Once the truck is repaired what are we supposed to do? Park it and make payments on a new truck that we feel we can't drive for fear this will happen again? GM needs to up their game. There are so many posts within this site for the same exact problem. There is an active recall on the front airbags, but GM says this is unrelated to what happened with the side airbags. What a racket!

2014 Silverado 1500 seat airbags stuck in seat. I was rear-ended by a car doing approximately 40 miles an hour. When I was hit I brace myself against the seat for impact and the cab of the truck filled with smoke. An off-duty EMT seen the accident and stopped and she was wondering why there was smoke but no airbags thinking the vehicle might be on fire or a electrical short. Later after everything have been processed I found the side airbags had gone off inside the seat but was not able to release out to shield me. Not sure why two seat airbags went off but the curtains did not or even why they can't went off since it was a rear Collision.
I wouldn't have minded it except during the accident I felt like I was kicked on my left side of the back as I was being hit. Now suffering stiff muscles and seeing a Dr. for pain and mainly my left side back hurts which is where the airbag deployed inside the seat. I read another customer's review on here of a 2016 doing the same thing. Apparently this is a trait of the truck.

I'm a buy local to U.S. buyer and my preference for 30 yrs has been Chevys. I own an '09 HHR panel and a '14 Chevy Cruze. Last night, my son was involved in a collision at a Cincinnati intersection with of all things another older model Chevy Cruze. He was hit in the side hard by the other Cruze. The car that collided with him had full deployment of airbags yet he had none. Thankfully, he was hit in driver's side in the front with engine compartment taking full impact. He has a knot on his head and left bruised hip and shoulder. NO AIRBAG DEPLOYMENT. Wtf! Will hear next week as to whether the car is totalled.
I shopped Chevy last month thinking to get another new car, but this has given me total pause to any Chevy loyalty. Seriously? Hit in the side full impact spun around and no airbag deployment? Not any car I want my family to be driving. The rental meantime is a Toyota Elantra and am comparing that to the Chevy Malibu we drove last month. Not sure where we will net out, but my dissatisfaction with Chevy over no airbags can't be overstated.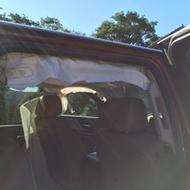 While driving 2015 GMC 2500HD Denali on dirt road at slow speed side air bags deployed. There was no impact with anything that could cause the airbags to deploy!! Exterior of vehicle is immaculate, undercarriage shows absolutely no damage. Initially vehicle would not restart. Onstar advised this is a safety feature. If that is true they should rethink as that logic it is flawed. Drivers need to be able to get their vehicles to a safe place after an incident. Took vehicle to GMC dealer, they called back 6 hours later and advised me to call GM customer service to initiate an investigation.
Called GM, finally got to talk to a human being who knew nothing. Called again, rep knew the process and was helpful, but advised me that someone from "Product Assistance Claims" would contact me within 3 business days! I advised her that was not adequate and requested supervisor. Supervisor basically said the same thing, but did state he would do what he could to expedite return call. He actually told me to keep my phone on at all times and "wait for the call". I will contact local news channel tomorrow to see if they would be interested in a safety/human interest story about faulty airbags! I do not trust GM at this point. I will update this review as the process with GM continues. After reading all the faulty airbag posts on this blog, I am fully disgusted with Local service manager and GM customer service process.

On the afternoon of New Year's Eve, I was driving my dad's car at a slow speed in a parking lot of a nearby grocery store and was not aware of hitting anything when my airbags deployed. My airbags deployed slowly and not fully but I was truly scared by the loud noise when they broke through the steering wheel and passenger side dash while the car filled with smoke and a terrible stench. I continued forward as there was nothing in my path and parked deciding what to do other than open the doors and windows to remove the smoke and stench. After a few minutes I drove to my dad's home as he was ill and needed to make it to his doctor's appointment. My dad's doctor instructed me to take my father to the hospital. In any event the deployed bags made it difficult to steer the car so I had the bags cut out.
After spending a week with my dad in the hospital and 2 weeks in rehab I contacted GM and they had my car towed to a dealer who said he found on the computer that the right front side had hit something. There was no damage to my car yet GM said it was not a manufacturer's defect. As I was able to drive forward with no incident the only possible contact could have been my right tire bumping against a curb. My dad's car is a 2000 Oldsmobile Intrigue
and although I was informed there was no recall for it I found that other later model GM cars had been recalled for a similar problem due to the way the airbag module was secured.
After all the recalls involving air bags I was told GM couldn't tell me what kind of airbags were installed in the car and of course they never mentioned the similar problem of other vehicles that were recalled, information I found on the internet today. I think GM is trying to avoid another recall and is putting lives in danger with airbags not only fully deploying but deploying when there is not a truly sufficient reason.
How do I know I can trust these reviews about General Motors?
697,568 reviews on ConsumerAffairs are verified.
We require contact information to ensure our reviewers are real.
We use intelligent software that helps us maintain the integrity of reviews.
Our moderators read all reviews to verify quality and helpfulness.
For more information about reviews on ConsumerAffairs.com please visit our FAQ.

On 1-16-2015 I t-boned a minivan doing about 35 mph in my 2002 Chevy silverado, airbags didn't go off, passenger broke her femur. I had head injuries, chevy came and inspected the truck. They said airbags didn't go off because I wasn't breaking hard enough during, I posted picture of truck - you can clearly see they should have gone off.

I have always been a Chevrolet fan but what has happen lately made me think a little differently. I received a notice from Chevrolet in Milwaukee, Wl about certain 2006 model year Chevrolet Colorado extended cab vehicles. The wires in the rear-door-wire harness may fatigue and break. It also said, "if one or more of the wires break, the vehicle's airbag readiness light/SIR light will illuminate." This is actually what has happen to my truck. The airbag light has come on and stayed on. I received the notice in October 2015. After receiving the letter l took my truck in to have it checked but l was told the letter was expired August 2015. Makes no sense. So l had it repaired at VARA Chevrolet for $491.51. I need an answer to this letter? God Bless.

Just got in a accident yesterday. 40-50 struck 2 mailboxes then hit a sewer post & completely rolled the vehicle, flipped it over on its side. NONE of the airbags deployed then nor did they afterwards when I was being rushed to ER. They were flipping it back over & dragging it & they still never went off.

Son was driving truck on a gravel road... top airbags deployed, no reason, suffered a concussion, no damage to vehicle. GM refused to do anything... said "it must have been a ridge in the road." Local dealer has refused to service vehicle as well. Is this another GM cover up? I see others have had similar problems with Chevy. National Transportation Safety Admin said they have a calibration issue with their airbags... yet no recall? People will be killed.

July 2015, a compact sedan ran a red light and struck my truck (2015 Chevrolet Silverado long bed) on the front passenger panel at the wheel - well, pushing my truck across 3 lanes into ongoing traffic. Cab filled with smoke, but no airbag on my drivers seat. I've suffered soft tissue sciatic nerve damage, and believe the airbags part of a recent recall. Missing work by doctor's orders. Can someone please help me about these airbags?

I own a 2009 Chevrolet Malibu fully equipped with 6 airbags and only 1 came out in a front end collision leaving all 4 of my passengers in critical condition. 1 of my friends passed away and would have survived had my curtain airbags deployed. My front passenger was in coma for more than a week when her head hit the dashboard right where the airbag would have been if it deployed as it should.

2013 Chevy Cruze airbags didn't inflate. We bought the car brand new. My husband was rear-ended which pushed him into another car and then hit again in the rear. After being struck 2 times in the rear and one in the front, NO airbags inflated. The light on the dash says they deployed but they didn't. My husband ended up with head, neck and shoulder injuries. The seat-belt also locked up and now will not retract or pull out any further.

I have a 2012 Chevy Cruze and I was driving to work and the side airbags go off at 60 mph without hitting anything At all.

Chevy Impala - I was going down I-35 and was in a car accident and my car rolled four times and my airbags never deployed. What's up with this. I checked and there is no recalls on the airbags.

I was hit on the corner of the front driver's side in my Chevy Traverse (2011). There were over $17,000 in damage. My airbags never deployed and I was injured! I purchased it in July 2014 and my accident was November 2014 and never received any recall notices.

On Feb. 6th 2015 (while driving to work in my 2013 Silverado) I was turning left from a stop sign & hit a patch of black ice causing me to slowly slide off the road into the ditch. A few of seconds after coming to a stop my side air bags deployed hitting me on the top of my head (as I had already re-positioned myself to compensate for the angle I was on). There was no damage to the truck body, & nothing actually hit the truck's side (although the passengers side running board was pushed up slightly the truck was driveable until deployment of air bags) but for some reason the side air bags deployed.
All persons involved up to this point can't understand what caused them to deploy as there was no impact to the side & the truck had already come to a complete stop. I have not yet received the quote for the repairs but I know how expensive air bags are to replace, if they had not deployed the cost of repairs would likely have been under $500 but now I will be lucky if they are under $5,000.00, & still nobody knows why they they deployed in the first place..... Is there an issue with these air bags that GM does not want us to know about??


On January 7th I was involved in a 5-vehicle accident involving an overturned tractor trailer. My car was hit on the driver side windshield and door by a loaded gas tank that crashed into my vehicle when the tractor trailer overturned. The airbag never deployed!!! Therefore the left side of my body was crushed by the door and dashboard which landed on my lap. I needed to be dragged out from the passenger side. I sustained many injuries due to this accident and I truly feel that the airbags deployed, I'd be able to work today. I do intend to proceed with a lawsuit.

My son was driving his brand new truck 2014, 3 months old. His side airbags went off for no reason. He was doing about 5 miles per hour on the snowy back road.

It was a higher humidity day, I was driving about 45 on a main road when I hit a bump while driving through an intersection. Both of my side airbags deployed for no reason. GM has had my car now for over three weeks. Mart ** in Novi Michigan kept refusing to provide me a loaner car even after multiple orders from GM to provide one.
GM is claiming it can take "on average three to six months" to determine if they will repair the car. It's obvious there is a problem with GM cars even more so than previously thought. General Motors needs to get on the ball here and compensate those who have been hurt and/or traumatized by these occurrences.
The deployments happened at night in a lane that was merging to the left. I was lucky enough to move over to the left hand lane without crashing into a nearby house and mailbox. If I hadn't handled the Camaro in the way that I did I would have surely been critically injured because of this. When the side airbags deployed everything went pitch black and all visibility was gone. Absolutely terrifying experience. I still have near daily flashbacks because of it.

My wife was t-boned this past wed. in the driver's side. The airbags never deployed even though the side beam was pushed clear into the driver's seat and the trim from the side beam was even pushing the airbag cover in a half an inch! I'm thankful it wasn't a harder impact. What good is side airbags if they don't protect?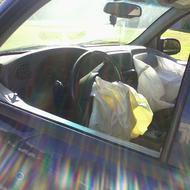 Sept. 24, 2014 after work on a clear afternoon, I was driving my girlfriend's 2004 Chevy Trailblazer down a straight smooth back road going approximately 50mph, when for no reason the front driver and passenger air bags deployed. The initial blow from the bags and powder that was released caused me to swerve back and forth on the road because I was dazed and unable to see where I was going. Luckily, I wasn't in an accident caused by this and I was able to bring the vehicle to a stop and safely pull off the road. Two witnesses on the road following me at the time this happened heard what sounded like an explosion and powder smoke exiting the vehicle. They saw me swerve back and forth and then pulled over to see if I was alright since I was still in shock from what happened.
Thank God I was the one driving it at the time because I sit farther back from the steering wheel, unlike my girlfriend who sits right on top of it. My arm was burned from the air bag and I'm traumatized by what happened. I don't even want to think about what could have happened if it was my girlfriend or one of her daughters driving. Her daughter was planning on driving it back to college with her that weekend. There was some interior damage done to the vehicle caused by the airbags. The vehicle still operates with the exception of the deployed air bags. Currently there is an investigation being done by GM to see what the cause was for the deployment and we are hoping to get some restitution for this.

Air bags didn't deploy in an accident. Got hurt, needed surgery to fix injury. GM don't care. Everyone I call at GM don't care. My vehicle is said not to be on the recall list, my bad luck. But everyone knows GM could care less about their customers. Or they would take care of the problems. I'll never buy another GM vehicle as long as I live and that's bad. I've always had GM vehicles for forty years. So much for customer.

On January 15, 2010 My husband and I were in a head on car accident. I sustained serious injuries. My husband was the driver and I was the passenger in the front seat. When the lady hit us head on neither his nor my air bag deployed!

I was on my way to work one morning in my 2002 Chevy impala and of course it was raining, the car hydroplaned and left road. The only issue is not one airbag deployed. Vehicle took quite a lick and I suffered neck injuries. No other vehicle was involved! I was amazed when I realized they didn't deploy, and always questioned it, until I just recently received a safety recall on ignition!!! But this particular model isn't on the settlement recall?? Not to mention I also have the same security light issues.

I was in an accident in my Husband's GM. Person that I spoke with about the Silverado said, "IT DIDN'T MATTER" THAT MY AIR BAGS DID NOT DEPLOY DURING MY ACCIDENT.

My husband was in a accident and the airbag didn't deploy. He T-boned someone who ran a stop sign. We were told it didn't deploy because he didn't hit the sensor. The front end of the truck was smashed in. I'm thankful my husband wasn't hurt.

Called my local Buick dealership regarding an airbag sensor recall on my vehicle's year and model (2012 Buick Verao), and was told that since my car is a re-built title (fixed it myself after a front end accident) and my VIN is not on the list, I'll have to prove that my airbag sensor signal l is related to their air bag sensor recall in order to qualify. I'd have to pony up the cost of diagnostics out of my own pocket (GM dealership shop rates) and then try to get reimbursed through GM bureaucracy. If you are looking for a company that throws their customers under the bus for decades, lets people die due to their faulty parts and still doesn't own up fully and pay up for fixing their defective cars - then buy GM's cars.
They didn't learn their lesson with ignition key fiasco and still try to get out of paying for their lousy design and screw over as many people as they can out of cost of rightful repair on their recalled vehicles, putting other who don't qualify as non-original owners at risk. My first car was a 2004 Buick Century and I was in love with Buick marquee and drove it happily for 9 years without complaints before being forced to sell because of high mileage (220k+), rusting body panels and tattered leather from years of abuse due to normal tear and wear in northern climate (Michigan). After buying 2012 Buick Verano and getting this kind of treatment - I wouldn't advise anyone to buy their cars. GM is just not the company it used to be. They just don't give a ** about their customers anymore and I don't expect the management philosophy, feudal mentality (if it's not my department's problem, I can care less) and corporate greed and nearsightedness.

2002 Chevy Silverado Airbags/Oct. 2 2010 - While traveling in Fresno, CA, I was approaching a stop sign. Speed limit was 45, my foot was ready to brake. I had slowed to 38 mph when a large grasshopper flew into my driver's side window and struck me in my left eye. My head immediately jerked to my right. While doing so my left hand also moved the steering wheel to the right. Without seeing or knowing, my truck turned to the right, climbed the curb and hit a tree at 38 mph. If the airbags had deployed, I believe I would still be working. I am now permanently disabled and receiving Social Security Payments. Right eye socket was fractured. Sinus cavity fractured. Damage to sternum and lung eventually requiring lung surgery, and lung decortication. Chevrolet told me it was not considered an "airbag incident".

March 31, 2014. Traveling in the second lane of 4 lanes on highway 1/101 with my wife, the Side air-bags deployed for no reason. Two Highway Patrol officers said they have never seen this and it must be a computer glitch. There was no accident. There are no scratches or marks on my car. A G.M. inspector said may car was going 74 mph and was at more than a 45 degree angle. It cost me $5225.00 to get it fixed. I had no satisfaction from G.M.
General Motors Airbags Company Profile
Company Name:

General Motors

Website:

http://www.gm.com/index.html