Consumer Complaints and Reviews

So bought a 2011 Cruze 1.4 used. It had only 29000 miles so I thought "what could possible go wrong with purchasing such a low mileage automobile". Well little did I know this first year production in the US would be a bad thing for this car. The engine eats water pumps to the tune of 3 since new, and then it also has used up 2 turbo's as well. A case of poor design I guess on both, and yet customer service does very little but stroke you into thinking they care and issuing you a fancy customer service ticket. As if they will get these problems resolved for you ASAP. Yea, wishful thinking if you think GM will do this for you.
I don't know which has turned me off of GM more, their poorly built automobiles or their terrible customer service. But let's not blame the local dealer here, who faces warranty rejection on claims not approved by GM. So they have little recourse too but to do what GM instructs them too. I definitely will never give GM any more of my business as long as I live. Consider yourself lucky if you get a reliable GM products.

I am reasonably convinced that GM does not take pride in their work. My 2015 Chevy Equinox has a couple of design flaws that make this obvious. The front bumper is too low and seem intentionally designed to catch on standard parking bumper blocks. Not having key on the rear hatchback prevented me from being able to get my jumper cables out when my battery went dead and the electric locks would not work! The oil filter in an inconvenient location for consumer use. It also requires a special crow's foot wrench to remove the filter housing. The electrical system goes haywire when the battery is low. What a nuisance. Try taking pride and does things right. You'll sell more cars!

I have a 2012 GMC Acadia slt fwd. I have had over $12,000 done to this vehicle in just under 2 yrs at this time. Repairs are as follows: Front cover and rear main seal with motor mounts. Cylinder head replace due to oil in the spark plug tubes. All 6 fuel injectors replaced 3 at the dealer and 3 I DID myself. When the dealer DID the 3 they DID not change the oil (fuel was in the oil).
After one day of driving the vehicle engine started to knock real bad (That is when I found out that the dealer DID not change the oil and the fuel dried the bearings inside the motor. One of the bearings spun on the cam shaft and put metal shaving in the engine.). New create engine was order the day after I got the vehicle back. The high pressure fuel pump on the engine failed and DID the same thing as the injector DID but DID not put as much fuel in the oil. Now that the vehicle is out of the factory warranty gm does not want to go back to one of the work orders and review the issue I had complained about at one point.
The vehicle rpms fluctuate at low speeds between 1-2k rpm. Vehicle has a hard time pulling itself up a hill or on flat ground. The other one is vehicle feels rough until over 2k rpm. When we went to pick the vehicle up when they called us the service writer said that they could not reproduce the concern at that time. I believe the tech really DID not drive the vehicle and find the issue or DID not want to do anything under the factory warranty and that is why they said that.
This is the worst I have been treated by a high corporation in not taking car of the customers issues. Now that the vehicle is out of warranty gm cares does not want to have anything to do with me, my wife or even the vehicle. They only care about the vehicles that are still under the warranty. The problem I am having now is that the torque converter is messed up and when the tech drove it in Aug he DID not feel anything due to he DID not drive the vehicle for a long enough time to feel the issue or DID not drive it the way the work order says when it happens.
I am very unhappy for the way gm cares handled this issue. I think that they should put me out of the vehicle and put me into something different to keep me buying gm vehicle. If they do not help me I will not buy another one for the rest of my life. And I will make sure gm does not get any more money from me. I used to be all about gm and now I am turning to more like a toyota family instead of a gmc, chevrolet, and buick. I can't take anymore of gm bullcrap at this time. The torque converter from the dealer is around $1,800 for the work and part. I do not have that kind of money floating around like that. Gm just need to fix my vehicle under one of the work orders. Is possible to get it fixed without me having to pay for anything.

I experienced the worst treatment and dishonesty at Young Buick GMC in Layton Utah. The utmost worst car buying experience I have ever had. I lodged a complaint with GM and they were wonderful with the initial complaint and then it fell apart after that. I did not receive a response first of all I had to keep inquiring on the matter. The case manager never followed up with me at all until I had to keep calling. I was then sent a generic email and cell phone message telling me that "too bad so sad" the dealer Young Buick GMC is an independent dealer and they cannot do anything regarding the matter.
Well let me tell you what the matter was. I initially went to the dealer with the price listed on the internet for the vehicle I wanted. I was trying to trade in my vehicle that had less that 16k miles on it and I was low balled when they were selling the same car next door at their other dealership for thousands more. I tried to get some more so I could work the deal the sales lady didn't do anything. I was in desperate need of an AWD vehicle. After trying to get into the vehicle we went to signing papers. I was told the price listed online was not the price for me, that is the price that it could be. They lied to me about the warranty (which I didn't know until I did my own research) so I would buy the additional warranty and then I was told I needed another product because if my car was stolen the parts are not covered.
I was in desperate need of an AWD so went ahead with deal like a idiot. They let me take the car when I told them I didn't think the deal was going to work out. I was very upside down on my trade. They assured me it was fine. My credit union received the papers and told me how awful the deal was and they wouldn't knowingly approve it. They showed me some figures and I went back to the dealer. I expressed my concerns and telling them about the lies they had told me about the warranty, the price, parts, and basically everything. The finance manager said "hmmm." Then he told me they were losing money by even looking at taking my car as a trade. It is a 30k vehicle mind you.
I demanded my vehicle back and left. GM had no response for someone representing the GM name! SHAME ON YOU GM!!! I will make it my life's mission that no one I know ever buys a GM. We also have a book at my employer who is one of the largest employers in Utah. The book is called The Best and Worst of Utah and you are going in it! Very disappointed especially after my tax dollars bailed you out! This is how you treat customers! I am not some low life off the street.

I filed an complaint with GM online for a problem I was just became aware of on my own. My check engine light went on several months ago and found out that it was flagging a problem with my Cam Shaft intake sensor. When my oil was checked they found out that I had NO OIL in my car. I was well under my 5000 miles due for an oil change and NEVER had a warning signal go on from my vehicle while the oil was burning low. It was confirmed that my car had NO leaks. So something else was causing my oil to burn. I went online to try to find other cases of this and found out that GM knows about this issue with my exact Model and year vehicle (2011 Chevy Equinox LT 2.4 liter 4 cyl) and as a result increased the coverage for this problem for these vehicles from 85000 miles to 120,000 miles.
After speaking with the dealership and a manager at GM CAC, they said they could only cover 50% of $4048 needed to fix this problem. The fix for this KNOWN problem is to replace the pistons and rings and gasket, etc. A very invasive job. Which indicates to me this is a very serious problem. Unfortunately, my car is at 139,000 miles (all highway) and they said that this is the best they can do for me. They agreed that there was no other way for me to know my vehicle was burning oil unless someone checked it regularly. The car uses Dexos oil (a synthetic blend) known to have less cases of burning oil. I have made regular oil changes on time for the almost 6 years I've owned my vehicle and all services including the 100,000 mile services were performed at the dealership.
I have been diligent with all required maintenance and now GM / Chevrolet and saying there is nothing more they can do because I am over the 120,000 allowable coverage. When I filed the complaint I was at about 137,000 miles. They will make no exceptions for my case. Even after I am able to prove that ALL required maintenance has been performed on the vehicle. The Manager that I spoke with Craig was short and condescending with me. He said 'YOU SHOULD HAVE BEEN CHECKING YOUR OIL ON A WEEKLY BASIS'. Seriously? Who does that today and why should I if I am diligent on my vehicle care. I was insulted and extremely dissatisfied with the answer and support GM is offering for this very serious issue. I now have a vehicle that is 'damaged' as a result of a known issue that GM did not deliver to any of the dealerships or to the consumers of these 2011 Equinox LTs.
I had a much more pleasant experience with Nissan when I found out my daughter's 2003 Nissan Altima had a problem with the ECM and it needed to be replaced. After I found that there was an issue with the ECM for that model year of Nissan Altima and brought it up to their attention and filed a case online with Nissan CAC, they agreed with the dealership to cover 90% of the $1400 cost to replace the ECM. The car was a 2003 with 92000 miles and well over the warranty period, but they still made good for us the customers since it was a previously known issue for that model year. If only GM, the company I've been loyal to for over 30 years would have made the same consideration for me and my Equinox. Extremely disappointing and unfair to their consumers.
How do I know I can trust these reviews about General Motors?
765,713 reviews on ConsumerAffairs are verified.
We require contact information to ensure our reviewers are real.
We use intelligent software that helps us maintain the integrity of reviews.
Our moderators read all reviews to verify quality and helpfulness.
For more information about reviews on ConsumerAffairs.com please visit our FAQ.

I purchased a 2013 GMC Sierra new and always had the truck serviced at the selling dealer. Last Oct. my drivers side door handle came off in my hand. This has never happened to me with any vehicle I ever owned, and I have owned many. Colonial GMC in Charlottesville, Va. was my selling dealer so I went there and requested it be replaced under the extended warranty that I purchased good for 100,000 miles. Was told it wasn't covered under that warranty and had to pay to have it replaced. Bill was in excess of $300. Ok, paid and moved on.
4 months later another door handle broke off on the rear door and was even being used much. Thinking this was an unusual I researched this problem and to my surprise realized these door handles have been breaking on Silverado's and Sierra's routinely, but to date GM has not had a recall or a TSP for this problem. Contacted GM and they told me I would receive a callback to resolve the issue. 3 days later I got a call from the dealer telling me I was out of luck, they would not do anything unless I paid the full price. Ok, I thought, I paid $63000 for a truck and they won't help with a door handle. I bought and $40 to install it. Bottom line is I will go back to buying a Ford or Dodge, had good service from them. Done with GM for a $17 door handle.

GM knows well how to sell cars but when my car is in repair and I need a door replacement I find out that doors are back ordered and for 3 weeks I'm still waiting.
They are not keeping parts because after they sell cards they don't care what you do and what issues customers will have. Once they got your money they just don't care anymore. They gave a lame excuse that it's 2016 car so because it's new they don't have replacement parts! Accidents can happen to new and old cars! No one to talk to.

My 2013 Malibu Eco was just recently out of warranty. We started hearing a strange vibration from the rear stereo speakers. One of the speakers was not working or was defective. I called the dealership and they said it's out of warranty and there was nothing they could do. So I called GM Customer service as I had done many times in the past and they always corrected the problem.
I guess times have changed. They didn't care to help me at all. All they could say was no and talk down to me and belittle me. I have owned GM cars almost all of my life and never experienced this lack of caring ever before. GM does not stand behind the products they make. They used to but not anymore. I will never purchase a GM car ever again because of this experience. They don't stand behind the design flaws anymore. GM has turned into a SCUM BAG company. They have very poor long term quality and they don't care. What a SCUM BAG company. Guess it's time to give the Germans a chance. Angela was my customer service agent's name. Avoid this HAG at all costs.

At a dealership visit in October of 2016, they said they were going to do a recall. I thought that was good, hadn't recalled seeing a recall notice in the mail but found it later on at home in the pile. So after reading it, I realized they didn't follow the protocol for performing the safety recall. They skipped replacing a part which it clearly states needed replacement on my specific truck. So I called the dealer and just asked if they actually replaced the part or just updated the one currently in the truck. They said "no, no replacement just an update."
I left it at that, as I had a horrible experience dealing with the service manager on a separate issue but on the same day the truck got the recall done. After inquiring at another dealer I was told they weren't able to even look into it because GM already paid ** dealership to do the work. So a call to the 1800-customerscomelast folks at the customer care center really ties it all together as they now know I'm driving with a known defective airbag pretensioner. To add more to it, the district manager has put a me on a blacklist at what seems to be every dealer within 100 miles. So where to go for warranty on pile of crap??? SCUMBAGS.

I purchased a 2017 Escalade from Cadillac of Novi 1 month ago. Less than 3 weeks having the vehicle the head gasket needed to be replaced. My Escalade was in the shop almost 2 weeks and GM refuses to try to make the situation right. The thing that blows my mind is 4 months earlier my wife purchases a brand new Cadillac CT6 and less than having the car 2 weeks the sunroof motor completely goes out. Car was in the shop 1.5 weeks again. GM was no help and does not care about pleasing their customers. I highly advise anyone to stay away from GM vehicles. They are not reliable and GM will not be there for you after the sale.

My father is 87 years old and leased a 2015 Buick Lacrosse as he had faithfully either purchased or leased General Motors cars for decades. Unfortunately, he has been diagnosed with cancer, was hospitalized and is now living in an assisted living facility in Cleveland, Ohio. His physician has recommended that he no longer drives due to him being a fall risk and just his overall decrease in acute motor skills, thus, enabling him to have the needed precision and rapid flexibility needed to drive effectively. As a result, my father turned his car in to General Motors only to be told, cancer or no cancer, unable to drive or not at now 87 years old, he still owes roughly $8,000 on the remainder of his lease and mind you the car has been sold or re-leased. To that end, General Motors will now receive double payment for a car my father can no longer drive.
As his daughter, I think this is awful without regard for the plight of senior citizens. I think this is nothing less than highway robbery and greed on the part of General Motors. Why are they leasing cars to 87 year olds anyway without a clause that addresses acute illness or inability to drive by virtue of a doctor's orders??? I believe General Motors should be ashamed of themselves for taking undue advantage of the elderly...but then again why should they care when the CEOs and CFOs responsible for making and executing leasing policy and procedures have been raking in money and reaping the benefits of million dollar bonuses forever... Bet you will not see one of them standing in a Walgreen's line choosing between medication, food or assisted living rent while simultaneously paying for a sold, leased vehicle they no longer own... Way to go General Motors. Rape the elderly all the way to the bank!

If you think you would like have a car that runs and gets you where you need to be, don't buy Chevrolet! If you do, and the repairs become so much that it would cost more than the car is worth (even if you're still paying on it), don't call GM's customer assistance center, 'cause they don't care. "Do you have a warranty?" That's all they want to know. Too bad this thing won't let me leave these categories as ZERO stars.

2010 Buick LaCrosse had 94000 but was seven months pass warranty (5) years. November 17, the engine blew. Returned it to my dealership, no help. Text GM on the internet twice no response. 7200 dollar bill to replace the engine. Car had been well maintained. Why did I buy an American made car.

I have been trying to resolve an issue with a dealership and with GM customer service regarding my 2014 Chevy Spark. This vehicle has had 3 (yes, three) piston replacements as well as a new engine put in. They are giving me the runaround regarding a buy back under the lemon law. They seem to have no interest in keeping a customer or accepting responsibility. I was warned about the dealership but I thought GM would step up to the plate. No such luck so far. So disappointed.

Car was purchased new less than 6 years ago, less than 66,000 on it. Have had oil consumption issues. Three weeks ago, check engine, StabiliTrak, and loss of engine power lights started coming on while idling at stop signs and lights and experiencing stalls at same stop signs and lights. Husband checked and even though the check oil light was not on, there was virtually no oil in the car, added 2 quarts. Took car in for service. Dealer said it was a stretched timing chain and fuel pump needed to be replaced. Take home and return the following Monday when parts are in. When they went to do the service, engine was found to have lots of metal in it and needed to be replaced at our cost as warranty is out. Dealer offered no other options.
GM says they can offer no assistance as the engine was not torn down. Dealer then offered a 10% discount on labor. The engine is still costing me $3,900 plus tax etc. I am appalled that GM is making me pay as this the car was regularly serviced. An engine should not fail at less than 66,000. Customer service has pretty much said suck it up. We will never purchase GM again. Four of our last 6 vehicles have been GM cars and I feel really stupid that we purchased a 2015 Chevy Equinox for our children's use last year.

My 2016 Silverado 2500HD has been recalled for the airbag issue. I brought it to my local Chevy dealer on November 18. I am STILL without my vehicle! The SM module "froze" when they attempted the reprogram on 11/18 and told me they needed to order a new module. The module was on backorder and they received in Wednesday 11/23. Unable to program it, they are still waiting for the GM Field Service Engineer to write the program for the new module specific to my truck. I have been given no expected date for completion and also have had to follow up daily myself with the dealer to get updates. Each update has been the same response... we are waiting for the engineer to write the program and do not know when it will be done.
This is a recall and since my truck happens to be in the 1% that are an actual problem it should be made a priority to be corrected and returned to me. It has been just about 14 days now without my truck and without a resolution date in sight. I feel helpless. I have tried contacting the GM Customer Assistance line and they have been of no use.

Contacted Smail GMC in Greensburg, PA. to have gooseneck hitch installed on my wife's brand-new GMC 3500hd she purchased from Laura GMC, and Smail GMC would only install hitch if we purchased truck from them. Little frustrating, we have supported General Motors and are children of a GM manufacturing family.

2014 Chevy Captiva key stuck in ignition. My key cannot be removed from the ignition of my car when it is in park due to the same engineering defect addressed by GM's "special coverage adjustment" which covers millions and millions of cars - not including mine. It is costing me $1100.00 in parts and labor to fix this issue which has drained my battery and left me stranded on many occasions. I should not have to pay for GM's ignition design defect. GM should be held accountable for ANY of its vehicles exhibiting ignition and shifting defects, as it is already well known for causing deadly accidents due to engineering oversights. I am hoping to receive cash assistance from Chevy to cover the labor.

Went to local dealer in which my whole family uses and wanted to get a new car. Btw... bought 2 cars in Lake Orion area 10, 11 years ago with great experience. Anyways, went to get a Malibu (sales) to my local dealer in which my whole family uses so I trusted it to be okay. Saw a Malibu Elite with a 29 something sale sticker that I wanted. Went to talk to a sales person at Vic Canever, said interested in the deal, we had to go look, he was unaware. He said that there was criteria. I didn't have a lease, a criteria BUT, he could get me close to that deal. Going thru his hour and a half of mumble jumbo I kept asking the price of the car. I got 29750 oh then better 29595! Great! Very excited! Well after 3 1/2 hours later very tired!
Finance guy told me my payments. 417 month well I had a trade in on 3800 plus put down 5000 seemed high, so called the next day and the sales person "claimed" that the total of the car that I kept asking the amount included my trade in, Really! Bunch of **! Well when we went to the parking lot to look at the sticker sale, he didn't even know that I had a trade in or what it was, anyways ended up paying $3000 more than I thought. I feel like I was taken advantage of. I will never go back to Vic Canever in Fenton again! I know the deal that I got was average and almost just went somewhere else, but thought if I didn't purchase it then I would never get one (personal thing) anyways, love the car but can't enjoy until I get over this horrible experience! IT JUST SUCKS! THANKS VIC CANEVER IN Fenton!

The gold part of my front Chevy bowtie emblem fell out on its own a few weeks ago, for no reason. The piece is gone. Car is out of warranty but like new. Called dealer/service... $40 for part, $100 for labor. The part fell out on its own. Submitted an email to GM customer care. After a week of phone tag all they did was call same dealer and confirm repair cost. The part is available online for $19. Chevy, GM and their dependent businesses all lost me as a customer today. Complete waste of time. No discount offered... NOTHING! Do not buy GM cars. They don't care about their customers after the sale at all. GM has no pride in their product.

I took my 2011 Buick Regal in to the local Buick dealership two days after the car had turned 5 with around 92,000 miles on it. This was April 15, 2016. I was unaware that it had turned 5 and the warranty was expired and no one told me, so I thought the warranty was still valid. The check engine light was on and I called and insisted that they look at my car. The dealer tried to be too busy. They determined that there was around a quart of oil left in the car. The dealership told me that they were sure that the last oil change had been done improperly and that the place I had taken it to have the service had not filled up the oil. The dealer then changed the oil and charged me $100+ to do it.
When I expressed my disbelief that I had driven 5,000 miles on 1 quart of oil with no indication of any issues the dealership, Halladay Motors Cheyenne, Wyoming, said to bring the car in every 500 miles for the next few weeks and they would check the oil to be sure there were no other issues. At around week 5 the car was over a quart low and the check engine light had come back on. The dealership began an oil consumption test at this point. I had to bring my car in every 500 miles/tank of gas and they checked the oil and topped it off as needed and indicated what they had done on a chart. At the end of the test they had determined that the car had failed the test and that the solution was to replace the pistons. The dealer ordered the parts and arranged for a rental car so the work could be done. They indicated that this would be warranty work, no cost was mentioned when I dropped it off.
Later that day the dealer called me and said it was two days out of warranty the first time I brought it in and that the work would not be covered. Also, it would cost me about $2600 to get it fixed. I only own one car and I need it to drive to work etc. There is no public transportation available in my area. I really had no choice but to agree to have the work done and pay for it. I contacted GM Customer Service to ask if they would reconsider covering the issue since it was obvious that the issue pre-dated the warranty expiring. Also, it was within two days of the initial visit. I was told after I was passed around that there was a very good chance that that GM would reconsider and cover the issue, and that there were procedures in place that the dealership should have taken to make sure I was aware that the warranty had expired, but that there was a grace period and that cost assistance may be available. This was September 6, 2016.
I received a various voicemails indicating that I should call back and was never able to re-connect with anyone until today, September 22, 2016. I received a call telling me that GM and the dealer had decided that they would not be covering the issue or helping with the cost in any way. Last week the check engine light came on again and I had to have the timing solenoid replaced for another $200. Until now I had been very happy with GM products and a 30 year customer. I'm no longer going to be a customer of GM or Halladay Motors after the ridiculous amount of time and money I have spent that should not have been necessary.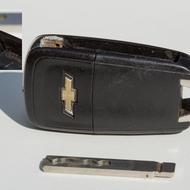 I own a 2012 Chevy Equinox (52000 miles) that I purchased from my Chevy dealership. The key fab holds the brass key in pot metal and it broke last year. That key was replaced under warranty. Saturday, the key I got to replace that key broke in the same manner. (25,000 miles later) Saturday, I brought the key in and was told I need to talk with the Service Manager. I explained the problem to the Service Manager and he offered me a new key at a discount. If I had something to do with the key breaking, I would be fine with the offer. Plus, there is no guarantee that the same issue will not happen to the new key. I do not want to be purchasing a new key every so often because of poor design. I was only 2,000 miles out of warranty and they would not replace a recurring issue.
I wrote the president of the dealership and she said sorry but would not do anything. My steering wheel has also worn away and I had to put a cover on it. Poor quality. I own a VW TDI which I will be trading in sometime in November. Today was a true test of your customer service. I planned on purchasing a ton crew cab truck to replace the VW. After this experience I do not plan on considering your dealership at this point. I also plan on taking my business elsewhere for service.

Just wondering if anyone else who had this recall done ran into a situation where the low beam headlights had to be replaced at the owner's expense. This situation is ridiculous. Let me first state the I accept partial blame for not taking my car in as soon as I received a recall notice. When my low beam lights went out I took my car to JohnBear to have the HDM recall addressed. I picked up my car after the recall work was done and went in to work for night shift.
Leaving work the next day I found I had no low beam headlights and now no dash lights. Took it back to JohnBear where I was informed that both my low beam headlights had burnt out at the exact same time(?) and that had nothing to do with the recall(?). I've dealt with a service rep at Buick (Sheri) that I must apologize to for letting my frustration get the better of me. I was charged $373.40 for two installed low beam headlights(?). In my mind and 3 or 4 mechanics I have spoken with this is excessive and should have either been tied to the recall or the original work performed at the dealership. Yet no one is taking responsibility.

On June 2, 2016 an engine light came on as we were on the on ramp proceeding to the highway. Immediately our engine losing power light came on. My husband managed to get the vehicle safely off the road. The vehicle shut down and would not restart. It was towed to O'Regans on Robie Street where it was diagnosed with fuel injectors that "exploded" thereby causing major issues. The vehicle had 118,000 km and the warranty expired at 110,000. Had the car repaired, $2500.00 later! I asked if the car had been test driven, the reply was no when it was the check engine light came back on. Now it needed rear sensors. That same evening the check engine light came back on so back to O'Regans. Now the timing chain was gone!!! So another $2700.00.
No one from O'Regans or GM would extend the warrant. There will never be another GM product in our driveway their attitude with customers is, "Oh well we can offer you $2500 off a brand new car." Ha they have to be kidding. After doing research and speaking with a couple of mechanics I find out GM knew they had injectors issues and timing chain issues which they are saying, "Oh we never heard of any issues regarding the injectors or timing chain." I have been in touch with the local media and Yvonne Colbert has sent me a recall which I am going to try one more time with GM to see if we can come to a resolve on this issue. I know they have 'a good will warranty'. Wish me luck!!!

2008 gmc denali radio control tire censor. What a stupid total waste of money. Cost me another 300.00 to get the stupid aluminum junk parts replaced. I never seen such a total stupid unnecessary device in my life. I had one tire worked on 3 times and they found nothing wrong but it still leaked. Most tire dealers drop the nut off the sensor and let it drop into the tire not wanting to tell you it cost another $80.00 a tire to fix the problem the junk sensor. I happen to get an honest dealer and explained the stupid engineering retarded situation. Thanks for the stupid extra expense. I grew up when a car had an ignition switch and an oil gauge and was happy. I own a tire gauge and can see a low tire that does not cost an extra $300.00 from my social security.
I called gmc customer service 5 times and got nothing but the run around. I was disconnected and put on hold several times. Rep 1 was foreign, could not understand me. Rep 2 I was disconnected. Rep 3 wanted me to spell sensor three times, said he had never heard of that type of auto part. Rep 4 asked for my first name then put me on hold then rep 5 asked for my last name, then my address and I said 6867, only my house number then she asked me to spell it. So I said six eight six seven. Then she started to explain why I had to spell. I never got my whole address out she kept talking over me. The whole experience was like a comedy routine saturday night live. Smartest man movie.

I purchased a 2015 Silverado from Advantage Chevrolet in Bolingbrook, Il. After a short time I began to notice a vibration in the truck. When traveling between 45 mph and 55 mph and more so when traveling between 65 mph and 75 mph. The vibration is noticeable as the water bottle in the center council shakes and the hood and rear view mirror vibrate. This is a new truck, currently less than 6,000 miles. I am a long time GM owner, have purchased somewhere around 15 new GM vehicles and owned at least another 5 used vehicles. I am 54 years old and consider myself to be a long and faithful GM customer. This very well may change in the near future.
I took my vehicle back to the dealer for service, they said it was operating within normal tolerances. I asked how that could be and how they came to that conclusion? I was told they hooked it up to monitors and compared it to another vehicle (same make and model) and they both gave the same results. After much discussion and me expressing my displeasure, I was told that there was a bulletin out from GM dated 6/23/2016 that tells the dealerships to not attempt to fix the issue any longer as they have changed tires, rotated tires, balanced tires and replaced rims with no success at eliminating the problem. The GM bulletin states that they are aware of the issue and trying to come up with a fix.
I called a customer service number (800-222-1020) and created a case number (**). I was told by the dealer that this would create a case and it would elevate until it was resolved. I was told by the complaint line that they would contact the dealer and get back to me with their findings within 48 hours. When they got back to me (approximately 51 hours later) I was told that the dealer had done everything they could and the case was closed.
I asked to speak with a higher level manager from the organization and was turned over to a senior consultant (Crystal). She reaffirmed that the case was resolved and that I could not speak to anyone else and have no other options. I attempted to call back to other times and speak with someone else, once I spoke with James who assured me that the case would be re-opened and Crystal would not be involved any longer. James also stated that Crystal should have let me speak to another consultant and what she did was wrong. In the end, the case went back to Crystal and she closed the case with no resolution.
Needless to say, I am a very dissatisfied GM customer (soon to be a former GM customer) and am finding it very hard to get in contact with anyone at GM and seems to care about the customer. $40,000.00 truck that vibrates, a company that knows they have a problem as they sent out a bulletin but does not want to speak to the customer about the issue. The sad thing is, I just want to know what they are doing to try and identify the issue and fix it.
Unfortunately, I will not own the truck much longer, will not buy GM products any longer and will lose money due to their poor customer service and lack of commitment to their customers. GM apparently doesn't need repeat customers. If by chance a GM Representative reads this, please contact me. I would love to discuss this issue and the extremely poor customer service representatives you have fielding your complaints at the 800 number above. I can say some of the representatives were trying to help. The senior rep should be in another line of work.

I purchased a used 2014 Chevy Captiva Sportage with about 37,000 miles less than 1 year ago. Paid 20K cash and now I regret it since it looks like I was sold a lemon. A month ago the key started sticking in the "ACC" position when attempting to shut the car off after driving. It would require constant shutting on and off of car or "sitting it out in car" for 1 or more hour praying that the key would turn to the "off" position in the ignition and not get stuck in the "ACC" position, which drains the battery. This continued during the WORST of times, at medical appointments, arriving home at night, dining out and July 4th weekend. With the key in the ignition, it meant car door could not be locked, could not get keys to go into my house or to the doctors office, etc. We lost our hotel reservations and money since the battery died after the key was stuck in the ignition for hours over the Independence Day weekend and the dealerships were close.
After spending more than a week in the dealership and them troubleshooting the issue - with the keys sticking in the ignition some days and with it coming out some days, with difficulty, the dealership diagnosed the issues with the lock cylinder being damaged and requiring replacement to a tune of nearly $400. GM and dealership basically said, "Tough luck - you're not covered by warranty."

Like many GM SUV and truck owners, my dash has cracked in multiple places. Even though my vehicle is out of warranty, I decided to contact GM Customer Care to see if there is a recall or resolution. It is obvious that this is a chronic problem for several year models. My first contact consisted of sending an email from the GM Customer Care website. I received a confirmation, then had to provide a lot of other information so they could properly review my problem. After a week of not hearing anything from GM, I called them only to find that my claim had been closed. When I inquired as to why it was closed, I was told that the person handling my case must have closed it. This required a new case to be opened, repeat of the same information, etc.
About a week later I received a call from GM Customer Care to tell me that they had contacted my dealer and are waiting to hear back from them to see if they have a resolution. I would have thought that the dealer would have to contact GM to see if there is a resolution. A week later I received a call from GM Customer Care telling me that the dealer does not have a resolution for this problem so nothing will be done to fix the cracks. I then wrote this email to Mr. Dan Ammann, President of GM:
"I am reaching out to you because of a problem with my Denali. I have made several calls to customer service and they have no solution for my problem. The dashboard has cracked in three places... at the instrument panel and at the airbag panel on the passenger side. I would expect better quality on a top of the line GMC product. There are many articles on the internet concerning this problem and it appears that there are thousands of people having the same problem. I also see on the internet that GM has no plans to recall or provide any solution to the problem. As a loyal and long time GMC customer (This is my 4th Denali and 6th GM SUV), I expect more from GM. I found it interesting that GM Customer Service has to contact my dealer, Allen Tillery GMC in Hot Springs, AR, to find out if they have a solution to the problem. I would expect that GM would be the authority, not the dealer.
"This morning I received a call from GM customer service advising me that they have contacted my dealer and 'unfortunately, the dealer told them that they are not providing any solution for this issue'. This caused me to attempt to contact you directly. As President of GM I expect you to be the person in the know. If you are not aware of this problem, I want to make you aware of it, although, since a number of lawsuits have been filed, I would expect that you are very aware of the problem. My question for you is what is GM going to do about all of these cracking dashboards?
"I am currently looking at joining one of the existing Class Action Lawsuits against GM or filing my own lawsuit to get a resolution. If there is no resolution through my contact with you or through legal routes, I cannot, in good conscience, ever buy another GM product or support my local GM dealer by buying from them or using them for service. Please feel free to contact me with any questions. I look forward to your quick response."
Surprisingly, Mr. Ammann's email is blocked by GM's servers, so the email will never reach his eyes, unless someone at GM happens to see this review and gives it to him. The odds are about the same as winning Powerball of that happening. I also copied the email to my local dealer Allen Tillery GMC with no response. It is my opinion that GM has reached a size that they don't have to care about customers or more importantly, returning customers. It wasn't too many years ago that we, the people, were bailing them out. How quickly they forget. GM products will no longer be considered when I shop for my next vehicle.

After work was completed on the blower switch the light to the fan control did not work. I contacted GMC due to the fact that the dealer refused to fix the problem. I contacted GMC and did not receive help for the problem. The light was working right before the repair and did not work after. Has anyone else experience the same problem?

I bought a 2010 Chevy Equinox in Feb, 2015. I was given a carfax and told, "appears there are no serious issues or repairs." # mo. later had a 1,500 repair - GM picked up half as timing chain had an added extd warranty due to many failures. It was THEN I was told about MANY EXTD WARRANTY ISSUES BEING fixed before 80,000 on my car! Now at 114,000 I have complete trans. failure!! I was told "Oh well."
I didn't get the extended warranty at 104,000 when I bought it because I was assured the car had NO major issues. GM WILL DO NOTHING although there are HUNDREDS of complaints online about the 2010 transmission failing. The dealer wants 4,000 to fix it. It will be returned and repo'd as I can't pay for it, and I can't fix it. Thanks GM. CAR is a lemon from the word GO!! As many people who have a failed transmission on this car, there should be a RECALL or another extd warranty. I will go back to a foreign car! I will never own a GM again.
GM Customer Service Company Profile
Company Name:

General Motors

Website:

http://www.gm.com/index.html