Mike Murphy Kia
Brunswick, GA
Consumer Complaints and Reviews

So in 2010 we bought a Kia Van and part of the contract deal was lifetime free oil changes, today in 2017 I go to get my oil changed and they tell me they will no longer honor the lifetime oil change, I'm like, "HUH?" They said, "Unless you are a vietnam disabled veteran we no longer honor the deal..." I'm like, "HUH? It's in my contract" and he said, "I know it is and it sucks but it is what it is..." I said, "You can't dishonor a legal contract" and he is like, "Oh yes we can and we are..." I'm like, "How?" And he says, "It was a verbal agreement and besides it's only for the lifetime of the loan not the actual lifetime of the vehicle..." I'm like "Huh? I didn't have a loan. I paid cash so how does that work?" He laughs and says, "Then I guess you owe us money hahaha..."
I looked at him and said, "I'm not laughing Jack and you are right I owe y'all something but it's not money..." And he says, "Well Mr. ** the salesman should have never done that to you and it's crap but that's the way it is!!!" I said, "Well you need to Get MIKE ** in here then because he is the one who made the deal with me," and then he says, "He is refusing to talk to you because he does not like confrontations and has us do all his ** work." And I said, "Well then tell him for Me, Mr Andrew ** thinks he is a liar and a Cheat and a piece of crap and I hope he sleeps well at night and I pray he don't ever have to explain his actions in front of God when he leaves this world," and then I said, "And that goes for you too my friend," and then he says, "Well I didn't do this so I won't have to explain it to God." And I said, "I hope you're right, just like the evil doers in this world prolly won't have to explain their selves for doing Satan's work?"
It makes me sick that Greed is taking this world over like a Bad storm... They even made a policy there now that even if your car is under warranty you have to pay a 105 dollar diagnosis fee because diagnosis is not covered under warranty... I SHOULD GO MAKE A SIGN THAT SAYS MIKE ** IS A LIAR AND A CHEAT AND DON'T HONOR HIS CONTRACTS OR WORD, and stand on the road holding the sign and tell everyone that asks me about it as they turn into the place... I wouldn't do any kinda business with these people if they were the last car dealership in the world, I'd ride my bike everywhere LOL...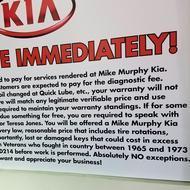 I have purchased 3 KIA's from this Mike Murphy KIA dealership. One buy and 2 leases. For the last 2 KIA's, part of the deal that the salesman made for me to get me to make the deal, which was OK'd by the manager, was complimentary oil changes and tire rotations for the life my ownership of the vehicles. The last KIA I leased there was in Jan 2, 2016 on a new 2016 KIA Sportage. It now has a smidge over 10K miles and has had 1 prior oil change until today. The oil change I had there at 5K miles was as indicated on my record and was complimentary as was indicated on my records.
Today, I was told all prior agreements for complimentary oil changes and tire rotations are no longer valid and will not be honored. WHAT! For 4 years this service policy was honored but no more? After my protest, they honored it today but said never again. Attached is an image of the sign posted and repeated all over the dealership stating the new policy that overrides the negotiated element to my Jan 2016 deal that was made in good faith. Further, the signs state that if you go anywhere else for your oil changes, your factory warranty will be voided but they will match a verifiable price from elsewhere!!! Bottom line... this constitutes a broken contract by the dealership and because this dealership has chosen to arbitrarily break trust in one matter, they will certainly do it in others. Therefore, I will not do any more trades with Mike Murphy KIA and will be sure to tell others to stay away as well.

I wish I had read the other warnings before going to this place. They all were true for us. Not only do they lie to you, they change numbers on paperwork and defraud the customer. When you ask the owner to do the right thing he laughs at the request. We have two sets of documents one showing we paid 27 thousand dollars for a base model soul. We were told by the salesman Carl the car was 17900.
The first time we were alerted to the price because we received no paperwork in hand (!!!) was when THE BANK called to say there had to be a mistake. Then I contacted the corporate office that said Souls can be listed between 15 to 22 thousand but a base Soul would NEVER be 27 thousand and so they tried to facilitate a call to reason with the owner. The owner was belligerent and nasty and said he really did not care about reviews.
It wasn't until I mentioned that the State of Florida had a second bill of sales with a different price that he considered giving a refund to the bank. The State of Florida tax office also said this had to be a mistake. The paperwork they had said we paid 25 thousand for the car. We did not have the paperwork because were told it would be mailed to us from the bank. Tre **, the finance guy lied and said that it was an A+ bank out of California. The BANK is from Tampa. They sent me a copy and we were shocked. The numbers he wrote on paper were not reflected on the agreement.
He had us sign some papers that he said were to pay off the trade in, the odometer, and for the bank to type up the agreement. Later after the owner NEVER followed through with the refund and started lying to the BBB, we found a ton of others who also were scammed, asked to lie, or ripped off. The BBB sent us one of Mike Murphy's Kia responses which had my husband signature forged on it. They tried to say we erased it. We apparently had the original in the glove box. My husband doesn't use his middle name to sign documents and you can tell it's traced from his driver license.
Shame on them. We sent all the other documents he actually signed and they are all identical. We are looking for others to join a class action lawsuit. Please contact us with what happen to you. The car did not have a sticker which is a federal offense and we have several photos over a period of days taken by a few people so if you also did not get yours it is extremely important we get in touch. We feel like if one person gets saved it's worth it. Had I read your stories we would NEVER have gone there.

Bought a brand new KIA Forte5 back in May and the car had some scuffs on the bumper which they said they would fix on their tab (apparently an employee was moving the car and damaged it). After signing all the paper work and writing down that the repairs would be performed, we have been waiting 6 months to hear from them. To this day they refuse to give me an answer or reply to my e-mails. This is how you lose customers. Goes to show you cannot trust car salesmen anywhere. If you plan to buy a car, go somewhere else. These guys are not honest.

I purchased a car from them in 2012 with and when I was filling out all the paperwork I requested a gap Insurance. I was under the understanding that I did have it. I was there for five hours while they were trying to get me financed which I did not understand that to begin with because I have excellent credit. So I was ready to leave and not even buy a car cause I was so aggravated that it was taking so long. The car just got totaled, I am now upside down by $3000 and I found out I do not have gap insurance. This place is a horrible dealership. And they do not care about their customers.
How do I know I can trust these reviews about Mike Murphy Kia?
699,348 reviews on ConsumerAffairs are verified.
We require contact information to ensure our reviewers are real.
We use intelligent software that helps us maintain the integrity of reviews.
Our moderators read all reviews to verify quality and helpfulness.
For more information about reviews on ConsumerAffairs.com please visit our FAQ.

When my husband and I started looking for a vehicle we looked online. We found Mike Murphy in Brunswick to have several cars or trucks that were reasonably priced. After filling out the online application the dealership contacted us with several offers. They offered us a Ford King Ranch and the deal was unbelievable. Living in Florida we explained to them that we could not ride up there until the next week. They in turn, brought the truck and the paperwork to us. Within a half hour we had the keys to the truck. We had the best experience ever. Our salesmen Tre' was very friendly, knowledgeable and professional. He is now the finance manager. Definitely go talk to the new salesman Gary, another friendly and knowledgeable person for all your car or truck buying needs.

This is going to be a long and detailed review. Due to the relationship, and 2 car buying experiences with Mike Murphy Kia Altama Ave, Brunswick, GA 31521.
I am a single and disabled mother. I have a limited budget on disability and questionable child support. I have 0 credit. I have never had a loan of any kind, no home, no student loan, no car loan, no personal loan of any kind. I needed a vehicle and I went to Mike Murphy Kia in Brunswick.
The salesman left me waiting, and hanging around, assisting other customers, many other customers, and lots of assistance to others, many long hours. I was told we had a deal, this was going to work. Even had me a car, and this was a done deal. I continued my patience, and hopes were falsely inflated and then destroyed. My mother was sick with cancer, stage 4. She knew I needed a vehicle. She also knows I am disabled, with bare income, and no credit.
3 days later at 8-12 hours a day each day totaled, went by. It finally came down to the point of this: My mother offered to co-sign if it would help me get a vehicle. Without getting either of our hopes up, my mother didn't think that her credit was going to be approved, or that she would be doing me any good.
As it turned out, we were both surprised at my mother's credit rating. She had been approved. However when she signed the papers, she and I learned that the loan was strictly in her name, alone.
We were both upset and shocked, I was supposed to be the buyer, with her as a co-signer. My mother never complained, she figured it was too late now, and besides, what was she supposed to do, she knew I needed a vehicle. Mine had died and the motor had blown. I loved the car, it was a white 2012 Kia Forte, with only 15,000 miles on it, cigarette burns on the drivers seat and passenger side door also. But the car was clean and great otherwise, the newest, nicest car I ever had. I drove the car for 16 months. Now I have only 27,000 miles on the car.
My mother had hip replacement surgery, in July of 2015, because the cancer had metastasized and the tumor had spread, and then expanded inside the hip, causing 2 fractures in the hip and broke it, and had eaten the entire top of the femur bone. My mother couldn't walk for 3 months. She had no choice but to have surgery. In September of 2015 my mother finished with her hospital stay, her rehab therapy in the nursing home, and went home, to endure more physical therapy outpatient treatment.
My mother kept seeing commercials on TV, and she was receiving advertising in the mail, from Kia, due to her prior purchase from them. My mother phoned me, and said for me to go down and see what they could do for me. The offers we were told about during the 1st purchase, were upgrades, and keeping the same monthly payment on a newer vehicle, and of course a great deal, great trade-in value, and great service and customer satisfaction. I was put into a 2016 white Kia Sorento and told to drive home, that it was a done deal, come back tomorrow and sign the paperwork.
I go back the next day and I get a different story. The car I was in will require a down payment to keep the payments the same, but the other car I was going to be getting would be more money a month. Same identical cars. The one I was ending up with had no GPS, but 3 row seating. I don't understand it, however I am a woman, and they see us coming a mile away. They also take advantage of that very situation. My mother having surgery and being in pain, and uncomfortable didn't feel like sitting around in a dealership for hours and hours. The salesman said she had to do nothing. He would take the papers to her home personally and have her sign them there. He did do this. My mother was alone, and there are no witnesses as to what my mother was offered, or what she thought she was signing.
As it would turn out, my mother did know that she was getting worse. Her cancer was spreading. She was trying to make sure that my teenage daughter and I had a safe, reliable and long lasting vehicle to get us through many years to come. My mother said she was going to have the car covered under insurance for death. That if anything happened in the event of her death, the vehicle would be paid off. The salesman knew this. I was on the phone with my mother, in his presence, and he took that information to the office while I was watching. Everyone in that office knew that my mother wanted me to have that car, and that she knew she was dying. I don't know if it was offered.
My mother received her 1st payment on the Sorento, and thinking it would be the same price as what she had been paying, which was roughly $400 a month, she is now responsible for $600 a month. That was never disclosed to her at the time of the signing, but again, it's a month later. I'm driving the car, I still need a vehicle, and I am also taking her back and forth to the hospital and doctors office, appointments, check-ups, visits, and radiation therapy, pet scans, tests, to the grocery store, and bank, and post office, to the drugstore for her prescriptions.
It's now 6 months later, and my mother has passed away. She died a very horrible, painful, and traumatic death, with her body taken over by cancer. It seems as though there is no such coverage on my new car. Not through Kia or the State Farm Insurance agency either. I went down to Kia personally. The guy in the finance department, said that my mother didn't take the life credit option when it was offered to her. Then he said, "well we haven't offered life credit since like 2010." I said "I want to see the original paperwork and contract that she signed when she purchased the car, a copy of everything that she signed and what was delivered to her." Kia response was, "Oh well, no ma'am. We don't have any of that."
Okay, so now I'm being taken around outside and looking at some used cars that haven't even passed inspection yet, and being told that for $1000 down payment, I can get into this car for under $300 a month. When I say I'm not interested in that car, I can't afford a car payment, that was why my mother bought me the vehicle, and now my mother is gone. The salesman had the audacity to ask me if I had any of my mother's ID. I said like what, he said "well, her driver's license, her social security card." I said, "Well no, I mean why." "Well can you get your hands on it." I said "well I'm sure if I really needed to I could, but why would I need it?" He said to me, "well if you can get some form of ID, we can put you in another vehicle, and put her as the co-signer."
I said, "my mother is DEAD." His response was... "Well, she's on that one." I said, "My mother is DEAD!!! You are asking me to commit fraud, commit a crime against my dead mother, and me get sent to prison, and I just lost my mother." I left the dealership, and immediately phoned my sister to tell her. I have tried to contact an Anthony at Kia in California, with several messages, and he has never returned my calls. I have complained to the Better Business bureau, with no help. I have never used their website, but it seems after you view the message they send you, and don't know how to respond to their message, it closes the case.
I will re-open the claim, with another one, if that works. I have been sent a very ridiculous little message, and a copy of what my mother signed from Mike Murphy personally. It offers me no insight to what she was offered. There is absolutely nothing showing any kind of life credit, death policy, or anything even stating that in any policy that she denied, opted out of, and wasn't even listed on the options as an offer. I have friends with bad complaints and dealings with Mike Murphy Kia in Brunswick also. They refer to them as crooks.
I had a personal friend that went to work there as a finance manager and they never would actually put him to work in that department or let him obtain and or fulfill the position, they wanted him to be a salesman. He knew something wasn't right, so he left. Every time I went to Mike Murphy Kia in Brunswick there was a new staff turnover, from the salesman, the finance department, the service department, and never once, did I see any of the previous staff members that were employed during my sales/buying experience, neither of the 2 times, the latest being in 6 months. I will continue to get my story out there. This is abuse, negligence, and taking advantage of not only a female, but an elderly, dying, sick female, and then trying to take advantage of me another disabled, single mother, female again, also.
I will contact the media, any other consumers websites, google, Facebook, my local news, and I have contracted out to sell my story to the media. I will not stop, and I won't give up without a fight. The stories and complaints on this page are all true, I know, because I have witnessed the lying, stealing, cheating, manipulation, and swindling first hand, the disrespect, the insensitivity, the pushy behavior, and the pure ignorance of the staff. Customers not being taken care of in the right way. I never got a direct straightforward answer on a price either, just the monthly payment. Go elsewhere, you are better off, if you need to have a CPA and an attorney present to buy a car, you can rest assured you are being screwed, and you will pay out your own nose for it.

I have never been treated so disrespectfully in my life, but it would take a book to write the entire experience. My biggest complaints: The salesman refused to show or tell me the price of a car I wanted, instead he insisted on telling me what my payments would be - WITHOUT even running my credit. When I told him that was all well and good, but I wanted to know the PRICE, he waved his hands and said the payment was what mattered.
When I asked for a price match for a competitor I was told I should "just go get it from them" and then asked "what can we do to get you in this car tonight." When I replied that I'd like to just KNOW the price of the vehicle... I was again waved off (as in he literally WAVED his hands). Overall the salesman was extremely rude, condescending, pushy and disrespectful. I bought a car from a different dealership the next day.

From start to finish the company did nothing but withhold information, and push. From withholding the sales price before and after a test drive, to belittling comments, forceful wording, non-stop side-stepping around questions and pointing fingers. The car was returned due to B.S. with the financial department. They ran my credit report over 14 times, only the first run was approved or asked about. They tried several different companies and in the end refused to return most all of the down-payment, threatening to call the cops if we didn't leave after we refused to sign a paper saying that we agreed to let them keep all of the down-payment due to our refusing to vacuum the car. I loved the car but I'd rather buy a junker that dies after a week than deal with these A-holes again... At least I'd know what I was getting myself into then.

Very unhappy with my vehicle. Was not vehicle I wanted. I had a 2012 Sedona I loved. Unfortunately it was totaled April 5, 2015. Wanted another Kia. But salesman was not listening. Kept insisting my old vehicle did not have side doors operated by key fob. I finally gave up and took this vehicle. Will not buy another Kia.

My wife & I recently leased a 2015 Sportage from this dealership, and we traded in two older vehicles (paid for!) because we felt it was time for something new. The process was quite lengthy given all the paperwork involved, but our saleswoman, Alicia, did a fantastic job and was a top-notch sales person to work with. Highly recommend! So, a few days go by, and I have a lingering "bad taste" in my mouth for the way everything went down with the purchase. Love the vehicle, but there were some things that seemed a bit "off" to us. Granted, before now I have never financed or traded any vehicle, since I had always paid cash before so there were no hours of haggling and offers/counter-offers like this was.
Much like buying a house! So, after a few phone calls and a visit to set things straight, and after talking to Mike Murphy himself, I am now satisfied that I got a great deal and my concerns were addressed. Mike actually went out of his way to live up to his "100% satisfaction" claim he makes on his commercials. In short, I came away with a better opinion about this dealership than I would have otherwise had. The advice I would give to anyone in a similar situation is to make sure you ASK and communicate what YOU would like out of the deal, since they need YOUR business, not the other way around! If not, you can always walk away. I will be continuing my relationship with this dealership in the future.

I'm sorry it has come to this but you leave me no choice. No one will take my phone calls anymore. **, still waiting for that call back. I leased my car in 2012 and was extremely happy. Kept my car in mint condition and then when my lease was up, came back to Mike Murphy KIA to purchase the car. Waited. And waited. Eventually ended up leaving because "they were still printing off the documents" turned out to be them printing off another person's documents. That's fine, it was the weekend, only one finance person there. Did I mention I lived 6 hours away and the Kia dealership where I lived didn't want to honor my 0$ purchase option stated on my lease agreement which is what brought me back to Mike Murphy to start with? Got my car tags, new bill of sale and off I went.
Curiously, never received anything from Kia about paying my first payment. Called up Kia, can't get a hold of **. "They're with a client right now" or "They'll call you back in a few minutes". Then the kicker, KMF sent me a bill for the disposition fee. Disposition fees are the fine you pay when you just return your leased car. Called up KMF, Mike Murphy KIA never sent in my Bill of Sale. Okay, I'll do their job for them and send in my paperwork. It must be a theme because a week later, another statement saying I still needed to pay it. Tried calling ** but no one wanted to answer or call me back. Called up KMF AGAIN, they never received my fax yada yada emailed it in, boom. Confirmation that I did indeed purchase my car and they took the fee off my name.
As time went along, had to get my tag transferred from having been leased to being purchased. Drove down to the DMV (and visited family, have to make the most of these 6 hour trips) and lo and behold...the title hasn't been released. **, any help? Still nope. Called a lovely lady and she assured me that KIA would pay for the fees for the title not being released and having to get a 2nd temporary tag. Welp, my 2nd temporary tag EXPIRED and STILL NO TITLE. **, Why me? The sooner you help me solve this problem, the sooner I'll stop calling and calling and calling. This all started March 17. It is now June 10. It should not take OVER 2 months, multiple phone calls and rotten reviews to get stuff done. Will you pay for my rental when my last temporary tag expires in 3 days? Next step, the BBB. Again, hate to do it but you literally leave me no other option.

I went in on Friday June 27, 2014, sat there for 3 1/2 hrs, to be told to come back 24 hrs later to get the car I was trading mine in on. Arrived at 25 hrs later, tried to speak to the finance manager when one of the salespeople started getting in my business. I spoke up and ask him to stay out, only for him to start cussing at me. I called Glynn County police out there and explained this person was cussing at me and raising his voice to me in a showroom full of adults and children. My advice STAY AWAY FROM MIKE MURPHY KIA.

I bought an extended warranty and Mike Murphy Kia cashed it in and kept the money. They said that they reinstated it but didn't. What a big mistake for buying a Kia in Brunswick, GA...

I went to this dealership looking for a reliable and affordable car for our growing family. We don't have the best credit. It's not bad, just not excellent. We stressed the importance of the things we were looking for in a vehicle - safety, reliability and fuel efficiency. While looking at vehicles, we were being bounced from one salesman to the next having to re-explain everything. This took well over an hour and a half. The first thing that sent off a warning sign in my mind was the way the employees were driving the cars. They were speeding through the lot and braking at the last minute. We stood there watching vehicles get whipped around corners going entirely too fast with tires squalling. Why would you want to buy a product from somewhere that was ragged out before we even owned it?
One of the salesmen was lethargic, unenthusiastic and acting like we were a waste of his time. Especially once he ran our credit and saw that our score wasn't perfect. He then gave us over to an older African American gentleman. This guy was the pushiest man on the planet. I know he saw a young family (in our 20's) and figured he could take advantage of us because we were young and gullible in his eyes. This man would get directly in our face when talking to us. We were constantly backing up. He demanded that we buy a brand new Ford Fusion. We insisted that we were not interested in that particular car.
He then became physical - standing in my husband's face literally poking him in the chest, telling him that if we didn't buy this car we were going to be sorry. That this was the most reliable car out there and any other car would leave myself and our small children broken down, stranded on the side of the road. He legitimately was poking his index finger into my husband's chest while getting in his face lecturing him! Who in their right mind tries to sell a product that way?!
After requesting that he not be touched again, my husband told the salesman that the price was too high for a car we didn't desire at that time. The salesman then said, "I won't take no for an answer." I tried to decline as politely as possible and told him that I would look at our budget, be in touch and that we were now leaving. He then demanded to know what our budget was, what utilities we had, what we paid for them and then began to recommend that we discontinue our television and telephone service in order to pay for this Ford we weren't even interested in. By this time, we were all very tired and turned off by this dealership and wanted to leave.
We went into the dealership to get our keys back and (I know they're going to omit his name so let's just say that his name is the actual name of the dealership, he's the owner) approached us. Apparently, the hard selling salesman had went to the owner and told him our situation. He asked us what our budget was like again. We explained that we were in the process of paying off our home, that we would be done within the next 6 months and weren't able to do a car payment and a mortgage at this time (which in all actuality, we would be fine. We were just desperate to get our keys and get out of there!). Then the owner stated that he would then pay off the remaining balance of our house for us. Excuse me? We told him we were more interested in getting off his lot! If you buy a car from this dealership, you are a plum fool!

I went to purchase a Kia Optima 2012. I never could get the same salesman. They promised free lifetime maintenance but then said it was an additional cost when signing papers. By far the worst service ever in sales department. [Name Omitted] seems like nothing but an ignorant warm body to have the position as manager who just tells you whatever you want to hear to get you to buy a car. I noticed many unhappy service customers who were waiting and said they were promised similar deals and afterwards there was no evidence of free maintenance, that they have to argue with [Name Omitted] every time in order to get what was promised by him or salesman.
Thankfully, he is a pushover and always gives everything away to avoid confrontation but you shouldn't sell cars with lies. They have a huge turn over in employees. Every time I called or visited, there was someone saying, "It's my first day, week, etc." If you can't even keep employees, that's a good sign your business is poorly managed. Needless to say, I bought from south side. I wouldn't recommend [Name Omitted] to my worst enemy. I also noticed many salesman, including [Name Omitted] that seemed to be under the influence of either drugs or alcohol. I'm not sure which but a handful of them just seemed off. [Name Omitted] had visible signs of agitation and bloodshot eyes. I'm a drug counselor. I recognize signs of drug abuse. Another reason I don't trust that place.

I am writing in response to Mr. David's complaint below. The story does not exactly match what transpired. Mr. David was asked if, not accused of, hitting something. Even though evidence points toward the car having struck something, our service manager Ted and the rest of his department worked with Kia to get the initial complaint covered under warranty. As for the additional required work that would not have been covered, it was done for him at no additional charge. Mike Murphy Kia went above and beyond what was called for to take care of Mr. David's situation; I wish that he would a fraction of the time he took blasting us on the internet to say something nice about the service he received.

I had my 2007 KIA Spectra EX blow a seal in the "rack & pinion steering" inside and underneath one of the "boots" covering the seal that had blown, so it was not visible to see. I had to pick up my wife in 4.5 hours from work and this is our only transportation we have. This blew while filling the system with fluid after hearing the power steering pump give that noticeable "wining" sound which is a dead give away your system needs fluid. I proceeded to fill reservoir 3 times and it was being sucked right down and was amazed!. After the 4th fill, I looked under the vehicle for a possible leak, but seen not a drop. I then heard a faint "POP" as if a small balloon was popped and oh boy, a river of fluid all over my concrete appeared with smoke off the back of the motor also.
I then, of course, shut down the vehicle, tried to locate exact area where leak was coming from and could not as fluid was everywhere just dripping like hell. I then moved vehicle onto the grass and got my ramps out, again worrying about my poor wife, being stuck at work and no ride home! I pulled the car onto the ramps and asked my son to start it up and immediately seen fluid pumping out through a hole in the boot on the rack and pinion steering system on the driver's side. I was like, oh boy, and I came back out and asked my son to go get neighbor for some assistance as he worked on cars for folks as was in fact pretty handy at doing that. In the meantime, I crawled back under and removed the wrong boot from CV joint instead of rack and pinion steering shaft and realized it after I removed it. It gently came off without difficulty, but did not want to go back on, so I quit trying and located correct boot, seen hole in boot and stuck screw driver head inside hole to make sure I had correct spot, which I clarified. The neighbor then appeared and I explained what had happened. He said apparently seal was leaking and every time I filled reservoir, it leaked from seal into the boot and filled it like a water balloon until it couldn't take any more pressure, then blew out.
He said it was a difficult fix and probably 3 days for him to fix it, I was like, Oh my God and thought, my wife is gonna be upset for sure!. My KIA has only 32,000 miles on it! Well, neighbor said, check your warranty and see if it is still under warranty and if so, take that route as it should be covered. It was late, so I waited till next day and looked at my paperwork and called Mike Murphy KIA also to verify my warranty and coverage, which they said it was covered. Boy was I happy, but not for long though! I then called road side assistance and even got a free tow to Mike Murphy KIA from Waycross, where I live to Brunswick, some 67 miles away from me. Again, I was happy! Called dealership and told them the car was on the way and they said fine we will look for it to arrive.
Got a call later from them and said it had arrived. Got another call later that afternoon and the fun began! They stated we hit something in the road and caused the damages and it was not covered. I had told them the whole true story during my first phone call to them. They said, no, it happened from something hitting it from the road. I explained, no way and asked them to put fluid into reservoir and they will easily see the fluid coming from seal inside boot and this would prove my story. You would think the technician "Ted" would have thought of this himself, but no, instead he said to fight with KIA myself and call my insurance company and file a claim! I was like, you are kidding right? He said no and that ended that conversation! Basically, I was a liar and not put with his supervisor or anyone else nor offered. I then called back to dealership about 45 minutes later after arriving home and had one hell of a time even getting an answer at the dealership excerpt for sales dept only!
Finally, I reached a voicemail for "Mike Jr", the owner's son and left a message. After about 1.5 hours, I did get a call back and he listened to my story, he then said he personally, would investigate and call me back the next day due to it being after 6pm. I never received a call back from him and waited 3 full days to give them the benefit of doubt!. So, for 3 days I hadn't a clue about my vehicle! I did get paperwork from Gov's office consumer complaints office and file a complaint. I did get a call on day 4 and was told by KC, the service supervisor my car was gonna be covered for all the repairs, although happier, I still was feeling no trust for the dealership and called KIA Motors complaints office anyway and spoke to them for a second time and told them of my situation. I then spoke to dealership the next day and was informed the parts should be in on Monday and the car done by Wed.
I was also told the CV boot needed replacement as well as the CV shaft and was 641.00. I was like, no way, there is no damage to the CV boot or shaft whatsoever and to just put boot back on for me. KC said it was torn up and I said, you must have done it then. He said, we have pics. I said you got my car, so you got me, there is no damage. He said, if I didn't do the boot and other repairs, I would be given no warranty for the rack and pinion steering seal which required the whole system being replaced and was over 2,000.00. Two Thousand dollars.
I was in shock, KIA makes no seal to fix this! He said no and now I was being forced to fix something else that had no damage when it left my house and all of the sudden does at the dealership, or I get no warranty at all for any repairs! Now I knew what "Mike Murphy KIA" of Brunswick, GA. was all about, liars and cons! Please! Do not buy from, nor take anything you own to them! You are asking for a nightmare and horrible customer service from a gang of legal thugs. They are common criminals is all! I urged KIA to drop them from them, being an authorized dealer of their product and filed a complaint on my file with them. I am going with the media soon as well as filed with the Governors Office also. Please, stay away from this dealership, if I can save even 1 consumer the grief, I have accomplished my goal.

We had to buy a truck and we don't have the best of credit. The truck was 10,999, however Mike Murphy said no one would approve us unless they went up on the price. Truck went to 16,999, then we had to buy this sorry warranty that we didn't want and again it was told that we had to have it. Come to find out none of it was true. They knew we needed a truck bad and took advantage of us. Don't shop there!

I purchased a Kia Amati from Mike Murphey Kia on Dec. 29 from Mike Murphy Kia in Brunswick, GA. Mr. Murphy promised as part of the negotiations to pay $333 on my insurance cost. He said his check writer was not there that day and he would mail it the next day. A couple of weeks later, he said the check was supposed to come from Kia in Kentucky. Last Wednesday, I went back to the dealership and he said again that the person who writes checks was gone and he would mail it on Thursday. He didn't. Obviously, I have a con artist on my hands. I may get gypped on this one but if I am, neither I nor any of my friends will shop there again. I will see to that. Loss of $333 and cost of two round trips, 80 miles each, from Jesup to Brunswick and back.
Mike Murphy Kia Company Profile
Company Name:

Mike Murphy Kia

Website:

http://www.mikemurphykia.com/