Napleton Chrysler Jeep Dodge
Kissimmee
Consumer Reviews and Complaints

Don't go to Napleton Chrysler! You will be sorry. My husband made a 7 am appointment for inspection and radiator flush, arrived there at 6:30 am was the first one there. They opened, checked him in, gave him a ride to Bob Evans mall area, picked him up at 10:00 am. They hadn't touched the vehicle, told him that they didn't have an appointment, now why would they drop him off anywhere, excuse me but they don't know what the ** they are doing, he ended up being there all day. I could go on and on, what a nightmare, we will never give them our business again and you shouldn't either!!!

Dishonest sales practices. Lied to our face about our credit scores. Falsified income for lenders (caused a bank to pass at another dealership). We went to the dealership right next door and the credit scores were much higher and lined up with the free credit report numbers. Spoke with internet sales rep, informed them of all pertinent information (how much owed on trade-in, approx trade-in value per other dealerships including Chrysler, and approx credit score). Specified payment needed and was told that it was possible and we will get as close to that payment as possible. Drive an hour to get there and they tell me I need to put down a substantial amount of money and my payment would be almost $200 more than what we had agreed on this with the down payment.
The salesperson lied about my credit score, said my rating was almost 100 points less than it really was. Stated my "highest score" was less than my lowest score. Attempting to get me to pay more than we discussed. The company also falsified my income information for lender information. Then after calling to discuss my dissatisfaction was told that they would leave a note for the GM the next morning when they got in. Of which there is no record or notes about my call and they were not aware, and was never called back. I then spoke with the sales manager who said there was no income information sent to the banks (yet they ran my credit and made me waste half of my day 4+ hours there awaiting banking information that apparently never was sent). Coming from a major dealership this is unacceptable and they should be held accountable.

I delivered my Dodge Ram 3500 for service due to display on dashboard indicating problems with DEF. Next day I received phone call from my advisor Julie that I need whole DEF line being replaced and it will cost me $3400 which I was not able to pay. Then I was asked - how much I can pay? So this is an option I asked? So depending on how much money I will be willing to leave with your dealership you decide what is wrong with it? When I refused this service during my visit at the dealership I had confrontation with very arrogant young rep who told me that all phone calls are recorded and that they have me on tape that I accepted the price and in that case I will have to pay for restocking fee (30%). When I declined - I was asked to another room to talk to another Service Manager who forced me to accept the deal.
I left totally disgusted and felt that basically they treating me like their own slave that they can do whatever they want since they holding my car hostage. While I had talk with that Charles - I was recording him because I want to have proof when he admitted that this dealership records all calls without anybody permission but he walked out of his desk and in threatening manner told me that he will call police and have me arrested if I will not erase the video. This was one of the worse treatment I ever received in my life!

Our sales person was very professional and friendly, the only thing good. We feel like they overcharged us in dealer fees and other junk fees. We made the huge mistake of not reviewing the financial paperwork there. Big mistake. Paid over $2000 in just junk and dealer fees. Very bad. A car that was priced at $8100 ended up costing us $12000. Be aware of this dealer financial people, all of them in general. I have never seen so many junk fees together. Will never buy a car there again.

I scheduled service for my car on Saturday morning. When I arrived for my appointment on time, there were a number of cars ahead of me. A gentleman in a red shirt stated someone would be with me shortly, and he would let someone know. As I waited, the cars were taken in order and he kept "Thanking" me for my patience. After 35 minutes, he said he would get the Manager. No one came, no one other than him even acknowledged that I was there, and no one seem to care one way or the other. After waiting 45 minutes with this kind of treatment, I left with a wasted two hours. DO NOT MAKE AN APPOINTMENT! IT DOESN'T MATTER TO THEM! The Service Manager runs a very unprofessional/non caring shop, and you know if the team works like this, it comes from the top. Maybe I'm lucky they didn't work on my nice car. FIRST AND LAST EXPERIENCE! DO NOT GO THERE! TRY ANOTHER SERVICE CENTER!
How do I know I can trust these reviews about Napleton Chrysler Jeep Dodge?
882,235 reviews on ConsumerAffairs are verified.
We require contact information to ensure our reviewers are real.
We use intelligent software that helps us maintain the integrity of reviews.
Our moderators read all reviews to verify quality and helpfulness.
For more information about reviews on ConsumerAffairs.com please visit our FAQ.

If only I could give a zero star rating. Let's begin, they posted a price for the car I wanted on TrueCar, it was the correct color I wanted but was less equipped which I would have been fine with however, it became a giant mess when I walked through the door, and when I had arrived and asked for that car they tried to sell me on a Chrysler 200 instead, claiming that the Jeep Renegade had a recall on it, which was not true. After they finally put me in the car I wanted I showed them the TrueCar price and they preceded to tell me that price is fake, and doesn't include taxes or dealership fees which TrueCar states on its website that it does include dealership fees and taxes. The TrueCar quote was $24,237, and they at first offered me $29,987, then when I brought up the TrueCar price again they went in back to "talk". I sat at the desk waiting for nearly 30 minutes before I decided to leave.
At that point they began calling me non-stop and begging me to come back into the dealership saying they will give me a better price, I told them no and to send me the quote over the phone which they finally did. The quote was $27,120 which was still nowhere near the TrueCar price, so I told them to get closer to the TrueCar price which they flat out told me would not happen. Therefore, I went back to Posner to get the car that was more equipped and for the same price. Overall, they tried to bait and switch me, and given me a price that was the same at another dealership for a less equipped car. In the end I worked with Emilio, and I will never shop at Napleton and never recommend it.

We saw a Dually truck that was on their website we called and were told "Yes come on in and we can help you." We called and I realized the truck was in Clermont but they were trying to get us to come to Kissimmee lot. I called and said "Why would I go all the way to come see me when we live in Ocala and Clermont is closer." I spoke with Sheena and she put her manager on the phone and the manager informed me that she couldn't call the other one which is the sister company to let him know we're on our way. We arrived at the Clermont lot and sat there for two hours with the salesman just to be told by the manager that the truck we were looking at was not financeable. So how is it you have a truck on your website that does not say cash only and not only that the salesman has no idea that that truck is not financeable. I was very upset and left the Clermont lot.
The next day my husband received about 6 phone calls from the Kissimmee location saying "Oh we can help you. We can get this done. We will get you a Dually. Will get it financed. No problems." So on our way to Kissimmee Bob called us and said "Hey we can help you blah blah blah" and I informed Bob that I did not want to make a down payment and I did not want my payments more than $800. If he could not do that do not waste my time and do not waste my gas coming all the way to Kissimmee. He said "No problem. We can help you. We're going to get you into a truck today tonight."
Then we showed up yesterday evening about three and a half hours there then we got introduced to Jacob and Jacob who informed us that "We can help you. We're going to get this. No problems" comes back. We waited a while he comes back down and it says "Wow okay. Well you know we can't take your trade you know take your trade off at any" just went back and forth and then "Will we need to add you on" and then we finally at almost 9 o'clock last night said "Okay will look the commercial department close but you know I'm a good guy. Just as saying that it looks good we should be able to get it done in the morning. We will call you first thing in the morning."
So now this is the next day. We waited. About 1 o'clock today I called talk to Bob and said "Okay Bob. What's up. Nobody's contacted us nobody told us anything", he said "I'm sorry. That One Bank didn't quite approve you and we gotta call some other Banks" and I was like "Okay. Well you couldn't have told us something." "I'm going to call you back soon." Then no phone call again. At 3 o'clock I called Bob back again and Bob saying "Oh I'm sorry. You know we still haven't heard anything back" and at this point I said "Bob look. I told you don't waste my time that I could be a pain in the butt. I told you don't make me waste my time and my gas coming all the way up here." "Oh I'm sorry. I'm going to have Jacob call you alright."
We waited a while 4 o'clock still no Jacob call so I'm calling back and while I'm calling and trying to get Jacob on the line I get another call on the other line from Bob, Bob says "Hold on," he put Richie which was Bob's do boy (Richie was very nice and helpful). He puts him on the phone and he's really nice and he said "Oh well Jacob with busy and he wanted me to call you and to tell you we're sorry we couldn't make things happen but we may have this other truck" and I said "Are you serious. Nobody called me all day. I had to call twice and now I'm done. I do not want to call from you."
This is the worst dealership I've ever dealt with and I don't recommend nobody and I mean nobody to ever deal with them. I can see why this company has so many negative complaints on it. Don't ever do business with this place. They send a bunch of generic emails with no personal touches. Nick the general manager even sent a generic email. They are so concerned about selling a vehicle that they don't treat people bad and waste time and gas!

The dealership is very misleading. Do not believe what you see on TV. They are rude and unprofessional. The sales manager is not a people person and do not have any people skills. Please do not waste your time with this dealership. You can go to a buy here pay here dealership and get better service than Napleton Chrysler.

I visited the dealership yesterday and test drove a vehicle. I was very disappointed with the service I received. The salesman was very helpful. Not extremely knowledgeable but he was new to the dealership. He explained what. Now to the sales manager - he was very rude, argumentative, condescending and very patronizing to me. We had discussed figures and I felt we were very close and the sales manager went to discuss with whomever he needed to and then came back with the original figures plus additional charges. Now these additional charges - they tell you that all vehicles come with a free key replacement up to 2 years. Now on the paperwork this is listed as an option. There is a charge for this. This is listed as an option. Wouldn't one reasonably think option means I have the choice whether or not I would want this? This is not an option. It's mandatory even though it's listed as option.
Then he wanted me to sign a piece of paper with what I was willing to pay. This seems very childish and unprofessional. I understand there is negotiating in any deal but these standards that your dealership use are not what I feel is appropriate business standards. I felt like the time I spent there was a waste of my time. So for as wanting to return to your dealership or referring anyone would never happen.

I'd been looking for a Jeep Wrangler for over a month. I came across an internet ad on Napleton, Northlake Chrysler/Jeep/RAM website that interested me. I called the dealer to see if the Jeep was still available, and spoke to "Don" who assured me the 2014 Jeep Wrangler Sport VIN#** was there. We asked him if the picture on the ad was the actual vehicle, because the tire size didn't seem to match the description they had. He said to hold on, he'd go out and LOOK. A few minutes later he came back and said that it had 18" tires. I told him it was a 3-hour drive (one way) from Cape Coral to Palm Beach Gardens. He said no problem, it would be there waiting for us.
As we were leaving to drive over, we texted him to say we were on our way. We also texted him again when we arrived. We didn't get any response back either time. A young guy was standing outside the front door as we walked up, and introduced himself as Jason (or Justin) who had only started working there 2 weeks before. We said we were here to see Don. We walked inside with him and he said he'd find him. He returned a few minutes later saying Don was at a doctor's appointment, but HE could help us. We showed him the printout of the ad and he told us to wait so he could locate it.
After 15 minutes of waiting for him to return, we walked out into the parking lot to find it ourselves. There was only one jeep in the lot and it wasn't the one we were there to buy. Jason came out with a manager (DJ **) who told us the Jeep in the ad was sold earlier that day. We wanted to know why DON didn't tell us that when we had called, or texted us back to save us the long trip!! DJ said he didn't know why but "it's gone... it happens, but we can give you a deal on this other Jeep" (which we were standing next to) and tried to hand us the keys and said "take it for a ride." We wanted to look at it first, and opened the doors to find the interior completely worn and trashed and the carpeting basically thrown in (not original).
This was a jeep that supposedly only had 12,000 miles on it! We asked to see the CarFax, which had no record of ownership prior to 11,000 miles. The first entry was the AUCTION that Napleton purchased it from. We suspected that it was previously a RENTAL Jeep from one of the Caribbean islands, which we'd been finding often in our search for a low mileage Jeep. We didn't bother taking it for a ride and thanked them for having us drive 6 hours round trip for an obvious BAIT and SWITCH SCAM. We wasted our entire day (and gas) 300 miles round trip for nothing! We would NEVER recommend Napleton, Northlake CDJR dealership to anyone interested in buying a car.
These people knew all along that the Jeep in the ad wasn't even on the lot and made it sound like it was. Don't trust anything they say, they outright lie to you with no conscience whatsoever. CHRYSLER SHOULD BE ASHAMED TO HAVE THEM AS A DEALER! The following is the email from ** after our phone conversation:
"My name is Don **, and I want to personally thank you for your recent inquiry with Napleton's Northlake Chrysler, Dodge, Jeep, and RAM. Please know I am here to take care of anything you would ever need during the decision process. Although I am your Internet Sales Consultant, I am also your personal concierge assistant for the General Manager. It would be my pleasure to answer any questions you may have at any point. I would like to set an appointment and have you visit our beautiful showroom. Sincerely, Don **" Please don't bother responding to this complaint, Stacey ** from Napleton. It IS what it IS and there's nothing you can do to change what already happened.

I was interested in a 2015 ram sport truck. Found 1 in Miami for $4000 less than Kissimmee. I happened to be in for service and the tech told me to call sales and talk to Sheena. She referred me to Mr. **. I explained that I had a written offer good until Monday. He told me to come in that day at 8:30 pm and he would meet or beat the price I had been given. I arrived at 8pm and called **. He was not there and told me to go in and ask for Jason. Jason was busy so I was turned over to another salesman.
No one knew anything about my conversation with **. The two salesman laughed when I told them ** told me he would match my price. They wasted 2 hrs of my time. Just walked around and came over once in a while and said the manager was working on the figures. Never saw any figures or ever saw a manager. I should have known better. Napleton has a very bad reputation for not only sales, but service as well. They just lost a 12 year customer. Do not go there for sales or service unless you have prior sales experience (like I do). They will use every trick in the book and try to tire you out. If they keep your keys leave and go outside and call the police. That tactic is illegal. Let's turn the tables on this dealership. Do not go there!!!

My husband and I bought a new Dodge truck last year and circumstances took us out of state. We received a check (tag refund) but weren't able to cash it within the 90 days as required according to the front of the check. After numerous calls to get help in reissuing the check, I was unfortunately connected with Kathy **. She was so horribly rude and condescending. Her tone was nasty and not appreciated. She has no clue what my circumstances were. There was no need for her nastiness and I certainly don't deserve to be treated so horribly. I simply asked how to get a check reissued. Prior to dealing with this person I would have recommended Napleton. Now, however, I will spread the word that service after a purchase is a nightmare.

My daughter and her boyfriend drove 4 hours round trip to see a car. Skipped college classes. Had CASH. Jacob ** told them he will knock off $100 from listed over the phone, more when they show up $13,300 was listed price. That is why they went. FOUR hours there told "sign here" and Jacob ** who says to me he is owner on the phone AND to them in person, he owns the dealership... they agree to $15,000 out the door. THEN Jacob says NO!
Hours later we get a call from another salesman (Edwin) who was with Jacob during the call. When my daughter's boyfriend answered he had him on speaker phone. We all heard Edwin say to Jacob, "I am calling the Asian." Edwin, then asked if we accepted the $14,000 out the door offer?? NO, Jacob ** declined $15,000 CASH, what does he mean $14,000? Salesman Edwin, seemed confused and said owner/manager was not even there today! NEVER GO THERE... ** lost $15,000 cash... Great salesmen, huh? Next day, Edwin calls 4 times, leaving voicemails to call him back "great news", they went up $15,5000!! WORSE Dealership. LIES, GAMES!! Do the math, Jacob and Edwin can't!!!

The service department is terrible. I took my jeep (40k miles) in with clutch seeming to be going out. They wanted to replace clutch and brakes for over $4k! Well, I said I don't have $4k and I am taking it somewhere else, I got so much crap from them, first trying to see where I was taking it. Next, how much was I quoted elsewhere, then they started lowering their quote. I had to wait an entire day to get my jeep back after I declined their recommended services. I took to local garage and it just needed brake fluid--clutch uses hydraulics with same fluid as brakes. Napleton's charged me $147 for doing nothing but trying to rip me off.

I took my 2012 300 into Napleton when my ABS and traction control lights came on. They diagnosed it as a faulty wheel speed sensor. They didn't have the part.
I was told it was safe to drive by the rep although he noted that the ABS system would be inoperative as well as the cruise control because the car would not know what speed it was traveling. Three days later as I attempted to brake for a stop sign, the car lunged forward and I was propelled into the median and hit a sign. I required a rental car and a new bumper and the replacement of the specialty grill. Napleton and Fiat LLC has refused to reimburse me - indication I should use judicial intervention. Expert opinion from other Chrysler dealers has indicated that the car was unsafe to drive. These guys at Napleton should be avoided as I was lucky that there were no injuries.

Very shady business going on here. Typical dishonest sales team all the way down to the CSRs on the phone. Drove all the way out here for a car that wasn't even here, after I was assured that I would be notified if the vehicle was sold. Ended up in a car I didn't even want for an absurd monthly payment. Every time I am told one thing on the phone to get me down here upon arrival the game changes and I'm stuck here all day waiting for them to sort it out. I can understand a few mishaps, but after the initial scam just to get me to travel this far for a vehicle I didn't even want, I would assume that you would try to make up for it with good service. That is absolutely not the case. The hassle continues even still over things like programming my keyless remote.
I would not recommended this dealership to anyone, especially if it's a far drive for them. If you're going to get swindled, at least do it closer to home.

Vehicle backed into my fender and door. Insurance estimated 1500. I asked to have the rest of my car done as well bodywork and repainted. My hood was not damaged in accident but there was rust on the left front edge of hood and dents on both sides near the windshield that I went over with the manager. They kept my car for 1 whole month. From the end of march till may 2014. It cost me 3,500.00 more. I saw there was a problem with the hood, it was painted but still had dents and rust.
The manager at that time said when we finish fixing your 2 front doors we will do hood. Front doors were out of line. When i went back that manager was no longer employed there. The new one said ok i will have it done. I showed him the dents and rust. When i got it back on a Friday 5pm it was pouring rain. I got sick for a few days and i took my car to maco for a rust hole on left rear rocker panel. When they finished i went back to napleton lakeworth. Now that manager was no longer there and they had their corporate guys running the show, one of whom was always there from the beginning. I showed him my hood and he said "i need to see bill." In short he lied, and just gave me a runaround that they were not responsible because it was rust and rust can always come back. I said "but the rust that was fixed did not come back, and this spot was never fixed." He tried that double talk crap. He would not agree to fix it.

I enquired at my local Napleton Chrysler Jeep Dodge dealer in Clermont Florida about the availability of Ram trucks at the dealership, and I was sent various options via email by **. I narrowed my choice down to 1 vehicle and called ** to arrange to test drive the truck. The truck I had narrowed it down to was a Dodge Ram Laramie. When I arrived at the dealer a salesman by the name of ** greeted me, problem was we could find the truck I had come to see, the advertisement I had with me showed a truck with side steps, well eventually I was told by ** that the truck was here but without the side steps, they had been taken off and sold to someone else.
After the test drive, I did purchase the truck at full asking price, and was promised by ** that a replacement set of side steps would be installed at a later date, this was a standard feature on this truck. Well it is now 4 months later and I still do not have my side steps and after numerous calls to the dealer and Chrysler I have nothing but excuses. It is typical of cars dealers, they tell you anything to get you to buy, but once you've purchased you're a nobody no thought to having a customer for life, just grab what you can now. Very poor and all for a couple of $100.00. Funny thing is they asked me to have my truck serviced there last week, they could have had their money back from the side steps in charging me for the service, idiots.

Worked three weeks to purchase used van. Got there to find a POS. Had negotiated price, and drive 3 hrs to look. Eric ** destroyed all confidence in any credibility. Told vehicle was inspected, no issues - vehicle was poor at best. GSM, Nick **, did listen, but poor make it right. We showed with cash and trade, worked three weeks, calling to ensure we left with two cars. All lies, deceit, and justify their bad behavior on poor choices. No formal training required in this field, and it shows! To give a one star is painful, 0 stars is closer.

We test-drove 2015 Town and Country. New car was to have electronic adjustable brake/gas pedals. While trying to finalize deal someone else purchased that one. So they got one from their other dealership nearby. Picked up car next day and went to get things ready for me to drive and found no adjustment! Have called numerous times and finally told today, "SORRY CAN'T do anything." OH and it's a USED car now! Can you help?

I didn't how many complaints about this dealer. If I know before, never step over there. I went for service and warranty issues and really disappoint with the way they handle. First you make an appointment for 9:30 am week in advanced and they confirm by phone and by email. Then when you go there sharp for your appointment, who have to take care is not there until 30 minutes later. If you want experience bad handling issues with your vehicle and ready to see angry people, go there. Apparently they charge for smile because looks unhappy personnel there. The Service manager is very rude and nasty so not expect much about him. I had some issues and concern which they not even care. I will go to other Jeep dealer to get my service which are more careful with your vehicle and service. Stay away from them.

We purchased our 2014 Dodge Journey 3 months ago... The internet price was not honored, however they gave more for our trade to reach the price... So we set down to do the deal with Edwin... Everything was going good. So while my husband wrapped up the deal, I went to transfer our items to our new car... This is where things went "South"... Before we could finalize the deal, the salesman had wrecked our 2007 black Chevy Malibu in the parking lot of the dealership. At that point I ran inside to tell my husband and the finance guy said well it's our problem now and guaranteed us we would get financed and the payment would not change. So we completed the deal and was ready to put our reliable chevy behind us to start our New Journey in our brand new SUV...
Well the Journey was short lived, we have spent more time trying to find out what's wrong with our new SUV than I would like in these past 3 months. Today will be the 3rd time the Malfunction Indicator Light [MIL] has came on. Each time they said we found the problem and you should be good. This has been a disaster for our family. When something like this should be exciting, it has left us speechless. We are at the mercy of waiting to see if they can resolve the problem, but who wants a car with problems that you purchased for over $27,000... The laws are designed to protect the dealerships and manufacturing companies and not the consumer. We are headed there right now, me and my two little boys, to leave our car and pick up another dirty filthy loaner car, you would think they would take the time out to keep their loaner cars clean. Praying for a resolution.

I bought a 2010 Jeep Liberty Renegade in 2010. I had an oil leak for over one year which I returned it numerous times and they said oil filer loose. I took it to a private mechanic and he said they were not tightening the oil filter enough as it is in a bad spot and the mechanics are too lazy to drop skid plates to do the job properly. I always hear a knocking sound, Rod bearings and crank bearings noise, at cold starts. They told me normal as they all do it excuse. I once again took it to a private garage and they also said at cold starts the engine would be going soon and take it back to the dealer which I did only to have them say normal.
I had to replace the rear rotors and pads every 9000 miles and they told me that was normal too. I went to a brake speed shop and they told me the rear brakes were too small for the increased weight of that year. I even called the MFG and they said that was common for them to wear that fast and they don't make it anymore so I was just stuck. The gas mileage also was 9 MPG. Never own a jeep. I would never and advise others to never buy a vehicle from this company as they never stand behind the product and makes excuses not to repair it unless it is broken and towed into the shop and even then they look for excuses to blame you for it... I bought a Nissan at Mid-Nissan and am very happy. The service department is nice and they know how to treat customers.

I went to dealer to do an oil change. I have been their customer for over 4 years 3 cars from them. Salesman comes to me, his name is Edwin offering me a Chrysler 200 touring with a 5500 rebate so that will help me to pay off the balance on my older car. I made the deal so when I go to do paperwork in financing, they told me bank gave me an interest of 6.99 but if I get gap with them they can lower that to 5.85. What an unprofessional people at this dealer. Before I got the car I told them car is very dirty, I want it cleaned. It came back nasty and scratched and noticed wax in top of the car. On a brand new car 2014 with 42 miles on it. I will never buy a car from there even my family are upset about all the situation. Came back inside and told them I don't want the car and got stuck with that car. So I will not recommend this dealer to anyone.
Another thing I found out and no one told me at dealer my car is 6 cyl plus is flex fuel I noticed when I put fuel for first time. I came back next day because manager named Nick told me he will do a better deal with me and let me exchange car. He was very rude, stupid and told me that what I'm doing in a dealer without down payment when I told them since I started and he asked me for 3500 so I went back to parking lot to find a cheaper price car with 2000 dollars less on cash back and he wouldn't let me do the deal, saying bank will not approve it. What an **. Anyways not going back. Third car I got from them and last one. Thinking that I have been a customer for so long and treated like nothing. Plus they altered my application info to get approved, that's another thing I noticed when I called the bank I got approved. Now I'm stuck with a car I don't want for 7 years.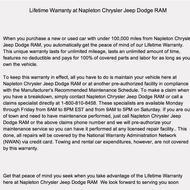 I went to Napleton to purchase a new Jeep. The Jeep I wanted was listed on their website for $40,353. I asked them to come down just a little from that price and get back to me with an sale price that was inclusive of "all fees" except tax and tag. They came back in writing with a price of $39,680 plus tax and tag, and told me that included the "lifetime warranty" for $425, even though their website clearly states that "every car purchased from Napleton come with the lifetime warranty. I told Rich, the sales rep that I was looking at other Jeeps and would get back to him. He warned me to be careful of "other dealers" as the price they say they will give you is often hundreds or thousands below what you end up paying for the car when they add in their "additional fees" and, to make sure I was matching the "final sales price" against his "final sales price."
I used the price of $39,680 in my car search and drove all over Central Florida to dealerships matching their Jeeps, and I could not get the exact Jeep within $1000 of that price. I called Chad **, the ** at Napleton, and told him to get the Jeep ready and we were coming to pick it up. I asked him to confirm the final price of "$39,680 plus tax and tag" and he said, "Yep, $39,680 plus tax, tag and dealer fees." I explained that I already had a final sales quote inclusive of all fees at $39,680 in writing and he proceeded to tell me that the fees included were for "etching $369 and key replacement $299." Two services I was never made aware of at all. He refused to honor the price I was quoted in writing and said in writing:
"Jeeps have a turnover rate of 23 days, if you don't buy it someone else will."
When asked about the price I was quoted in writing by text from the Sales Rep and presented him with, he said:
"Prove it. Show me an official quote sheet with that price signed by the Manager."
I contacted Chaz twice more offering him the opportunity to resolve the matter fairly and he declined to respond. I then contacted the Owner of Napleton and he declined to respond. Besides the classic "BAIT and SWITCH" pricing tactic they used, the additional problem I have is that I could have bought the same Jeep weeks ago at another dealer, but they were $500 over the price I was quoted by Napleton. If Napleton hadn't defrauded me, I would have purchased the Jeep at a lower price than Napleton's final price.
I believe they purposely used FRAUDULENT PRICING TACTICS to keep me from buying from another dealer and draw me back to them. I searched the internet for information on Napleton and found LITERALLY TONS OF COMPLAINTS from other customers complaining about DEALER FRAUD, PRICING FRAUD and FALSE ADVERTISING. In fact, at the BBB, I found that the government had filed an injunction against them for false advertising. When I first called Chaz, he told me he would "hook me up" by giving me the Jeep at Invoice. This was the same price listed on the website. When I questioned him about the internet price, he said:
"That's a scam we use to get customers to the dealership, once their here the price goes up a few thousand dollars, read the fine print." It seems like this goes hand in hand with all the other complaints of fraud. These guys will lie cheat and steal. Anything to get your money. I would pass on Napleton and try Erik ** at Greenway Jeep on Colonial Rd. I bought my previous Jeep from him and I should have gone back.

We received a call that morning from Napleton asking us to come in. Rob said he will be there at 3:00 to meet with Alex (we did not know that Bob was working for you guys again as we knew he was working for Airport Chrysler). We got there at 3:30 and Bob was walking out of the manager's office. I recognized him right away and told my husband. We called out to him and he came right over. We told him that we were ready to buy. He told us, "Ok, great." He told us to wait for him (as he was wrapping up with a customer. He had just sold a Mustang. He told us that we would walk out with our truck today!
Rob and I were very happy. We wanted the Ram 2500 Longhorn - $71,000.00. Internet price $58,000.00 (give or take a few hundred dollars). We told Bob we did not want to pay more than $49,000.00 out the door (we knew that a truck like that we would have to pay more, but we didn't realized how much more you would be asking). Bob said no worries, we will get this truck. I told Bob 3 times of the internet price. My husband went out two time to get information off the truck for you guys and info on our truck that we would trade in for you. OH!! Did I mention that it was raining hard as well? No, well yes, my husband went out in the rain for you people. That's how much we wanted that truck. And yes, I was willing to pay for that truck but not to be robbed.
We told Bob to get out an out the door price and then we will talk trade in and cash down payment. No one listen to us. Your employees was so focus on our trade in. They wanted to know if we owe on the truck. I told Bob that we own it. So Bob was putting our information in. He had our title in his hand and look at me and ask if I we owe anything on the truck. I looked him in the face and said, "I've told you. We own the truck. You have the title in your hands. How can we owe on it?" Bob then went in to see the managers with our out-the-door price! Bob was excited when he came out with $68,772.00 out the door!!! I was shocked to say the least. I looked at Bob and said, "How can it be $68,772.00 when the internet said $58,000.00?" Bob wanted to make sure it was the same truck online as in stock. So my husband went bank out in the rain to look at the VIN. Lo and behold it was the same truck.
As Rob was outside getting the VIN number, I was looking at the paperwork that Bob brought out with the price. Guess what I found: The $68,772.00 out the door price was including a trade in of $5,000.00. SO that would mean the truck was $73,772.00. How the heck is that a deal? I told Rob we were leaving. We wanted that truck but we were not going to be ripped-off. We are not desperate. Your company gives false advertisement and lie to customers. It is a rip-off. I told my husband that I never wanted to do business with you guys again. We have had the longest relationship with your location, but no more. I will never recommend anyone to your location ever again.

Napleton invited me to the dealership, showed me a Jeep Compass. Lovely sticker price said $28000. After leaving the dealership, think about all the paperwork they push in front of me knowing I really like the Jeep and only $500.00 to put out of pocket plus a $2500 rebate. I just sign not knowing my car payments were $767.00 per month. Can't afford it with Santander. Just a awful messy. Called back to see if something could be done. Said only if I bring them 2500 dollars. I'm in just a mess. They are shady boots.

Purchased vehicle on the evening of Monday, February 17, 2014. On the morning of Tuesday, February 18, 2014, I noticed wax all over the interior console, dashboard and door panels, along with the scratch on the right hood area, and bubbles in the clear coat on the right hand fender. I emailed, ** around 8:52am, in reference to all the problems. I received a call from Janet **, Customer Relations Manager, advising to bring the vehicle back in and the problems would be corrected. I left work earlier to go address these issues. I got to the showroom, gave my car to a sales representative, and was advised it would be detailed.
About a hour later they come and get me and have me check out the car. It was still not corrected, and now I have scratch damages on the driver's door panel where the wax was. The vehicle went back to be cleaned for the third time. Finally came looking a lot better, but now the damage to the interior door panel and the scratch on the hood needed to be addressed. The sales manager, Atilo, was unsure what to do so he escorted inside to Janet's office and explained the problems to her. At that time she was unsure what needed to be done and advised me that someone would contact me that evening to when the repairs could be done.
I received a call back from Janet on Tuesday evening and was advised that the vehicle could be repaired on Thursday, February 20, 2014. I advised her I could not miss any more time from work over this matter. She advised me that the shuttle would take me to work at 7am to have me there by 7:30am and pick me back up in the afternoon. On Wednesday, February 19, 2014, I received a confirmation call from Janet confirming I was still going to be dropping the vehicle off at 7am and that the shuttle was taking me to and from work. I confirmed.
On Thursday, February 20, 2014, I arrived at the dealership around 6:55am, no one was there. Signs on the door advised me that the service department does not open until 8am. In addition, the shuttle sign on the wall advised me that the shuttle services start at 8am. I asked George, a service person what I should do; I was there to drop my vehicle as instructed by Janet. No one knew anything, so around 7:15am I left because I had to be at work. I received a call from Al ** around 7:24am in reference to dropping off my vehicle. I advised him that I had already left and was headed to work. He advised he had just received a call in reference to this service on my vehicle. Poor communication.
I returned to the dealership, dropped the vehicle, and made it to work around 8:10am. The shuttle returned to pick me up around 1:30pm and I picked up the vehicle in a rush because my child needed to be to the doctors, but was advised that the door was fixed and that the scratch on the hood would be a two-three day project, I would need to reschedule. Someone would be contacting me in reference to this. While waiting in line to pick up my daughter, I decided to do a 360-degree check on the vehicle and repairs. This is when I noticed the door panel was not replaced but painted. The paint had over sprayed all over the rest of the panel and was on the chrome areas of the panel also. I was not happy and made several calls and left several messages with Stacy **.
Was finally contacted about the issues and was advised the door panel would be replaced and that the vehicle would be painted to fix the scratch. Stacy advised I could drop the vehicle off on Saturday and pick up a loaner. On Saturday, February 22, 2014, I arrived at the dealership and dropped the vehicle off with Stacy and Al. Was advised that the loaner was detailed and ready for me.
I signed the release and left in the loaner. I was loaned a 2012 Nissan Murano, which was not detailed nor clean in any way. I went to the closest auto parts store and picked up cleaning wipes to clean the interior, which was filthy. I then took it through a car wash. I received a call from Donna in sales in reference to all my issues and to give me an apology. I advised her of how dirty the loaner vehicle was and how I was very unsatisfied with the dealership at this time. She advised she would follow me through these issues and make sure I am satisfied in the end, because she was very worried about her survey not receiving all tens. Just keeps reminding me of this.
On Saturday afternoon, I received a call from Al and was advised the door panel was ordered and should arrive on Monday. On Monday, February 24, 2014, around 12:30pm, I received a call from Al advising that the door panel had been replaced and the car was heading over to the body shop. In the evening around 6:30pm received an additional call from Donna in reference to following up, was advised at this time that the vehicle should be ready Tuesday, 2/25/2014, for pickup. On Tuesday February 25, 2014 received a call from Donna around 11:30 am advising the vehicle would NOT be ready until Wednesday February 26, 2014. No one has followed up from service since Monday when the door panel was replaced. As of 3:55 pm on Wednesday 2/26/2014 I have not heard anything from the dealership in reference to my vehicle.
Thursday February 27, 2014, decided to call to speak with GM since no calls still. Called around 9am and got the run around from the receptionist, three time before I left a message at 9:15am to have the GM return my call. At 10:55am still no call so I made an additional call and left an additional message for the GM. At 12:25pm went to dealership to speak with GM, was advised vehicle would be completed and ready for p/u around 5pm. Advised he would take care of us. Arrived at 5 pm, but vehicle was still not ready, per GM the vehicle was sent back to be detailed again, that he was not satisfied with the way it looked. I waited in the parking lot until 5:35pm and the vehicle was finally brought around to me. I was thanked for my business by the GM who made sure he advised that he refilled the gas tank which was empty due to the travel back and forth to the dealership 3 times for all the neglect from the beginning. But the vehicle is now not new anymore! I am very dissatisfied with this dealership and would never go to them again!

I went to purchase a Dodge 3500. It is a used 2010 Dodge 3500 and it was a Dodge dealer vehicle. It was a couple days after purchased I noticed a crack in the back of the bed near the tail gate. I contacted sales manager and he said he couldn't do much more than refer me to a body repair man. He said call him the next day to see what he could do. He already said he most likely was not able to do anything for one, also is that standard for the dealer to show you a Carfax and indeed cover damages to a vehicle with defective repairs that are getting worst.
I pointed out to general manager that it was a removed bed with signs of rewelds and gas tank removal marks and the Bondo flaking. Also contacted salesperson to find out about my spare key. I spoke with salesman. He emailed me said he would help. I called, he spoke with me for a second and said he would call me right back, said he was in the middle of a sale. He didn't contact me back. I waited two days and called, he was off. Then called two days later, he was gone. I have called and left message with answer staff for requested contact and finally emailed which all I received was a promo for oil changes.
I still would like my spare key at least some info and see what they can do. Also I was told during the test drive that it had Bluetooth too because the radio said it had Bluetooth. The salesman said it had Bluetooth, it did not come equipped with that function. I told a custom care when they followed up with me a couple days later. I found out the next day after purchased trying to set up the radio and said it was not equipped.

Purchased new 2013 Challenger srt8 on 10-30-13 from Napleton Dodge on Northlake Blvd. in Florida. I reported a problem with right front wheel (nick in chrome) the next day. Met about 1 week later with customer relations rep ** and a wheel repair person who stated he could not repair the wheel. She said she would arrange to fix problem and call the next day. It has been over a month now and I have called and left messages a dozen times to **, also spoke to my salesman ** to see if he could help, nothing happened , not even a call to say sorry. Called general manager, again having to leave messages, still no return calls. Went to website, posted problem there, still nothing.
I have purchased 3 Dodge cars there in the past 4 years and am absolutely offended and astounded at the shabby and disrespectful treatment I have received to date. It is worse than any experience buying anything ever. You should monitor the people who represent your company because these people need to understand how to treat their customers and where their money comes from. Please respond.
Napleton Chrysler Jeep Dodge Company Profile
Company Name:

Napleton Chrysler Jeep Dodge

Address:

1460 East Osceola Parkway

City:

Kissimmee

State/Province:

Florida

Postal Code:

34744

Website:

http://www.napletoncjd.com