Consumer Complaints and Reviews

On May 9, 2016 in Manchester NH our 2015 Ford F150 Lariat spontaneously caught fire and destroyed itself and a car in the adjacent parking spot. The vehicle was parked a few feet outside our office window when smoke came pouring out of the hood of the truck. The truck was unattended, was NOT running, just suddenly started burning out of control. It eventually burnt to the ground, destroying the front of our office concrete walls, office windows, pavement, and the car next to it.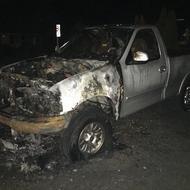 About six months ago around midnight my 2001 Ford truck caught on fire in the engine compartment and the fire was caught by our security camera. The next day the fire inspector informed me that there was a recall that was not performed on the truck and the defect was a switch under the hood that caused engine fires. I contacted Ford several times. Each time they said "you will receive a letter within 15 days." Well it's been months and nothing has been done by Ford?? I believe that Ford should have paid me for the loss of the truck.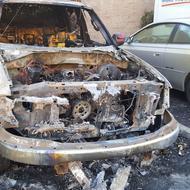 11/02/15 My family and I had just came from a store at around 6pm, truck showed no signs of misuse or damage for I have had this truck for more than 10 years with no serious problems. We parked our truck at our apartment complex again with no signs of anything that could have triggered a fire. At 11:30 pm our neighbors had notified us that our truck was on fire. The fire department arrived about 20 minutes into the fire leaving the truck completely nonexistent. The fire department told us the fire had started in the engine. I've never heard of some kind of recall in these models of trucks, Ford company should be responsible for all these damages.

Purchased a new Ford F-150 on 6/27/2015 from HemBorg Ford in Norco, Ca. External fan came on a few times as soon as the truck was started while we moved the truck in and out of our shop and would not shut off unless we turn engine off and restarted truck. On September 1 after picking the truck up from getting the decals the battery light came on. The following day I made a phone call up to our local mechanic to see if he could check out why the battery light was on since they are a half mile from where I lived. Pulled the truck out of the shop and let it run for about 30 minutes while I cleaned it to see if maybe the light was on because the truck had been sitting in the shop. I then got in the truck and drove off.
It is about 12 miles from our shop to the local mechanic shop but after getting on the freeway the Sync system notified me. I was going to lose power to some electric powered features or something of that sort. It didn't repeat it. It only said it once so I can't remember exactly. I turned off the radio and air thinking maybe it's a low battery issue. A few minutes later all the indicator lights came on and the truck lost power. I looked in my mirror to get over and to my horror I saw smoke pouring out from under the truck out the back. As soon as I pulled over the smoke was coming out from under the hood as well as flames were starting to come out too. I popped the hood and jumped out looking for my fire extinguisher and in panic could locate it. I ran to the front of the truck and tried to unlatch the hood, but the smoke and flames were pouring out.
A guy ran up and started with his fire extinguisher, but we couldn't get the flames down enough to get the hood opened. By the time the fire department got there, the front tires caught fire and blew into the field which started a 5-acre fire which did slightly damage some decks on a few homes. The fire dept didn't put any water on the truck because they were trying to save these people's homes and I watched in horror. The truck and all our equipment burn to the ground. Some people say why didn't we bring it in when the external fan came on but honestly most people would have even noticed it. I know because we own 9 Fords between our business and personal but since the truck was only at our shop and not in service yet it would be brought in before it was ready to go into service the Ford dealer.
I would have brought it to was father then my local mechanic so it wouldn't have made it either way. I am beside myself with this. Did the fan keep coming on because the computer was telling the truck something was hot? Why did the battery light come on (I did take a picture of the dash when I was pulling into the shop after we picked it up from getting decals and it shows the light on. Please help.

We drove a very short way to our local tractor supply company to pick up feed. I was in the store for about 15 minutes. When I got to the register someone said, "There's a truck on fire in the parking lot!" The fire had just started. It was up in flames and burnt to a crisp in less than ten minutes. Flames shot 20 feet up in the air and it melted the pavement under the truck. We would have been dead if it had happened twenty minutes sooner. The fire department made it in good time, but the truck was already totaled. Everything in the cab was ruined, including all three children's car seats. Thankful I have comprehensive insurance. It's a total loss. I have no truck. >:-o Up until this point, this truck ran like a top and was very reliable.
How do I know I can trust these reviews about Ford?
695,474 reviews on ConsumerAffairs are verified.
We require contact information to ensure our reviewers are real.
We use intelligent software that helps us maintain the integrity of reviews.
Our moderators read all reviews to verify quality and helpfulness.
For more information about reviews on ConsumerAffairs.com please visit our FAQ.

My husband and I were watching a movie in Virginia Beach and are from Atlanta so we were visiting, and the phone kept buzzing. We knew no one in Virginia had our number so we went outside and answered the call. It was the VA Fire Dept. THE TRUCK (Ford F150 2006) was on FIRE. Now we had been in the movie for 2 hours and add an additional 45 minutes walking in the mall. So the truck had sat for almost 3 hours. What a waste. Now we're waiting on FORD to tell us what's next.

Friday, May 1, 2015 approximately 4:30 am - I woke up to someone pounding on my front door yelling, "your truck is on fire!" Sure enough, there it was engulfed in flames. The fire department arrived about 4:45 am and put it out. I parked it the previous night around 9:30 pm. Truck: 2001 Ford Lariat, crew cab. Thanks.

I was asleep and my husband took our son to school which is a mile away. He gets home and starts to get ready for work and someone came to our door to tell us his truck was on fire. He went outside, turned on hose and called 911. We had to evacuate our kids and animals to the backyard. My brother's motorcycle which was parked next to the truck also caught fire. Melted our garage door and luckily firemen got here before it hit our house. This is insane and Ford should take responsibility for this as it could have killed someone or caught our home on fire.

Just had my Ford F150 go up in flames while parked in the driveway. Truck was last used Saturday Morning 2/7/2015 and went up in flames 2/9/2015 at approx 4 am. Woke up to a horn going off, went into my daughter's room and looked out front of our house and saw flames 15 ft high. Told my wife to get the kids downstairs and evacuated them to the backyard. Called 911 and ran out front to move my other car out of the driveway. Thank god my neighbors came out and helped me put the fire out or things would of been much worse. Fire started in the Engine compartment and burned most of the hood off before we could put the fire out. Ford should take responsibility...This is a very serious problem and needs to be addressed immediately!!!

I have a 97 F150 4.6ltr. Two times now it has blown the spark plug out of the head. It was replaced the first time with a brand new head, and a year later it blew out again. I only use motorcraft plugs, I have had my catalytic converters changed to make sure they're not clogged up and it still happened again. It's coming to the point I'm fixing to scrap the truck. I don't have another 1500.00$ to put into it again. I know this has happened to a lot more people than me. Ford needs to recall and fix this issue. I've always liked Ford, especially when they didn't take the bail out money, but I'm fixing to buy a Chevy. I just lost all faith in Fords.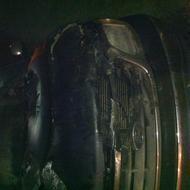 September 27th, 2014 my 2001 F150 started on fire. I was having dinner when I heard the neighbor screaming FIRE! I ran out to a blaze shooting out of a melted-open hole in the hood of the truck just in front of the drivers seat. I was able to contain it even before the fire dept arrived. I had not driven it in over 24 hours. After reading my "Full Coverage" auto policy and discovering that its NOT covered, I thought, I wonder if this bizarre thing has happened to anyone else.....WTF Really? This many!!!

Our 1997 Ford F 150 was sitting in the parking lot at a near by pub caught on fire. The truck was not running and there were no mechanical problems with it at the time. Keep in mind. This happened last year in October (2013). There were 4 off duty firefighters present, and a pumper was called in.

My 1995 Ford F-150 was at work and had been sitting for 3 hours and self ignited and burned to the ground. The fire inspector said it was the speed control switch. I don't Ford will do anything about it, but they knew about this problem. I am reading online that many of these trucks self ignite and burn. That's the last Ford I will own!!

1:00 this afternoon, my 2001 f150 was sitting in the driveway. My wife heard the horn honking, thought it was someone else... but when she looked out the window our truck was in flames. Total loss. We went online and found this blog about others having the same thing happen. Ford should be held accountable.

On Saturday, June 21, 2014, at 10:00pm my 2001 Ford F-150 started a fire under the hood after being parked for several hours. There was no trouble with the truck and we had just spent about $700 on maintenance services. Thank God my husband & kids were still up when they heard a loud noise outside, went to see what was going on, and found the truck in flames. The fire started to melt the vinyl siding on my house but the firefighters arrived just in time before the house caught on fire. I thank God for sparing my family and home. However, I would like to get any advice from those who has filed a case with Ford because something has to be done about these vehicles.

Back in about 2007 I purchased a used Ford 150 truck from a friend. The friend had the truck for two years and did not need it anymore, so I purchased it. One day my son and a friend were on a country road when I received a cell phone call that fire was coming out from under the hood. They called 911 and fire trucks were dispensed. The truck actually had a melted engine and totaled from the engine to the middle of the back of the bed. Three weeks later I got a recall notice. I only had liability so I ask my friend who I purchased it from if he had, and he said no. Ford had me send pictures to them. Their response was it was burnt so bad that determination could not be made. Once again today I get notified of the recall.

1.27.14 - My beloved 14 year old 2001 F-150 started on fire while it sitting at my work parking lot most all day, since 10:30 am. The fire started after 4:25 PM, was seen at 4:40 PM, fully engulfed so much that it was too hot and dangerous for us (non-professional firefighters) to take the risk of trying to put out this blue-hot fire. When the firefighters go there and put the fire out, they were surprised at how hot this fire burned, so hot that it melted the hood totally, burned the tires, melted the interior back to the seats. Of course it is a total loss. I have started a case with Ford, don't know where that will go. This was such a surprise, it could have been SO MUCH worse. Had either of our sons been driving it, had it been parked close to our home or garage, had it been closer to other cars..... the list goes on and on and on. .

This morning I get a call from my daughter to say that while taking her kids to school, she had stopped briefly to put some gas in and, while fueling the station manager and several other people rushed to her vehicle with fire extinguishers. My daughter quickly got my grandkids out and, stepped away to let the guys do their job. Once the fire was out and things cooled down a bit. it was evident that the cause was from the exhaust swelling up due to heat and pressure of a clogged catalytic converter system. Thanks, EPA IDIOTS. You nearly burned my daughter and grandkids alive due to your stupidity. Ford should recall this whole damn line of vehicles (but won't) due to costs. I would not buy a Ford nor recommend one to anyone. Automotive mechanic-20+ years.

Cruise control is malfunctioning and it is in the year of the recall but, the VIN is not showing recall. The National Highway Transportation Safety Administration says that Ford owners should watch for all cruise control problems including cruise controls that cannot be activated or have just stopped working. Owners should also watch out for broken brake lights, brake lights and ABS warning lights on the dashboard, and not being able to get the vehicle out of park.

Woke up at 1:45 AM to the sound of a horn from a car in the driveway. I thought someone was breaking into the A6, but upon looking out the kitchen door, I saw that the 2000 Ford 150 XLT was on fire. The hood was on fire, so we moved the A6 out of the way and called 911. The truck had been parked since 4:00 PM the previous afternoon, with no flammable items inside and no noticeable irregularities with the operation of the truck. We have no idea why the fire started, but the truck and the contents are a total loss.

On Monday, 4/29/13, my wife parked the Explorer at 4PM. At 1:30AM the phone started ringing. A neighbor was pounding on our door and a fireman pounding on our bedroom window. The Explorer had started on fire on the driver's side of the engine. The fire melted everything under the hood and started the tires and driveway on fire. The fire spread to my 2005 GMC 2500, a fence, pine tree and the face of the garage. About $35k damage. I was worried the fire may have started by the new starter we put in the week before, but the fire line was above the frame and starter wires were still good. The fire inspector from St. Paul said they saw the fire in the battery and wiring area often. 3 days and Liberty is already cutting checks.

Truck was parked in the driveway and caught fire under the hood. Local Ford dealership was aware of recall that could have caused the fire but refused to work on it. Their advice was to contact insurance company because the work that needed to be done was worth more than the truck's value.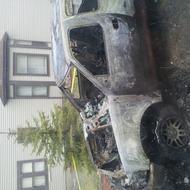 I own a '97 F150 ext cab 4x4 4.6. This truck has been very reliable for years; it had an engine replacement a few years back. Three and a half weeks ago, I traded in my other F150 truck that was a 2006 with a 5.4 (not too good on fuel). Now, having a more economic vehicle, I haven't driven the '97 in at least three weeks. On Thursday evening, I started the truck, let it run for 20 minutes (just to ensure the battery stayed charged), shut it off, had dinner and then went to bed about 9:30 and the truck was good then.
I had to be into work early on Friday morning. We have had a lot of rain in recent weeks and I thought I may have to work outside. I grabbed my rain jacket from the back seat of my '97 truck at 3 am. On my way to work, the truck seemed good at that time (no burning smells). At 5:30 am, my wife called me at work to tell me that my truck was on fire in the driveway and caught the garage and house on fire. Luckily too, our wonderful neighbor that happened to wake up and look out their window had seen the blazing fire and woke up my family and got them out of the home.
The neighbor also called 911 at that time. The local fire dept. also needs recognition to quick response. Had they been 20 minutes later, I think I would have lost my home and all of my garage. The truck is a total loss with melted radiator, hood, plenum, and all aluminum parts. The truck had a lift, tonneau cover and $1800 in tire and wheels are all gone. All the glass and interior is completely gone as well. Of course, the truck is paid for. It only had liability insurance and home insurance doesn't cover the vehicle. I'm not sure how to proceed. After reading all the other posting, it is evident that there is an issue and Ford is very aware and is turning a blind eye to the problem. I am having a fire investigator look at the fire. I guess we will see what their thoughts are about fire and Ford's ongoing issue.

We purchased our E-150 custom van 7 years ago. It has been well-maintained while we owned it. It had been parked for two days when it spontaneously caught fire. Thanks to a quick response by our local emergency services, there was little damage to our house. But the van is a total loss. It was a rude awakening to see it catch fire too. Nothing like having a police officer pound on your door, yelling, "Your house is on fire. Get out!" I had no idea this was so common.

Last night, I spent the night at my boyfriend's. I was awakened to the sound of an alarm and people screaming. I looked out the window and his Ford 1995 F150 was blazing. There were flames and black smoke and the smell of rubber. He was working and so, after calling the fire department, I called him. The truck had been sitting in the parking lot for three days and this night was the coldest night of the week and it was raining. I was thinking that someone set the truck on fire but, after reading the information on this site, I am shocked and amazed. My mom bought this truck from a dealership about ten years ago and it was well maintained. Apparently, that means nothing and filing any paperwork with Ford would be useless. This really sucks. We will never buy another Ford ever!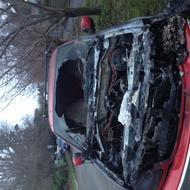 I just read the posts and what happened to my truck was exactly what I read - 2000 F150 extended Cab, excellent condition, low mileage, parked for 5 hours, then spontaneous combustion. The engine looks like it was nuked. Though I am sure the Insurance will cover it, but not nearly the value of the truck or the contents that were destroyed. Does Ford provide any compensation?

My wife and I awoke this morning around 0600 to the sound of a horn honking right next to our bedroom window and bright lights outside. I figured someone was trying to pick up a friend to take to work and had the wrong house. When I looked out the window, I saw my 1999 F-150 with a 12"-18" hole in the center of its hood with flames shooting up through it. The horn honking must have either been an emergency alarm or the wires crossed after the plastic melted off them. I ran outside while the fire was still relatively small and attempted to put it out with a small kitchen fire extinguisher - which only lasted 3 seconds and did nothing to stop the blaze. I quickly pulled out the important things I could reach from inside the cab and it went up in flames shortly thereafter.
My wife had already contacted 911 and I tried to turn on the garden hose - which was right next to the truck - but it was frozen solid. I quickly hooked up an empty hose, but when I turned the water back on - I only got half power (there must have been a partial ice blockage) so I proceeded to hold a trickle of water over my aluminum truck bed tool box while the firefighters arrived and got their hose out - which only took about a minute. They blasted the truck with water and got most of the flames out, and then they blasted and showered several spots with foam.
The cab was burnt to a crisp, but everything in my aluminum tool box in the truck bed was okay aside from a plastic tool box melting slightly to the inner wall of the aluminum box. A corner of our garage - which was almost directly over the rear driver's corner of the cab - had slight blistering to the paint, but it's hardly noticeable. We were very fortunate that this happened at a time when we were both able to react to the emergency as it was unfolding, and we were very fortunate to have been able to remove almost everything of any value from the cab, and fortunate as well that the garage didn't ignite.
It was below freezing out for sure, and my truck had sat there cold for about 36 hours before the fire started. From now on, I'm going to park well away from our house and garage. I'm also going to buy several types of fire extinguishers to keep in the house and in the next vehicle I get, as well as a designated emergency-hose to keep indoors to prevent it from freezing. And having read so many other stories here about spontaneous combustion in Ford vehicles, I don't think I can ever buy one again.

I have had a 2000 F-150 Lariat 4x4 Ford truck for 12 years. All has been fine and no mechanical issues - 149k miles. Today I drove down, rented a video, drove out to Subway and ran in to order a sandwich. I came outside and my truck was on fire (engine compartment). By the time the fire department arrived, my ole red truck was a total loss. Why would it just catch on fire? The engine was off. It's really a bummer as now I am out an expensive ride. Plus I had just spent $1,440 on tires for it a week ago. This truck has been maintained - regular oil changes and not one problem. Basically it was very well taken care of. It seems to me there was some kind of malfunction in the engine compartment after shutting the vehicle down. This should have never happened.

I bought a 2005 Ford F-150 for my husband, Aaron **, as a coming home present from Iraq. We taped a huge red ribbon around it and waited for the Army to move the buses so he could see it. Just to have that very present take his life. He was 22 years old, with a 3-year old child, and the truck took his life. Not Iraq or terrorism, but here at home by one of the most trusted American names we have. It is believed and documented by the Criminal Investigative Division over Fort Hood that his death is indeterminable, but stemmed from a fire in the front engine compartment.
Aaron parted ways in the early evening hours of September 10, 2008 from a 30-day field training mission to head home for relaxation. He walked in the door, cracked a 16oz Natural Ice and headed straight for the toilet. No less than 5 minutes he was talking to me, reiterating the day before him and letting his stresses unfold like duty does at this hour. I failed to remember that this would be our last conversation and completely failed to put all my trust in him. Instead of telling him I loved him, I told him we would be divorcing. That the stresses he held onto were quickly becoming mine and with that, he threw his ring, jumped up from the toilet and headed to bed. Neither of us knew that the fire would seriously sever that conversation.
When I woke the following morning, I decided to not call him. He had been in training for the previous 45 days and I thought with the heavy sentence I laid on him, he might need a day to go fishing. I was to attend his only sister's wedding, since he could not. His redeployment date was nearing and he was to stay within 150 miles of Ft. Hood. The 11th went on like no one was watching. No one in the **'s home was worried about anything, but football scores. I too was not. I did not know Aaron had taken his last breath, in our own home, with all that military training. No, I was the last one who believed Aaron was not breathing. I made a few mistakes in my lifetime, but this certainly was the largest. Army life, army strife, together forever, it is our life.
4 years have passed. Nothing has been the way it was the day before Sept. 11, 2008. It is more like a divorce that I had wanted at 24 years old. Who knows what divorce really is at that age? But now I battle my in-laws over our only daughter. I have rarely seen reality bite until I envision why Ford caused that fire in Aaron's truck. I lost the battle in them. I lost my daughter to my in-laws and I lost Aaron. My heart grieves for Taylor, our daughter. She suffers without her father and her mother. I only wish I had words to describe the catastrophe Ford caused my family. But one day it will matter and all will see. My ambitions to become an attorney purposefully to convict Ford and all that they are capable of as an American motor company will guide me for the rest of my life.
I ask God for mercy upon Ford - its creators and its will.

I drove my 2001 F-150 to the store today, came home and parked it in my apartment complex's parking lot at approximately 3:30PM. My wife came home at around 9PM to find my truck engulfed in flames. I have had no serious issues with this truck since I bought it 10 years ago. Tonight, it burst into flames and I looked up on spontaneous combustion on Ford trucks on a whim and find this a pretty common occurrence. Thanks Ford, being a paid for truck, I only carried liability and am now out of a ride. Thanks again Ford. I have owned Ford vehicles all my life. Guess I will buy a Chevy and leave my Ford - Found On Road Dead.
Ford F150 Engine Fires Company Profile
Company Name:

Ford

Website:

http://www.ford.com/