Coggin Nissan on Atlantic
Jacksonville, FL
Consumer Reviews and Complaints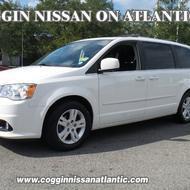 I just bought a caravan from this dealer and it was sold as is but was given a 2 year warranty motor and trans. I called the dealer about I was having a problem that my left front tire didn't look right - it's almost hitting the car. I was told they won't fix it. Well behold the van was in accident before I bought it and was given a clean car fax that said no accidents. The driver side headlight was replaced and there is over spay (meaning paint when they repainted the fender) on the inside of the wheel well. So I thought "ok maybe it just needs a Front end alignment." So I was going to pay to have it done and the mechanic said it has to go to a body shop to be put on trans gauge machine to see if it could be repaired and was told it was differently was in a accident from the body shop and I could go on and on.
But my family and I really don't feel safe in this van (and we should) and if the dealer can't take the time and check it out and try to fix it well I going to do what I have to do with my lawyer and file a fraud case against Coggin Nissan and I will also file a case with The Federal Trade Commissions and (I will not stop) I going all the way $15.966 is no chump change, and I will be writing this in every blog and social network known to man and by the way As it is not a law. It is a way to deter people from coming back after they are sold a car or truck. I was welcomed there like we was best friends by the salesman. Tony and how I leave there all depends what they will do about this problem.

I brought a 2016 Nissan Rouge. Took it back in two days. The car had so many problems. Was told I could not get my car back nor refund but had to get another vehicle. I got a 2015 Nissan Quest with 11000 miles. That van also has a lot of problems and I was overcharged. Tires, shake, tremble when driving, stopping, taking off, turning right and left and slowing down. Went to get fixed 2x. Still not fixed. Ready to turn the vehicle in. It is not safe to drive. Coggin Nissan are not honest and cannot be trusted about their vehicles. I will not buy another Nissan nor will I do business again at Coggin Nissan on Atlantic Jacksonville Fl. I feel they are misleading, they lie, look the other way they rip you off. The problem I am having has gotten worst and I do not feel safe driving the Nissan Quest Van. I am a dissatisfied customer.
Updated on 01/30/2017: Today I return a 2015 Nissan Quest Van. I went to Chris **, finance manager introduced myself and gave him the key to the van and told him I was returning it. Chris claim he could not accept the key and needed to see a manager. I was then escorted to the use car financial manager. The use car manager came out and said, "This is your car. You own it straight out. Take your vehicle and go. We (Nissan) got our money, you own it now". Then he said, "I will call a tow truck and have it put in front of your house and you will pay for it." Then Chris said, "You sign papers telling us to pick the bank we (Nissan) wanted to finance your loan (which was not true, I was told Northwestern Credit Union approve my loan and would be my lender)."
I ask for proof and Chris claim the paper was locked upstairs. They claim the loan was approve January 19, 2017 by Nissan Corporation when I purchased the Van November 14, 2016. They raised their voices and acted out in a way no manager should. Chris yelled out, "This is going on your credit report as a repossession. Take your van. You are not going to leave it here". Chris and the used car finance manager acted unprofessional and was very much disrespectful. When leaving they yelled, "Take your van". As my daughter was getting in the car Chris threw the van key in the car. I told my daughter to take the key inside and then we left. Nobody nor any customer should ever be treated the way we were. I was returning the vehicle. The only thing they needed to do was take the key and information.
On November 14, 2016 I purchased a 2015 Nissan Quest Van. I was told Northwestern Credit Union is my lender and is financing the van. My payment was due December 26, 2016. Bryan (finance manager) left a message on my phone January 11, 2017 stating "We tried to call you and if I don't hear from you today there is nothing more I can do. I have to report the Van".
After talking to Bryian he sent me a email wanting copies of pay and to fill out a credit application for a vehicle loan. I informed him I was not going to do that and needed to make arrangements to return the van (to make a long story short). On January 14, 2017 I received a denial letter stating not enough equity in the vehicle. My sales person asked me if they (Nissan) lowered the price would I take the van. I said "No". I called again January 20th to verify the arraignments and was informed the van is financed with Nissan Corporation (whom I did not sign with) and was told to call them. For Chris and the use car manager to be disrespectful was uncalled for and unnecessary. Please take your business somewhere else.

2014 Toyota Tundra 2WD Truck for Sale in Jacksonville, FL, 31,706 miles $28,992/VIN: **, Coggin Nissan on Atlantic Blvd, Jacksonville, FL: I saw this beautiful beast of a truck offer Thursday night, 3 Nov 2016 and submitted an online request for quote. I received a phone call from Coggin Nissan ** the same night at 9:08 pm by Will ** telling me to come in for a test drive Friday. When I got to Coggin Nissan (on Atlantic Blvd), I was eventually escorted by Will to the Tundra he wanted me to test drive.
MTV has a show called "Catfish." Google it if you haven't seen it. Coggin Nissan "catfished" me that Friday. I was shown a 2016 Tundra SR 4.6L (VIN: **) and offered the keys to drive. I declined and asked about the 2014 Tundra with the XSP-X package that was offered originally and the "hunt" for it started. I was eventually told that it was "trade-in" that didn't happen so that's why the truck is not on the property (Coggin Nissan on Atlantic Blvd).
2014 TOYOTA TUNDRA DOUBLE CAB SR/SRS, VIN **, Qualifies for CARFAX Buyback Guarantee: CARFAX report -- 9/6/16 --- Pre-delivery inspection completed - 31,707 mi Coggin Nissan on Atlantic. 9/26/16 --- Vehicle serviced -- 31,716 mi Coggin Nissan on Atlantic. I am not sure if that "trade that fell apart" story is true. The CARFAX lead me to believe that Coggin Nissan on Atlantic, offered the truck for sale and now somehow it vanished into the air.
Bottom line... bait-and-switch... the action (generally illegal) of advertising goods that are an apparent bargain, with the intention of substituting inferior or more expensive goods. Will ** seems like a good guy, and Coggin Automotive Group (You Can Trust Coggin) is a strong business. Do they really need to "cut corners" to make a sale?

I went there to trade in my SS Trailblazer which I knew was worth more than they offered me but I was beginning to feel very sick and nauseous Everyone told me it was probably anxiety and now that I think about it, it probably was and I should have stopped then. Then I told them I could only pay $450. The salesman told me $509 I was like sure. Then he left and went somewhere and came back with $519. I argued with him and eventually gave in feeling more nauseous too. I went to the bathroom for a while. After sitting for a while they sent me to finance and he gave me all these papers to sign and told me what they were for but never said they were additional or optional items that I can choose not to have it.
Particularly the salesman said I had a year of maintenance and I told the finance guy the same thing and he was "no it 4 years." Yay me. I have 4 years of maintenance and all these other great stuff. These guys are awesome. Then I hear but not really hear thinking this will be my first payment price and that's it. He said my first payment will be $552.80. I am like first payment ok, well maybe the rest will be what the salesman said it was. Unfortunately that was not the case after feeling better from sleeping all day. I saw my contract and all these great options that he had me sign and never told me it was optional was an additional price added to the initial charge. I already have awful credit but needed the car but didn't want it. My percentage is very high, higher than what I could have gotten if I had just applied for a loan then go there. I feel like such a loser and idiot.
I have been taken advantage of my whole life. I am stressed and depressed, have anxiety and PTSD from being and the military and the aftermath. I called my salesman to talk to him about it and he was he can't control what the finance guy does. He only does the sale. BS!! He's suppose to be all in to Christ and goes to bible study. I guess the biggest hypocrite are the ones that implies this.
I should have came here and read the complaints about this company before I even went there. I should have listened to my instincts but I was too stupid and ignorant to listen to it. Now I am stuck with this. I hope that someone can report these guys for what they do. I understand it's a dealership and their job is to sell. But not at the price of the people who will be their customers apart of the Nissan family. I wish this and all the bad things they have done to people comes back to them 5 times as much heartache as they have caused us.

The Dealership/ Asbury resolved all of our issues and refunded back the money that was owed. We are still waiting on one of the checks. According to the Attorney for Asbury it should be mailed soon, they kept their other promise so far. I appreciate their quick work on this issue.
Original Review
My son and I went to Nissan on Atlantic on the 21st of July 2016. The salesman told me that I would not be on the loan but the title I said okay. I had a tag but was told we could not transfer it, this turned out not to be true. This dealership then after we had the car 7 days called said "come back in to sign more paperwork", we did. They decided to add me on the lease, also at this time wanted to see if we wanted an extended warranty. I asked because I know there are different warranties. I asked the finance guy Romeo what did it cover, we were told all our maintenance, brakes, oil changes, we would not need to do anything. So my son and I agreed, we asking for a pamphlet - they had none. Come to find out two weeks later by the service guy Lee the only honest one we have met, it only covers oil changes so 1200 is finance in the loan but is supposed to be credited. We have not seen this.
As to the tag, to anyone that has purchased a car from them Asbury uses a outside agency we as customers pay this fee, not told to us. Dmv investigation told me. I also was lied to about transferring my tag. When we finally got the paperwork I went to Dmv with everything the title clerk marked over some feeds that were nothing to do with the State of ff they do not charge and told me I should questions them. I was mad. I called Asbury, told the illegal office in Duluth GA I was going to talk to the GM name Joe.
Well this was interesting. I came in to the dealership. He said "hold on", he had two young girls in his office. When I got in to sit down he knew I was upset. He had the nerve to say "lady, chill out take a **." Little did this not so nice man know but I do take ** because of ptsd. I said this to him, he said well if it makes me feel any better he pops a ** out of a silver key chain. This is illegal in our state without it being in a prescription bottle. He then tells me DMV for Florida is stupid, Asbury has 22 lawyers and that DMV was wrong. I left. I call Asbury, it took a day for a Mr ** to call me back. In the meantime this GM Joe took it upon himself because I suppose he was in trouble to call the man I'm dating and tell him our business.
The car is leased by my son and myself not by anyone else. Telling our business to a outside person is against fair credit laws. We leased the car and was told we could have Sirius radio put in what we got was a iPod tuner. This is fraud, we've been told we would be refunded this to have one put in have not seen it. When I went back to the dealership I took my 67 year old neighbor for a witness. The GM told the Attorney ** I tried to talk with him. I did not and have proof then the I suppose lawyer said he misspoke.
I'm turning this over to Pam **. I would advise anyone that has purchased a car from them you should get the 98.00 fee back this is not a tag state of Fl fee. This is a non disclosure fee that Asbury wants to make. As to the GM he should be fired, and as to our money we having gotten for the radio that the dealership told Nissan that we would be getting. I don't like liars, I don't like a business who does not disclose things. I have a good witness - my friend. He has worked in the car business for 25 years. Asbury you should be ashamed.
How do I know I can trust these reviews about Coggin Nissan on Atlantic?
880,156 reviews on ConsumerAffairs are verified.
We require contact information to ensure our reviewers are real.
We use intelligent software that helps us maintain the integrity of reviews.
Our moderators read all reviews to verify quality and helpfulness.
For more information about reviews on ConsumerAffairs.com please visit our FAQ.

I purchased a used 2015 Jeep Patriot from here and was happy with it until I pulled in the driveway at home and found that screws were missing from the rear bumper. The bumper was falling off - of a practically new car. I also found that the interior was not cleaned. I immediately called them to find out if they could assist and they said to "Take it to Jeep." Did I not just purchase an extended warranty with this place? So I took it to Jeep - and the verdict is that the car was NOT INSPECTED.
I went ahead and paid the 87 dollars and got it taken care of because that's who I AM. So, I took the receipt to the dealer to see if I could get reimbursed for the bumper that they didn't resolve, but instead of "cutting me a check" the director of used cars offered to "Buy me 2 tanks of gas" because it's more "difficult" to pay somebody, more paperwork involved. So he handed me his business card and wrote "2 tanks of gas" on the back of it. What is this? Why would somebody do this?
Stay the heck away from this place because you are buying trash. These people just want your money obviously. The person named "Coggin" should have a problem with this place, and the fact that their name is being used like this. I'm sorry but I will never recommend this place to anybody, in fact - the people that recommended me to there will be hearing about this, and i'm telling you that I will tell everybody I know about this experience.

I purchased a 2007 Jeep Compass March 11, 2016. When I originally coming to see a Nissan Altima that was in the magazine. When I saw what they had it didn't match what was in the paper. The salesman Romeo insisted it was. So I decided to look around. I only wanted to put down no more than 2500. I got the Jeep as an as/is. A 3500 dollar car turned into an 8, 000 dollar car including the warranty I purchased for over 2,000 dollars. I had my own diagnostics done. All four tires were bad. The front and back brakes were bad. The electrical was bad. The mounts were loose. None of this was disclosed to me and they let me off the lit with it. I came back to speak with the General Manager Joe. He was sitting in the office laughing and speaking with a female while I was waiting to speak to him. He never came out. Two people came to me for him.
I spoke with Cecille who was not only a female but professional as well. She had them look at the Jeep and apologized to me and said they did not do a safety inspection at all. They gave me a loaner and fixed some of the problems. Few days after my battery died. Had to get a jump and brought it in. They gave me a new battery because the old one was too low. ???... Now I'm back because there's a knocking sound in the engine. I was told by Lee in service to bring it in and they will diagnose it and see what's wrong. Then they'll let me know how much I have to pay... Ummm shouldn't all this should have been checked out and disclosed to me?
As a female I find it very frustrating and being taken advantage of because I look easy. I don't think it's fair I haven't even started to enjoy my vehicle that I spent my hard earned money on. Maybe it's easy for you Mr. General Manager Joe and other owners but it's not for me. I'm not rich, I'm still trying to make ends meet. This is one reason why I need a vehicle. I will be speaking out on this to everyone I know. And thank you for not returning my call. It shows me who you really are. I hope you don't treat your wife/girlfriend, kids or close family like you do with us hardworking people...

We received a notice in the mail saying, FEELING LUCKY, go see Coggin Nissan at Atlantic and get 17 thousand and something for our 2014 Rogue. Which we have a Rogue SUV 2015!! So we went to see what we had won!! Joke!! The salesmen was very rude and pushy. We told him we had "NO" intentions to buy a car when we have a 2015 Rogue. We just wanted to see what we won since it says, "NO PURCHASE." We lost 2 hours because they took our keys to give us an estimate as to what our car was worth. Before they can give you the prize you won!! Lier again!! Then the salesman said, "You need to test drive a car to get your prize!!" So we did just to see how many more lies and crap they would end up telling us!!
So to make a long story short, MR. **, the MANAGER had to meet us!! To say "What will you pay to buy a new Rogue?!" We said "We just want our FREE Gift!!" Then he said "Thank you for coming to visit us." I asked about our gift and he said we have to return tomorrow!! What a scum for a manager!! Nissan has to change the unhonest people they hire because that why our country is headed in the direction it's going!! I've had 4 Nissan Rogues cause I change my car every 2 years and you have totally lost my trust in your cars!!! Big Scam!! If they aren't honest about a little promotion you can't trust them to make a deal worth 20 something thousand dollars!! So don't go get your car there cause they are liars and they don't care about customer service!!!

This is the worst business I have ever had to deal with. Was sold a "certified" car that had frame damage and other issues that were not disclosed by the dealership. When I tried to get this situation rectified, the managers were confrontational and refused to acknowledge there was a problem until I filed complaints and got Chase Bank involved. Once they acknowledged the issues, the only solution they offered was to trade my car in for another car on their lot which would have left me more in debt than when I started. When I told them I wanted to sell the car to them and not ever deal with them again, they gave me a low ball offer and I was forced to sell the car to another party that actually paid me 1k more than the dealership offered.
After filing more complaints with Chase Bank I got a call from the bank saying the dealership was offering to buy the car for 2k more than they originally offered. At this point I had already sold the car to the other party and this offer was useless to me. Now, over 6 weeks later, I am struggling with the finance department to get the refunds from the service contracts I purchased. I was originally told that the refunds would be in my hands in 10 days and called back about 2 weeks later to make sure everything was going according to plan.
To my dismay I found out that the papers that I signed to get me the refunds had never even been submitted! I had to waste my time and gas to go back up to Jacksonville to sign the same paper and was told that it could be 4-6 weeks before I get the refunds. My experience with Coggin Nissan on Atlantic has been one of aggressive salesmen (Brian), rude management (Will, Antoine and others), outright lies and fraud. Buyer beware!

I called and told salesman what I wanted and when I got to dealership they had me into something totally different. Told me it's all I could qualify for. My credit is not the best so I took them for their word, come to find out my credit is not that bad and now I'm stuck with a piece of ** Versa. I will pay this car off but I will never buy another vehicle from Coggin Nissan again. They also changed the terms after I signed it a month later and I still don't have the tags.

I traded my 2010 Hyundai Elantra blue in on a basic stripped down model 2015 Nissan Versa 5 speed, manual door locks, windows, no alarm. Got quoted 13,891. They paid off the remaining balance except 1,800 of the trade in. We asked for GAP insurance, we were told it was GAP. Before we signed anything we explained in great detail that the registration were to remain in my name first, my husband was to be the co-signer. Signed everything, then get registration in the mail, it's wrong. Looked at our contract, 13,000 turned into 17,000. GAP insurance turned into GPP insurance. Called, talked to the manager of finance, conversation did not go well. Refused to fix the problem, then after leaving several messages with his boss with no return phone call. I have a very bitter taste in my mouth with Coggin Nissan.

I had the worst experience ever with trying to purchase a 2015 Rogue with your business. As a single female customer your sales personnel must have spotted me coming. I would not recommend your business for women at all. You all should put a "single women beware sign" at the front door. The sales person that was helping me was **. I asked for the person who calls my house and he said "He is not here." He proceeds to laugh this off and say,"Well it is his loss." I did not find this amusing at all.
For the test drive he first put me in a Nissan in which the air was not working. Simple mistake but it would have seem that he would have checked this first. Nevertheless he did have to get another Rogue because it was entirely too hot to test drive. While out for the test drive an vehicle pass us with a canoe strapped to the top of the hood. With the luck we were having the canoe blew off and hit the Nissan Rogue. To make a long story short ** called the police then changed his mind because he did not want the Nissan reported in an accident so the value of the SUV would not decrease. Major turn off for me as a potential buyer.
Against my better judgment I decided to sit down with ** to see what he could do for me. Well he showed me exactly what he would do. Absolutely nothing but try to take my money. First he asked me what kind of payment I was looking for. I advised him nothing over $450.00 a month but for some odd reason he keep on insisting on $490.00. He then ask how much I was putting down, I told him $2000.00 and I wanted leather interior which was not offer on the Rogue SV. He said that would be extra. I told him I would also pay the extra upfront for the leather.
He then went back to the financial manager ** for a second time, they then asked me if I knew what my credit rating was, and I said no, but I knew it was good because I pay all my bills on time or ahead. He said he had to pull a soft copy credit, which I agree. Then he came back with some papers and said my rating was 683 which he did not allow me to keep the report, and now I know why because another Auto dealer said my credit was over 700. I then asked him for the true car value request. He asked me if I know what it was. I told him I did not have the certificate with me. He was the salesman he should have known this already.
He put it as 27,000 something and when I looked at my email it was 26,000. So, then it was time to set down with ** and **, they just kept smiling all the while. The three of them were stabbing me in the back. They had me fill sign some papers but never gave me a copy of them and said they would have the SUV in 2 days for me to look at before they took it to the shop for leather. Well the very next day ** was texting me every few minutes wanting to know what time I was getting off work. I told him it would be late because I had some overtime I needed to complete. He then said "I can drop it off at your house if that would be more convenient."
This sales guy was actually trying to drop off a car without proper paperwork and what about my leather interior. After doing my research I found out my credit was higher than they quoted, the true care value was 26,000. These three men should be fired, because as long as you have that posse in the house you are going to have complaints. I will advise all my family, friends co-worker not to buy a car from Coggin Nissan of Atlantic as long as you have these people on your payroll.

I purchased a 2012 Nissan Altima in June of 2014, from Coggin Nissan. With the car barely being 2 years old, I didn't feel the need to purchase an extended warranty. Big mistake! In the six months I've had this clunker, I've had to replace the battery (the car died on me THREE times within three months). The dealer refused to replace it for free but offered to sell me one at a pretty expensive price. I declined, fearing the quality of their parts. In addition to the battery, I kept telling them that the tire pressure light won't go out. Their only suggestion was to add air to the tire. When I explained that this was only a temporary fix (because I've tried it several times), they ignored me & just put air in it anyway. No one bothered to look further into the problem & needless to say, it still exists.
The next issue is regarding my air vents. I noticed that my defroster wasn't working, and neither was the floor vents. Not understanding why this is a problem, I took it to a mechanic. I was told that I had a bad accurator. I asked Nissan if they would fix it, I was told that because I didn't purchase an extended warranty, it wasn't covered. Feeling defeated, I paid over $200 to have the mechanic repair this part... or so I thought. I paid the money, but only to find out that this didn't fix the problem.
I was told that the whole housing unit was bad, and the part was on a national back order due to several cars having this same issue. He advised me to try to get the dealership to fix the problem because of the national back order. Armed with the information he provided me, I went back to Coggin to plead my case. But to no avail. Again, I was told that this would be at my expense. I was told that Nissan doesn't see this as a safety concern, so they wouldn't cover the expense. (So not being able to see because I can't defrost my windows... that's not a safety concern?) The "manager" (Chris) didn't even have the courtesy to look at me & speak to me like I was a human being. He simply looked down at his computer, quoted me a fee of $1500 ($1000 of that being labor alone), & waited for me to pay. I brought up the fact that this being a problem with other cars due to being on NATIONALS back order, in which he actually called & confirmed, but that meant nothing. The salesman who sold me the car even tried to plead my case, explaining to Chris that I've had several issues on a 2 year old car. But his pleas fell on deaf ears. So again, I walked away defeated.
Due to having a bad housing unit, the new part I just purchased is burning out. So since then, my heat & my AC have started failing. If I knew I was going to encounter this much heartache, I would've avoided going to them. I've never experienced such lack of concern in my life. I understand they're a car dealership, in the business of making money, but I might as well have gone to a "buy-here-pay-here" dealership.

I was looking into buy a vehicle that I like from their lot. I was dealing with a salesman named Chris. Who was very unprofessional. I asked for a breakdown of numbers and it took pretty much the whole day. I also have 14k in cash to buy a vehicle. The head sale manger was very rude also, I asked for a email of the numbers for the car. He act like it was a problem. I will be taking my money elsewhere. BAD FOR BUSINESS!!!!!!

Yo yo scam! These car dealers & financing department is scum. They don't have the same financing, they move them around or they "left". You know how many finance people left in the last month? At least 10. No one has voice mails set up, they don't return your phone calls. The managers and GM are a joke (and don't return phone calls). We have to after 30 days of owning a vehicle, are told that we have to either pay more (a good amount more), find a lower priced vehicle or... Get the old vehicle. Car dealers should not be allowed to, but of course they pull scams like this on a daily basis. Unless we're lawyers, how do you see the BS they put in their paperwork. Stay away or get your own financing first!

A Leaf car was leased from Coggin Nissan on the Atlantic on Dec. 31, 2013. We were told chargers were available 24/7 at all Nissan dealerships. We later learned that chargers are at all Nissan Dealerships but all dealerships do not have them available 24/7. We paid for a home charger to charge our car. 3 weeks after having the car, a call came from Coggin's young finance man that there was an increase in Ohio sales taxes and that we needed to sign a new lease agreement and to keep the payment lower we were to pay sales taxes to the State of Georgia and get Georgia license plates which was legal since we were part-time Georgia residents.
After much discussion about this, we agreed to sign a second lease. We missed a signature on one long form and the young finance man was angry when this form was not included in the FED EX envelope. So angry that he sent us a letter to return the car and receive our down-payment back but never informed us that he was sending such a letter. Before we received this mailed rescind letter, the head salesman called and said they were sending a courier with a new lease agreement to our home so all the paperwork would be signed.
We signed the new agreement on a Friday and on the following Tuesday we received the rescind letter in the mail. We were shocked as we had no idea it was coming and when we called about this letter we were told it was a "bank formality" and since then have been told it was necessary to end the first lease agreement. We were quite upset with this letter and if it was just a "formality" why didn't someone call and inform us it was coming? We returned the Leaf the next day and when my husband showed another finance manager the letter and wanted the real reason it was sent to us, the manager became angry, called my husband "an idiot," told him to "get out" and that he would "ruin my husband's credit". This finance manager then reported to his superiors that my husband became angry and he had no idea why. My husband left the Leaf with Coggin as stated to do in the rescind letter.
Now we are making a payment and have no car. If we take back the car under the present lease agreement, we will have Georgia plates but then we are restricted to driving the Leaf only in Georgia where we reside 4 months out of the year. This was of course never explained to us by Coggin Nissan. We never received a copy of the second lease agreement so we got Nissan Finance to send us a copy and that was when we found the date we got the car had been changed from Dec 31st to Mar. 30, and the signatures on the agreement were not that of my husband! We now have been lied to and treated so badly that we don't want the car or anything to do with this Nissan dealership. We have hired an attorney but Nissan will drag things out and continue to lie about the events. We wish we had read this site prior to going to Coggin Nissan on the Atlantic.

Dealer added 13% to the car's price at signing for "dealer added options". Sales agreement states $0 dealer added options, but the price of the car increased. I was also charged $599 for "...cleaning, inspection and adjustment..." but left with a passenger side rear view mirror that doesn't adjust (and doesn't provide a rear view).

I walked into Coggin Nissan on Atlantic on Feb. 22, 2014, interested in an $8,000 car. I was told they couldn't finance me unless I bought the 2014. I told them I did not want a new car and I wanted the same features as my current car. The salesman ** asked how much money I had to put down, I told him... He came back and asked, "What car would make you walk out of here with a car?" I picked a car and he said, "Let's make it happen." After waiting 4 more hours we were escorted to a different building and office and handed a paper to give them references.
I asked what that is for if the deal wasn't final, I said, "What do I have to put down?" He told me $2500. I said, "I do not have that much and that is not what I told you I had." Another man came out and asked, "What's going on with the down payment?" I said nothing, I told him exactly what I had and my story never changed... He said, "Well your payment will go up a little but we will make it happen." I said seriously.... He said, "Yes, the car is yours. The only thing that will happen is that your payment will go down because I'll call a few credit unions to get the interest rate lower." So I started signing the paperwork. He sold us a poly sealant so we waited an additional 45 mins making our stay 7 hours.
I transferred my insurance and tags, made arrangements and sold my other car, and was ready to drive home with my new car. The salesman ** asked where my tag was, I told him I am transferring mine but it's at home. The finance manager asked me to drive home without a temporary tag because it cost additional money... My boyfriend said absolutely not and we finally got a temporary tag. I got to the parking lot and he shook my hand and said good bye and thank you. My boyfriend looked at the car and the headlight was out...
I went back into the dealership and they said, "Sorry, the parts dept is closed. Come back tomorrow." I told them I had to work all day. Now going on 9 hours, I left with the blown headlight in the rain. The next day at 5pm I get a message from ** the salesman telling me to call him back or call ** the sales manager. I chose to call the sales manager, a very arrogant, nasty man. He said, "I need the $2500.00 and your payment is going to go up $150.00 a month." I said, "Absolutely not. I was told that the deal was done last night." He said there were finance issues. I said, "Okay, what are my options?" He said, "You have no options. We need the money or the car."
I said, "I need 2 weeks to get the money." He said, "No, the deal has to be closed by the end of the week." I said I sold my car and my tags and insurance are already on this vehicle. He said me need the car back immediately... I said, "Really, there are no other options...." he said, "No, what time will you be here?" I consulted an attorney and this is so illegal - the same thing happened on 60 mins 2 weeks ago. But then I decided that I want nothing to do with these people and brought the car back. When I got there no one had time for me... I got a young inexperienced finance guy trying his best to get resolution while ** sat in his office refusing to speak to me, ** the salesman making more shady deals and the other finance guy that filled out all of my paperwork chatting with another salesman not even giving me the courtesy of a hello.
I had to stand over the office staff and request copies of a voided contract and receipts stating they were sending me a check in return for my cash... The horrific looks from the staff I dealt with made me feel like I was wrong when they should all be ashamed of themselves being so greedy for that commission that they send people home with cars unsafely (no headlight), illegally (no temporary tag because it cost them) and not financed.

It happens Feb 22 2014 on a Saturday, me and my girlfriend went to Coggin Nissan on Atlantic. My girlfriend's credit is not that good. I have bought a car there before and I had no problems with the service, how I was treated. So they told my girlfriend she had to put 2500 down to get this car so I said "what would happen if I sign with her," they say the bank will look at that of having more money so they ran my credit wasn't too bad we told them. We have a thousand to put down so they getting things prepared so when it time for the money we told, "we have 1000 to put down," so he went back in. After a few min he came back out, approved 1000 down, but payment be a little high.
We went for the deal, signed the paper, had to come back Monday turn in pay stub and get headlight fix because it was out. Monday came they call my gf, saying they need 1500 dollars more. We don't have 1500 dollar more. I thought the deal was made already so we had to turn the car back. My gf was very disappointed, my thing is we made a deal, now you come up with more money if you couldn't make the deal, don't do it, it's ok but make the deal and ask for more money when papers been sign is wrong. My gf will tell her experience there at Coggin to friends not to come here. I told my friends when I bought my car, now since this happened. Stay away - not an honest dealership.

I purchased a car from Coggin Nissan on Atlantic and also an extended warranty. This was 8/10/2013 and, as of now, I have not received anything from them regarding the warranty. I am puzzled and have never experienced such poor customer service. Why am I getting the runaround? They received my money as a down payment. This makes me wonder is there some defect on the car that was not disclosed to me. Or, is this the way all senior citizens are treated. Take the money and hope we go away.
After hours of delay and stalling, I was finally given the paperwork to sign. Was the finance person so angry that he could not talk me into financing the car? There was a piece of paper I signed about mediation. This was a red flag and I did not understand why it was there. But, I was pressed for time and hoped things would work out. I am not from Florida. Now I see why they have you sign that paper. Their customer service sucks. There are many dealers in Jacksonville. I would not recommend Coggin to anyone. Maybe it is because of my age. What else could it be?

I purchased a 2005 Toyota Camry LE in April 2012. My car is a great car now but when I bought it, very unsafe and the general manager, Melvin **, has offered to do nothing. I had to replace all 4 tires, they were basically bald. The finance manager made a deal with me, Charles. "We wont give you safe tires, but we will clean your headlights and tint your windows," not even the tint I asked for. The passenger rear wheel bearing and hub assembly had to be replaced, the motor mount had to be replaced because the engine was rocking back and forth! This dealership claims that they do a safety 152 point inspection. What good is that if they don't replace what is wrong? It is still unsafe. So what, who cares about their safety inspections? What is worse, they let you drive off the lot and apparently, once they have your money, they don't care what happens to you, your family or anyone else on the road for that matter!
I will never buy a car there again and guess what? Neither will any of my family or friends. They got my money and now they will lose about $100,000.00 in car sales over the next 5 years, so is their practice of how they treat their customers working, no! In the long run, they are losing! They should be ashamed of themselves. Oh, and now I am getting the runaround because I canceled the auto protection they sold me. It took them 30 seconds to take my money, now it will take 6 weeks to get it back. And another thing, I had my Toyota inspected at a Toyota dealership and this is where the problems were found. From now on, if I buy Toyota, it will be from a Toyota dealership, not a Nissan dealership.
After spending $4,000.00 with repairs and a full auto protection warranty, I feel more confident in the vehicle they sold me. Now, one last thing, I paid cash that I and my wife worked hard to save for this car and they took it with a smile and they robbed me of it, plus the $4,000.00 on top of what I paid for the car. If I had the money, I would hire a lawyer and sue on behalf of all the other people they have robbed. So long Coggin Nissan, I am going to a reputable dealer the next time I am in the market. And your quote "Service after the sale," I think you need to change it to "We will ** you after the sale."

I arrive at Coggin Nissan on Atlantic around 6:45 pm on Saturday, Jan. 26,2012. After browsing around outside looking at a few car with my friend, a Salesman approached us. I was interested in a white 1996 Jeep Grand Cherokee that they had. It was very clean outside and the tan leather seats were in great condition. After taking the car for a test drive, the coolant sensor light came on the salesman assured me that it was a simple thing that would be taken care of. I told him I wanted to make an offer, I asked the salesman if I had to purchase my tag through them or if I could purchase it separately. He assured me that I could, that was the first lie.
Then after going back in fourth and waiting 2 1/2 hours, the deal was done. I asked if the car would be detailed that night before I drove off. I was told yes, that was lie #2. Then I gave them my car to run the transaction. They told me that they would be able to pull all the funds at once, that was lie #3. ,I should have walked away then, but I didn't. Then the salesman comes back and tells me that since they can't run the full amount, they can run the difference in the morning with no problem and I can take the car home that night. So he gives me the keys and thanks me for doing business with them.
I go to the FM and I sit down to find out this is a 'as-is' car and no verbal agreements are honored, and also that i can't take the car home. Because they couldn't pull all the funds, I'm about to lose it at the point, but my friend calms me down. So I go back the next morning to pick up the car that should have been detailed, gassed and ready for pick. So I go in and meet directly with the FM and he assured me that there is nothing wrong with the car and everything is in perfect condition after going through their 150 pt inspection. All lies! I asked the FM about the 3-day return policy, he told me that it was only valid if something major was wrong with the car. So I go to get in the car that's not clean, the salesman never checked to make sure it was done. And I go straight to Firestone to have the car inspected.
The tires on the car started to fall apart in the mechanic hand, there were 4 oil leaks on the car, the coolant sensor was never replaced, and the transmission was in the beginning stages on slipping. I called Coggin Nissan to inform them of the issue, they told me since I was able to drive the car off the lot, there was nothing they needed to do, the sale was final. Now I can't even get them to let me know where my $400.00 tag is.
I will never shop with them again. I have informed all of my family, and my friend was buying a car through them but after my experience, they took the car back. Worst experience of my life. I'm a single parent. This was the last thing I needed, was more money leaving my pocket.

My fiance went in to buy me a 2011 Nissan Rouge at Coggin on Atlantic. It was fully loaded. Two days later, he called them and asked if he got approved. They said, "Yes, come get your new car." Well first of all, they sold us a car with leather that actually didn't have leather! Then, they said, "Well, we can put leather in no problem." It was a problem, a very big problem. It was because it came back with zippers that were white on bone colored leather, and then it was completely filthy with tool stains on it. They were not straight. They poked holes in several places. They scratched my right interior door. They put over 70 miles on my car. They did not put gas in it. And yes, in this economy, I'm counting it! I paid $30,000 for white zippers and dirty seats. And if you put your hand on the arm rest, you may cut yourself because the staples they used were too long.
By the way, did I mention that Florida Automotive put them in for Nissan and they are awful? Anyway, the "new GM" Melvin, who is supposed to be fixing it, has done nothing but talk crap to my fiance. Apparently, they think he is dumb because he's not from this country! Three weeks later from the sales date and two weeks after the market leather installation, we still have not heard a ** word on what they are going to do, just that they are "looking into it". I have contacted National Nissan. It has been two days. No one has called me but once straight to voicemail. And you cannot reach anyone back ever. Why does no one want to fix these seats correctly? I'm confused on the new GM Melvin's position. I thought he could resolve issues. I also failed to mention that the service manager burped while leaving my fiance a voicemail to come look at the seats when they were finished. Yes, I said burped! This is what you get from people these days for $30,000 in this economy - vulgarity, inconsistent behavior, lies, and sneaky and downright dirty business dealings. I don't know how they sleep! I'm disgusted with the way we have been and continued to be treated. It has still not been resolved up to this day, three weeks later.

On or about June 2008, I called Coggin Nissan and inquired about purchasing a 2008 Nissan Altima coupe and having it shipped to Naval Station Naples, Italy. A representative named Kelly M. told me he could ship the vehicle to me but he would need to run my credit to see if I would be approved. Unfortunately, someone signed my name and I never received the vehicle. I was contacted 3 months later by a representative from the Nissan corporation asking me when I would be making a payment on my vehicle. I explained to him that I did purchase a 2007 Nissan Altima Sedan and the payments are being made to my bank Navy Federal. He mentioned that someone must have forged my name on the credit application and that he would look into it.
On April 2, 2010, I ran my credit report because I was headed back to Jacksonville, FL to close on a new home that I had purchased and noticed that I have a negative rating for 120 days pass due on a vehicle that I never signed for. The Nissan dealership in Jacksonville reported to the credit bureaus that I was more that 3 months late on a vehicle that I never received.
On April 27, 2010, I went to the dealership and asked the representative Ms. Cecelia for a copy of the contract to verify that it was not my signature and once it was provided to me, she noticed that it was not my mine. She contacted the Nissan corporate office and discussed with a representative that this negative rating has been on my credit report for over 2 years and had never been removed or rectified. I would like to prosecute this case to the fullest and would like to be compensated for the damages to my credit and credibility for the negligence of an employee of the specific dealership. I would like to pursue all legal matters and sue for damages to my name and credit. I would like to sue for fraud, mental anguish, pain and suffering. The corporation has misrepresented my name and damaged my credit.

My son and I purchased a Nissan Maxima '02, in June from Coggin Toyota at the Avenues. The car had 64,000 miles on it. Now, it has 71,000 miles and Coggin Nissan tells us that the piston rings are worn, and the warranty compnay will not pay for the repairs for a new engine, $9,000.
The check engine light came on three different times, Sept, OCt, and Nov. Each time, they changed the oil and sent him on his way. In Nov, they told him the engine was bad and it was his fault.
We feel as if we have been mistreated.

My husband and I arrived at Coggin Nissan on Atlantic on September 23rd 2007. I test drove a 2007 Nissan Murano and decided to use my vehicle (2004 Jeep Grande Cherokee) for trade value on the Murano. My husband and I and the sales associate agreed upon a verbal amount per month for a lease on the 2007 Murano. We were then asked to see Darius (Fianance Manager - Coggin Nissan)Darius went on to explain that our credit score was not what he had anticipated therefore the price would change per month.
After the common back and forth battle of price per month, my husband and I agreed to accept the offer. We left that day with the Murano. On October 4th ( One full week later)I received a phone call from Darius stating that Coggin Nissan nor their secondary financing company sould secure financing. however he could keep me in the Murano by doubling the agreed price per month. I stated that I would discuss with my husband and let hiom know over the weekend.
On Saturday October 6th I called Darius to let him know that we would not be accepting the latest offer for the 2007 Murano. I explained that I would be in the dealership, October 7th to exchange vehicle keys. Darius aagreed. On Sunday October 7th, After leaving numerous messages for Darius to return my call,he called and stated,Today would not be a good day to meet due to the fact that my Jeep had been had been moved to thier sister location Coggin Pontiac on Phillips Highway in Jacksonville Florida due to the flooding rain that had occured at their dealership to avoid any damage. Out of concern I asked Darius if my vehicle was still in their possesion. he replied yes.
He then asked if we could meet on Monday October 8th. I explained that I had a conflicting appoinmtment that day. We agreed to exchange keys Tuesday October 9th. On October 9th, my husband and I arrived at Coggin where we met Chuck I handed Chuck the keys to the Murano and asked for my Jeep Keys. Chuck Sales went on to explain that my vehicle had been sold to auction and on behalf of Coggin Nissan he was sorry. I explained to Chuck Sales that I had just spoken with Darius and he assured me that my Jeep was in Coggins possesion.
Chuck admitted that had been a lie. Mr. Sales solution was to put me in another 2007 Murano with high miles and a high price tag. After strongly declining, I explained that I wanted my Jeep returned to me. He explained he would try to get it back. And that Coggin had a good relationship with the buyer and they would work together to return my vehicle to me. In the meantime I was given a Murano to drive until further notice of locating my vehicle. At this point I am extremely upset. Coggin Nissan could not secure a deal on the Murano, however they sold my vehicle? How is this fair and lawful business practice?

I went into coggins dealership on a saturday night at 8pm. I discussed a car deal with the manager. I was abit hesitant about the deal they offered-6 and a half year lease with 4 grand down to resolve a negative equity deal on my previous car. At 11pm-2 hours after the dealership closed I signed paperwork and at that time I was told my payment had changed and finally was told the amount required to buy the car after 6 and a half years-8,000. I was tired and decided to do the deal. I thought about the deal all night that night and decided sunday morning the deal was not good for my budget or life goals. I called the dealership and they stated they cannot let me out of the deal and the manager became very touchy to deal with. My fiance and I left the car on sunday morning at the dealership and would have left the keys but they would not take them. On monday my fiance dropped off the keys and they drove the car back to my home and left the keys on my doorstep.
The economic result is huge. This is a very bad deal for my fiance and I and the dealership is refusing to assist in the matter. They have become unprofessional and they state they have applied by the rules of the dealership. They state their is not a 3 day cooling off period and they have no obligation to resolve the situation.

We purchased a SUV from Coggin Nissian. We knew exactly what we wanted and we explained to the dealership how much we wanted to pay. I traded my 2000 Kia Sportage for the Nissan Xterra. Upon the purchase of the car, I have notice on the sales contract that the prices that were quoted were inflated and the new car was not registered in the my name as requested upon making the deal. The car was registered differently than had been requested. The trade-in amount was wrong and none of the paperwork was fully explained when I asked them about it.
When I called Gary about the sales contract and registion he disconnected the telephone. I called the Tag agency and they explained the procedures. We would have taken a different route if they could not have it registered in my or if they were giving us the corrected amount for the trade-in. I have to wonder how many other customers have had to go through this. Now my husband has two cars in his name and on his credit.
We have paid too much for a car than we have to and not to mention paid double on tag registation. I just had that tag re-registered.
Coggin Nissan on Atlantic Company Profile
Company Name:

Coggin Nissan on Atlantic

Website:

http://cogginnissanatlantic.com/