Driverz Edge Warranty
Out of Business
Consumer Complaints and Reviews

I purchased an additional car warranty when I purchased my 2005 Cadillac in 2011. I haven't had any issues with my vehicle until now and went to use the Warranty and find out that they are out of business. The water pump went out of my car and to replace it will cost me $500.00.

I bought a car Oct. 2013 and bought the insurance. I sold the car Sept 2014. One called to cx it. Well it was cx a week after I bought it and now I am out all my money. Has anyone heard much about this scam?

I subscribed with Warranty Edge several months ago, I think last year. I recently tried to cancel my subscription with them, and after talking to one of their reps, they did not cancel as requested. They have been debiting my checking account $6.99 each month for the last three months. Now they will not take any calls. So I cannot even talk to anyone. I even sent them a e-mail and they have yet to respond. They are a scam. I will advice any one reading this complaint, do not subscribe to this company at all.

I have a warranty with Driverz Edge and they owe me money. They required me to pay upfront for my repairs and then went under. I was in a bind because my care was in the shop and was not able to be driven. I am interested in a class action suit if anyone has information. Please post attorney name and number if there is such a person willing to fight this issue. Thank you.

My car is sitting in the shop. I have a Warranty 3 years 36,0000 miles and I'm within my warranty. Tthey are giving me the run around and lies. I ask who the underwriter is, they said Assurance. I had already called them when I got on the internet and found out about the company President being arrested so now what was my policy, a fake due to the fact it had no underwriter? How do I fix my air injection?
How do I know I can trust these reviews about Driverz Edge Warranty?
612,345 reviews on ConsumerAffairs are verified.
We require contact information to ensure our reviewers are real.
We use intelligent software that helps us maintain the integrity of reviews.
Our moderators read all reviews to verify quality and helpfulness.
For more information about reviews on ConsumerAffairs.com please visit our FAQ.

I purchased a DE warranty 5 years ago when I bought my used car. It's a 5 year/100,000 mile full service one and cost $974. I recently encountered major problems under the hood.... so far up to $2200 worth. This would have been covered except I learned that DE went bankrupt the year after I bought the warranty. Apparently Western Insurance company who were backing them are under liquidation. Needless to say, I was never notified. After spending hours on the phone trying to find a way to resolve this injustice. I am frustrated beyond belief. Also the car lot from where I purchased this takes no responsibility whatsoever. The president of DE was arrested in January 2014 for fraud. He knew what he was doing. I would be glad to join any of you with a class action lawsuit.......

Dealerships need to stop selling these warranties like they really care. It's just extra money for them and they aren't covering most of the parts that go bad with your car. Now to the warranty company Drivers Edge didn't send out any notification of the bankruptcy. Therefore leaving all their customers high and dry. $1350 worth of work needed the dealership didn't even know somebody's gotta pay! Drivers Edge thought they would corner the market with the 0 deductible thing, didn't work, but I was dumb for buying one without doing my own homework. Never again.

In short, they absolved themselves from the Vehicle Service Contract since they describe the underwriting insurer is no longer in business. Is this legal? You be the judge. Better yet, let the court system be the judge. Is there a class action lawsuit against DE? If so, how do I get in on it?

I've retained an attorney to fight Driverz Edge. He might be interested in a class action lawsuit. Would anyone else be interested? If so, do you know of any others? Or do you know any similar forums? This is wrong and I want to send a message. I purchased a bumper to bumper extended warranty with Driverz Edge for my Chevy Tahoe. I had a breakdown that should have been covered according to my contract and when I call to make a claim, they tell me that I have to call a different number for claim issues and no one will answer the phone or return my calls. They also gave my mechanic the run around when he called and told him that another insurance company pays out claims and stated they went out of business! They are obviously avoiding paying out claims and just taking consumers money!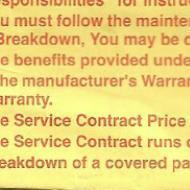 First off this contract costs 10% of the cost of the vehicle. So the more expensive the car the more expensive the contract. I bought a used Ford Explorer, it had 50,000 miles on it. I bought the 5-year, 100,000-mile extended warranty. I did the Transmission service at 100,000 miles. I did my own oil changes. The transmission went out at 120,000 miles. I got it to Ford who did a diagnostic and found the transmission about to grenade. We called the 800 number on the contract and found it disconnected, not a good start. After finding another number on the internet, both Ford and I tried calling Drivers Edge many many times to no avail.
Tom at Ford left over 21 messages and never got a call back. I called and left messages then 1 day after waiting on hold for 25 minutes we got a recording stating the mailbox was full and could no longer take any more messages then would proceed to hang up on you. So what did I do, I went right back to the dealer that sold me the car. They stated they would try to get a hold of them. After a week or so, they said they finally got someone and they were requesting all maintenance records for 4 years. I submitted the Jiffy Lube receipt where I had done the trans service, and a year's worth of bank statements showing I had bought product from AutoZone. The car sat at Ford for 4 weeks with nothing being done.
Finally After me calling daily, the dealer said to release my car to them so they could give me a loaner. We had the loaner for an additional 2 weeks (so yes 6 weeks) before the dealer finally got word that my claim had been denied because I had not given the proper amount of service records. I proved I did the trans service, but that doesn't matter. So I waited for 6 weeks for a scam company to say "we don't care". Well that was obvious from the beginning, but don't screw us around!! The words on the bottom of the contract say" If your failure to follow procedures causes a breakdown then you may be denied coverage." Well Since I did the trans service and oil changes can't cause a transmission to fail, Why am I denied? This is a 4000.00 fix!!!

Driver Z Edge is a horrible company. Do not buy any of their products. They are rude and unwilling to help their customers. I spoke with multiple reps there expressing my concern about them denying my claim. I forgot their names but it seems like everyone was having issues with the same person named Devon in which I believe I spoke with too. He is simply the devil! I'd ask him to explain the contract to me in plain English rather than just reading it off of the contract and he was very rude and unwilling to help me out.
Do not...and I caution you...do not purchase anything from this company. They will do everything in their power to deny you a claim and not pay for warranty work that most other warranty contracts will cover. Simply put, if I ever see these guys face to face, the conversation would be much different than how they treated me over the phone. POOR SERVICE. NOT HONEST. SCAM. NO CUSTOMER SERVICE. NO DIGNITY. NO INTEGRITY. If anyone is planning a class action lawsuit, please let me know.

First of all, if I could have given NO stars, I would. I purchased a used Honda Odyssey in Jan. 2011 and bought the extended warranty by Driverz Edge. In Feb. 2013, my transmission failed. After a few calls to Driverz Edge, speaking to Devon, I finally got approval for my claim. My transmission was fixed and they agreed to pay $2000 of my $4166 bill. They told me to pay my bill and they would reimburse me. I called right after I picked up the car to find out what papers they needed to expedite my refund and I sent them everything. I was told I'd get my check in a couple weeks. I have called back many times since and get the same runaround. My check is "in accounting awaiting approval and a signature." What? They already approved it before the repair! How long does it take to sign a check? The supervisor or manager is never there. They don't give out last names or phone extensions. If that's not fishy, I don't know what is. My next step is the BBB.

I just submitted a claim with the BBB for their lack of follow-through or communication regarding my cancellation and refund. I've been waiting over 3 months and no one in their customer service department can tell me what the delay is for. I gave up calling every 4 days and figured I'd try the BBB and see if they can be held accountable that way - not just for me, but for others that buy their policies and need to cancel them (not that I'd ever recommend spending a dime with their company).

I purchased a vehicle warranty to honor auto train, which failed to operate before the warranty expired. Drivers Edge is refusing fixtures on the vehicle.

I purchased the extended warranty for a second vehicle we purchased over a year ago. We decided to sell the vehicle and cancel the warranty. We canceled the warranty over three months ago and have had several phone conversations with the company reps. On 3 separate occasions, the reps informed me that the manager was out of town and wasn't there to sign the check. I have been calling for weeks now and they have been giving me the runaround! I truly believe these people get off on getting a rise out of hardworking people that spend their hard earned money to buy from a company they think they can trust. Money doesn't grow on trees and I'll be damned if I'm going to walk away, even if it costs me a flight out there and attorney fees. Now I'm out to prove my point.
My opinion is whoever is reading this, I would not advise buying anything from this company. They take your money and don't want to refund it like they tell you they will if you decide to cancel.

We purchased the extended warranty and then paid the car off within 6 months. We then traded the car in and have been waiting almost a year for them to refund us our monies. What's horrible about the process: we returned all the necessary paperwork; they then say we have to contact the "dealer" where we purchased the car from in order to obtain the refund; the dealer says they're waiting each week and no refund. They are definitely a scam because we never even needed to use their services and they are just ridiculously trying to get us to walk away from our refund and we refuse to do that!

We purchased a Buick Rendezvous in May, added the aftermarket warranty and were on our way home. After the 30-day wait period, two oil changes, a new fuel line, and thermostat replaced, it is now January 2013 and my car has been in the shop since Thanksgiving, because Drivers Edge refuses to say the issue of overheating has been caused by the head gasket. After literally phone call after phone call and argument with nearly every customer service rep at that place, we have filed with our local small claims court and could use all the input everyone on this site can provide! I'm sure we have enough for a class action lawsuit, if not a big payout. At least, that ** Devin knows he can't just talk to anyone like they have rocks for brains!

I purchased an extended warranty to cover the engine and transmission on my 02 Acura MDX. My transmission went bad just recently in December 2012. I thought for sure there would be no worries since I purchased the extended warranty at the time I bought the car. Well, DriverZedge requested oil change records dating back to 2008 when I first purchased the vehicle used. I pulled together as many records as I could initially find in my glove box and sent the oil change records in only for DriverZedge to tell me I was missing oil changes. So then I went back to several different shops I had been to over the years and got additional copies of oil change records, put them all in date/mileage order to make sure none were missing and submitted them to DriverZedge only for them to deny my claim again stating that they had already reviewed the first submission of oil change records and they would not accept any addition receipts - this after I searched all over the town for about a week straight to find my records dating back to 2008 in the first place.
I spoke with Devon who is a complete ** and the manager Breckon is no better. These people have no customer service skills and will do anything to get out of paying for a service. I've considered getting a lawyer to address this issue with them because I know that there is no reason why my claim should have been denied after I submitted all documentation necessary for the required oil changes. In fact my oil change records indicate I got my oil changed about every 3,000 miles, in which DriverZedge policy indicates it only needs to be done every 4,000 miles. And not to mention oil changes have absolutely nothing to do with a transmission going bad! In my next vehicle warranty, I will make sure that DriverZedge has nothing to do with. This company should be run out of business!

Buyer beware, this is a very shady company. I bought a warranty with the option of paying an additional amount, which would make the warranty effective immediately instead of the standard ninety days. I bought the vehicle in Wisconsin and drove it back to Indiana. On my way home, I heard a noise and the next day, took the car to a Honda dealer. Now mind you, I had a Carfax report and it stated that the car had no major repair done. In addition, the vehicle had only 37,000 miles for a 2000 Accord. The dealer stated that the vehicle had internal transmission issues and needed to be repaired or replaced. So the actual dealer technician called the warranty company and told them that the problem was internal.
The idiot representative from the warranty company had the nerve to tell the technician that what he was saying was not true. This rep who is not a mechanic, not at the dealership and who is somewhere in Nevada, tried to deny what the technician was saying. Nevertheless, the Honda dealer does not fix; they only replace. So I took it to AAMCO. They came to the same conclusion as the Honda. They tore open the tranny and had someone to come and examine the tranny. After a few days, Driverz Edge called the AAMCO shop and stated they were denying the claim because the problem was pre-existing. They even stated that this vehicle with only 37,000 miles had a different tranny.
I demanded an immediate refund of my money - every penny I paid for this warranty. This company, right from beginning, tried to do everything to deny my claim. Stay away from this company!

I am having the same issues with the company that everyone else has. They want to see my service records, but because I changed my own oil, I don't have "official" records. So, I printed out the copy I keep and submitted that to the company. I change my oil every 3 months and I usually don't wait for the 3,000 miles. Now they want receipts. I don't have the receipts when I bought the oil and oil filter. But the mechanic suggested I print out copies of my bank statement that proves the amount was debited from my account and from where.
Well, now they are telling me to go to the individual stores I bought the oil and filter from and get them to print out copies of receipts. The only problem with that is I paid with a debit card and there are no transaction numbers listed on the statement, so I can't do that. I called the bank to see if they could possibly help and was told that because I used my debit card and PIN, there is no transaction number because the funds were taken out of my account at the time of purchase. I am now waiting to see if the dealership I bought the warranty through can do anything to help. Don't buy this warranty at all. Even if you do have proof that you have done everything right, they will still make you jump through hoops and even then they may not honor the warranty.

Absolutely a scam company - Our experience was exactly like everyone else's that I read on this post. Thank goodness for websites like this. I will use it before the purchase next time. Probably the worst thing about this company is that they run you through all the tracking of your receipts, you do everything they ask of you and no matter what, your claim is denied. I feel the frustration with everyone else who is blasting this company. After you have dealt with this company, you really do realize that no matter what you have done, maintenance, etc., your claim will be denied.
These people are the lowest forms of life and the reason the rest of us cannot trust others. Do not buy a warranty. It is a useless piece of paper. The $2,000 you pay them will be much more useful at a reputable repair center. Our mechanics, the dealer we bought the car from, the Acura service department, all said without question that this should have been covered.

I am in need of some guidance. I have a 2006 VW Passat that I purchased last year, February 2011, from EVS 262-255-6000 in Menomonee Falls, WI. The week before last, I was driving my car with my 16 months old in the back and my car just cut off completely as I was driving. Talking about a scared yet dangerous situation. My son and I are okay, though. I had it towed to the nearest and trustworthy auto mechanic (J&M Auto) and they assured me that the timing belt must have slipped and no compression was getting through the car, and a valve in the engine may potentially be bent. I remembered I purchased an extended warranty through the auto dealership and called them to inquire about the warranty and if it possibly could be covered to have it repaired if the damage was major.
I had it towed to the dealership (EVS) the following week once I got a hold of the service department manager Dave, who said they would have it looked at and see what they find out. Needless to say, the auto dealer service department confirmed that it was the timing chain that broke and they would contact the extended warranty company to determine if fixing this would be covered. I got a call later that Thursday (8/16) afternoon stating that the extended warranty company was requesting copies of all my oil change appointments, which I was able to find and called and got copies for the ones I did not have. I took them to the dealership that same day so they could forward them to the warranty company. I contacted the service department on Friday afternoon to inquire if a decision was made to move forward to fix my vehicle. However, I was informed that they still had not heard from the extended warranty company, advised me that I could keep a loaner car for the weekend and contact me next week.
Today, Monday, 8/20, I received a call stating that my claim for repairs was being denied for failure to meet maintenance requirements. I was confused so I called Drivers Edge (warranty company), which is denying to repair the broken time chain on my vehicle that is in fact a covered item. Though they acknowledge oil changes have nothing to do with the belt being snapped in half, they are still refusing to fix my car. They stated that in the contract, it says that my oil changes are to be done every 4,000 miles or 120 days, whichever comes first. This info is new to me and I had no idea that this was a requirement that was supposed to be met especially since I had been taking my car to a VW dealership for oil change maintenance and was instructed by their license staff that I would not need to bring my car in for oil changes until 6,000 miles, due to the new oils that were being used. I went to the dealership to do a little further investigation with my warranty.
I was surprised to find out that Drivers Edge has revised their warranty requirements for oil changes from 4,000 miles to what VW requires, 6,000 miles. What was even more surprising to me is that I signed the old contract not even 1 month before the new revised requirements were in effect! Clearly they decided to revise their contracts and make that change for a reason! I have had 6 routine oil changes and no records stating that there was anything wrong with my car during the oil change visits. Considering the warranty company and the VW service department's acknowledgement that the timing change has nothing to do with my oil changes, then why are they using this against me to fix my car? Kevin from the VW service department clearly stated to me that looking at my oil change history, it cannot be the reason why the timing chain broke. So why won't they fix it?! What is the point of buying the extended warranty if they are going to try to find anything they can to deny your claim, especially if it has no relation to the repairs that need to be made.
Also, why would a VW dealer sell me a warranty that wants you to have an oil change every 4,000 miles when their recommendation is clearly 6,000?! Who is going to be accountable? I am one confused, hopeless individual. How am I supposed to get to work and what other options do I have if any? Please be alarmed about extended warranties! It's a scam. They get their money, run and try to find every reason in the world to not repair a covered item. It is ridiculous that a dealership can offer you a warranty contract that's full of crap and not assist you with repairs when they acknowledge that the warranty company is full of ** once a claim is denied.

I purchased an extended warranty with my Volvo XC90 in October of 2009 (extended 5 years and additional 100,000 miles). I might as well have just thrown the money out the window as the warranty company will do all it can to cover absolutely nothing! To me this is a scam. I recently had my drive axle go out and had all documentation of my maintenance on my vehicle. The garage faxed it over to Driverz Edge where they stated since I was late on two of my oil changes, my contract is null and void.
I was just hoping they would cover the seals and labor that the drive axle replacement had cost me. I think this company should be shut down. The customer service reps were extremely rude and absolutely no help in any way about questions. I can't believe that auto dealerships even offer this as an extended warranty - to me, it's a scam! I just contacted the dealership to set up an appointment with them. I would like to discuss this with them. And I also want to let others know to never purchase from this warranty company!

These people are shady. This is a scam to take people's money. From the moment you begin to deal with them, you will discover - as any post on any internet forum will tell you - that they have no intention of paying out even 1 percent of what they take in. There is no concern to provide any useful service to society or to provide any value whatsoever. This is a cash grab supported by greedy lawyers to take your money and then wear you down till you pay out of pocket. My sincere condolences to anyone who was suckered into dealing with them. Don't stoop to their level, just move on and enjoy the things that truly matter in life. Ultimately, people like this can never be happy anyway and I suppose we should feel sorry for them.

This company is criminal. Do not use these people. I have one of their warranties and they have lied about the requirements several times now at both the 5131 Post Rd, Dublin, OH 43017, tel. # (614) 389-5413 location and this location. The contract clearly does not require maintenance at a repair location, only repairs. Even though I have called and verified the requirements in 2011, they now want the name and date of the call? The contract does not require it. I have faxed the required records and now I get the rip off.

I purchased an '02 Explorer along with Drivers Edge warranty in 8/2009. In 2/2012 and only 12,000 miles later, transmission and transfer case failed at the same time. I provided oil change records to warranty company per request of warranty company through transmission repair shop. I jumped through all their hoops as did the repair shop. Warranty company advised repair shop claim was denied as their adjuster found rust in/on some of the parts from failed transmission. They never contacted me, only communicated through repair shop. I called them three times and left message. No return calls. I dropped off paperwork/info at my attorney's office and let him handle it. To date, I have been without vehicle for three weeks due to warranty company dragging its feet and I paid $3000 out of my pocket for the tranny/transfer case repairs and warranty is still trying to deny claim. These people need to be shut down as they have ripped off way too many people.

I purchased an extended warranty on my 2008 Ford Edge and the power train is going bad with over 16,000 miles left on the warranty. They have denied the claim based on the following: I use synthetic oil and the manufacturer and the synthetic oil recommends changing your oil every 5000 miles. They were rude and unresponsive. It took them a week and half to respond to my claim and several phone calls before they finally told me that my claim was denied! I received zero customer service and I would recommend that anyone who is considering purchasing an extended warranty definitely stay away from this company. They are intentional crooks! I would go so far as to say that they even enjoy taking advantage of the customers that purchase their products! Unbelievable! Anyone who is interested in joining my Facebook and Twitter campaign against this company, please contact me at **.

Do yourself a favor and put the money you would spend for a warranty and put it in the bank instead. My transmission failed after 89k miles and it was still covered. I changed the oil 13 times in 20 months. The claim was denied immediately, as they were looking for 22 receipts from the time I bought the car. I actually changed the oil more often but paid cash for a few and could not track down the receipts. Again, it was denied before the process started. The Customer Service could not even put a manager on the phone. What options does one have? Too me, it is just a scam. Horrible, Horrible customer service and now, I am out the warranty cost (because they will not honor other claims without receipts from day one), rental car, etc... There are more reputable companies out there, find one. If your dealer sells these warranties, run.

My claim was denied for a water pump repair because I did not change the oil every 4month or 4k. I have a BMW and BMW requires oil changes every 15k or once a year. The car uses synthetic oil. The contract says maintenance must be maintained per the manufacturer requirements, or every 4k or 4 months, whichever comes first.
I believe whichever comes first is the 4 month or 4k if you are not following manufacturer requirements but they say whichever comes first is between the 3 options. Who would be stupid enough to change the oil on a car every 4k when it is only required by the manufacturer. The people who built the car require it to be done every 15k.
This company is a sham and is thieves. They take people's money and deny every claim due to some bogus shady wording that they put in their contracts to get over on people. It should be illegal what they do.

I was treated like crap at drivers edge a guy named Devin. He's the biggest **head ever. His look on professionalism is the worst I have ever seen. They do not live up to their standards. Not worth getting this Warranty. This company is real bad, Devin from claims is a real ** sucker.
Driverz Edge Warranty Company Profile
Company Name:

Driverz Edge Warranty

Website:

http://www.driverzedgevsc.com/