---
By Joe Benton
ConsumerAffairs.com
Speed costs money, kid. How fast do you want to go? Every driver aching to race cars has probably heard the adage. The words are attributed to lots of people, including Banjo Mathews, a legendary stock car builder during the early days of the sport in Darlington, South Carolina.
Well, just how much does it cost anyway? When my daughter returned my 1992 Miata about a year ago, I set out on a journey that has provided a glimpse of the relationship between speed and money.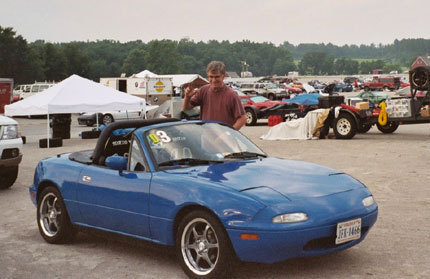 The author with his "investment"
Like most men who are lifelong aspiring race drivers, I fancied myself a big bore sort of guy, driving a big, fast car with a big strong engine like a Porsche or a Corvette. A track-ready Corvette costs roughly $50,000. A track-ready Porsche costs a few dollars more, like $10,000 or $20,000 more.
A word of definition is in order here. Track-ready means that you can drive your car to a sports car race track, comply with the safety regulations, pass a rigid technical inspection, then drive around the track at high speeds with an instructor offering advice and pointing out mistakes.
My Miata was a long way from track-ready and an even longer way from fast. The little blue roadster would not even pass a state safety inspection. But $1,500 later, the car was running with a new inspection sticker and sporting a new beige top. It was starting to look pretty good.
The Price of Entry
My initial research suggested the 1992 Miata, after a thorough cleaning, could be track-ready for a modest amount of money -- I didnt have to pay anything for the car, since I already owned it. The tires were in pretty good shape. At most, I thought, I would find a mechanic to put in a badly need clutch, replace a timing belt and add a roll bar. Then I could go find out what driving on a real race track is all about.
I figured the cost would be roughly $3,000, give or take a few hundred. That is of course on top of the money I had already spent for a new inspection sticker. The Miata bottom line began to climb towards $4,500 range. Getting that much for the car, if I chose to try to sell it would be out of the question. Cute as a little sports car might be, the Miata is too old and carries too many miles on the odometer, close to 150,000 at the time. Any money spent from here on out would be money out the tail pipe, so to speak.
This is the first lesson in racing logic. I would own a car that on the one hand is almost useless and on the other worth somewhere between $1,000 and $25,000. I am seriously considering pouring several thousand dollars more into the car with a clear understanding that I will never recover the costs. But I will have a car that goes fast. An aspiring racer's mind is a beautiful thing to behold.
I decided that I would step up my research. I began to ask questions of the people who worked behind the parts desk at my Mazda dealership. I joined the Miata club. I began to search the internet for aftermarket parts and prices. I decided to drive from Washington to the Virginia International Raceway to see a Miata track day firsthand.
At the Mazda dealership I learned that Miatas are tough little cars and people drive them for a long time and a long distance, sometimes two or three hundred thousand miles.
With the Miata club, I was able to look at some very neat little cars and I discovered Performance Buyers Club, a small garage in Chantilly, Virginia specializing in Miatas. Owners Pete Zasanis and Kurt Selbert advertise that they have serviced and modified more Miatas over the past 8 years than any other service shop in the Washington-Baltimore-Richmond areas."
On the track at the VIR, I discovered several critical pieces of information. First, I learned that I am not as competent a driver as I thought I was. Second, I learned that my little Miata would need a lot more work that I initially thought to get around a track with any speed, not to mention dignity.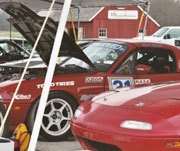 Finally, the PBC Automotive boys had brought their racing Miata to the event. Judging by the Number 33 Miatas speed, Zazanis and Selbert know what they are doing.
Parade Laps
My car was not eligible for high-speed driving at this intial track day. I had not paid the entry fee. I could drive parade laps at lunch. Parade laps are highway speed circuits around the track behind a pace car. Dozens of drivers took part in the parade, including me and my Miata.
Sitting in the pit lane line-up two by two, engines reving and waiting for the laps to begin, I was excited. When the flagman waved me onto the track and I headed for turn one, I knew this was something I had to do. As the parade around the VIR picked up speed, I found I could barely keep up with the car in front of me. I was discouraged. I blamed my inability on my little cars age and poor condition.
Now was the time to make a decision: build a track-ready Miata and go racing or return to the garden and prune my roses.