What's an auto racing section doing on a consumer site?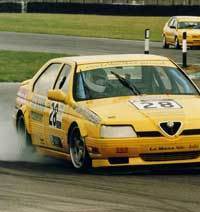 Well, auto racing is a consumer sport and, in our view, one that can contribute quite a bit to the cause of highway safety and auto maintenance. Dedicated race car drivers are among the safest drivers you can find. They have finely-tuned technical skills, they pay attention and they take excellent care of their cars. If they don't, they quickly become ex-race car drivers, or worse.
For the uninitiated, our Joe Benton traces his transition from Beltway wannabe to the real thing.
Resources
These are some of the Web sites our Joe Benton consulted in building his Hot Rod Miata. Many of these initial listings are in the Washington, D.C., area. Forward your suggestions and complaints and we'll add them to the list.
Car Clubs and Race Tracks
Driving Schools
You don't have to spend big bucks to learn some of the techniques that keep the big guys from hitting the wall. Just take your family buggy to one of the better high-performance driving schools. You'll get hands-on training that could make the difference between a few tense seconds and disaster when you encounter an emergency situation on the street.