---
By Joe Benton
ConsumerAffairs.com
Once a would-be racer begins sorting through the parts and prices required to make a car go a little faster while complying with the safety rules, the relationship between speed and money becomes starkly clear. There are hundreds if not thousands of Web sites aimed at helping you go fast, for a price. These sites are also a good place to check local prices.
I set a budget for this phase at $8,000, raising to roughly $12,500 my costs for the car. I figured that I would have a car in almost new condition, built to my specifications for about $2,000 less than I could buy a 2003 Miata at auction with very few miles on the odometer. The car would be track-ready as well as a lot of fun to drive on the street. This is the second lesson in racer's logic. It doesnt make much sense.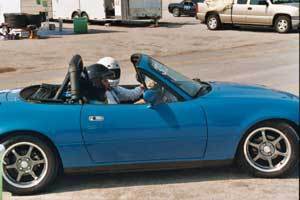 Bentons rebuilt and modified Miata heads out for a hot lap at the VIR.
The money was headed into three areas:

1.) suspension, brakes, wheels and tires
2.) engine and exhaust
3.) seats, belts and roll bar.
The modifications fall into three categories, performance, safety and ego. Roughly speaking, any change that makes the car go faster is performance, any addition that brings the car up to safety standards falls into the second category. Almost everything else is to satisfy the drivers ego.
To sort through all of the recommendations and possibilities, I collected more than two dozen after-market Web sites and began looking for the equipment I wanted for my car.
I concluded the suspension was the most important change I would make if I were serious about driving the Miata on a race course. While making a car go faster can always be the source of some pride at a car club meetings, having a car that handles really well on the track can make you look good and save your butt.
Suspension and Brakes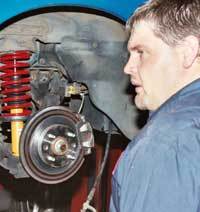 PBCs Joey Bussard installs the heart and soul of the Miata, replacing all of the major elements of the stock suspension
Pete Zazanis and Kurt Selbert at PBC Automotive were adamant in their recommendations for the suspension: Koni yellow adjustable shocks, Racing Beat springs and Racing Beat sway bars. All of the rubber boots on the old suspension would be replaced when the old suspension was removed.
I checked other suspensions, including the system used in Miata Spec Racers and concluded Zazanis and Selbert knew their stuff when it came building a Miata to handle well. Koni shocks, they insist are known for industry leading quality and performance. We give these our highest rating. Not only can you adjust ride quality from soft to hard but you can also adjust ride height into 3 predetermined levels. This means you can lower your Miata up to 3/4". Koni shocks come with a lifetime warranty.
As far as the springs and sway bars go, Zazanis said that Racing Beat has refined 30 years of racing experience and undisputed successes into the design of our Miata suspension components. Racing Beat-designed sway bars reduce chassis roll in turns and increase your cars sensitivity to steering inputs, thereby improving maximum cornering power. Substantial engineering effort, select steel alloys, and precise heat-treating processes are combined to produce top performance components.
At the time I did not fully understand the importance of the suspension decisions. I do now. The tenacity with which the little Miata holds itself to a racing line is the heart and soul of the car.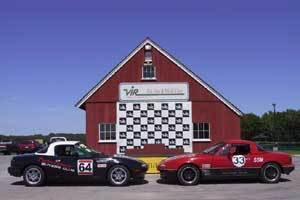 Pete Zazanis (#64) and Roy Swartz (#33) with their PBC racing Miatas at the VIR winners podium.
Wheels and Tires
I decided on Toyo Proxes T1-S tires. Selbert recommended the tire highly. The T1-S is an ultra-high performance tire and very sticky by street standards. It wears fairly well, offers very good levels of wet and dry grip. I had planned to buy 205x50x15 Proxes for the car. Zazanis, however, found a sale on 195x50x15 tires at a substantial savings so I went with them.
The wheels are an extravagance -- SSR Competitions that cost $279 each. They are gorgeous, strong and light weight, ideal for street or track. A wheel and tire together weigh less than 30 pounds.
When it came to stopping the Miata, both Selbert and Zazanis warned me away from expensive big brake kits. A Miata driver and instructor at the VIR had also told me that Miata brakes are very capable, in large part because the little car is so light. Miata brakes are easily replaced or repaired on short notice. We did add braided steel lines to the system. The stock rubber lines were old and the braided lines resist brake fade.
Engine and Flywheel
The Miata engine proved to be tricky for me. There are just four cylinders and only so much more power available without substantial and expensive modification. I decided on a Jackson Racing header, since I was replacing the 12-year old exhaust and converter. I also changed the flywheel, replacing the original steel unit with an aluminum flywheel. Lightened flywheels have been used for decades to improve throttle response and quicken acceleration.
Taken together, the aluminum flywheel and new exhaust system with header produce a responsive and easy revving engine that makes the Miata even more fun to drive.
The flywheel, however, emits a vibrating sound when downshifting that is most annoying. The racket takes a lot of getting used to but eventually is offset by the quick revs the lighter wheel helps to generate.
Safety:
Seats and Belts, Roll Bar, Helmet and Gloves
Choosing a roll bar is easy. A company named Hard Dog makes a ready-to-install four point bar. The Hard Core Hard Dog is designed for the serious Solo I competitor that wants to maintain a dual purpose car for street and racing use. There are several drawbacks. The window in the top will never again be easy to unzip and the side latches on the hardtop must be removed. The bar itself can become a safety hazard were you to hit your head on it while not wearing a helmet.
The seats in my car were pretty badly worn. I decided on Sparco racing seats to replace them but discovered most Sparco seats are too wide to fit in a Miata. The company makes a seat called the Roadster which has many of the benefits of a one piece seat without the deep dish drawbacks. A racing seat has high sides to hold the driver firmly in place. Racing seats can be impossible to get into and out of. Sparco claims that the Roadster seat is designed to be used in high performance sports cars and provides maximum lateral support without being difficult to get in and out the car. The shell is made in fiberglass.
For seatbelts I decided on blue Simpson camlock harnesses. They are made from aircraft billet aluminum alloy. Hardened steel tumblers lock the stainless steel belt and harness tabs into the buckle with a quick snap.
I bought an open face Bell helmet. The choice was limited by finding a helmet that fit. As the Bell Helmet company says, their helmets have been worn and trusted by more champions, in all forms of auto racing. The Bell helmet name has always been synonymous with safety and legendary names like Andretti and Petty.
Its really too bad that a product associated with all that American racing history is now made in China.
I bought a pair of yellow fire resistant nomex racing gloves proving once again that most people who like to drive cars very fast are show-offs.
Finally I replaced the stock steering wheel with a smaller Sparco product that just looks like the wheel will help the car go fast. The pitch from Zazanis that persuaded this final little extravagance shows what an easy mark I am. It went something like this: The steering wheel is important. Thats the only place where you hold onto the car, he said with a racers flourish.
The build-out ran about $1,200 over budget. The seats were more than anticipated and I ran into some difficulty with the rear brake calipers which required their replacement.
I now have about $13,500 in the little blue car. I pointed my Hot Rod Miata south, and headed off for my first high speed track day at the Virginia International Raceway. My little Miata would have plenty of PBC racing company.